The Best 5-day Road Trip from Melbourne
Taking a 5-day road trip from Melbourne lets you experience many different Australian landscapes in a relatively short time - from stunning ocean beaches, rugged cliffs, wildlife havens, vibrant cities, rolling farmland, fabulous vineyards, and national parks.
On a 5-day road trip from Melbourne you'll drive 1,760 km, starting out along the Great Ocean Road then on to Nelson, Mount Gambier, the Coorong, Adelaide and Ballarat, with stops at Great Otway, Little Desert and the Grampians National Parks too.
We've put together the best 5-day itinerary that lets you explore the coast and inland regions of Victoria and South Australia, which keeps driving time down to a manageable 5 hours or less each day. This gives you plenty of time to explore the unforgettable places you'll pass on your trip.
Distances and daily travel times on the best 5-day road trip from Melbourne

| Day | Driving itinerary | Distance | Time |
| --- | --- | --- | --- |
| 1 | Melbourne to Port Campbell | 280 km | 4 hours 10 minutes |
| 2 | Port Campbell to Mount Gambier | 260 km | 3 hours 10 minutes |
| 3 | Mount Gambier to Adelaide | 440 km | 5 hours |
| 4 | Adelaide to Grampians National Park | 470 km | 5 hours 10 minutes |
| 5 | Grampians National Park to Melbourne | 260 km | 3 hours |
What is the best 5-day road trip from Melbourne and where will it take you to?
The best 5-day road trip from Melbourne takes you west out of the city, following the coast almost all the way to Adelaide before swinging back east to head inland past Grampians National Park on the way back to Melbourne.
This 1,760 km route will take around 21 hours and 15 minutes of straight driving to complete, not allowing for the stops you're going to want to make along the way.
This works out at an average of 4 hours 15 minutes driving time per day, and although there's a little variation day to day, you won't spend longer than 5 hours in the car on any given day.
Along the way you'll see the unforgettable coastal views of the Great Ocean Road, spending the night at Port Campbell before continuing on into South Australia.
After exploring the Glenelg River's limestone cliffs, the route takes you to Mount Gambier and then carries on through the Coorong before approaching Adelaide. Heading inland from here, the next must-see stopping point is Grampians National Park, which is perfect for exploring on foot.
From here, a relatively short final stretch will take you past Ballarat and on into Melbourne.
Day 1: Driving from Melbourne to Port Campbell
You'll start your 5-day road trip in style, as a drive along most of the legendary Great Ocean Road awaits you once you reach the ocean. It takes a manageable 4 hours 15 minutes to drive from Melbourne to Port Campbell, where you'll spend the night looking out over the Southern Ocean.
Toward the end of the day, you'll see the iconic Twelve Apostles, but don't miss out on the chance to also stop and explore the beaches and small towns you'll pass on the way.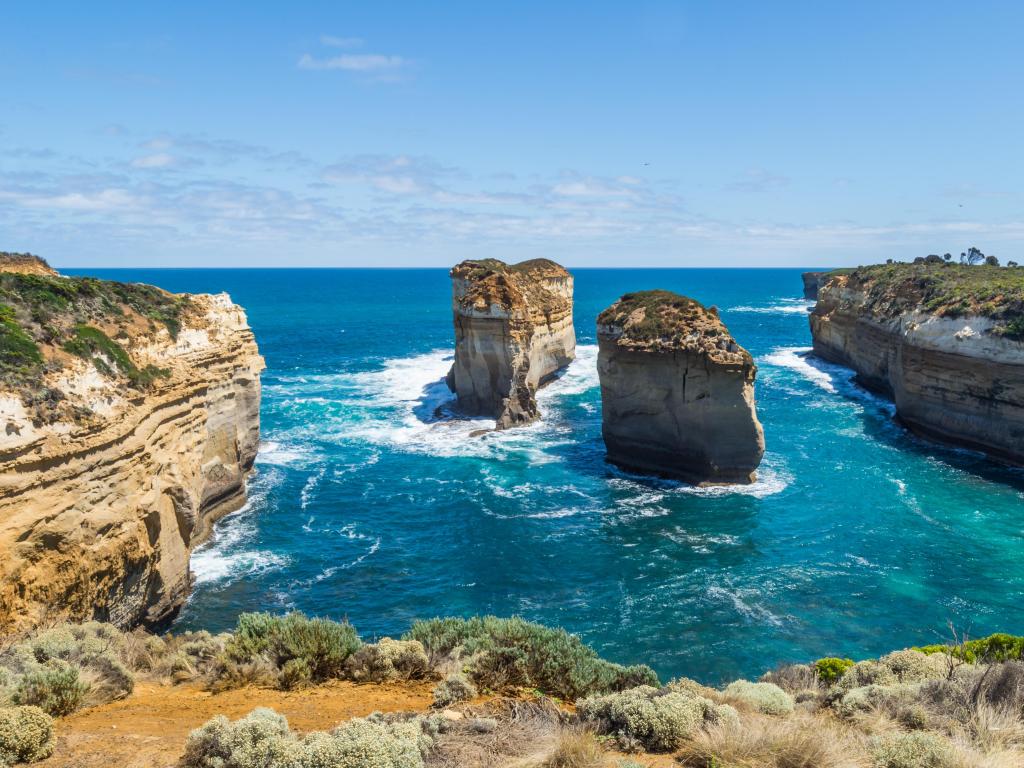 Road trip route from Melbourne to Port Campbell
Start off by following the M1 past Geelong then turn off onto the C134 which you'll follow to Bells Beach.
Here pick up the B100, better known as the Great Ocean Road, which will take you past the long, sandy beaches of Apollo Bay, through the humid, fern-covered gullies of Great Otway National Park, and then past the impressive Twelve Apostles.
A few kilometres after Loch Ard you'll reach the beautiful oceanfront town of Port Campbell where we recommend spending the first night of your road trip.
Things to explore on the way to Port Campbell
Said to be one of the world's most beautiful drives, even if you don't make any stops you'll follow the Great Ocean Road from Torquay to Allansford – most of your drive on Day 1.
It was built by soldiers as a memorial to those who died in World War I and it's now one of the state's most visited places. The Twelve Apostles – seven huge rock stacks standing in the ocean – are its most famous landmark but it runs past many km of beautiful coastline which you can stop and explore at your leisure.
Situated mid-way along the Great Ocean Road, fern-covered Great Otway National Park runs for miles along the Victoria Coast, starting at Torquay.
You can enjoy beautiful walks through its rainforests and gullies – from short, boarded paths up to some of the more popular viewpoints like Erskine Falls, to a full 5-hour bushwalk.
Cape Otway Lightstation looks out over the rough waters where the Bass Straight meets the Southern Ocean. As a bonus, the park's forests are often cooler than nearby areas, but being a rainforest it can feel humid and there's high rainfall.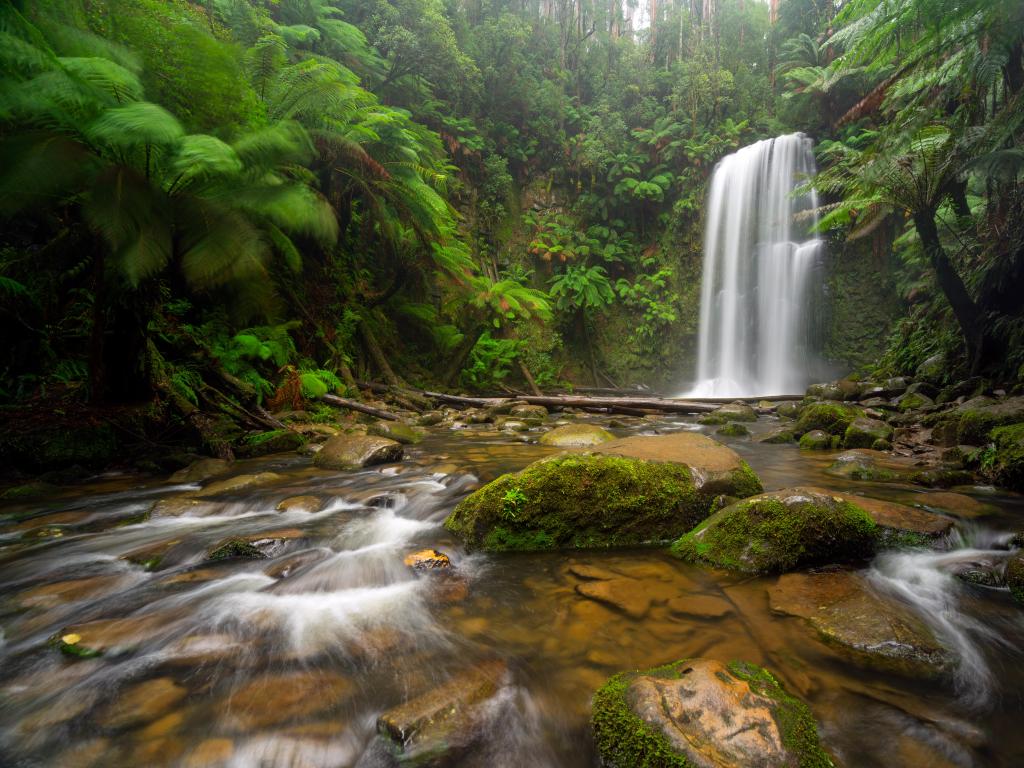 Where to stay in Port Campbell: admire the sweeping ocean views
This small town is right on the Great Ocean Road, looking out over the ocean. With a range of places to get food and drink, you won't have to walk far for an evening meal which you can enjoy with an ocean view. The town also has its own microbrewery.
You can swim off the sheltered, sandy beach here, or follow the Discovery Walk up to a clifftop overlook which offers views of the town and rugged coastline.
Right in the heart of Port Campbell, Sea Foam Villas are just a 2-minute walk from restaurants and shops, and right beside the beach. Some of the spacious and bright rooms have amazing views out across the water if you choose the Bayview option.
If you're travelling as a group, you can even get a 2-bedroom villa which comes with a lounge, patio and kitchenette – perfect to wind down or plan the next day's drive. There's also plenty of free parking.
Day 2: Driving from Port Campbell to Mount Gambier
On the second day of your road trip, you'll complete the Great Ocean Road before crossing from Victoria to South Australia.
With only 3 hours of driving, you'll have plenty of time to enjoy the places you'll pass along the way, whether that's having a long and leisurely brunch or hiring a canoe and striking out up the Glenelg River.
With a reasonably early start, you'll have time to do both and still reach Mount Gambier in time to watch the possums coming out for their dinner.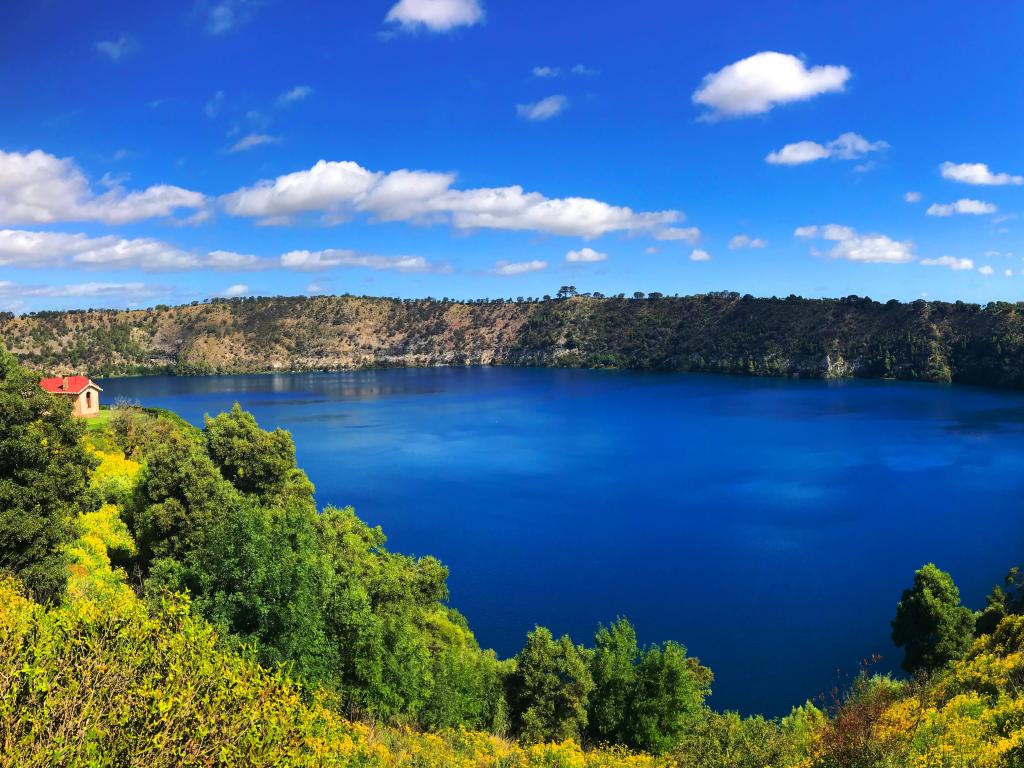 Road trip route from Port Campbell to Mount Gambier
Rejoin the Great Ocean Road at Port Campbell and carry on west, following it past London Bridge and the Grotto before arriving in Peterborough.
At the Bay of Islands, the Great Ocean Road swings inland through Nirranda and Mepunga before you finally exit the scenic drive at Allansford and join the A1 Princes Highway.
The Princes Highway takes you through Warrnambool and Killarney before bringing you to the lovely fishing village of Port Fairy. From here, carry on along the A1 past Codrington and Narrawong until you reach Portland. If time is on your side you can detour here to visit Cape Nelson Lighthouse and Discovery Bay Marine Park.
From Portland, pick up the Portland-Nelson Road which takes you to the border between Victoria and South Australia. In Nelson you'll cross the Glenelg River and continue along the same road, now named the Glenelg River Road, all the way to Mount Gambier.
Things to explore on the way to Mount Gambier
Around an hour into your drive, you'll reach Port Fairy, a charming small town on the coast that makes a great stop for brunch or coffee.
You can take a relaxed stroll through its historic streets where many of the quaint, restored cottages are over 100 years old, and there are galleries and antique shops to explore too. There are also several places to swim in and around Port Fairy or walk by the little port and beaches.
Another 90 minutes of driving will get you to Nelson, located on the Glenelg River which meets the ocean on the other side of the headland. Here you can hire a canoe to head upriver to admire limestone river cliffs or take a bushwalk through Lower Glenelg National Park.
You can also water ski, snorkel, dive and fish in the nearby area (permits are required for some activities but this varies depending on whether you're in Victoria or SA).
Where to stay in Mount Gambier: marvel at the unique and colourful scenery
The big draw for many visitors in Mount Gambier, South Australia's second largest city, is the famous Blue Lake, which fills the crater of the extinct volcano that rises up beside the town. The lake suddenly turns a vivid blue each November, which lasts until February or March.
Back in town, another natural limestone feature is Umpherston Sinkhole, where a beautiful sunken garden has been created – look out for the possums that come to feed here in the evenings. If you have time, take the short detour into the Coonawarra to enjoy a cellar door wine tasting.
If you're looking for a comfortable and welcoming accommodation option in Mount Gambier, then the Mount Gambier Hotel is the perfect choice. Set in a beautiful historic building, the spacious rooms here have been recently renovated.
It has its own restaurant but as it's right in the middle of Mount Gambier you can also walk to your choice of restaurant or bar for the evening. The hotel also has plenty of free parking.
Alternatively, for a quirky and memorable overnight stay, you could check in to The Old Mount Gambier Gaol, the former town jail. As the rooms are in some of the old prison cells they're not the most spacious in town, but this budget-friendly option can make for an interesting experience.
Day 3: Driving from Mount Gambier to Adelaide
The drive from Mount Gambier to Adelaide makes for one of the longer days of driving on this 5-day trip. You should expect at least 4 hours 45 minutes behind the wheel, although this will be closer to 5 hours if you detour to the coastal town of Robe along the way.
Although you'll be following the Princes Highway for a lot of the day's driving, the road is likely to be quiet and you'll get a real feeling of space and solitude as you make your way around the Coorong - a real contrast after driving the Great Ocean Road.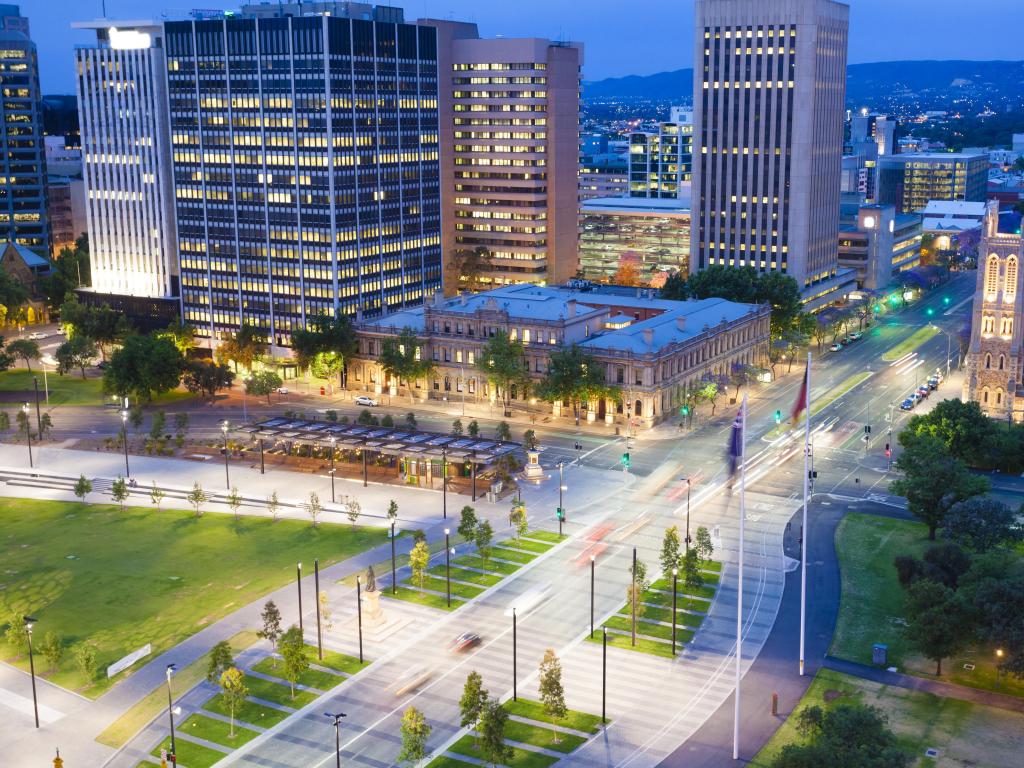 Road trip route from Mount Gambier to Adelaide
Head west out of Mount Gambier towards Millicent, where the road divides. For the quickest onward route, continue on the Princes Highway towards Kingston SE and Rosetown.
However, we'd suggest that it's well worth adding an extra 15 minutes onto your drive to follow the Southern Ports Highway past Lakes George, St Clair and Eliza, then on through Robe.
After Rosetown, the Princes Highway follows the long stretch of dunes and beaches that make up the Coorong National Park. There are only a few entrance points to the national park on this part of the drive, so don't miss your chance to enjoy views across this expansive coastal lagoon.
As the road swings up to Meningie you can access more of the Coorong before following the road around Lake Albert and Lake Alexandrina towards Wellington.
Here, you'll cross the Murray River then continue inland towards Strathalbyn and Wistow, before joining the M1 near Mount Barker for the final run into Adelaide.
Things to explore on the way to Adelaide
The Coorong is a wetland national park which covers a long peninsula and inland lagoon, making it a really unique place to explore. With huge flocks of Pelicans flying overhead, it's a bird watcher's paradise, and you can follow trails around the lagoons.
The area also has important indigenous heritage which dates back many centuries, and you can get an insight into this at Ngarrindjeri Cultural Centre and Museum. You'll also find the longest beach in Australia in the Coorong.
The main access point to the lagoon is from Meningie.
Where to stay in Adelaide: experience the urban culture
South Australia's biggest city makes for a buzzing contrast to the smaller towns and national parks that you'll be visiting on most of the rest of this route.
Visit the South Australian Museum or Art Gallery of South Australia for your cultural fix or take a peaceful stroll through Himeji Gardens. Being a large city, there are plenty of restaurant and bar options to choose from.
If you're interested in finding out some of the stories of the coastline you've followed all the way from Melbourne, South Australian Maritime Museum might also make an interesting stop.
With colourful rooms and quirky design features, the recently built Hotel Indigo Adelaide Markets boasts views out across the city. With a 24-hour front desk, you'll have complete flexibility if you need to arrive late or depart early. There's also a fitness centre on-site.
It's centrally located close to Victoria Square so once you've checked in you won't need to navigate city-centre traffic to get out and explore Adelaide's attractions. There's also parking available nearby, which is a bonus in the city.
Day 4: Driving from Adelaide to Grampians National Park
After leaving Adelaide you'll start to make your way back towards Melbourne, heading east on an inland route that takes you to two fabulous national parks.
You'll cover the most distance on day 4, with 5 hours of driving taking you from South Australia's largest city to Grampians National Park in Victoria, passing Murray Bridge, Tailem Bend and Horsham along the way.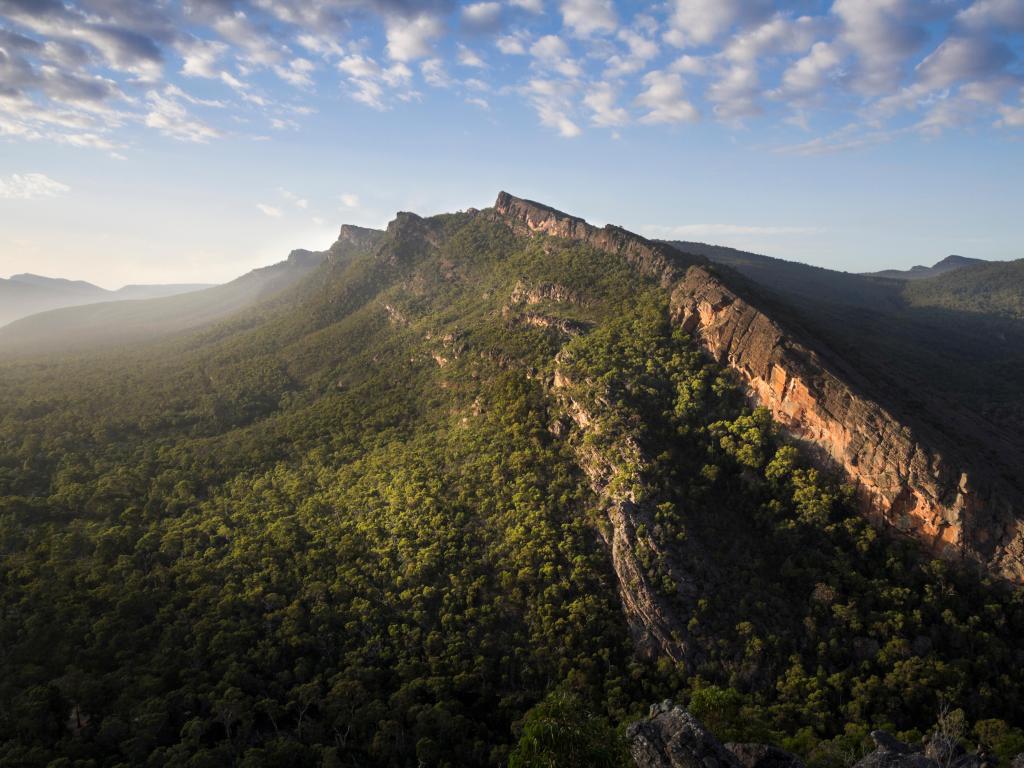 Road trip route from Adelaide to Grampians National Park
Take the M1 out of Adelaide as far as Murray Bridge, where it becomes the A1 and follows the Murray River down to Tailem Bend.
From here you'll turn onto the A8 Dukes Highway, which takes you all the way back to Victoria, past Keith and Brimbago. The road takes you around the edge of Little Desert National Park, which you can access most easily via Nihill or Dimboola.
Just after Horsham you can turn south to detour into the Grampians National Park which is the end point of your journey today. Halls Gap is one of the most commonly used entry points to the national park, and you'll find a range of facilities here.
Things to explore on the way to Grampians National Park
A popular day trip from Adelaide, Hahndorf is a really unique place to stop. This German village traces its roots back to its original European settlers and the pubs and restaurants here embrace this heritage.
You can visit German-style pubs, a microbrewery, the famous Beerenberg strawberry farm, and a range of boutique shops. It's also possible to taste wines from across the region.
Heading on from Hahndorf the road will eventually take you to the edges of Little Desert National Park. This is a great place to spot Australian wildlife while you walk, and if you visit in early spring (which is recommended as the best time of year to visit) you'll see wildflowers bursting into life.
You'll need a 4WD vehicle to travel right into the heart of the national park, but at the eastern side of the park you'll find several marked walking trails which are more easily accessed in a regular vehicle.
Where to stay in Willaura: the gateway to Grampians National Park
The end point for the 4th day of your road trip is Willaura, on the edge of the Grampians National Park.
Grampians National Park is one of Australia's most popular, with impressive mountain landscapes, amazing walks, and places to canoe or kayak.
You could dedicate a whole trip just to exploring the national park, but to see some of the scenic highlights in a short time, take a scenic drive south along Grampians Road from Halls Gap, past Mafeking and Mirranatwa.
There are a few motels located right on your route, but for a really memorable stay we'd recommend a short detour of the highway to Mount William Station in Willaura. This simply stunning historic property is perfectly situated to explore the Grampians National Park.
During your stay you can relax beside the outdoor pool and enjoy views across the estate, before getting a great night's sleep in one of the homestead's chic and comfortable bedrooms.
Day 5: Driving from Grampians National Park to Melbourne
The last day of your 5-day road trip from Melbourne is also the shortest, so you'll have time before you depart to take another hike in the Grampians National Park, or enjoy a swim and a leisurely breakfast if you've enjoyed a night at Mount William Station.
After leaving the national park it's a simple route to navigate, and with only 2 hours 45 minutes of driving on this 250 km stretch you'll arrive back in Melbourne energised and not exhausted from your 5-day trip.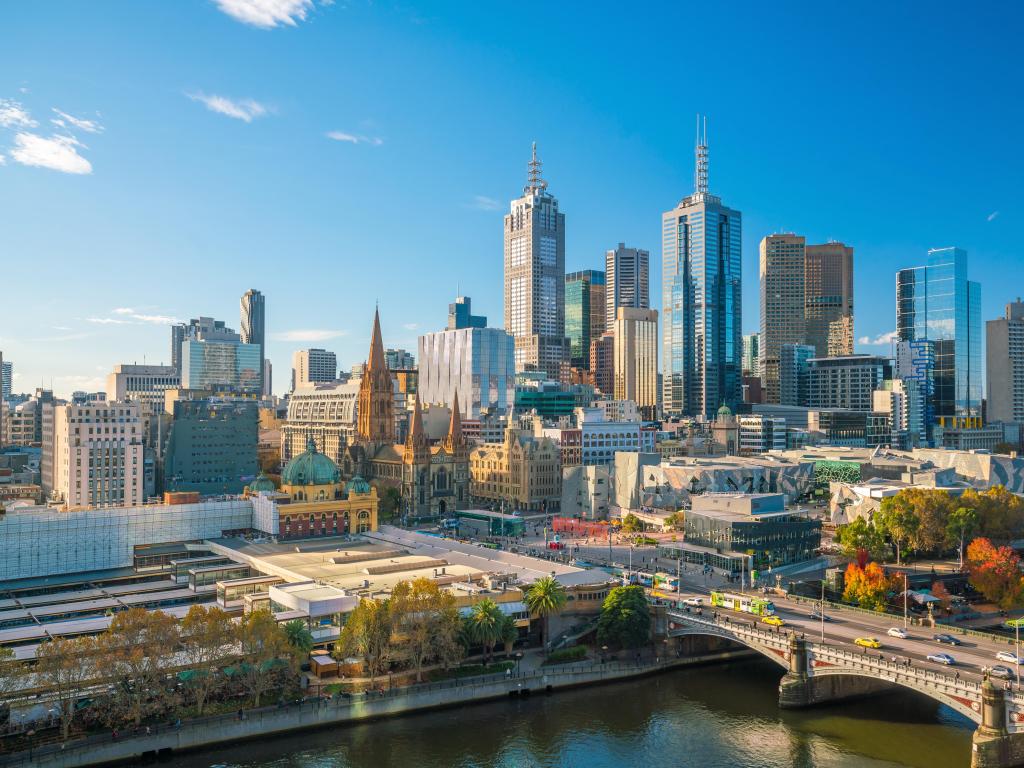 Road trip route from Grampians National Park to Melbourne
Make your way back to the A8 at Ararat then follow it for around an hour into Ballarat.
After spending some time in the city, continue towards Melbourne via the M8. You'll cross Pykes Creek Reservoir and drive through Pentland Hills, where experienced hikers might like to stop and explore Werribee Gorge.
Continue on past Bacchus Marsh and Melton and you'll soon be approaching the outskirts of Melbourne. The M8 will take you right to the heart of the city, then it's just a case of making your way to your final destination in the city.
Things to explore on the way back to Melbourne
The gold rush town of Ballarat is one of the largest in Victoria outside Melbourne so you can enjoy city vibes with a touch of history and culture.
Sovereign Hill Living Museum takes you back to the gold rush era that shaped this part of Australia's modern history – try your hand at panning for gold. Or for an adventure further back in time head to Kryal Castle, set up just like a medieval European castle.
The Art Gallery of Ballarat is the oldest in Australia outside a major city, or you can explore some of the city's street art murals and independent galleries too.
Things to see on a 5-day road trip from Melbourne
You've already read about some of the great places you can stop along the way, but in case you want to pack even more into your 5-day road trip from Melbourne here are some other fantastic attractions that you can easily visit on the route.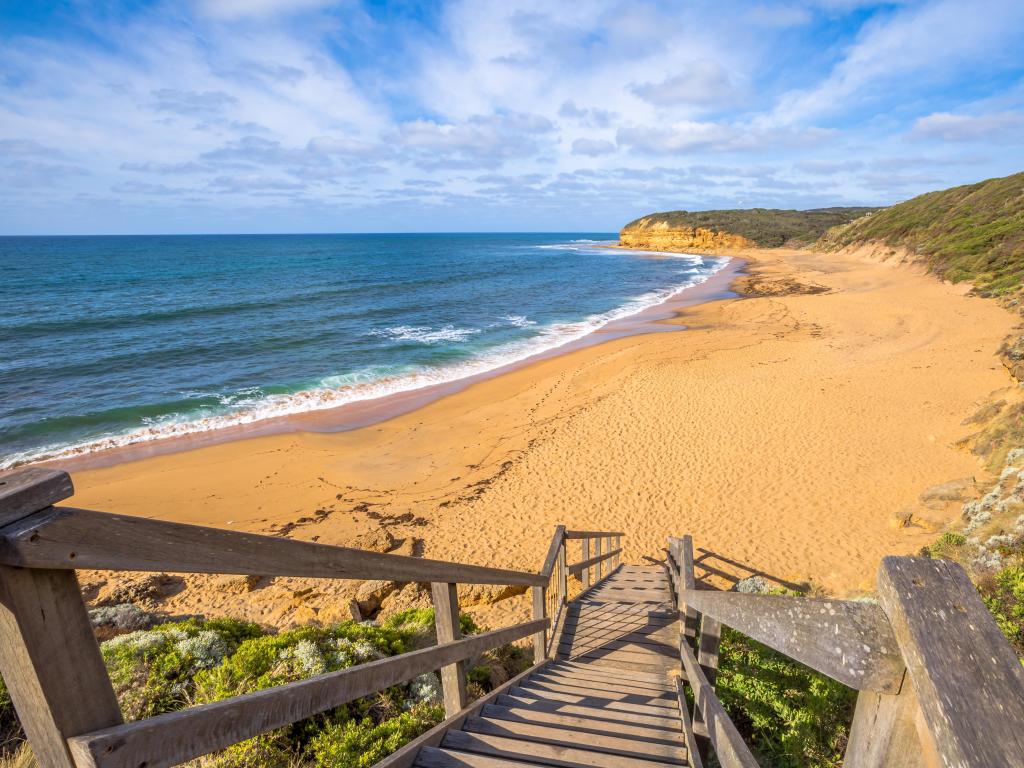 Torquay - If you've packed your surfboard, make sure to call in at Torquay before you set out along the Great Ocean Road. You'll find some of the world's best surfing here, as well as at the Australian National Surfing Museum.
Apollo Bay - Situated on the Great Ocean Road, pause here to stroll along the long, sandy beach and enjoy a fabulous seafood meal or a locally brewed craft beer.
Great Ocean Road - This 250-km drive takes you past stunning beaches and impressive natural monuments. You'll find plenty of viewpoints along the clifftops but take some time to venture down to the beach to see landmarks like the Twelve Apostles and London Bridge from a different perspective.
Warrnambool - This is the best place along the Great Ocean Road to spot whales from the shore – just head up to the beachside viewing platform from June to September and keep your fingers crossed.
Port Fairy - A charming fishing village which is now home to artists and artisan food producers.
Discovery Bay Coastal Park - You can surf or swim off the coastal park's beaches or enjoy amazing ocean views from the clifftop as your walk out to the historic Cape Nelson lighthouse.
Coonawarra - Head north from Mount Gambier and you'll reach the red earth of the Coonawarra, where you can take your pick of over 25 different wineries. The region is most famous for its Cabernet Sauvignon but try out the Riesling too.
Robe - This stylish beach resort is a short detour off the route and makes for a relaxing place to spend a couple of hours.
Meningie - The gateway to the Coorong is a great place to hire a kayak or take a guided tour of the national park. Or for something different, visit the Meningie Cheese Factory Museum, which dips into more of the town's history than just its dairy. Treat yourself to a meal of Coorong Mullet, the local speciality.
Barossa Valley - Just outside Adelaide you can visit the cellar doors and restaurants of this beautiful wine region, which is famous for its Shiraz
Murray Bridge - Follow the town's Discovery Trail to get a feel for its indigenous history and more recent art and culture.
Tailem Bend - Step back into the past at Old Tailem Town Pioneer Village, a huge outdoor museum which takes you from the earliest European settlers up to life here in the 1960s.
Horsham - Stretch your legs with a walk along the Wimmera River then cook up lunch at the free BBQs on the riverbanks.
Ararat - Just outside the Grampians National Park, Ararat was once known as a gold mining town but is now more famous for its fruit farms and vineyards. The lakeside Alexandra Botanical Gardens are also a great place to unwind.
Werribee Gorge - There are some challenging bushwalks here, which are great for experienced hikers, offering amazing views across this untouched landscape.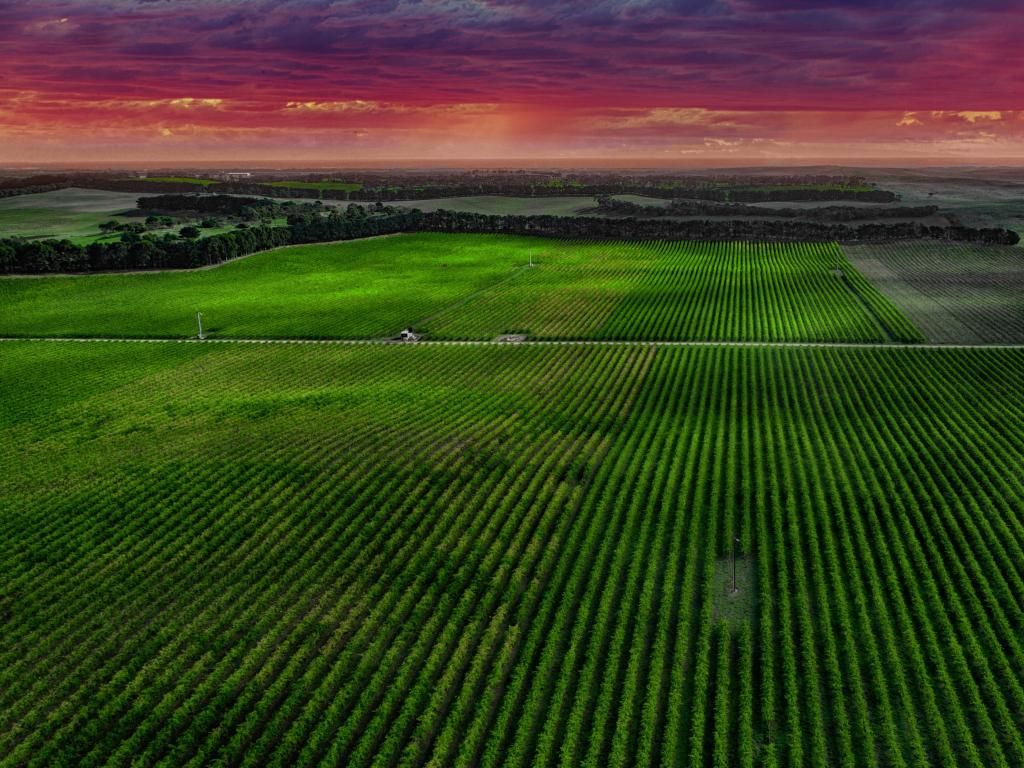 Best time to go on a 5-day road trip from Melbourne
You can take this trip all through the year, but the significant seasonal variation means it will feel very different in winter compared to summer. Although winters are mild, they can be quite wet, which won't stop you from taking the route but might make the many outdoor attractions less enjoyable.
Travelling in winter
In winter the cities can sometimes see temperatures up to a balmy 15 degrees Celsius in winter, but this is down to luck – 8 to 10 degrees is more normal. Keep your fingers crossed for mild weather if you're heading to Adelaide's Beer & BBQ Weekend in July.
On the inland part of the route, temperatures dip a little lower, down to around 5 degrees Celsius, meaning you won't be slowed down by ice or snow if you take this route in winter.
Rainfall increases all across this part of Australia through winter, so expect some rain most days, although this is often not too heavy.
Travelling in summer
In summer you can expect temperatures in the mid to high 20s Celsius on average, meaning the route is usually very enjoyable in summer. The beaches are busy, but for good reason.
The Great Ocean Road will be particularly crowded in summer months – you can get stuck behind tour buses and end up sharing viewing platforms with large groups, which takes some of the shine off this beautiful ocean drive. Try to visit popular landmarks at the start or end of the day to avoid the crowds.
Heat waves can also see summer temperatures peak above 40 degrees, so you might need to change plans or be flexible when visiting outdoor attractions. For example, hiking in the Grampians National Park will be challenging and potentially dangerous in such extreme heat, so follow local advice and safety warnings.
Travelling in autumn
Early autumn (March-April) can be a great time to travel as it still sees warm temperatures, but the summer crowds have thinned out a little on the busier stretches of the road.
This is also a great time to enjoy some of the major events that take place along the route, although be aware that they might be crowded.
The Adelaide Festival kicks off in March, bringing world-class performers and huge audiences to the city. Port Fairy Folk Festival also takes place in March, with 40,000 visitors heading to the small fishing town to enjoy free and ticketed live music events.
Later in the autumn, around Easter time, you can watch the impressive Bells Beach surfing competition, but be aware that this popular event not far out of Melbourne will be crowded, especially on the beaches, and roads might be busy heading into the town.
In autumn, specifically September and October, you can see southern right whales from the shore – they migrate past the Southern Australian coast at these times of the year.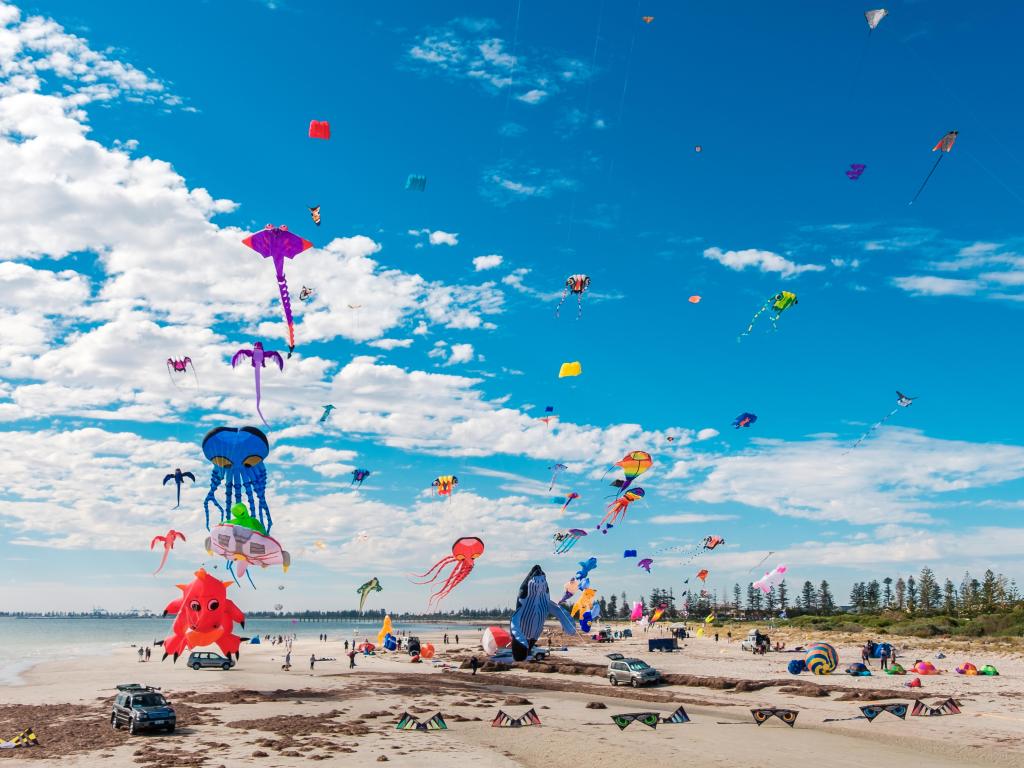 Travelling in spring
You might also hit the Great Ocean Road Marathon if you visit in May. Thousands of runners head to the area around Lorne so expect a festive atmosphere and events taking place in the area. Accommodation can be at a premium and the road between Lorne and Apollo Bay is closed to vehicles (there's a detour inland).
Temperatures drop from the mid-20s to the high teens as the autumn progresses, then rise up through this range again through spring, so it's warm enough to enjoy time outdoors, but probably not to spend much time at the beach at the start of spring or end of autumn.
You can also spot the whales migrating in the spring, especially if you visit in May.
In spring you can also enjoy the festive atmosphere of the Mount Gambier Show, which takes place in late October and brings thousands of visitors to the town.
A couple of weeks later and you'll reach Melbourne Cup time - just because you've left the city doesn't mean you've left behind the excitement that accompanies this event all across Victoria, so you might find that some bars, wineries and attractions have special events running on the day of the race.