Road Trip from Calgary to Alaska
An extended road trip through quaint Canadian towns into the beautiful wilderness of Alaska is the perfect getaway from the hustle and bustle of the city. This road trip from Calgary to Alaska will take you through stunning lakes, rugged valleys and gorgeous National Park and preserves before you reach your destination in Anchorage.
The 3,390 km road trip from Calgary to Alaska will take 37 hours to drive nonstop. The highlights en route are Red Deer, Dawson Creek, Muncho Lake, Whitehorse, Tok and Glacier View, or through Banff, Golden and Kamloops if you choose to take a ferry.
For this journey, you'll need to bring binoculars and have plenty of room for all those photos of wildlife, landscapes, and jaw-dropping scenery. Read on below to learn more about our recommended routes, top highlights, places to stay, and the best season to make the drive.
How far is Alaska from Calgary, and how long will the road trip take?
Comparison of road trip routes between Calgary and Alaska

| Route | Distance | Driving Time |
| --- | --- | --- |
| The Ferry Route | 950 km | 11 hours |
| The Inland Route | 3,390 km | 37 hours |
*The Ferry Route travel time and distance does not include ferry crossing.
The Inland Route is a substantial journey, covering a total distance of 3,390 km with an estimated drive time of 37 hours without any stops or detours.
The alternative Ferry Route offers a different and shorter experience, covering a distance of 950 km and requiring about 11 hours of driving. What makes it even more different is that you will take a ferry from Bellingham to Alaska on this route.
The ferry crossing is a long one, taking anywhere between 38 to 124 hours to complete, depending on your destination in Alaska. Please check our detailed guide to taking the ferry from Washington to Alaska to learn more.
For this epic journey, you'll need at least 10 days to fully immerse yourself in the experience. This gives you time to explore the towns, national parks, and natural wonders that are sprinkled on this road trip from Calgary to Anchorage, Alaska.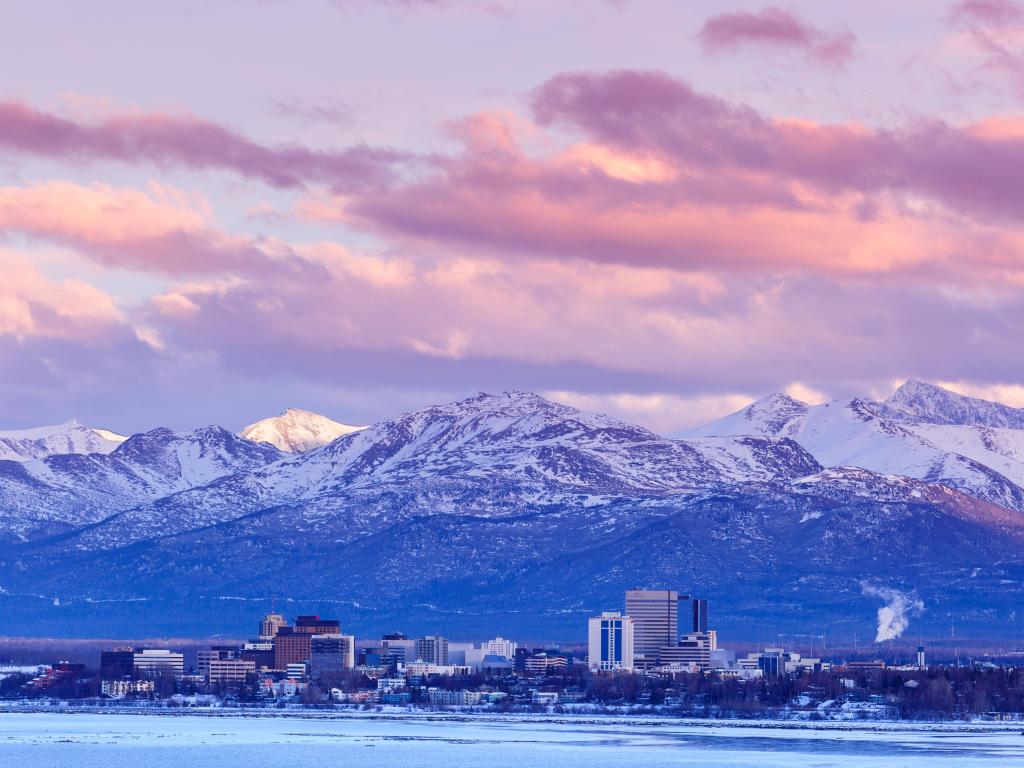 Best road trip route from Calgary to Alaska
Both routes offer their own unique charm and scenic beauty. Which route you choose will depend on whether you want an entirely road-based trip or splitting it up by ending the journey by sea.
The Inland Route offers an uninterrupted and epic driving experience, partially on the iconic Alaska Highway, renowned as one of the world's most beautiful drives.
You'll travel through the towns of Fort Nelson, Watson Lake, and the small city of Whitehorse, known for its remote wilderness. The attractions along this route are full of nature and culture.
From Sylvan Lake and the Dawson Creek Art Gallery to the Fort Nelson Heritage Museum and the stunning landscapes of Kluane Lake, Yukon, and Matanuska Glacier State Recreational Site, this route gives you a wide array of experiences.
The Ferry Route, on the other hand, offers a blend of land and sea travel. Highlights include a stopover in Banff to experience Banff and Jasper National Parks and Lake Louise.
While this route might take longer due to the ferry, the stunning mountainous landscape and ample opportunity for winter sports in Golden, wine tasting in Kamloops and a possible detour to Vancouver make it worth the extra effort.
Make sure to book your ferry tickets way ahead of time, if you are following the Ferry Route.
If you prefer long drives through ever-changing landscapes, taking you deep into the northern wilderness, the Inland Route is for you. However, if you prefer a diverse experience that includes both mountainous terrain and a journey by sea, then the Ferry Route is for you.
How to drive from Calgary to Alaska
The map above shows our suggestions for the best road trip routes between Calgary and Alaska. Keep reading for details about both routes, where to stay and what to see, and the best things to do on the way.
The Inland Route
Start your journey in Calgary and head north on AB 2. You'll drive past the scenic Sylvan Lake and through Red Deer as you continue heading north.
You can make a detour to Edmonton before ending up in the charming town of Grande Prairie. From here, continue northwest past Fort Nelson where you can visit the exciting Fort Nelson Heritage Museum.
After enjoying the town, continue on to the base of the Canadian Rocky Mountains. You'll then pass into the Northwest Territories and stop at Watson Lake.
Continue on route to the historic and culturally rich town of Whitehorse. From here, the terrain becomes even more rugged and beautiful around Kluane Lake.
After driving for several more hours, you'll cross the border into Alaska. Continue on to the town of Tok. From here, drive south through the heart of Alaska and see incredible destinations such as Glacier View. Keep driving until you reach your destination in Anchorage, Alaska.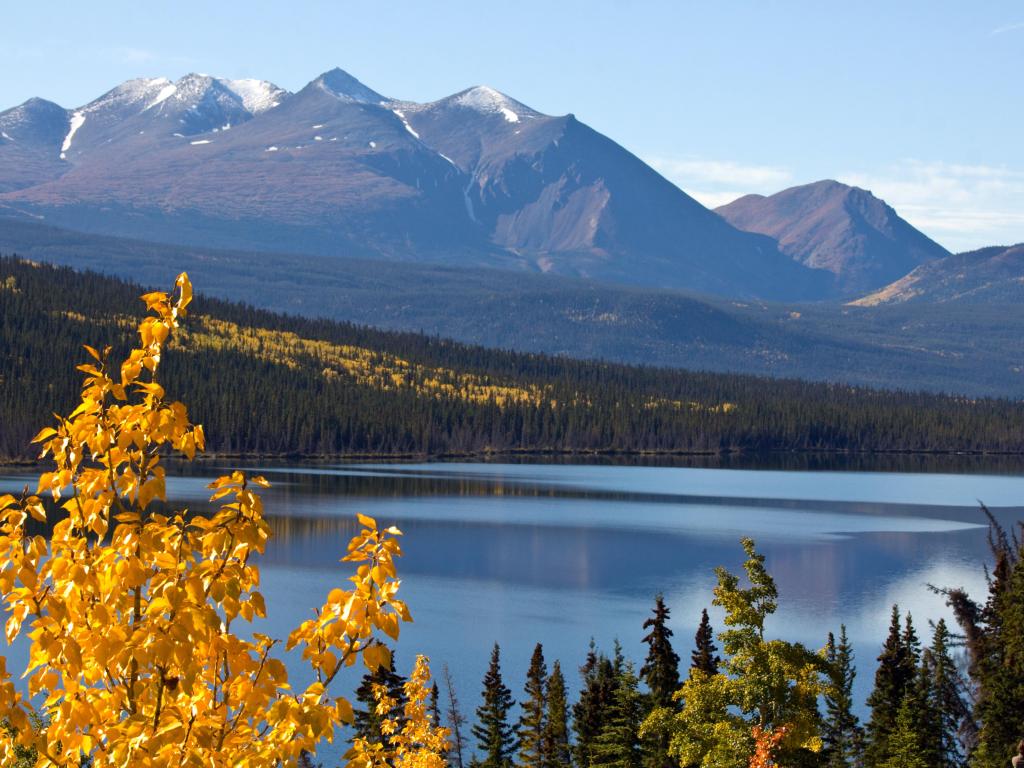 The Ferry Route
Begin your drive by taking Highway 1 (Trans-Canada Highway) west towards Banff. Your first stop should be the world-famous Banff National Park and Yoho National Park of Canada.
Keep driving on route through the beautiful mountain scenery until you reach the town of Golden. From here, drive west Glacier National Park of Canada.
Continue past the Columbia River and drive to the town of Sicamous. From here, continue on to Kamloops, where you can explore the Kamloops Wine Trail.
After enjoying Kamloops, drive southwest to Hope. You will soon reach Abbotsford. Afterwards, cross the border into the US state of Washington.
From here, you'll follow the route to Bellingham, where you'll catch the ferry to Alaska.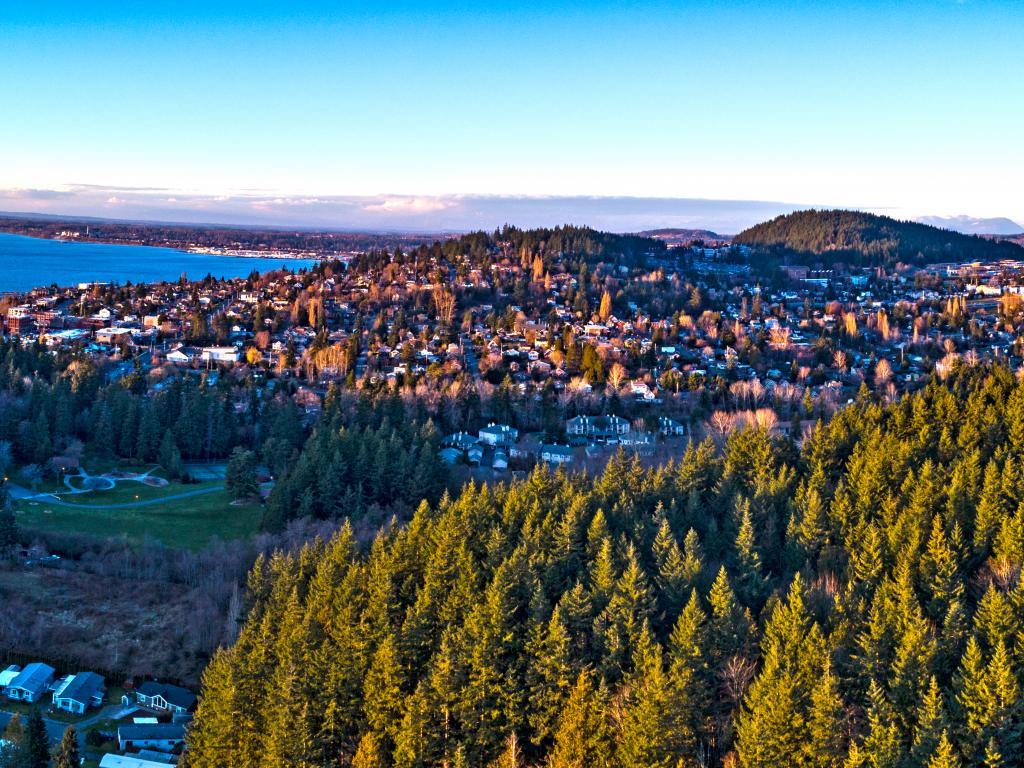 Best places to stop between Calgary and Alaska
The drive from Calgary to Alaska will be full of adventurous activities, beautiful sights, and endless natural wonders. It's also a long drive, so we recommend breaking it up by staying in one of the destinations below.
Gateway to Yukon's Arctic Wilderness in Whitehorse
Located about 2,200 km into your drive on The Inland Route, Whitehorse is a welcoming oasis. Serving as the capital of the Yukon Territory, it's not just a convenient stopover but also a culturally rich city with lots to do.
Whitehorse is renowned for its proximity to the awe-inspiring wilderness of Yukon. If you want more outdoor adventures, trek to Miles Canyon for stunning views of the Yukon River and its surroundings.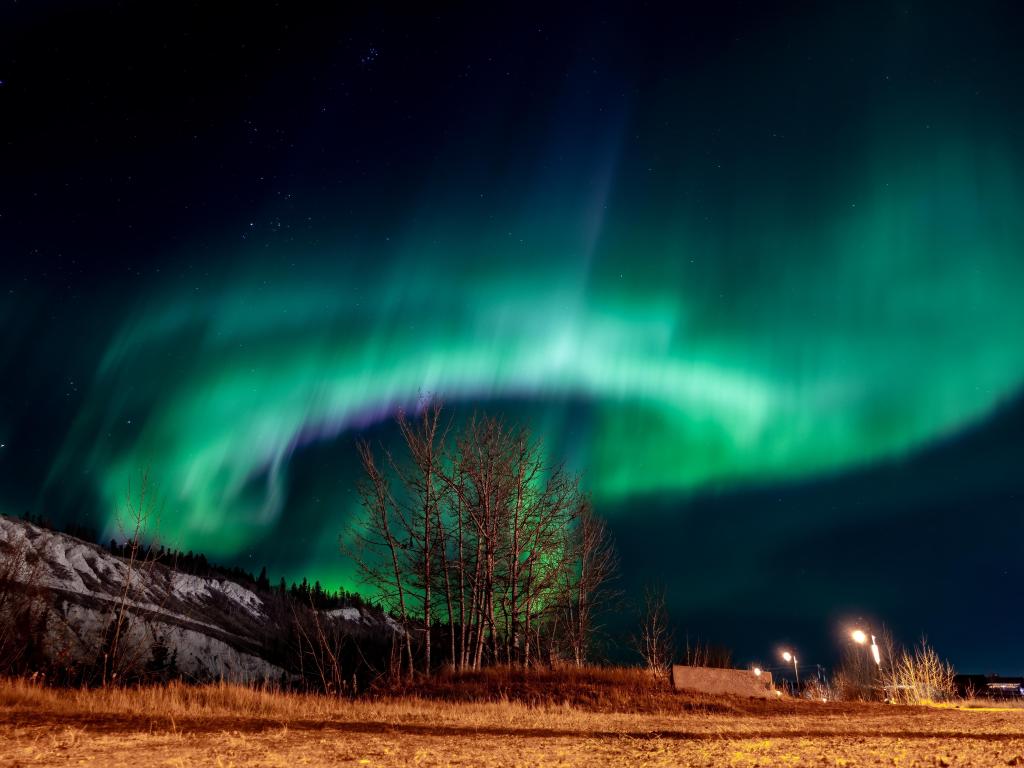 To fully appreciate the region's history, we highly recommend visiting the MacBride Museum of Yukon History while in Whitehorse.
For your stay, we highly recommend the Hidden Valley Bed and Breakfast. Nestled in a private wooded garden, this B&B offers a tranquil setting that contrasts beautifully with its luxurious interiors.
For even more relaxation, you'll love the outdoor hot tub, where you can soak and gaze at the Northern Lights. Another perk of staying at the Hidden Valley Bed and Breakfast is the delicious homemade breakfast. It's the perfect way to fuel up before embarking on another day of adventure.
Just 14 km away from the bed and breakfast, Takhini Hot Springs offers a soothing, natural hot spring experience that shouldn't be missed.
If you love art and culture, the Yukon Arts Center and its sculpture garden are a short drive from the B&B. The centre features plenty of art pieces and installations that tell the story of the region's rich cultural heritage.
Breathtaking scenery in Salmon Arm
Salmon Arm, located 500 km along The Ferry Route, is a paradise if you love natural landscapes (and who doesn't!). This scenic location offers prime access to some of British Columbia's most stunning views.
The town is renowned for its lush landscapes and for being home to the longest freshwater wooden wharf in North America—a sight you wouldn't want to miss.
For your stay, we recommend driving 25 minutes to Sorrento by the lake and staying at Woodland Cabins Micro Resort, a cosy retreat surrounded by lush Canadian forests with the White Lake a stone's throw from the property.
The area around the inn is perfect for outdoor enthusiasts. If water sports are more your speed, the nearby White Lake and rivers offer excellent swimming, kayaking and paddle boarding opportunities.
Where to stay when you reach Anchorage, Alaska
As you reach your final destination in Alaska, you'll end your journey in the city of Anchorage. This bustling metropolis is the United States' gateway to the North.
Anchorage is teeming with life, especially its famed population of moose and reindeer, which live close to the city.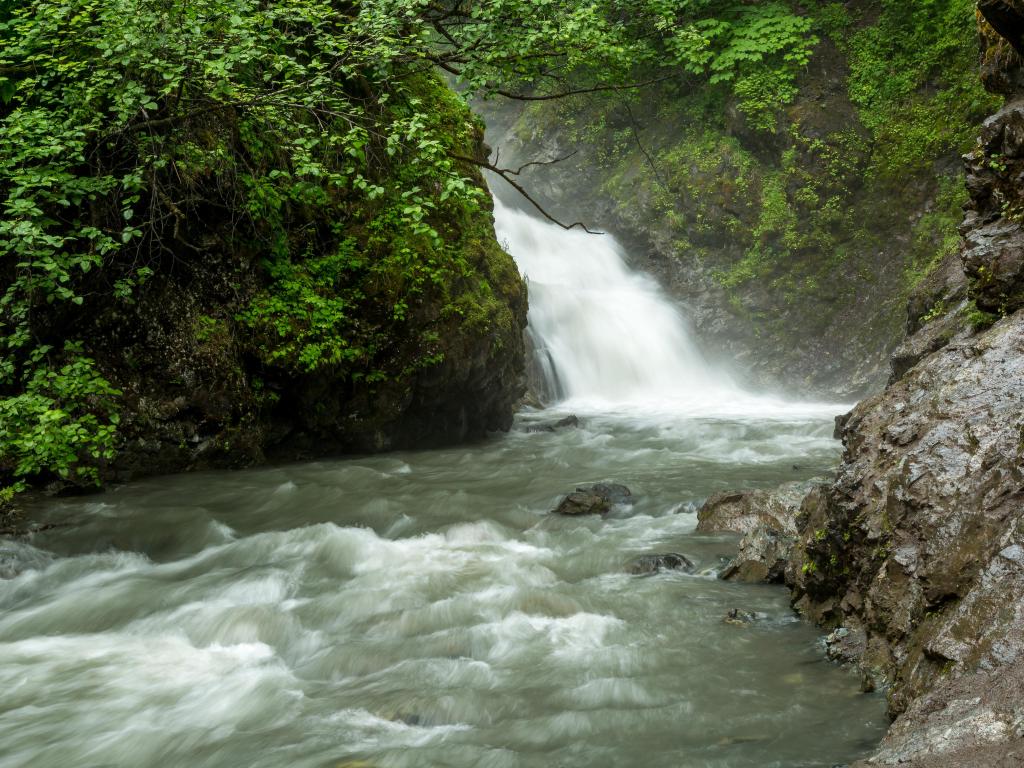 If you want to learn more about the area's rich history, the Alaska Veterans Memorial is worth a visit. Nature enthusiasts won't want to miss Thunderbird Falls, an awe-inspiring cascade that's just a short drive away from the city centre.
When it comes to lodging, we recommend staying at the highly-rated Hyatt Place Anchorage-Midtown. Located right in the heart of the city, the hotel is full of incredible amenities a refreshing indoor swimming pool or the state-of-the-art fitness centre.
After relaxing at the hotel, be sure to check out the bars and restaurants nearby that make Anchorage such an exciting destination.
Things to see on a road trip from Calgary to Alaska
It's time to start preparing for your epic road trip from Calgary to Alaska. To help you plan, we've included our favourite highlights and destinations below.
The Inland Route
Sylvan Lake - Nestled in Alberta, Sylvan Lake is renowned for its crystal-clear waters and offers one of the largest inflatable water parks in Canada, making it a perfect spot for adrenaline seekers.
Muttart Conservatory - Located in Edmonton, the Muttart Conservatory features four biomes housed in architectural pyramids, including a tropical rainforest and an arid desert.
Rotary Park Outdoor Waterpark - Situated in Whitehorse, this family-friendly water park has Yukon's only splash pad and a creatively designed pool mimicking local river routes.
Young's Point Provincial Park - This British Columbia park is a gem for stargazers, offering some of the darkest night skies in the region, along with diverse fishing opportunities, including pike and walleye.
Saskatoon Island Provincial Park - Close to Grande Prairie, this park features an annual loon festival celebrating the return of migratory birds and offers paddleboard rentals for exploring its tranquil lakes.
Dawson Creek Art Gallery - Housed in a converted grain elevator in Dawson Creek, British Columbia, this gallery is unique in its structure and specialises in showcasing works by Peace River artists, making it a regional cultural hub.
Fort Nelson Heritage Museum - Located in Fort Nelson, BC, the museum is home to one of Canada's most extensive antique car collections, as well as an impressive range of historical firearms.
Toad River - This British Columbia river is a fisherman's paradise, famous for its abundant Stone's Sheep population, and offers guided fly-fishing excursions for catching Arctic grayling.
Marsh Lake - A prime Yukon birding location, Marsh Lake boasts the Swan Haven Interpretive Centre, where thousands of Trumpeter Swans can be observed during their annual migration.
Yukon Wildlife Preserve - Just a short drive from Whitehorse, this 700-acre preserve offers the unique opportunity to view 13 different Northern Canadian mammal species in their natural habitats, from the comfort of your own vehicle.
Kluane Lake, Yukon - Known for its dramatic scenery with the backdrop of the St. Elias Mountains, this lake offers the rare chance to witness the Aurora Borealis and engage in world-class lake trout fishing.
Mentasta Lake - Located in Alaska, this remote lake is a hot spot for catching Arctic Char and offers breathtaking views of the Wrangell–St. Elias National Park.
Matanuska Glacier State Recreational Site - Situated in Alaska, this site offers guided glacier trekking and ice climbing, providing an up-close experience with one of the most accessible glaciers in Alaska.
The Musk Ox Farm - Located in Palmer, Alaska, this is the only domestic Musk Ox farm in the US, where visitors can learn about the gentle, Ice Age animals and even purchase qiviut, the soft underwool of the musk ox, spun into luxurious yarn.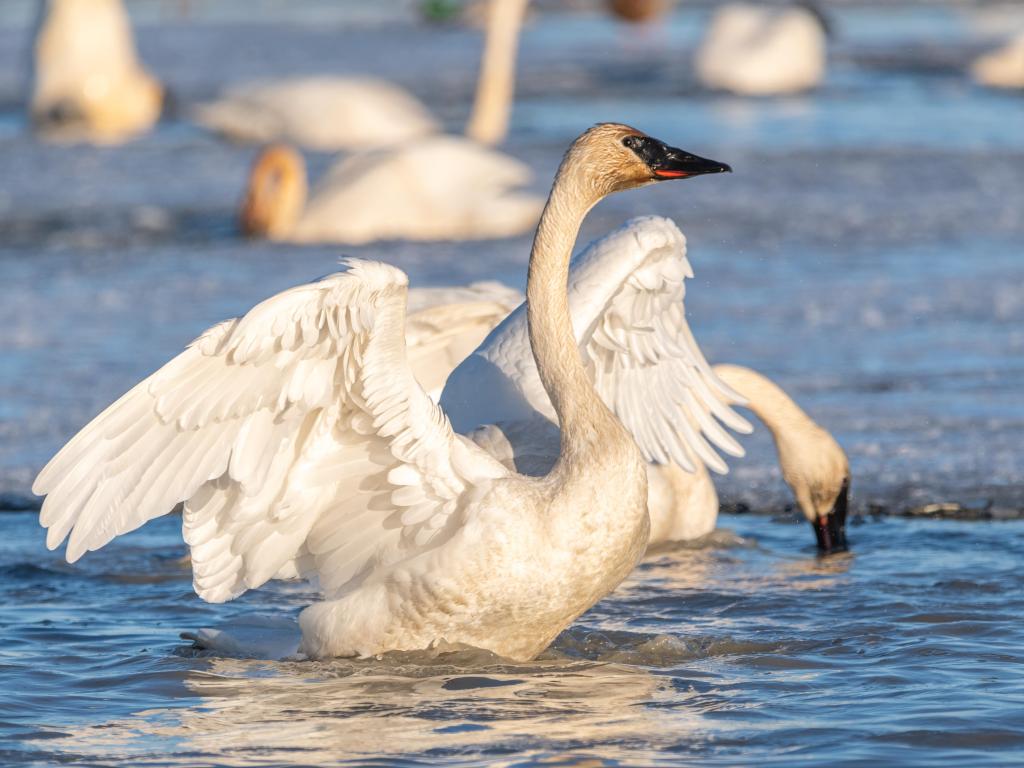 The Ferry Route
Yamnuska Wolfdog Sanctuary - Situated near Cochrane, Alberta, this sanctuary provides an intimate experience to learn about wolfdogs and contribute to their welfare through various interactive tours.
Bow Valley Provincial Park - Located in Alberta, this park is a haven for wildflower enthusiasts with over 20 documented species, and its interpretive trails offer scenic views of the Bow River.
Banff National Park - Banff National Park, located in the Canadian Rockies, is renowned for its stunning alpine landscapes, turquoise glacial lakes, and fascinating wildlife.
Ink Pots - Accessed via the Johnston Canyon trail in Banff National Park, these natural springs mesmerise visitors with their crystal-clear, colour-changing water, offering a tranquil hiking reward.
Vermilion Pass - Situated at the border between Alberta and British Columbia, this mountain pass in Kootenay National Park is famous for its Continental Divide marker and breathtaking views of the surrounding alpine environment.
Lake Agnes Tea House - Tucked away in the mountains above Lake Louise, Alberta, this historic tea house offers hikers a charming spot to enjoy homemade scones and an array of teas after a scenic trek.
Emerald Lake - Located in British Columbia's Yoho National Park, this glacial lake is a go-to for canoeing with its stunning emerald-coloured waters.
Golden Skybridge - Situated in Golden, British Columbia, this is Canada's highest suspension bridge, featuring a tandem set of bridges suspended over a dramatic canyon and waterfalls.
The Last Spike - Located near Revelstoke, British Columbia, this historic site marks the completion of the Canadian Pacific Railway with an actual spike and offers a snapshot of Canadian history.
Logan Lake - Known for its high-elevation setting in British Columbia, this lake offers prime ice fishing conditions in winter and is surrounded by trails perfect for ATV enthusiasts.
Bridal Veil Falls Provincial Park - Located in Chilliwack, British Columbia, this park features a 60-metre waterfall that resembles a bridal veil, providing an excellent backdrop for photography.
Clayburn Village - Situated in British Columbia, this historic village offers a step back in time with its preserved early 20th-century buildings and a charming old-school candy store.
Lynden Pioneer Museum - Located in Lynden, Washington, this museum showcases one of the largest collections of horse-drawn buggies and is a treasure trove of local agricultural history.
North Fork Brewery - Situated in Deming, Washington, this microbrewery is also a pizzeria and wedding chapel, making it a one-of-a-kind stop for beer lovers and pizza aficionados alike.
Whatcom Falls Park - Located in Bellingham, Washington, this park features four sets of waterfalls and a variety of trails that offer viewpoints of both the falls and the Whatcom Creek Gorge.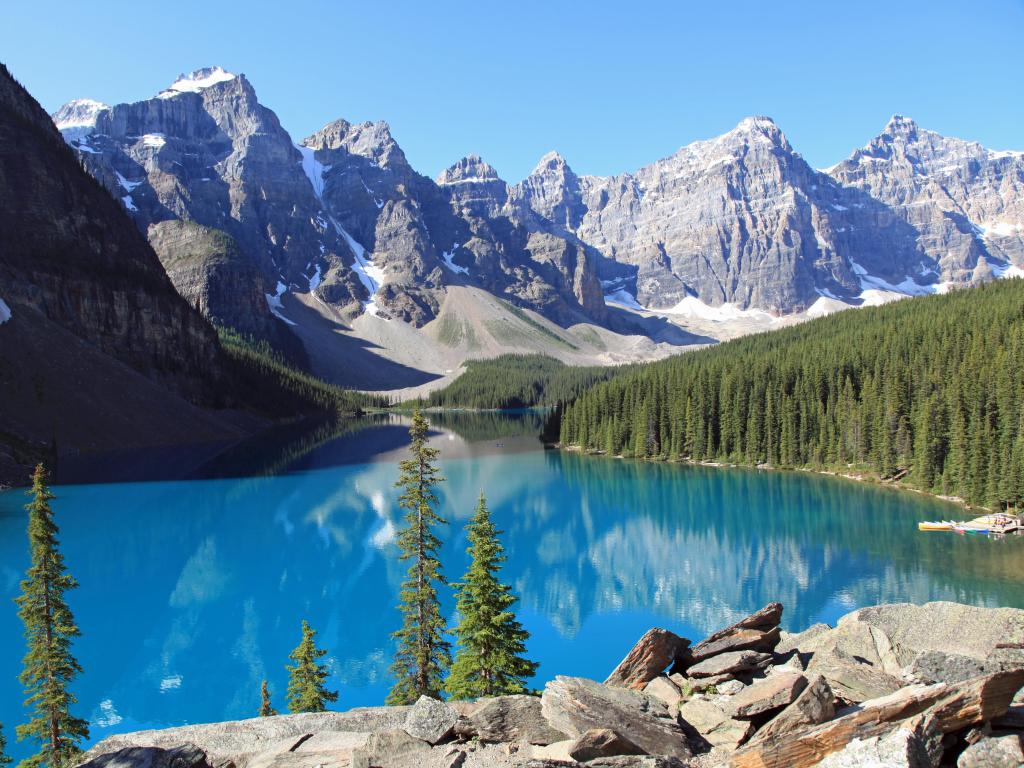 Best time to go on a road trip from Calgary to Alaska
Alaska, your ultimate destination, is a beautiful destination, but which season you choose to travel, unsurprisingly, will affect your road trip experience.
If you're an inexperienced or cautious driver, we don't recommend hitting the road in winter due to Alaska's long periods of darkness, substantial snowfall, and very cold temperatures.
If you do choose travel during winter along The Inland Route, consider stopping for the Yukon Sourdough Rendezvous in February.
Even the spring season can be challenging, with temperatures ranging from 20 to 50 degrees Fahrenheit and the potential for icy driving conditions and even heavy snow. If you make it to Anchorage in March, you can experience the Iditarod Trail Sled Dog Race.
If you're travelling in spring on The Ferry Route, you can also participate in the Kamloops Wine Festival in May.
Summer is undoubtedly the most popular time to explore Alaska, where the average temperatures range between 50 to 70 degrees Fahrenheit. This season provides long daylight hours and opens plenty of outdoor activities like fishing, hiking, and wildlife watching.
Summer sees plenty of excellent events and festivities. The ROOTSandBLUES and the Anchorage RunFest are two incredible festivals, both in August. However, bear in mind that this is peak season; prices for accommodations can be quite steep.
If you aim for value, consider travelling in late April to May or September. During these times, you avoid peak-season crowds and will likely find more budget-friendly travel and accommodation rates.
The temperatures are more moderate during these shoulder seasons. Spring provides a chance to catch the tail end of the Northern Lights, and fall offers a display of colourful foliage.
While en route through The Inland Route, be prepared for long stretches without gas stations and service posts. So, stocking up on fuel, snacks, and water is a must. If you opt for The Ferry Route, don't forget to book your ferry tickets in advance, as they can fill up quickly.