Road Trip from Calgary to Yellowstone National Park
A scenic drive from Calgary to Yellowstone National Park is a breathtaking experience, through urban skylines to the vast prairies of Alberta and towards the rugged landscapes of Montana before reaching the grand Yellowstone geothermal wonders and spectacular wildlife.
The 650-mile road trip from Calgary to Yellowstone National Park takes 11 hours, passing Medicine Hat, Elkwater, Havre and White Sulphur Springs, or via Glacier National Park to Waterton Lakes National Park Canada, Whitefish, Montana and Missoula.
This unforgettable route is dotted with charming towns, expansive grassland and awe-inspiring mountain views along the way. Keep reading to see all the best places to stop and explore as you head towards the incredible destination of Yellowstone National Park.
How far is Yellowstone National Park from Calgary, and how long will the road trip take?
Comparison of road trip routes between Calgary and Yellowstone National Park

| Route | Distance | Driving Time |
| --- | --- | --- |
| The Direct Route | 635 miles | 10 hours 25 minutes |
| The Glacier National Park Route | 700miles | 12 hours 30 minutes |
Choose to take the Direct Route to travel to Yellowstone National Park from Calgary and you'll cover approximately 635 miles and take around 10 hours and 25 minutes to make the journey.
Opting for the Glacier National Park Route is slightly longer, with this scenic route stretching 700 miles and taking approximately 12 hours and 30 minutes.
While both routes can just about be tackled in a day, with the sheer beauty of the landscapes and unique stops along the way, we suggest taking around 2-3 days to make this trip.
Best road trip route from Calgary to Yellowstone National Park
While both routes to Yellowstone National Park offer plenty of natural attractions, each offers something a little different to tempt you.
The Direct Route from Calgary blends both Canadian and American Western culture, with visits to historic towns, sprawling ranches and beautiful views.
Passing through Medicine Hat and Elkwater is a real mix of interesting and scenic sites. As you head just south of Havre, the Bear Paw Mountains roll into view, not just beautiful but also the site of the last major battle of the Nez Perce War.
Approaching White Sulphur Springs, the haunting Castle Town then awaits, which is a unique opportunity to explore the historical ruins.
On the other hand, if pristine alpine landscapes are on your to-see list then the Glacier National Park Route is the journey for you.
A first stop at stunning Waterton Lakes National Park leads to Glacier National Park, where every bend in the Going-to-the-Sun Road promises breathtaking vistas.
Famous Logan Pass, its highest point, also delivers unforgettable views, and the visitor center is the gateway to popular treks like the Hidden Lake and Highline trails.
Further ahead, the relaxed mountain town Whitefish is a great pitstop, with its scenic lakes and ski resorts the ideal place to recharge, before heading onto western Montana and the eclectic city sites of Missoula.
How to drive from Calgary to Yellowstone National Park
The map above shows our suggestions for the best road trip routes between Calgary and Yellowstone National Park. Keep reading for detailed descriptions of both routes, where to stay on either, and the best things to do on the way.
The Direct Route
Head southeast from Calgary on Trans-Canada Hwy/AB-1 E, and soon, you'll arrive at Blackfoot Crossing Historical Park, a beautiful area testament to the region's indigenous heritage.
Continue towards Medicine Hat, renowned for Saamis Teepee, the world's tallest teepee, or visit pretty Echo Dale Regional Park, before heading onto AB-41A E towards Elkwater and the sprawling vistas of Cypress Hills Interprovincial Park. During winter, the Hidden Valley Ski Resort is also close by for some snow-filled fun.
Moving southward into the USA, Havre, along US-87, is a great stop for an overnight stay. The nearby Bear Paw Mountains are also a picturesque stop to head to.
Venture further southeast on US-89 to White Sulphur Springs, passing through Lewis and Clark National Forest and several hiking opportunities.
Once in White Sulphur Springs, the Showdown Montana ski area is great for winter sports fans. Or visit Kings Hill Scenic Byway, where you can enjoy panoramic views. If you're into history, a side trip to Castle Town provides an enchanting walk through Montana's past.
Afterwards continue onto Livingston still on US-89, where nearby Yellowstone River Trail offers trekkers a delightful journey, or Chico Hot Springs provides visitors with a rejuvenating soak. From here, you will shortly reach your destination, Yellowstone National Park.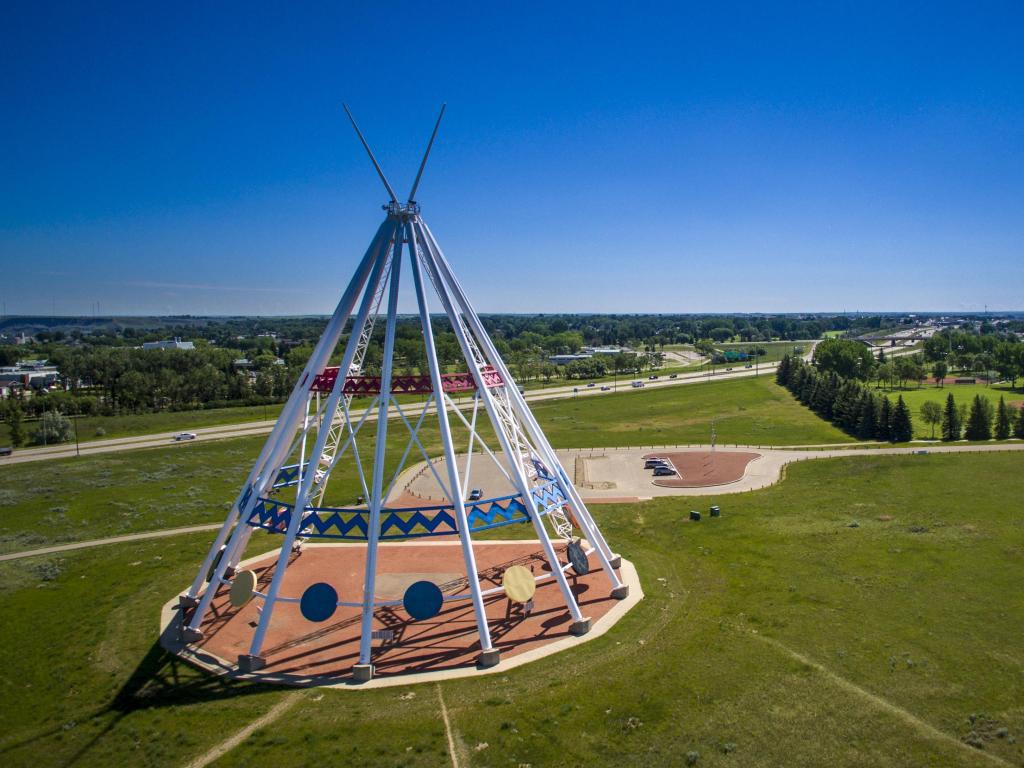 The Glacier National Park Route
For the Glacier National Park Route, start from Calgary, moving southwards on AB-2 S, arriving shortly after at Waterton Lakes National Park of Canada. This area is known for its captivating landscapes, glacial lakes and towering peaks. St Mary Lake is also a pretty place to stop for lunch.
Logan Pass, the highest point on the Going-to-the-Sun Road, provides awe-inspiring panoramic views and is a trailhead for hikes like the Hidden Lake and Highline trails.
Continue your journey southwest to Whitefish, Montana, where this charming mountain town is ideal for a relaxing stopover, with a scenic and relaxed vibe, and great for ski fans.
Afterwards head south along US-93 towards Missoula, the vibrant heart of western Montana. Along the way, take a moment of spiritual reflection at the Garden of One Thousand Buddhas.
Once in Missoula, local gems like the Museum of Mountain Flying and A Carousel for Missoula are a must, while nature lovers can venture just outside the city to the Rattlesnake National Recreation Area and Wilderness for hiking and wildlife spotting.
Take Interstate-90 (I-90) before arriving in Butte. Uptown Butte offers an intriguing mix of history and architecture, and you can also visit the nearby Berkeley Pit, a former open-pit copper mine.
Afterwards head back on I-90 southwards and you'll soon arrive at the iconic and unforgettable Yellowstone National Park.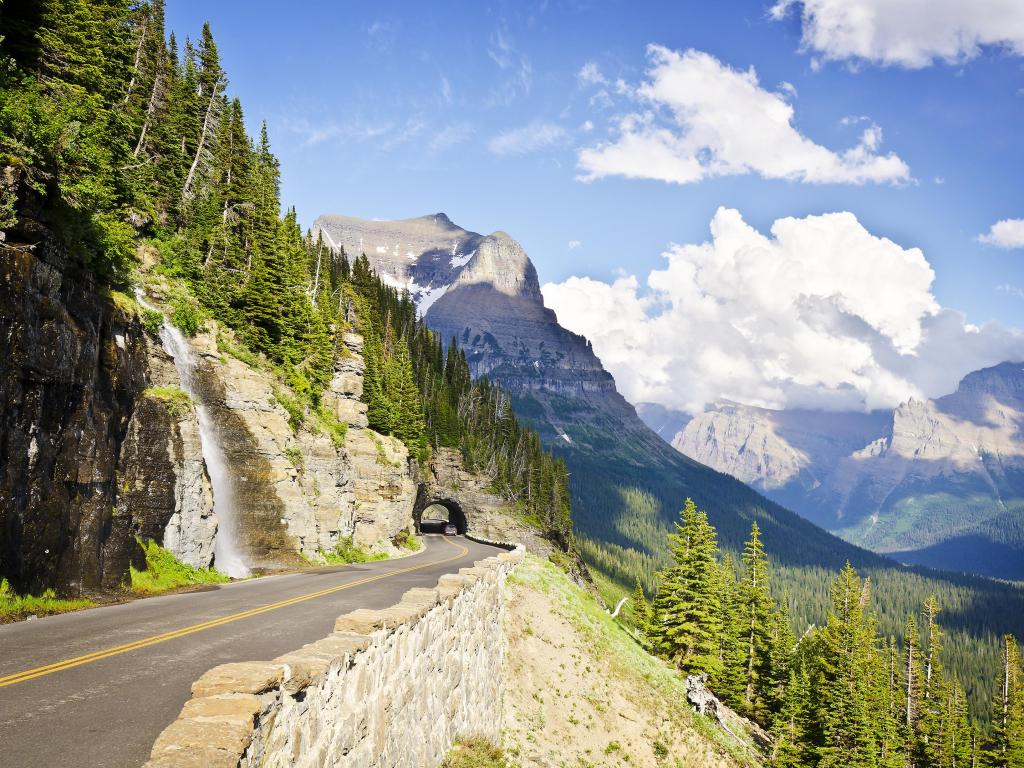 Best places to stop between Calgary and Yellowstone National Park
You can be sure of a beautiful journey as you travel through the stunning landscapes and interesting stop-offs as you head towards Yellowstone National Park. Make sure to keep reading to see where we suggest to stay and explore as you make this epic trip.
Explore exciting Havre, both above and below ground
Havre is an excellent halfway point to take a break and immerse yourself in local history. It stands out for its unique attractions, notably "Havre Beneath the Streets," a captivating underground tour that offers a peek into the city's vibrant past.
Interestingly, while the city shares its name with the notable French port, Le Havre, you'll be greeted with the distinctly American pronunciation, "HAV-er," quite different from the French "hah-VRUH." So make sure to give it a practice before you arrive!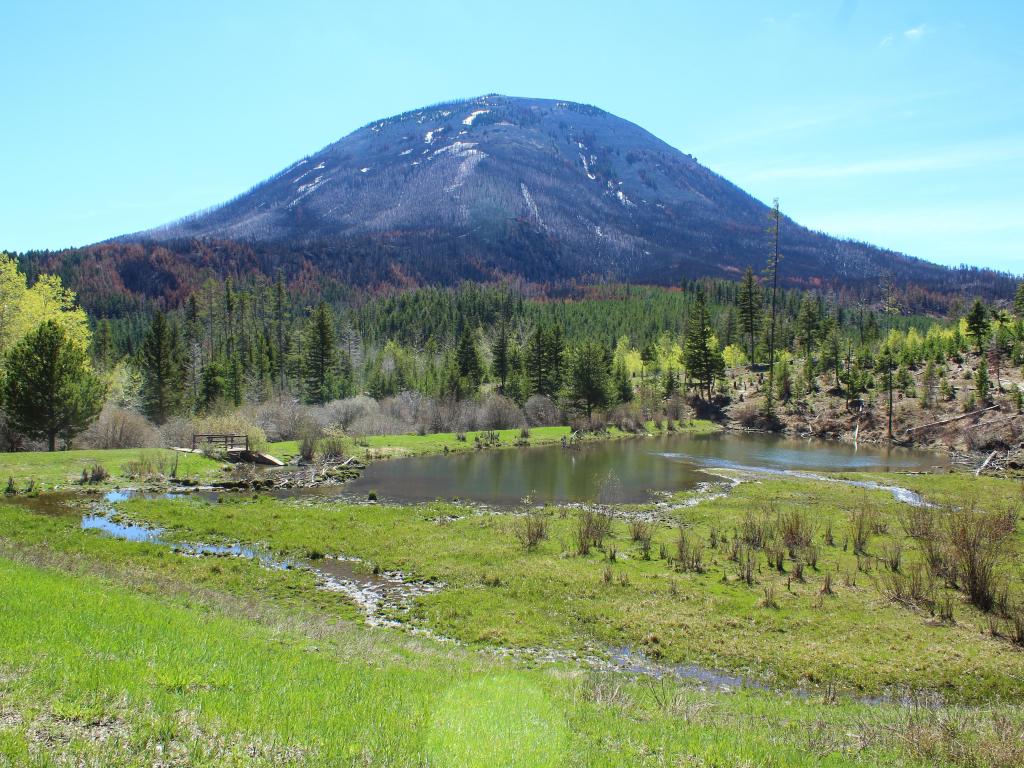 While in Havre, make sure to visit the Havre Railroad Museum, where you can understand more about the town's rail heritage through the interesting artifacts and memorabilia.
For a comfortable overnight stay the AmericInn by Wyndham Havre comes highly recommended. This hotel boasts a spacious indoor heated and salt water swimming pool complemented by a hot tub — perfect for a relaxing soak after a day of exploring. Or if you fancy staying on the move, head to the on-site fitness center.
Rise and shine to a delightful morning breakfast, with a variety of options suitable for all family members, and, if you prefer, you can even have it served in the comfort of your room. There are also plenty of dining options on the doorstep, including Schwan's and China Garden, just a short stroll away.
This well-located hotel is just a short distance from Havre Beneath the Streets, only a 10-minute drive, and Sands Waterfowl Production Area is just a stone's throw from the property, a real treat for nature enthusiasts.
The great outdoors awaits at Whitefish
Whitefish is the ideal location to take a pause on The Glacier National Park Route, about 300 miles into the journey. The pristine beauty of Whitefish Lake, bordered by lush forests and mountains, is a memorable place to stop over for a night or two.
Renowned for its scenic surroundings, Whitefish Lake is the perfect spot for kayaking, paddleboarding, swimming, or simply soaking up the sun on its sandy shores.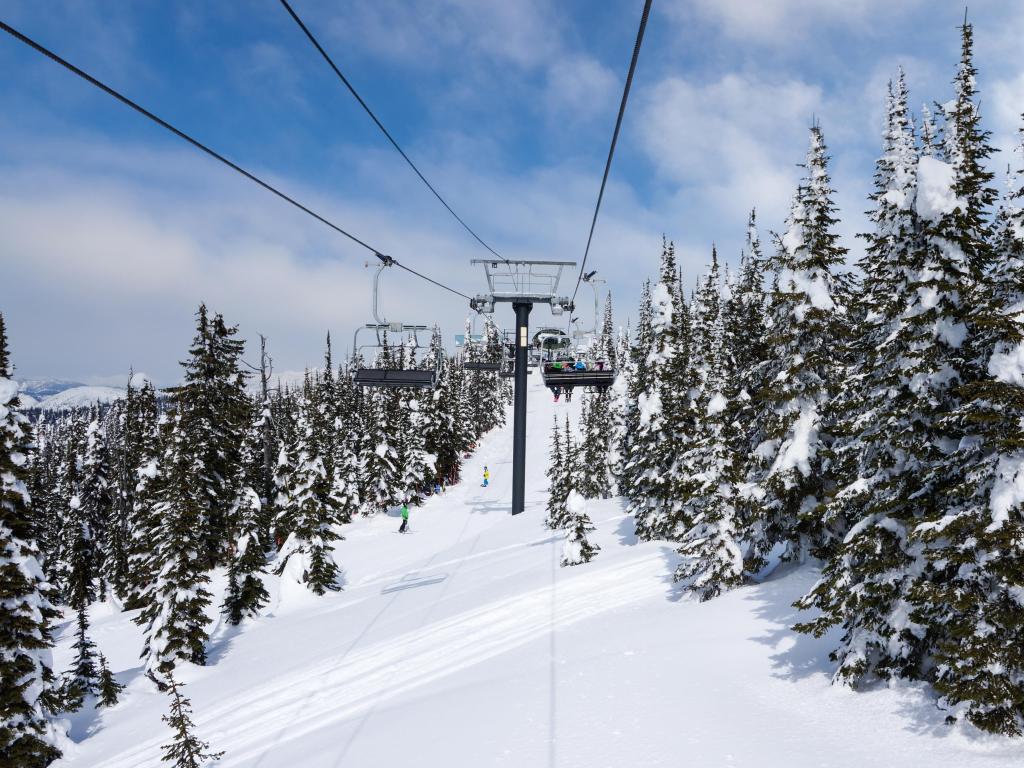 If you fancy something more high energy, then head to Whitefish Mountain Resort on Big Mountain. It's not just a winter wonderland for ski enthusiasts but transforms into a summer paradise where you can mountain bike, hike, and zip line around this breathtaking area.
Interestingly, Whitefish's quirky nickname, "Stumptown", dates back to its railroad founding days, a nod to many tree stumps left behind when the land was cleared. You might even hear it during your stay!
When in Whitefish, we recommend making the Lodge at Whitefish Lake your home. Sitting on the shores of Whitefish Lake, you can enjoy panoramic views of the surrounding forest and lake.
The on-site Boat Club Restaurant, with its signature martinis and Boat Club chips, is a real treat. And for those looking to unwind, The Spa at Whitefish Lake has plenty of services to enjoy a pamper.
Should you want to head out and explore, then the Whitefish City Beach and Whitefish Mountain Resort are close by, or rent paddleboards, kayaks, and canoes from the lodge's on-site marina. You'll not want to stray far from this lakeside haven.
Where to stay when you reach Yellowstone National Park
Yellowstone is globally recognized as the world's first national park, packed with geothermal wonders, spectacular wildlife, and iconic eruptions from the Old Faithful geyser.
Adventure awaits in the Lamar and Hayden Valleys, often dubbed the "Serengeti of North America." Here, you can expect some top wildlife watching, including wolves, bears and elk. It really is a nature lover's paradise.
Make sure to head to Grand Prismatic Spring, a colorful sight with bubbling mud pots scattered throughout the park. Yellowstone is also home to ancient, petrified forests. These age-old trees have been turned to stone over millions of years, still standing tall and proud.
When it comes to staying overnight, the Yellowstone Park Hotel is an ideal choice. Located just three blocks from the West Entrance, staying here makes accessing the park super convenient. It is also right at your doorstep from Grizzly & Wolf Discovery Center.
Back at the hotel, you can dive into the year-round swimming pool or relax in the hot tub after a day out and about. And come morning, you'll be treated to a delicious Continental and American buffet breakfast to kickstart another day of adventure.
Things to see on a road trip from Calgary to Yellowstone National Park
As you take this scenic journey from Calgary to Yellowstone National Park you can be sure to pass a treasure trove of interesting sites, stunning natural beauty, and historical stops. Make a note of some of the best things we think there are to do and see along the way, listed below. You really are spoilt for choice.
Direct Route
Blackfoot Crossing Historical Park - A cultural heritage center, this park commemorates the Siksika Nation peoples and their history, also marking the signing of Treaty No. 7.
Echo Dale Regional Park - Located in Medicine Hat, this park combines historical farm settings with natural landscapes, providing visitors a spot to relax and explore.
Saamis Teepee - An iconic landmark in Medicine Hat, it's the world's tallest teepee which celebrates Canada's native heritage.
Medalta - Located in Medicine Hat, Medalta is a museum, pottery workshop, and archaeological site highlighting the region's industrial ceramic history.
Cypress Hills Interprovincial Park, Alberta - Spanning across Alberta and Saskatchewan, this park boasts unique geology, landscapes, and a mix of flora and fauna.
Hidden Valley Ski Resort - Situated in the Cypress Hills, this ski resort offers winter enthusiasts various slopes and recreational activities.
Havre Beneath the Streets - A historic underground tour in Havre, revealing hidden remains of the city's early 20th-century establishments.
Bear Paw Mountains - A picturesque mountain range in Montana that features varied terrains, flora, and fauna.
Wahkpa Chu'gn Archaeological Site - Located in Havre, it showcases buffalo jump sites and offers insights into prehistoric life.
Lewis and Clark National Forest - A vast, verdant expanse in Montana, rich in wildlife and offering a plethora of recreational activities.
Showdown Montana - A renowned ski area in the heart of Montana, promising exhilarating slopes and snow activities.
Kings Hill Scenic Byway - A picturesque drive in Montana, revealing breathtaking landscapes and numerous recreational opportunities.
Livingston - A charming gateway town to Yellowstone, offering a mix of arts, culture, and historic vibes.
Chico Hot Springs - Located near Livingston, it's a historic resort known for its therapeutic hot springs and scenic beauty.
Yellowstone River Trail - This trail meanders along the Yellowstone River, offering hikers stunning views and wildlife encounters.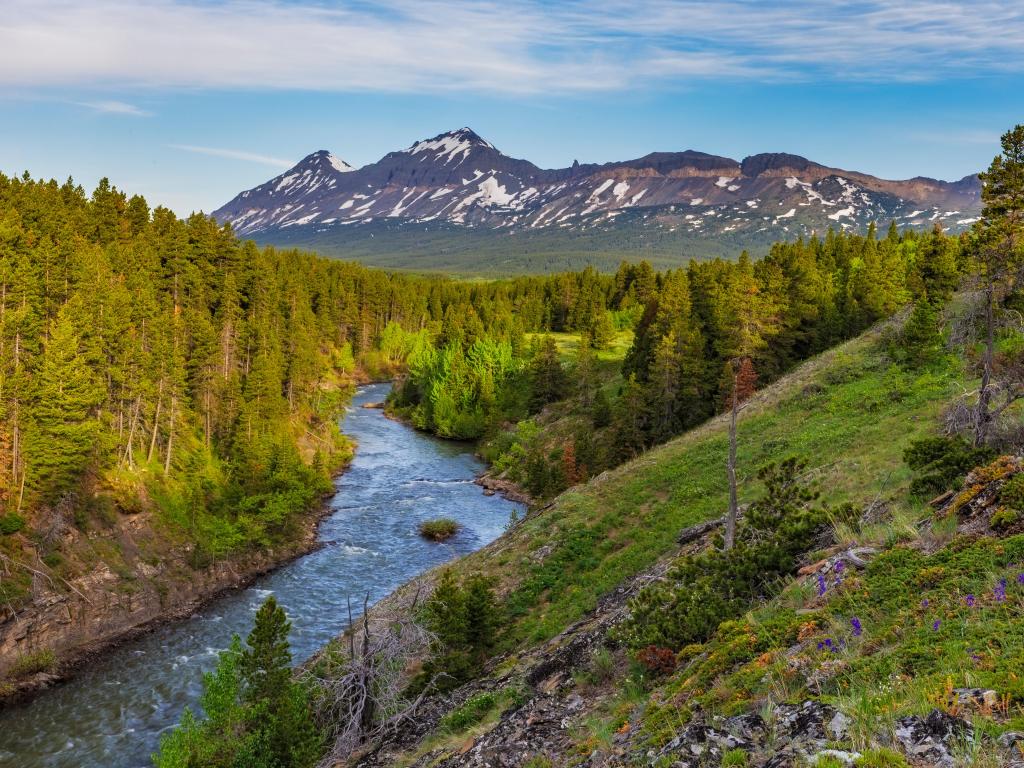 Glacier National Park Route
Waterton Lakes National Park - Located in Canada, this park, in tandem with Glacier National Park, forms the world's first International Peace Park.
St Mary Lake - Nestled in Glacier National Park, it's a pristine glacial lake known for its vivid turquoise waters.
Logan Pass - The highest point in Glacier National Park accessible by car, offering panoramic vistas and access to various trails.
Trail of the Cedars - An easy walking trail in Glacier National Park, lined with ancient cedar trees and serene waterfalls.
Glacier National Park - A gem in Montana's crown, it boasts spectacular glacial landscapes, diverse wildlife, and myriad recreational opportunities.
Lake McDonald - Glacier National Park's largest lake, known for its crystal-clear waters and surrounding majestic mountains.
Miracle of America Museum - Located in Polson, this museum offers a diverse collection of American artifacts and antiques.
Garden of One Thousand Buddhas - Situated in Arlee, this sacred site aims to propagate peace and spiritual harmony.
Museum of Mountain Flying - Located in Missoula, it celebrates Montana's flying history with historic aircraft and exhibits.
A Carousel for Missoula - A hand-carved carousel in Missoula, cherished by locals and visitors alike.
Uptown Butte - A historic section of Butte, known for its ornate architecture and rich mining history.
Rattlesnake National Recreation Area and Wilderness - Just north of Missoula, this area offers scenic trails, wildlife encounters, and outdoor recreation.
The Berkeley Pit - Located in Butte, it's a former open-pit copper mine which is now a toxic lake, offering a unique viewing experience.
Lewis and Clark Caverns State Park, Montana - Famous for its limestone caverns, this park offers guided tours showcasing spectacular underground formations.
Big Hole National Battlefield - A site in Montana commemorating the Nez Perce War, offering insights into the conflict's history and its significance.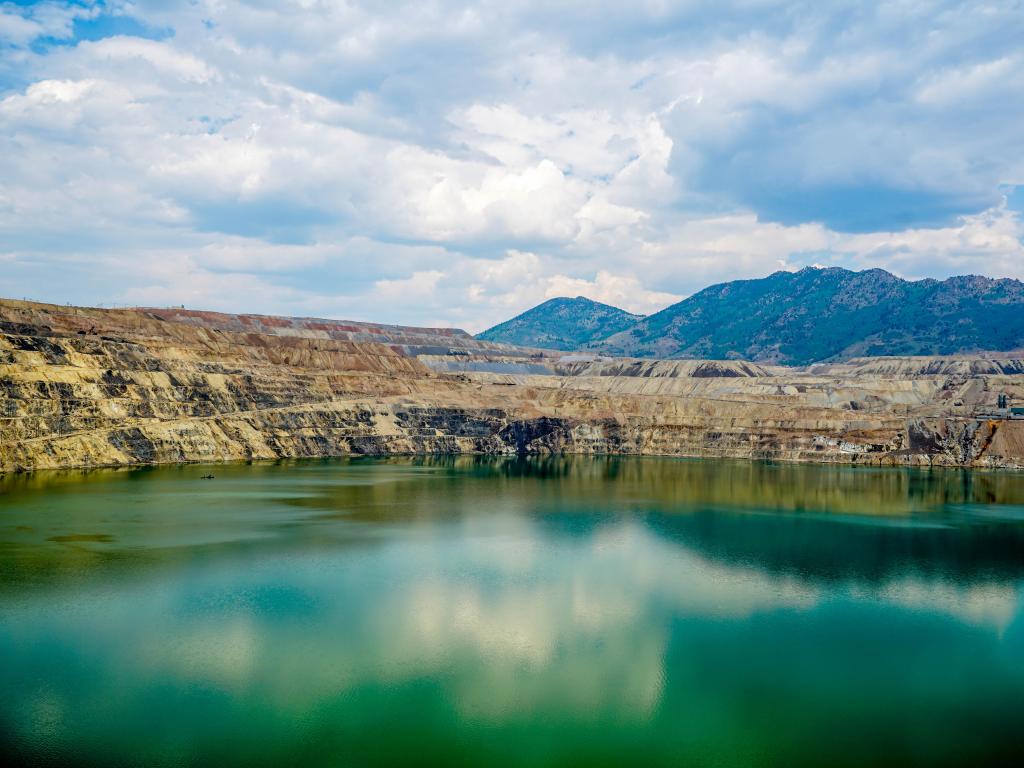 Best time to go on a road trip from Calgary to Yellowstone National Park
Yellowstone National Park is an iconic destination that you can enjoy throughout the seasons.
If you head along this journey in spring then anticipate temperatures between 30-60 degrees Fahrenheit, although late-season storms can factor, so be prepared for a mix of rain, wind and some sunshine as you make your way.
Make the trip in summer, and some areas, for instance, Havre, see temperature spike to 70-85 degrees Fahrenheit, so make sure your car's cooling system is at its best as things can get hot, hot, hot!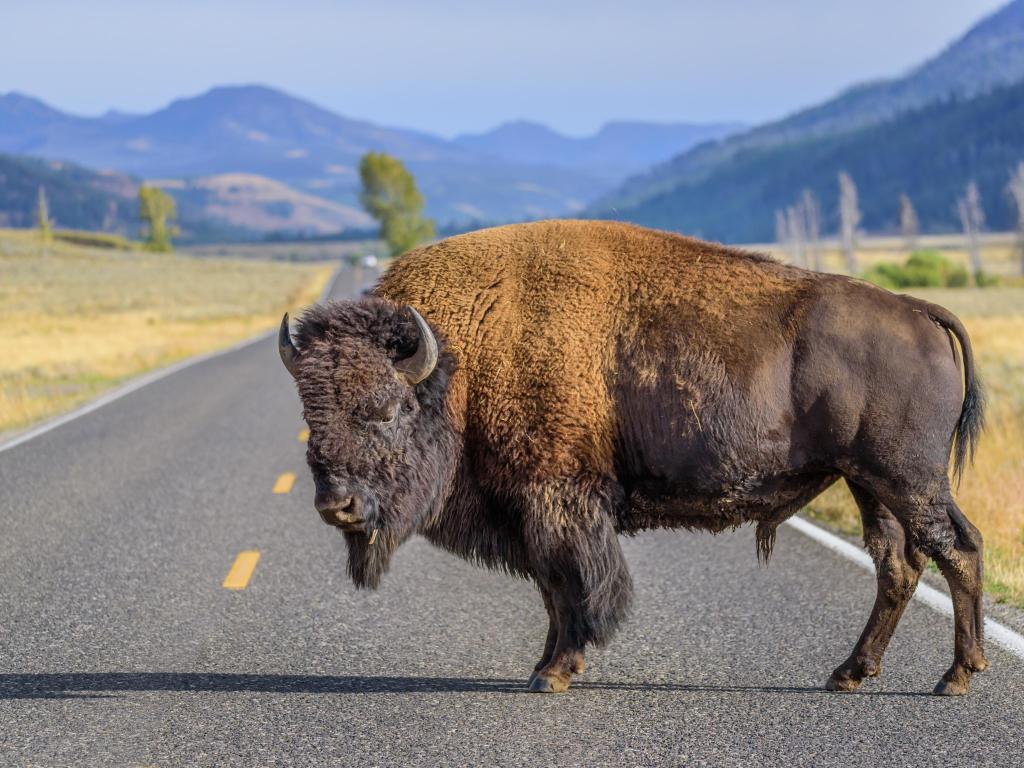 As you might expect, fall in Yellowstone is a stunning sight and it is a popular time to travel. Temperatures range from 25-60 degrees Fahrenheit, and it is a beautiful time to make the trip, especially near Yellowstone, where the scenery is breathtaking.
This time is also a popular period to visit, so there might be extra traffic en route. This is also when many animals, especially elk, are most active and may appear more on the roads - keep a cautious eye out.
As winter sets in and temperatures drop to a chilly 0-20 degrees Fahrenheit, the landscape transforms into a winter wonderland. However aways ensure you're updated about road conditions, as many, like the Going-to-the-Sun Road in Glacier National Park, might be closed.
As you make this journey, you'll also be greeted by epic events at certain times of the year. The Direct Route offers spectacles like the Spectrum Festival in Medicine Hat in June or the Red Ants Pants Music Festival in July.
Opting for the Glacier National Park Route? July's Montana Folk Festival, or Music In the Mountains in Big Sky during July and August are not to be missed. Once in Yellowstone, the Rendezvous Race in March and the Living History Weekends in summer are also bonuses to enjoy.