Can you Drive through Monument Valley?
Monument Valley sits in a spectacular southwestern desert landscape on the Utah/Arizona border and is home to some of the most incredible sandstone rock formations on earth, with the larger towers reaching up to 1000 feet.
You can drive through Monument Valley, either in your own vehicle or as part of a guided tour, through the remote and stunning Navajo Tribal Park. The 17-mile drive through sacred desert wilderness is one of the all-time great driving experiences.
The incredible natural features have made it a popular setting for many movies and the park spans an impressive 17 million acres. You can find out all about the area and its history at the visitor center. Read on for our tips on when to visit, where to stay, and things to see and do once you arrive.
Can you drive through Monument Valley?
Located in the heart of the Navajo Nation, it is easy to see why it is one of the most photographed places in the world, with millions of years of evolution resulting in the incredibly impressive natural formations on view today.
It is possible to drive through Monument Valley and as it sits centrally between major routes from all directions across the US, this makes it an excellent destination wherever you may be traveling from.
You can drive through Monument Valley in your own vehicle, but the terrain can be difficult for cars with low ground clearance and ideally the trip would be taken in an SUV.
Only twenty-five private vehicles are allowed on the Tribal Valley Loop at any one time, and access is on a first come first served basis so you may have to queue before you can start your journey around this incredible landscape.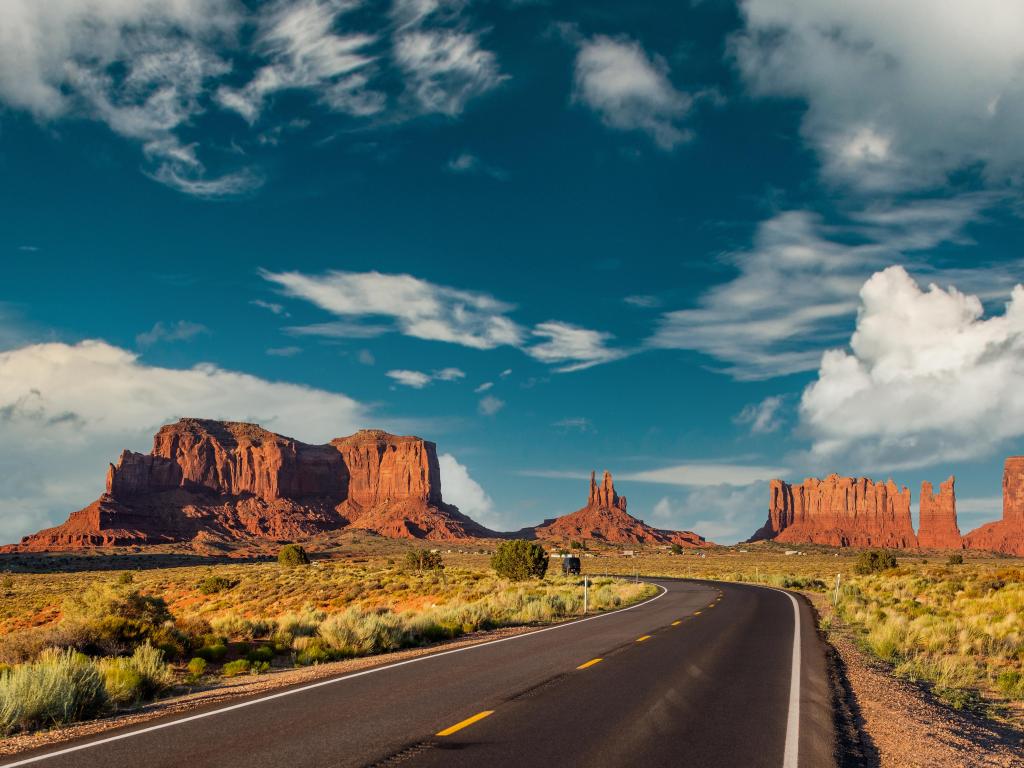 How to drive through Monument Valley on the Valley Drive Route
Once you've arrived at Monument Valley and passed the entrance gate, you can then choose to take the Valley Drive Route around the Park. Entrance fees are $10 per person or $20 per vehicle and up to 4 people, with additional passengers charged at $6 per person.
You can take your own vehicle around the Valley Drive Loop, take a guided tour, or even explore the Park on horseback.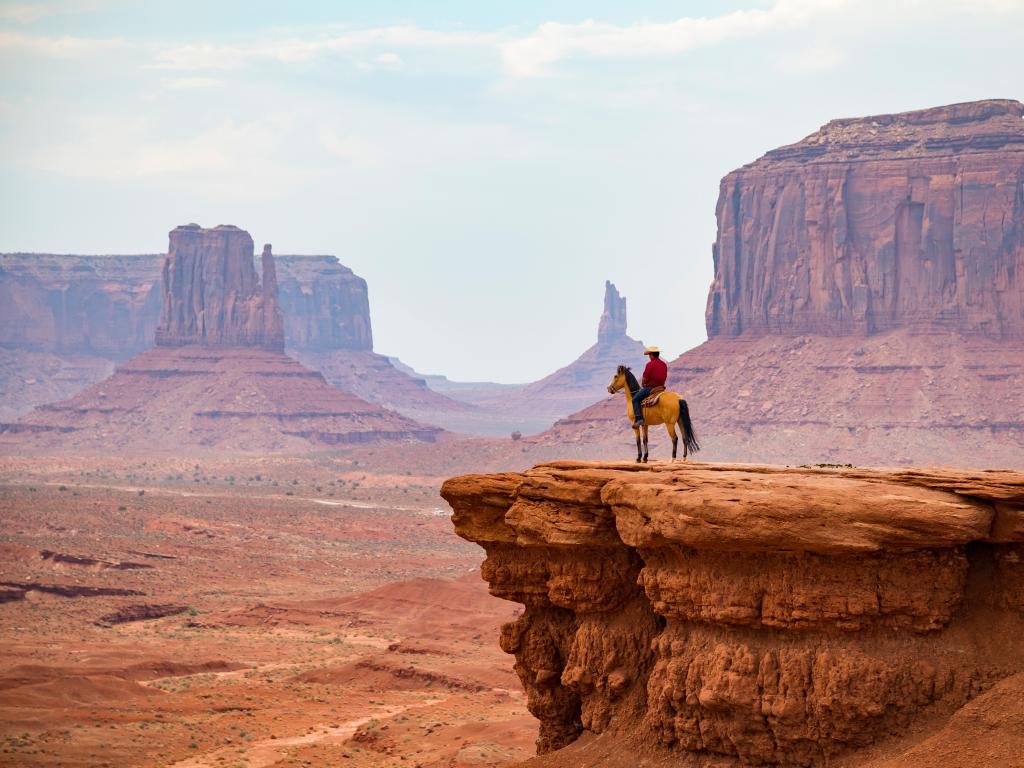 The route around the park is not paved and taking a guided tour is an excellent way to visit many of the scenic viewpoints around the Valley without risking damage to your own vehicle. With the limit on private vehicles, taking a guided tour will also allow you to avoid the queues.
The entrance to Monument Valley lies just off US-163 and the route begins by heading past Lookout Point and encompasses many of the incredible sandstone formations that make the area so famous.
It passes The Mittens and Elephant Butte as it weaves its way to John Ford Point before heading towards The Hub as it circles its way around Rain God Mesa.
The route continues past Totem Pole and Sand Springs before heading east towards Camel Butte and completing the loop before retracing its steps passing Three Sisters and Merrick Butte and back towards the entrance.
There are many viewpoints along the route to stop, take photographs, and simply take a moment to pause and admire the stunning surroundings.
How long does it take to drive through Monument Valley?
The Valley Drive is 17 miles long, 13 of which are part of a one-way loop, and the journey will usually take between 2-4 hours. There is a speed limit of 15mph in places, and this is both out of courtesy to other visitors and also because in places, the terrain makes it difficult to even attempt to go any faster.
In the summer months, the dry desert track would throw up a lot of dust if vehicles weren't adhering to the speed limit making it very unpleasant for other guests.
Taking your own vehicle will allow you more time to stop off at all the viewpoints and do the Valley Drive at your own pace, although it is always worth being considerate to other visitors if there are long queues on the day of your visit.
Comparison of times and distances for traveling from major cities to Monument Valley

| Origin City | Destination | Total Distance | Total Time |
| --- | --- | --- | --- |
| Los Angeles | Monument Valley | 640 miles | 9 hours 45 minutes |
| San Diego | Monument Valley | 660 miles | 10 hours |
| Palm Springs | Monument Valley | 560 miles | 8 hours 45 minutes |
| Las Vegas | Monument Valley | 395 miles | 5 hours 50 minutes |
| San Francisco | Monument Valley | 940 miles | 15 hours |
| Phoenix | Monument Valley | 315 miles | 4 hours 55 minutes |
| Tucson | Monument Valley | 430 miles | 6 hours 40 minutes |
Which entrance should you arrive at in Monument Valley?
Wherever you are traveling from, there is only one entrance to Monument Valley, lying just off US-163 near the hamlet of Oljata-Monument Valley. Visitors heading from the north will likely pass through Moab on the US-191 and then join the US-163 at Bluff which will then take you to Monument Valley.
Visitors from the south will take the N 89 at Flagstaff, then the US-160 E at Tuba City before joining the US-163 at Kayenta which leads you to Monument Valley.
Best places to stop on a drive through Monument Valley
The mesmeric drive through the stunning red rock desert landscape to Monument Valley is an unforgettable experience, with so much to enjoy along the way as the journey takes you past National Parks and Forests whichever route you arrive on.
We've chosen a couple of excellent accommodation options that both offer amazing views and allow you to make the most of your experience at Monument Valley.
Enjoy a delightful desert stay in Oljato
Sitting a stone's throw from the Monument Valley Park entrance is the small enclave of Oljato-Monument Valley, and it makes an ideal place for a stopover. After a drive through the desert, it is the perfect place to stay and relax, leaving you refreshed, and ready for an exciting day of exploration.
What better way to wind down on your arrival than by taking a refreshing dip in the pool at Goulding's Lodge? When you're ready to eat, you can enjoy delicious authentic Navajo and Southwestern cuisine in the Stagecoach restaurant, enjoying stunning panoramic views from your table.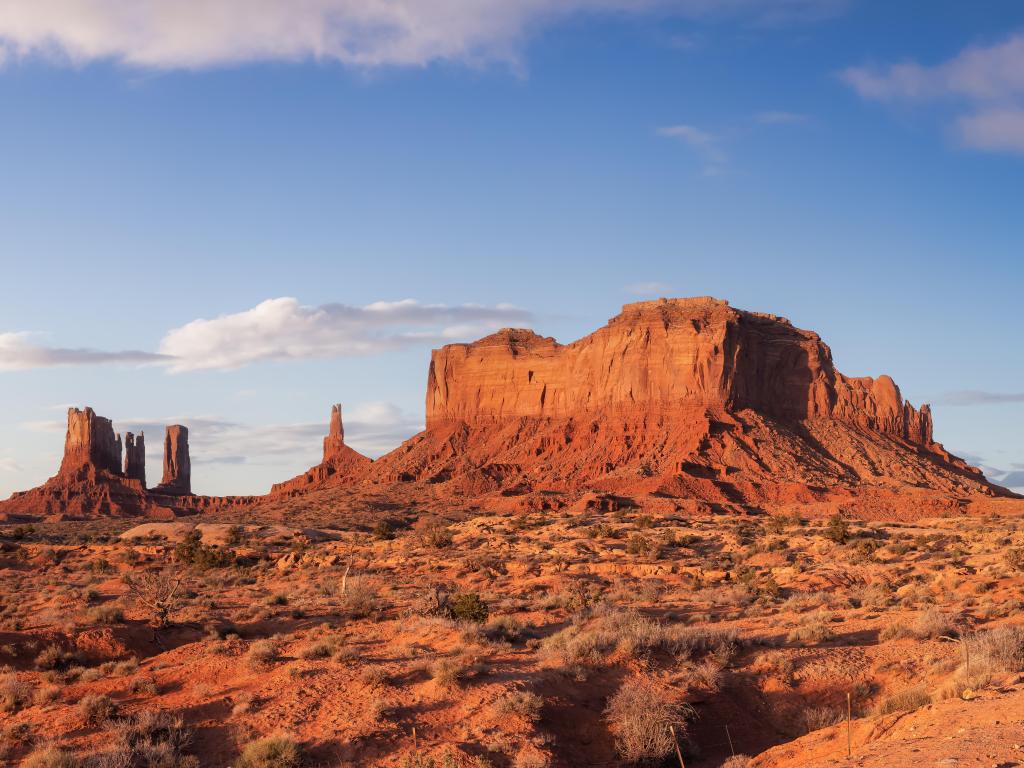 The hotel offers a selection of guided tours in the area, which include a trip around the Monument Valley Loop, with the option to extend the tour to certain otherwise restricted areas off-limits to other visitors, a sunrise/sunset tour, and an all-day tour which includes a visit to Mystery Valley.
The hotel sits in the shadows of Rock Door Mesa, and at 5,899 feet, the mountain towers over the surrounding area, and Goulding's Film and Cultural History Museum is definitely worth a visit.
Here you can learn all about the area, its rich cultural origins, and how southwestern life incorporated movie production and became the backdrop for some famous Hollywood blockbusters.
There is also a grocery store and gas station close to the hotel so you can stock up on supplies before heading out for the day.
Spend a night under the stars at The View
If you are looking for a truly authentic desert experience, then camping in Monument Valley will let you feel like you are starring in your own western, under the magical starlit skies of Utah. There are several campsites in the area, and we recommend a stay at The View Campground.
Situated around half a mile from the visitor's center at the entrance to the park, The View offers traditional Navajo hospitality and breathtaking views of the park. You can choose to sleep under canvas or stay at the RV site where you'll witness the most amazing sunset views of the Valley.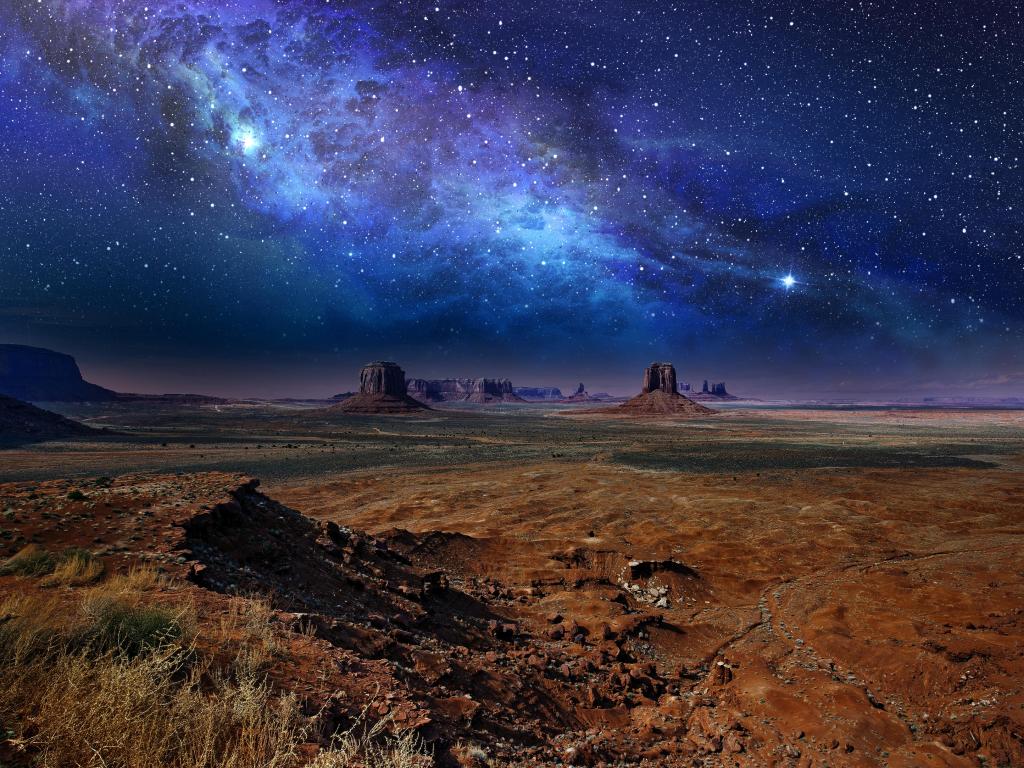 The views are awe-inspiring in every direction, and you won't find a better place to take in The Mitten, one of the most popular rock formations in Monument Valley.
Staying at The View gives easy access to the 17-mile Valley Loop drive and tours of the park and surrounding areas, and is also close to the popular Wildcat Trail, from where you can explore this vast wilderness on foot.
The site offers restroom and shower facilities and guests have the use of their own picnic tables, and firepits, keeping you snug for an evening's stargazing at the Milky Way and beyond. Its position within the park makes it ideal for this trip, and it is one of the most spectacular camping locations in the world.
Things you need to know about driving through Monument Valley
Driving around Monument Valley is quite straightforward, and traffic around Valley Drive will never be as busy as driving on normal roads, but it is important to be courteous and respectful to other drivers and visitors.
The Park is open to visitors all year round, although the opening times do vary. Peak Season runs from April 1st - September 30th and the opening times are 7am-6pm. The Off-Season runs from October 1st - March 30th and the opening times are 8am - 4pm.
Entrance fees remain constant whenever you choose to visit, and the drive can be made at any time of the year, although summer is the most popular time for visiting Monument Valley. Daytime temperatures average around 90 degrees Fahrenheit although you should be prepared for some afternoon thunderstorms.
Visiting the Park in Spring or Fall is the ideal time to do so. It can be slightly windier in Spring, but the temperatures average around 65-70 degrees Fahrenheit making it a more pleasant desert experience away from the summer sun. Crowds are also significantly less than in the summer months making accommodation prices more favorable.
Winter at Monument Valley sees daily temperatures of between 30-40 degrees Fahrenheit and you may even get a light dusting of snow. It is essential to bring appropriate clothing to allow you to explore the area in comfort, and accommodation will also be much cheaper than in peak season.
Here are our top tips when it comes to preparing for a drive through Monument Valley:
Do be respectful at all times as you are a guest on sacred tribal land.
Alcohol is not permitted on the reservation and will not be available in restaurants or shops within Tribal Park.
Rock climbing is not allowed on Navajo land, and the use of drones is also prohibited.
4-wheel drives are better suited to the terrain if you are choosing to drive yourself around the park. If you don't own one, consider hiring one to make this special journey.
The park is closed on certain days of the year: Thanksgiving Day, Christmas Day, New Year's Day, and the Monument Valley Veteran Marathon and Monument Valley Ultra Marathon.
Do take the time to enjoy and explore the viewpoints as you journey around the park. Native craftsmen and women can often be found here, selling beautiful native crafts and art, which make a perfect lasting souvenir of the trip.
Things to see on a drive through Monument Valley
A trip through the desert to Monument Valley must be up there as one of the best drives in the US. We have listed some of the best things to see and do as you plan your amazing journey to this wonder of nature.
Goosenecks State Park - Located around Mexican Hat, and home to the most incredible meandering canyons formed by the San Juan River over many thousands of years. The steep cliffs and terraces have to be seen to be believed.
Valley of the Gods - situated to the north of Monument Valley in Utah, visit this incredible ancient landscape and enjoy the jaw-dropping vistas as you take a scenic drive around the many buttes and rock formations. It is Monument Valley's less popular neighbor and will be less crowded.
Stargazing at the desert sky - Utah is home to the highest number of dark skies areas in the world and a night under the stars in this spectacular setting is an experience you will never forget.
Witness an amazing sunrise/sunset - Experience a majestic sunrise as the sandstone glows, or a spectacular sunset as the rock formations cast the most glorious shadows. The perfect way to relax and soak in the beauty of this unique landscape.
Wildcat Trail - Take a hike around some of the most spectacular scenery and famous rock formations in Monument Valley. Spend several hours trekking the 4-mile route which is open all year round, the only self-guided trail in the park allowing you to explore at your leisure.
Movie trail - Visit the sites where some of the biggest movies in cinema history used Monument Valley as a filming location. Movies include Forrest Gump, Mission Impossible II, Easy Rider, Indiana Jones and the Last Crusade, and many famous Westerns.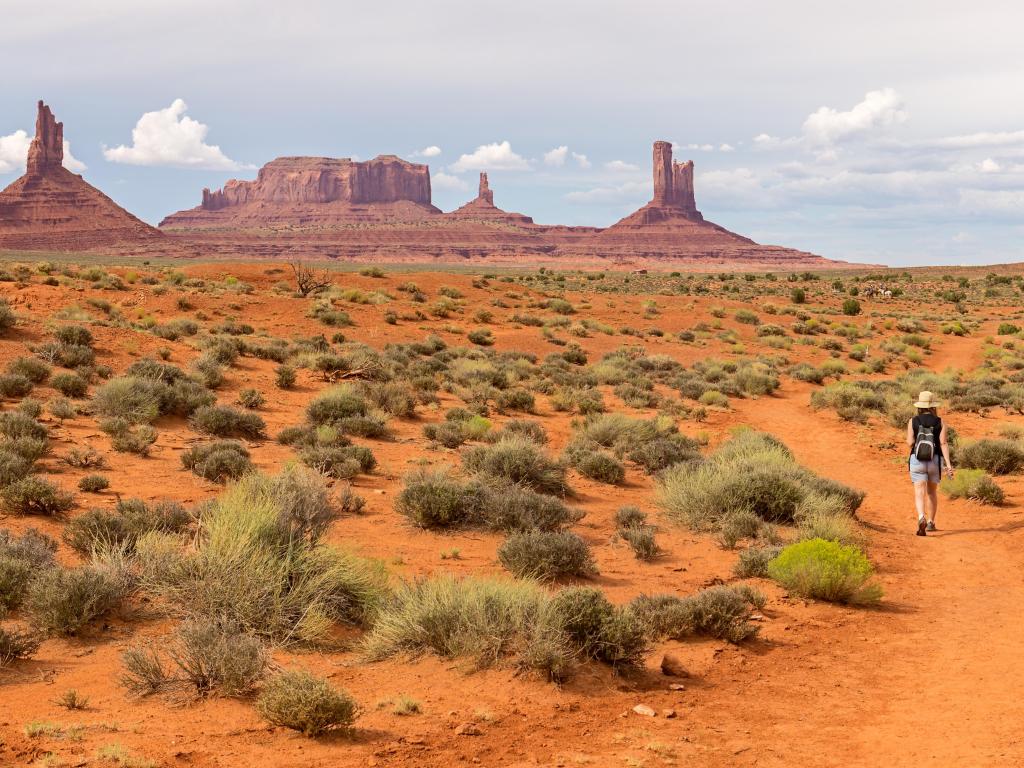 Pictures alone do not do Monument Valley justice, and a trip to this Mars-like environment will make you feel like you are in another world. This magnificent natural wonder is a phenomenal destination at any time of year and is a breathtaking addition to any bucket list.