Road Trip From Denver To Grand Canyon
If you live in the Denver area and would like to travel along one of America's most scenic routes, you may want to do a road trip from Denver to Grand Canyon. Passing through lush forests and scenic deserts alike, this itinerary is bound to leave you breathless.
The road trip from Denver to Grand Canyon takes about 12 hours. Take at least 3 days to explore the beautiful White River National Forest and Monument Valley, the gorgeous sediments of Vermillion Cliffs and Grand Staircase - Escalante, and much more.
With so many amazing landscapes you won't want to miss out on, be sure to read until the end for the best experience possible.
How far is Grand Canyon from Denver and how long will the road trip take?
While there aren't any big towns on the way, you'll only be on the interstate for about half the trip before transitioning onto state routes, so there's a chance you'll run into moderate traffic past Thompson Springs.
On top of the drive being long, there are too many places worth checking out on the way for you to rush this trip. Even if you were to leave very early in the morning, traversing the Grand Canyon and the surrounding monuments at night is generally ill-advised.
For the best possible version of this trip, consider splitting it into at least a few days – this particular route connecting Denver and Grand Canyon is quite popular with tourists, so there'll be plenty of decent accommodation along the way.
Best road trip route from Denver to Grand Canyon
The best route for your road trip from Denver to Grand Canyon involves driving through Colorado along the scenic I-70, then following several state routes through Utah. Depending on which Rim you're going to, you can take one of two different routes once you've reached Arizona.
How to drive from Denver to Grand Canyon
Leave Denver by heading west along I-70, driving past Mt Evans and cutting through the gorgeous Arapaho and Roosevelt & White River National Forests. Drive through Grand Junction and along, and past Colorado National Monument, Dominguez- Escalante and McInnis Canyons National Conservation Areas.
Past Thompson Springs, take the US-191 south alongside Arches National Park and through Moab. After passing by Canyonlands National Park and through White Mesa, switch over to US 163. Follow it through the beautiful Monument Valley into US 160 (also known as the Navajo Trail) in Arizona.
North Rim Route
At the Shonto Marketplace, take State Route 98 and follow it to Page. Drive along the incredible Antelope Canyon, pass through Page and by the iconic Horseshoe Bend, and take Glen Canyon Dam Bridge over the Colorado River. Follow Highway 89 along the incredible Grand Staircase – Escalante all the way to Kanab.
From there, take Route 89A and cut through Vermilion Cliffs National Monument. Past Jacob Lake, the route segues into State Route 67 for one final scenic stretch before reaching the North Rim.
South Rim Route
Instead of taking State Route 98, stay on the Navajo Trail and pass through Tuba City. Soon after that, you'll reach Highway 89 – follow it south to Cameron, then take Route 64 along the Little Colorado River, past Grandview Point and into the South Rim.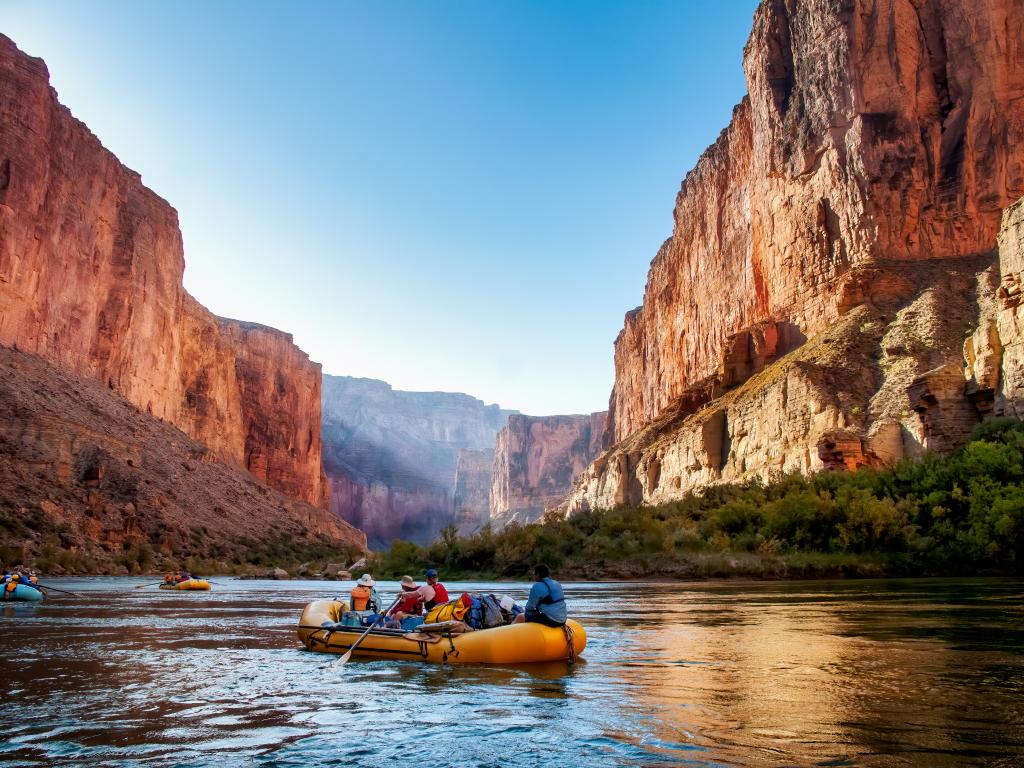 Best places to stop between Denver and Grand Canyon
Despite the lack of large cities, this route from Denver to Grand Canyon is home to several important thoroughfares and tourist towns, perfect for brief or overnight stops. If you need a place to rest after a long day of driving and adventuring, consider booking a hotel.
Explore the incredible city of Moab
Besides just being the middle point of the route, Moab is an incredible city you could spend days exploring. There are plenty of great hotels in this red-rock oasis, but the best one would definitely be Hoodoo Moab.
Hoodoo Moab is part of the Curio chain, and it has all the qualities you'd expect from a subsidiary of Hilton. Centrally located in Moab and only a couple of miles from Arches National Park, this is the perfect place to lay your head after a day of adventuring.
The hotel itself is large and beautiful, and you can do virtually anything here, from relaxing in the hot tub or huge outdoor pool, to exercising in the fitness area and enjoying a variety of on-site performances. Dine in style at the great restaurant, or enjoy an evening with drinks at the hotel bar.
The best part of the stunning, tastefully decorated rooms is the balcony – pull up a chair and marvel at the stylish communal poolside area, the lush trees and grassy section of the property, and Moab's breathtaking red mountain tops off in the distance.
As you might expect from the Hilton tag, the hotel is rather expensive, but that's justified considering all the amenities it offers and the long list of things to do in Moab.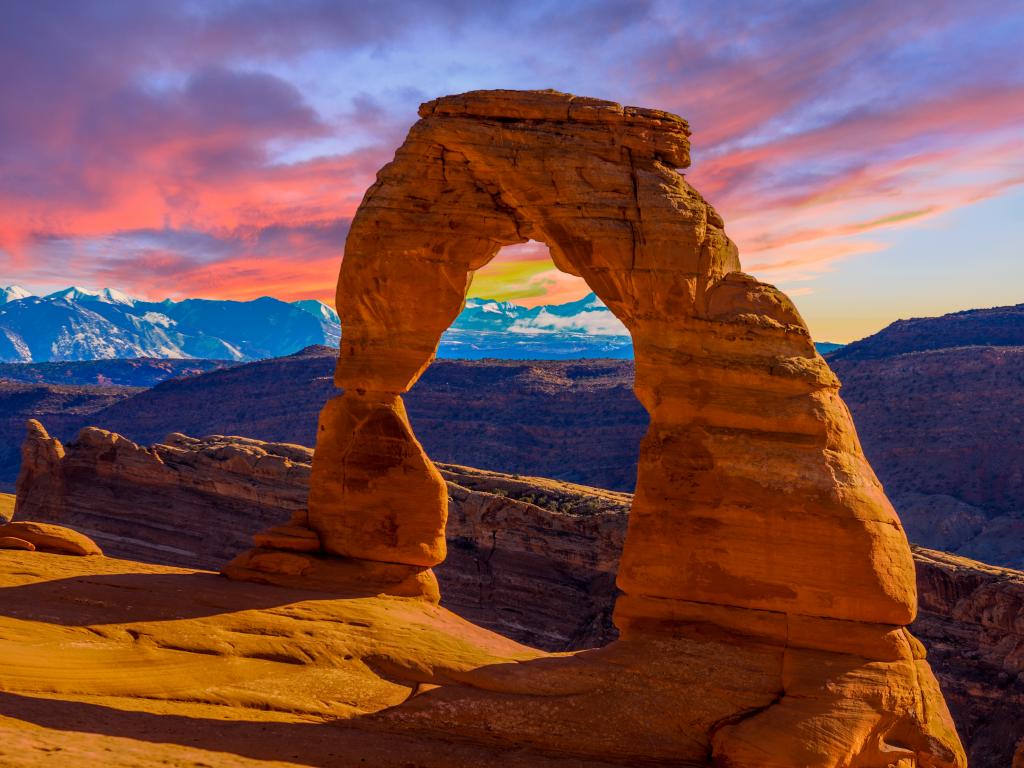 Where to stay once you reach The Grand Canyon
Once you reach the majestic Grand Canyon, you'll want to cap off the experience with a truly unique stay. Although there are several good options in the area, we suggest you choose something memorable, in keeping with your awesome surroundings.
Clear Sky Resorts - Grand Canyon is one of our favorite accommodation options in the area, with its striking tent-like dome structures that give you an amazing view of the starry sky above. At just over half an hour's drive from the Grand Canyon South Rim, it's also super convenient for your hiking and sightseeing adventures.
The domes all have a luxurious feel to them: with private bathrooms, free toiletries and plush, quirky interior décor. There's a bar on site, as well as a restaurant with a range of dining options, so you won't have to go far after a busy day spent touring the National Park.
For families, there are dedicated, fully-equipped rooms, and even a children's play area - just in case the day's activities haven't been adventurous enough!
Things to see on a road trip from Denver to Grand Canyon
The best way to enjoy this road trip is to take a couple of weeks to cover all there is to see – this route is just that great! Although there are sure to be more, these are some of the absolute best places to check out on your way from Denver to Grand Canyon.
Arapaho and Roosevelt National Forests – nestled in the Rockies, these beautiful forests are perfect for hiking, fishing, swimming, and more
White River National Forest – the States' most visited National Forest boasts beautiful greenery, an abundance of wildlife, and the gorgeous Maroon Bells
Dominguez – Escalante National Conservation Area – a beautiful chain of canyons running along the Gunnison River
Colorado National Monument – features unique granite formations, pinyon-juniper woodlands, and the scenic Rim Rock Drive
McInnis Canyons National Conservation Area – this park is home to the Black Ridge Canyon Wilderness, known for its red rock systems and abundance of natural arches
Arches National Park – featuring more sandstone arches than any other place in the world, this park is perfect for hiking and sightseeing. You might need to make a reservation for a timed-entry permit while visiting Arches National Park. Please check the national park's website for up-to-date information.
Dead Horse Point State Park – the view of Canyonlands NP and the Colorado River from atop Dead Horse Point is a highlight of this route
Canyonlands National Park – distinguished by its iconic mesas and buttes, this park is known for its challenging biking terrain (White Rim Road)
Canyons of the Ancients National Monument – besides the gorgeous canyons, this monument features more archaeological sites than any other place in the country
Monument Valley – featuring unique sandstone buttes and blood-red sand, this valley has been the site of countless classic desert scenes in American cinema
Navajo National Monument – contains the Sandal Trail and the dwellings of the Ancestral Puebloans
Antelope Canyon – comprised of two distinct sections (Upper and Lower) and best known for the beams of sunlight peeking into the canyon
Horseshoe Bend – this horseshoe-shaped bend of the Colorado River is more commonly known as the East Rim of the Grand Canyon
Glen Canyon Dam – this gigantic dam 'houses' Lake Powell, one of the largest artificial reservoirs in America
Grand Staircase-Escalante National Monument – an unbelievable sequence of sedimentary rocks, this is arguably one of the country's most scenic monuments
Vermillion Cliffs National Monument – features slickrocks and tall sedimentary rocks, thought to be the product of millions of years of erosion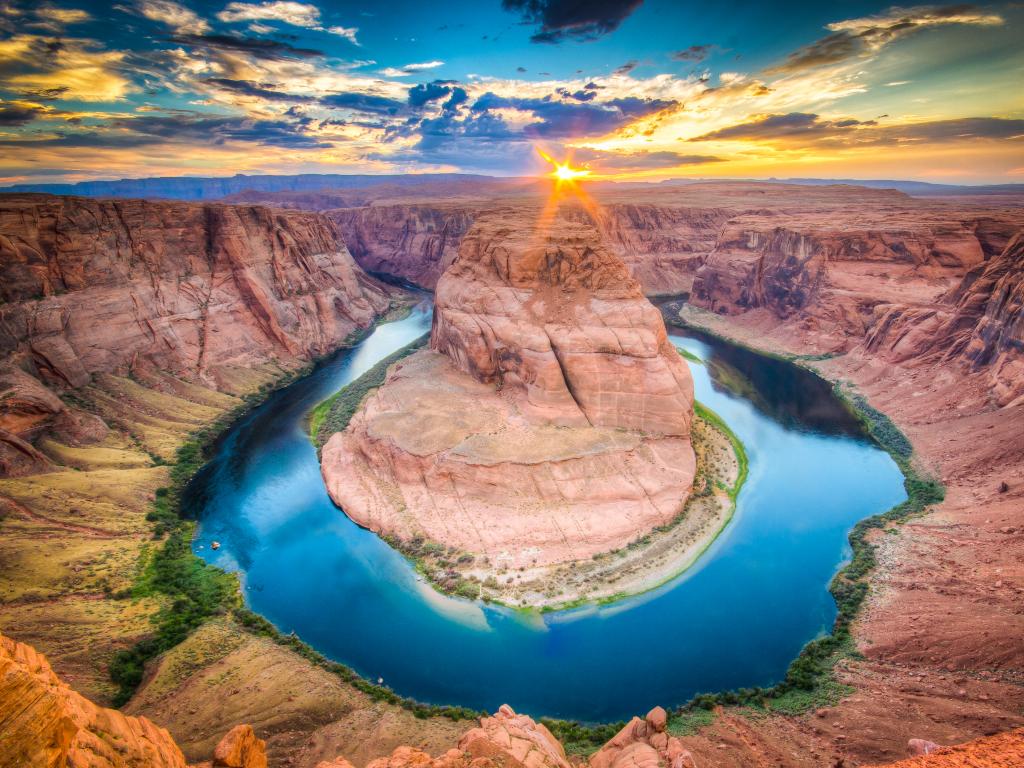 Best time to go on a road trip from Denver to Grand Canyon
The best time to go on a road trip from Denver to Grand Canyon almost invariably falls between March and November – you begin to get the full scope of the National Park's beauty around springtime, and you can travel between Rims via shuttle between May and October.
If you're trying to avoid crowds or you plan on hiking down the Canyon, you may not want to visit in the summer. Although temperatures fluctuate, you won't be too hot at higher altitudes, but the bottom of the Canyon is a different story – temperatures will steadily rise the lower you go, and may well peak at over 100 degrees.
One upside to visiting the Grand Canyon during the summer months, however, is the awesome Grand Canyon Star Party - an astrologer's dream - which is held in June.
Picking between spring and fall mostly comes down to your preferred coat of paint - both seasons offer amazing views, unforgettable hiking trails with plenty of flora, and pleasant, moderate weather across all altitudes.
If you had to choose, fall would probably be the slightly better pick. It's not uncommon for higher-altitude sections of the Park (especially near the North Rim) to be covered in snow well into spring, rendering them inaccessible. An added bonus towards the end of this season is the Moab Folk Festival, held in November each year.
There's plenty to appreciate about Grand Canyon no matter the season, so don't overthink it – just be sure to stay hydrated if you go in the summer and pack blankets and warm clothes in case of dramatic temperature shifts.