The Ultimate Dumb and Dumber Road Trip (with map!)
Strap in and buckle up for a wild ride, tracing the journey of Lloyd Christmas and Harry Dunne from the iconic comedy, "Dumb and Dumber." This cross-country odyssey is a tribute to the zany adventures of cinema's most lovably clueless duo, connecting their fictional route with the arresting beauty of real-life America.
The 2,130-mile road trip from Rhode Island to Aspen, inspired by "Dumb and Dumber", will take 32 hours to drive nonstop. Amazing sights en route include New Haven, New York, Cleveland, Chicago, Omaha, Lincoln, Denver and the majestic Rocky Mountains.
Our journey is just beginning, so ready yourself for an unforgettable "Dumb and Dumber"-inspired road trip. Dive in to uncover the best routes, accommodation tips, and optimal travel times, all curated to help you recreate this hilariously memorable cinematic journey.
Note: Spoilers ahead!
Where did Lloyd and Harry travel in Dumb and Dumber, and how long would this road trip take?
Comparison of route options for a Dumb and Dumber-inspired road trip

| Route | Distance | Driving Time |
| --- | --- | --- |
| The Movie Route | 2,130 miles | 32 hours |
| The Shorter Route | 740 miles | 11 hours |
Setting off from Providence, Rhode Island, Lloyd and Harry's mission is to deliver a suitcase to Aspen and the road trip route we created is inspired by the duo's epic journey initially with a van, and then with a bike (we strongly recommend sticking to the former!).
While we tried to keep the route as close to the original one in the movie, please keep in mind that a cross-country trip is hard to depict in a feature film in its entirety and we took some artistic freedom to fill in the blanks not mentioned in the movie.
If everything goes according to plan (or not-as Lloyd and Harry soon see!), the Movie Route will take 32 hours to drive, covering 2,130 miles from Rhode Island to Aspen.
However, if you are short on time, you can follow the Shorter Route, which will take you from Omaha to Aspen in about 11 hours, spanning 740 miles.
No matter which route you end up choosing, we recommend sparing five to seven days to enjoy this once-in-a-lifetime adventure to the fullest. On the way, don't forget to play your best air guitar to "Mockingbird" to keep the spirit of Dumb and Dumber alive.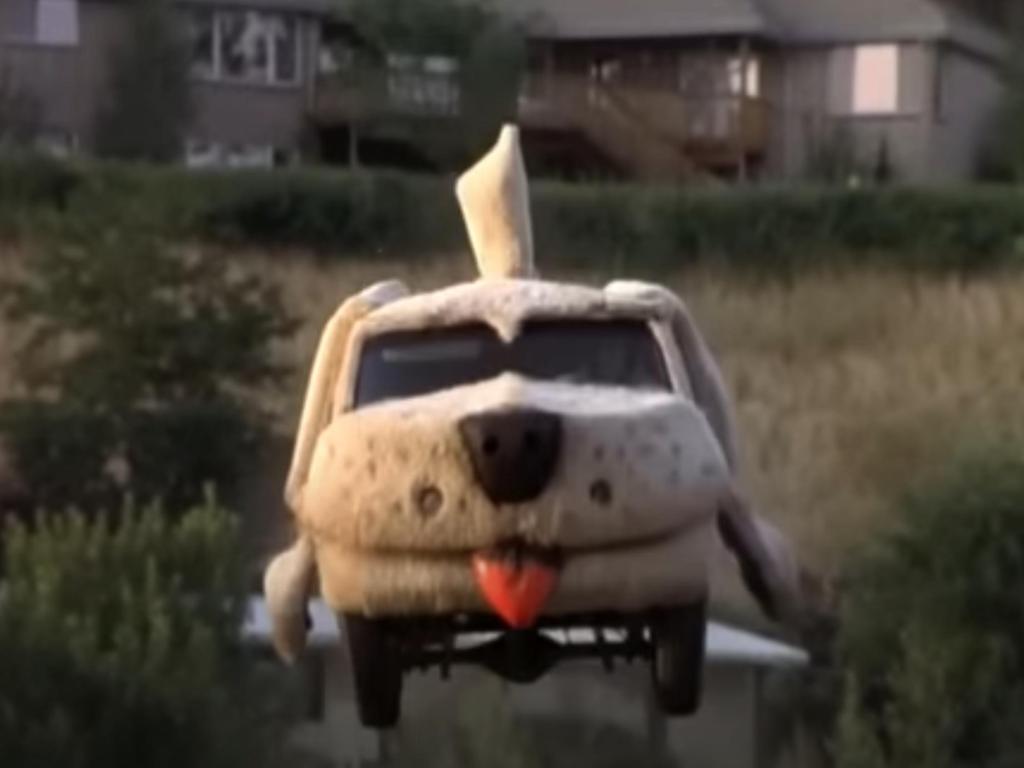 Planning the best route for a Dumb and Dumber road trip
Choosing between the "Movie Route" and the "Shorter Route" for your "Dumb and Dumber"-inspired road trip is like trying to pick between Harry and Lloyd - each has its own charm and quirks that make them irresistibly unique.
If you're all about living the complete film experience, the "Movie Route" is the perfect canvas for your cinematic journey. Starting from Rhode Island and finishing in Aspen, this path not only traces the footsteps of our favorite comedic duo but also takes you through some of America's most picturesque landscapes.
You get to channel your inner Lloyd or Harry in Omaha, Nebraska, where you can recreate the unforgettable diner scene (just don't forget to pay your own bill). This route is ideal for those who love a blend of film nostalgia and natural beauty.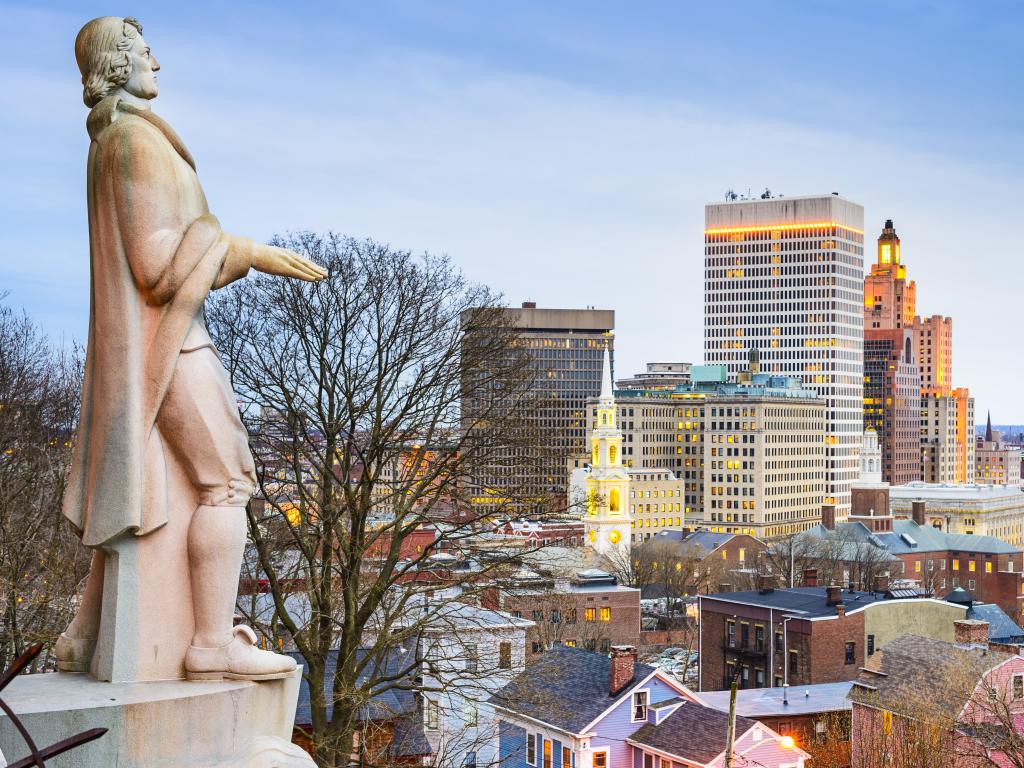 On the other hand, if you're more about efficiency and still want a taste of the movie, the "Shorter Route" is the perfect option. The drive from Omaha, Nebraska, to Aspen, Colorado, provides a streamlined yet equally exciting adventure.
You'll still get to experience the beauty of Colorado, along with the charm of Nebraska's North Platte. Think of it as a 'Samsonite briefcase' journey— compact but full of unexpected treasures.
This route allows you to live your "Dumb and Dumber" fantasy while keeping the journey short and sweet, which is great if you're in a rush to get to Aspen because you're "expected to be someplace very important" just like Lloyd.
If you'd like to learn more about the Omaha to Denver section of this road trip on the Shorter Route, check out our ultimate road trip guide, and whether the drive from Denver to Aspen is challenging or not.
Follow Lloyd and Harry's road trip route
The map above shows our interpretation of the route taken by Lloyd and Harry in the beloved comedy movie Dumb and Dumber. The darker coloured section of the route corresponds with the Shorter Route described in this road trip guide.
Keep reading for detailed descriptions of both routes, where to stay on either, and the best things to do on the way.
The Movie Route - from Providence, Rhode Island to Aspen, Colorado
Embark from Rhode Island, following coastal Interstate 95 (I-95) South, mirroring the early adventure of Lloyd and Harry.
Make your first memorable stop in Providence, where you can pay a visit to the colossal Big Blue Bug, as the movie did for a touch of local charm. Remember, this isn't just any bug, it's almost 1000 times larger than your average termite!
Driving through New Haven, you will get a chance to make a detour to New York, even though this buzzing city isn't featured in the movie. This is your own road trip after all!
Shift your journey westward onto I-80, cruising through the open roads of the Midwest just as our amusing duo did. Maybe make a stop at Cleveland or Chicago before arriving at your next stop, Omaha, Nebraska, with its quaint charm and beautiful landscapes, is a worthy mid-journey stop.
Finally, steer your journey onto I-76 West, journeying towards the majestic Rocky Mountains and Denver. Afterwards, you will soon reach the winter wonderland of Aspen, Colorado.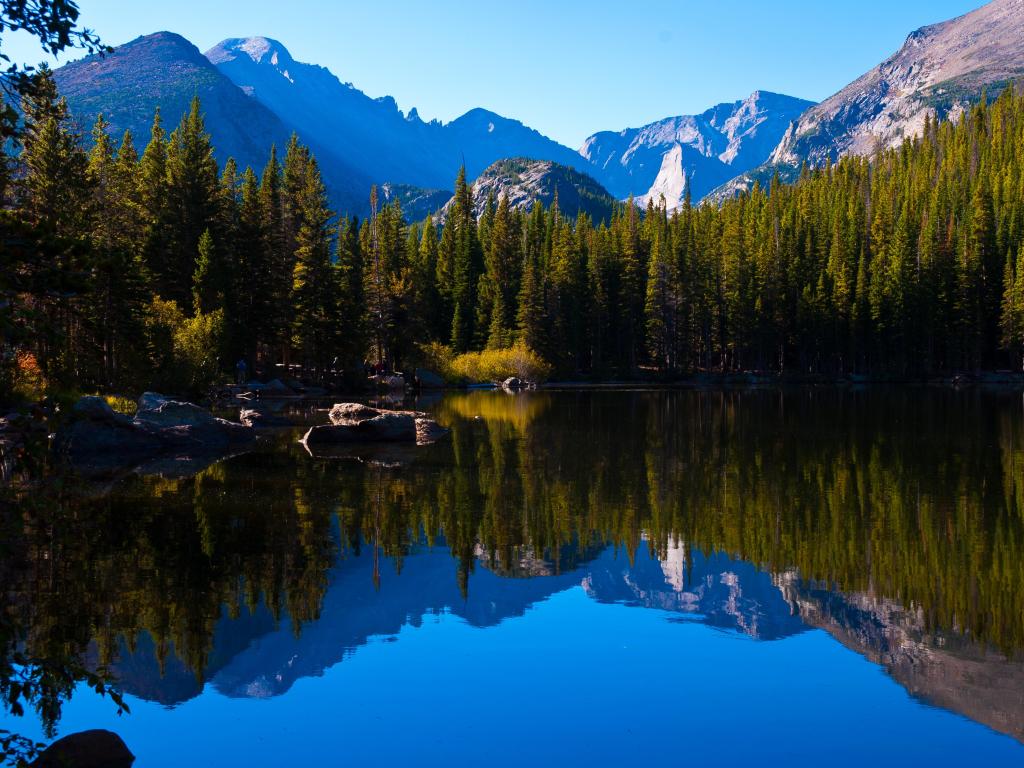 The Shorter Route - from Omaha, Nebraska to Aspen, Colorado
If you only have a limited time on your hands, but still would like to set off on your own "Dumb and Dumber" adventure, launch your journey from Omaha, tracing the path of I-80 westwards. En route, you might fancy a quick detour to North Platte, Nebraska.
Here you can explore the Golden Spike Tower and Visitor Center or catch some local wildlife at the Buffalo Bill Ranch State Historical Park. Just remember, unlike Lloyd, make sure to read the map correctly!
With North Platte in your rearview mirror, make a beeline for I-76 West. This segment of your journey will have you cruising through the picturesque landscapes of Colorado.
Perhaps you'd like to emulate Harry's attempt to return the briefcase, making sure, of course, to avoid any mishaps involving vehicles covered in fur and with ears for windows as you approach Denver.
Finally, journey along the I-70 West to reach Aspen, Colorado. It's time to stroll the charming streets of this quintessential ski resort town and, maybe, to stage your own recreation of the final scene of Dumb and Dumber (Samsonite suitcase optional).
Best places to stop on a Dumb and Dumber road trip
As you follow in the footsteps of Lloyd and Harry, you might as well follow their example and make a couple of overnight stops on this mammoth road trip. With so many miles to cover, this is a journey to savor, not rush.
Below, you will find our suggestions for the best places to stay so that you can recreate your version of a "Dumb and Dumber" adventure.
Enjoy a relaxing soak in Omaha
While you might want to recreate the quirky heart-shaped bathtub scene to level up your "Dumb and Dumber" road trip experience, unfortunately, the hotel used to film this scene, Heber Inn, is actually located in Utah.
However, don't worry as there are plenty of amazing real-life places to stay in Nebraska. You will either drive through Omaha on the Movie Route or start your trip here on the Shorter Route. We highly suggest taking an extra day or two to explore this vibrant city, no matter which route you choose.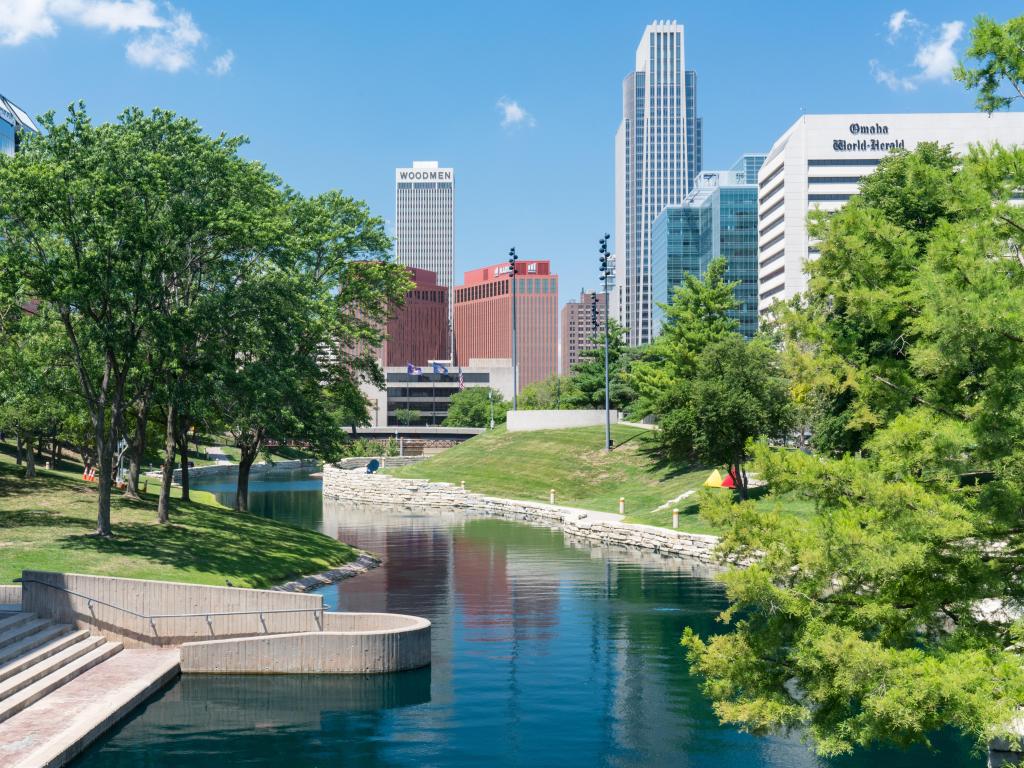 Here, you'll find everything from the historical Old Market, filled with cobblestone streets and unique shopping, to a wide variety of restaurants serving up Omaha's renowned steaks.
Omaha is also home to the famous Henry Doorly Zoo and Aquarium. This world-class facility houses the largest indoor desert and nocturnal exhibits in the world and is a fantastic destination for families.
Omaha Marriott Downtown at the Capitol District might be slightly out of Lloyd and Harry's budget, but this stylish 4-star hotel is our top choice as to where to stay in Omaha. And what's more - you will get to enjoy your very own bathtub in your hotel room!
If you are looking to explore, you will find The Durham Museum and Bemis Center for Contemporary Arts a short distance from the hotel. If you rather stay in and reenergize, there is a fabulous bar and a restaurant located on-site.
A luxurious stop in Aspen
If your daydreams align more with Lloyd's luxury lifestyle fantasies, the myriad fine dining options and upscale boutiques of Aspen will surely impress. Nestled in the heart of the Rocky Mountains, Aspen is famed for its remarkable mountain landscapes, outdoor recreation, and world-class dining and shopping experiences.
If you want to enjoy Aspen in winter, just like Lloyd and Harry did, the city is nothing short of a winter wonderland, with four different ski areas that cater to all levels, from beginners to professionals.
Beyond the breathtaking outdoor adventures, Aspen also offers a vibrant cultural scene. It's home to numerous art galleries, the Aspen Art Museum, and hosts the Aspen Music Festival, one of the top classical music festivals in the United States.
While you won't be short of luxurious lodging options in Aspen, it is hard to beat the Little Nell when it comes to a decadent night's stay. With ski-to-door access, you will be ready to hit the slopes at your leisure during your stay.
This gorgeous hotel features an onsite restaurant with an award-winning wine list and an on-site tavern for casual dining. If you are after the ultimate relaxation, make sure to book a massage therapy session as an apres-ski treat.
If you don't want to reach into your suitcase of money, The Aspen Mountain Residences is a more affordable option, featuring shuttle service, family style rooms, a fabulous outdoor fireplace and a pool with a view.
Things to see on a Dumb and Dumber road trip
This epic road trip inspired by "Dumb and Dumber" will take you across ever-changing landscapes, dotted with both famous landmarks and lesser-known quirky attractions as well as vibrant Midwest metropolises.
Below, you can find our suggestions on what to see on the Movie Route.
Best attractions on The Movie Route
Mystic, Connecticut - Nestled in the beautiful state of Connecticut, Mystic is best known for its rich maritime history. Don't miss the Mystic Aquarium, home to thousands of species including beluga whales, and the Mystic Seaport Museum.
New Haven, Connecticut - The cultural and intellectual hub of Connecticut, New Haven is most famous as the home of Yale University. Explore the Yale University Art Gallery's extensive collection, and take a leisurely stroll through the university's iconic, historic campus.
Stamford, Connecticut - In Stamford, the Stamford Museum & Nature Center is a must-visit. It's a multifaceted institution with a preserved early 20th-century mansion, an active farm, and a planetarium among its attractions.
Manhattan, New York - The pulsating heart of New York City, Manhattan is filled with iconic landmarks such as the bustling Times Square, the verdant Central Park, and the towering Empire State Building. Each locale offers a unique snapshot of life in this bustling metropolis.
Paterson, New Jersey - Experience the raw power of nature at Paterson Great Falls National Historical Park. In the midst of urban Paterson, the park is home to a striking waterfall that adds a touch of wilderness to the cityscape.
Cleveland, Ohio - Cleveland is home to the world-renowned Rock and Roll Hall of Fame, an institution dedicated to the preservation and celebration of rock music's most influential figures. Also notable is the Cleveland Museum of Art.
Chicago, Illinois - As the third-largest city in the U.S., Chicago boasts a rich architectural history showcased in iconic structures like Willis Tower, once the tallest building in the world. The city is also known for the Art Institute of Chicago.
Davenport, Iowa - In Davenport, you can enjoy the extensive collection of the Figge Art Museum. The city is also home to the family-friendly Putnam Museum, showcasing a variety of history and natural science exhibits.
Des Moines, Iowa - Take some time to appreciate the Des Moines Art Center and the Pappajohn Sculpture Park, an urban park adorned with fascinating works of art. These locations offer a blend of natural beauty and artistic inspiration.
Omaha, Nebraska - Omaha is home to the incredible Henry Doorly Zoo and Aquarium, known for its desert dome and indoor rainforest. Equally engaging is the Old Market district, where cobblestone streets are lined with unique shops, restaurants, and galleries.
Lincoln, Nebraska - This city is where Lloyd makes a wrong turn and heads towards instead of driving to Aspen in the movie. The Nebraska State Capitol is an architectural wonder to visit in this city.
Denver, Colorado - Nestled at the foot of the Rocky Mountains, Denver is known for its vibrant arts scene, exemplified by the Denver Art Museum's diverse collection and innovative exhibitions. Also worth visiting is the Denver Botanic Gardens.
Rocky Mountain National Park, Colorado - This stunning national park offers a landscape of majestic mountains, meandering rivers, and verdant forests, creating an environment perfect for hiking, wildlife viewing, or simply soaking up the awe-inspiring scenery.
Golden Gate Canyon State Park, Colorado - A haven for outdoor enthusiasts, Golden Gate Canyon State Park offers over 35 miles of hiking trails, interspersed with aspen and pine forests, rocky peaks, and tranquil meadows.
White River National Forest, Colorado - Encompassing more than 2.3 million acres, the White River National Forest is a mountainous outdoor paradise featuring high alpine lakes, marble caves, and numerous trails for hiking and mountain biking.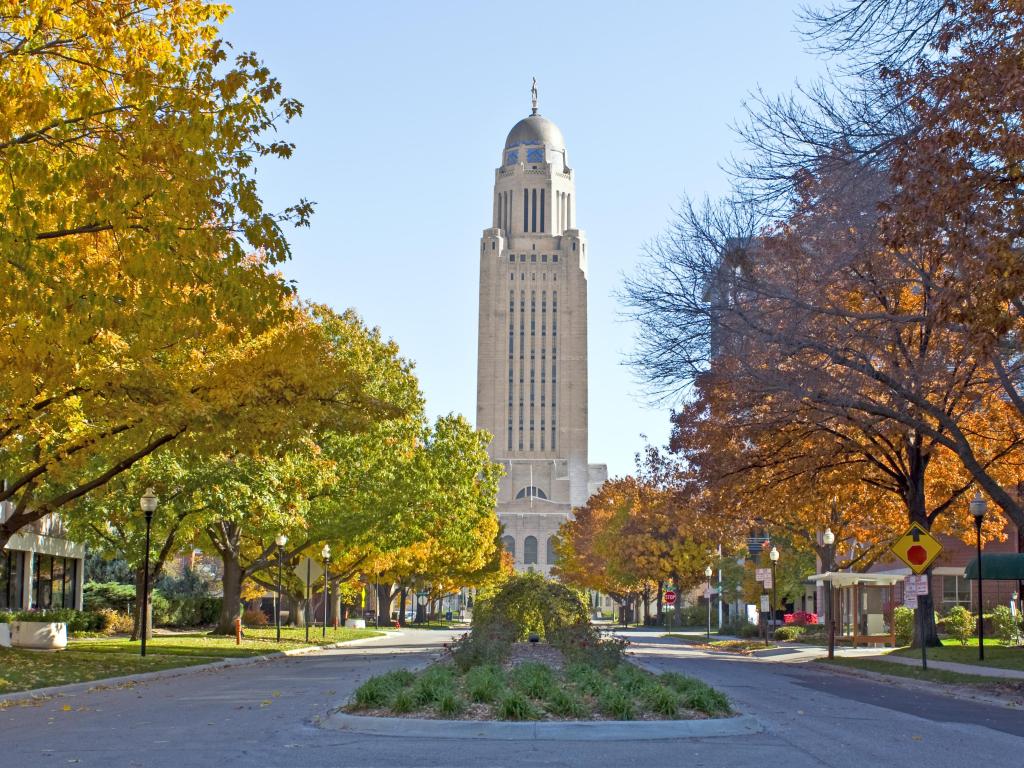 Filming locations and featured places from Dumb and Dumber
While following in Lloyd and Harry's footsteps is an epic adventure on its own, you might want to do some extra mileage to visit the actual filming locations.
Please keep in mind that these locations are not on either of our suggested routes, so you will need to venture further to visit them.
The Big Blue Bug - This gigantic termite perched atop New England Pest Control in Providence, Rhode Island, is a must-see. Featured in the Farrelly brothers' movie to set the scene in their home state, this iconic bug looms over the I-95 and boasts a size almost 1000 times that of an average termite.
Fort Morgan, Colorado - Much of Harry and Lloyd's epic cross-country journey—including the memorable encounter with Sea Bass at the truck stop—found its backdrop in the charming small town of Fort Morgan, Colorado.
The Stanley Hotel, Estes Park - Living it up after uncovering a briefcase brimming with cash, our hilarious duo checks into the fictitious Danbury Hotel. The Stanley Hotel, an equally famous real-life counterpart, doubled as the movie's luxurious venue. As a fun fact, this allegedly haunted hotel spurred Stephen King to pen "The Shining." It's here in its bar, the Avalanche Bar & Grill in Estes Park, that Lloyd eagerly, but hopelessly, waits for Mary Swanson.
Main Street, Breckenridge - This lively main thoroughfare in Breckenridge, Colorado, cleverly disguises itself as Aspen in the movie, adding a touch of authentic Colorado charm to Harry and Lloyd's adventures.
M-Star Hotel, Heber City, Utah - Picture this - Harry and Lloyd soaking in a kitschy red, heart-shaped tub. This unforgettable scene was shot at the M-Star Hotel in Heber City, Utah. (While the actual hotel has since been renamed Heber Inn, it was immortalized as the Second Honeymoon Motel in the film).
The Depot, Salt Lake City - Here's where Harry and Lloyd indulge in martinis and unwittingly contribute to the demise of an endangered bird. The Depot, once a bustling railroad station and now a four-story event venue in Salt Lake City, played host to these amusing scenes.
Nicholas Andre's House - The stately Aspen "chalet" from Dumb & Dumber and the lavish residence of the movie's antagonist, Nicholas Andre (portrayed by Charles Rocket), both come to life in the picturesque Deer Valley, Utah.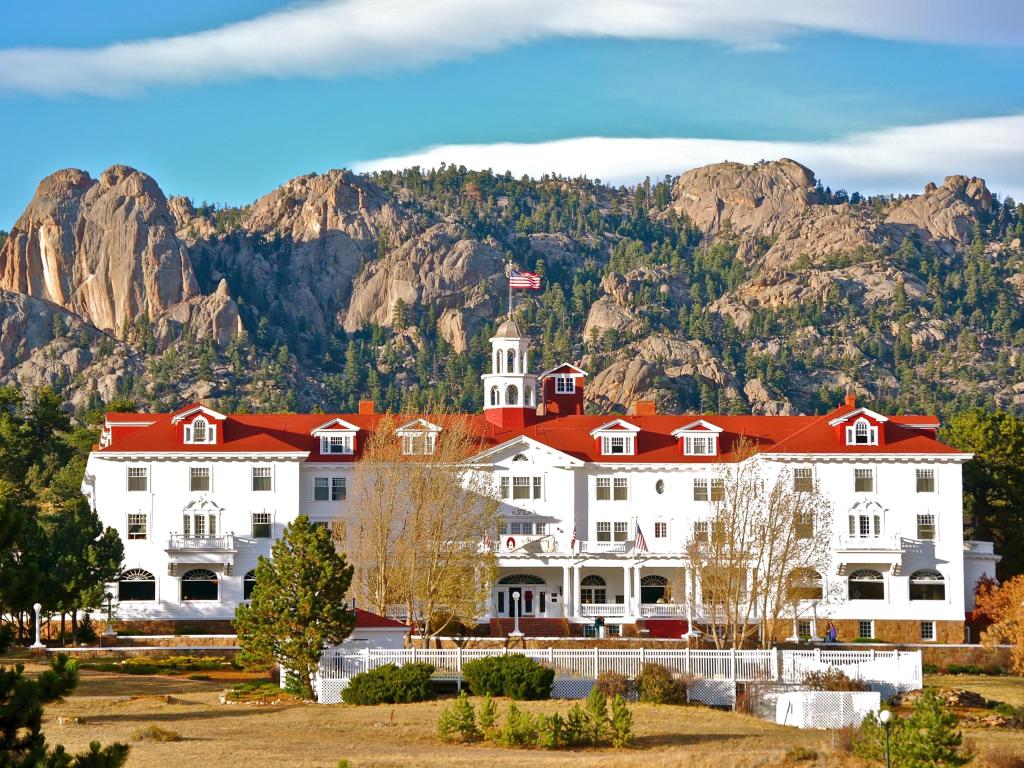 Best time to go on a Dumb and Dumber road trip
The ideal time to embark on this Dumb and Dumber inspired road trip depends largely on the kind of experiences and weather you prefer. Given that the journey traverses a diverse range of climates and altitudes, from sea level in Rhode Island to over 7,000 feet in Aspen, the weather can greatly vary along the way.
If you are eager to enjoy the summer warmth and the stunning greenery of the Midwestern and Eastern parts of the route, then setting off between June and August would be ideal. Do note that Aspen during this time is quite pleasant, with temperatures ranging from 40 to 79 degrees Fahrenheit.
Fall brings a stunning display of fall foliage, particularly through the Midwest, and Aspen is renowned for its beautiful golden aspens. Aspen temperatures during this season can range from 14 to 66 degrees Fahrenheit.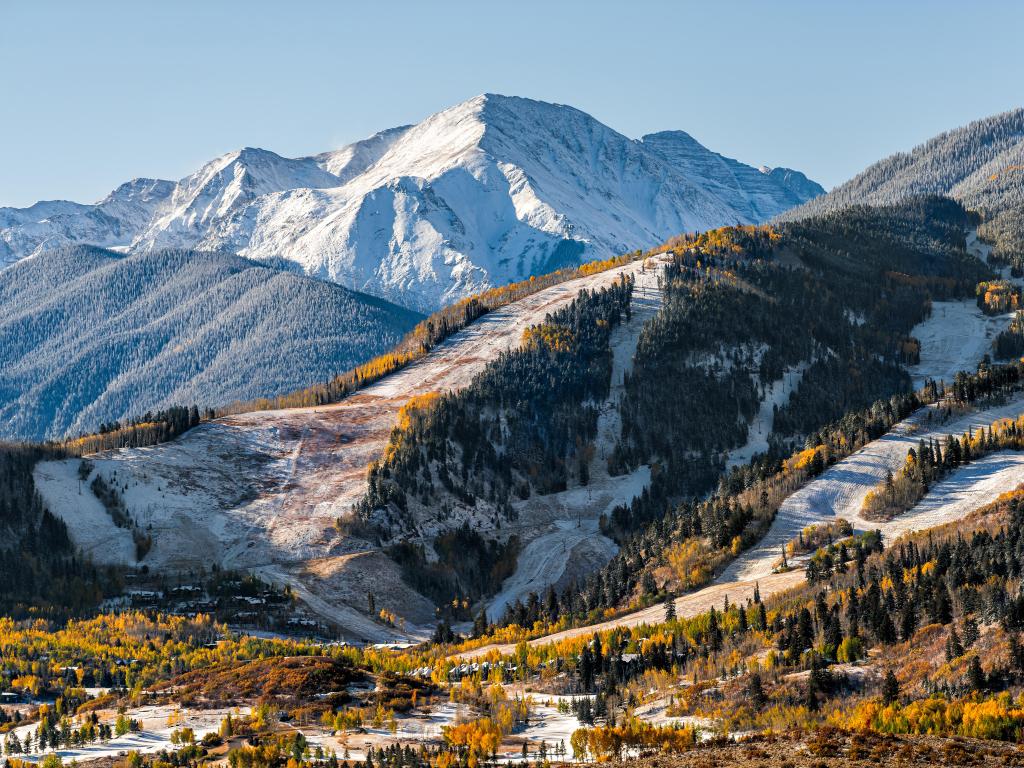 If you want the ultimate "Dumb and Dumber" experience, winter is the season to set off on this road trip. The iconic scenes in Aspen, Colorado, show a snow-covered town, featuring scenes of skiing and snowball fights.
The famous "dog van" - officially called the "Mutt Cutts" van - is even shown to struggle in the snowy conditions during their road trip. So be more prepared than Lloyd and Harry and carry winter chains.
During the colder months, you will get a chance to take in the snow-clad vistas of Aspen and perhaps even enjoy some winter sports if you are feeling adventurous as Aspen is a world-renowned ski destination.
However, keep in mind that winter can be quite challenging due to potentially harsh weather and road conditions, especially in the Rockies. Temperatures in Aspen during this season can plunge as low as -1 degrees Fahrenheit and reach only as high as 39 degrees.
Spring offers a milder climate, with receding snows and blooming wildflowers, especially as you approach Aspen. Temperatures in Aspen during this time vary from 21 to 58 degrees Fahrenheit.
Therefore, this trip can indeed be done year-round, depending on the kind of experiences and weather you prefer. However, always check the local weather and road conditions before setting off, especially in winter, due to possible closures and hazards.