Road Trip from Rhode Island to Maine
This scenic and insightful road trip from Rhode Island to the historic seaside state of Maine is brimming with city sights and beautiful landscapes that makes for a very picturesque and fascinating journey.
The 210-mile road trip from Rhode Island to Maine takes 5 hours. Stop at Blue Hills, Middlesex Fells and Lynn Woods Reservations, Boston, Salem, Rockport, or a detour option to Mount Monadnock and Kearsarge, White Ledges of Sunapee and Portsmouth.
Both these routes are packed with plenty of historical stops balanced with jaw-dropping landscapes, which gives a great variety of things to see and do on the way to Maine. Continue reading to see all about the best route to take, where to visit and stay during this journey.
How far is Maine from Rhode Island, and how long will the road trip take?
Comparison of road trip routes between Rhode Island and Maine

| Route | Distance | Driving Time |
| --- | --- | --- |
| The Boston Route | 210 miles | 4 hours and 50 minutes |
| The New Hampshire Detour | 310 miles | 6 hours and 30 minutes |
The short road trip from Rhode Island to Maine following the Boston Route covers 210 miles and takes about 4 hours and 50 minutes without opting for a detour.
The slightly longer New Hampshire Detour alternative road trip covers 310 miles and takes around 6 hours and 30 minutes to complete.
You may be tempted to travel this distance within a day, however we recommend spending 2-3 days for this road trip to be able to make the most of all the beautiful landmarks along the way.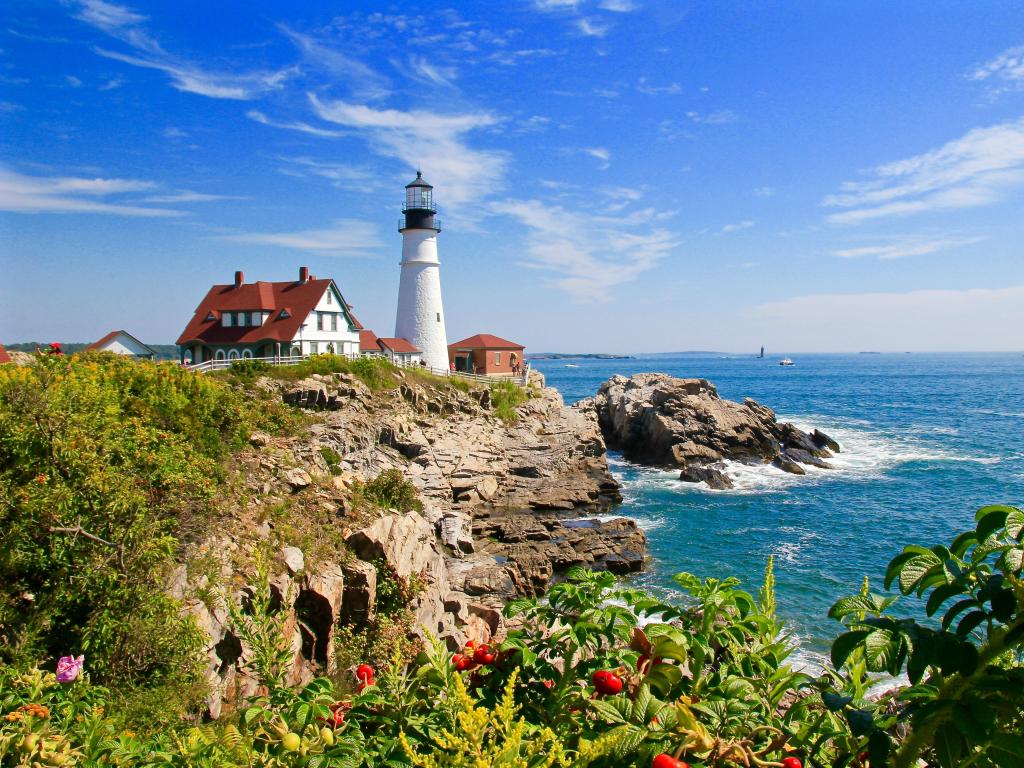 If you are looking to take spend more time in Maine, here is our ultimate road trip itinerary:
READ MORE - Ultimate Maine Road Trip Itinerary
Best road trip route from Rhode Island to Maine
The two routes travelling from Rhode Island to Maine venture across the exciting and scenic states of Rhode Island, Massachusetts and New Hampshire, with many pretty and interesting landmarks to enjoy on the way.
The Boston Route takes in big city sights, stunning reserve trails and witch trial memorials, whilst curving along the coastline. You can enjoy a balance of beautiful landscapes, wildlife-rich parklands, and historical stop-offs.
Take the New Hampshire Detour and a scenic road trip awaits you. You can climb mountain peaks and paddle through clear rivers, before stepping back in time to learn about American history. A beautiful and fascinating route.
How to drive from Rhode Island to Maine
The map above shows our suggestions for the best road trip routes between Rhode Island and Maine. Keep reading for detailed descriptions of both routes, where to stay on either, and the best things to do on the way.
The Boston Route
As you leave Rhode Island take Interstate-95 (I-95) North, stopping to admire the views over Boston at Blue Hills Reservation before jumping on the I-95 and arriving in the city itself. Boston is packed with amazing sites such as Freedom Trail, Boston Public Gardens, and much more.
From Boston continue along the I-95 to explore the pretty landscapes of Middlesex Fells Reservation and Lynn Woods Reservation before arriving at infamous Salem, famous for its witch trials, dungeons and memorials.
After a night in Salem take MA-128 North towards Gloucester, before arriving in Rockport, where you can photograph the most popular spot Motif #1, a red fishing hut on the waterfront. Halibut Point State Park is reached shortly after.
Take the MA-127 and then MA-133 passing Great Marsh Area of Critical Environmental Concern and Crane Pond Wildlife Management Area, both great stops for hiking and wildlife spotting.
From here travel along the I-95 North, where a visit to explore Rachel Carson Wildlife Refuge, and then kayaking Saco River, can be enjoyed before arriving in destination Portland, Maine.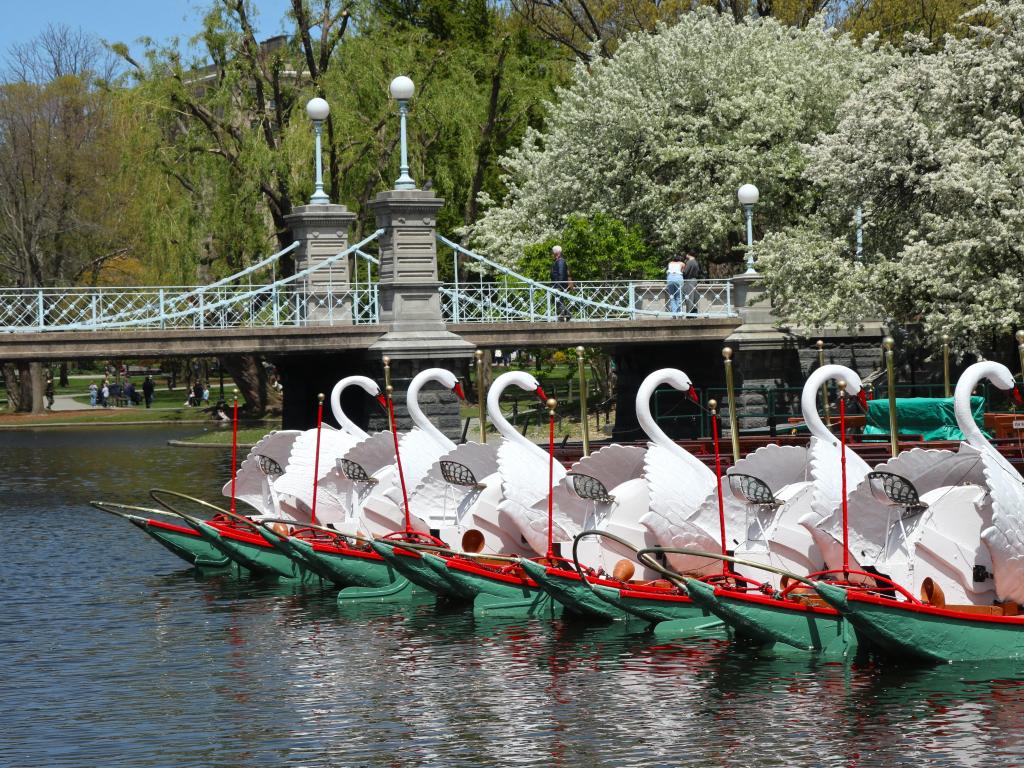 If you are thirsty for more adventure, check our ultimate Maine road trip itinerary for more tips!
The New Hampshire Detour
From Rhode Island follow the RI-146 North where you can stop for some culture at Worcester Art Museum, then leg stretch at the pretty Doyle Community Park in Leominster. Taking the MA-140 will then lead to you Mount Monadnock, one of the most hiked mountains in the US.
Afterwards head along US-202 North towards White Ledges of Sunapee, where you can enjoy amazing views once you reach the peak. The NH-103A, and shortly after I-89, then takes you towards Mount Kearsarge State Forest Park. The Kearsarge Loop is a great way to see this amazing park.
From here travel South along the I-89, before picking up the US-202/US-4 to Portsmouth. A night or two here can be enjoyed, with the Strawbery Banke a popular landmark bringing American history to life.
After a stopover the remaining journey travelling along I-95 passes pretty stop offs at Rachel Carson Wildlife Refuge for hiking, and Saco River for paddling, before reaching Maine.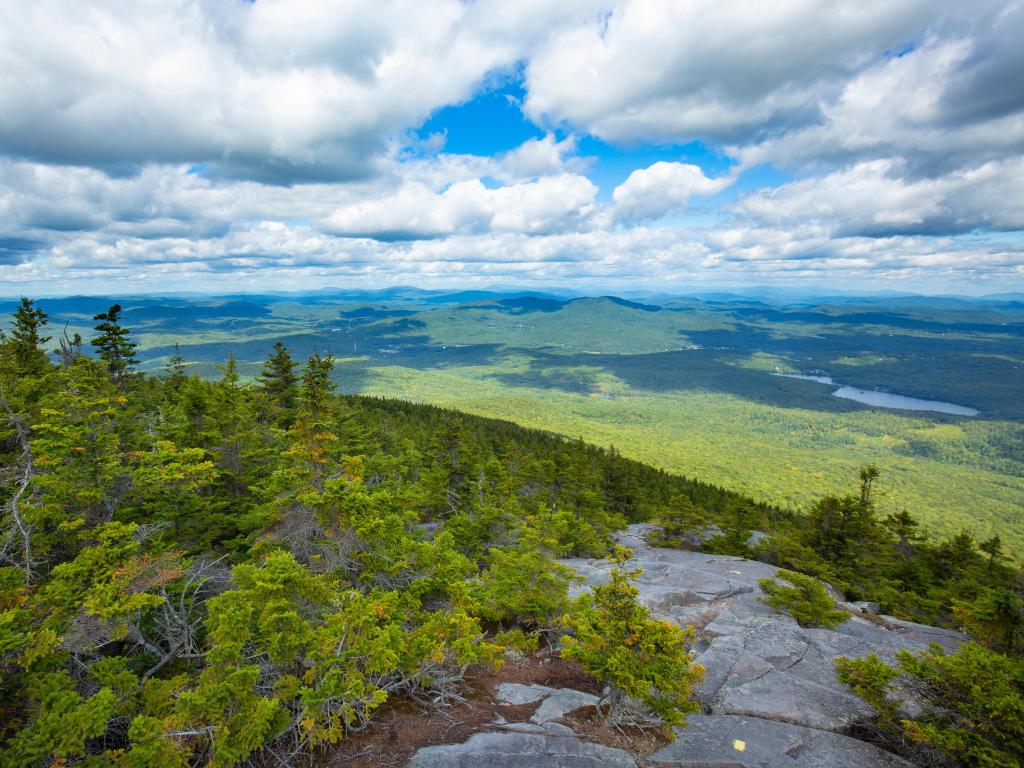 Here is the ultimate Maine road trip itinerary if you'd like to explore this gorgeous state further.
Best places to stop between Rhode Island and Maine
The road trip from Rhode Island to Maine transports you on a very picturesque journey, which is peppered with interesting stop offs and historical sites en route.
This road trip might be short, however there is so much to enjoy along the way we recommend stopping off for a night or two to relax and explore.
Look for witches in Salem
If you are heading along the Boston Route then around 20 miles after you visit the exciting city of Boston itself you will arrive in Salem, infamous for the Salem Witch Trials event during the 1600's.
As you can imagine the area is teeming with attractions detailing this historic event. Visit the Witch Dungeon Museum which recreates the dungeons used for those made to stand trial, and make sure to also head to the Salem Witch Trials Memorial, another testament to the area's creepy past.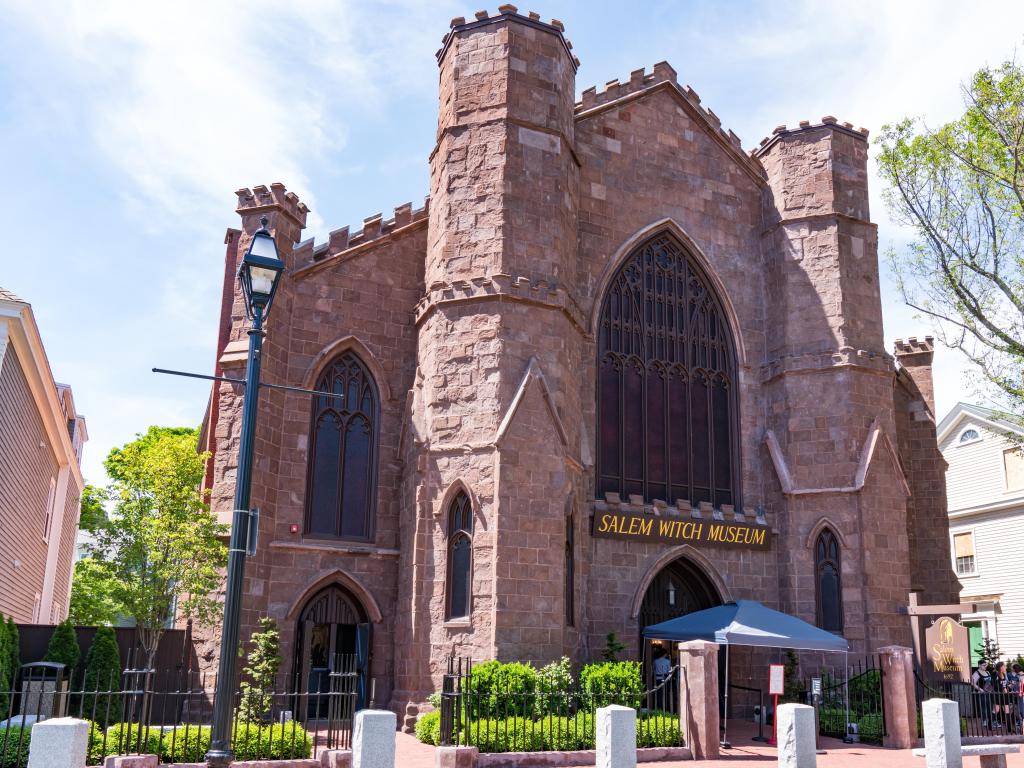 As well as witch antics Salem is packed with interest points. The House of Seven Gables is an impressive historic home built in 1668, where the famous Nathaniel Hawthorne's 1851 novel was set. Take the interactive tour here.
The Salem Maritime National Historic Site is also a must-see. Uncover the past of this important area, where the waterfront is dotted with maritime buildings and replica ships, where you can understand more about the colonial era.
After all that exploring head to the Hawthorne Hotel, a hotel packed with charming decor, and luxurious rooms and lounges to relax in and unwind.
Set in a fantastic location, it is just a short walk to many of the top sights including Salem Witch Museum, Salem Waterfront Park and House of Seven Gables.
Afterwards you can enjoy pre dinner drinks in the cocktail bar, before heading for dinner on-site with a choice of two restaurants serving great American dishes.
Explore the past in Portsmouth
Around an hour away from Maine travelling along the alternative New Hampshire Detour, you will arrive at Portsmouth, known for its beautiful waterfront, historic homes and seafood.
Enjoying a stop off here means you can see the impressive Strawbery Banke. This outdoor museum brings American history to life at this interactive and interesting landmark, where actors playing out roles from the past.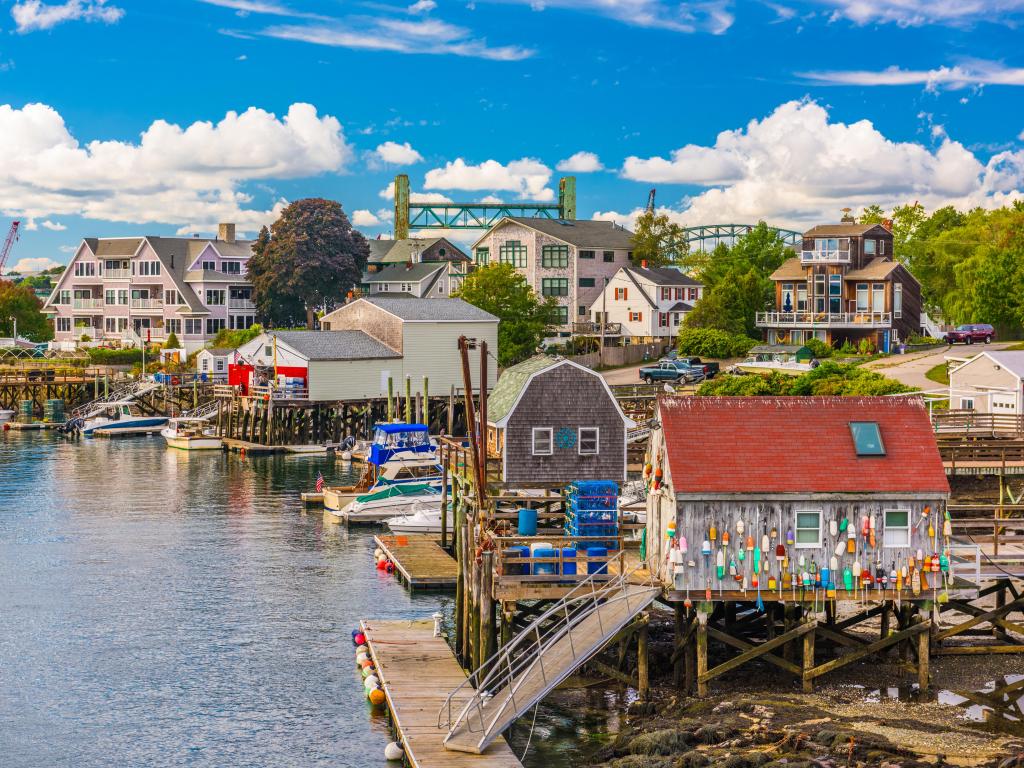 Make sure to visit Wallis Sands State Beach for a sunbath or swim along the white sandy coastline. Afterwards head to Prescott Park, which runs alongside the Piscataqua River and is great for a stroll and lunch. In summer, catch some of the open-air music and food festivals taking place here too.
Located in historic Haymarket Square, The Hotel Portsmouth is a great spot to stay for a night or two, located right by many popular sites such as Goodwin Park and The Strawbery Banke Museum.
The traditional and unusual setting of this hotel within a Victorian manor is delightful and intriguing, with gorgeous décor inside and lovely rooms and lounge areas to relax in.
This hotel is right on the doorstep of so many great attractions, shops and restaurants, and serving up a delicious continental breakfast each morning will make sure to get a great start to the day before heading out exploring.
Where to stay when you reach Maine
Portland, Maine, is renowned for its pretty waterfront, art and culture scene, and you can be sure of many great sights to see once you arrive here.
To make the most of this stopover head to Portland Harbor Hotel, in a top location, close to Portland Waterfront and sights such as Wadsworth Longfellow House, Compass Park and Portland Observatory.
This is a superb hotel, with luxurious lounges and bedrooms, and the outside courtyard is the ideal spot to enjoy a coffee or cocktail depending on the time of day!
Afterwards head to the renowned on-site BlueFin North Atlantic Seafood Restaurant, which plenty of delicious American and seafood options.
Things to see on a road trip from Rhode Island to Maine
Take this pretty road trip from Rhode Island to Maine, and whilst it is compact it is certainly intriguing, with interesting historical sites, beautiful parklands and cultural landmarks to see along the way.
Take a look at our list below of all the wonderful places we suggest stopping at before you arrive at Maines coastal delights.
The Boston Route
Blue Hills Reservation - This 7,000-acre site is ideal for a leg stretch or a larger hike if you have time. With impressive views across Boston if you make to the summit of the Great Blue Hill, a little tricky but well worth it
Freedom Trail - Arrive in Boston and the Freedom Trail is a must. You can understand all about the history with a meander around the city. Pick up an audio guide to learn as you stroll. The Public Library and Fine Arts Museum are also popular and great attractions to stop at en route.
Boston Public Gardens - For a change of pace visit this beautiful park. Particularly pretty in the spring and fall, take out a swan boat and get great views of the park.
Middlesex Fells Reservation - With over 100 miles of trails, visit here to check out the impressive landscape and reservoirs. There are also buildings dotted throughout, such as John Botume House to visit.
Lynn Woods Reservation - Hike or bike around this huge municipal park. Dungeon Rock is a tunnel where alleged pirate bounty was stored.
Salem - Most famous for the Salem Witch Trials, this area is brimming with witch memorials and fascinating facts. Head to the Witch Dungeon Museum which brings to life the witch trial antics.
Rockport - Around 40 miles from Boston, the most popular attraction is Motif #1, a red fishing hut on the waterfront.
Halibut Point State Park - Beautiful coastal landscape, where on a clear day you can see for miles. Take the Babson Farm Quarry Tour brimming with interesting landscape, historical artifacts and incredible views.
Great Marsh Area of Critical Environmental Concern - With hundreds of bird species spotted here this really is a beautiful wildlife-rich site to visit. Bird watch across some of the 25,500 acres.
Crane Pond Wildlife Management Area - Hike round Crane Pond to stretch your legs after a long drive.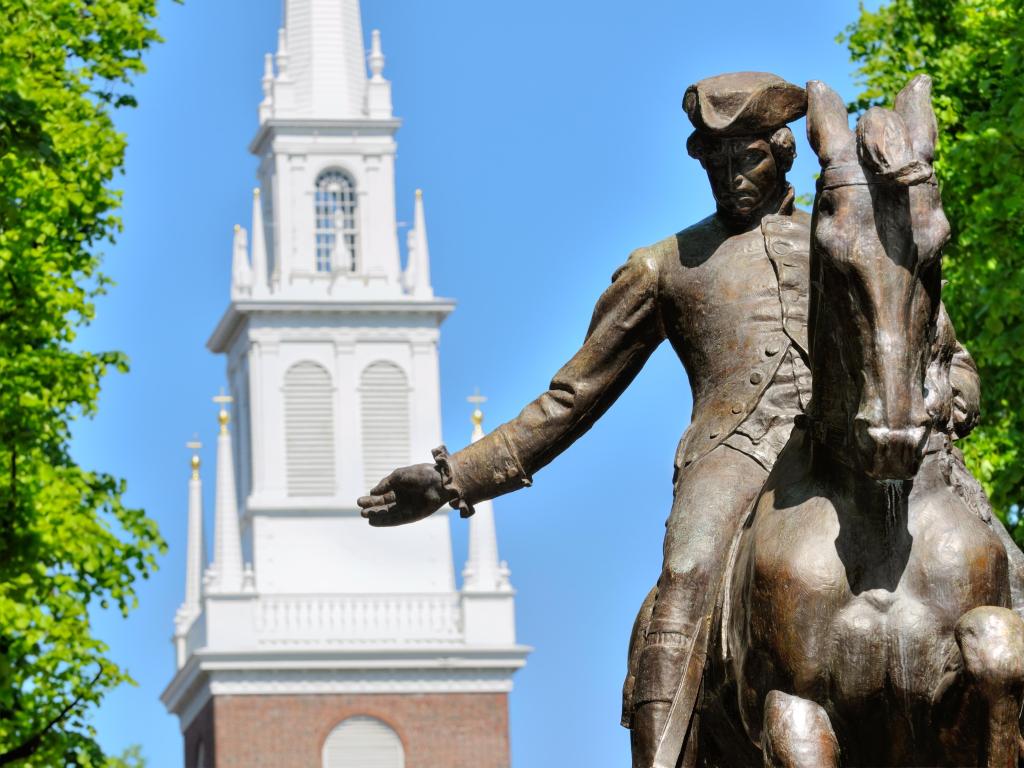 The New Hampshire Detour
Gage Gardens - Stop off in Marathon for a visit these pretty gardens. A great place to wildlife spot as you stroll through the lush landscapes.
Worcester Art Museum - A huge collection of art, both current and historic and across the globe. Collections of medieval armor, mosaics and statues are also on display. So much to see here.
Doyle Community Park - Stop off at Leominster and you can enjoy a leg stretch around the pretty park and woodland.
Mount Monadnock - Known as one of the most hiked mountains, anytime April to November is a great time to head to the summit of this popular mountain with beautiful panoramic views from the top.
White Ledges of Sunapee - Part of the Mount Sunapee State Park, White Ledges requires a moderate hike to climb, with amazing views once you reach the peak.
Mount Kearsarge State Forest Park - The Kearsarge Loop is a great way to see this amazing park. Depending on which day you visit check ahead if a reservation is needed.
McAuliffe-Shepard Discovery Center - An interactive space museum and observatory, this interesting site is a must for the whole family.
Strawbery Banke - Visit Portsmouth and this outdoor museum is a must-visit. Bringing American history to life, with actors dotted around the site at this interactive and interesting landmark.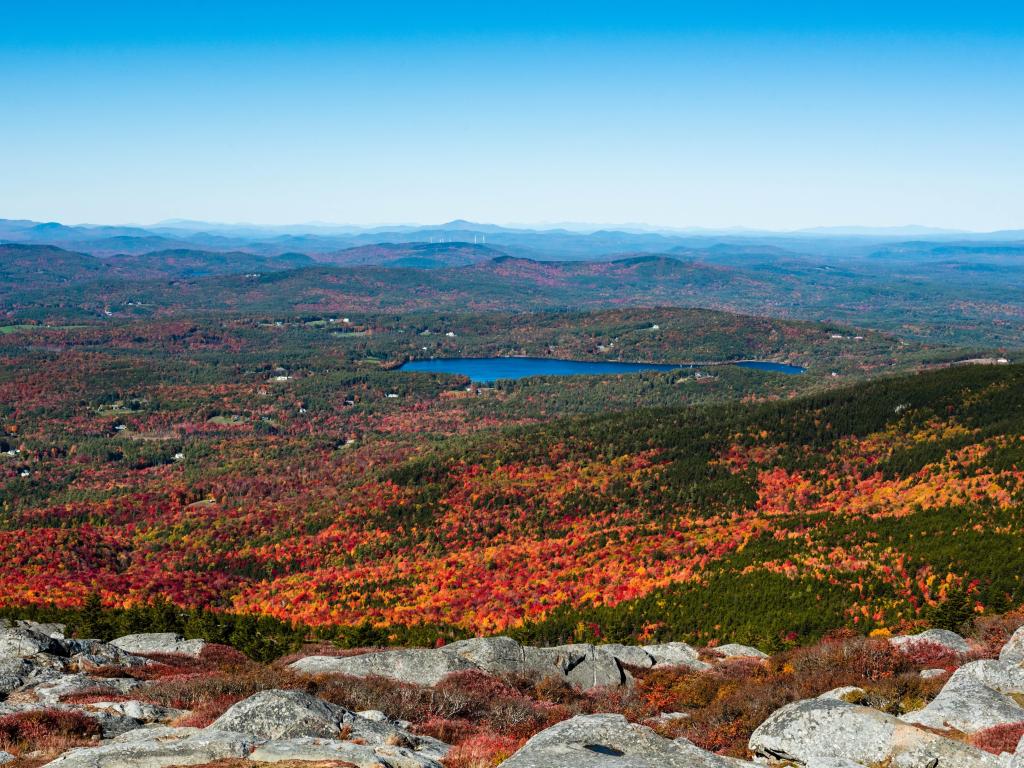 Both Routes
Rachel Carson Wildlife Refuge - Founded to protect wildlife and important salt marshes, this beautiful scenic area is well stocked with trails to bird watch.
Saco River - Take to the water at Saco River, kayaking across some of the 136 miles here, where in summer you can also enjoy a warm swim.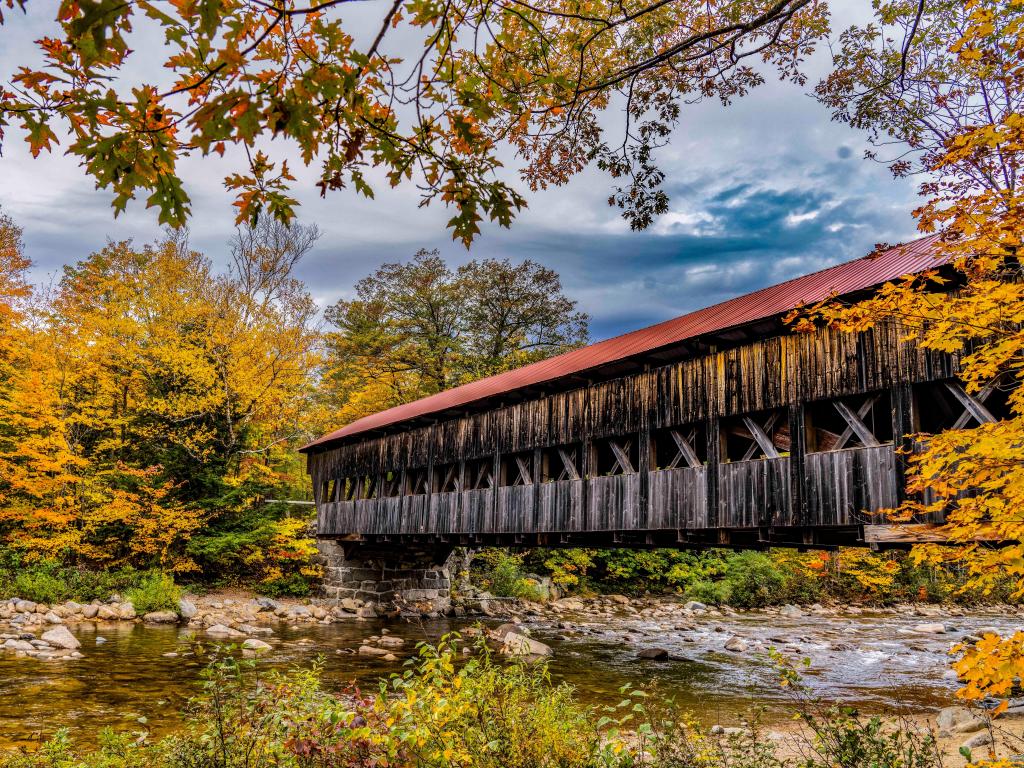 Best time to go on a road trip from Rhode Island to Maine
Maine is definitely somewhere you can head most of the year, however great weather gives you a better chance to see all the amazing outdoor sights and experiences that the colder weather prevents.
In the summer months you are guaranteed plenty of sunshine and temperatures around 75 – 80 degrees Fahrenheit. This lends itself to taking part in all the outdoor recreation on offer or to just sitting back and relaxing.
With the nicer weather it can also be busier, with accommodation at a premium, therefore make sure to plan ahead and book early to get the best deals.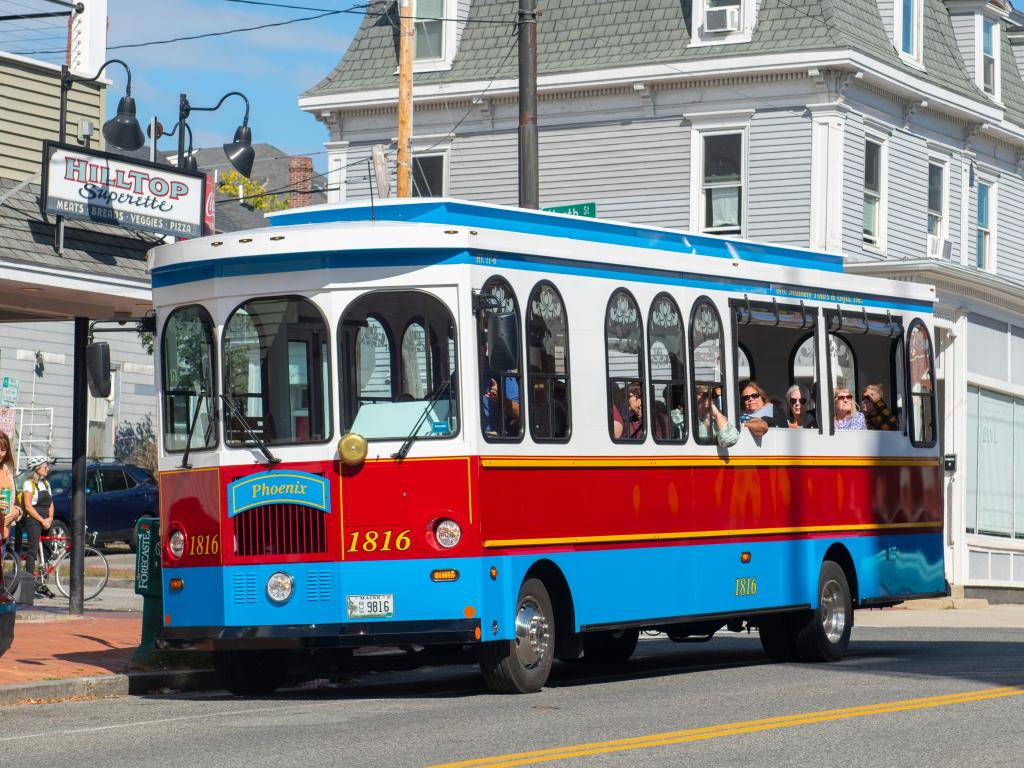 In winter many of the attractions in Maine close, with the expected snowfall of 50-70 inches meaning that people avoid visiting during this time. If you do choose to visit at this time, then warm layers are a must as temperatures dip to 35 degrees Fahrenheit. The days are also pretty short for exploring outside.
Spring and fall are both great times to visit. Fall is particularly pretty, with September temperatures around 70 degrees. Tourists' numbers are also lower, so a great time to visit and get a good deal too.
With the warmer weather comes plenty of annual festivals in Maine to enjoy, such as The Portland Wine Week in June. This is a tasty event to head to, with wine and food the star of the show at this local producer-based event.
In Portland the popular Portland Chamber Music Festival in August celebrates diverse music with plenty of live performances, alongside Art in the Park also active in August and another must-visit cultural festival.
In fall the Harvest of the Harbor showcases great food and drink delivered from Portland, where there are plenty of samples and dishes to try. Yum!