Can you see Delicate Arch from the road?
The stunning Arches National Park is one of Utah's famous Mighty 5, and once you've got through the entrance gates, you can set out to explore more than 2,000 red rock arches. One of the most famous is Delicate Arch, which even features as the backdrop on the Utah license plate.
The iconic Delicate Arch is one of the highlights of Arches National Park, but you'll have to head out on foot to see it as it's not visible from the road. Choose from three fabulous hiking routes through the park's red sandstone landscape.
Visitors come to Arches National Park, just 5 miles from Moab, to admire the 52-foot-tall Delicate Arch all year round, snapping photographs and enjoying fabulous sunsets here. Seeing as you can't see this magnificent landmark from the road, keep on reading to find out the best ways to discover it for yourself.
Can you see Delicate Arch from the road?
Arches National Park is relatively small compared to some of the other US national parks, but even so, you can't see all of the sights from the main road through the park.
Delicate Arch is one of the sights that you can't see directly from the road. For views of this iconic natural landmark, you'll have to park up and choose one of three hikes from Delicate Arch Road.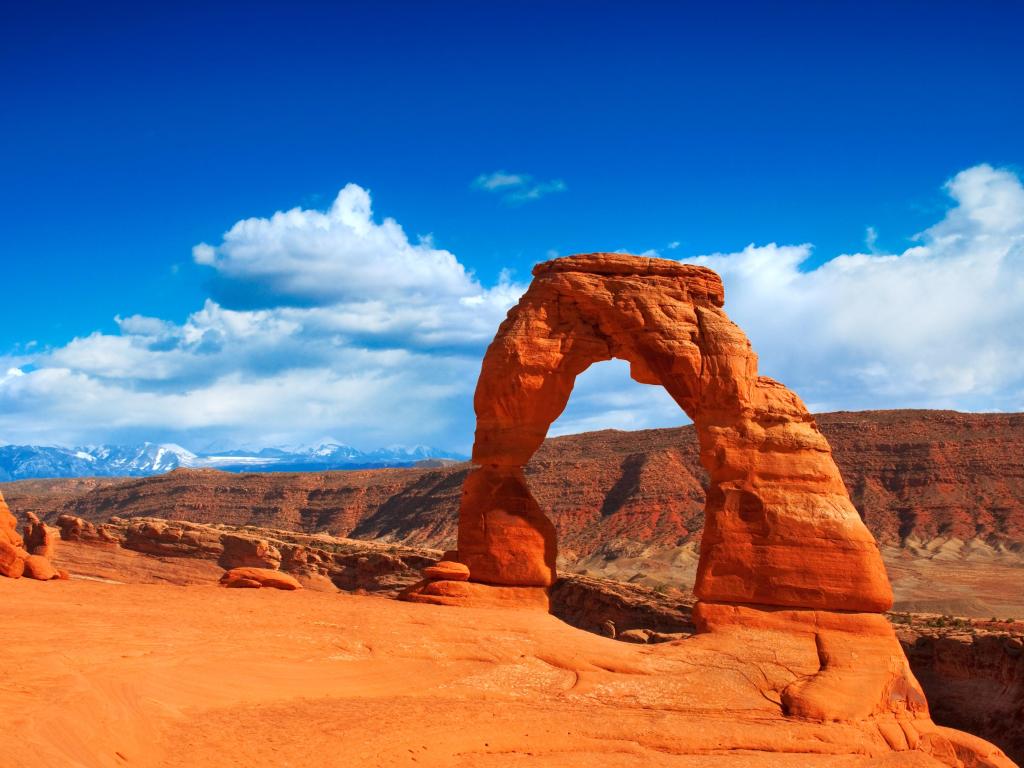 It's just a short walk to the most accessible view of Delicate Arch at the Lower Viewpoint, although the arch will still be around a mile away at this point.
If you're feeling energetic, you can take a more strenuous hike that takes you much closer, either to the Upper Viewpoint or all the way along Delicate Arch Trail.
How to reach Delicate Arch
To visit Delicate Arch, you'll first have to enter Arches National Park, then follow Arches National Park Road and Delicate Arch Road towards the monument.
The roads are paved and kept in good condition, but there are only two lanes so take it slowly and enjoy the stunning landscape. You might encounter traffic if you visit at busy times.
To get closest to the arch, stop at Wolfe Ranch Parking Lot and follow the Delicate Arch Trail. This 3-mile round trip also lets you visit Wolfe Ranch Cabin and Indian Petroglyphs en route. It's a fairly strenuous route, but the good news is that it's mostly downhill on the way back.
Carry on to the end of Delicate Arch Road and you can take the half-mile hike from the parking lot to the Upper Viewpoint. You won't get as close as you would on the Delicate Arch Trail, but this is a great option if your time in the park is limited. It also allows better views than the Lower Viewpoint.
As a third option, the short 100-yard hike to the Lower Viewpoint is the most accessible route. Park at the end of Delicate Arch Road and follow the signs to the viewpoint, but don't expect close-up views, as you'll still be over a mile away from Delicate Arch.
Reaching Delicate Arch from Moab
Moab is the nearest town to Delicate Arch, just 5 miles from the entrance to Arches National Park. It will take around 40 minutes to reach Delicate Arch from Moab, but factor in a little extra time in case of congestion around the entrance station.
Other than the chance of hitting a delay on entering the park, it's a very straightforward 19-mile drive from Moab to Delicate Arch. Head north out of the city on US-191, crossing the Colorado River before turning off to the right for the park entrance.
There's only one paved road through the park, so once you've paid your entry fee you'll follow Arches National Park Road past the Visitor Center, Moab Fault Overlook and La Sal Mountains Viewpoint.
Next, you'll reach some of the national park's most famous viewpoints at Courthouse Towers and the Tower of Babel before continuing on to Petrified Dunes Viewpoint and Balanced Rock.
Take the right turn signposted towards Wolfe Ranch and Delicate Arch and you'll soon find yourself approaching your stunning destination.
Depending on how you plan to see Delicate Arch, you'll need to pick from one of two parking lots. If you're following the Delicate Arch Trailhead, stop at Wolfe Ranch Parking Lot. For the Upper and Lower Delicate Arch Viewpoints, carry on to the parking loop at the end of Delicate Arch Road.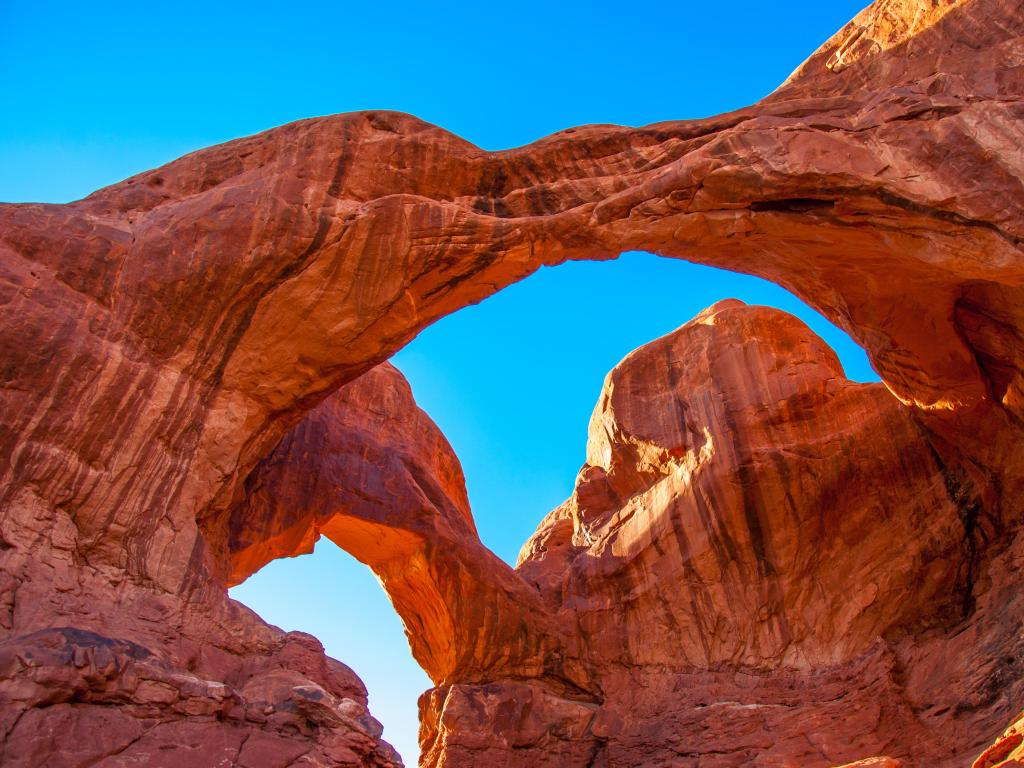 Traveling to Arches National Park from Canyonlands National Park
Visitors often combine a trip to Arches National Park with seeing nearby Canyonlands National Park. The distance between the two depends on which district of Canyonlands you'll be starting from, but from the popular Island in the Sky District, it's a 43-mile, 1-hour drive northeast.
If you'd like to learn more about the best way to visit Arches and Canyonlands National Parks in a day, here is our comprehensive guide.
As you've already found out, you won't see Delicate Arch from any of the roads, but it's a super scenic drive from Island in the Sky District to Arches National Park.
Along the way you'll pass canyons, mesas and red rock landscapes, and the well-maintained paved road means it's a straightforward drive. However, plan your arrival time in advance to avoid the crowds that can build up at Arches National Park entrance station.
From the Island in the Sky Visitor Center, leave Canyonlands National Park via UT-313, known as Islands in the Sky Road or Grand Viewpoint Road. You'll pass Plateau Viewpoint, Big Mesa Viewpoint and Intestine Man Petroglyphs before joining scenic Highway 191 close to Moab Giants.
Turn right onto the highway past Gemini Bridges Trailhead to reach the entrance to Arches National Park. There's only one main route through the park, so you'll see the same monuments inside the park as visitors starting from Moab.
In case you're visiting Delicate Arch from further afield, we've put together the details of driving times from other cities to help you plan your trip.
Driving to Arches National Park from major cities nearby

| Origin | Distance | Driving Time |
| --- | --- | --- |
| Moab | 20 miles | 40 minutes |
| Salt Lake City | 240 miles | 4 hours |
| Denver | 360 miles | 5 hours 50 minutes |
| Albuquerque | 380 miles | 6 hours 40 minutes |
| Santa Fe | 410 miles | 7 hours |
| Las Vegas | 470 miles | 7 hours |
| Phoenix | 490 miles | 8 hours |
| San Francisco | 980 miles | 14 hours 50 minutes |
You can use the links above to access our ultimate guides on the road trips to reach Moab from these major cities, and use it as your base while visiting the Delicate Arch in Arches National Park.
Can you visit Delicate Arch for free?
You can only see Delicate Arch once you're inside Arches National Park, so you'll need to pay the park entrance fee if you want to visit this beautiful natural monument.
The cost for a single private vehicle is $30, which includes entry to the park for all passengers. If you're cycling or hiking into the park, then the fee is $15 per person (calculated at the time of writing).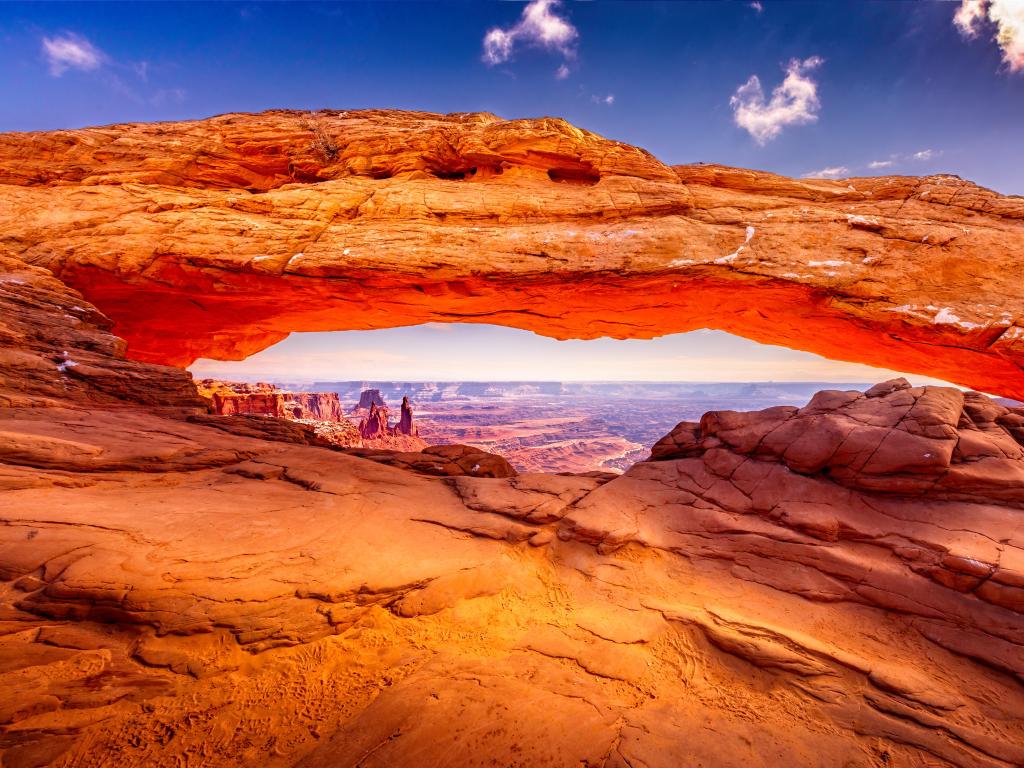 Also between 1st April to 31st October, you'll need to reserve a timed entry slot. The booking charge for this traffic-relieving measure is an additional $2.
If you have an annual America the Beautiful Pass, you'll be able to enter Arches National Park for free, but you'll still need to pay the extra charge to reserve your entry slot online between April and October.
However, you could take advantage of the free days run by the National Park, which usually line up with particular holidays or days that commemorate the growth of the National Parks. Please check the official website for up-to-date information.
Things you need to know about driving to Delicate Arch
It's a fairly straightforward route through Arches National Park to Delicate Arch, but there are a few things you need to keep in mind to help your trip go as smoothly as possible:
Arches National Park is open 24 hours a day all year round.
The most common issue you'll face is traffic congestion at the national park entrance gate.
It's busiest between March and October, so be prepared for crowds unless you travel in the winter.
Parking lots can fill up early, especially at popular attractions like Delicate Arch.
You'll need an entrance pass - don't forget to pre-book your entrance time if traveling between April and October.
If you're visiting in peak season, try to start your visit before 8am. If that's not possible, you might prefer to wait until after 3pm.
Lots of people come to Delicate Arch to watch the sun rise or set, but sunrise is often the less crowded of the two.
It can be very hot in summer so come prepared - bring plenty of water to stay hydrated, and wear suitable clothing.
Remember that you'll have to walk to see Delicate Arch, so dress accordingly.
Even in the desert, snow is possible in winter. The road usually reopens once it's been plowed but you might still experience a wait.
You'll be using paved roads all the way, so this is a drive you can comfortably complete in a regular vehicle. There's no need for a 4WD unless you're planning on exploring deeper into Arches National Park.
There are signposts to the major sights in Arches National Park, so navigation is straightforward, too.
Arches National Park is certified as an International Dark Sky Park - that offers incredible views of the Milky Way, but it does mean that Delicate Arch won't be visible when it's dark.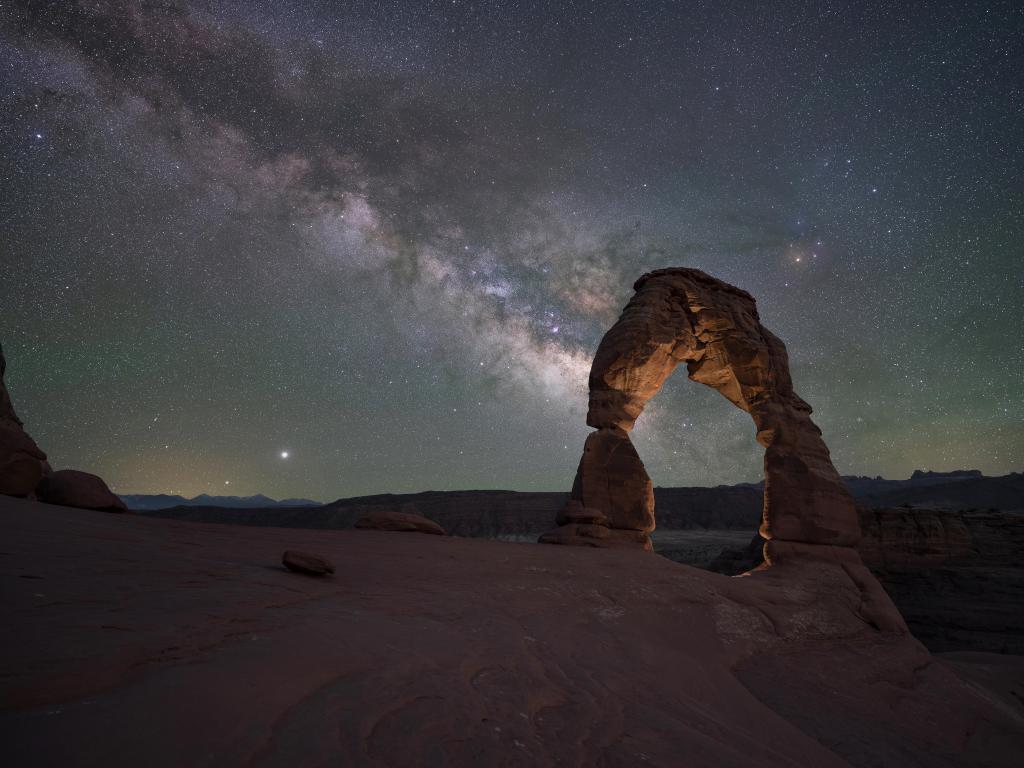 Things to do once you reach Delicate Arch
Whether you're drawn to Delicate Arch to hike, try out your photography skills or simply immerse yourself in the view, there are several ways to enjoy the area once you've arrived.
Upper Delicate Arch Trailhead - To get up close and personal with Delicate Arch, walk this trail. It's rather strenuous, but upon arrival, you can stand right below the 52-foot iconic arch.
Upper Delicate Arch Viewpoint - For a panoramic view of the iconic Delicate Arch and beyond, this 0.5-mile hike is a fabulous option. It's quite a steep trail but offers a vantage point to admire the arch's grandeur.
Lower Delicate Arch Viewpoint - This more accessible viewpoint is a superb choice for visitors with limited mobility or if you want a stress-free walk to see Delicate Arch.
Balanced Rock - While in Arches, take the time to see more of its natural wonders. Balanced Rock is 128 feet tall and looks like it's going to fall over at any given moment.
Courthouse Towers - See the collection of towering stone columns within the Park Avenue section of the park. They named this region due to the resemblance of its architecture to that of Park Avenue.
All that's left is to pack your sunscreen, fill your water bottle, and lace up your hiking boots ready to enjoy the unforgettable sight of Delicate Arch.