How long does it take to drive across Maine?
Maine is located on the coast of the Atlantic Ocean in Eastern USA, and it borders New Hampshire to the west and New Brunswick, Canada to the east. It sits on the America-Canada border and is the last state on the northeast corner of America before reaching Canada. The state of Maine also borders Quebec in the north.
It takes 4 hours 30 minutes to drive across Maine via I-95 between New Hampshire to New Brunswick or across the northern part of Maine from Quebec to New Brunswick. The non-stop drive from New Hampshire to Quebec on I-95 and US-201 is about 4 hours.
To help plan your drive across the state of Maine, we've put together some details on the most frequently driven routes, how long they'll take, and what you can do to avoid delays along the way.
How long does it take to drive across Maine
Depending on where you're traveling to and from, there are some different routes across Maine. The most frequently used routes across the state all take between 4 hours and 4 hours 30 minutes.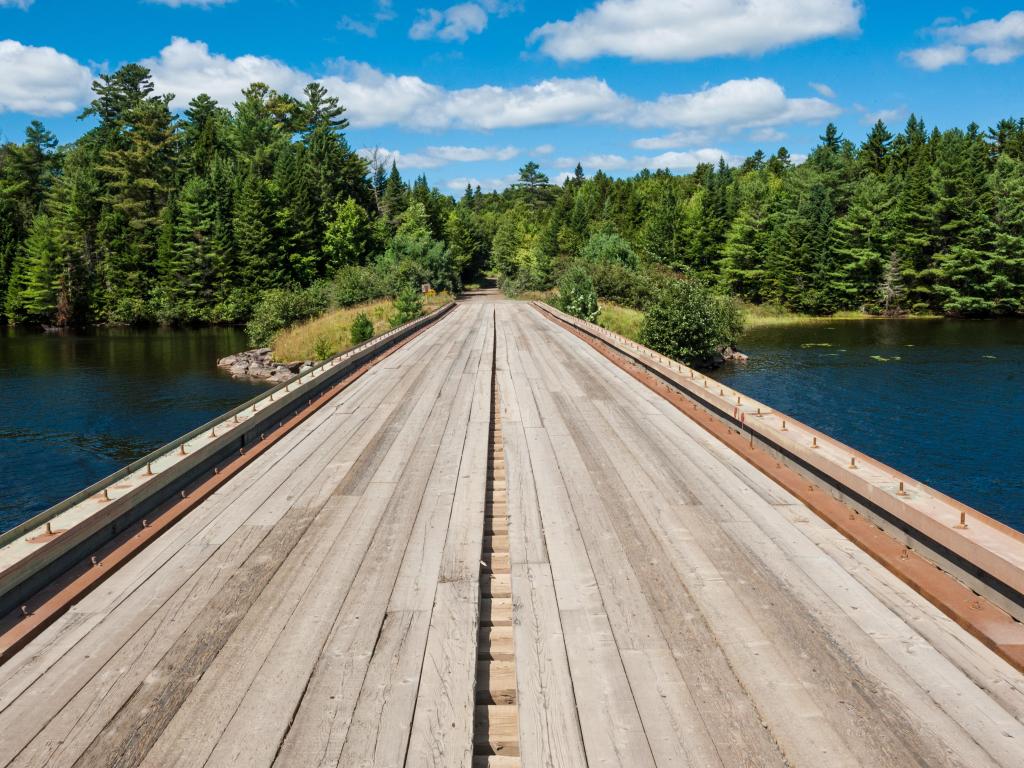 Most people who drive right the way across Maine travel from New Hampshire to either New Brunswick or Quebec, but you can also travel across the northern part of Maine to make the journey between the provinces of New Brunswick and Quebec on the Canada Bypass Route.
Driving across Maine from New Hampshire to New Brunswick
The most common route across Maine runs from Portsmouth, on the New Hampshire border, to Houlton, which is right on the border with New Brunswick, Canada.
This is most likely the route you'll take if you're travelling from cities along the east coast of the United States, including Boston, Hartford, New Haven and New York. It's also the best route to continue on to Nova Scotia.
Your drive begins on Interstate 95 (I-95), which brings you across the border from Portsmouth, New Hampshire into Maine, and this is the most direct drive.
Alternatively, you can take the slower and more scenic option from New Hampshire to New Brunswick, which follows the Atlantic Coast all the way to Belfast and then towards Bangor.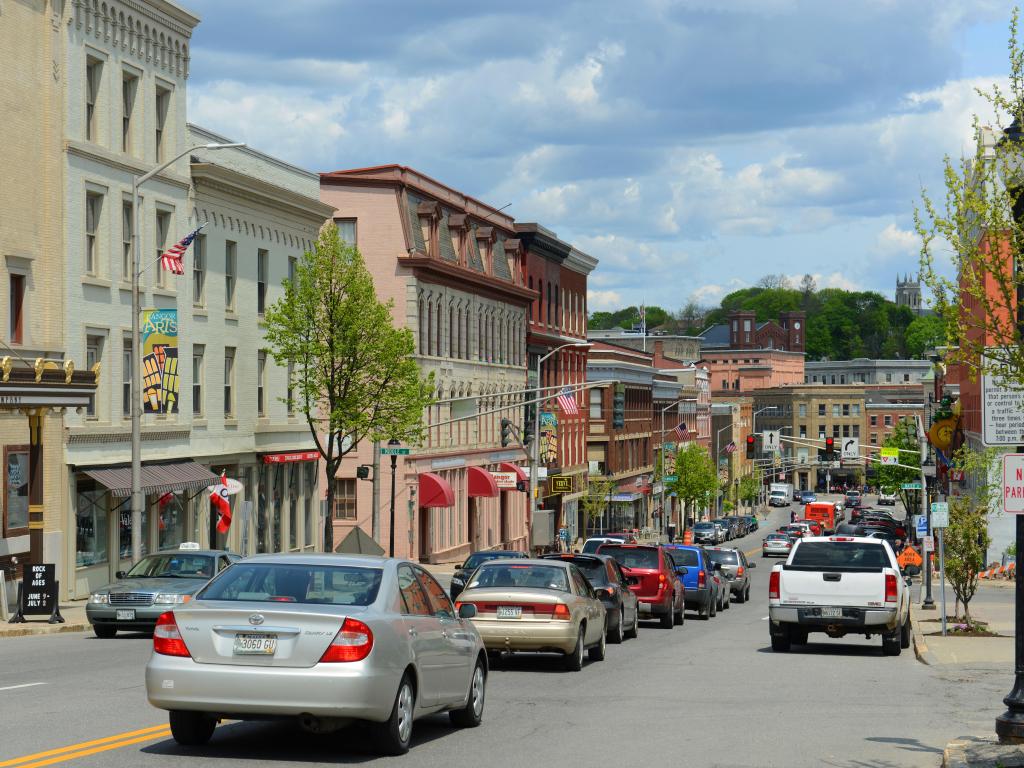 The interstate will then take you all the way to the international border crossing at Houlton. You should factor in some extra time for traffic around the cities of Portland, Augusta and Bangor.
You can complete the drive with just a brief rest break, although the route does take you near to some of Maine's beautiful cities, beaches and natural areas, including the Yorks and the small towns around Casco Bay.
You can also take an easy detour to visit Baxter State Park where you'll get views of Mt Katahdin, Maine's highest peak. If you just want to stop and try some of the delicious seafood that Maine is famous for, you can easily do so in Portland, Augusta or Bangor.
Seeing as this is such a short route, you won't need to make any overnight stops along the way.
Driving through Maine from New Hampshire to Quebec
If you're travelling to or from Quebec City, there's an alternative route across Maine which makes for a more direct journey. Just like the route to New Brunswick, the route to Quebec starts out along I-95 from Portsmouth, merging onto I-295 as you approach Portland.
Along this stretch of the route there are plenty of places to stop and enjoy Maine's stunning coastline, including York and Kennebunkport. This is the part of the drive where you're most likely to encounter delays, as the state's major cities are popular with visitors.
Next, rejoin I-95 for a short stretch which takes you past Augusta, then turn off onto US-201 at Waterville. You'll follow this highway north through the Kennebec Valley, so you'll enjoy stunning river views along the way.
As you make your way north you can pause to hike a number of trails right off the highway or take a short detour up to beautiful Moxie Falls. If you have a half day free on your drive, you could even stop off at West Forks for an amazing white water rafting adventure.
Or, if you just want to drive straight through to Quebec, US-201 will take you right to the Canadian border a few miles after Jackman.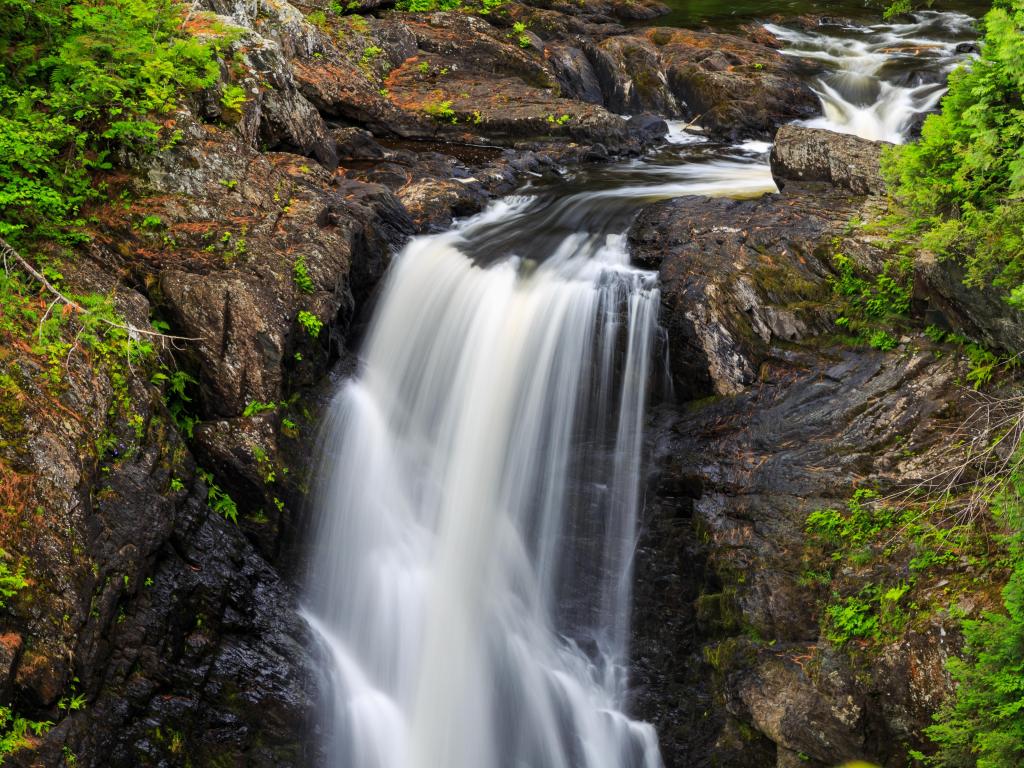 Crossing Maine from Quebec to New Brunswick (the Canada Bypass Route)
There are a few routes that you could take if you're travelling between New Brunswick and Quebec, and one of them is to drive across the northern tip of Maine.
This route mainly follows smaller roads, so it can feel like more of an adventure than simply sitting on the Trans-Canada Highway for a similar amount of time. It also means you won't hit the same kind of city congestion that you should expect on the routes from New Hampshire.
To take this route, you'll start out on St. Juste Road as you cross from Quebec into Maine. Cross the St. John River then continue to follow the road as it becomes Narrow Pond Road.
Keeping Chamberlain Lake on your left-hand side, keep on the main roads which will take you across Lake Telos via the Chamberlain Bridge, and then around the eastern tip of the lake to pick up Pinkham Road. Continue until you reach Ashland and head toward the Canadian border after Presque Isle.
Of course, you're likely to start and finish your drive across Maine in other cities, so check the table below to see how long the whole trip might take. These driving times don't include stops to refuel, sightsee or get refreshments, so remember to add this to your final trip time.
Comparison of driving routes crossing the state of Maine

| From | To | Driving time |
| --- | --- | --- |
| Boston (MA) | Nova Scotia (Canada) | 13 hours 30 mins (790 miles) |
| Boston (MA) | Quebec City (Canada) | 7 hours (390 miles) |
| Quebec City (Canada) | Nova Scotia (Canada) | 11 hours (640miles) |
Things to know that can impact your driving time
Traffic is the main factor that will slow you down on your drive across Maine, especially around the cities between Portland and Bangor on either of the routes from Portsmouth.
This is especially important if you're travelling during the summer vacation and spring break, as Maine is a very popular state to visit. You can expect delays upwards of 20 minutes in each town if you travel during rush hour or get stuck in road works.
Traffic can also cause issues on the Canada Bypass Route, where the smaller country roads can be more significantly affected by road works or accidents.
You won't need to make any stops on your drive across Maine, except for a meal and a rest. This means you can make the drive right across the state in under 4 hours 30 minutes, but factor in additional time if you want to take longer over a meal stop or any sightseeing.
Speed limits will vary on this drive depending on which route you take. Our routes and time estimates take these into account, but any closures, roadworks, weather conditions or diversions may impact total travel time, so be sure to check local advisories before you set out.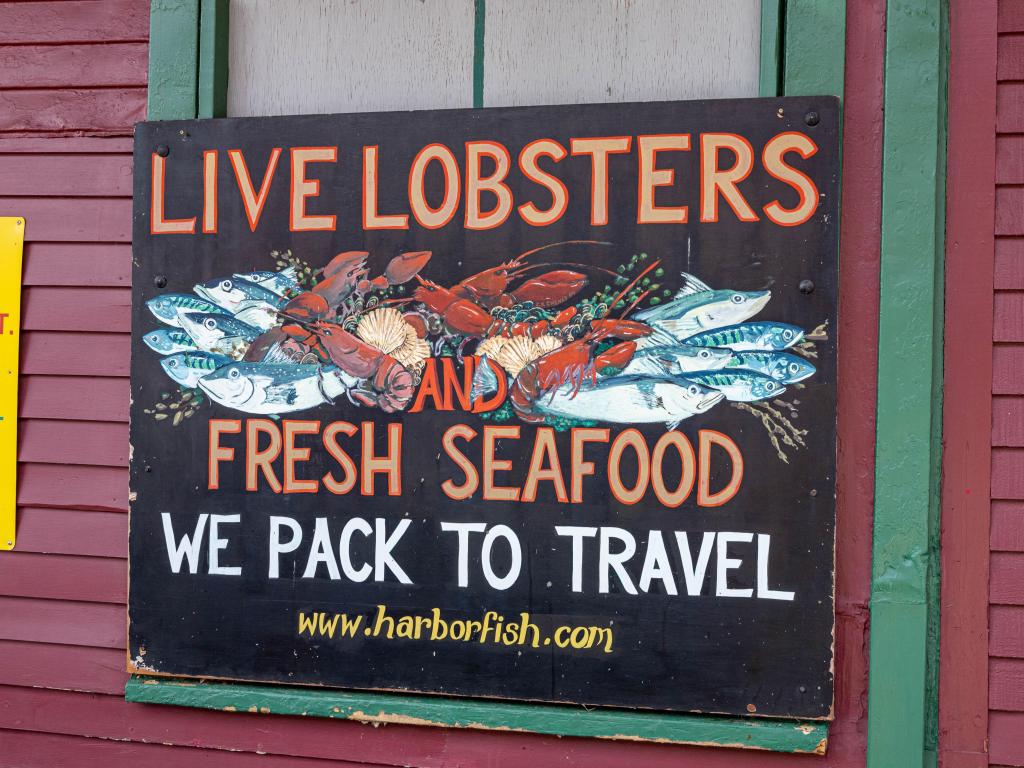 Most of the journey between New Hampshire and New Brunswick or New Hampshire and Quebec follows interstates, where the speed limit is 75 miles per hour. The long stretch on US-201 if you're travelling between New Hampshire and Quebec slows down to 70 miles per hour at times.
Expect slower driving on the country roads on the Canada Bypass Route, where stretches of the urban freeway can see the limit drop down to 50 mph. Also, remember to pack your passport if you are planning on crossing into Canada.
Tips to drive across Maine in the shortest possible time
Driving across Maine is already a pretty short trip, but if you want to cross the state in the shortest time possible there are a few things you can do to avoid any delays.
Weekend visitors can add to congestion on the roads around the major cities of Portland, Bangor and Augusta, and popular beaches along the Atlantic coast, especially during summer months.
If you're able to make the drive on a weekday you'll have the best time of avoiding delays, especially if you avoid morning and evening peaks.
Although food choices in Maine are often superb, sitting down at a restaurant meal can be time-consuming, so pack refreshments in advance if you want to be able to eat on the go.
On the flip side, due to the length of the drive, you won't save much time by alternating drivers. So this is a trip you can make solo without adding too much to your driving time.