Is The Drive From Denver To Vail Scary?
Vail Ski Resort is a popular outdoor destination in Colorado's Rocky Mountains. It's located in the Gore Creek Valley, 97 miles west of Colorado's state capital Denver. Divided into West Vail, Lionshead, Vail Village and East Vail, Vail is the largest ski resort in Colorado and it's also a favorite summer vacation spot where you can enjoy many outdoor activities.
The 97-mile drive from Denver to Vail includes some steep, unlit stretches through the mountains. The roads are well maintained but some travellers might find the route scary in winter. If you're worried about the drive, consider a private charter service a shuttle bus, or a direct flight.
Winters are harsh in this part of the United States, so it's a good idea to be prepared before setting out on the drive from Colorado to Vail, especially if it's snowing or if there's a risk of ice. Keep on reading to find out our top tips to help you prepare for the drive safely.
Which route should I take from Denver to Vail?
Comparison of route options between Denver and Vail

| Route | Distance | Drive time |
| --- | --- | --- |
| The Direct Route | 100 miles | 1 hour 50 minutes |
| The South Route | 145 miles | 2 hours 55 minutes |
Vail is located in the northwestern part of Colorado, around 100 miles west of Denver and 35 miles east of Eagle, high in the Rocky Mountains.
The Direct Route from Denver to Vail takes you along Interstate 70. This is the quickest and most convenient route as it follows the interstate, and for these reasons many travellers find this the safest route between the two.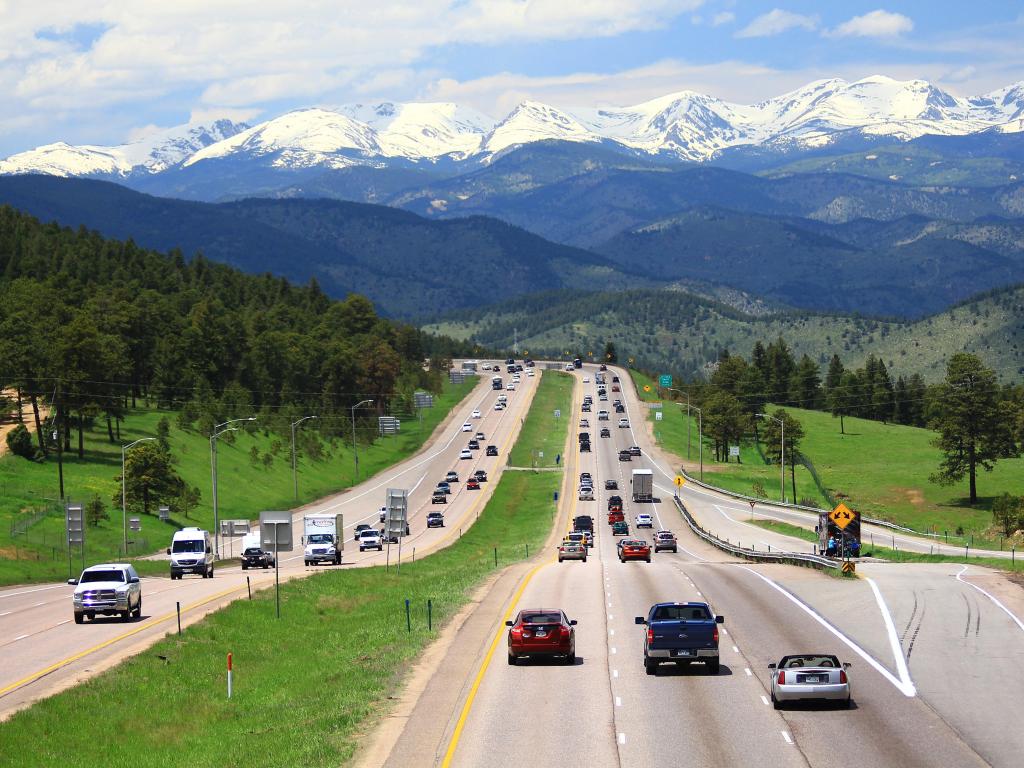 The other possible route is through Jefferson, Fairplay and Breckenridge, which takes you southwest from Denver along some stunning smaller highways.
Whichever route you take from Denver to Vail, it's always a good idea to check the state of the roads before driving through the mountains, particularly if it's snowing or if there's a risk of ice.
Driving on the safest route from Denver to Vail
The safest route from Denver to Vail is a really simple drive to navigate. Simply head west out of Denver on I-70 and the interstate will take you all the way there.
This major road has 2 or 3 lanes in each direction, meaning that you'll usually have no difficulties passing slower vehicles. However, despite the road being so busy there are only a couple of rest stops on the section between Denver and Silverthorne so fill up when you get the opportunity.
The road is regularly maintained, so you should find the tarmac surface is in good condition, however this means that there's often congestion due to work on the road.
During the week, unless you do hit congestion, traffic is usually relatively free flowing. Weekends and holidays are completely different though, and you should expect delays during these busy periods.
It goes without saying that this road through the Rockies can be slippery in cold weather, and the state of Colorado requires drivers to use winter tires on the whole route from September to April unless your vehicle meets other specific traction requirements.
Driving on the alternative route from Denver to Vail
The South Route avoids the Interstate most of the way, so it takes quite a bit longer to reach Vail from Denver.
Out of Denver, follow US-285 all the way to Fairplay then turn onto CO-9 which crosses the Hoosier Pass and heads into Breckenridge before swinging west to complete the drive towards Vail.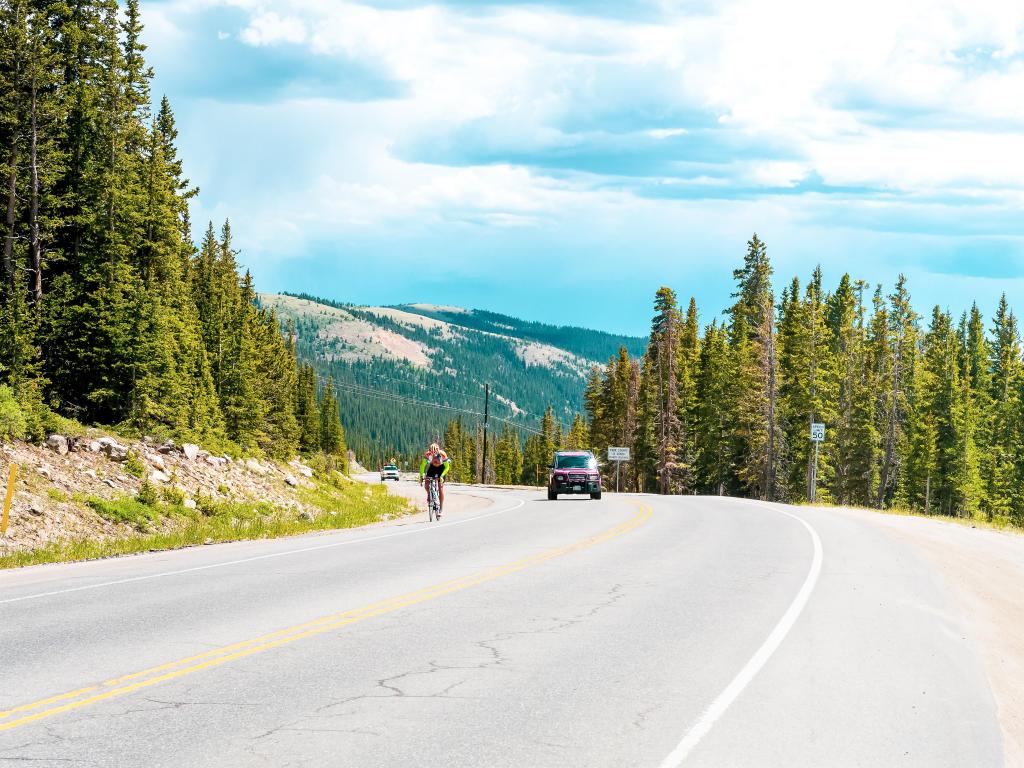 Even though CO-9 is a major highway, there are still a few drop offs which might make nervous travellers uncomfortable, and the high altitude of the Hoosier Pass can make travel conditions tricky in wintery weather. This stretch of the road can close during winter so keep an eye out for travel advisories if you take this route option.
Things to know that can impact the drive on the safest route from Denver to Vail
This is a really busy stretch of road and congestion can slow you down if you travel at busy times. Through the winter, Friday nights and weekend mornings are particularly busy, and holiday periods will also see an increase in traffic.
Another traffic hotspot is the Vail Pass, where you'll often encounter construction and road works.
Some drivers might find the 75 mph speed limit a little intimidating, especially on some of the steeper sections of the route, but always drive at a speed you're comfortable with and keep right so that faster vehicles can pass.
The route does take you to high altitudes, and although you won't find steep drop offs or hairpin bends/switchbacks on the interstate, this is still something to keep in mind if you're scared of heights.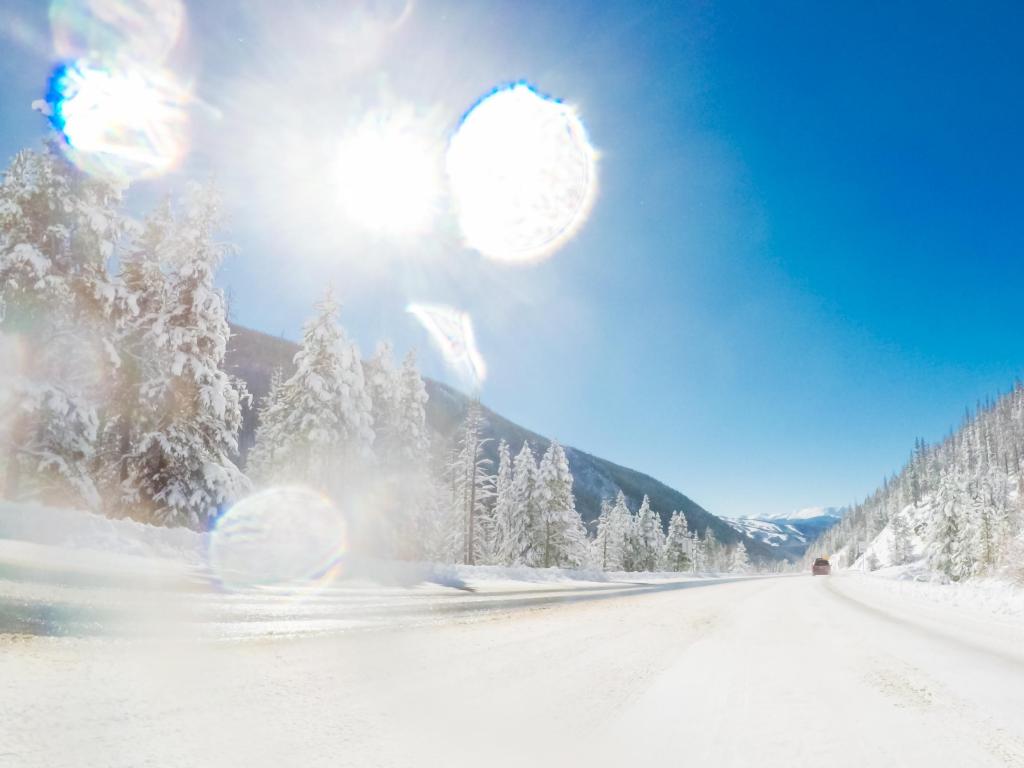 There's a particularly steep descent after the road exits the Eisenhower Tunnel so take this section carefully in icy or snowy conditions. Other high-altitude sections include the steep drop to Silverthorne (8,750 feet) and the Vail Pass (10,650 feet) down to Vail (8,120 feet). The highest parts of the route can also get windy in winter.
In winter, the road can be icy, and at times snow might block the road, although services usually clear the snow quickly. Roads may be closed anywhere between Georgetown and Vail due to snow and ice, slide-offs or high winds.
We'd recommend always checking current conditions with the Colorado Department of Transport (CDOT) before setting out, as this will give you an idea of any issues along your route. CDOT will also list any areas of congestion or planned road works so you can get an idea of your driving time.
Another thing to remember is that there's no highway lightning after Georgetown and outside the settlements, so use extra caution if you're taking the route after sunset.
Tips to drive from Denver to Vail in the safest way
Taking all this information into account, there are a few things you can do to make the drive from Denver to Vail as safe as possible.
Top of the list is to make sure your vehicle is fitted out with winter tires and chains, or maybe choose a 4x4 if you're hiring a car for the trip. Always make sure you have adequate fuel for the journey and stop to refuel at Idaho Springs or Georgetown to avoid running low.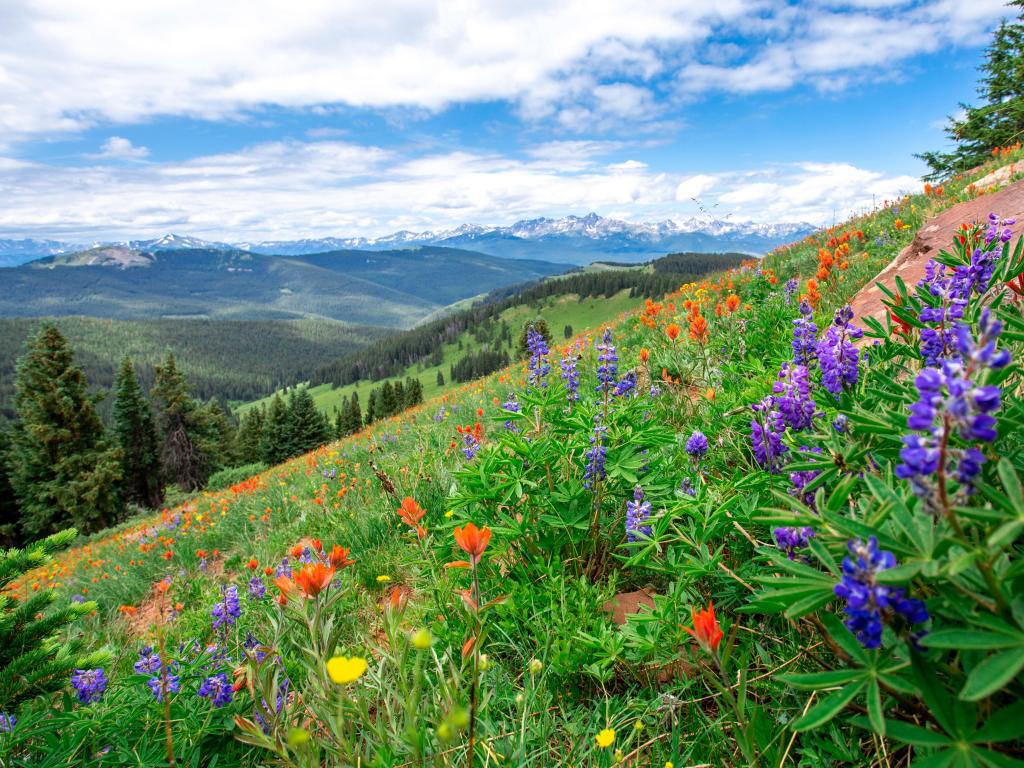 In the summer months, making the trip as early in the day as possible will mean you're not usually having to contend with heavy traffic. However, in winter the night-time temperature often drops below freezing so roads might be less slippery if you wait until later in the day to travel.
Whatever time of year you make the trip, avoid travelling on weekends and holidays if you can, and check CDOT for weather or traffic advisories before setting out.
Be mindful of HGVs and their limitations. Look ahead for heavy trucks crawling along the slow lane. Anticipate this and merge into the fast lane, ahead of them
Of course, if you really want to be prepared, do a "virtual drive" using Google Street view so that you can prepare yourself and "see" the route for yourself beforehand.
Alternatives to driving yourself from Denver to Vail
If you don't feel comfortable making the drive from Denver to Vail yourself then there are a few alternatives that you could consider.
There are limo or shuttle services between Vail and Denver airport, or to minimise time on the road you could consider flying direct to Eagle, which is slightly closer to Vail.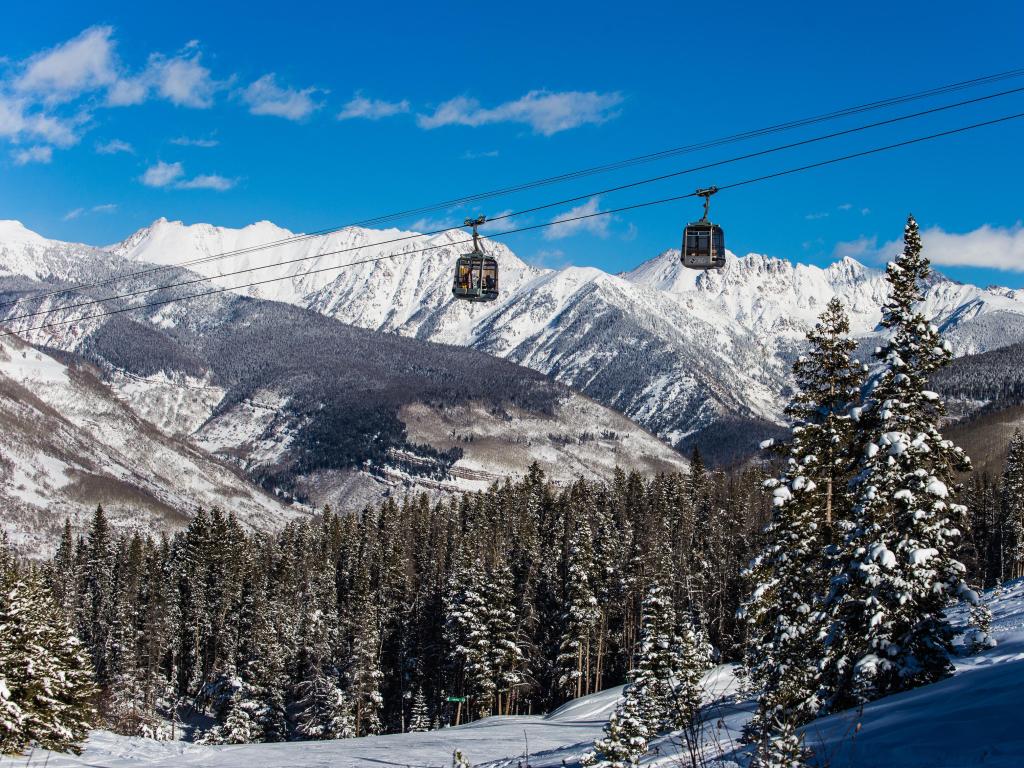 There are also limo, van and bus services from the center of Denver, just make sure to book a service that has space for skis if you're bringing your own equipment.
Best time to drive from Denver to Vail
The roads are often easier to travel in summer as you don't have to be content with icy conditions. However, this is a busy cross-country route all year round so you might experience heavy traffic that can add up to one hour delay.
As we've already mentioned, winter brings snowy and icy roads, heavy winds, and traffic in the holiday season or during ski weekends. However, drive safely and stay alert and you'll be able to make the 97-mile trip through most of the winter.