Is there a ferry across Lake Erie?
If you're looking for a trip across one of the five Great Lakes of North America, then visiting Lake Erie is a brilliant choice. Its picturesque shoreline borders four US states and the border between Canada and the USA runs through the center of the Lake.
The impressive Lake Erie does not have a direct ferry route from shore to shore. However, there are ferry routes available connecting several of the islands with various popular mainland destinations, including Catawba Island, Sandusky, and Leamington.
Visiting the islands of Lake Erie is a memorable way to experience the laid-back island lifestyle, escape the hustle and bustle of everyday life, and enjoy the outdoor adventures and activities available. Keep on reading to find out about ferry routes, when to travel, and the best things to do on arrival.
Is there a ferry across Lake Erie?
Overview of the main routes across Lake Erie

| From | To | Mode | Distance (Time) |
| --- | --- | --- | --- |
| Catawba Island | Put-In-Bay | Vehicle ferry | 5 miles (15 minutes) |
| Port Clinton | Put-In-Bay | Passenger ferry | 10 miles (25 minutes) |
| Sandusky | Put-In-Bay | Passenger ferry | 20 miles (45 minutes) |
| Leamington | Pelee Island, Ontario | Vehicle ferry | 20 miles (1 hour 30 minutes) |
| Sandusky | Pelee Island, Ontario | Vehicle ferry | 25 miles (1 hour 45 minutes) |
As you'd expect with one of the Great Lakes, visitors flock in their thousands annually to marvel at the natural beauty and sail on its expansive waters. However, there isn't actually a ferry that crosses from shore to shore on Lake Erie.
The Lake itself contains several islands and there are ferry routes available to explore a handful of them, departing from several different destinations.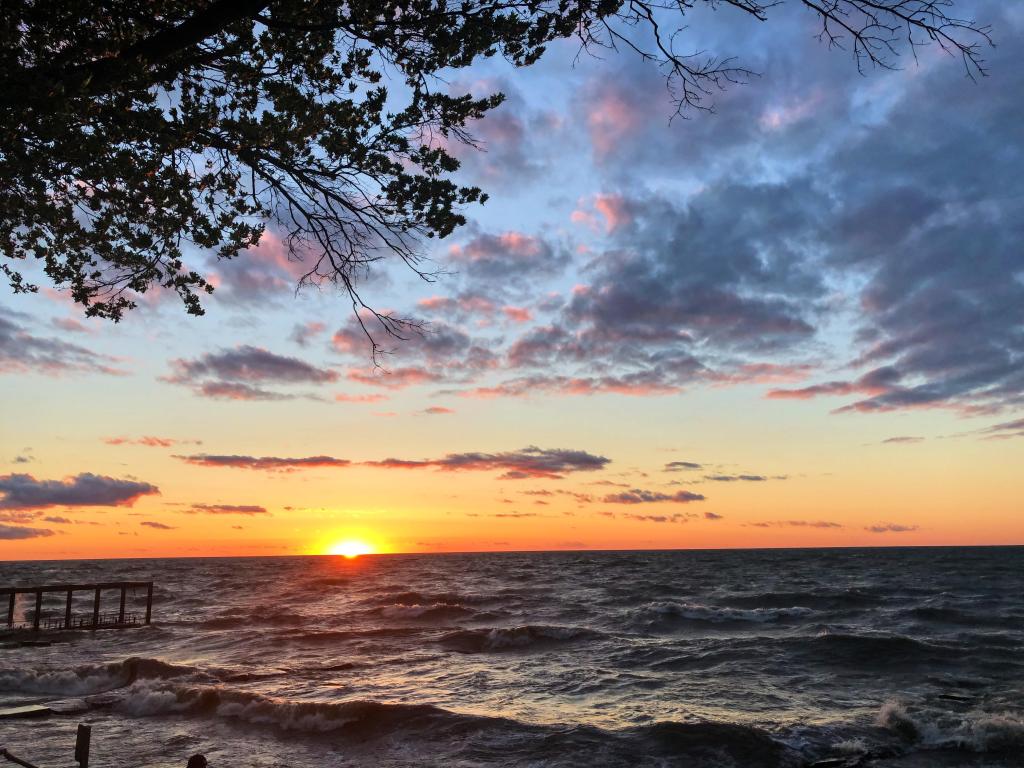 How to travel across Lake Erie
The most popular way to travel on Lake Erie is by ferry. Numerous options are available for traveling from ports in the US and Canada to the islands that occupy the Lake. There isn't a service available that takes you from one side of the lake to the other.
Alternatively, you can choose to fly across Lake Erie, with an Island air taxi available to take you from Port Clinton, Ohio to Put-In-Bay on South Bass Island.
Miller Ferries run the cheapest, and fastest ferry service to the ever-popular Put-In-Bay, and vehicle access is allowed so you can explore the Island from the comfort of your own car. Here is our ultimate guide on traveling to Put-In-Bay from the mainland.
However, golf carts are available if you wish to travel as a foot passenger and leave your car behind on the mainland, and free parking is available.
Traveling on Lake Erie from Catawba Island
Traveling by ferry from Ohio allows you to board the ferry at Catawba Island, taking you to Put-In-Bay, the most popular place on the Lake. This option allows you to take your car on board, although South Bass Island is only 3.7 miles long and 1.5 miles wide and can easily be explored on foot.
The ferry arrives at Lime Kiln Dock, which is close to South Bass Island State Park, and around 6 miles from Put-In-Bay Resort Hotel. The journey itself takes a little under 20 minutes one way, but it is advisable to allow time to board the ferry and disembark on arrival, so allow one hour for the trip.
It is also possible to take the Miller Ferry from Catawba Island to Middle Bass Island. The crossing takes around 40 minutes and has plenty of sailings available daily apart from in winter.
The Lonz winery is a popular historic site, with its impressive limestone structure overlooking Lake Erie a particular favorite with tourists. It is an excellent place to enjoy outdoor pursuits on the Lake.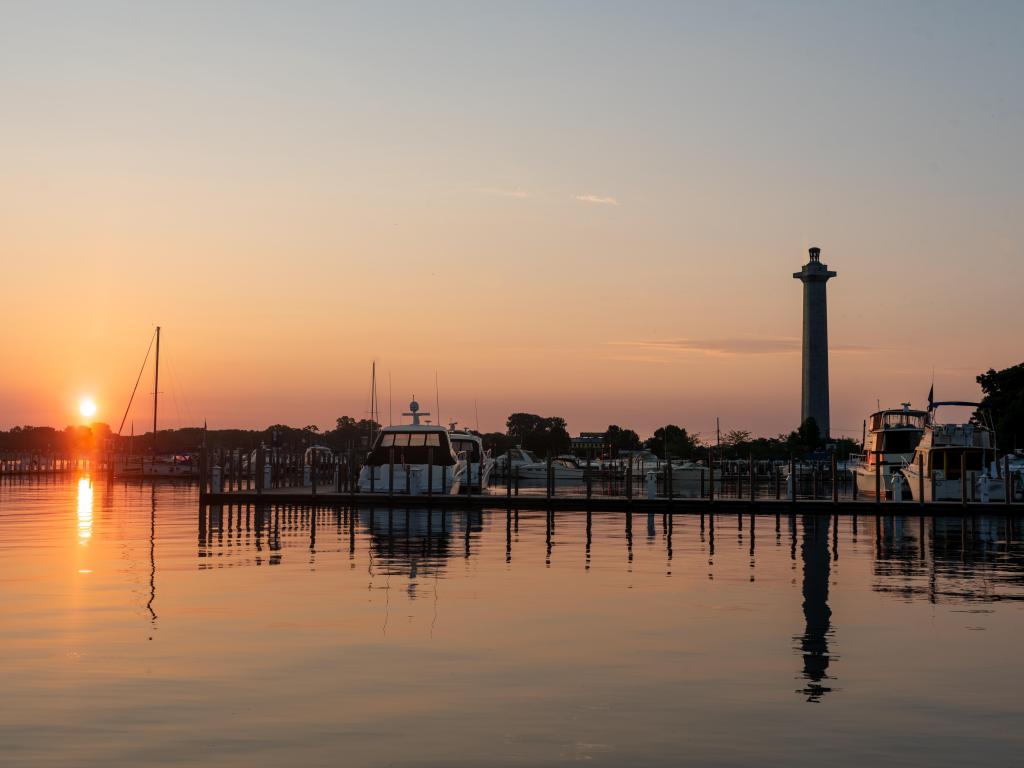 Traveling on Lake Erie from Sandusky
The Jet Express ferry from Sandusky, Ohio takes you to Put-In-Bay on South Bass Island, and also to Kelleys Island and several other destinations in the area.
The departure point is the Jet Express dock in downtown Sandusky and there is parking available as the high-speed catamaran doesn't allow vehicles on board.
Services from Sandusky are seasonal and usually operate from late April to October, although it is always advisable to check ahead for the most up-to-date fares and crossing times.
The high-speed crossing aboard the jet express offers the smoothest journey across Lake Erie and it is possible to buy an Island-Hopping day pass to visit the other islands in the lake.
Getting across Lake Erie from Canada
If you wish to travel across Lake Erie from Canada, you can travel from Leamington to Pelee Island, in Ontario. The crossing takes 1 hour and 30 minutes and the route is operated by Ontario Ferries.
The route is popular with both residents and tourists alike, and the crossing takes you to the southernmost inhabited part of Canada. The ferry offers stunning views of the Lake and the beautiful landscapes that surround it.
The island is known for its natural beauty with its glorious sandy beaches and is also a haven for wildlife.
The Island has a rich cultural heritage; you can learn more at the Pelee Island Heritage Center. The locals are known for their warm hospitality and the area itself is popular with wine enthusiasts, who love to explore the island's vineyards and wineries.
How long does it take to reach Put-In-Bay across Lake Erie?
The journey from Catawba Island to Put-In-Bay usually takes 18 minutes traveling with the Miller Ferry. If you are traveling from Port Clinton, then the ferry time is slightly longer at 25 minutes. The Jet Express Ferry traveling from Sandusky takes 45 minutes to complete the crossing.
Do bear in mind that weather conditions on the day can affect crossing times. High winds can cause changes to schedules and even cancellations at short notice and it is recommended to check local weather and travel updates before setting off.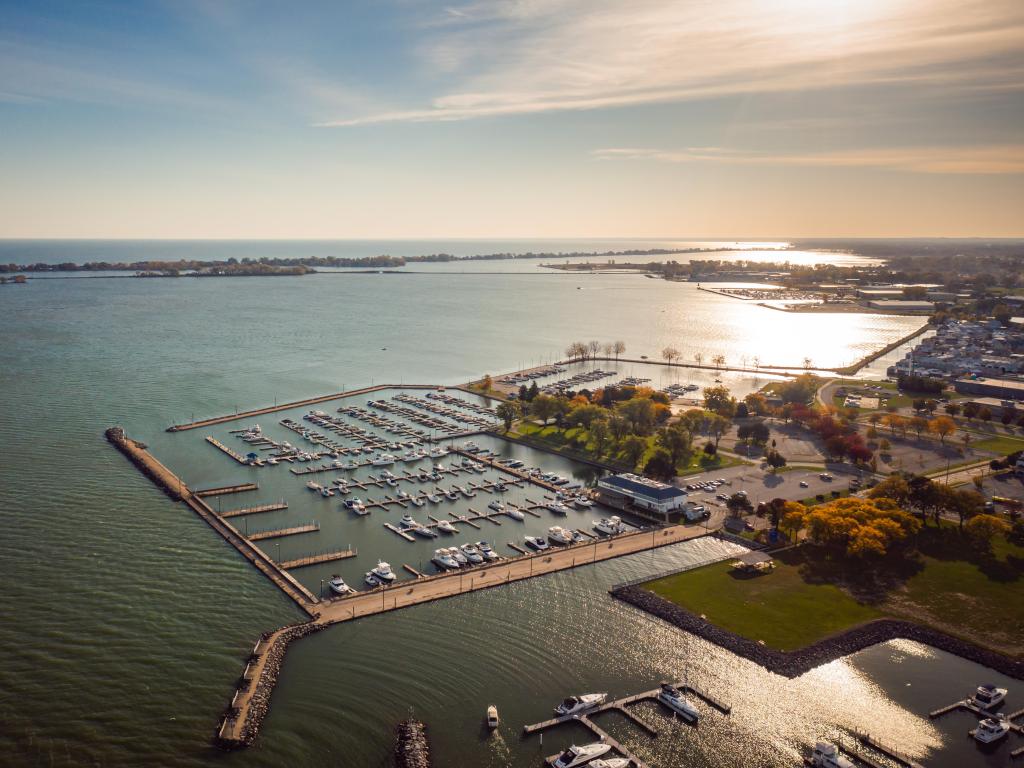 The Miller Ferry from Catawba Island to Put-In-Bay is a popular crossing and there are many sailings daily, although the schedule varies by season. In the summer months at Peak Season, ferries run every half hour between 6am and 8pm.
During the shoulder season, the ferry runs hourly from 7.30 am to 5.30 pm, and during the low season, there are 8 crossings a day between 8:30am and 5pm. The service doesn't run between late November to late March as the winter weather means the Lake can freeze over.
The Jet Express Ferry from Sandusky has more limited crossings and you cannot take your vehicle on board. The service only runs from the end of May until late September and there are no weekday crossings available until the end of June.
These only last for a couple of months, and by late August, the schedule is limited to Fridays and weekends. At peak times there are 7 daily crossings between 9:30am and 11pm.
How much does it cost to travel across Lake Erie?
Price comparison options for traveling across Lake Erie to Put-In-Bay

| Route | Mode | Provider | Fare |
| --- | --- | --- | --- |
| Catawba Island | Vehicle ferry | Miller Ferries | $28.50 |
| Sandusky | Passenger Ferry | Jet Express | $25.40 |
| Port Clinton | Flight | Island Air Taxi | $45 |
*Calculated at the time of writing, prices for vehicle ferries include an adult and a vehicle, single trip
Taking the Miller Ferry from Catawba Island to Put-In-Bay will cost $8.50 for a one-way trip, or $17 for a return trip, and taking a vehicle adds a further $20. If you wish to leave the car behind and travel as a foot passenger, Miller Ferries offer free parking close to the dock.
The Jet Express service from Sandusky to Put-in-Bay will cost $25.40 for a one-way trip, and $50.80 for a return journey.
The Island Air Taxi operating from Port Clinton to Put-In-Bay charges $45 for a one-way journey and $90 for a return trip. It is important to adhere to the baggage limit as you may incur extra costs if your luggage exceeds the allowable weight.
Things you need to know about traveling across Lake Erie
Booking isn't essential, but as boarding is on a first-come-first-serve basis, we advise booking in advance to guarantee your place on board the ferry.
Do allow for time to embark and disembark the ferry when planning your trip and ensure you arrive in good time for the crossing. We recommend arriving 20 minutes before departure.
If you are traveling from Put-in-Bay during Spring and Fall, you must be in the ferry queue before 5pm on weekdays and 4pm on Sundays and Holidays to guarantee a place on board. During the summer months, it is important to be in the ferry queue before 6pm.
Do always confirm the check-in and embarkation times in advance with the ferry operator or booking agent.
Best time to travel across Lake Erie
The vastness of Lake Erie is a spectacular sight at any time of year, and your particular interests will determine the best time for your visit.
The best and most popular time to visit is in the summer months when you'll enjoy the best of the weather and be able to make the most of the excellent water sports and activities on offer.
Crowds will be bigger and resort prices will be much higher between June and August, especially around holiday weekends.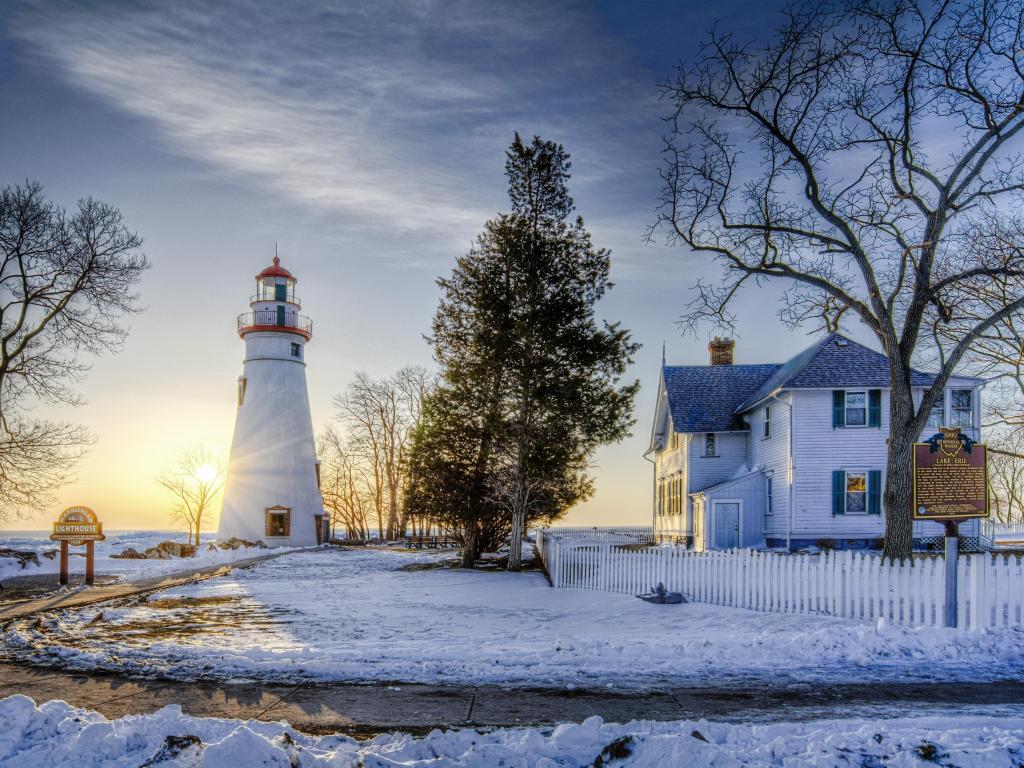 Making the trip in the low season will offer cheaper prices and the crowds will be much smaller, but the weather should still be pleasant enough to enjoy the outdoor activities and visit the islands at your leisure.
It's an ideal time to explore the area on foot, enjoying the many nature walks amidst the blooming spring flowers and looking out for migratory birds flying over the Lake.
Traveling on the lake itself isn't possible all year round. In the winter months, Lake Erie is likely to freeze over so between December and March the only way to guarantee visiting the islands is by Air Taxi.
Winter sports enthusiasts will find plenty of opportunities for skiing and snowboarding in the surrounding areas, and even try a spot of ice skating on the frozen Lake.
Things to see once you reach Put-In-Bay
The Islands of Lake Erie are blessed with picturesque coastlines and amazing sandy beaches and Put-In-Bay is the most popular Island destination on the Lake. Here are some of our favorite things to do at Put-In-Bay:
Perry's Victory and International Peace Memorial - There's an observation deck on top of the 352-foot tall monument to enjoy the views.
Crystal Cave - Take a guided tour through the world's largest geode, and marvel at the incredible crystal formations in this amazing underground attraction.
Put-in-Bay Nightlife - The lively nightlife is well-known, there're bars, wineries, breweries, restaurants, and live music.
Spend a day on Lake Erie - Hire a boat, kayak, or jet ski to explore the surrounding waters. You can also find places to swim or take guided tours.
Hike the trails - South Bass Island State Park is a popular spot for hiking or enjoying a relaxing picnic. There are beachfront trails and plenty of opportunities for outdoor fun.
A family-friendly day out - With mini golf courses, the Butterfly House, and the Perrys Cave Fun Center, there is fun for all the family.
Whether you wish to immerse yourself in cultural history or enjoy the entertainment and festivals that are in full flow during the summer months, a ferry ride across Lake Erie to the islands, especially South Bass Island, has something for everyone.
Enjoy the distinct charm and character and relax in its natural beauty with a peaceful stroll along the stunning shoreline in a magical island getaway.