Is there a ferry from Olympia to Seattle?
Olympia is located at the southern end of Puget Sound, and Seattle, situated to the north, is on the eastern shore. The Olympic Peninsula is surrounded by amazing scenery when viewed from the water, and this might have gotten you wondering whether there is a ferry between them.
There isn't a ferry operating directly between Olympia and Seattle. You can however drive to Bremerton and catch a vehicle ferry, or Southworth, catching the foot passenger-only ferry, or take to the road and drive yourself from Olympia to Seattle.
Traveling by ferry across Puget Sound is a fantastic experience with spectacular views of the Olympic Mountains. Keep on reading to discover more about the available ferry routes, journey times, and some helpful hints and ideas for your adventure.
Is there a ferry from Olympia to Seattle?
Comparison of travel times to Seattle

| Option | Departure point | Total travel time |
| --- | --- | --- |
| Direct drive | Olympia | 1 hour 30 minutes |
| Vehicle ferry | Bremerton | 2 hours |
*These times do not include our suggested arrival times for the embarking process
The simple answer is there isn't a direct ferry from Olympia to Seattle. The two cities are around 60 miles apart by road, but if you really want to catch a ferry to Seattle, you can drive from Olympia to Bremerton and catch a ferry there.
The journey from Olympia to Bremerton is also around 60 miles, so it's a longer journey overall than the driving option, but a ferry journey into Seattle is a fantastic experience.
There is another alternative ferry crossing, taking you from Southworth to Fauntleroy near Seattle. The Kitsap Transit Southworth Fast Ferry is for foot passengers only, and even allowing yourself 10 minutes for boarding, you'll be arriving in Fauntleroy in around 35 minutes.
However, this isn't a convenient way to travel from Olympia to Seattle if you are looking to take your car. It is good to note that there is no direct bus or train from Olympia to Southworth.
The drive from Olympia to Southworth is a journey of around 55 miles and takes 1 hour, so the total time from Olympia to Seattle via the Southworth ferry is approximately 1 hour and 35 minutes.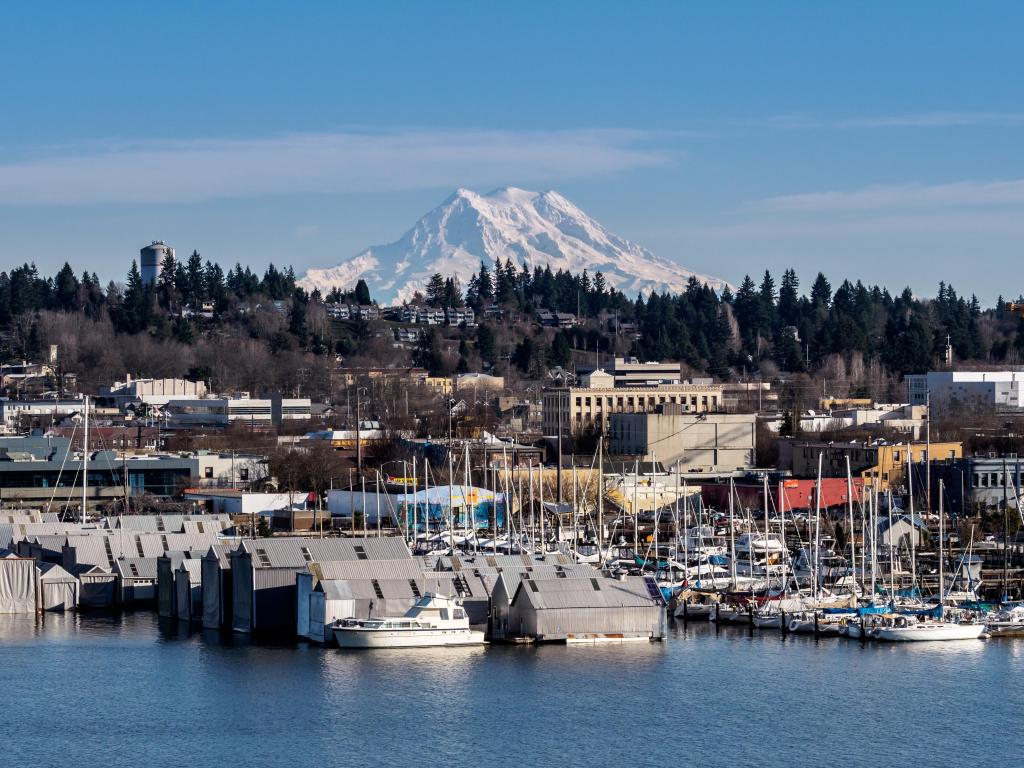 Taking the ferry from Bremerton to Seattle
Catching the ferry from Bremerton involves driving there from Olympia. The route takes you along the Olympic Peninsula with impressive views across to the islands of the Carr Inlet and over Puget Sound.
Leaving Olympia, the journey begins heading northeast on the I-5 passing Lacey and Dupont before arriving in Tacoma. Although the journey is on a major interstate road, it is surrounded by countryside and greenery and is an enjoyable drive.
Leaving Tacoma, the route takes you across Tacoma Narrows Bridge on WA-16 North with stunning views to the North of Vashon Island.
You'll then head past Gig Harbor, before passing Fernwood and then skirting around the coastline of the Sinclair Inlet towards Sherman Heights before heading into Bremerton. You'll soon arrive at Bremerton Ferry Terminal, the departure point for Seattle.
The ferry does allow vehicles on board, although you can choose to travel as a foot passenger if you wish. If you are traveling with your vehicle, then it is advisable to arrive at least 30 minutes before your sailing time, whereas foot passengers can arrive closer to the time of departure.
The ferry operates all year round, offering 8 sailings a day, and the crossing takes 1 hour. However, this can increase in adverse weather conditions so it is always worth checking the weather forecast and sailing times before setting off. The ferry takes you to Colman Dock Ferry Terminal in downtown Seattle.
Driving from Olympia to Seattle
Making the trip from Olympia to Seattle by road is the most popular option, with the 60-mile journey taking a little over an hour. The route starts by taking I-5 heading northeast out of Olympia where you'll enjoy views over the Carr Inlet and its islands before reaching Tacoma.
Home to many impressive museums, the Museum of Glass, and the Tacoma Art Museum are well worth a visit before continuing north.
As you continue past Star Lake, Point Robinson Lighthouse can be seen on the eastern shoreline of Maury Island, and it's not long before you'll pass The Museum of Flight on the outskirts of the city before continuing to downtown Seattle.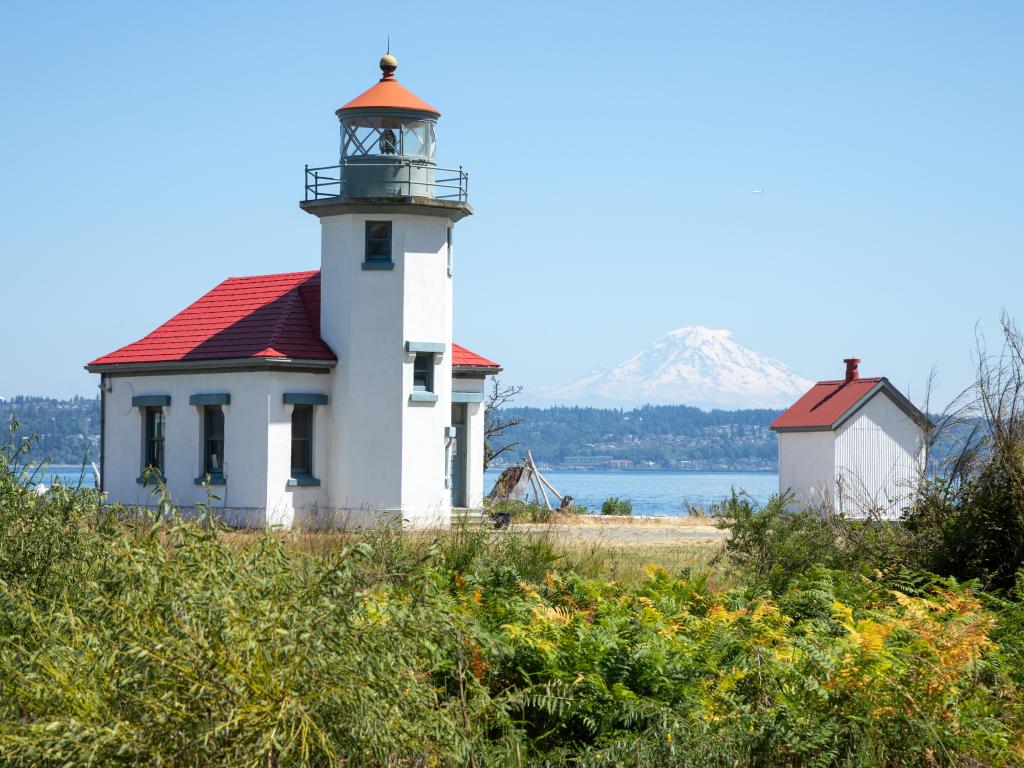 How long does it take to reach Seattle from Olympia?
The most straightforward way of reaching Seattle is to drive directly from Olympia, with the short road trip taking around 1 hour. The route is mostly on 1-5, making it a smooth and easy adventure.
Catching the ferry from Bremerton involves a 1-hour drive from Olympia, and you should allow ample time to check in and board the ferry. The ferry crossing itself to Seattle takes around 1 hour so in total, the travel time for this route is close to 2 hours and 30 minutes.
If you decide to drive to Southworth and catch the ferry as a foot passenger, then the 57-mile drive from Olympia takes an hour. Allowing time to park, and then board the ferry, as well as the 36-minute sailing time, means this route option will take around 1 hour and 50 minutes.
Another alternative is to travel by bus, and Greyhound offers several services daily. It is a direct route between the two cities and the journey time is 1 hour and 35 minutes.
How much does it cost to travel to Seattle from Olympia?
Comparison of travel prices to Seattle
Route
Mode
Adult Fare
Bremerton-Seattle
Vehicle Ferry
One way: Free


With vehicle: $13.55

Olympia-Seattle
Greyhound Bus
$12-$30
* All prices are based on a single journey, including 1 adult ticket, calculated at the time of writing
Things you need to know about traveling from Olympia to Seattle
When considering a trip from Olympia to Seattle, once you've decided on your desired route, a bit of advanced planning and preparation will ensure that the journey is as enjoyable and stress-free as possible. Here are a few of our top tips to help you prepare:
When traveling by ferry, book tickets in advance where possible, and also look for online check-in prior to traveling, to save time when boarding.
Always allow time for boarding the ferry. If traveling with a vehicle, plan to arrive at the terminal at least 30 minutes before the departure time. As a foot passenger, give yourself at least 10 minutes, If you are making the journey during peak season or rush hour when the traffic is much busier, then always plan to arrive even earlier.
If you choose to drive the route, try and avoid rush hour traffic on weekdays, which is at its heaviest between 7-9am and 4-7pm.
As it's located on the coast, the weather in Seattle is changeable. Always check the forecast in advance and travel prepared.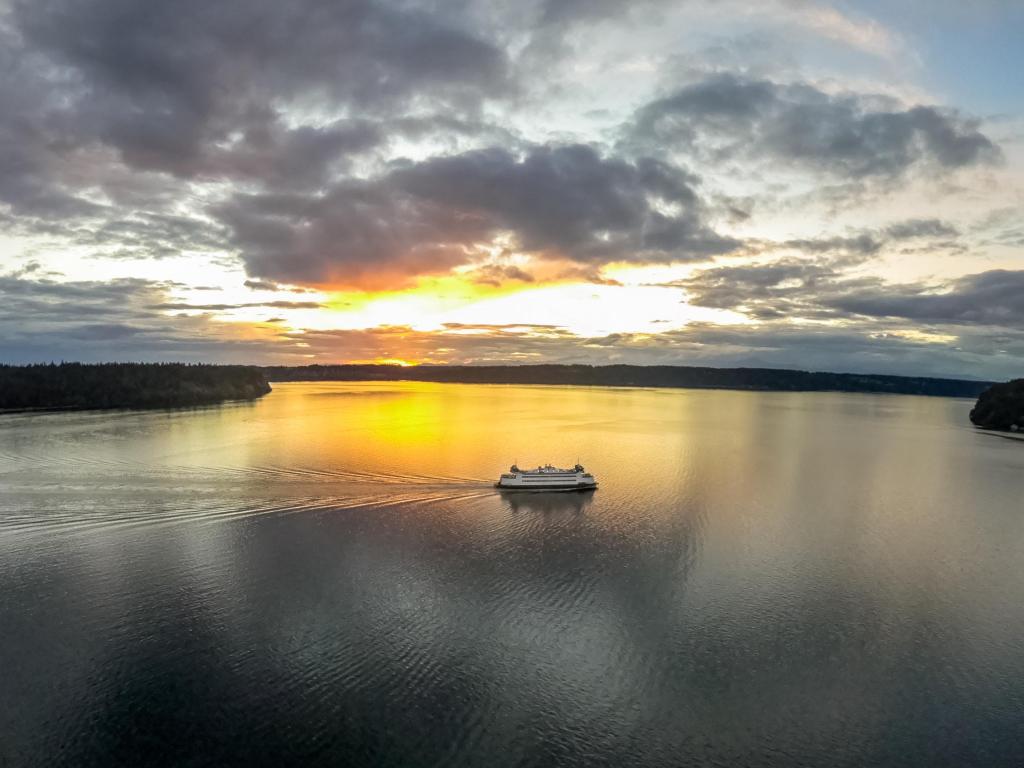 Best time to visit Seattle
Seattle has a lot to offer at any time of year and with the ferry services running 365 days, weather permitting, you can make the journey whenever it suits you. Ferry prices remain steady throughout the year, although it's worth keeping your eye out for reduced fares over the winter months.
Summer is the peak tourist season and the sunny weather and temperatures reaching 80 degrees Fahrenheit make it an ideal time for spending time outside exploring the waterfront area and enjoying the outdoor events. Seattle Film Festival and the Capitol Hill Block Party music festival take place at this time.
Seattle in winter is a beautiful experience, with the city lit up for the holiday season. The Argosy Christmas Ships Festival takes place at Elliott Bay and the boats are decorated to create a magical night scene with their Christmas lights.
The Seattle Center has a winter village and live entertainment with fun for all the family, with the chance to go ice skating. You can also visit the winter wonderland at the Seattle Japanese Garden.
Visiting in spring or fall is the best time to explore the outdoors and hike on the many mountain trails surrounding the city when the weather is mild. It is also the ideal time for a boat tour around Puget Sound, taking in the islands and the wildlife without the peak season crowds.
Things to see once you reach Seattle
The Pacific Northwest is a beautiful part of the US, where you can enjoy many outdoor activities and trails on 2 wheels or on foot, in the shadow of stunning snow-capped peaks. Downtown Seattle has so much to offer and below are a few things we highly recommend.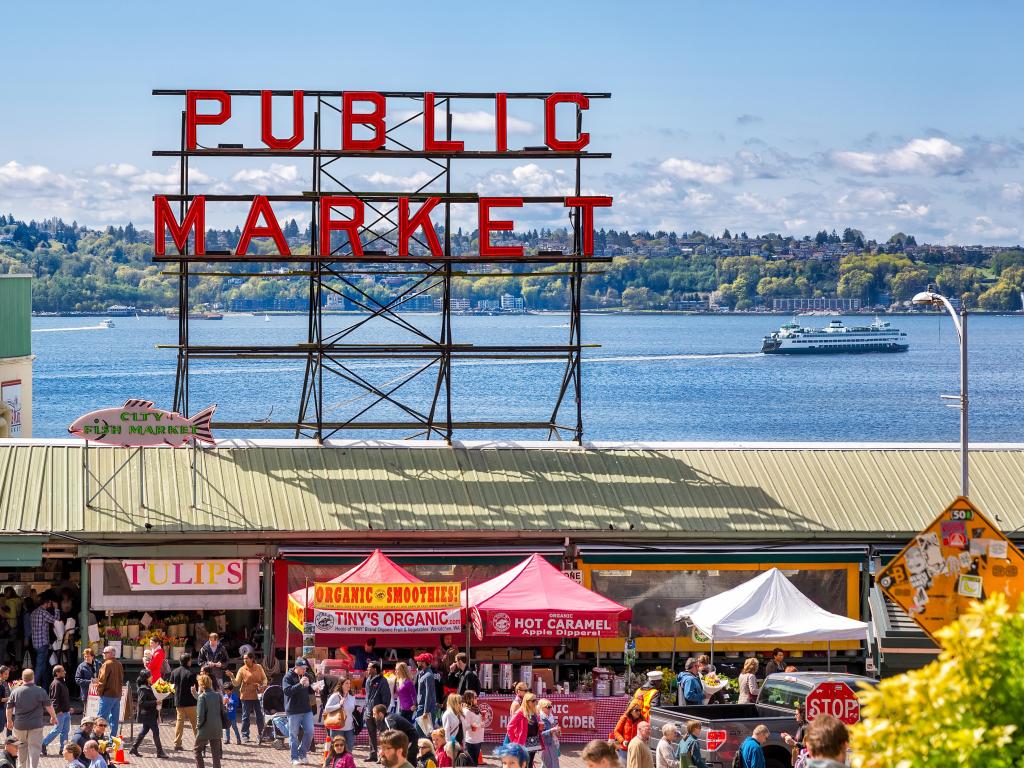 The Space Needle -The iconic needle pierces the Seattle skyline. Head to the observation tower for views of Seattle's skyline and Puget Sound.
Pike Place Market - The historic market bustles as punters get fresh produce, crafts, and seafood. Witness the famous fish-throwing at Pike Place Fish Market.
Museum of Pop Culture (MoPOP) - Explore pop culture at this immersive museum, which is a celebration of everything from music to science fiction, to video games, and more.
Seattle Waterfront - Take a stroll along the waterfront and explore the many attractive shops and restaurants. You can also visit the Seattle Aquarium and the Great Wheel which are located nearby.
Chihuly Garden and Glass - This contemporary art exhibit is located close to the Space Needle. Take a relaxing walk in the gardens, and enjoy the stunning glass artworks by Dale Chihuly, showcased in the indoor museums.
Fremont Troll - For a quirky photo opportunity, head to the Fremont neighborhood. Situated under the George Washington Memorial Bridge is The Troll, an extraordinary statue.
From its vibrant arts scene, excellent museums and theaters to the surrounding natural beauty of the Olympic Mountains, a trip to Seattle is something to look forward to, even without a direct ferry from Olympia.
Visit the city's famous landmarks, and enjoy the wonderfully diverse cuisines in a city where you'll find something to suit everyone's tastes.