Road trip from Seattle to Napa Valley
Napa Valley is world-famous for its Zinfandel, beautiful vineyards that grow these grapes, Michelin-starred restaurants and stunning views. If you are looking for a scenic road trip that is dotted with unforgettable foodie experiences, this adventure from Seattle to Napa Valley is exactly what you are looking for.
The 800-mile road trip from Seattle to Napa Valley will take about 13 hours to drive. On the way, you can visit Olympia, Portland, Salem, Eugene and Mt Shasta inland or Astoria, Cannon Beach, Newport and Redwood National and State Parks on the coast.
This amazing road trip will be full of relaxation, non-stop natural beauty, and unforgettable wine. Read on below to learn more about our recommended routes, top highlights, best stopovers along the way, and the best seasons to make the journey.
How far is Napa Valley from Seattle, and how long will the road trip take?
Comparison of road trip routes between Seattle and Napa Valley

| Route | Distance | Driving Time |
| --- | --- | --- |
| The Direct Route | 800 miles | 12 hours and 50 minutes |
| The Coastal Route | 890 miles | 18 hours and 20 minutes |
The Direct Route from Seattle to Napa Valley takes around 12 hours and 50 minutes to drive, covering approximately 800 miles without accounting for any extra stops.
Alternatively, the Coastal Route is not very different in terms of distance, with this scenic journey spanning 890 miles with about 18 hours and 20 minutes, hugging the Pacific Coast.
While this trip could be comfortably driven in one or two days, the many sights along the way make it worthwhile to take your time and extend your adventure to 4-5 days.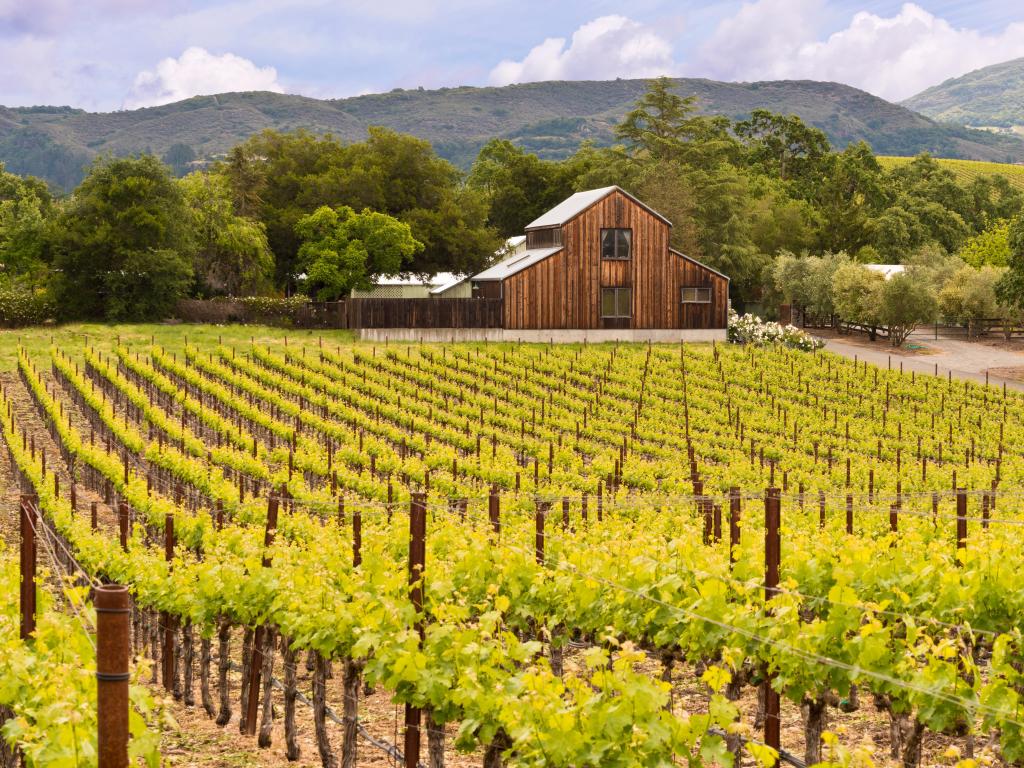 Best road trip route from Seattle to Napa Valley
Both routes from Seattle to Napa Valley have their own unique appeal. With different landscapes and attractions, which route you choose will depend on what you want to see and experience the most.
The Direct Route is the shorter drive and you'll pass through the eclectic city of Portland, vibrant Olympia, Salem, and Eugene, with its rich art culture.
You will find plenty of detour options on this route within the Cascades Range and areas like the Cascade-Siskiyou National Monument and Shasta-Trinity National Forest. You can even extend your trip to Lassen Volcanic National Park, if you have more time on your hands.
If your heart is set on ocean views and coastal towns, the Coastal Route is your ideal route. This route is a treasure trove for those who love maritime history, with many museums and iconic lighthouses dotting the coastline.
The journey weaves through picturesque beach towns like Cannon Beach and Newport, where you'll get plenty of relaxing moments by the beach.
The route is also rich in natural spectacles, from the mysterious Neskowin Ghost Forest and the Oregon Dunes National Recreation Area to the inspiring redwoods in Redwood National and State Parks.
While this route may take longer, the coastal charm and natural highlights are not to be missed. However, this route skips the inland cities and the dramatic volcanoes you'd encounter on the Direct Route.
How to drive from Seattle to Napa Valley
The map above shows our suggestions for the best road trip routes between Seattle and Napa Valley. Keep reading for detailed descriptions of both routes, where to stay on either, and the best things to do on the way.
The Direct Route
Starting in the beautiful city of Seattle, head south on Interstate 5 (I-5) to Olympia, the capital of Washington.
From here, get on the freeway and drive south. You'll soon hit the stunning Columbia River before crossing the border to Oregon and entering Portland.
After exploring this iconic city and its rich craft beer scene and parks, make your way south on I-5 to Salem, Oregon's capital. From here, merge back onto the I-5 South. Continue on through Oregon's wine country and endless vineyards to Eugene.
After getting your fill of Eugene and its museums and beautiful downtown, get back on the interstate and continue heading south past Umpqua National Forest.
Continue driving through the beautiful mountains of southern Oregon and into California. From here, you'll soon get to see the magnificent Mt. Shasta volcano in the distance.
Make your way south through the wilderness of northern California and soon you'll get to Redding. From here, continue south on the I-5 and merge west and then north into the Napa Valley.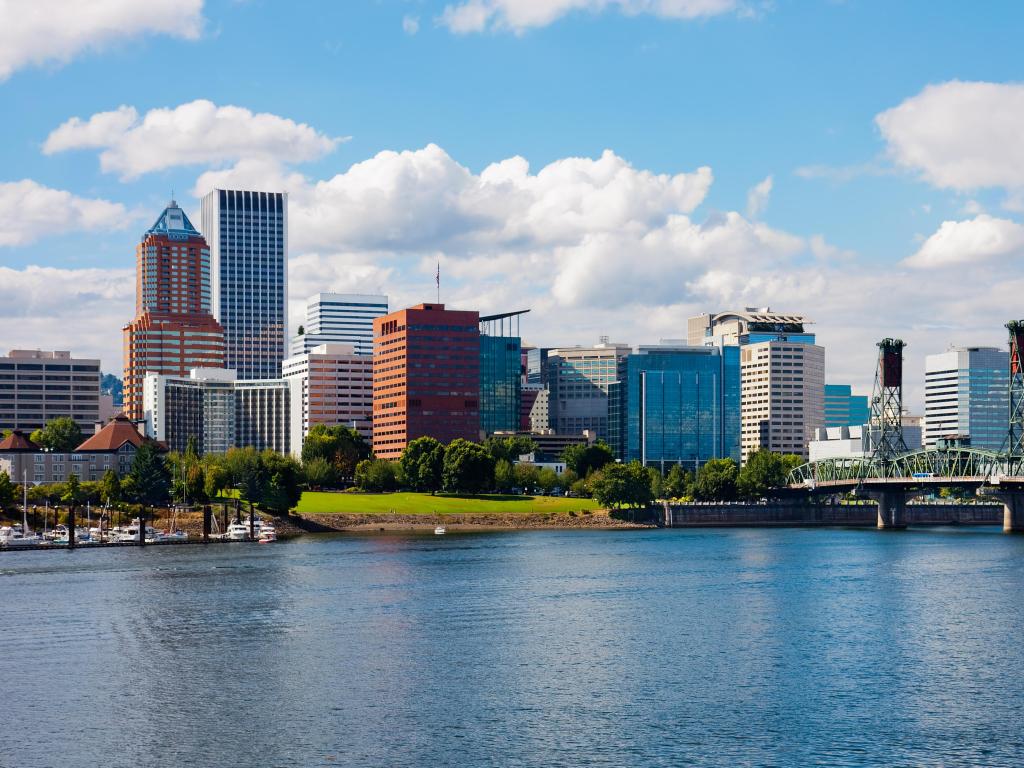 The Coastal Route
Starting in Seattle, head south on I-5 through Olympia. Continue south to the city of Longview and take the exit for US-30 west. Follow the shores of the Columbia River to the city of Astoria. While you're here, explore the Lewis and Clark National Wildlife Refuge.
From here, you'll merge onto US-101 south and travel along the green and rugged shores of the Pacific Ocean to Cannon Beach. After your visit, continue south to Lincoln City. Here, you can spend hours walking along the beautiful beach.
After Lincoln City, get back on the highway and drive through the towns of Newport and Coos Bay. Then, make your way along the coast and soon you'll enter the giant redwood forests of southern Oregon and Northern California. Continue driving south into California to Crescent City.
From here, take your time exploring Redwoods National and State Parks. After getting your fill of the dramatic towering trees and natural areas, drive south on US-101 to Fort Bragg.
Merge back onto the 101 south for a few miles and merge onto Highway 128. From here, you'll drive southeast to Napa Valley.
Best places to stop between Seattle and Napa Valley
With so much fun and excitement along the way, you'll want to stay and relax on the way. Below are our top recommendations for the ultimate overnight stay.
A spiritual stay with views in Mount Shasta
Mount Shasta is an idyllic stopover on the Direct Route, located around two-thirds into the drive. This scenic city serves as the perfect base for exploring the nearby natural wonders, such as the Shasta-Trinity National Forest and Klamath National Forest, as well as the majestic Mount Shasta itself.
This location is a paradise for outdoor activities, offering everything from skiing to trout fishing, and hiking through scenic alpine landscapes. Mount Shasta and the local Mount Shasta Sisson Museum are key highlights not to be missed.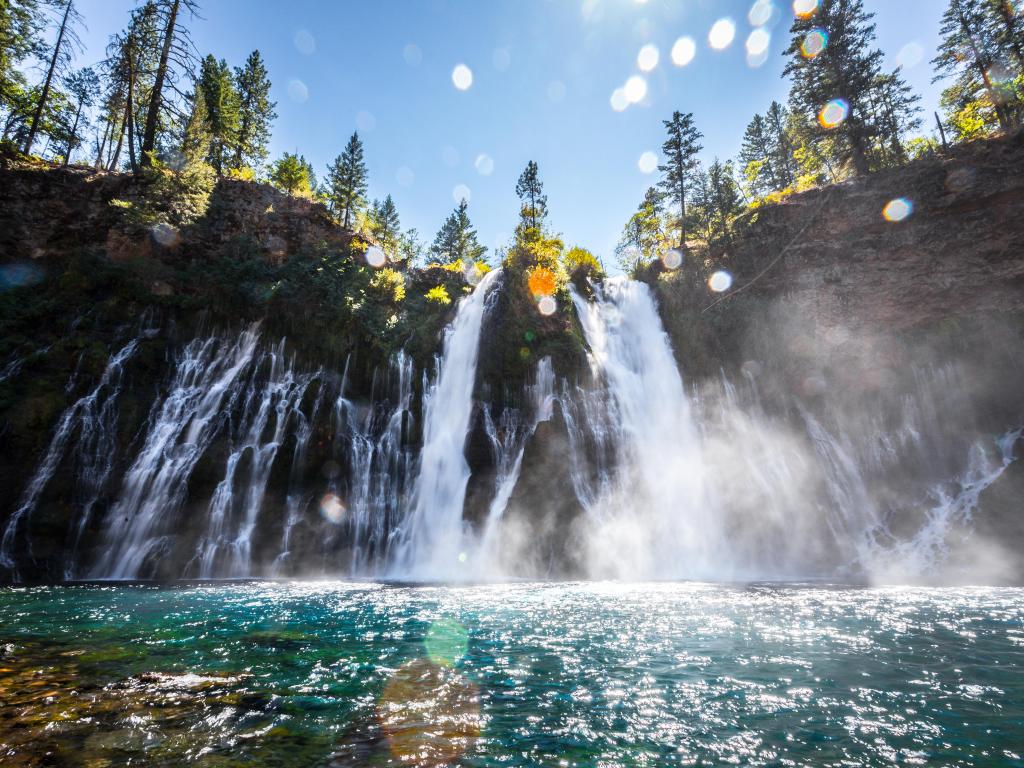 For a touch of the area's lore, Mount Shasta is full of history and spirituality. It's long been honored by Native Americans and considered a high-energy landscape, attracting a diverse crowd from poets to adventure seekers.
While in Mount Shasta, the Strawberry Valley Inn is our favorite place to stay. This charming inn is conveniently located near the town center, offering calm and spacious rooms in a picturesque setting of lush trees, well-tended gardens, and vibrant flowers.
Near Strawberry Valley Inn, you can find serene Lake Siskiyou, only two miles away, offering a tranquil retreat for water enthusiasts and plenty of fishing opportunities. The green expanse of Sisson Meadow is a gentle walk away, presenting a lovely spot for a leisurely stroll or a picnic amidst nature.
Make sure to indulge in a delicious breakfast served within the historic walls of the inn, providing a perfect start to the day.
Ocean views in Newport
Newport is a picturesque stopover on the Coastal Route, situated just over six hours into the drive from Seattle. This charming coastal town is an ideal resting point, offering an abundance of attractions.
Famed for its pristine beaches and the Oregon Coast Aquarium, Newport has a rich maritime history. Not to be missed, the town's port bustles with activity, offering the chance to savor some of the freshest seafood available in the region's many restaurants.
For an amazing stay, the Ocean House provides a serene retreat a mere hundred yards from Agate Beach. This tastefully modern hotel is adorned with cozy decorations and a lush garden, a communal lounge for relaxation, and a terrace for relaxing.
The hotel serves a great breakfast, so make sure to take advantage of that to refuel before setting on your coastal adventure. Select rooms have sea views and come with a lovely bathtub, perfect for unwinding after a day of exploration.
From Ocean House, a short walk of about a mile leads to the Yaquina Head Lighthouse, where you can enjoy breathtaking views and delve into the local nautical heritage.
Where to stay when you reach Napa Valley
Napa Valley, world-famous for its vineyards and as a premier wine region, is a destination that indulges every sense. Upon arrival, consider exploring the Castello di Amorosa, an authentically-styled 13th-century Tuscan castle and winery.
For a taste of local food and wine culture, the Oxbow Public Market is a must-visit, offering a variety of artisanal eats and regional specialties.
The stunning landscape, from rolling vineyards to tranquil forests, makes Napa Valley a picturesque place to tour, whether by car, on horseback, or via the leisurely pace of a bicycle.
Nestled in the heart of this wine country and just steps from the charming center of Yountville, the Napa Valley Lodge boasts stylish luxury. Upon arrival, you can relax in the heated outdoor pool and hot tub, complemented by the serene views from the terrace garden.
For the perfect start to the day, the lodge's champagne breakfast is highly acclaimed and if you're seeking more relaxation, the on-site spa treatments provide the perfect break from the day's adventures.
As an added element of the local Napa Valley charm, we highly recommend booking tours of the private vineyards.
Things to see on a road trip from Seattle to Napa Valley
Both routes are full of amazing highlights and thrills around every corner. Below are our top highlights to explore on the way so you can have the road trip of a lifetime.
Both Routes
Percival Landing Park, Olympia - This waterfront park offers a peaceful setting with a boardwalk that provides stunning views of the Puget Sound, along with a playground and public art installations. It's a popular spot for community events and a leisurely stroll in the heart of Olympia.
Mount St. Helens National Volcanic Monument - An active stratovolcano known for its catastrophic eruption in 1980, this monument allows visitors to explore the rebirth of nature and offers educational experiences at the Johnston Ridge Observatory.
Direct Route
Hallie Ford Museum of Art - Located at Willamette University in Salem, this museum houses an impressive collection of art, including Native American baskets, Asian ceramics, and European, American, and Russian paintings.
Silver Falls State Park - Known as the 'crown jewel' of Oregon State Parks, Silver Falls offers 10 waterfalls on the Trail of Ten Falls and is an idyllic spot for hiking, picnicking, and wildlife watching.
Mount Pisgah Arboretum - Situated near Eugene, this living tree museum is cradled by the Coast Fork of the Willamette River and features miles of trails through native and non-native vegetation.
Chambers Covered Railroad Bridge - Located in Cottage Grove, this historic bridge is the only remaining covered railroad bridge in Oregon and offers a glimpse into the past with its unique construction.
Douglas County Museum - In Roseburg, this museum showcases the rich history and natural history of Douglas County, with exhibits ranging from prehistoric fossils to pioneer life.
Grants Pass Museum of Art - Nestled in downtown Grants Pass, this museum is the region's hub for arts and culture, offering a range of contemporary art exhibitions and educational programs.
Cascade-Siskiyou National Monument - Spanning the convergence of the Cascade and Siskiyou mountain ranges, this monument is a hotspot for biodiversity and offers a mosaic of different ecosystems to explore.
Shasta Valley Vista Point - This lookout provides travelers with a panoramic view of Mount Shasta and the surrounding valley, offering a perfect photo opportunity and a moment of contemplation.
Klamath National Forest - A vast expanse of gorgeous landscapes, the forest is a haven for outdoor enthusiasts with its lakes, rivers, and mountain ranges offering endless recreational activities.
Mount Shasta Sisson Museum - This museum presents the history, art, and culture of the Mount Shasta region, with exhibits on local Native American heritage, mountaineering, and natural history.
Shasta-Trinity National Forest - As the largest national forest in California, it boasts a wealth of natural scenery, including Mount Shasta, alpine lakes, and miles of trails for hiking and backpacking.
Lake Shasta Caverns National Natural Landmark - These limestone caves offer guided tours that reveal stunning stalactite and stalagmite formations and are accessible by a scenic boat ride across Shasta Lake.
Lassen Volcanic National Park - Beyond a small detour, this park features hissing fumaroles and bubbling mud pots, showcasing the power of volcanic activity in a landscape of rugged mountains and serene lakes.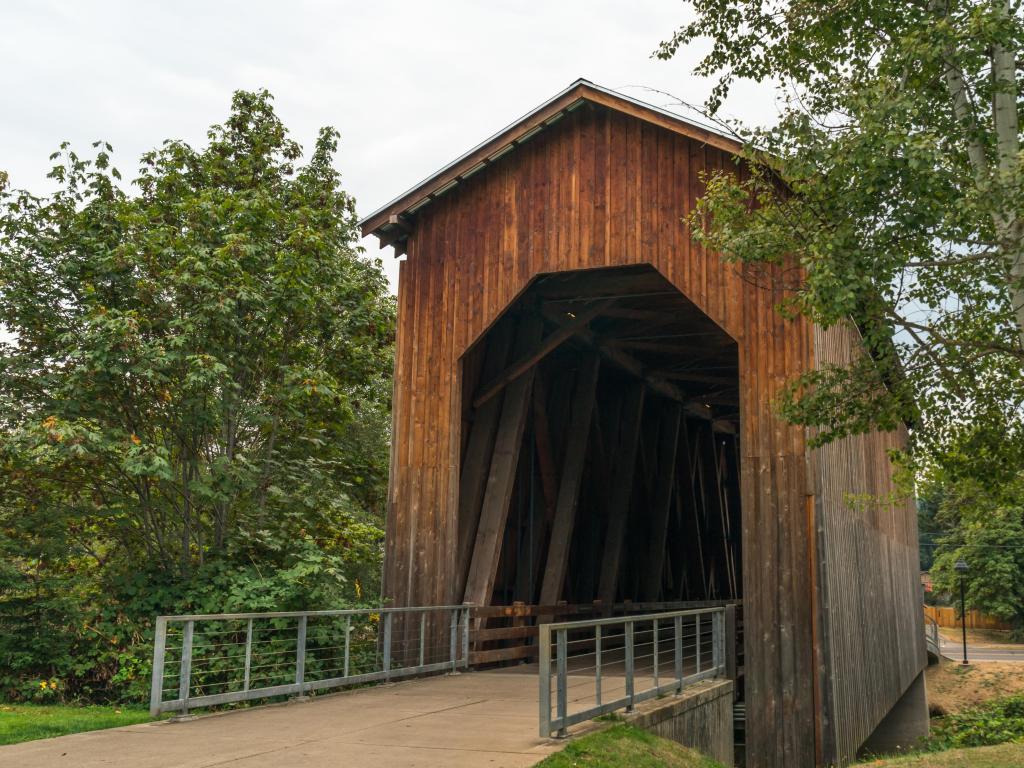 Coastal Route
Downtown Historic District, Olympia - This charming district is steeped in history, featuring beautifully preserved architecture, unique shops, and local eateries, reflecting Olympia's rich cultural heritage.
Lewis and Clark National Wildlife Refuge - This refuge encompasses a series of islands in the Columbia River estuary, providing critical habitat for migratory birds and a serene escape for nature lovers.
Oregon Coast Scenic Railway - A heritage railroad that offers a nostalgic journey along the stunning Oregon coastline, providing breathtaking views and a touch of history with its vintage locomotives.
Cape Meares Lighthouse - Perched on a cliff overlooking the Pacific Ocean, this historic lighthouse offers sweeping coastal views and a chance to learn about Oregon's maritime history.
Neskowin Ghost Forest - The remnants of an ancient Sitka spruce forest stand eerily along the beach at Neskowin, with stumps over 2,000 years old revealed at low tide.
Yaquina Head Lighthouse - Oregon's tallest lighthouse stands as a sentinel on the coast, offering guided tours and the opportunity to spot gray whales and seabirds from its vantage point.
Oregon Coast Aquarium - Located in Newport, this aquarium is a window to marine life, featuring exhibits of local and exotic species, underwater tunnels, and hands-on experiences.
Sea Lion Caves - A natural wonder, these are America's largest sea cave and home to wild sea lions and a variety of seabirds, accessible by elevator descent.
Oregon Dunes National Recreation Area - Stretching along the coast, this vast area of sand dunes offers adventure and fun, with opportunities for hiking, off-highway vehicle riding, and photography.
Coos Historical and Maritime Museum - In Coos Bay, this museum explores the region's maritime and cultural history, with exhibits on shipbuilding, native tribes, and the Oregon Coast's natural environment.
Samuel H. Boardman State Scenic Corridor - A linear state park with rugged coastline, this corridor offers access to hidden beaches, natural arches, and some of the most photographed landscapes in Oregon.
Battery Point Lighthouse and Museum - Accessible only at low tide, this lighthouse in Crescent City is a functioning navigation aid and a museum with historical exhibits.
Redwood National and State Parks - These parks protect almost half of the remaining California redwoods, these towering ancient trees, with multiple trails and drives to experience their majesty.
Avenue of the Giants - This famed 31-mile scenic drive winds through some of the largest and oldest redwoods in the world, providing a humbling and awe-inspiring journey.
Mendocino Coast Botanical Gardens - These gardens in Fort Bragg are a floral paradise with ocean vistas, offering everything from manicured formal gardens to rugged coastal bluffs.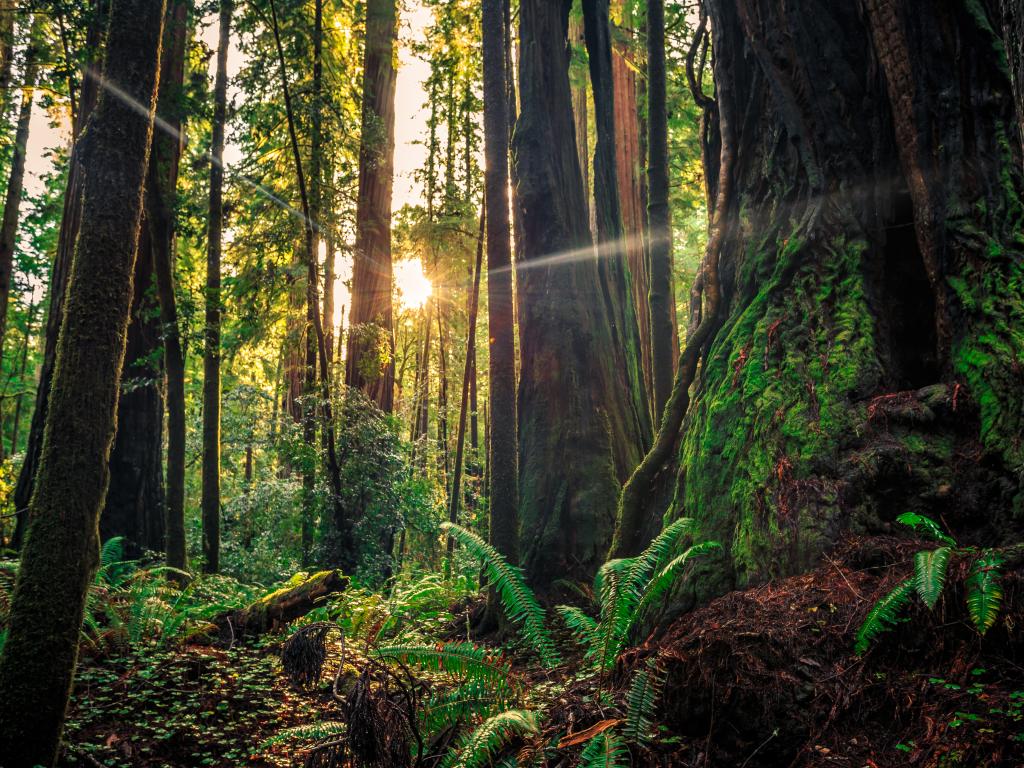 Best time to go on a road trip from Seattle to Napa Valley
Napa Valley is a world-famous wine destination perfect anytime of the year. However, each season will have its own charms and highlights.
Spring in Napa Valley brings moderate temperatures ranging from 50 to 70 degrees Fahrenheit, ideal for enjoying the lush greenery and blooming flowers without the crowds. For those taking the Direct Route, consider aligning your trip with the Redding Rodeo in May.
Summer sees the mercury rising to a comfortable 75 to 90 degrees, perfect for wine tastings and vineyard tours. If you're taking the direct route, you can visit the Umpqua Valley Arts Festival in June.
Choosing the Coastal Route offers its own set of seasonal festivities, such as the Brookings Harbor Azalea Festival in July. That same month, the Festival Napa Valley is the perfect event to check out with its blend of world-class music, dance, and wine.
Come fall, the harvest season ushers in a crisp air with temperatures between 55 and 80 degrees, making it one of the best times to visit, with the grape leaves turning fiery hues and the driving conditions at their peak.
Fall also offers quieter wineries and the possibility of off-season tours, along with events like the Napa Valley Film Festival in November or the Redwood Coast Music Festival in October.
Winter, while cooler with temperatures between 40 and 60 degrees and more rain, still offers plenty of charms. While the parks and forests en route, like Mount St. Helens and Cascade-Siskiyou, are open year-round, winter travel may require permits and gear, with some areas less accessible due to snow.