Is there a train to Key West?
Key West sits at the end of the archipelago located off the southern tip of Florida Keys. Famed for its laid-back atmosphere and vibrant atmosphere, it's the perfect location for a relaxing break, with its beautiful beaches and fabulous sunsets, 111 miles off from the mainland.
There is no longer a direct train to Key West. There are other alternatives, by taking a passenger ferry from Marco Island or Fort Myers, or a road trip from Fort Lauderdale along the spectacular Overseas Highway, in a little over 3 and a half hours.
With its historic architecture, its varied cultural influences, and truly fantastic location, it's easy to see why Key West has always been such a popular tourist hotspot. Keep on reading to find out about the history of the train to Key West, other ways to get there and important travel tips.
Is there a train to Key West?
There isn't currently a direct train service to Key West, and Miami is the closest train station on the mainland. You can however drive to Key West along the Overseas Highway, which is an iconic driving route over the Pacific Ocean, with an impressive series of bridges and causeways with some incredible views along the way.
Alternatively, you can catch a passenger ferry to Key West with a daily service running from Fort Myers all year round, and a winter service operates from Marco Island.
You can also choose to fly to Key West, with direct flights available from many major mainland US cities daily.
History of the train route to Key West
There was historically a train to Key West. The Overseas Railroad, sometimes known as Flagler's Folly, ran to the Florida Keys. Work began in 1905 and it came into use in 1912 when it extended to Trumbo Point in Key West.
However, the brainchild of Henry Flagler was destroyed in 1935 following the Labor Day Hurricane. The powerful hurricane is often deemed "The Storm of the Century".
If you are wishing to visit the Keys by train today, Amtrak trains take you as far as Fort Lauderdale. From there it is only accessible along US Route 1, making for a memorable road trip. Some of the surviving railroad is in fact now used for the Overseas Highway.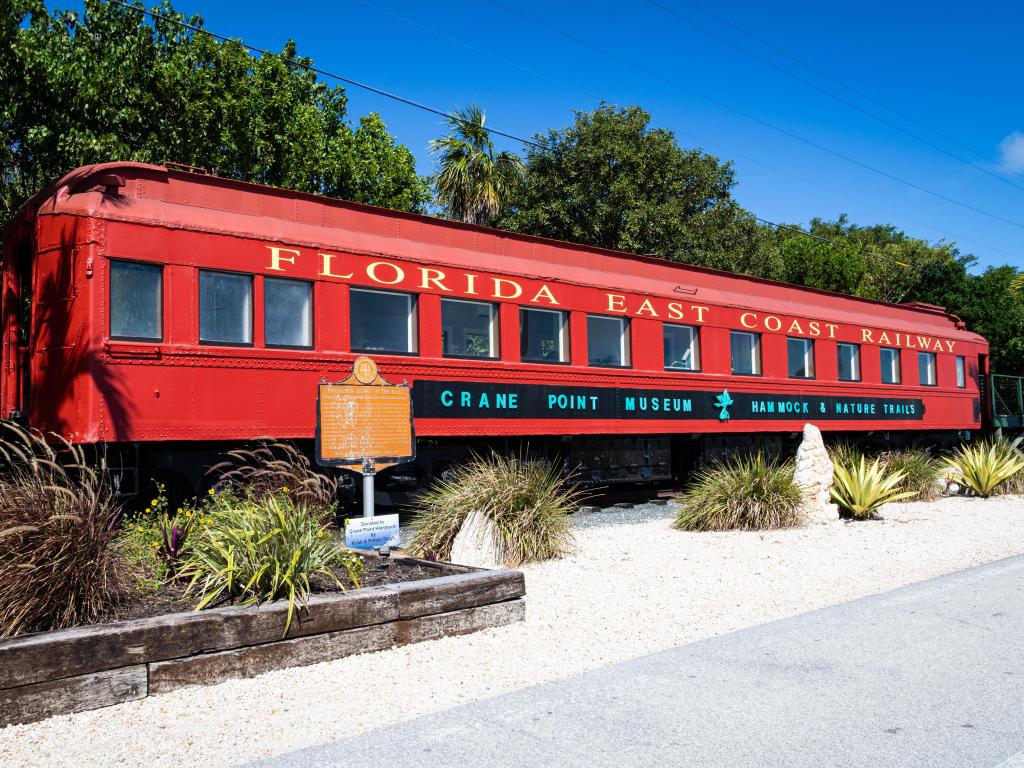 How to reach Key West from the mainland USA
There is no train to Key West, but it is possible to drive there from Fort Lauderdale. It is also possible to travel by ferry, with services running from both Marco Island and Fort Myers.
Another alternative is to catch a flight to Key West with available routes from many major US cities. The shortest flight is from Miami and takes 55 minutes with American Airlines, which offers 3 flights a day. It is always best to book early if possible as prices can increase significantly closer to the time of travel.
Driving to Key West from the mainland USA
A drive to Key West takes you along the stunning US-1 South with its panoramic views across the Pacific, on one of the most incredible drives in the US. The journey from Fort Lauderdale is 190 miles and takes around 3 hours and 45 minutes.
The route beings on E Broward Boulevard towards I-95 West and then takes you on to Florida's Turnpike and Ronald Reagan Turnpike before merging onto US-1. The drive then gets exciting as you head past the Everglades towards Manatee Bay before joining the Overseas Highway.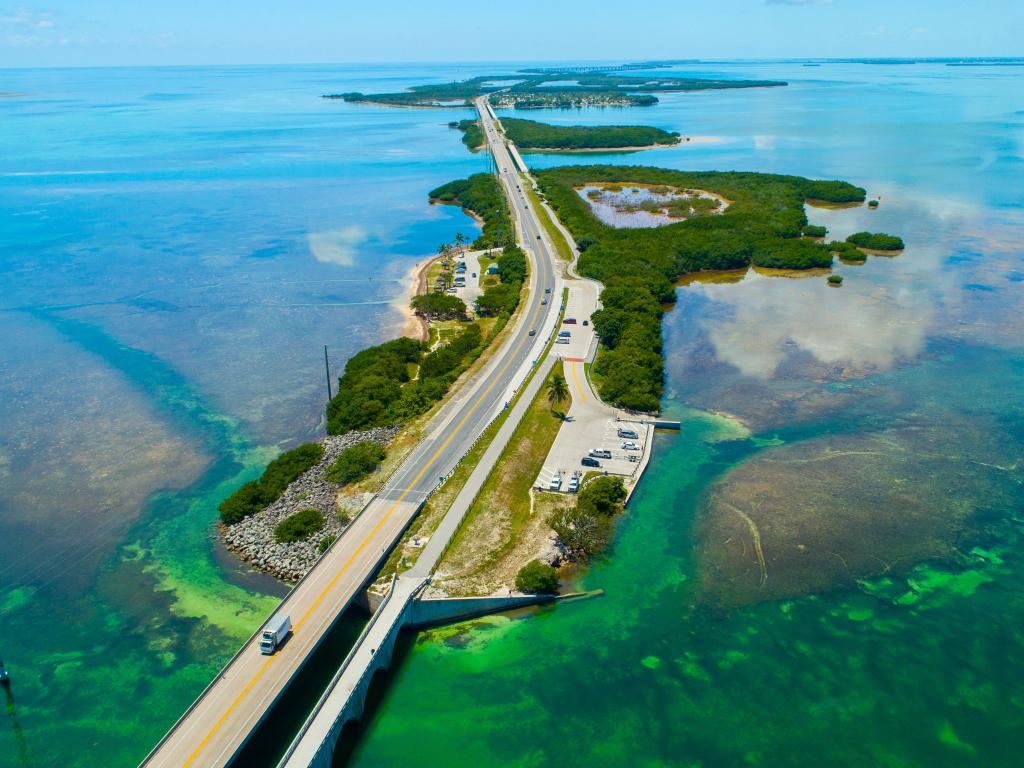 You'll head past Key Largo and Tavernier before reaching Layton, and Duck Key before continuing on to Big Pine Key and Cudjoe Key before arriving in Key West. It is a drive you will never forget.
Taking a ferry to Key West
Taking a ferry to Key West is popular with locals and tourists alike, and there are two routes available, traveling from Marco Island and Fort Myers. The ferry service is run by Key West Express and it's an exciting way to travel aboard a high-speed catamaran.
Traveling from Marco Island, there is a daily ferry departing at 8am for Key West, and a return journey that departs at 5 PM. From Fort Myers, the ferry departs at 8am and the return journey sets sail at 6pm.
There are amenities on board with a fully serviced bar, snacks, and drinks available, and you can enjoy glorious views out across the Gulf of Mexico from the open-air seating, or from an air-conditioned cabin.
The ferries are passenger-only, so allow time for parking if you have driven to the terminal.
How long does it take to reach Key West?
The travel time to Key West will depend upon how you choose to get there, and where you wish to travel from. Traveling by car from Fort Lauderdale, or by ferry, as we have mentioned above, the journey times are similar and you will arrive in a little over 3 hours and 30 minutes.
Factoring in the drive to the ferry terminal will increase the journey time, as will the check-in and boarding times.
Driving will give you the thrill of the open road with panoramic views across the Ocean at places along the route, although when you consider the price of gas, it may make the ferry option a more appealing option.
Taking the ferry from Marco Island or Fort Myers to Key West both have journey times of around 3 hours and 30 minutes. You can relax on deck with a cool drink, whilst taking in the stunning views across the Gulf of Mexico.
How much does it cost to travel to Key West?
Comparison of travel prices to Key West

| Mode | Route | Operator | Adult Fare |
| --- | --- | --- | --- |
| Passenger Ferry | Fort Myers to Key West | Key West Express | $185 |
| Passenger Ferry | Marco Island to Key West | Key West Express | $185 |
| Flight | Miami to Key West | American Airlines | $330 |
* Prices calculated at the time of writing and are for a single adult making a return journey.
Things you need to know about traveling to Key West
A ferry ride to Key West is a wonderfully relaxing way to get there and you'll arrive fresh and ready to explore the charms of the city and enjoy its delicious Caribbean-inspired cuisine.
Here are our top tips when it comes to preparing for a ferry ride to Key West:
Always check the ferry schedule before making the trip, as times can vary depending on the time of year you are traveling. The ferry from Marco Island only operates in winter.
If you are traveling in peak season, book tickets in advance to guarantee your place on board as it can get busy.
Arrive at the terminal allowing plenty of time to check-in and board. Boarding commences 1 hour before the departure time.
If you plan to enjoy the views from the open-air deck on the journey, don't forget your sunscreen and sunglasses.
Best time to visit Key West
The natural beauty of Key West and its surroundings makes it a magical destination all year round. It is accessible throughout the year by ferry as there is a service from Fort Myers daily, although the route from Marco Island is only operational during the winter months.
Flights run year-round and the Overseas Highway is always open barring extraordinary events.
Visiting in the winter months and into spring during the dry season offers milder temperatures and the coldest month of January still sees temperatures averaging 79 degrees Fahrenheit.
The weather is less humid and it is a great time to enjoy the many outdoor activities on offer, although it is peak tourist season and can get busy.
The summer months bring the wet season, and although the temperatures are higher, the area is prone to rain and thunderstorms, although the showers are usually brief and the sunshine soon returns.
September to November is hurricane season and so it's often avoided, although it does mean there are many good deals on offer at this time of year. It is also the time of the popular Fantasy Fest, which always draws in tourists during October.
Things to see once you reach Key West
There are so many reasons to visit Key West, whether it's to explore the natural beauty of Dry Tortugas National Park, and the diverse ecosystems, or to enjoy the unique culture, the museums, or the excellent water sports on offer. There is something for everyone to enjoy and here are a few of our favorite things to do:
Duval Street - The epicenter of nightlife and entertainment with shops, bars, restaurants, and galleries. Walk down the mile-long street stretching from the Gulf of Mexico to the Atlantic Ocean.
Ernest Hemingway Home and Museum - See the Spanish Colonial-style home of the legendary American author. Now a museum, learn about Hemingway's life and works.
Southernmost Point of the Continental USA - See the southernmost point of the Continental USA. A buoy marks the spot, surrounded by splendid ocean views so well worth a visit.
Florida Reefs Snorkel and dive to see the Florida Reefs - The only living coral barrier reef in the USA is home to turtles and tropical fish. Local tour operators offer trips.
Conch Tour Train - Get acquainted with Key West by jumping on the Conch Tour Train. An excellent and informative way to see the area, it'll inspire you to decide on where you want to explore.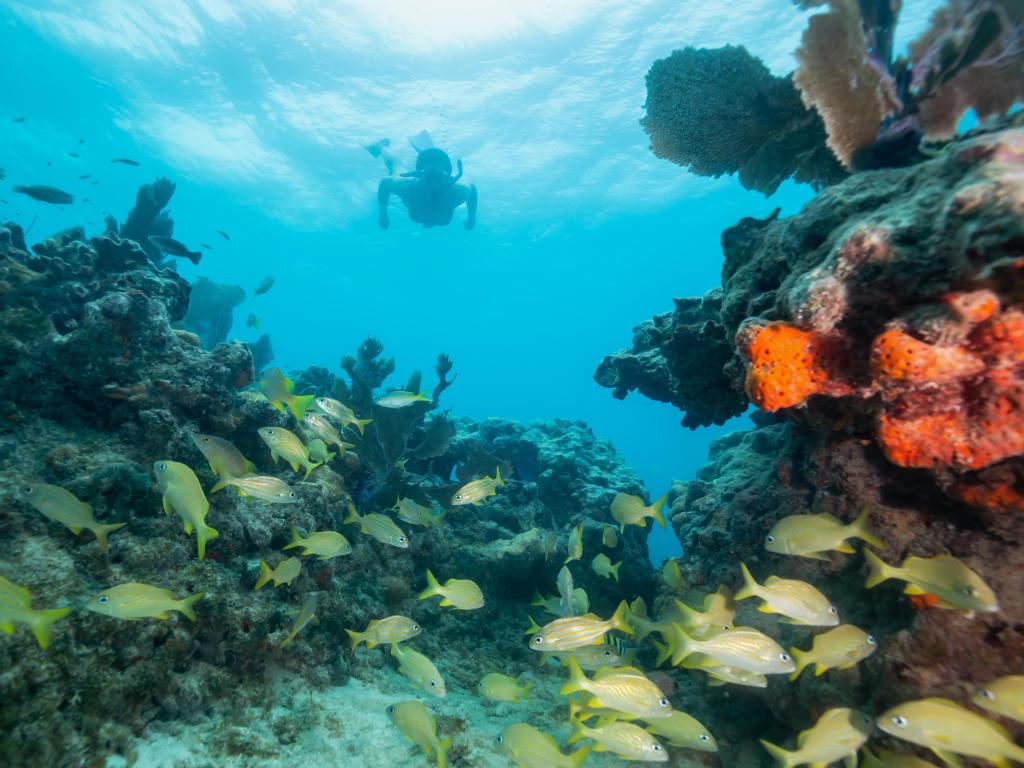 With its crystal clear turquoise waters, fantastic beaches, and amazing sunsets, Key West is the ideal destination to relax and unwind. Find your own piece of paradise and have an experience that will live on long after your ferry has sailed off into the sunset.