Road Trip from Fort Myers to Key West
The road trip from Fort Myers to Key West is for sun worshippers, nature lovers and those looking for vibrant urban life on the Atlantic Coast. Whichever route you choose, incredible natural scenery is on offer as you make your way to the sub-tropical paradise of Key West.
The 350-mile road trip from Fort Myers to Key West takes around 7 hours to drive. You'll see The Gulf of Mexico, Naples, Bonita Springs, The Everglades, Fort Lauderdale, Miami, Biscayne National Park, Seven Mile Bridge and the Overseas Highway.
With two very unique routes to choose from, you can see the best of Florida, from nature reserves, to beaches, iconic landmarks and lively cities. Read on to discover what awaits you on this amazing and scenic road trip.
How far is Key West from Fort Myers and how long will the road trip take?
Comparison of road trip routes between Fort Myers and Key West

| Route | Distance | Driving Time |
| --- | --- | --- |
| Direct Route | 350 miles | 7 hours |
| Ferry Route | 100 nautical miles | 3 hours 30 minutes |
Alongside the amazing views and multiple pit stop opportunities, The Direct Route takes in the tranquillity of the Everglades National Park and the bustle of Miami and Hollywood. At approximately 7 hours of driving over 350 miles, this route is a straightforward and relatively easy road trip.
If you want an even faster trip, take The Ferry Route which involves no driving! At 100 nautical miles over 3 hours and 30 minutes, this route is the quickest of the two. It also offers spectacular views of the Gulf of Mexico.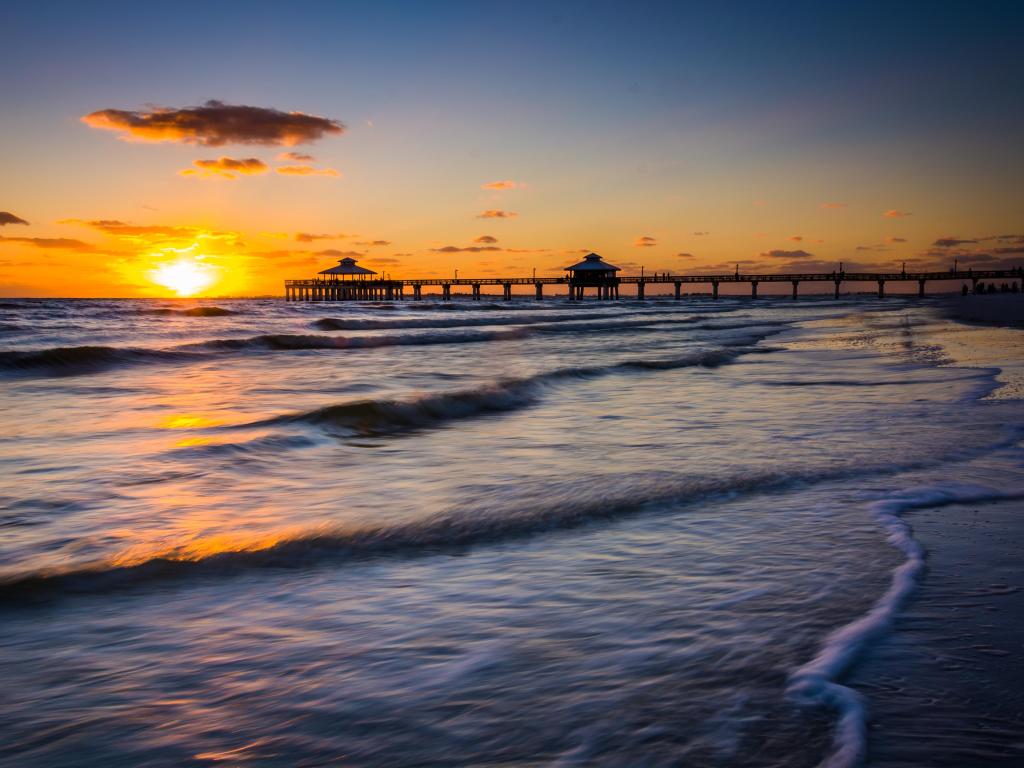 If you can't decide, you can easily combine both routes. We recommend taking at least 3 days to complete this road trip. This should give you ample opportunity to take in the key sights along the way.
Best road trip route from Fort Myers to Key West
For lovers of beautiful scenery and nature, The Direct Route is the road trip for you! Explore Florida's incredible natural parks, from submerged forests to mangroves, from coral reefs to pine forests, this state has it all to offer.
If you get tired of walking, turn your hand to high-end retail therapy in Miami and Naples, and relax on pristine beaches in Fort Lauderdale. This route is twice as long as The Ferry Route and is undertaken fully by car. If you are pressed for time and want a less labour-intensive trip, consider The Ferry Route.
The Ferry Route is the most direct route and offers road trippers impeccable views of the bright blue and crystal-clear waters of the Gulf of Mexico on board a ferry. Leave the car at home and truly relax on this direct and easy-to-do route.
How to drive from Fort Myers to Key West
The map above shows our suggestions for the best road trip routes between Fort Myers and Key West. Keep reading for detailed descriptions of both routes, where to stay on either, and the best things to do on the way.
The Direct Route
Head southwest out of Fort Myers, heading for Fort Myers Beach, keeping Cape Coral on your right. Continue south along the coast via Bonita Springs, until you arrive in Naples.
Next, head north out of Naples and take Interstate 75 (I-75) east to Fort Lauderdale. This section of the drive will take you through the Everglades National Park along Everglades Parkway and Alligator Alley.
Continue from I-75 to I-595 and then onto I-95 to Fort Lauderdale. The next stage of the journey takes you south down the coast, into Hollywood, following I-95 all the way to Miami.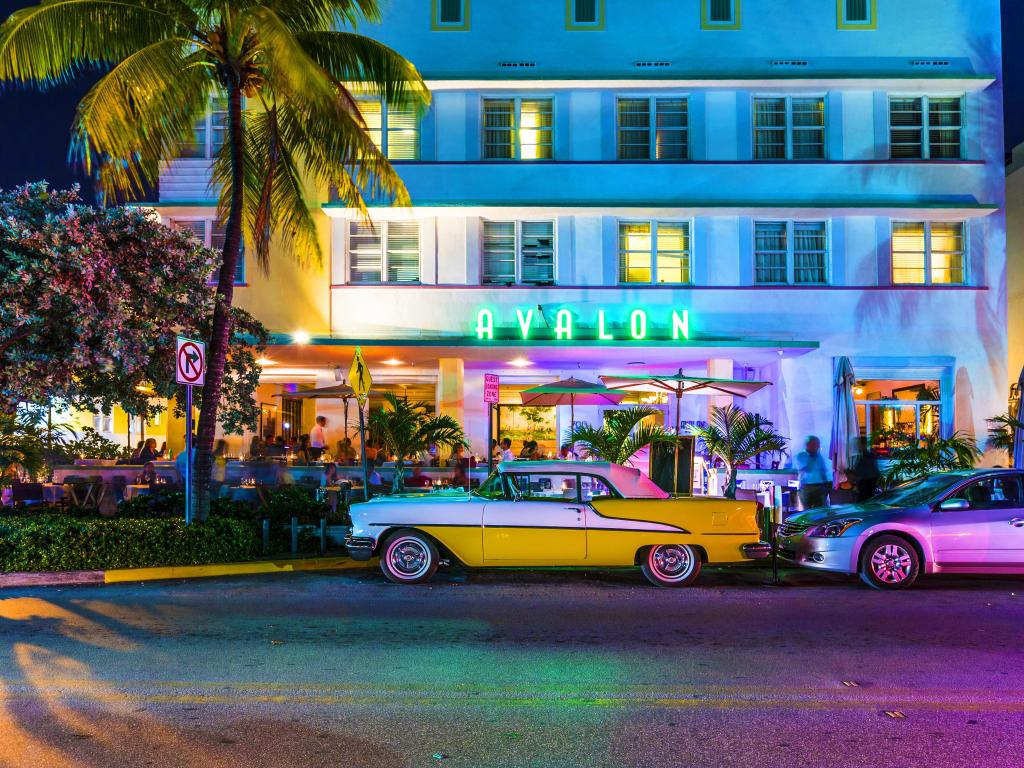 After doing a loop of Miami, head back up north, then west, taking the Ronald Reagan Turnpike and US-1 S to Key West. The latter part of this journey crosses the Overseas Highway, which showcases some of Florida's most scenic views.
The Ferry Route
This is a relatively simple route to follow as it just involves taking a Ferry from Fort Myers Beach directly to Key West. Ferries leave from Fort Myers Beach on a regular schedule and the entire crossing takes roughly 3 hrs 30 minutes.
It is worth noting that this duration may change depending on sea and weather conditions on the day, so make sure to check the ferry operator's website before making plans.
While the ferry is fully equipped with everything you need for a comfortable crossing, be sure to step outside and enjoy the crystal-clear blue waters of the Gulf of Mexico. They perfectly complement the scenic Florida coastline to provide a beautiful backdrop to your ferry crossing.
Best places to stop between Fort Myers and Key West
The overall drive time on The Direct Route from Fort Myers to Key West is about 7 hours, assuming you do not make any pit stops along the way. We recommend you make at least one overnight stop along this route which will reduce your daily drive time and give you the chance to see as much as you want each day.
As The Ferry Route is a non-stop ferry ride of 3 hours 30 minutes, this is achievable in one day. This gives you plenty of time to explore Key West when you arrive.
Enjoy a luxurious break in Miami
Just 3 hours and 20 minutes away from Key West, the halfway point of Miami is a natural stopover on The Direct Route. Miami is famous for its non-stop nightlife, high-end shopping and beautiful beaches.
Why not enjoy a break at iconic Miami Beach? Situated outside of Miami, this area is renowned for its Art Deco district with its stylish and beautiful buildings. If you want something a bit more experiential, check out Jungle Island, one of Miami's most popular attractions.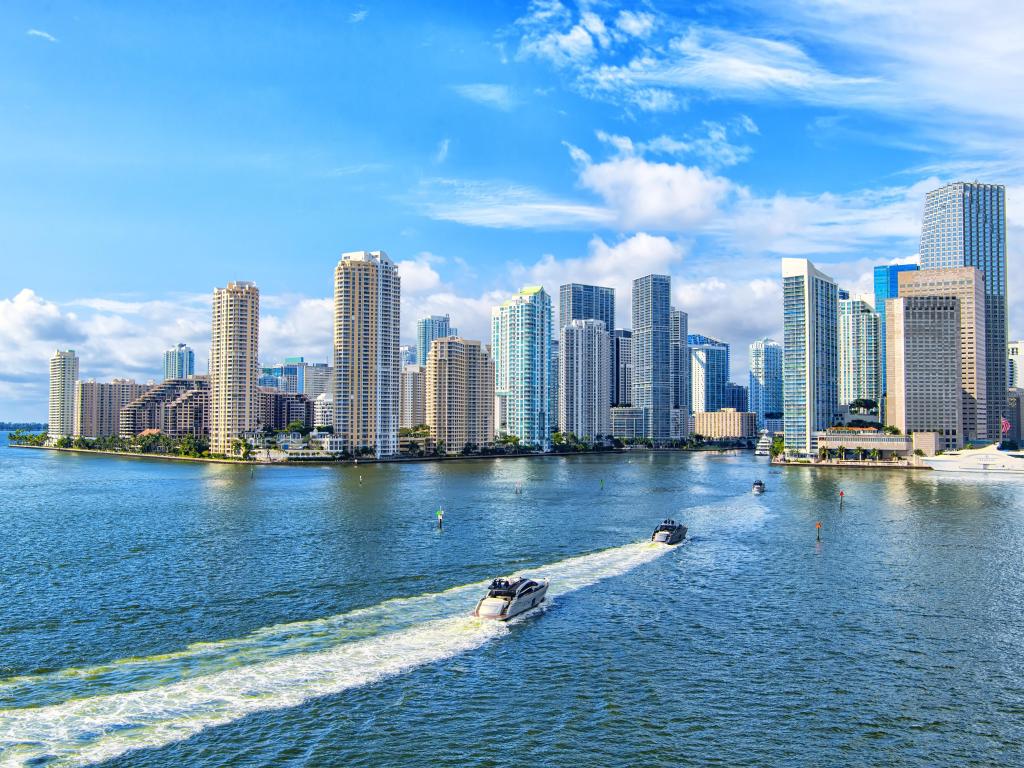 If you fancy something a bit livelier, head to Miami Waterfront. Boasting a lively atmosphere and beautiful views of the bay, Miami Waterfront is home to the Bayside Market which hosts boutique shops, cafes and restaurants, as well as live music performances.
If local history and culture are your thing, head to The Vizcaya Museum and Gardens. Showcasing stunning architecture, gardens and artwork, this renaissance-style villa houses an impressive collection of European furniture and arts stretching across four centuries.
After that jam-packed day, the Olympic-sized swimming pool, hot tub, jacuzzi and spa of the DoubleTree by Hilton Grand Hotel Biscayne Bay give the perfect respite. As well as the fabulous facilities, their signature Sweet Dreams beds make it an excellent choice to recharge before heading back on the road.
Located on the beautiful Biscayne Bay, this hotel is conveniently located in the bustling heart of Miami's city center. Miami Beach is just a short drive away, and the Vizcaya Museum is located the same distance away from the hotel. Jungle Island is a short walk away, and Bayside Market is located a stone's throw away.
Where to stay when you reach Key West
The Gates Hotel Key West takes the best of the Key West beaches and brings it to a stunning hotel complex. Fresh white walls and linen are complemented by blue accents and sand-coloured woods, bringing the beach vibes directly into your room.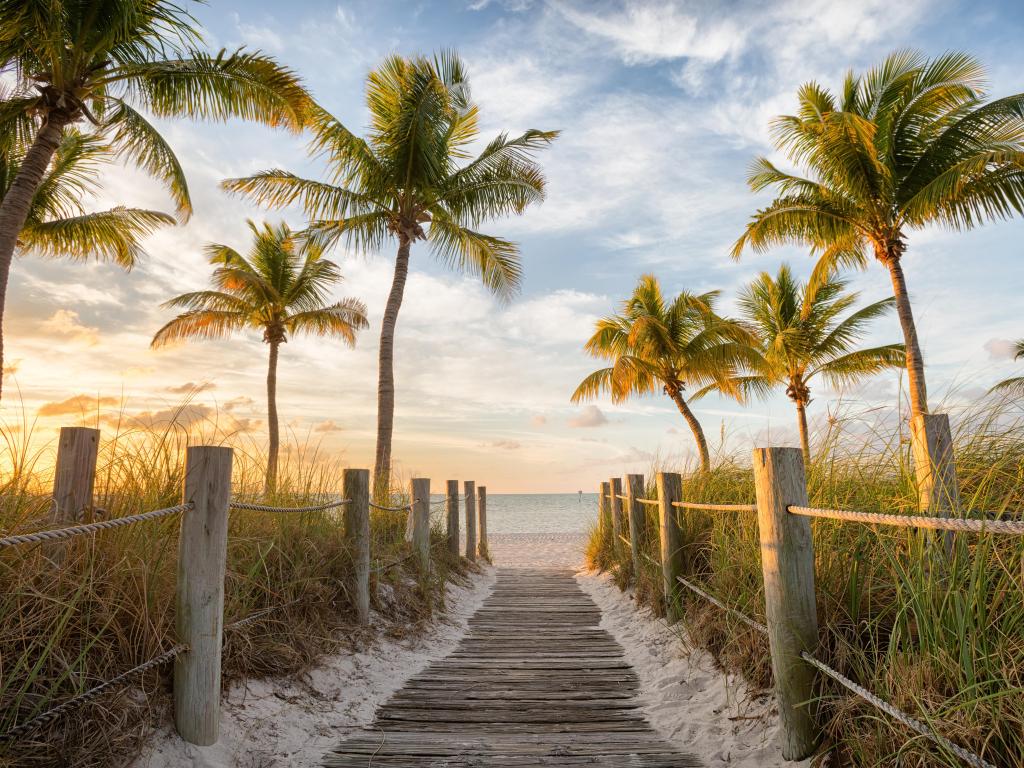 This theme continues around the hotel from the reception to the bars and to the pool.
Relax under the palm trees in the serene outdoor pool, complete with a pool bar that has partnered with a local rum distillery to offer guests top-class rum cocktails. There is even a cigar bar with cigars available to purchase.
The hotel offers hourly shuttle services to Old Town Key West, perfect for exploring the many attractions on offer there. Key West Tropical Forest is a short ten-minute walk away, and the hotel is located a short distance from the nearby beaches.
Things to see on a road trip from Fort Myers to Key West
Dotted along The Direct Route are numerous things to see and do on your way to Key West. We've picked the top spots that are sure to capture all that the route has to offer. Beaches, nature preserves, hiking, shopping, nightlife and the impressive Seven Mile Bridge all made the list.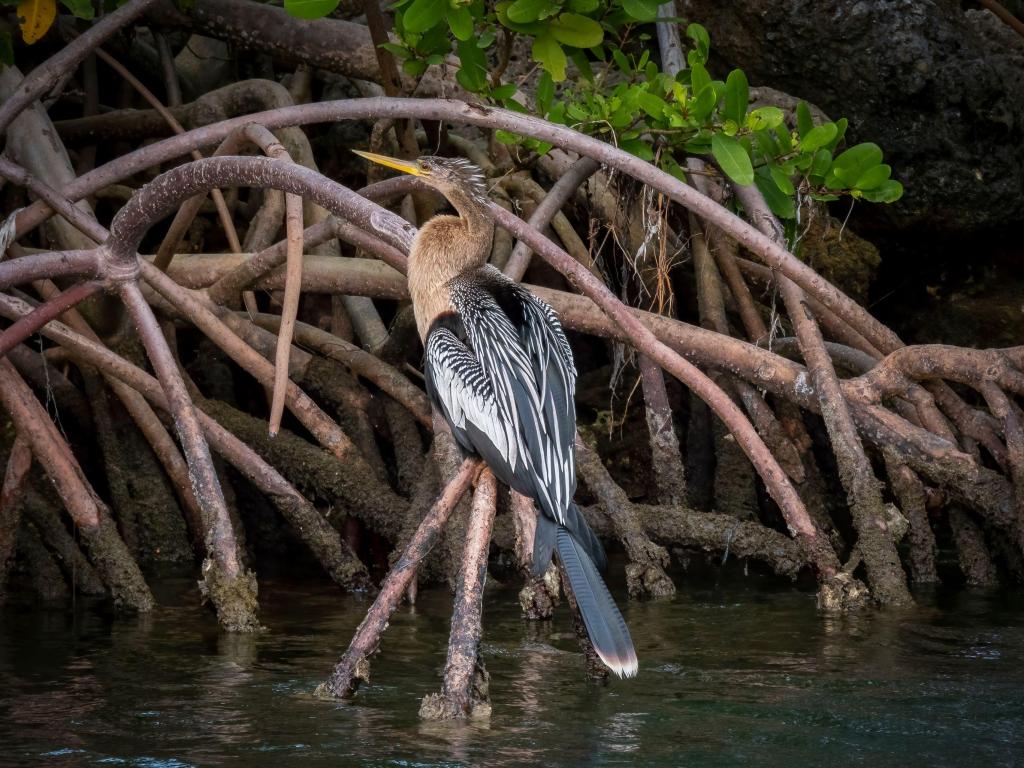 The Direct Route
Estero Bay Aquatic Preserve - Spend time in Florida's first aquatic preserve to explore the inlets and islands of the ten miles of protected water space. This is a great area for boating, kayaking, fishing, and swimming
Bonita Springs - Known for its Gulf Coast beaches, Bonita Springs boasts beautiful sandy dunes and popular swimming spots. Lovers Key State Park to the north of the city is home to dolphins and manatees
Naples - A popular spot for fishing and dolphin spotting, enjoy the crystal-clear bright turquoise waters of the Gulf of Mexico and unwind with some high-end retail therapy
Golf Courses - This part of Florida is renowned for its beautiful and plentiful golf courses, and there are so many to choose from!
Picayune Strand State Forest Hike - There are many trails within the state forest that sits at the heart of the Big Cypress Basin. During the wet season, this forest is partially submerged but offers beautiful and unique hikes in the dry season
Big Cypress National Preserve - Wade and hike through this incredibly scenic forest, partially submerged in the wet season. With over 700,000 acres of protected swamp, this incredible national preserve offers a totally unique natural experience
Fort Lauderdale - Famed for its pristine beaches, arts and culture, and historic riverfront, visitors here can ride gondolas on the canals and experience the Venice of America
Hollywood - Walk the palm-lined streets of downtown Florida to find them filled with street art, perfect beaches, and a vibrant nightlife
Miami - A sprawling metropolis where the Caribbean Sea meets the Atlantic Ocean, Miami is famous for its non-stop nightlife and glistening beaches. Luxurious shopping malls and high-end hotels make this a fantastic stop on your road trip
Biscayne National Park - Covering coral reefs, islands, and shoreline mangrove forests, this stunning national park is home to dolphins, turtles, and pelicans, as well as idyllic coastal views. Divers can experience the underwater Maritime Heritage Trail to see the many shipwrecks in the area
Everglades National Park - Spanning 5 million acres of protected wetlands, Everglades is home to endangered wildlife including leatherback turtles, Florida panthers, and West Indian manatees, and is a must-stop for nature lovers
Anne's Beach - Shallow waters and beautiful white sand, this is a great beach stop along the route. Perfect for kayaking, snorkeling, paddle-boarding, and swimming
Dolphin Research Center - Learn about the acrobats of the ocean and support the incredible work of this non-profit research and education organization that is home to several dolphins and sea lions
Seven Mile Bridge - Drive along the iconic Floridian bridge that takes you across the bright azure blue waters of the lagoons below. As the name would suggest, this huge bridge is around 7 miles long and will take you across the Florida Keys
The Ferry Route
Fort Myers Beach - Catch the ferry from 1200 Main Street, Fort Myers Beach, Florida. If you have time beforehand, walk along the beautiful sandy beaches of Estero Island facing out to the pristine Gulf of Mexico. Learn about local marine life at the Ostego Bay Marine Science Center
Key West Ferry Port - The Key West ferry will take you to 100 Grinnell Street, Key West, Florida, which is close to the historic center of Key West. This area is surrounded by many places to eat while admiring the sea views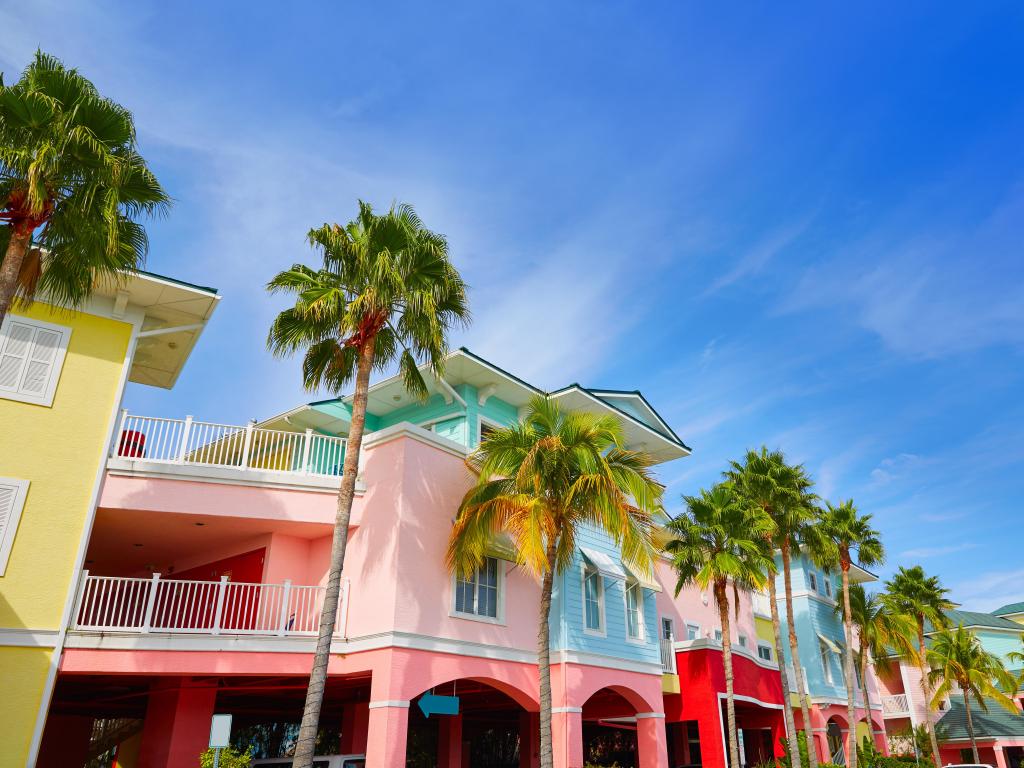 Best time to go on a road trip from Fort Myers to Key West
Key West is a beautiful sub-tropical destination, offering visitors a Caribbean climate all year long. The temperatures on average sit in the mid-70 degrees Fahrenheit and sunshine fills most days. November through April are the best times to visit to avoid the rainy and hurricane season.
Summer can be hot, and July is not the optimal time of the year to visit with hot humid temperatures and possible adverse weather conditions. Summer temperatures generally range from 79 to 88 degrees Fahrenheit.
The weather in winter, on the other hand, is pretty perfect for holidays and exploring the surrounding beauty of Key West. Between January and March temperatures can reach highs in the upper 70s and lows in the upper 60s.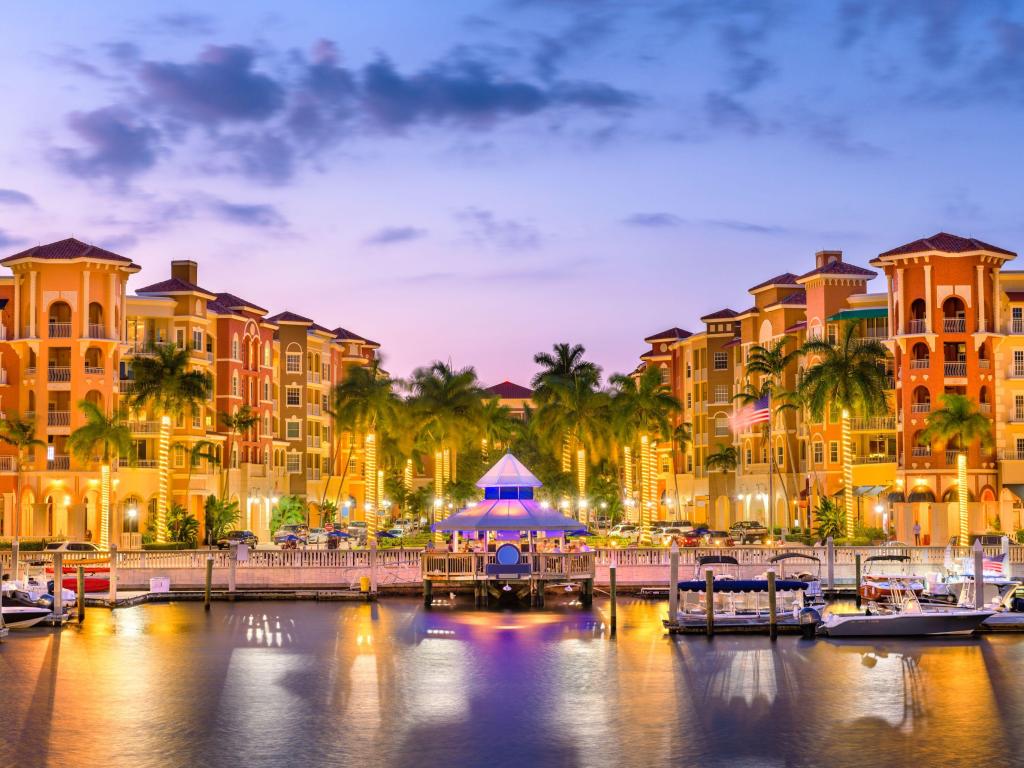 Springtime in Key West is known for its warm temperate climate, perfect for outdoor activities, both on land and at sea. Going in the spring would also mean that you will enjoy seeing the island flowers in blossom.
Daily temperatures in the Fall rarely fall below 70 degrees Fahrenheit. The sea is still a wonderfully warm temperature of 76 degrees Fahrenheit even in November! Late Fall is just after the rainy season, meaning vegetation is a lush green color with wildlife in abundance.
March sees Key West celebrate the birth of famous Key West resident and literary icon Tennessee Williams. Mid-April celebrates Key West's brief secession from the US with battle reenactments, parades, and street races.