Road Trip from Fort Lauderdale to Key West
Famous for its weather, the largest subtropical wilderness in the United States and its own archipelago, Sunshine State is beautiful all year round and the road trip from Fort Lauderdale to Key West will take you through you all of the highlights Florida has to offer.
The 200-mile road trip from Fort Lauderdale to Key West takes 5 hours to complete. Notable stops include Aventura, Miami, Miami Beach, John Pennekamp Coral Reef State Park, Everglades National Park, Bahia Honda State Park and Ten Thousand Islands.
Whether you want to soak in the coastal sun or explore its tropical nature reserves, we've got you covered. Read below to find out the best routes you can
How far is Key West from Fort Lauderdale and how long will the road trip take?
Comparison of road trip routes between Fort Lauderdale and Key West
Route
Distance
Driving Time
Ferry Route


add 3 hours 30 minutes for the ferry ride

130 miles
2 hours 20 minutes
Direct Route
200 miles
5 hours 10 minutes
The Direct Route will take you 5 hours and 10 minutes to drive and cover 200 miles without accounting for any stops you might want to make to sightsee and to rest up.
The Ferry Route will involve driving 130 miles from Fort Lauderdale to Marco Island, which will take 2 hours and 20 minutes, followed by a ferry ride. The ferry will take you from Marco Island directly to Key West and will take 3 hours and 30 minutes.
As both of these routes are packed to the brim with things to see and do, we recommend at least 2 - 3 days to really enjoy the trip.
Best road trip route from Fort Lauderdale to Key West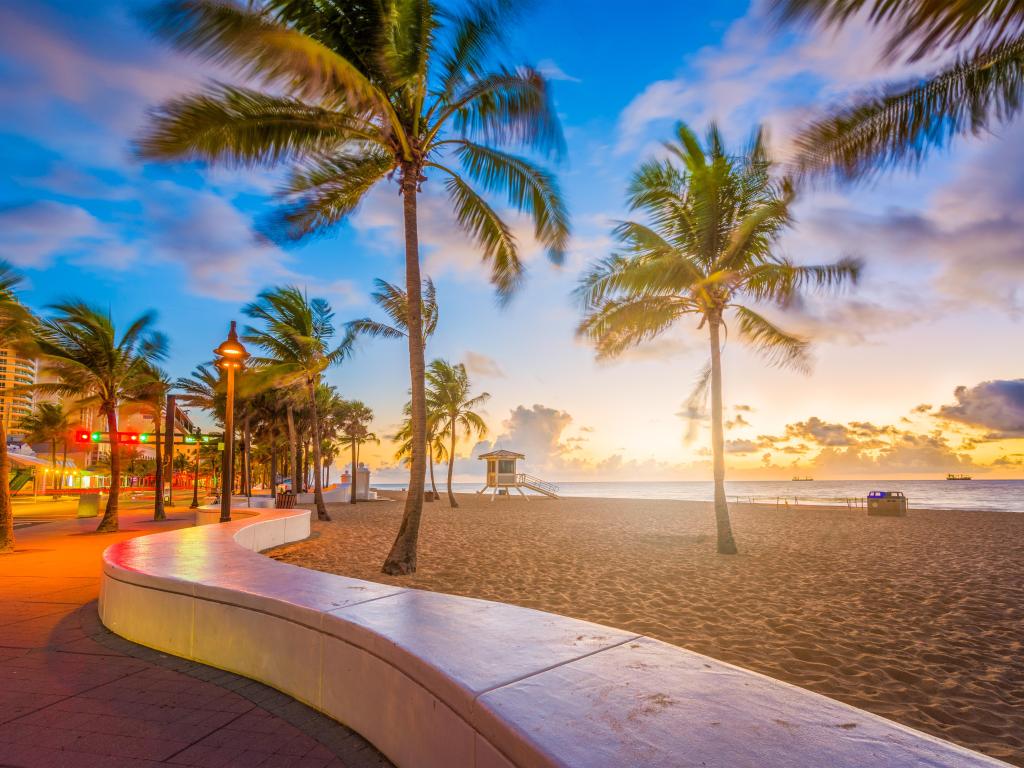 We have two distinct suggestions as to how to get from Fort Lauderdale to Key West and so which one you choose will depend on your preferences.
The Direct Route takes you through the busy streets of Miami and Miami Beach before visiting the Florida Keys where you can explore the history of the islands, enjoy the beaches and water sports, and indulge in the superb Keys cuisine.
The Ferry Route escorts you from the bustling Miami neighborhoods to the wilderness of southern Florida, via the Everglades prairies and swamps. There aren't many road trips that include a scenic ferry ride along the Florida Coast - but this one does!
Look for alligators and wild birds, sail through the swamps and enjoy the easy-going lifestyle on Marco Island before boarding a ferry to the Keys.
How to drive from Fort Lauderdale to Key West
The map above shows our suggestions for the best road trip routes between Fort Lauderdale and Key West. Keep reading for detailed descriptions of both routes, where to stay on either, and the best things to do on the way.
The Direct Route
Head South out of Fort Lauderdale, following US-1 to Aventura. From here, head slightly east, and then south along the scenic coastline towards Miami Beach and then Miami.
Upon leaving Miami, there is the opportunity to take a detour to visit the Southern Glades, part of the world-famous Everglades National Park.
The next part of your drive will take you along the Overseas Highway, offering iconic views of Florida. There are plenty of opportunities to stop and marvel at these along the way.
You will first pass by John Pennekamp Coral Reef State Park which offers countless water-based activities. Next up is Marathon, with an Oceanfront Park offering a perfect spot to stretch your legs.
Crossing over the Seven Mile bridge brings you to the home stretch of your drive, passing through Bahia Honda State Park and then on to the National Key Deer Refuge. Following the US 1 highway over Shark Key Bridge, you will finally arrive at Key West.
The Ferry Route
Leaving Fort Lauderdale, head South following Interstate 95 (I-95) through Hollywood to Aventura. Continue South on the highway to Miami, before heading West into the Everglades.
Turning right onto Highway 41, you will pass through Ochopee. Here you will find the smallest Post Office in the United States as well as swamps and estuaries to explore. Continuing West along Highway 41, you will pass by Ten Thousand Islands, a must-see for nature lovers and wildlife enthusiasts.
Your second to last stop is Marco Island, which is reached by turning South onto San Marco Road. From here, you take a break from driving as you hop on a ferry to Key West.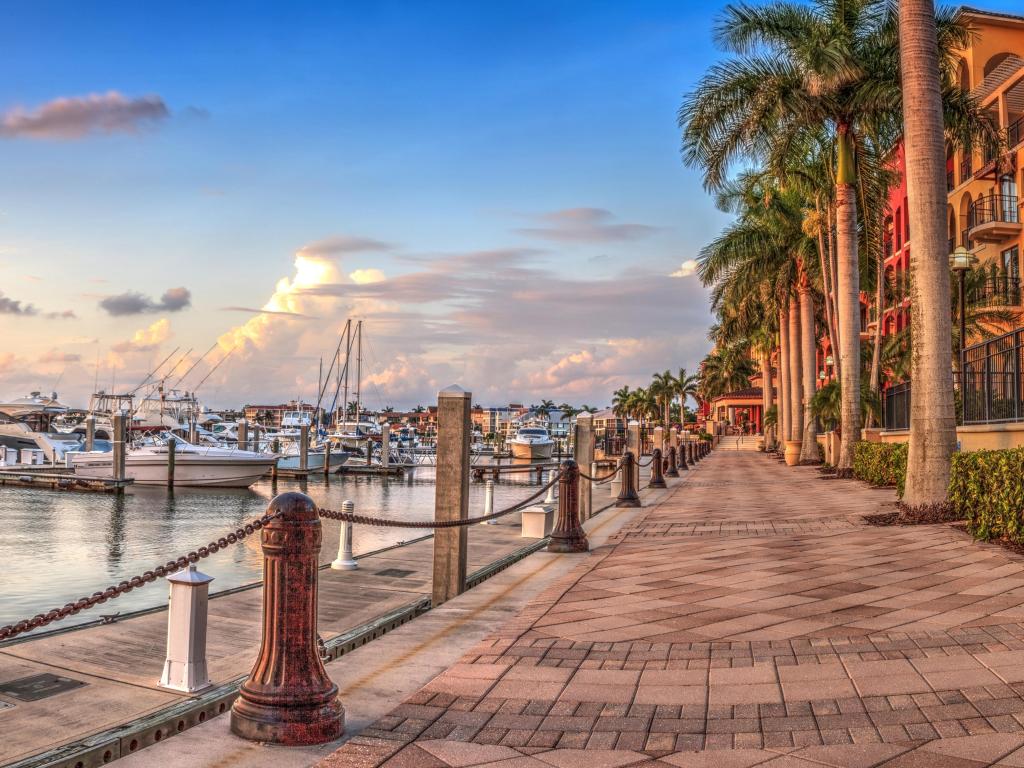 Best places to stop between Fort Lauderdale and Key West
While both of these routes can be completed in 1-2 days, an overnight stop (or two!) is the best way to really appreciate and absorb the amazing attractions along the way.
Whether you want some more time to snorkel or fish, or to soak up the sun on the beach, we have you covered with these excellent overnight options.
Idyllic Island stopover on Islamorada
If you decide to take the Direct Route and fancy an overnight stop, the beautiful island of Islamorada is among the most visited in the Florida Keys. Only 1 hour and 40 minutes from Key West, its wealth of outdoor activities means there is something for everyone here.
Whether it be fishing, snorkeling, or kayaking in the sea, or relaxing at the beach on dry land. Islamorada has it all. You can meet the local dolphins at Theater of the Sea, dive into the history of diving at the dedicated museum or explore the tropical forest in the Lignumvitae Key Botanical State Park.
After your day of activity, the Cheeca Lodge and Spa offers the perfect antidote. Boasting beachfront views, acres of lush gardens and a private waterfront, Cheeca Lodge and Spa will not disappoint.
There is a choice of three restaurants, a tiki bar and two swimming pools to help you relax and recharge. If the environment and service aren't enough to help you fully relax, the hotel also has a full list of spa services including massages, body scrubs and wraps and facials.
It is easily accessible from either Key Largo or Key West, being situated only a few minutes from the highway. Once here, most of the island's key attractions are within walking distance - if you can drag yourself away from this incredible hotel that is!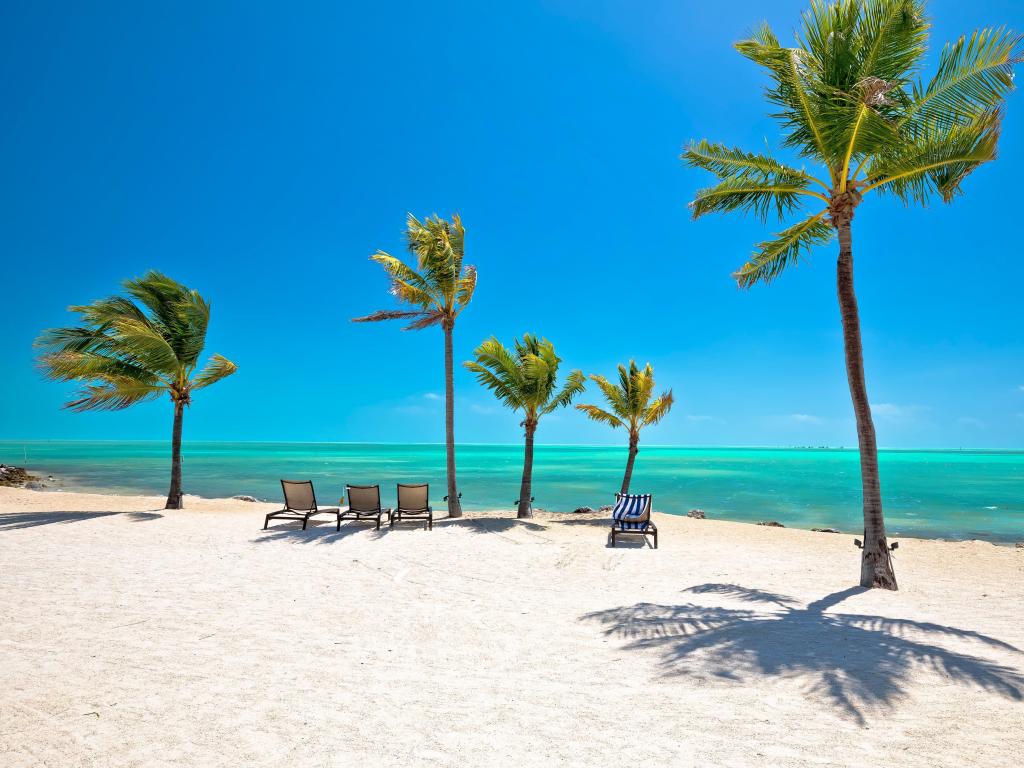 Immerse yourself in the Natural Beauty of Marco Island
If you're taking the Ferry Route, Marco Island is a natural stopover, after your 2 hour and 20-minute drive from Fort Lauderdale and before you hop on the ferry to Key West. It's famous for its luxurious beaches, resorts with easy access to the islands and natural parks.
Marco Island is dotted with beaches where you can soak up the legendary Florida sun. If you're looking for something a bit more adventurous, head to Collier Seminole State Park which is great for canoeing, fishing and hiking.
For nature enthusiasts, the Briggs Nature Center is the perfect place to observe wildlife in their natural habitat while Ten Thousand Islands offers the chance to take a boat ride around the archipelago.
Situated on the northern tip of Marco Island, Olde Marco Island Inn and Suites is a wonderful and luxurious spot to stay the night. The historic apartments with an on-site restaurant and outdoor swimming pool are an excellent getaway with plenty of outdoor activities just around the corner.
This historic inn strikes the perfect balance between vintage and modern. The interior is filled with carefully curated vintage decor, alongside tastefully modern facilities, which are careful not to take away from the olde world charm.
Each suite has a garden view from a private lanai, so you are never far away from the unique Marco Island nature.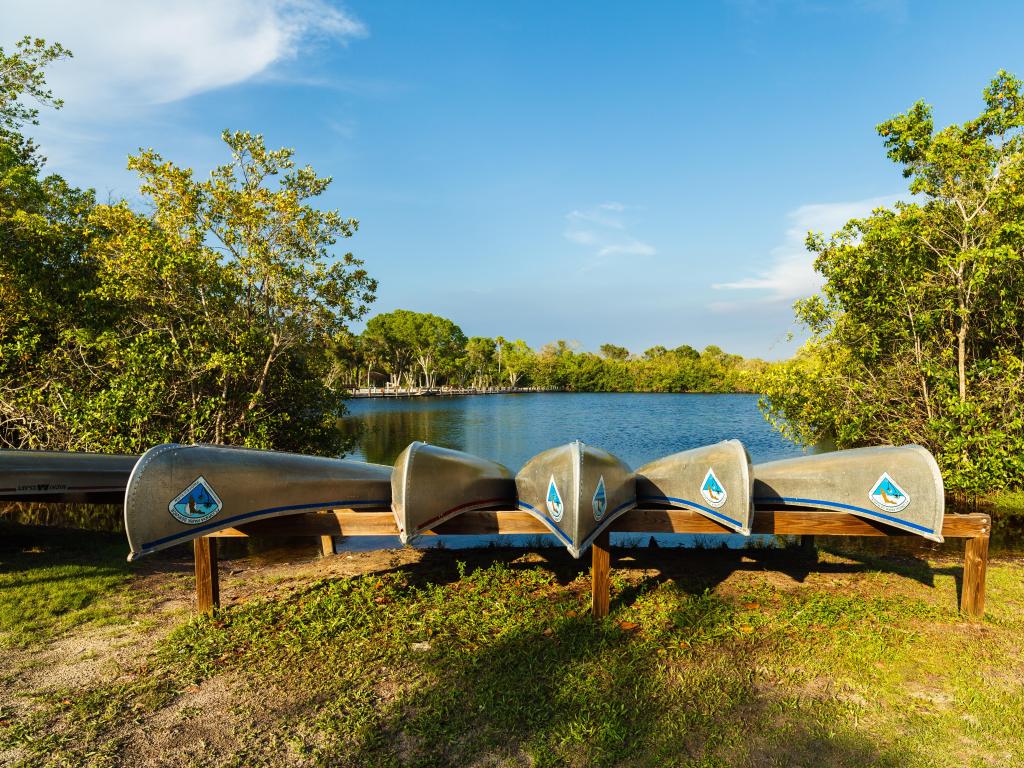 Where to stay when you reach Key West
Centrally located in the old town, the Opal Key Resort and Marina is within walking distance of a lot of the local attractions Key West has to offer. Despite its central location, this resort is an oasis of calm and tranquility, accentuated at every opportunity by the decor and the staff.
An onsite pool, fitness center, shops and water sports will keep you entertained all day long. If that isn't enough, the Key West Aquarium is next door and opposite you will find the Mel Fisher Maritime Heritage Society & Museum. The historic Duval Street is a short walk away.
All of these nearby attractions are especially handy if you have left your car behind after following the Ferry Route.
Things to see on a road trip from Fort Lauderdale to Key West
An abundance of nature reserves, water sports and wildlife hotspots adorn the Direct and Ferry Routes.
Direct Route
Southern Glades - South of Miami is a stretch of nature and state parks where you can delve more into the natural history and enjoy spectacular marshes and glades. You might even see some of the famous Floridian animals! If you see a crocodile, don't forget to scream!
John Pennekamp Coral Reef State Park - The spectacular reefs of Key Largo are best explored in this underwater state park. You don't have to be an expert in snorkeling as the glass-bottom boat takes you through the shallow waters and gives you effortless enjoyment.
History of Diving Museum - For all of you diving experts, the museum on spectacular Islamorada is a true dedication to the underwater activities in Florida's islands. Dive into the history of commerce, exploitation, and recreational diving.
Keys History and Discovery Center - Shipwrecks, Native American memorabilia, old photos… a thousand years of history of Florida Keys can be discovered in this center on Islamorada Island.
Marathon - Visit dolphins and sea lions at the Dolphin Research Center, after which you can send your teen kids to swim with dolphins in Dolphin Camp.
Bahia Honda State Park - Right at the end of the Seven Mile Bridge is a state park famous for its excellent snorkeling opportunities, romantic walks and sunsets, and magnificent beaches that are the epitome of Florida. Visit the Sand and Sea Nature Center to explore more about the birds and sea creatures.
National Key Deer Refuge - Big Pine Key offers you an experience to see the endangered deer found only in the lower Florida Keys. At the same time, you can hike in this area, take a bike ride, or try to spot them while kayaking around the island.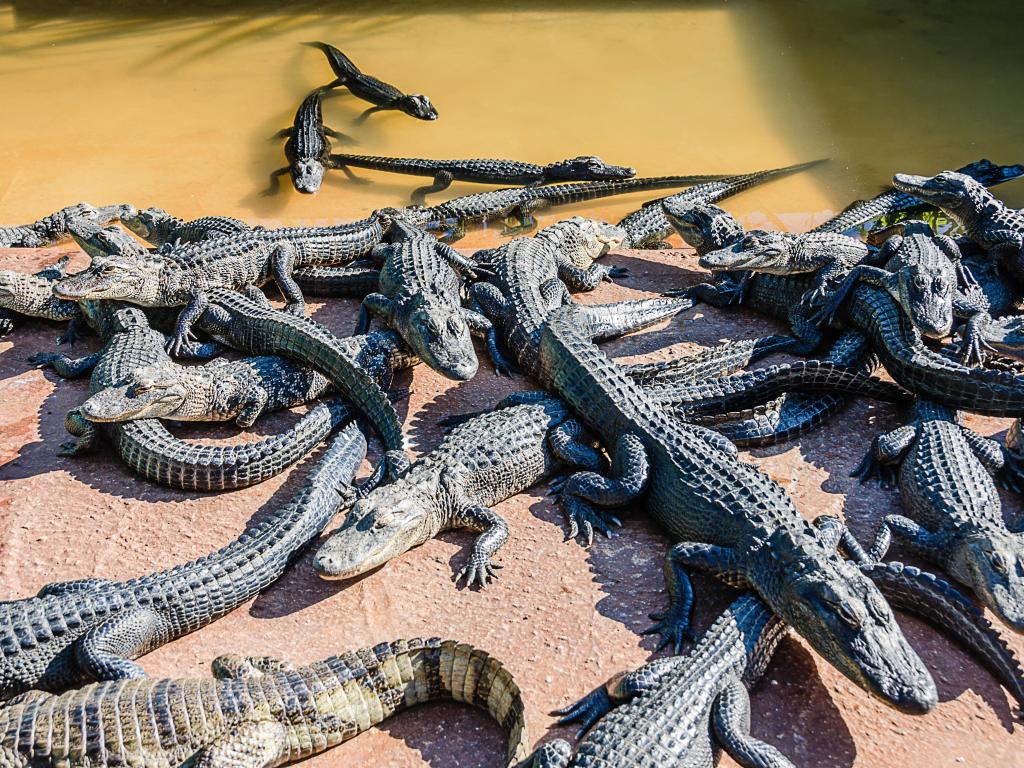 Ferry Route
Everglades National Park - Visit the largest subtropical wilderness in the United States. Make sure you see the Wood Stork and the American Crocodile by taking a boat trip or a tram tour at Shark Valley.
Big Cypress National Reserve - As part of the Everglades ecosystem, this preserve is a wild area full of cypress swamps, a mangrove estuary, and magnificent wildlife. You can walk or take a canoe to explore this reserve which is particularly enjoyable in Winter.
Cape Romano - Once home to Calusa Indians, it is famous for Cape Romano Dome Houses, six abandoned homes on stilts, and a port from where various boat rides take you to the nearby archipelago.
Ten Thousand Island - A chain of islands is open to fishing, boating, wildlife photography, but also learning how to protect sea turtle nesting areas. It is also an area without light pollution and a favorite among stargazers.
Marco Island - As well as beautiful resorts and beaches, it is also a place to enjoy beautiful cuisine and nightlife. You can also spend your day in Collier Seminole State Park or Briggs Nature Center.
Both Routes
Aventura - In case you forgot something for your road trip, visit the Aventura Mall, the third-largest mall in the United States. Otherwise, go kayaking in Oleta River Park or stay at one of the classy beach resorts.
Miami Beach - Trendsetting place of sunshine, culture, and nightlife, this major entertainment center features vacation homes and beach condos, Latin American and Jewish flair, and countless beaches that accommodate an equally countless number of visitors.
Miami - This vibrant city welcomes fans of avant-garde art in Little San Juan, Design District, and numerous museums. A visit to Little Havana is a must, but other ethnic neighborhoods offer memorable experiences, while Bayside Marketplace is the place to dine and shop.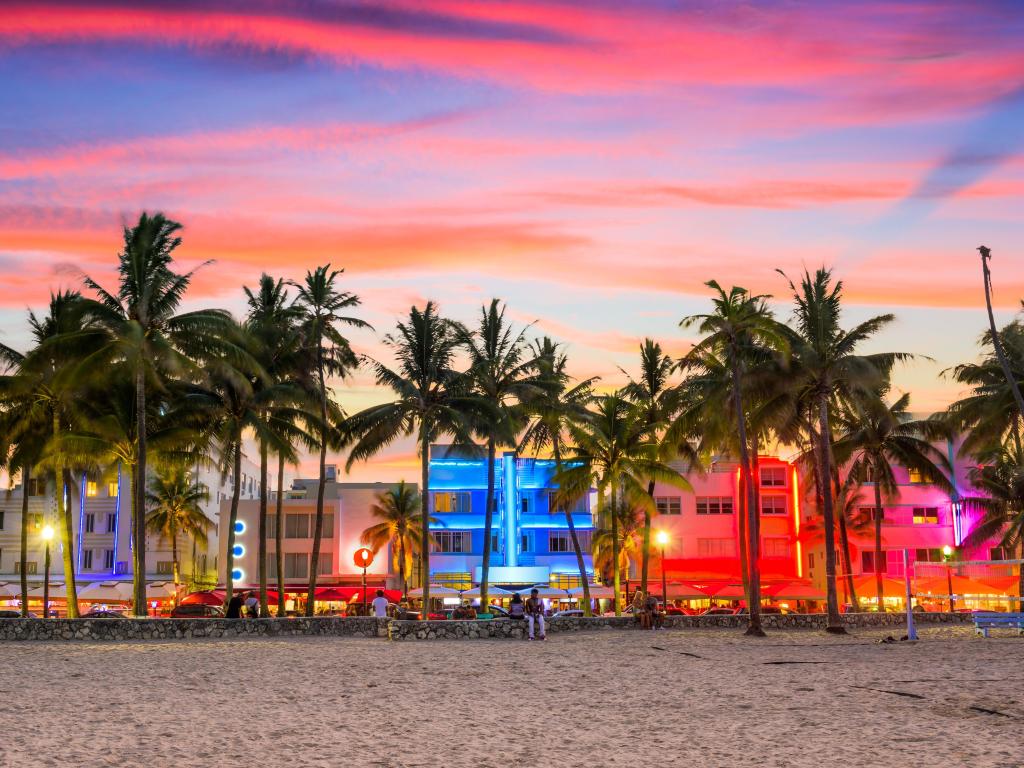 Best time to go on a road trip from Fort Lauderdale to Key West
Florida is nicknamed the "Sunshine State", which says a lot. You will be in for a treat if you visit in summer and visit the beaches. That being said, you can experience heat and humidity during these warmer months.
Summer is a peak season for the whole of Florida, but also a time when temperatures are soaring (the average at Key West in August is between 81 and 91 degrees Fahrenheit).
Keep an eye out for the hurricane season between August and November. November will bring you temperatures between 72 and 79 degrees Fahrenheit.
Thanksgiving season is another peak season for Miami and Florida Keys, so if you are looking for a festive celebration, this is the time. However, keep in mind that hotel prices will be high and the beaches crowded.
Winters in southeast Florida and in the Keys are mild at 75-80 degrees, which brings a lot of domestic tourists here. Although you cannot go swimming unless you have the proper equipment, you can still enjoy the coastal lifestyle without worrying about staying too long under the sun.
Another plus is you will be able to participate in the City of Key West Hometown Holiday Parade if you visit in December.