What is the Least Scary Way to Drive to Yosemite?
By
Pat Dorri
| Published on 28 September 2023
Yosemite National Park is located in California's Sierra Nevada, and is a beautiful natural landscape of mountains, rivers and lakes. The most visited part of the National Park is Yosemite Valley, which is where you'll find the iconic rock-climbing destination El Capitan.
Highway 140, which runs through Merced and Mariposa to Yosemite's Arch Rock Entrance, is the least scary way to drive to Yosemite as it avoids the steep climbs, tight switch backs and unguarded drop offs that feature on other routes to the national park.
Yosemite National Park has 5 entrance gates, so first of all you'll need to consider which one is most accessible from your starting point, then think about how much of an adventure you want to have along the way.
If you're looking for the least scary drive to Yosemite then keep on reading, since there are some very different routes you can take to get to the national park.
What is the least scary drive to Yosemite?
* Heavy snowfall or icy conditions can cause temporary closures
Yosemite is famous for its rugged valleys, spectacular waterfalls and mountain landscapes, and you'll get a sneak preview of what's in store while you're driving towards the national park.
It makes for a super scenic drive, but it does mean you'll have to navigate two-lane roads with steep inclines, tight switchbacks, huge drop offs and icy conditions depending on which route you take and the time of year you're traveling.
In our view, Highway 140 is the least scary drive to Yosemite National Park. It runs at lower altitude, with fewer steep inclines, tight bends and drop offs. It's also open all year round so it's a reliable way to get to Yosemite National Park.
It's just one of several routes you can take though, so keep reading to find out about this and other ways to drive to Yosemite. Here is our detailed guide to learn about all the entrances you can use to visit Yosemite National Park.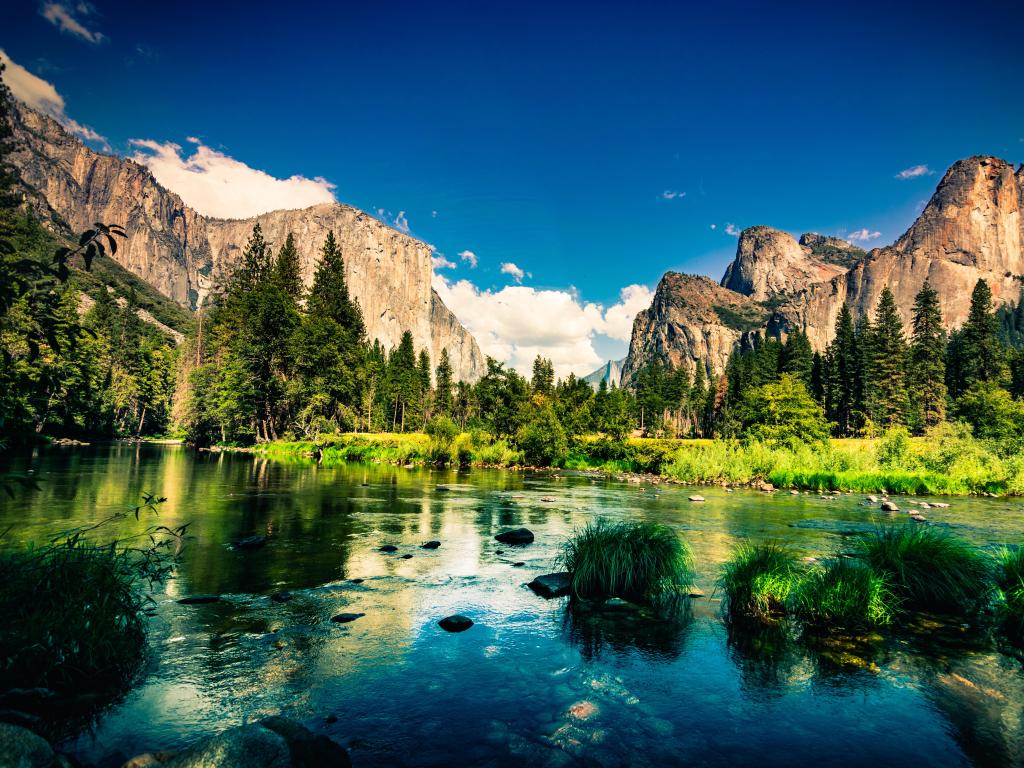 Driving on the least scary drive to Yosemite
There are four main routes to choose from when you're planning your drive to Yosemite. They take you to different parts of the national park and travel through different parts of the unforgettable landscape around the national park.
Driving on Highway 140
Highway 140 is considered by many to be the least scary way to drive to Yosemite.
Join the highway at Merced, which is easy to reach from San Francisco, Fresno, and I-5. As you make your way towards Mariposa on the Central Yosemite Highway, the golden Californian landscape will feel a world away from Yosemite, but you'll soon start to ascend into the hills.
Mariposa is a fabulous place to stop for a while. It dates back to the mid-19th century so you can get a glimpse into California's prospecting past when you stop here.
From here, continue along the highway towards Yosemite. Highway 140 runs at a relatively low altitude, so it's the ideal route to take if you're scared of heights, following the Merced River for much of the way, with no steep inclines.
Even on this route there are some gentle bends in the road to navigate, but they don't feature the same scary drop-offs you'll find on other routes.
The highway links up with El Portal Road to enter Yosemite National Park at Arch Rock Entrance, continuing through Yosemite Valley. You can also join up with Big Oak Flat Road or Wawona Road to explore other parts of Yosemite.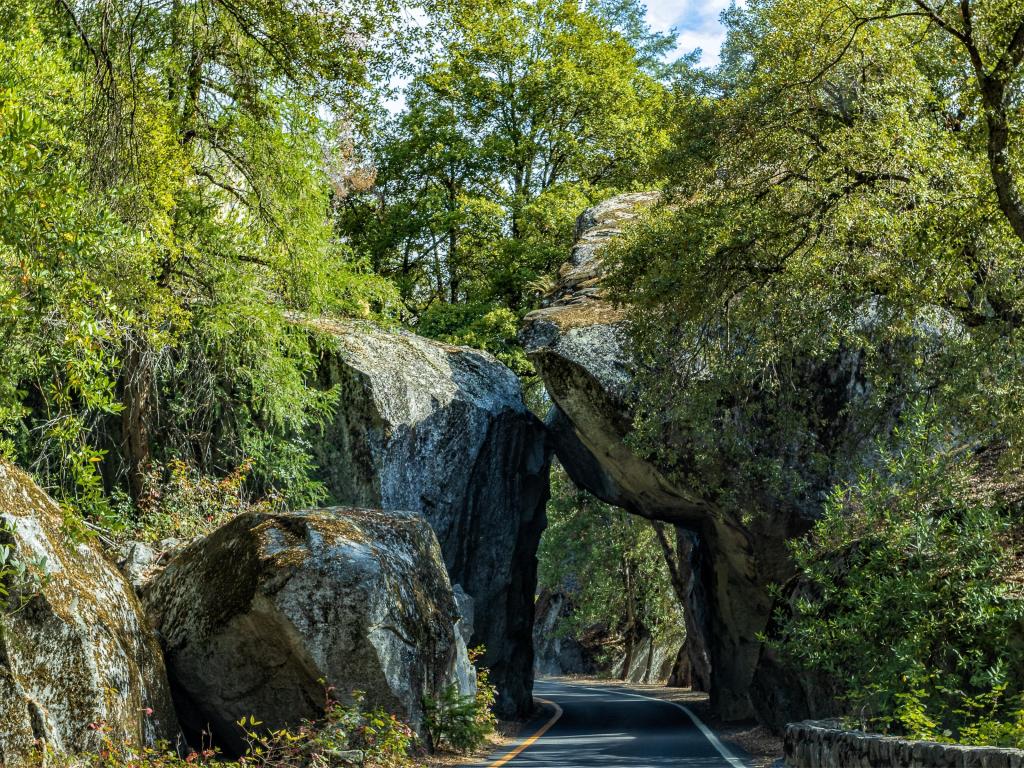 Driving on Highway 120 East
The most direct route from San Francisco and the Bay Area is to take the interstate east then join CA-120 when it splits off from I-5.
A few years ago, traveling on Highway 120 would have meant taking the notorious Old Priest Grade Road, known for its many hairpin bends and steep climbs. Nowadays, there's the option to take New Priest Grade Road, which is considered much less challenging.
Highway 120 connects with two entrances, Big Oak Flat and Hetch Hetchy. From Big Oak Flat Entrance you can follow Big Oak Flat Road to Yosemite Valley and Visitor Center.
To get to Hetch Hetchy Entrance, turn left onto Evergreen Road and follow it towards the more remote northwestern corner of Yosemite National Park. Check ahead for entrance gate opening times if you're driving this way, and come prepared for backcountry adventures.
Reaching Yosemite via Highway 41
If you're traveling from Fresno, Los Angeles or other parts of southern California, the quickest way to get to Yosemite is via Highway 41. You can pick up CA-41 at Fresno, making this a great option if you're taking a longer road trip.
Highway 41 connects with Yosemite's South Entrance, which is near Fish Camp. The route then leads onto Wawona Road in the south of Yosemite National Park.
This is a mostly straightforward drive but does feature some un-fenced drop offs as the road starts to ascend into the mountains.
Driving through Yosemite on Tioga Road
One of the iconic routes through Yosemite, the drive along Tioga Road (also called Tioga Pass Road) is truly spectacular. In the summer months it's a stunning way to drive from east to west across Yosemite National Park.
From Lake Tahoe or southern California, take US-395 to Lee Vining, where you'll connect up with Highway 120, heading west this time. From here it's just a short drive to Yosemite's Tioga Pass Entrance.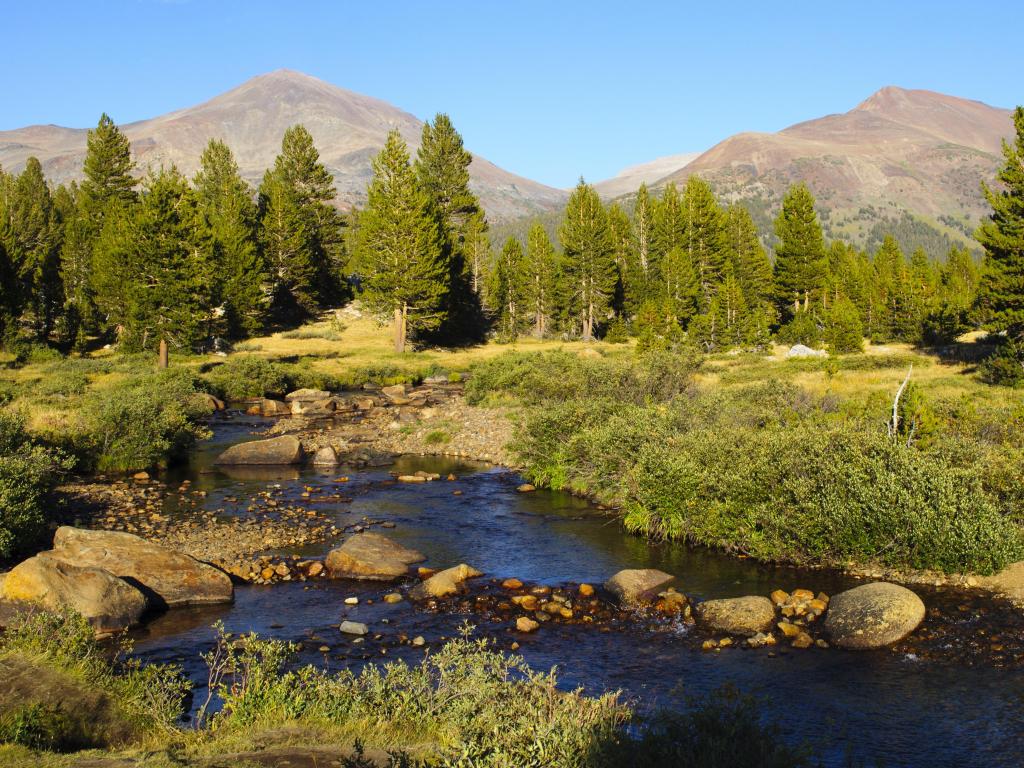 Tioga Road is one of the highest roads in California, and features plenty of tight bends, steep inclines and a high chance of icy conditions long after the rest of the park has warmed up. For this reason we definitely don't recommend Tioga Road if you're looking for the least scary drive to Yosemite.
Tioga Pass Entrance and Tioga Road are closed from at least November to May due to snow and ice, so if you're traveling from Las Vegas, Death Valley or Lake Tahoe in the winter, you'll need to detour right the way around to the western side of Yosemite to visit the national park.
Things to know that can impact the drive on the least scary drive to Yosemite
Highway 140 is a paved and well-maintained road that winds towards Yosemite along the Merced River. It travels through the mountains so expect a number of bends, but they're not particularly tight or frequent.
In many places, it only has two lanes, so you might choose to pull over if you find yourself at the front of a line of traffic. However, never feel pressured to drive faster than feels comfortable - the speed limits are low on these highways for a reason!
You'll find a selection of gas stations in Mariposa and El Portal, and there are also some good restaurants and places to stay in Mariposa.
Cell phone coverage is limited on Highway 140 – you're actually more likely to get better coverage in the national park itself - so make sure you're confident about your route before you set off. It's a straightforward one to navigate, so this shouldn't be a problem.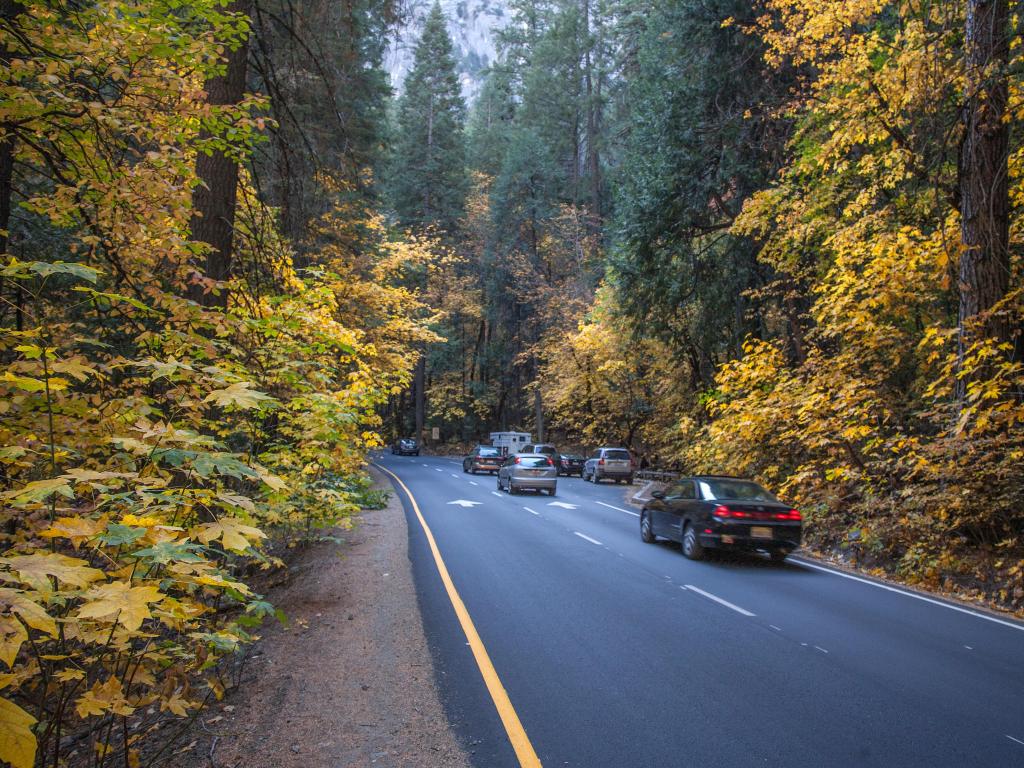 Approaching Yosemite, Highway 140 doesn't see too much congestion. Once you reach Yosemite, though, all that changes. Expect delays in getting through the entrance station and approaching the parking lots, especially if you're traveling in the summer or at weekends.
Arrive well before 9am to avoid the congestion at the entrance stations, where the waiting time often exceeds 2 hours.
Access to popular parts of the park, including Glacier Point, Hetch Hetchy, Mariposa Grove and Tuolumne Meadows, is dependent on parking space being available. When the parking lot is full, you can't go in, so arrive even earlier (before 8am) for the best chance of a spot.
If you're traveling through Yosemite Valley, the road can be completely closed past El Capitan on very busy days. A one-way system will guide you back out of the valley.
This applies to all the routes to Yosemite, not just Highway 140.
Tips to drive to Yosemite in the safest way
If you've decided which route to take to Yosemite now, here are our top tips for planning a safe drive:
Avoid visiting between 9am and 5pm between April and October, when the park is most crowded.
Avoid traveling at weekends for a less crowded experience.
Travel between May and October to reduce the chances of driving in icy conditions.
If you do travel in winter, take tire chains and make sure you know how to fit them to your vehicle, as they could be required at any time.
RVs and trailers are prohibited on Old Priest Grade Road so definitely take another route if you're planning on camping in or near Yosemite.
Make sure you have adequate fuel for your journey as you can't fill up once you reach Yosemite Valley. Fuel up at El Portal or Wawona instead.
A limited number of EV charging points are available inside Yosemite.
Check weather and travel advisories, especially in winter: Division of Traffic Operations - Road Information - California Highway Information
Do a "virtual drive" using Google Street view so that you can prepare yourself and "see" the route for yourself beforehand.
If possible, have two designated drivers to share the load so you can stay fresh and take turns to enjoy the view.
Alternatives to driving yourself to Yosemite
Don't worry if you've got this far and decided that the congestion, parking and mountain roads aren't for you, since there are other ways to get to Yosemite National Park.
YARTS runs public buses to Yellowstone from Merced and Mariposa all year round, and from Fresno, Mammoth Lakes and Sonora in the summer season.
They all head toward Yellowstone Valley, stopping at other parts of Yosemite in the summer, so you'll be able to visit the park's highlights without worrying about finding a parking spot.
If you don't mind driving to the outskirts of Yosemite, you can take the free shuttle service to visit other parts of the park, so you don't have to worry about parking at the park's most popular sites. However, even the shuttle bus fills up quickly on busy days, so allow a little extra time to wait for a space.
Yosemite in winter is absolutely stunning, but if you don't want to test your driving skills on potentially icy roads, why not join a snowshoeing tour that picks you up outside the park?
It's also possible to visit Yosemite on a one-day tour, with pick-up points including San Francisco, Groveland and Buck Meadows. It's a long day once you've factored in the drive inland, but it means you can sit back and relax while someone else does the driving.
Best time to drive to Yosemite
It goes without saying that Yosemite is such a popular destination that you're likely to encounter queues through much of the year, and you should expect Yosemite to be extremely busy and congested in summer and at weekends.
It doesn't get too hot in the summer months, and highs in the mid-70s Fahrenheit means conditions are great for hiking. Be prepared for frequent rainstorms though, which usually strike later in the day.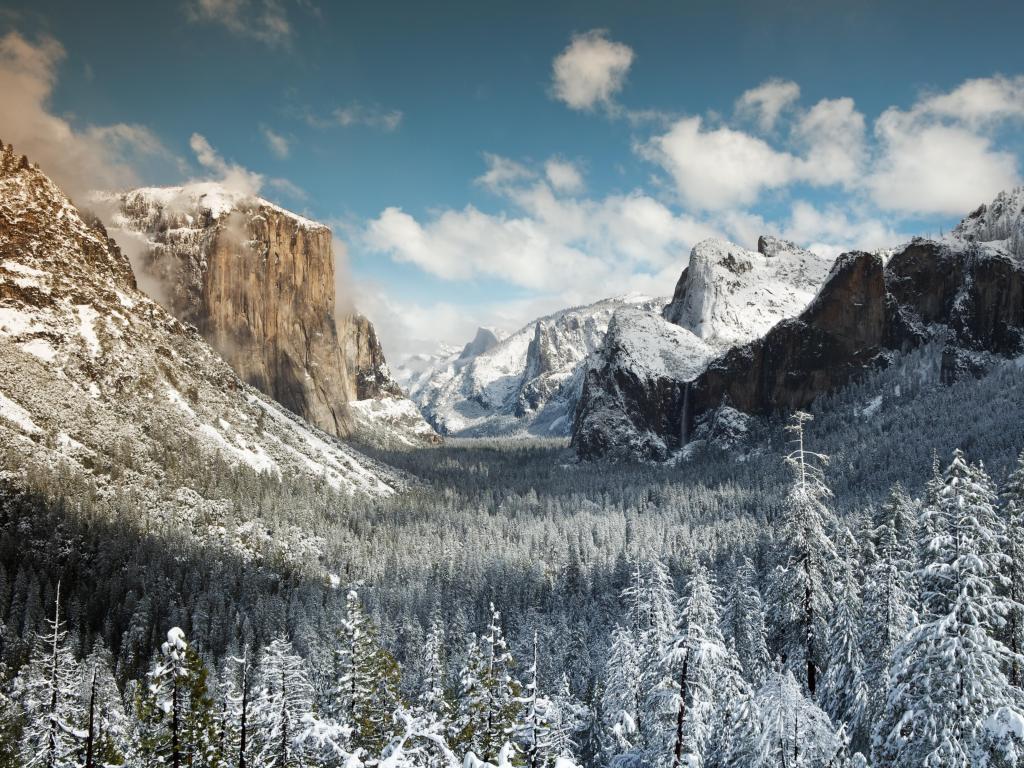 If you travel in May and June you'll avoid school vacation crowds, as well as seeing wildflowers blooming. However, depending on conditions, it's possible that Tioga Pass will be closed into late June, so check ahead to be sure that your route into the park is open.
Except in extreme weather conditions, the western and southern parts of Yosemite National Park, around Wawona, Yosemite Valley and Hetch Hetchy, should be accessible by car all through winter. It's still possible to see the sights and even to hike, with the valley floors often completely free of snow.
With average winter temperatures ranging from 30 to 50 degrees Fahrenheit though, road closures are possible during winter due to ice or significant snowfall. This applies even on the least scary route via Highway 140, so check for closures before traveling.
Some roads through Yosemite close completely between November and May, most notably Tioga Road and Glacier Point Road. If traveling from the east of Yosemite in winter, you'll have to take a longer route around the outside of the park to access
Tire chains aren't mandatory all winter, but can a temporary requirement could be introduced any time weather conditions require it, so be prepared.