Where Does Route 66 Start?
The legendary road trip along Route 66 is one of the all-time greats, with travelers over the decades winding westward across the United States in search of fame, fortune or adventure. From the shore of Lake Michigan to the sparkling Pacific Ocean, through small towns, cities and deserts, it's an epic drive that has a place on many a bucket list.
Although it's no longer a US Highway, Route 66 historically started at Chicago's Michigan Avenue, taking travelers from the Great Lakes to the sunny Pacific Ocean in California via Illinois, Missouri, Kansas, Oklahoma, Texas, New Mexico and Arizona.
You can still make the same trip from Chicago to Santa Monica today but since US Highway 66 was decommissioned between the 1960s and 80s, the route now follows the interstate a lot of the way, jumping onto sections of historic route 66 wherever possible. Keep on reading to find out how to trace the route of this historic highway.
Where is Route 66 located and where does it start?
Route 66, or the Mother Road as it's often known, connects the Midwest with the Pacific Coast, taking in some amazing landscapes in between.
It starts in Chicago then runs through the midwestern states of Illinois and Missouri before turning due west to continue across Oklahoma, Texas, New Mexico and Arizona en route to California.
The modern trip along Route 66 is around 2,278 miles long, although this can vary depending on how many sections of the traditional route you follow. If you stick to the interstate all the way your drive will be a little shorter.
The starting point of Route 66
You'll find a sign marking the start of Route 66 on the intersection of Michigan Avenue and Adams Street in Chicago, but historically the official start of the highway has also been located on other intersections along Michigan Avenue – it's migrated as the city's road system developed.
From the start sign you'll head out of Chicago along Adams Street and Ogden Avenue until you connect with I-55. Whether or not you join the interstate here is up to you - you can follow a longer section of the historic Route 66 route which winds its way out of town through the suburbs, but it's not always well signposted.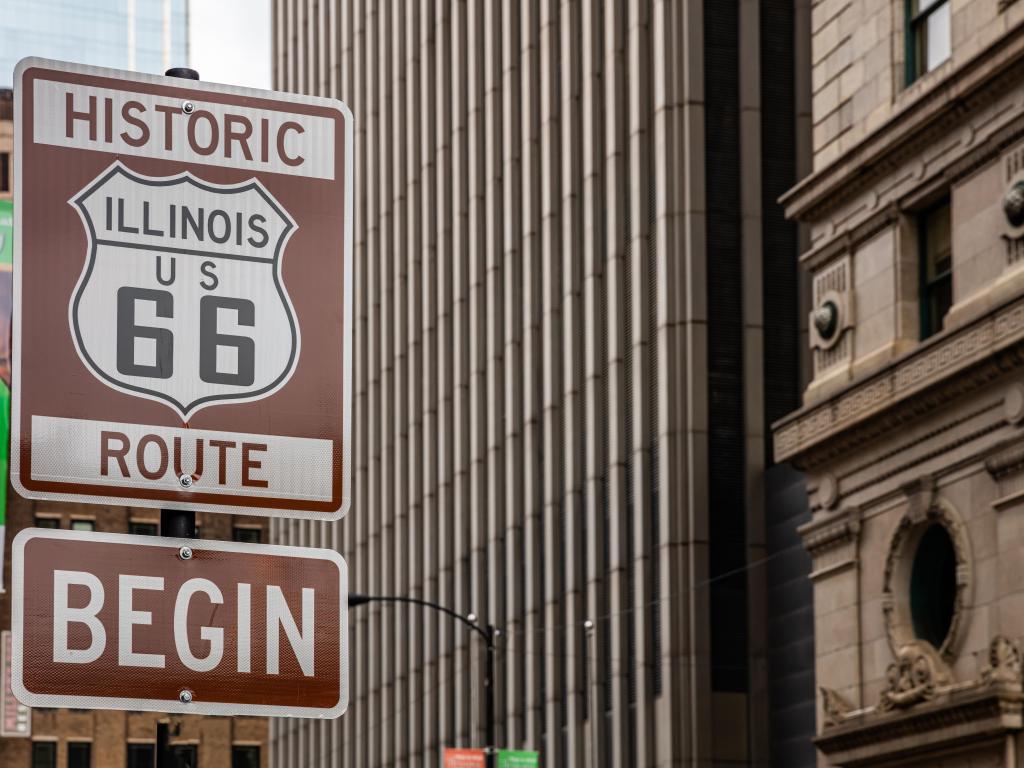 The end point of Route 66
The end of Route 66 is by Santa Monica Pier in California. Again, it's marked out by a sign so you can't miss it.
Just like the starting point in Chicago, this wouldn't have been the official end point when Route 66 was a continuous road, but it's a much better photo opportunity than the I-10 ramp that now occupies the endpoint!
Of course, while Route 66 historically headed west from Chicago, it's possible to travel in either direction. Unless you're committed to keeping the experience as authentic as possible, join the many travelers who start their trip at the end sign in Santa Monica then follow the route east.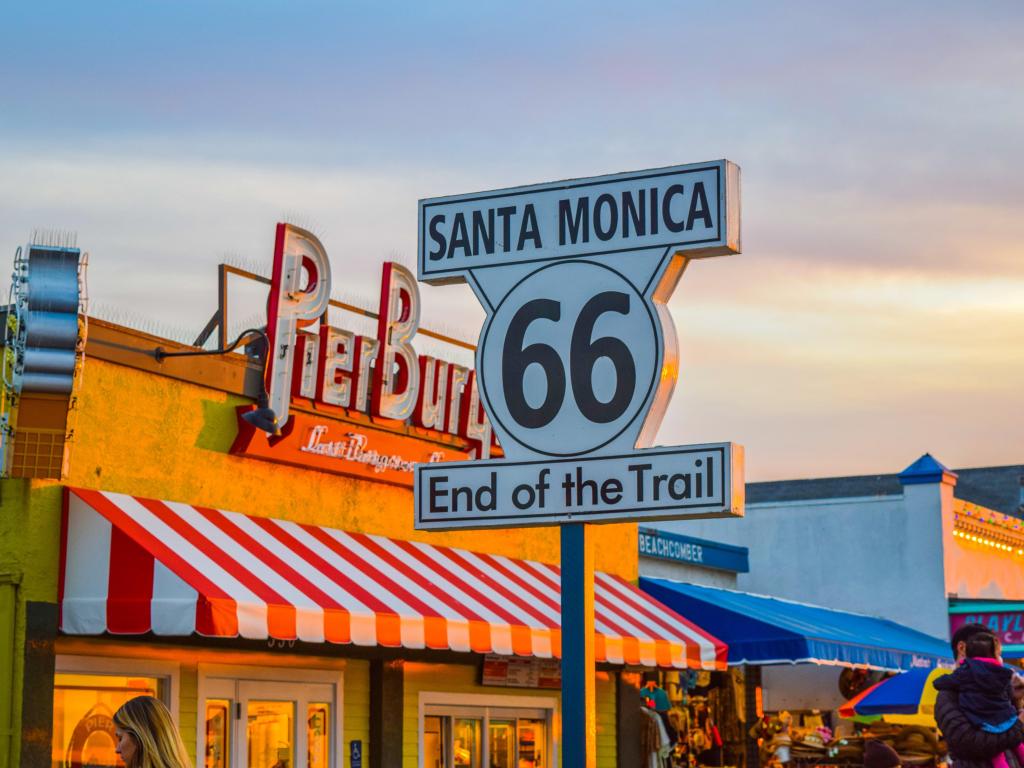 Did Route 66 always start in Chicago?
Route 66 always started in Chicago, but as years went by and the United States road network was improved, the towns and cities it visited en route to its original endpoint in Los Angeles have changed a little. It was also extended out to reach Santa Monica a few years after the highway opened.
In fact, as the original local roads were replaced with more direct sections of highway, Route 66 actually got shorter as the years went by. By the time the highway was decommissioned, it was around 200 miles shorter than when it first started welcoming travelers in the 1920s.
Some sections of the original highway were never paved as they were dropped from the alignment early on – you can still visit the Jericho Gap, a section between Boydston and Alanreed in Texas, but we only recommend driving this section in dry weather.
Driving on the historic Route 66
Since historic Route 66 is no longer a continuous, designated highway, you'll have to change between different highways, state roads and interstates as you travel towards the Pacific.
Although some states and districts have embraced their Route 66 heritage and have introduced new signage which marks out the historic highway, that's not the case for the whole of the route, and it can be challenging to track down the old route of the highway.
If you're plotting your route on the map look out for sections designated as State Road 66, Old Route 66 or Historic 66. On the first half of the route you'll have to work harder to find the original Route 66 as many of the roads have new names and in places it takes quite a different route
It gets easier to follow the historic route as you start to make your way west from Oklahoma, as the highway still closely follows the interstate for much of the time after this point.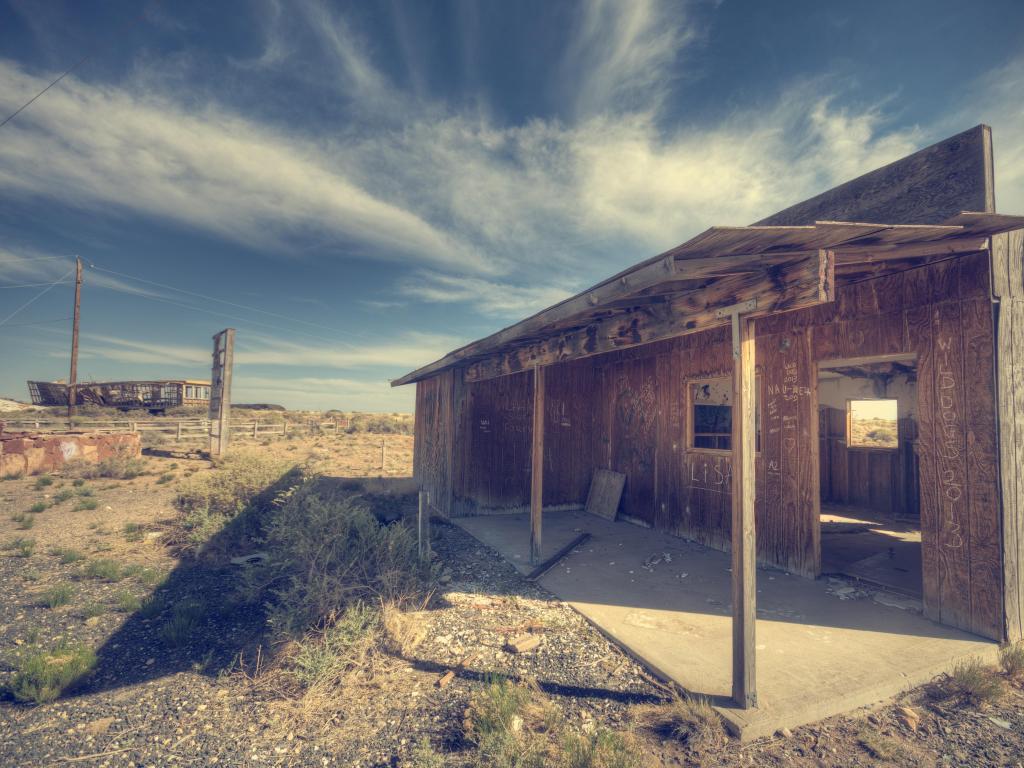 Many of the towns which originally sat directly on Route 66 are now a few miles off the interstate and you can still reach them. Some, such as Two Guns and Amboy, have been pretty much abandoned since the route changed and make an interesting stop to take a look at the old buildings.
Driving west from Chicago
Leaving Chicago along Ogden Avenue towards Lyons you'll be following Old Route 66 before joining I-55. Exit towards Wilmington to drive another section of the old highway, which runs close to the interstate for a while on the way to Odell and Bloomington.
From here, a long stretch of Old Route 66 takes you through Lincoln and Springfield on the way to St Louis. Take State Road 157 to seek out more of the old highway.
Leaving St Louis pick up MO-100 which winds its way west along Old Route 66 towards I-44. From here you can either take the interstate or follow more of the original Route 66, now a two-lane highway that runs beside the interstate again.
Continue on I-44 out of Springfield until you reach Joplin, where you'll have to venture off the interstate for a while if you want to stick to the original Route 66.
Take the highway through Baxter Springs and Quapaw then join State Road 66 near Vinita to follow the old highway into Tulsa. Once you've crossed the city, the helpfully designated OK-66 takes you all the way to Oklahoma City.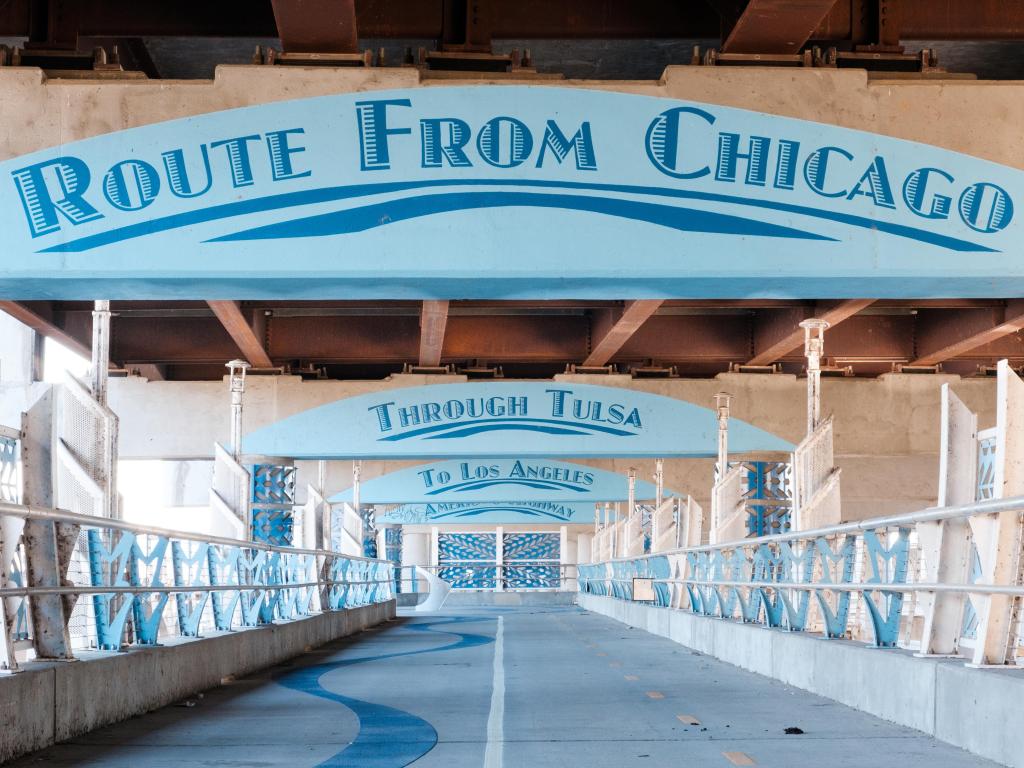 From here you have the choice of hopping onto I-40 and following it all the way to California. In fact, for much of rest of your trip the interstate has replaced the original Route 66, so it's pretty easy to follow it faithfully here.
In places you can still take the opportunity to exit and follow this historic route, which in many parts of the southwest is being restored to represent its rich heritage.
In fact, once you reach Seligman the old highway turns off to take a different route through the desert which is well worth the detour, crossing Kingman before heading out across the desert on the Oatman Highway via Sitgreaves Pass. This section of the old highway can be tricky to drive, with narrow lanes and switchbacks so some drivers will prefer to take the interstate here instead.
From Topock, the route runs south of I-40 past Mojave National Preserve before heading on to Barstow then following either CA-66 or I-15 towards San Bernardino.
To complete your drive follow the highway towards Pasadena then pick up CA-110/I-10 to complete your drive with a dazzling view across the ocean.
If you have to allow time to travel to Chicago before starting your epic Route 66 road trip, check out our handy table to get an idea of driving time and distance to help you plan your adventure. If you don't want to spend that much longer on the road, you can also consider flying to Chicago and picking up a rental for your road trip.
Travel time and distances of major cities to the starting point of Route 66 in Chicago

| Origin city | Time | Distance |
| --- | --- | --- |
| Indianapolis | 3 hours | 180 miles |
| Detroit | 4 hours 20 minutes | 285 miles |
| Cleveland | 5 hours 20 minutes | 345 miles |
| Minneapolis | 6 hours | 410 miles |
| Nashville | 7 hours 15 minutes | 475 miles |
| Washington DC | 12 hours | 760 miles |
| New York | 12 hours | 790 miles |
| Savannah | 14 hours 40 minutes | 970 miles |
| Denver | 14 hours 20 minutes | 1,000 miles |
| Portland, Maine | 16 hours | 1,080 miles |
| Miami | 20 hours 15 minutes | 1,385 miles |
Driving east from California
Although Route 66 is traditionally an east-to-west drive, there's nothing to stop you joining the route in Santa Monica and heading in the opposite direction.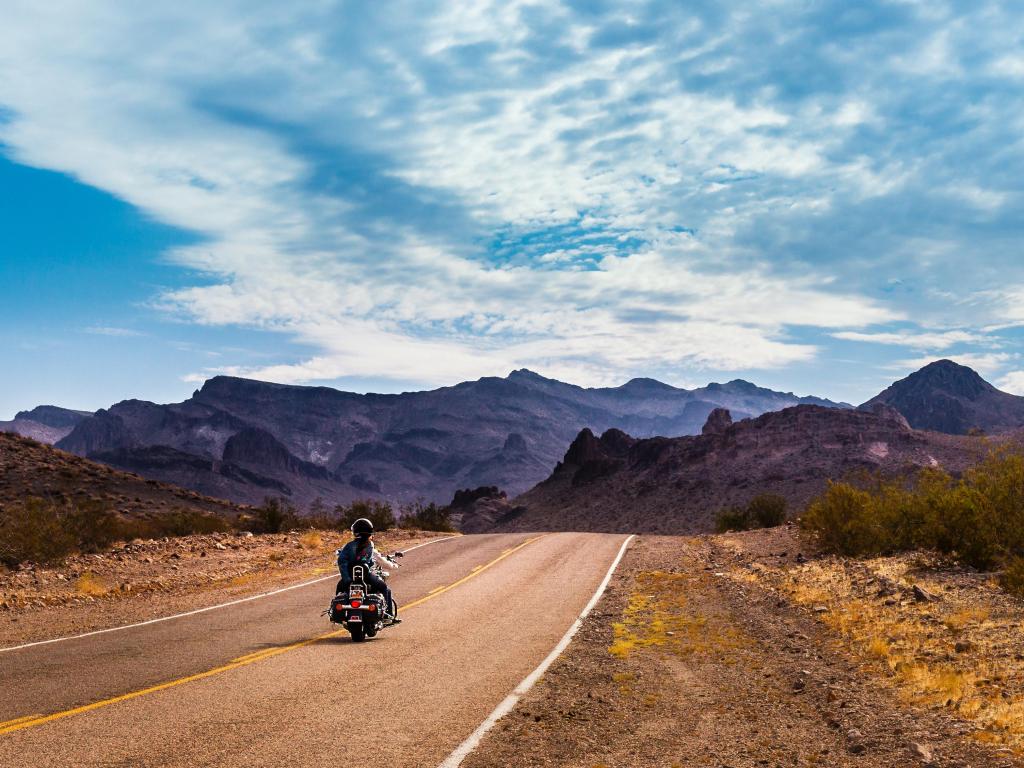 This might be particularly appealing if you're starting out on the Pacific coast or in Arizona, as the driving time to the start will be less.
Travel time and distances of major cities to the other end of Route 66 in Santa Monica

| Origin city | Time | Distance |
| --- | --- | --- |
| San Diego | 2 hours | 135 miles |
| Las Vegas | 4 hours 40 minutes | 290 miles |
| Phoenix | 5 hours 45 minutes | 380 miles |
| San Francisco | 6 hours 25 minutes | 380 miles |
| Portland, Oregon | 14 hours 45 minutes | 965 miles |
| Denver | 15 hours 40 minutes | 1,035 miles |
| Dallas | 21 hours 10 minutes | 1,450 miles |
| Miami | 40 hours | 2,750 miles |
Where else can I start my Route 66 road trip?
We've already mentioned that Route 66 starts and ends in Chicago and Santa Monica, and these are the traditional starting points if you're driving the whole route.
However, s you'll see below, you'll face a significant drive to reach either of these cities from some parts of the United States. If you're not fixed on driving the whole route end-to-end then why not cut down on the driving by starting your Route 66 part way?
Options for beginning your Route 66 road trip, from different US cities.

| Origin city | Alternative joining point | Time from the starting point | Distance from the starting point |
| --- | --- | --- | --- |
| Las Vegas | Kingman | 1 hour 40 minutes | 110 miles |
| Phoenix | Flagstaff | 2 hours 15 minutes | 145 miles |
| Dallas | Oklahoma City | 3 hours 20 minutes | 210 miles |
| Indianapolis | Springfield | 3 hours | 215 miles |
| Nashville | St Louis | 4 hours 30 minutes | 300 miles |
| Denver | Albuquerque | 6 hours 30 minutes | 450 miles |
| Denver | St Louis | 12 hours | 850 miles |
| Savannah | St Louis | 11 hours 45 minutes | 880 miles |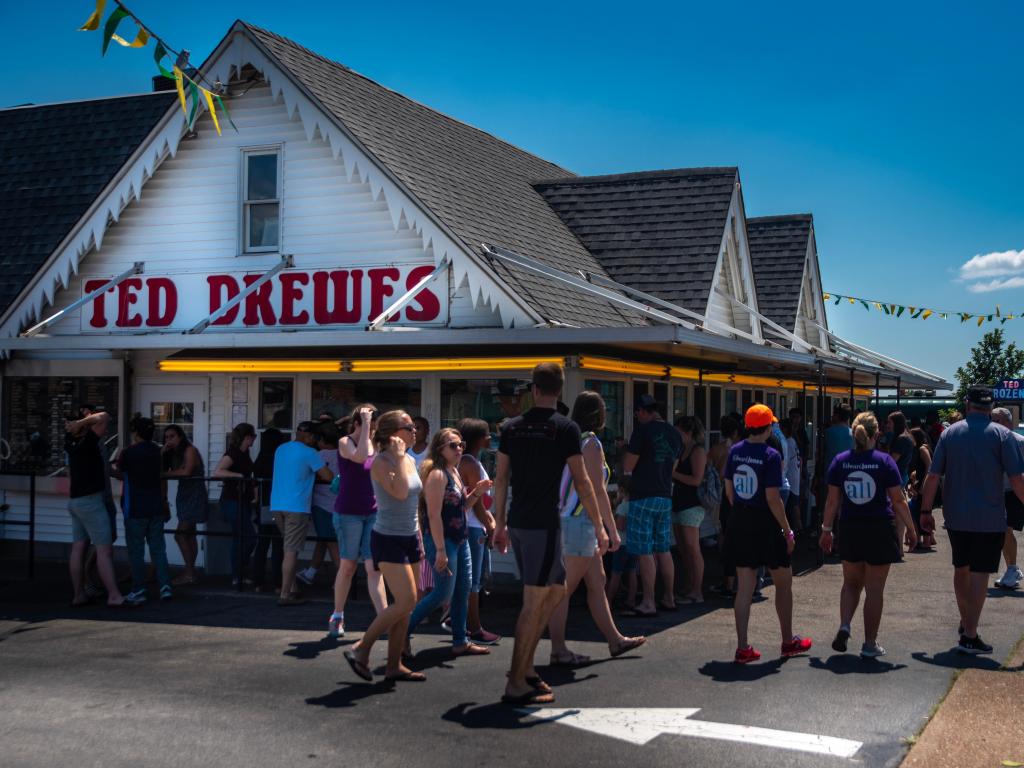 How long does it take to drive on Route 66
Travel times and distances on Route 66

| Major city | Driving Time | Distance |
| --- | --- | --- |
| St Louis | 6 hours 40 minutes | 320 miles |
| Springfield | 11 hours | 545 miles |
| Tulsa | 15 hours 45 minutes | 740 miles |
| Oklahoma City | 19 hours | 865 miles |
| Amarillo | 24 hours 45 minutes | 1,165 miles |
| Albuquerque | 29 hours 45 minutes | 1,455 miles |
| Flagstaff | 34 hours 45 minutes | 1,800 miles |
Depending on how much time you spend on the original stretches of the highway, it will take around 50 hours and 30 minutes to drive the length of Route 66.
You can reduce this quite considerably by sticking to the interstate which follows the original route quite closely, although this might not feel like the authentic experience you're aiming for.
With so many hours of driving ahead, we'd suggest that you allow at least 8 days to drive this route. That gives you a few hours each day to enjoy some of the sites en route.
However, this is one of those road trips where there's so much to see and do that you should ideally take at least 2 weeks to complete the trip. And of course, if you have more time to spare why not stretch it out for a whole month to really immerse yourself in your Route 66 adventure.
If you only have a limited time to complete the route then the time you'll need to allow for stops becomes more important. To drive this long route safely you'll need to stop regularly to stretch your legs.
If you allow for a rest or refuelling stop every 3 hours you'll add just over 4 hours to your driving time, so don't forget to plan for this when you're mapping out your itinerary.
Attractions and scenic areas on Route 66
Route 66 will take you through some buzzing cities and towns as you make your way towards California, and you'll have the chance to spend time in places like St Louis, Springfield, Tulsa, Oklahoma City and Albuquerque.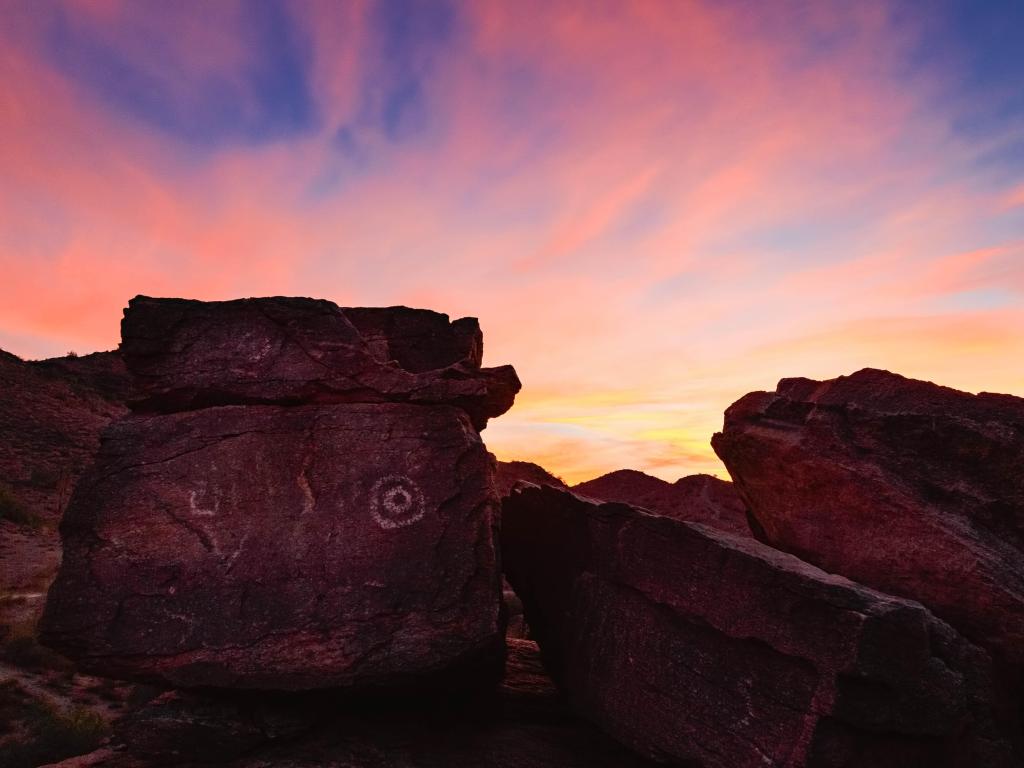 There are also some amazing natural attractions that you should definitely check out when you make your trip, whether you prefer to stop and hike or follow scenic drives to photograph some amazing views.
Lake Michigan
Palo Duro Canyon State Park, Texas (detour south of I-40)
Petroglyph National Monument, Albuquerque
El Malpais National Monument, New Mexico (detour south of I-40)
Coconino National Forest, Arizona (detour south of I-40)
Seligman, Arizona
Amboy Crater, California
Mojave National Preserve, California
San Bernardino National Forest, California
Things to know that can impact your driving time
Long stretches of this drive take you through sparsely populated areas where you're very unlikely to hit congestion. However, as you travel through major cities on the route, including Springfield, St Louis, Oklahoma City and Albuquerque, you should expect typical delays during morning and evening peaks.
On the first half of the route the interstate takes you quite far from the original route 66, and if you decide to try and follow the original route you'll be driving through city suburbs and small towns so expect to hit congestion. You can avoid this to an extent by sticking to the interstate.
As the route starts and ends in busy urban areas, you should also allow for congestion as you leave Chicago and head through Los Angeles at the end of the route.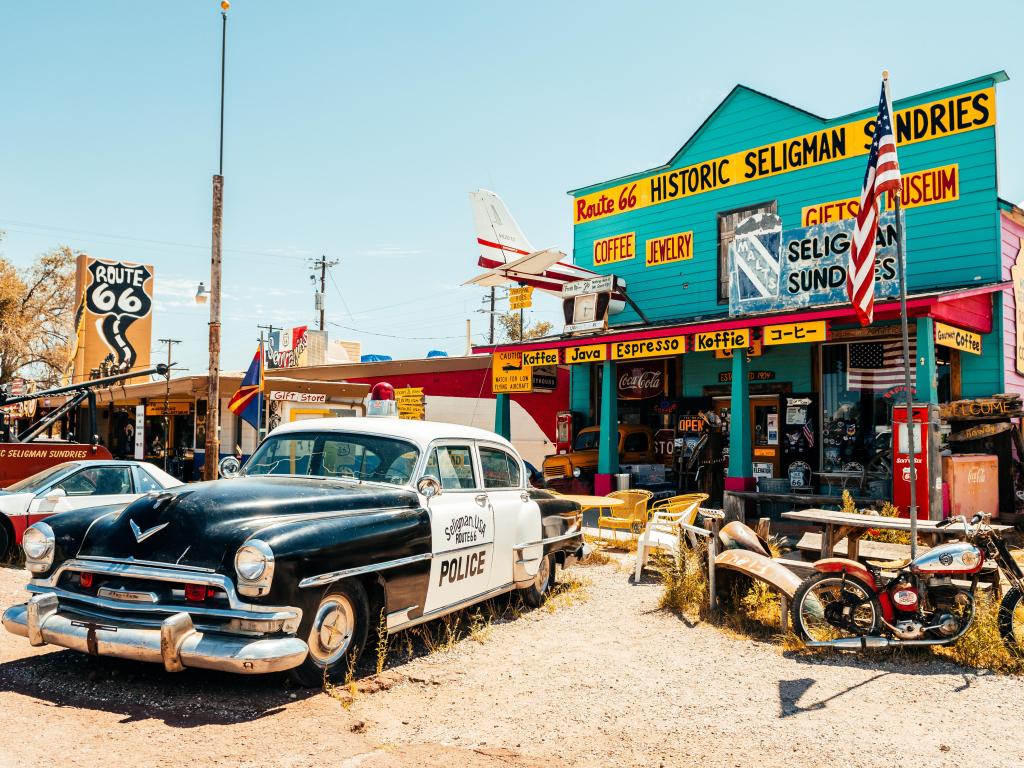 As with any long-distance road trip, you'll probably want to keep avoidable delays to a minimum. With this in mind, here are our top tips to drive Route 66 in the shortest time possible:
Have two drivers available so you can alternate and stay fresh.
Choose a comfortable but economical car so that you can minimize refuelling stops.
Avoid peak times as you're approaching the major cities along the route.
Stock up on snacks and in-car entertainment, to reduce the need for stops and detours
Consider flying to Chicago to begin your adventure – driving there can add several hours and hundreds of miles to your trip.
If you're renting a car, look for one-way rental options so that you don't have to factor in the long drive back.
It's also possible to drive the whole route along the interstate, which will reduce your total driving time if you're not worried about following every accessible section of the historic highway. This still connects all the major waypoints that are featured on Route 66.