Where to Stay Near Monument Valley
Monument Valley is a collection of striking, red sandstone buttes along the border of Utah and Arizona. Instantly recognizable from being featured in dozens of Western films since the 1930s, this is the principal landscape that comes to mind when thinking of the Southwest.
It's also at the heart of the Navajo Nation lands and has long been revered as a sacred site with a deeply regenerative energy. While not a national park, it should be on the radar of all nature lovers and people planning grand road trips around the Southwest.
Our top picks for the best places to stay near Monument Valley fill every niche from country-chic and resort-style spas, to rustic motels and hotels where the view alone is worth a night's stay. We've gathered places that fit every budget and style.
No matter where you decide to stay on this trip to Monument Valley, it will be a road trip you'll remember for a lifetime. Keep on reading to be inspired and start envisioning your next sojourn to the land of red rocks.
Where to stay near Monument Valley
Our recommended stops near Monument Valley

| Stopping point | Where to stay | Travel time | Distance |
| --- | --- | --- | --- |
| Monument Valley, AZ | The View | N/A | N/A |
| Oljato-Monument Valley, UT | Goulding's Lodge | 10 minutes | 5 miles |
| Bluff, UT | Mokee Motel | 45 minutes | 45 miles |
| Bluff, UT | Desert Rose Resort & Cabins | 45 minutes | 45 miles |
| Bluff, UT | Bluff Dwellings Resort & Spa | 45 minutes | 45 miles |
| Bluff, UT | Canyon Wren Bed and Breakfast | 45 minutes | 45 miles |
| Cortez, CO | Canyon Of The Ancients Guest Ranch | 1 hour 35 minutes | 90 miles |
| Mancos, CO | Mesa Verde Motel | 2 hours 30 minutes | 140 miles |
| Moab, UT | Hoodoo Moab, Curio Collection by Hilton | 2 hours 50 minutes | 160 miles |
| Tusayan, AZ | The Grand Hotel at the Grand Canyon | 3 hours 30 minutes | 190 miles |
Monument Valley is a loosely defined region on the Colorado Plateau, which is already 5,000 to 6,000 feet above sea level. Some of the buttes themselves stretch another 1,000 feet towards the sky, crafting a truly inspiring and memorable landscape.
While the most iconic cluster of monuments lies on the Arizona side of the border, this is a geographic region that stretches for miles and is dotted with interesting rock formations and canyons on the Utah side of the border, stretching all the way into southwestern Colorado.
While it draws tourists from all over the globe, there isn't a central city or town that serves as the main hub for people visiting Monument Valley. This means that there's a wide variety of places to stay depending on where you're coming from and what else you want to see and experience on this trip.
1. Hotel with the best views near Monument Valley
Location: Monument Valley, AZ
You can't get any closer to Monument Valley than this! You can get the best views by staying in the middle of Monument Valley, on the Arizona side of the border, at a hotel aptly named The View. The name says it all!
There is a truly unique place where you can actually stay inside the Navajo Nation Tribal Park, which is itself within the vast Navajo Indian Reservation.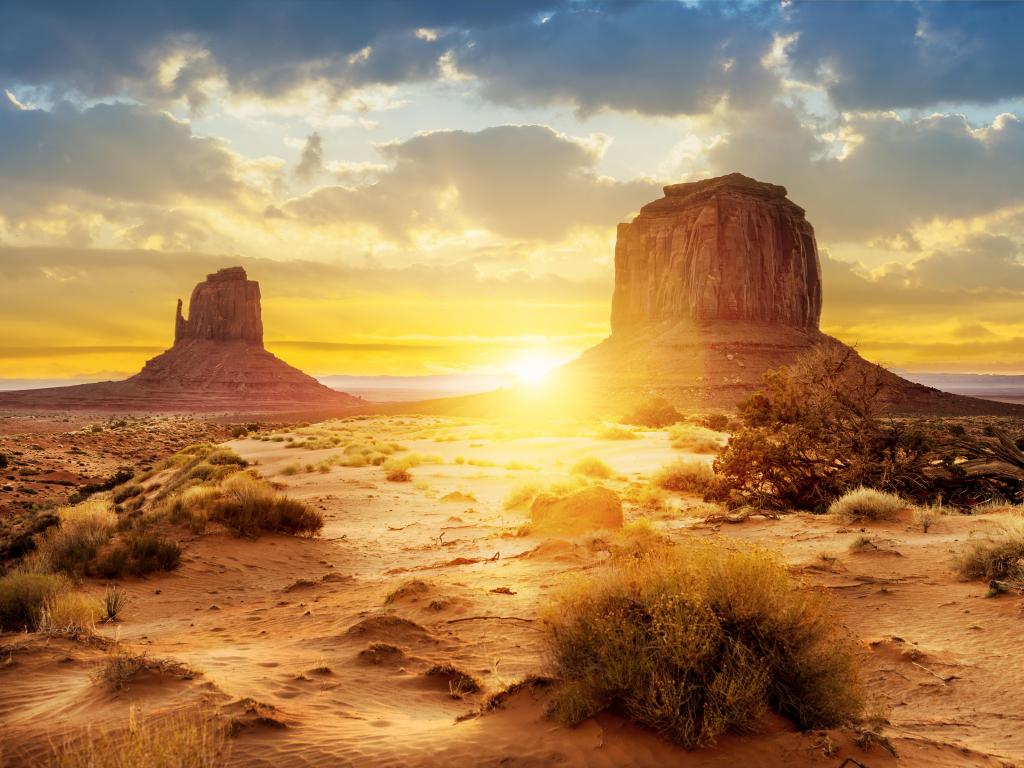 So in addition to offering unique access to the red sandstone bluffs, there are many opportunities to learn more about tribal culture and support the continuation of artistic traditions through buying handmade crafts.
The hotel is constructed long and narrow; each room has a private balcony which grants guests an inspiring vista at any time of the day or night.
Just imagine, after a day of driving around the incredibly scenic valley, coming back to a room and being able to see the Milky Way and shooting stars from your own balcony!
We admit the rooms are a bit dated, but they are very clean and the common areas really pop with pieces of Navajo art. You will have to pay a $20 entrance fee to access the hotel within the Tribal Park, but you'd have to pay to drive through here anyways and nothing beats staying in the lap of this awe-inspiring space.
Most of the trials in this part of Monument Valley require that you go with a Navajo guide; the only exception is the Wildcat Trail which begins at the hotel.
This is one of the few places on this list where you can truly take a break from driving and simply breathe in the amazing nature during your stay here.
2. Best value hotel near Monument Valley
Time from Monument Valley: 45 minutes (45 miles)
Location: Bluff, UT
If you're on a longer trip with a tight budget or are simply looking to save some dough, there are several budget options on this trip. The one that really stood out to us is the Mokee Motel in Bluff, Utah.
Bluff is about 45 miles from the Utah-Arizona border that runs through Monument Valley. It would take another 5 minutes to get to the Tribal Park in Arizona.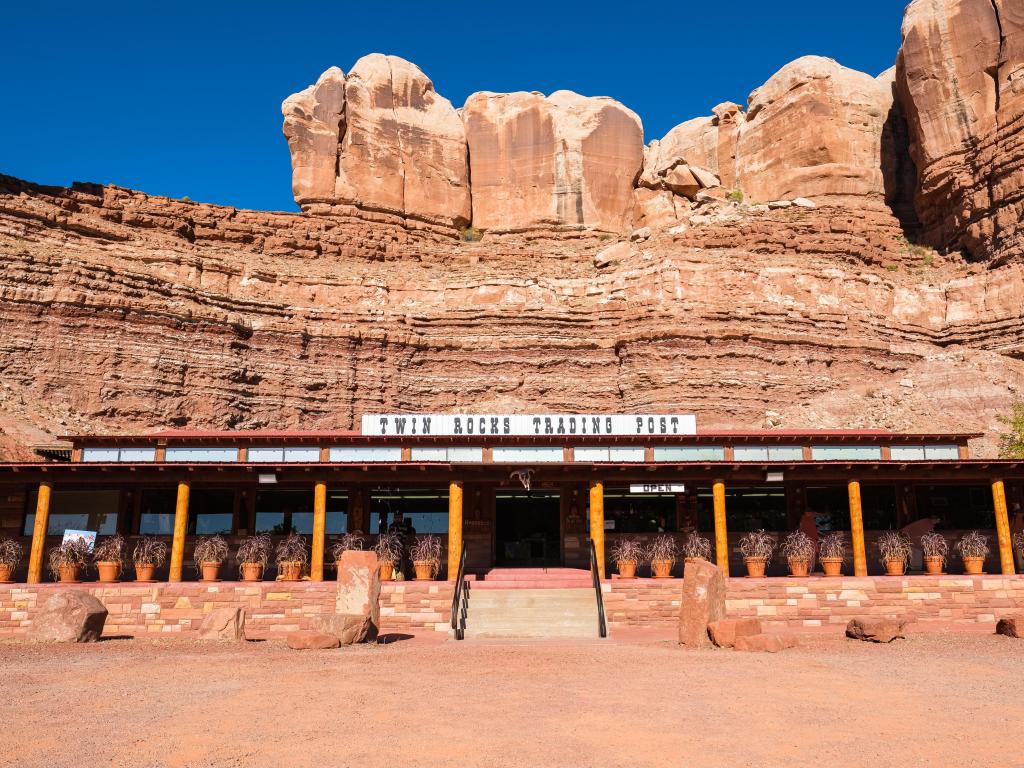 Bluff a small town that was only recently incorporated, yet it is the closest hub to Monument Valley, with a variety of lodging and dining options on the Utah side of the border.
As the name indicates, Bluff is filled with the signature blushing sandstone bluffs that make this region in the Southwest so special. It is right near a canyon formed along the San Juan River, where you can find lovely trails and go on a rafting trip.
The Mokee Motel is a classic roadside motel with all the right upgrades. In addition to being the best budget option in Bluff, it is surprisingly comfy and conveniently close to local eateries along Main Street. You'll also be met with friendly staff at check-in, which is always pleasant after a long drive.
Navigating to and from here is a breeze. Even though it is 45 miles from the official start of Monument Valley, it is already situated in a scenic area and you'll pass other natural monuments like Mexican Hat Rock on your way to the Utah-Arizona border.
3. Best luxury hotel near Monument Valley
Time from Monument Valley: 1 hour 35 minutes (90 miles)
Location: Cortez, CO
Luxury means different things to different people and on this trip, we're highlighting the luxury of a boutique ranch experience that perfectly complements the Old West vibes that reign on this trip.
The Canyon Of The Ancients Guest Ranch is not the typical place you might think of when booking a luxury option, but staying here provides you with a deeply immersive and unforgettable experience that comes with a premium price tag.
You are more than amply rewarded with a chance to stay smack dap in the middle of the breathtaking Canyon of the Ancients, which is home to thousands of archeological sites, just outside Cortez, CO.
Hemmed between several national parks and monuments, Cortez is a tantalizing regional hub in southern Colorado for anyone who loves the outdoors as well as Native American Heritage, making it a great compliment to visiting Monument Valley.
The Cortez Cultural Center is a treasure trove of cultural artifacts as well as a venue for living traditions where you can attend a regular schedule of Native American dancers.
Cortez is most famous for being near Mesa Verde National Park, which has some fantastically preserved Puebloan cliff dwellings, as well as the Four Corners Monument. Given the sparse population density in this part of the country, it is also considered one of the nearest towns to Monument Valley.
The Canyon Of The Ancients Guest Ranch is located a east of Cortez along a small country road that continues across the Utah border and links up with Utah Route 162 (UT-162), making it even closer to Monument Valley.
It is still over an hour's drive from where the towering red bluffs start to make their appearance on either side of the road, but the route is still filled with enchanting Southwestern scenery.
Each cabin at the ranch is uniquely crafted with local wood and stone. They're simply bursting with charm as well as equipped with full kitchens so you can prepare your favorite meal to pair with yet another incredible Southwestern sunset.
The kind couple who run the ranch even invite you to partake in daily activities like feeding the adorable animals or tending the organic garden. They are a treasure trove of local knowledge and add a curated touch to staying here that is worth every penny.
4. Best lodge-style stopover near Monument Valley
Time from Monument Valley: 10 minutes (5 miles)
Location: Oljato-Monument Valley, UT
Just like a ranch evokes those Old West feelings, a lodge-style accommodation with cabins and rooms that seem to blend into the bluffs is another choice place to stay on a trip like this.
Goulding's Lodge blends in seamlessly with its surroundings. While the views aren't quite as up-close and immersive as at The View, they are still striking nonetheless.
Many rooms and cabins are positioned to give you unfettered views that make you feel like you're out on the frontier. You won't believe your eyes when you wake up to an epic sunrise over the distant monuments on the Arizona side of the monument!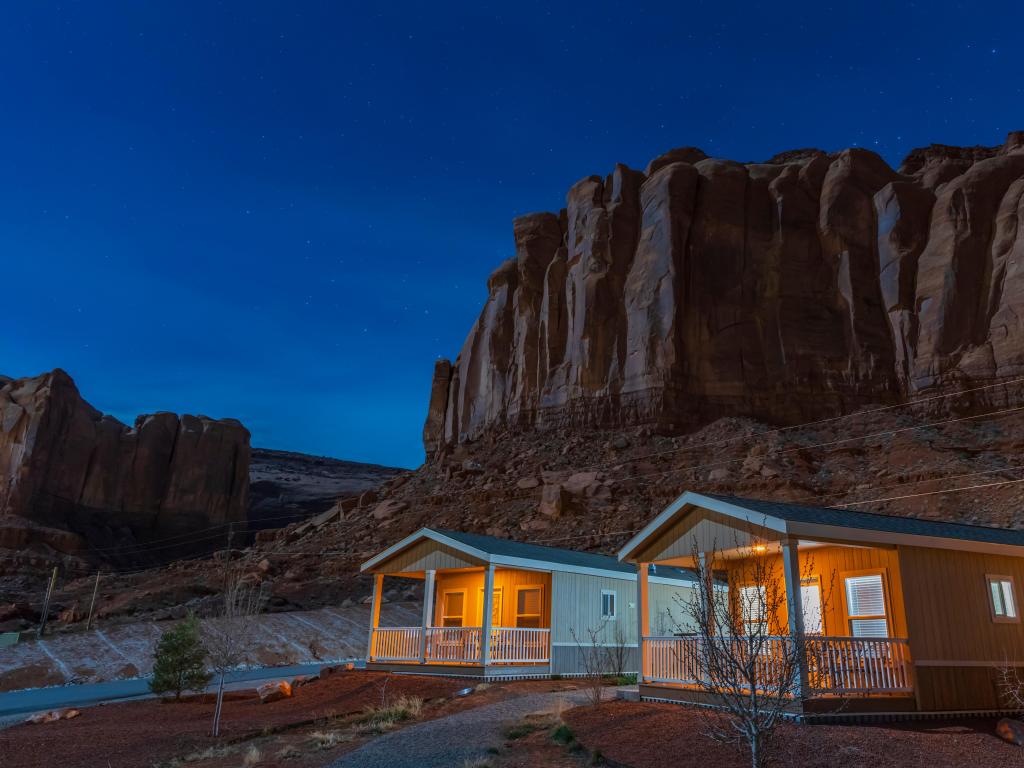 The rooms are modern and clean and there's even an indoor pool so you can refresh yourself and escape the sun for a while. There's also a solid restaurant on the grounds where you can get some flavorful Southwestern fare.
Located in a rural hamlet called Oljato-Monument Valley smack dab on the Utah border, Goulding's Lodge is still a few miles from the Entrance to the Navajo Tribal Park in Arizona where you can drive the main scenic route around all the towering sandstone pillars.
Aside from a small regional airport and a small museum dedicated to the many Westerns that were filed here, there's not much to distract you from the surrounding sandstone marvels. The main monument worth noting here is the Insta-ready Goulding Arch.
There are a few particularly convenient amenities in this hamlet around Goulding Arch which are extra handy for road trippers, like a grocery store, laundry service, and even a car wash.
5. Best resort near Monument Valley
Time from Monument Valley: 45 minutes (45 miles)
Location: Bluff, UT
We completely sympathize with wanting a few extra creature comforts on a road trip, especially as a more seasoned traveler.
At the Desert Rose Resort & Cabins you can look forward to heavenly soft beds and a touch of luxury without the hidden resort fees. With stylish rooms and a restaurant with a solid menu on site, this place might just be a highlight of your trip.
Many of the rooms also have a rustic, lodge-style feel with exposed beams and there's a gorgeous lobby with an impressive stone fireplace.
This is a place to consider if you're planning a family trip as they have stand-alone cabins where you can have some quality family time, as well as an indoor swimming pool so the little ones can splash about without risking sunburn.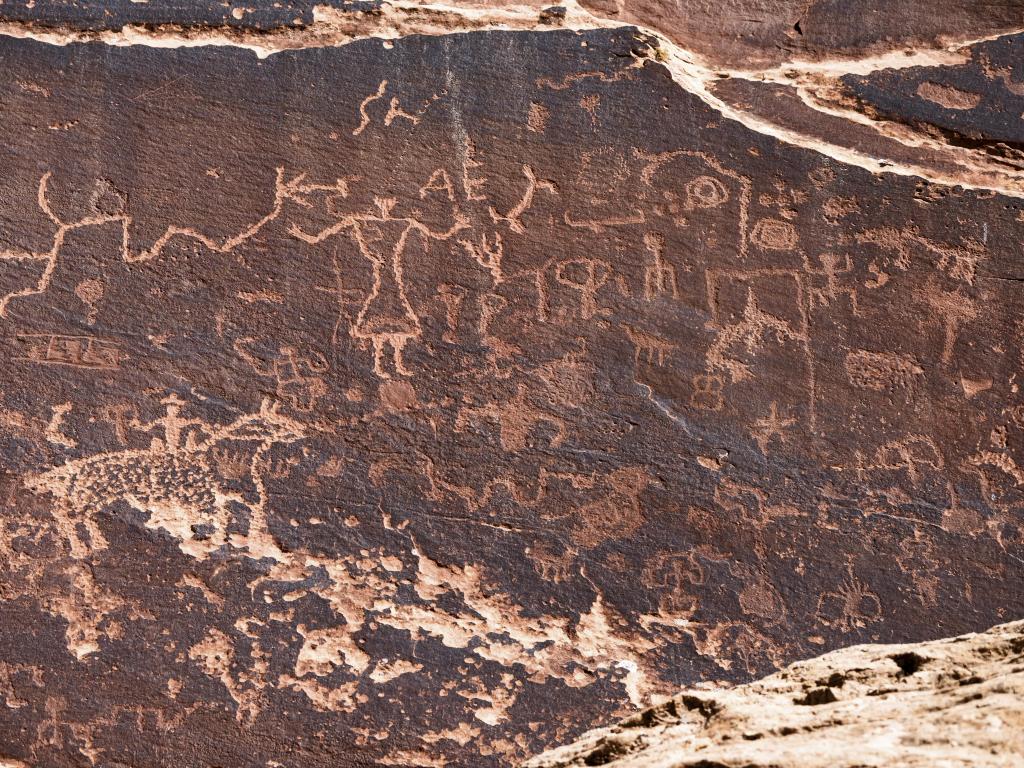 This hotel is also in Bluff, UT and you'll notice that we've put a few places from Bluff on this list since it is really one of the most convenient places to base yourself for a trip to Monument Valley.
As with the other properties here, you'll reach Monument Valley in less than an hour's drive, and there are a few local gems to explore here as well.
A must-see stop for lovers of Native American culture and archeology, in general, is the fantastically preserved Sand Island Petroglyphs. Some of these etchings in the stone are believed to be up to 3,000 years old!
6. Best hotel for families or groups near Monument Valley
Time from Monument Valley: 45 minutes (45 miles)
Location: Bluff, UT
If you're planning a big, fun family trip or a group getaway with friends, then the Bluff Dwellings Resort & Spa is a wonderful option. You'll find this gem alongside the others in beautiful Bluff, UT.
All the rooms have a clean and modern feel, but in addition to traditional rooms, they also have several stand-alone dwellings that can accommodate more people and give the group a bit of privacy.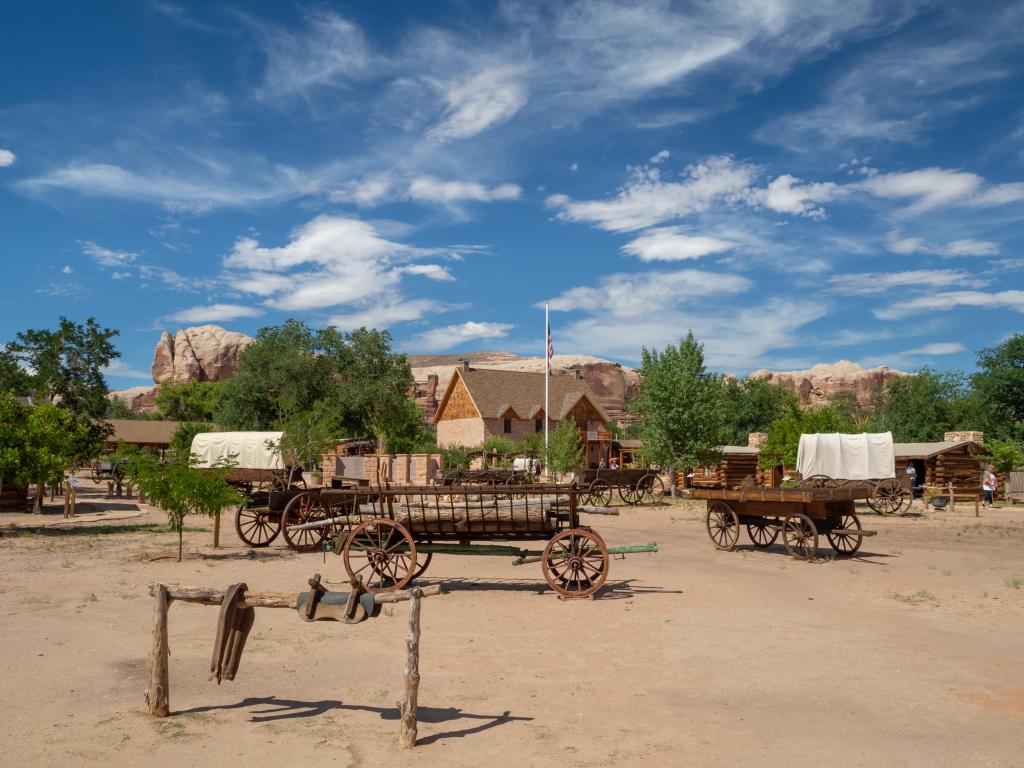 Nestled between striking red bluffs, this place has the best pool and patio areas for post-hike hangouts and late-night giggles under the stars. It is also a more upscale accommodation with and a luxurious spa on the premises, so you can get that massage you've been putting off for too long.
Located near the junction of US Route 191 and UT-162/Mission Road, this is a convenient hotel for people coming from the north or east. It is also an easy drive from the main constellation of monuments near the border. You can read more about things to do in Bluff in the entries above.
7. Best retro motel near Monument Valley
Time from Monument Valley: 2 hours 30 minutes (140 miles)
Location: Mancos, CO
Some places are simply worth the drive. Any seasoned road tripper knows a good vibe when they catch one and that's the feeling we got from the Mesa Verde Motel in Mancos, CO.
Mancos is close to Cortez but smaller. The town still boasts a great Mexican restaurant and are even closer to the Mesa Verde National Park and it's utterly fascinating Visitor's Center. There are also a handful of ranches here that offer horseback tours of the surrounding area.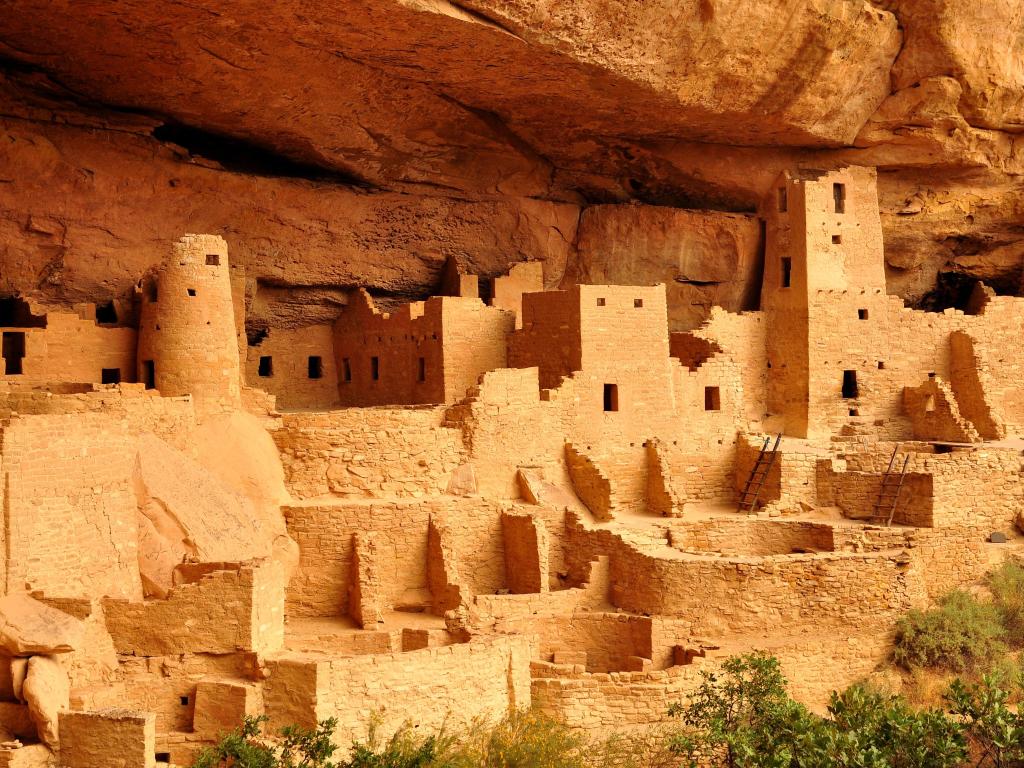 The Mesa Verde Motel is one of the most stylish updates of a classic 1960s motel we have ever seen. Bursting with character and bedecked with original wall art, you can feel the love poured into this place.
They also have pet-friendly rooms in case you decide to bring Fido along for the journey.
Here you can relax in the evenings in their hot tub or rub elbows with the other savvy trippers around their adorable fire pit. This motel really makes the most of its compact space.
This location works best if you're coming from Denver or planning on passing through Colorado on your trip, as it is admittedly a little ways from Monument Valley.
8. Best B&B near Monument Valley
Time from Monument Valley: 45 minutes (45 miles)
Location: Bluff, UT
If you treasure a homey experience and actually getting to know your host, then the Canyon Wren Bed and Breakfast is the best B&B style accommodation you could hope for. Once again, you'll find this humble abode along the country roads of Bluff, UT.
With an adorable log cabin aesthetic, fitting snuggly between the area's characteristic rock formations, it has oodles of atmosphere. To sweeten the deal even further, they have a hot, lip-smacking breakfast on offer every morning.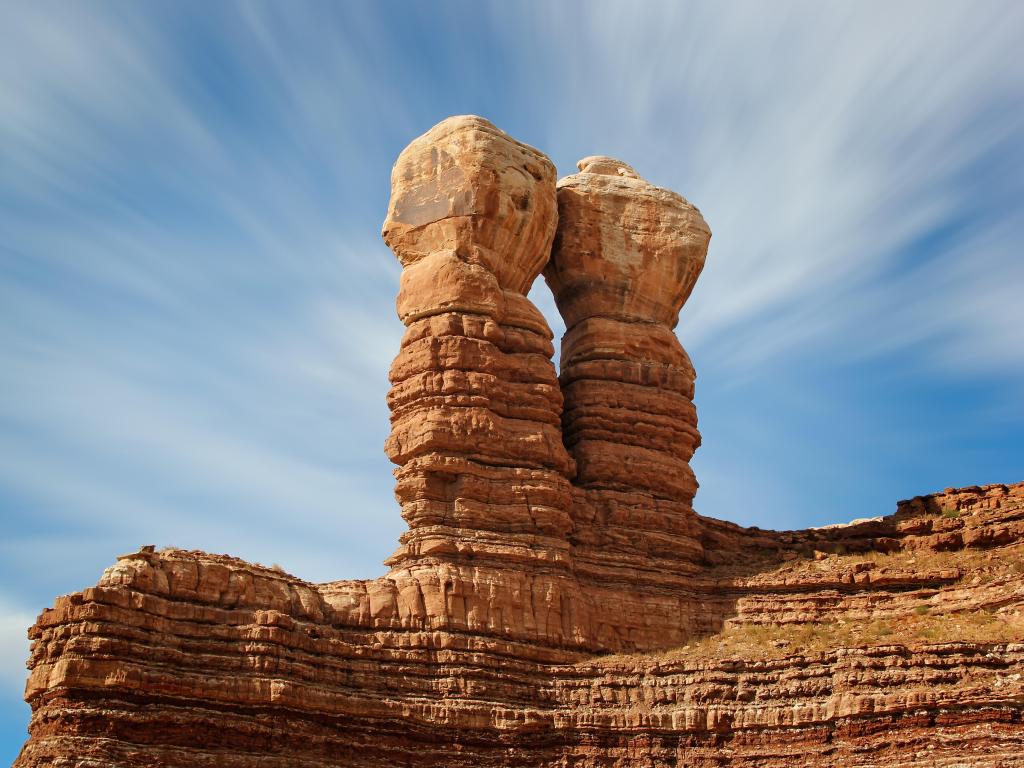 It is a genuine B&B and not all of the rooms have their own en suite bathroom, so keep this in mind if it a deal breaker for you. We think the charming atmosphere and intimacy makes this a stand-out B&B in a world where human connection can be hard to come by.
When you drive this far to visit natural wonders like Monument Valley, you'll inevitably be tempted to explore nearby areas that are equally rich and exciting.
Staying in Bluff gives you access to some gorgeous stretches of the San Juan River and you'll drive past other photogenic monuments on your way to the valley.
9. Where to stay on weekend road trip near Monument Valley
Due to its isolated location amid a truly enticing corner of the US, people rarely make a trip to Monument Valley without seeing the other natural wonders that lie all around it.
To the north you'll find Canyon Lands and Arches National Park, to the east Zion Canyon and Bryce Canyon National Parks, to the west Mesa Verde National Park, and to the south the Grand Canyon.
Here are our suggestions for places to stop if you're coming from two of these four cardinal directions.
Stop 1: Moab, Utah
Time from Monument Valley: 2 hours 50 minutes (160 miles)
Moab is known for being on the edge of the surreally beautiful Arches National Park and is just a few hours north of Monument Valley on US-191. It's also a popular mountain biking destination surrounded by rugged trails between red rocks.
If you feel like you really need a place to be pampered after many hours exploring the Utah desert, look no further than the Hoodoo Moab, Curio Collection by Hilton. In addition to a thoughtful and sleek design, this hotel makes the most of its stunning surroundings in the Moab Valley.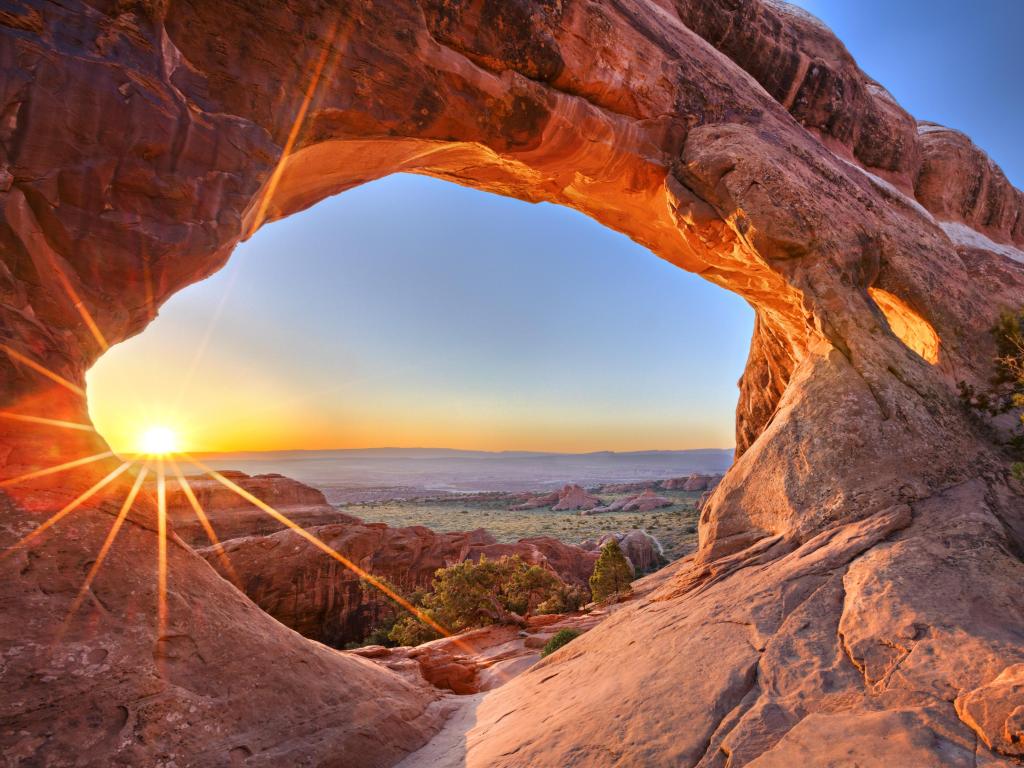 There is a beautiful pool and full-service spa where you can relax and enjoy the views of the surrounding bluffs, then wind up your night at their delicious in-house steak and sushi restaurant.
This hotel's luxury is complimented by its location; being right off Main Street you can find even more dining options and cute shops a short walk away. It is only a 10-minute drive from Arches National Park and a 35-minute drive from Canyonlands National Park.
Stop 2: Grand Canyon National Park
Time from Monument Valley: 3 hours 30 minutes (190 miles)
In addition to being a must-see natural wonder, including a stop by the Grand Canyon is only a slight detour for routes coming from cities to the south and west of Monument Valley, like Phoenix, Las Vegas, and Los Angeles.
The Grand Canyon National Park is one of the most visited national parks in the whole country, and for good reason. Words simply can't describe the awe you feel as you peer over the ledge at the striated walls of the canyon, which reveal over a billion years of the earth's geological history.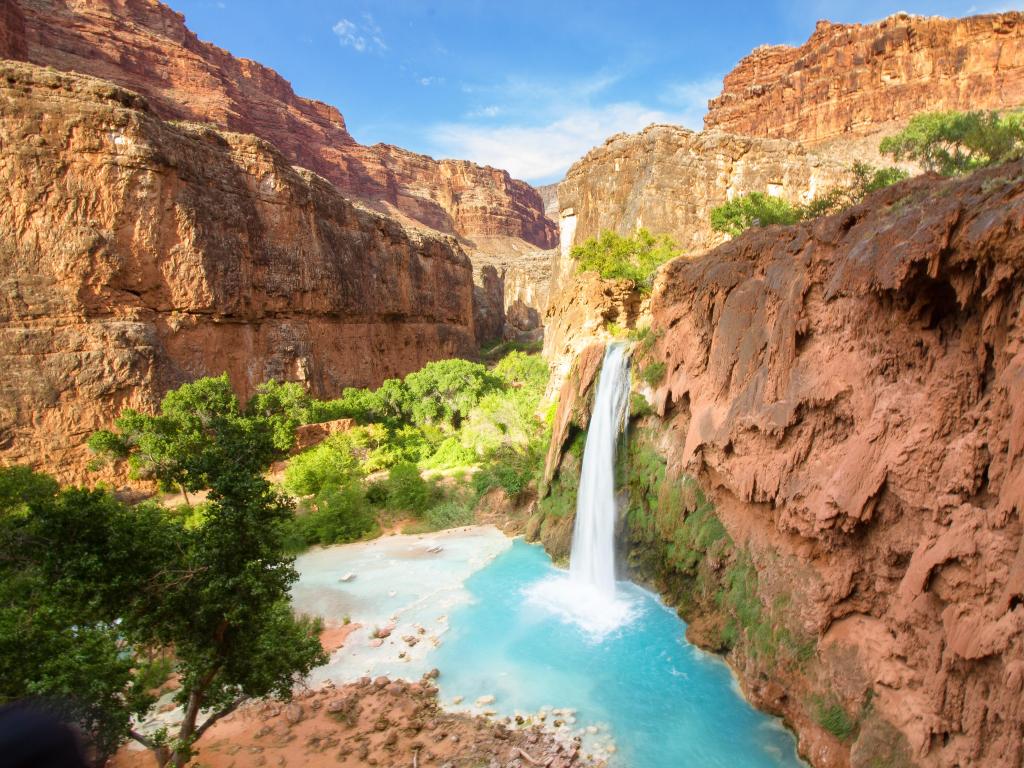 While there are several hotels within the park boundary, you'll often find yourself paying a premium for the views. A great alternative just outside the park in Tusayan is The Grand Hotel at the Grand Canyon, about a 15-minute drive from the entrance to the Grand Canyon and on the route for anyone coming via Interstate 40.
Tusayan is known as the "Door to the Grand Canyon" and a regional airport as well as a shuttle to the park can both be found in this small, friendly town. After so much driving it is a relief not to have to vie for parking at your own hotel and find everything you need right on the premises.
This comfortable hotel has many amenities like a pool, hot tub, fitness center, onsite restaurant and bar. Just in case you look forward to stretching your legs in a new place, this hotel is also conveniently located near the town's main drag where you can find a few more Southwestern restaurants and rustic stores.
Hopefully, at least one of these hotels has piqued your interest and has you planning a tune-up to get your car in tip-top shape for a Southwestern adventure through Monument Valley!