Road trip from Las Vegas to Yosemite National Park
Combining Nevada's gorgeous deserts and California's finest parks and forests into an epic adventure, the road trip from Las Vegas to Yosemite National Park is one you'll remember forever.
The 370-mile road trip from Las Vegas to Yosemite National Park will take 6 hours 20 minutes of driving. The route passes through Death Valley, Inyo National Forest, and Mammoth Lakes, or via Bakersfield and past Sequoia and Sierra National Forests.
You could miss some amazing places if you so much as blink on the way, so read on to get an idea of what you're in for.
How far is Yosemite National Park from Las Vegas and how long will the road trip take?
Comparison of road trip routes between New York and Boston

| Route | Distance | Driving Time |
| --- | --- | --- |
| The Tioga Pass Route | 370 miles | 6 hours 20 minutes |
| The Central California Route | 510 miles | 9 hours |
The road trip from Las Vegas to Yosemite National Park can be done in about 6 hours 20 minutes and covers around 370 miles. The scenic itinerary will have you driving along Death Valley, then the impossibly scenic Sierra Nevada range and its constituent parks.
Although you could definitely do this drive in a day, gas and food breaks included, you'll definitely want to stretch it out as much as possible in the interest of seeing everything there is to see on the way.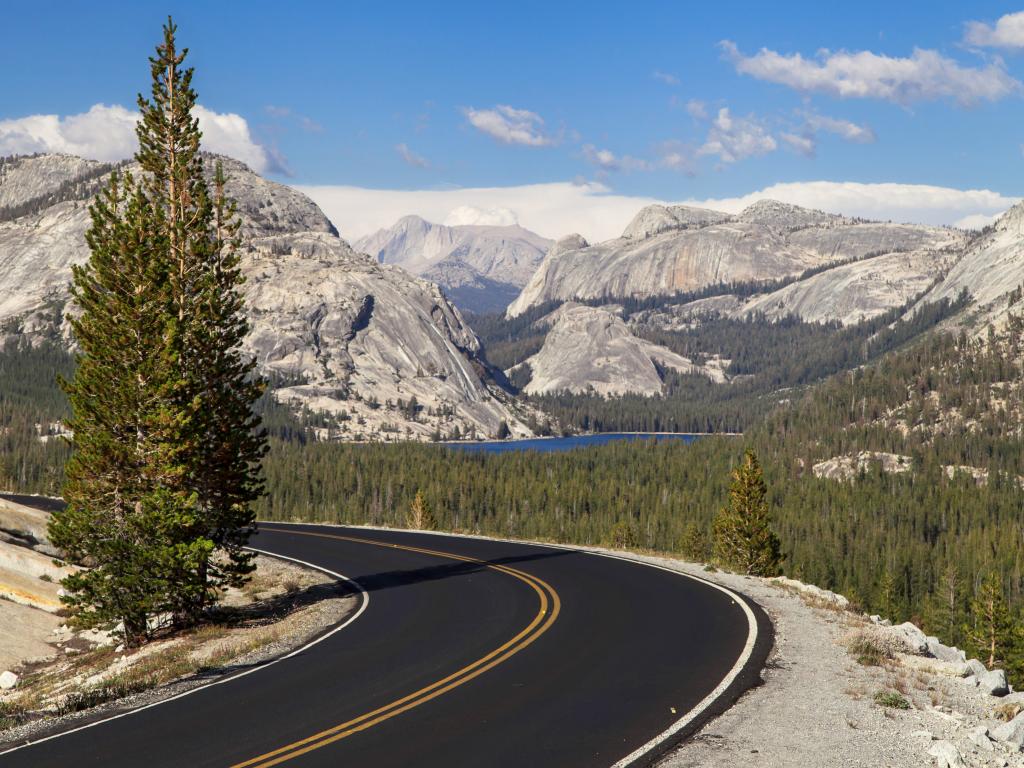 This route comes with a serious caveat - you can only enter Yosemite from the east (via Tioga Pass) between May and November. If you want to visit the park another time of year, you'll have to drive around the Sierras and cut through most of central California.
In other words, during the rest of the year, your best option is a 9-hour drive covering about 510 miles. This route trades the Sierras for a series of beautiful forests and some larger cities, so think of it as a comparably scenic alternative.
Best road trip route from Las Vegas to Yosemite National Park
The best road trip route from Las Vegas to Yosemite National Park depends on what you're after - if you're aiming for speed and are traveling the right time of year, driving along the Sierras is the quicker option, on top of being scenic.
With that said, it's definitely worth considering the longer route too, since you get to see some beautiful landscapes unique to it, on top of having several large cities at various points of the trip.
If you choose to travel on the Central California Route, you will use the South Entrance to the Park, whereas the Tioga Pass Route will take you to the Tioga Pass Entrance (closed in winter). If you prefer to use another entrance, you can use our detailed guide to help you decide.
How to drive from Las Vegas to Yosemite National Park
The map above shows our suggestions for the best road trip routes between Las Vegas and Yosemite National Park. Keep reading for detailed descriptions of both routes, where to stay on either, and the best things to do on the way.
The Tioga Pass Route
Follow U.S. Route 95 out of Las Vegas, past Red Rock Canyon National Conservation Area. Follow the highway along Death Valley, then take State Routes 266 and 168 to get into California and onto Highway 395 at Big Pine.
Stop a bit further north at Bishop if you want, then continue past a series of scenic Sierra Nevada peaks and pass Mammoth Lakes on the way to Inyo National Forest.
Once you're (literally) out of the woods, make a left onto State Route 120 when you see Mono Lake to your right, and follow it through Tioga Pass. On this route, you will use the Tioga Pass Entrance (open in the summer months).
The Central California Route
Take Interstate 15 south out of Las Vegas and follow it between Mojave National Preserve and Death Valley. At Barstow, get on US Route 58 and follow it all the way to Bakersfield.
Going north from here, you'll be passing directly through Fresno, and just past Sequoia and Kings Canyon National Parks. Once in Fresno, take State Route 41 north and pass Sierra National Forest, and you'll soon pass through Oakhurst and Fish Camp to reach the South Entrance of Yosemite National Park.
Best places to stop between Las Vegas and Yosemite National Park
Much of California is laid out with tourism in mind, so you can expect to find plenty of amazing accommodation on the way from Las Vegas to Yosemite National Park. If we had to pick the best hotels available during this trip, it would have to be these:
Relax in a literal oasis in Death Valley
As scorching as Death Valley can get in the summer, the park is incredibly popular with many of the States' most famous entertainers. A lot of that has to do with the world-class resorts, the best one being The Inn at Death Valley.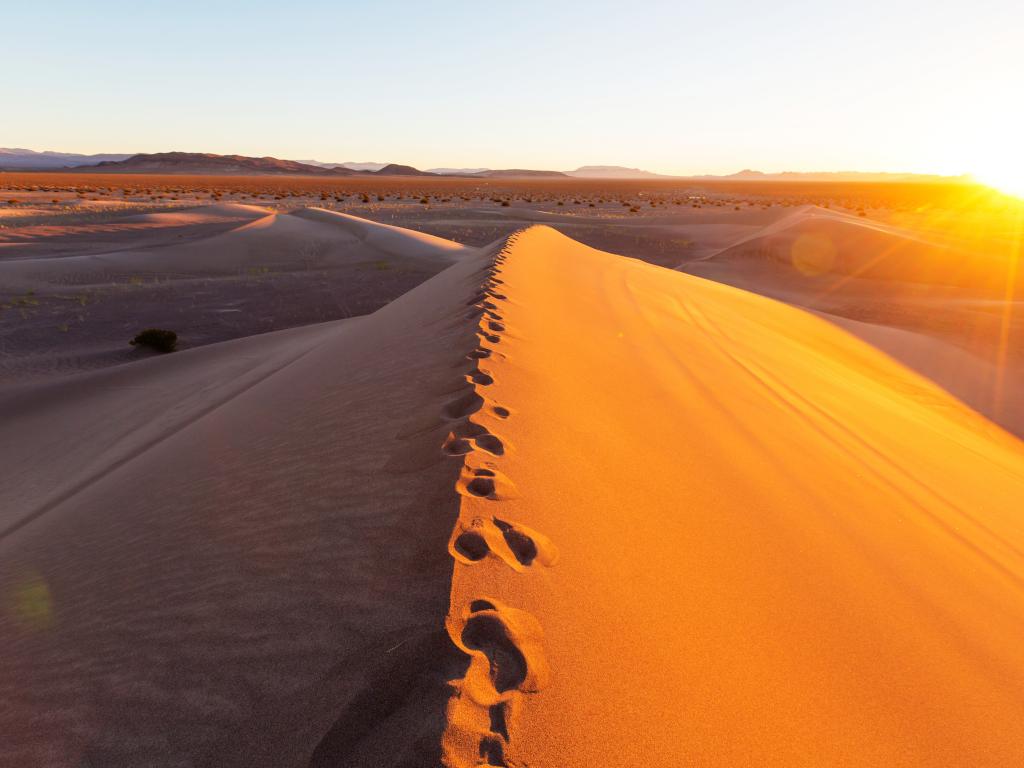 You'll need a place to cool off after a grueling, sweaty hike, and The Inn does not disappoint – thanks to the beautiful outdoor pool featuring loungers and a gorgeous fireplace, you'll be patting yourself on the back for having found such a perfect respite from the Mojave heat.
After exploring the beautiful property, you can further unwind with a massage at the spa, have a traditional meal at the on-site restaurant, enjoy a drink before bed at the bar, or even try your hand at golf or a variety of other sports and activities.
Rooms at this hotel are costly, but think of it this way – if Matt Damon and Martin Sheen ever slept in your hotel room, you'd have plenty of reasons to charge a hefty sum too!
Soak in the scenery at Yosemite National Park
The biggest obstacle in trying to plan a trip to Yosemite might be finding a fairly priced hotel. Different parts of the park shine at different times of the year, but the Tenaya Lodge, with its countless on-site activities, is always an amazing choice.
Yosemite is all about the outdoors, and Tenaya Lodge really drives that point home – what little time you're not spending exploring the park, you'll be partaking in a variety of activities like rock climbing, archery, and skiing.
On top of that, with 4 spectacular on-site restaurants to choose from, you can expect to always be full and ready to take on another Yosemite adventure.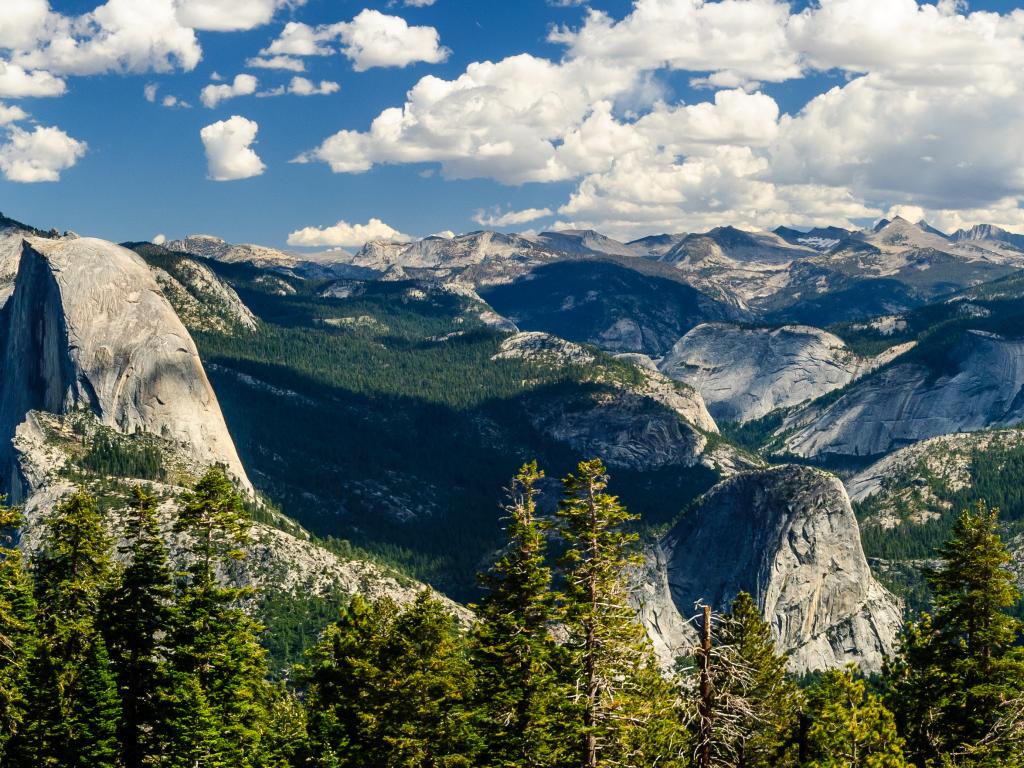 In the evening, you can relax in the swimming pool in the communal area, with a green, mountainous backdrop that's as scenic as scenic gets. Before heading off to sleep, tucker yourself out with a visit to the on-site spa, or keep it simple and have a drink at the bar.
Finally, Tenaya Lodge is the most fairly priced hotel in the Yosemite area, bar none. You'll mostly be within walking distance from everything you could want to visit in the area (or, worst-case scenario, a short drive away), and the service at the resort is impeccable to boot.
Things to see on a road trip from Las Vegas to Yosemite National Park
Although it's hard to quantify, getting from Las Vegas to Yosemite National Park is just as much of an adventure as the park itself, if not more. What you'll want to do is give yourself a couple of weeks to check out all of the following places:
Red Rock Canyon National Conservation Area – providing the iconic rocky backdrop to the city of Las Vegas, this area is definitely worth checking out up-close. You might need to make a reservation for a timed-entry slot, so check the official website before traveling.
Death Valley – while its reputation as the hottest place in North America precedes it, an informed and researched visit could result in an unforgettable experience
Bishop – a much-welcomed city to take a break in after slicing through the Mojave Desert
Manzanar – despite (or rather, because of) its gruesome history with mass incarceration of Japanese-Americans, Manzanar remains a very important historical relic to this day
Inyo National Forest – home to Mt Whitney, one of the tallest peaks in all of the States, this forest is as epic as they come
Mammoth Lakes – although it probably thrives the most in colder seasons, the fairytale-like quality of this town makes it very hard to pass up
Mono Lake – less of a swimming spot and more of a scenic curiosity, this saline lake is also one of the oldest in the States
Stanislaus National Forest – a lush forest bearing the name of the Stanislaus River, which cuts right through it
Bodie State Historic Park – what used to be a booming miner's town is now a popular destination for self-directed tours
Mojave National Preserve – featuring both Joshua trees and the abandoned town of Kelso, there's a little something for everyone at this preserve
Calico – lots of effort has gone into keeping this now-abandoned silver mining town as similar to its original design as possible
Bakersfield – barring Las Vegas itself, this is the biggest city along the route and one of its more glaringly obvious stopovers
Sequoia and Kings Canyon National Parks – the beautiful wildlife and the world's largest trees help these parks stand out among their stiff Californian park competition
Fresno – this city's surrounded by all manner of beautiful landmarks, technically making it the proper west gateway into Yosemite National Park
Sierra National Forest – this forest stands out among its neighbors thanks to its beautiful, crystal-clear lakes
Mariposa Grove – this beautiful adjunct to Yosemite is home to some of the oldest and biggest sequoias known to exist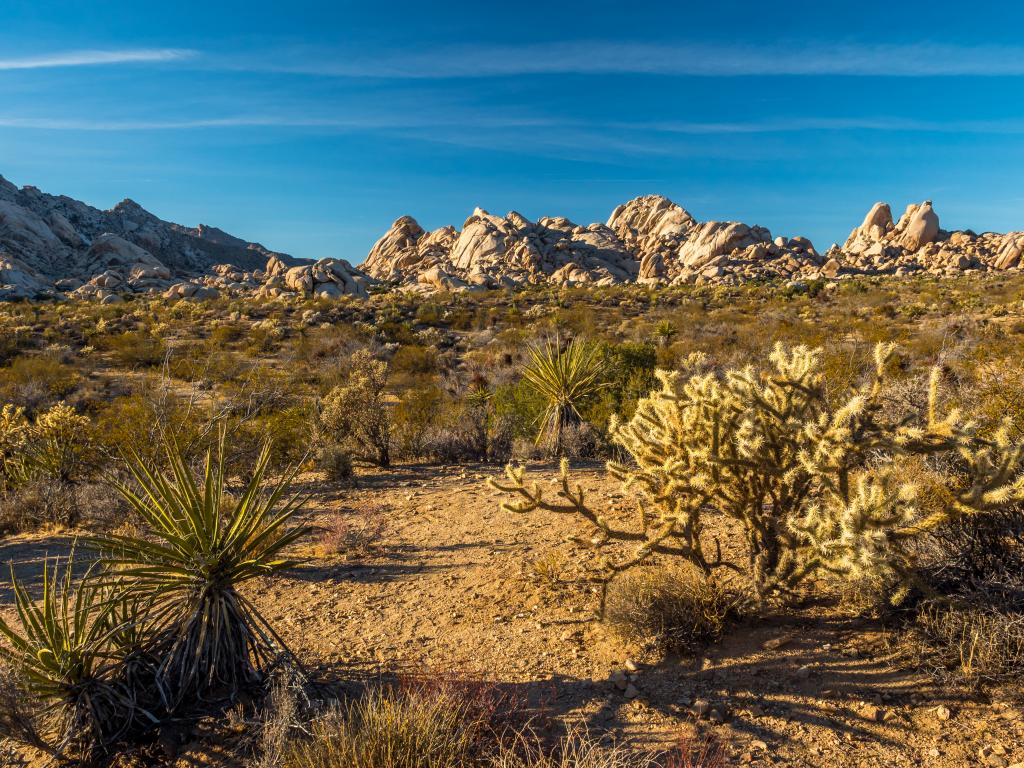 Best time to go on a road trip from Las Vegas to Yosemite National Park
The great thing about doing a road trip from Las Vegas to Yosemite is that the park is among the most welcoming nature retreats in the States, no matter the season.
One thing that slightly complicates matters is Vegas' position relative to Yosemite - the only way to enter the park from the east is only available for about half a year, with the exact opening and closing dates depending on the weather in a particular year.
Assuming this isn't a problem for you, you can do the trip in the summer, when most people visit the park for the nature views and the easy access to hiking trails.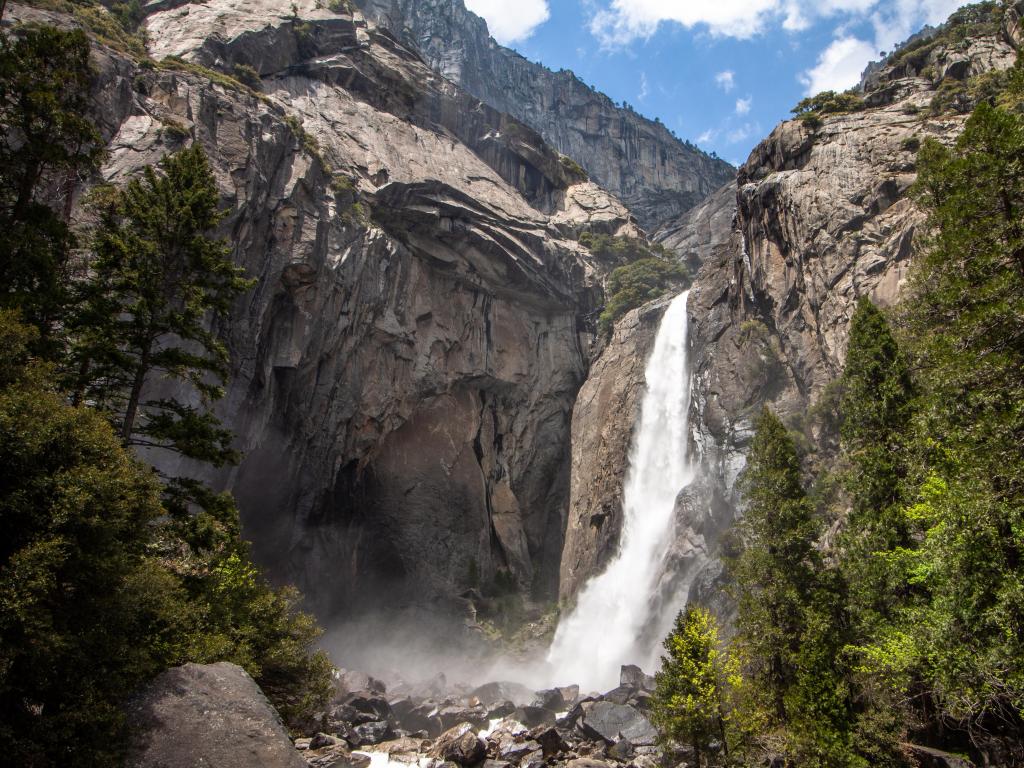 Avoiding crowds is also quite simple - visiting in May or September should guarantee you a quieter and cheaper stay. September is probably the safer of the two options, as you might get the occasional inaccessible road even in late spring.
The abundance of wintertime activities makes December, January, and February great months to visit the park. It's also convenient that you'll be passing through Bakersfield and Fresno, giving you some stopovers if the weather catches you off-guard.