Road trip from Denver to Glacier National Park
If you are looking for an epic scenic road trip that takes you past many of America's natural wonders and historical sites, leading to the rugged beauty and beautiful wilderness of Montana, this road trip from Denver to Glacier National Park is the adventure you have been looking for!
The 1,100-mile road trip from Denver to Glacier National Park takes 18 hours via Yellowstone National Park, Jackson, Grand Teton National Park, West Yellowstone, Big Sky and Great Falls, or Mount Rushmore, Rapid City, Devils Tower and Miles City.
Take this memorable journey from Denver to Glacier National Park and you can be sure of a route packed interesting sites, stunning landscapes, and cultural highlights of the American West. Read on to see the best places to visit, stopover and explore as you make this unforgettable journey.
How far is Glacier National Park from Denver, and how long will the road trip take?
Comparison of road trip routes between Denver and Glacier National Park

| Route | Distance | Driving Time |
| --- | --- | --- |
| The Yellowstone National Park Route | 1,055 miles | 17 hours 45 minutes |
| The Mount Rushmore Route | 1,140 miles | 18 hours 15 minutes |
We have set out two stunning routes that can take you on an amazing journey from Denver to Glacier National Park. Follow the Yellowstone National Park Route and you'll cover a distance of 1,055 miles, with a driving time of about 17 hours and 45 minutes without detours.
Alternatively, the memorable Mount Rushmore Route spans 1,140 miles and would take around 18 hours and 15 minutes of driving to reach Glacier National Park.
We suggest setting aside 5-6 days for this amazing road trip, allowing plenty of time to enjoy the scenic drives and numerous stops along the way. There are also several small detours you can make to explore other magnificent national parks and natural wonders too.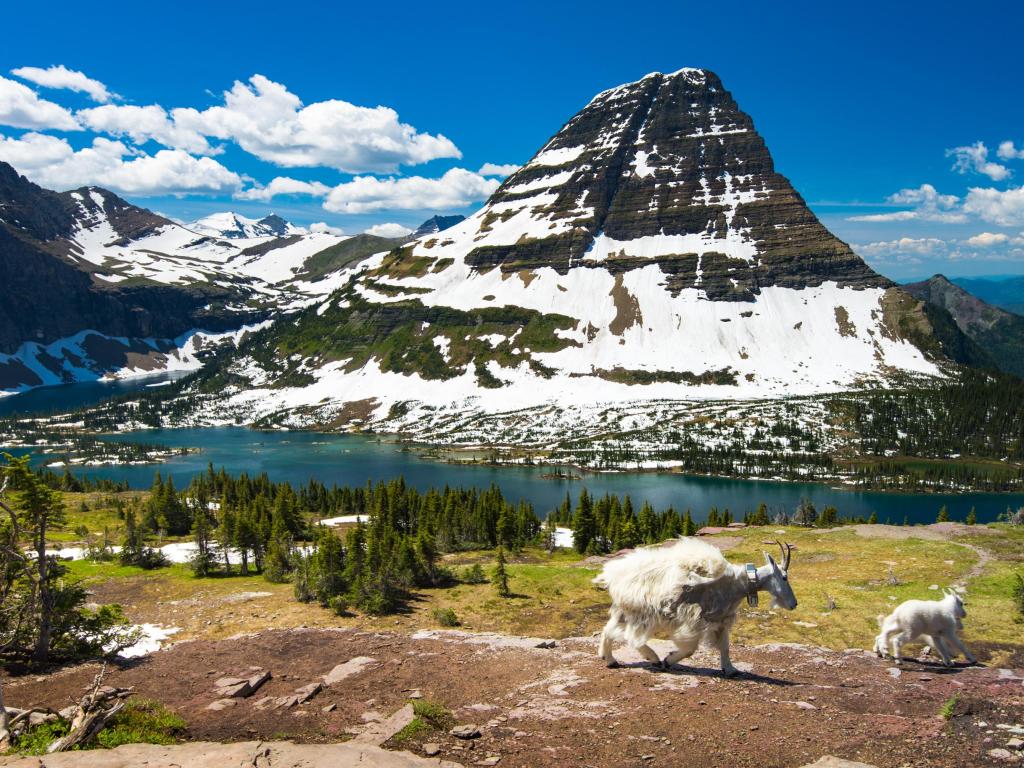 Best road trip route from Denver to Glacier National Park
Both routes we recommend on a drive from Denver to Glacier National Park offer the very best of America's natural and historic attractions.
The Yellowstone National Park Route features some of the most iconic national parks in the US; Grand Teton and Yellowstone. Beautiful stops, including Snake River Overlook in Grand Teton National Park, mean you can enjoy breathtaking views of the Teton Range and Snake River.
If you fancy more of a balance between natural landscapes with urban and historical landmarks, then head along the Mount Rushmore Route.
You will not want to miss the Norbeck Overlook, with panoramic views of Black Hills and the profile of Mount Rushmore. Just before arriving at Devils Tower National Monument, you can also enjoy an unrivaled, up-close view of the tower itself.
Please keep in mind that if you plan to visit Rocky Mountain National Park on either route, you might need a reservation and book your time slot ahead. Check the official website for more information.
How to drive from Denver to Glacier National Park
The map above shows our suggestions for the best road trip routes between Denver and Glacier National Park. Keep reading for detailed descriptions of both routes, where to stay on either, and the best things to do on the way.
The Yellowstone National Park Route
As you start your journey from Denver, head northwest via Interstate-25 (I-25) and then US-287 towards Medicine Bow-Routt National Forest. Spanning over 2.2 million acres, this forest is perfect for hiking and wildlife spotting.
Jump onto I-80 and then US-191 via Museum of the Mountain Man in Pinedale, and towards Grand Teton National Park. Here, you can explore the area, including Jenny Lake, a glacial wonder nestled within the park.
Nearby, the National Elk Refuge in Jackson offers a sanctuary for elk herds, which you can visit before heading to the entertainment-packed Jackson Hole Rodeo.
Afterwards keep driving to the iconic Yellowstone National Park, the home to the famous Grand Prismatic Spring, with vibrant colors, before staying a night or two at nearby West Yellowstone.
Then head north along US-191 to reach the renowned Big Sky resort area, not forgetting a tranquil stop at the Gallatin River — a haven for fishing enthusiasts.
Continuing your journey northeast via US-287 and then I-15 you reach vibrant Great Falls, where a visit to Freezout Lake, a bird watcher's paradise, is a must. Shortly after you will arrive in the memorable crown jewel of the journey, Glacier National Park.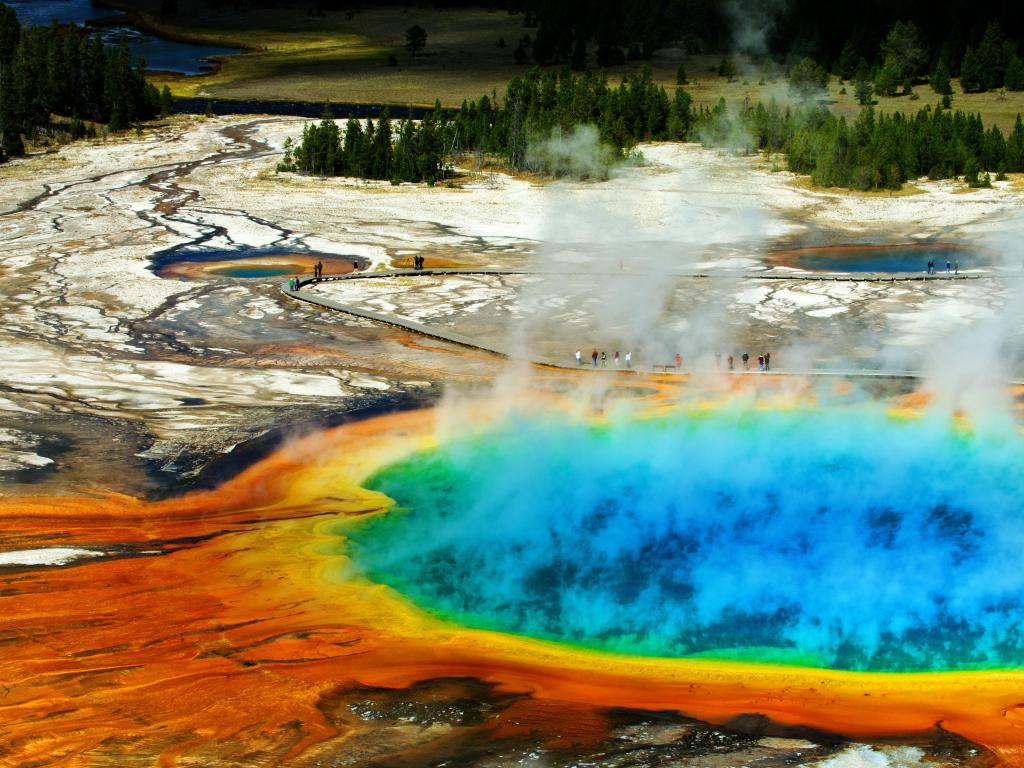 The Mount Rushmore Route
From Denver head along I-25 towards Terry Bison Ranch for an authentic Western experience, before continuing along I-25 and enjoying a stop at the Wyoming State Capitol in Cheyenne.
From here, take US-85 then US-18 to the educational Laramie Peak Museum. Further north, discover the natural beauty of Glendo State Park, known for its remarkable activities, including boating and bird watching.
Venture northeast along US-18 to Sylvan Lake in Custer State Park, the perfect spot for hiking and picnics. From here, you'll arrive at one of the country's iconic landmarks, Mount Rushmore National Memorial. Marvel at the carved faces of four great American presidents.
Follow US-16 towards Rapid City, where attractions like the Reptile Gardens and vibrant Art Alley await - this city is packed with creativity and unique experiences. If you are a motorcycle fan then the Sturgis Motorcycle Museum & Hall of Fame is a must and accessible via I-90.
Journey eastward on I-90 and US-14 to the historic Devils Tower National Monument, a striking geological feature and beautiful spot with viewpoints for close-up views of the tower itself.
Then head to Miles City for a night at this Wild West treat. The Range Riders Museum gives a view of the rich history of Montana before continuing along to Lewistown. Central Montana Rail offers a glimpse of railway heritage in a scenic backdrop.
Continue to Great Falls, with sites such as the Museum of the Plains Indian a must-see, before passing St Mary Lake and arriving at Glacier National Park.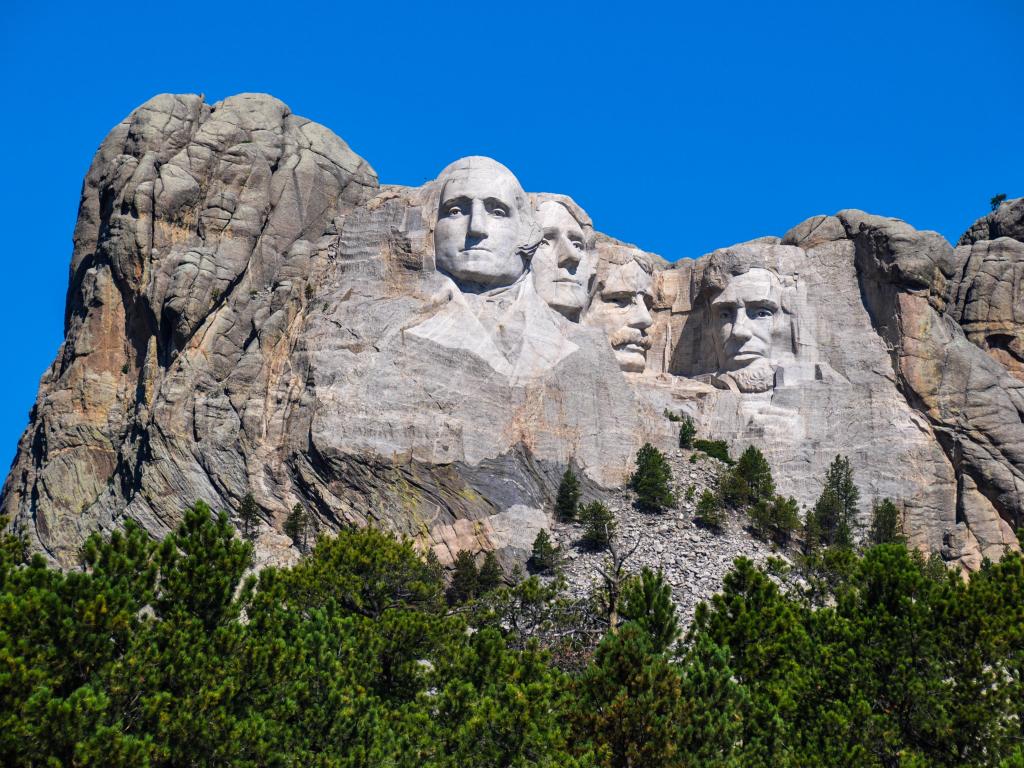 Best places to stop between Denver and Glacier National Park
With plenty of stunning stops along the mesmerizing journey from Denver to Glacier National Park, you really are spoilt for choice on which scenic spot to stay a little longer. How about taking a look at some of our top picks for where to make some fantastic memories?
Check out the geysers and bears in West Yellowstone
Known as the gateway to Yellowstone National Park, West Yellowstone, around halfway along the Yellowstone National Park Route, is a perfect place to take a break. Here, you can explore geysers, enjoy wildlife spotting, or simply soak in the breathtaking vistas.
Grizzly & Wolf Discovery Center, a not-for-profit wildlife park and educational facility, is a great stop-off, offering a close look at the grizzly bears and wolves in a safe environment.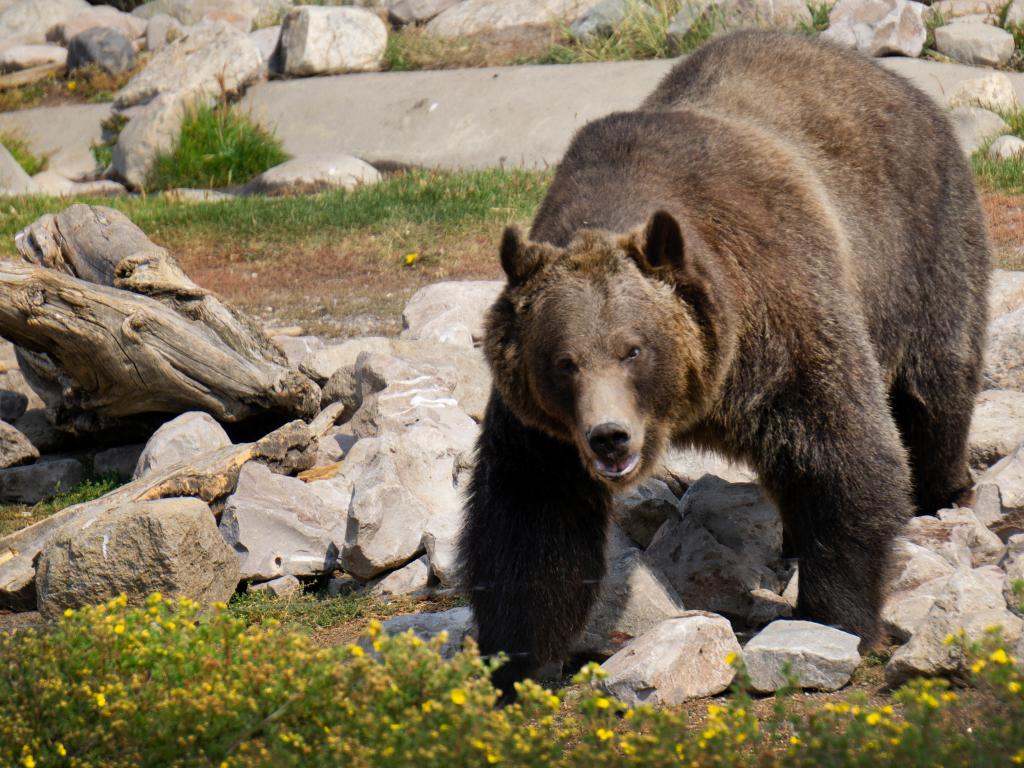 Also make sure to visit Yellowstone Historic Center, housed in the historic Union Pacific Railroad Depot. Step back in time to explore the early days of tourism in Yellowstone and understand more about the history of the region.
While visiting West Yellowstone, we suggest staying at the fantastic Golden Stone Inn. This beautiful inn features a pretty garden and terrace area, perfect for relaxing after a day of adventure. The great location means you can take an easy stroll to one of the lovely local restaurants for dinner.
Come morning, if you fancy something high adrenaline, then why not try out the snowmobiles and snow coaches available for rent if you are visiting during the colder months?
If you fancy something more educational, then nearby attractions such as the Yellowstone Historic Center Museum, just 500 yards away, and Grizzly & Wolf Discovery Center, are just on the doorstep.
Good old wild, wild, west days in Miles City
A great place to take a break along the Mount Rushmore Route is Miles City, an area that really delivers Western heritage and cowboy culture.
The centerpiece of this stopover is the renowned Bucking Horse Sale, an event that pulls rodeo enthusiasts on the third weekend in May. The event reaches its peak with a quirky yet unmissable "Frog Jumping Contest," where locals and visitors compete to see which of their frogs can jump the furthest!
While visiting make sure to head to Range Riders Museum for a better look into eastern Montana. Afterwards head to Miles City Saddlery. This historic shop founded in 1916 offers a rich collection of handmade saddles, leather goods, and western wear.
During your stop at Miles City, Miles City Hotel & Suites is an ideal stay, delivering a personal touch by surprising guests with snack gift bags filled with tasty goodies left by your room each morning. The delicious hearty breakfast with fresh fruit salad bar and continental delights is also a selling point.
Just a short stroll away from great evening dining options, it is also just a short drive to nearby attractions including Miles City Center and the Range Riders Museum, both just a 5-minute drive away. Afterwards unwind in the year-round open heated swimming pool and hot tub,
Where to stay when you reach Glacier National Park
Glacier National Park, known as the "Crown of the Continent," is a mix of alpine landscapes, rugged mountains and sprawling forests. The iconic Going-to-the-Sun Road, a 50-mile scenic drive, is dotted with breathtaking vistas at every turn.
Lake McDonald, the largest lake in the park, is a great place to head. Apgar Village at the lake's southern end is often a starting point. While visiting keep an eye out for the mountain goats balanced on rocky outcrops and cliff edges!
Close by to Glacier National Park, Whitefish is ideal to head for a night or two. The stunning Lodge at Whitefish Lake is set along the picturesque shore of Whitefish Lake. Dining options here include award-winning Boat Club Restaurant, with delicious signature martinis and locally famous Boat House chips.
For a dose of relaxation, step into the Spa at Whitefish Lake, with amazing massages and body treatments. Plus the lodge's marina opens up a world of water-based adventures with watercraft rentals available for guests.
Just a short distance from the lodge you can find Whitefish City Beach and Whitefish Mountain Resort is just six miles away. Both promise a day of fun in the sand or snow.
Things to see on a road trip from Denver to Glacier National Park
This epic road trip from Denver to Glacier National Park takes you through vast plains, rugged mountains and charming towns. You can be sure that there are plenty of interesting and enchanting places then to stop off and enjoy along the way - here are some of the best.
Yellowstone National Park Route
Medicine Bow-Routt National Forest - Spanning over a million acres across Wyoming and Colorado, this national forest offers dense forests, striking mountain ranges, and countless opportunities for outdoor fun including hiking, fishing, and camping.
Rock Springs Historical Museum - Situated in Rock Springs, Wyoming, this museum showcases a range of exhibits of the coal mining background of the region.
Museum of Mountain Man - Located in Pinedale, Wyoming, this museum dedicates itself to preserving the history and heritage of the Rocky Mountain fur trade era, with exhibits of the mountain men's lifestyle in the 1800s.
Grand Teton National Park - Known for its rugged mountain ranges, pristine lakes, and vibrant wildlife, this national park offers breathtaking landscapes and is a haven for outdoor enthusiasts.
Jenny Lake - A picturesque lake nestled in Grand Teton National Park, Jenny Lake is a popular starting point for hiking and boating, offering serene surroundings and close-up view of the Tetons.
National Elk Refuge, Jackson - This refuge serves as a winter habitat for Jackson Elk Herd and opportunities for wildlife viewing, including bison, wolves, and trumpeter swans.
Jackson Hole Rodeo - A family-operated seasonal event in Wyoming, the rodeo presents an authentic western experience through rodeo competitions, including bull riding and barrel racing, often held from May to September.
National Museum of Wildlife Art, Jackson - Overlooking the National Elk Refuge in Jackson, it houses a collection of wildlife art, celebrating the artistic representation of wildlife and nature through various art mediums.
Grizzly & Wolf Discovery Center - Situated in West Yellowstone, Montana, this non-profit wildlife park offers a chance to learn about and view grizzlies, wolves, and birds of prey in naturalistic habitats.
Big Sky - A resort town in Montana, Big Sky is known for its expansive ski terrains and is a hub for hiking and zip-lining adventures in summer, surrounded by majestic mountain landscapes.
Gallatin River - Flowing through Wyoming and Montana, Gallatin River offers a picturesque setting for whitewater rafting, fishing, and kayaking amidst scenic canyons and lush forests.
Yellowstone National Park - America's first national park is renowned for its geothermal features including geysers and hot springs, rich wildlife such as bears and bison, and diverse ecosystems.
Grand Prismatic Spring - Located in Yellowstone National Park, this is the largest hot spring in the United States, known for its striking vibrant colors created by microbial mats around the mineral-rich waters.
Great Falls, Montana - A vibrant city in Montana, home to the mesmerizing Great Falls of the Missouri River, offering a mix of natural beauty and cultural attractions, including museums and art galleries.
Freezout Lake - Located in Montana, this lake is a vital stopover for migrating snow geese and swans, offering an excellent opportunity for bird watching, especially during spring migration.
Mount Rushmore Route
Terry Bison Ranch - Situated near Cheyenne, Wyoming, this ranch offers a true Western experience with bison tours, train rides, horseback riding, and fishing opportunities.
Wyoming State Capitol - The historic seat of Wyoming's state government in Cheyenne, this building stands as a testament to Wyoming's rich political history, offering guided tours to showcase its restored interiors and architectural details.
Laramie Peak Museum - Found in Wheatland, Wyoming, this museum offers a glimpse into the region's history through a collection of artifacts detailing the area's agricultural, ranching, and railroad heritage.
Glendo State Park - Located near Glendo, Wyoming, this state park is known for the Glendo Reservoir, offering a range of water-based activities including boating, fishing, and swimming, alongside hiking trails and camping.
Sylvan Lake, Custer State Park - A popular destination in Custer State Park, South Dakota, Sylvan Lake offers breathtaking views, hiking, swimming, and paddle boating, surrounded by unique granite formations and pine-covered mountains.
Mount Rushmore National Memorial - Situated in South Dakota, this iconic site features the carved faces of four U.S. presidents, offering an awe-inspiring view.
Reptile Gardens, Rapid City - Home to a large collection of reptiles including alligators, crocodiles, and a diverse array of snakes, this animal park offers a family-friendly experience with educational shows and exhibits.
Art Alley, Rapid City - This open gallery in downtown Rapid City, South Dakota, showcases vibrant murals and street art, created by local artists and offers a unique artistic and cultural experience.
Sturgis Motorcycle Museum & Hall of Fame - Situated in Sturgis, South Dakota, this museum celebrates the history and the culture of motorcycles, featuring a collection of vintage and rare motorcycles, highlighting iconic Sturgis Motorcycle Rally.
Range Riders Museum - Located in Miles City, Montana, this museum presents a rich depiction of the region's Western heritage through a range of exhibits on Native American history.
Devils Tower National Monument - Rising dramatically from the plains of northeastern Wyoming, this geological landmark, characterized by its columnar basalt formations, offers hiking trails and rock climbing.
Central Montana Rail - Operating in Central Montana, this railway offers an unique excursion train experiences providing a scenic view of untouched landscapes and rich agricultural heritage.
Museum of the Plains Indian, Montana - Situated in Browning, Montana, this museum is dedicated to celebrating and preserving the history and culture of the Native American tribes of the Northern Plains through collection of artifacts, art, and exhibits.
St Mary Lake - Nestled in Glacier National Park, Montana, this lake is known for crystal-clear waters and stunning surroundings, with opportunities for boating, fishing and hiking.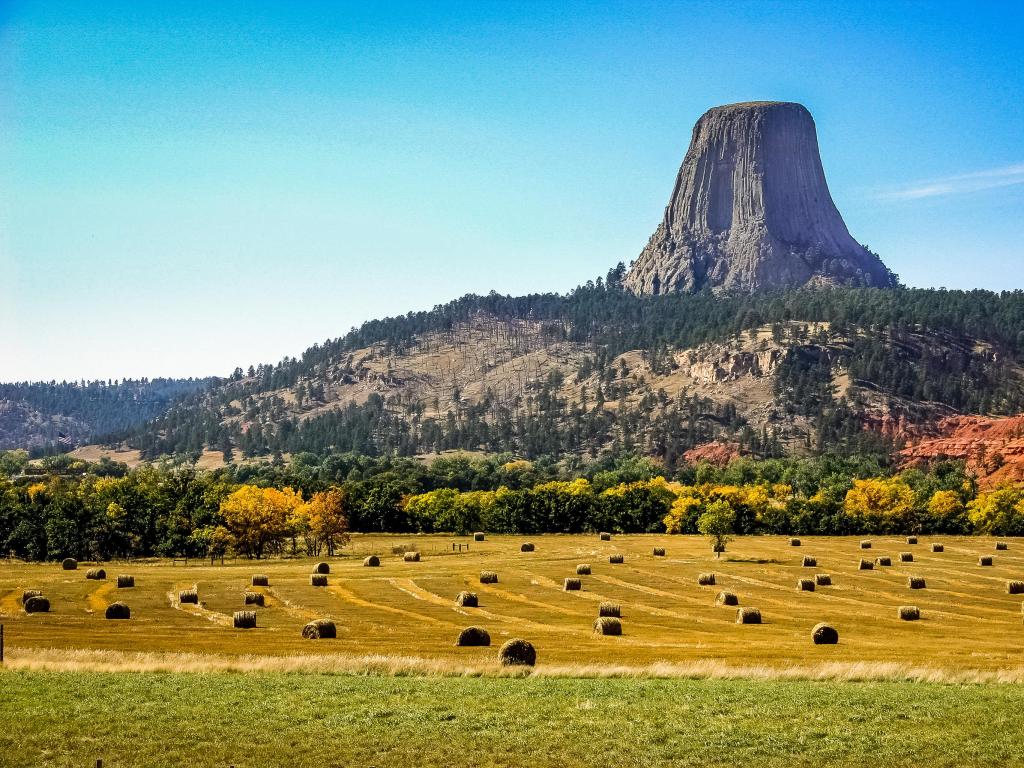 Best time to go on a road trip from Denver to Glacier National Park
Taking a road trip from Denver to Glacier National Park promises a unique and stunning experience at any time of the year.
Visit in spring and temperatures are around 40 and 60 degrees Fahrenheit, with weather changeable between rainy and sunny, so plan for any eventuality.
If your journey begins in spring, particularly March, and you're taking the Yellowstone National Park Route, the vibrant Jackson Hole Rendezvous is a great event to check out.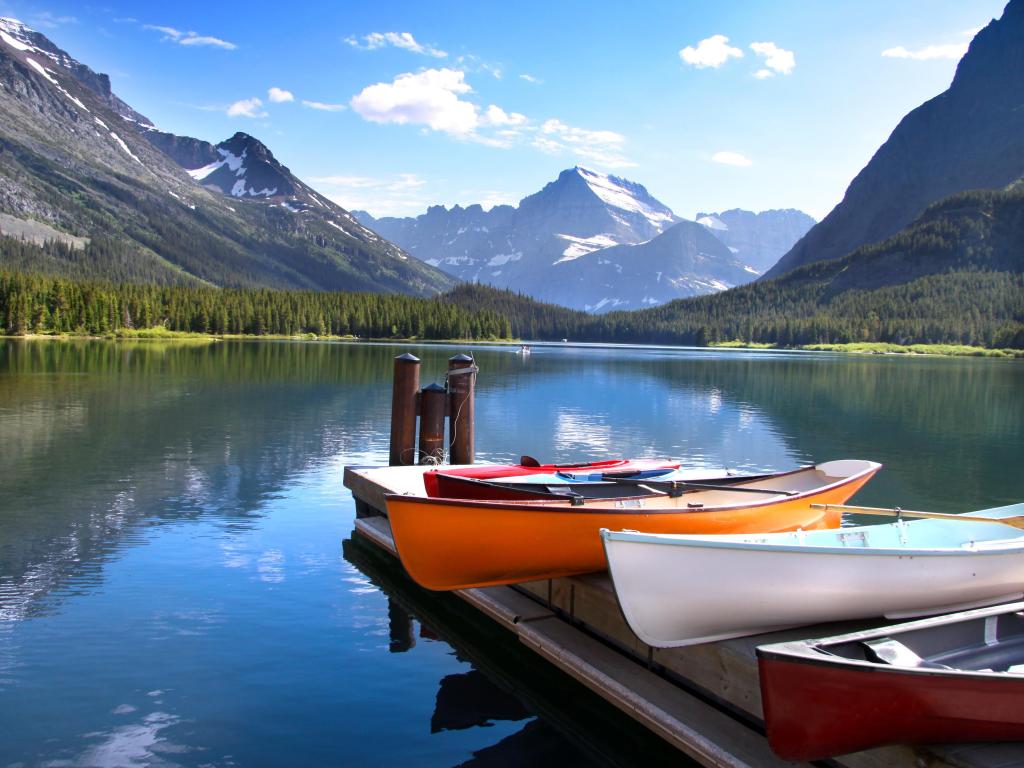 In the summer, temperatures range from 60 to 80 degrees Fahrenheit. However, it is also the peak tourist season with crowded conditions, particularly as events, such as Star Parties held from June to August, take place.
Want to visit in the fall? Then you are in for a beautiful journey and temperatures range from 40 to 60 degrees Fahrenheit. Keep an eye out for early snow in late fall, although it would add an extra pretty touch to the vistas.
Winter can present more challenging driving conditions, with temperatures between 20 and 35 degrees Fahrenheit, and many roads, including the famous Going-to-the-Sun Road, closed.
Although there are some areas restricted, visiting in winter offers a quieter snowy landscape, and activities such as Winter Snowshoe Walks from December to March can be enjoyed.