Road Trip from Denver to Jackson Hole
Are you in the mood for skiing down snow-laden slopes? Or do you fancy luxurious resorts and fine-dining? Whatever your definition of fun might be, this road trip from Denver to Jackson Hole has something for everyone. Going past stunning landscapes, this outdoorsy trip truly is a nature lover's dream!
The 700-mile road trip from Denver to Jackson Hole, Wyoming takes 12 hours, with options to stop at Idaho Springs, Breckenridge, Vail, Glenwood Springs, Palisade, Hermosa Vineyards, Casper, Dinosaur, Vernal, Flaming Gorge, and Rock Springs.
Set off on this back-to-nature road trip for an experience that is going to stick with you for a long time. Reading on, you will find the best routes, key places to see, hotels to stay overnight and the best times for this journey.
How far is Jackson Hole from Denver, and how long will the road trip take?
Comparison of road trip routes between Denver and Jackson Hole

| Route | Distance | Driving Time |
| --- | --- | --- |
| The Direct Route | 560 miles | 8 hours 50 minutes |
| The Scenic Route | 700 miles | 12 hours 20 minutes |
The Direct Route from Denver to Jackson Hole is 560 miles long and takes almost 9 hours to cover. This somewhat shorter route will take you through stunning cliff views, interesting museums, and awe-inspiring national parks.
Taking The Scenic Route, you will reach from Denver to Jackson Hole in 12 hours and 20 minutes, covering 700 miles. As the name suggests, this longer route is more picturesque with thrilling activities like parasailing and skiing.
We recommend setting aside 3 to 4 days for this road trip because it has so much to offer, no matter what route you take.
Best road trip route from Denver to Jackson Hole
On a road trip like this one, bursting with promising spots all the way from Denver to Jackson Hole, the choice of route comes down to your taste of adventure.
If you're looking to reach Jackson Hole directly in as little time as possible, The Direct Route is perfect for you. As you approach Jackson Hole, it offers stunning views of the North Breccia Cliffs. Grand Teton's spectacular mountains and wildlife also await you on this route.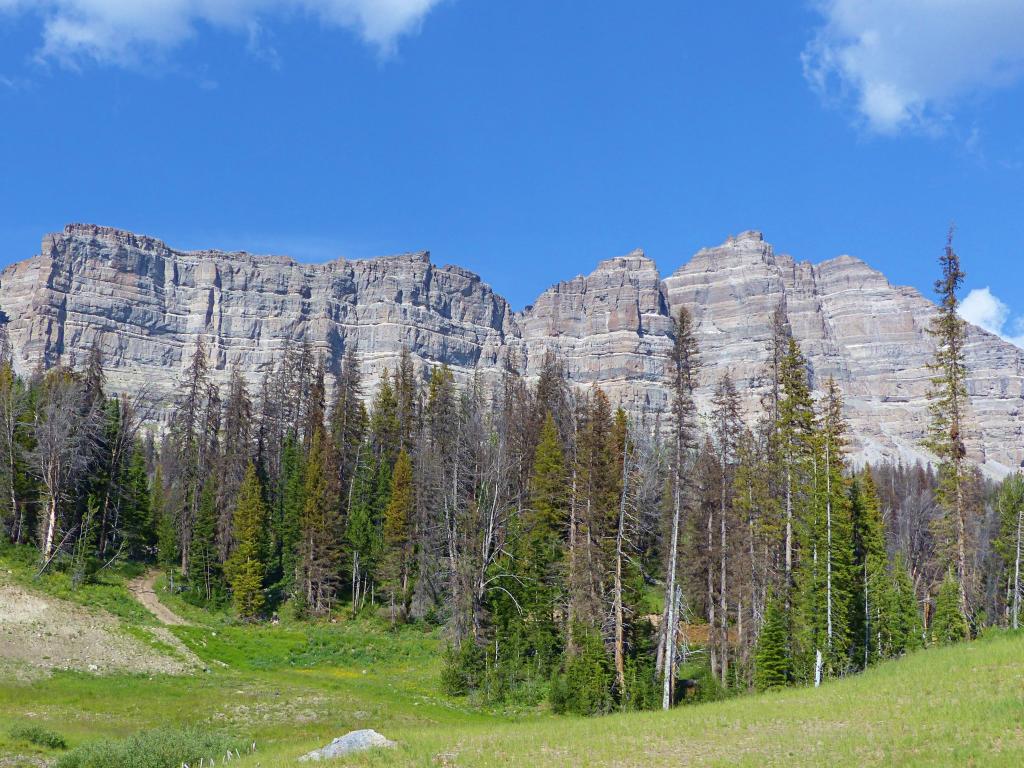 Even though it is shorter, you can enjoy fantastic detour options like Rocky Mountain National Park, Arapaho and Roosevelt National Forests, Pawnee National Grassland and Bridger-Teton National Forest. Check the road and weather warnings of Togwotee Pass for adverse road conditions or snow.
Keep in mind that the Rocky Mountain National Park uses a timed entry permit system. Please check the national park's website to see if you need to make a reservation before your visit.
If you don't want to miss out on stunning landscapes and a chance to step on the mighty reptile's territory, your best choice would be The Scenic Route. On this longer trip, you can visit Breckenridge and Vail if you are keen to hit the slopes.
You will pass through the hot springs area of Glenwood Springs and enjoy wine-tasting in Palisade. This route also gives you the option to make a detour to Dinosaur National Monument and the stunning Flaming Gorge National Recreation Area. You might have to add an extra day to your trip on this route.
The Direct Route
For a faster trip to Jackson Hole, get on 1-25 N from W Colfax Ave in Denver and follow it to Larimer County and then to Fort Collins. Head south on S Sherwood St and continue straight onto Canyon Ave. Drive to N Beverly St in Casper.
Stop here overnight to regain your energy and indulge in some flyfishing - or a couple of museums if you'd prefer. When you are ready to hit the road again, head north on S Beverly St and follow US-26 W in Teton County to reach Togwotee Pass.
From there, head on US-287 N and turn left onto Sleeping Indian Turn to reach your destination at Jackson Hole, the ultimate skiing heaven!
The Scenic Route
If you are after a longer trip with more of an outdoorsy experience, take N Broadway and follow N River Rd to Palisade. Stop here overnight and explore Colorado's Wine Country. Resume your journey by following CO-13 N and CO-64 to School St in Dinosaur.
Head south on School St and turn left after Wells Fargo Bank to reach the city of Vernal, famous for its awesome dinosaur fossils. From there, head north on S Vernal Ave and continue onto US-191 N. Then turn left onto Loop Trail to head into Flaming Gorge.
Taking E Flaming Gorge Pnes Dr to US-191 S, follow UT-44 N into Rock Springs. Here you can opt to stretch your legs for a while or continue your journey into Jackson. Head north on US-191 N and turn right onto Sleeping Indian Turn to reach your destination, Jackson Hole.
Best places to stop between Denver and Jackson Hole
Even though The Scenic Route has more beauty to showcase with jaw-dropping landscapes, skiing, and thrilling dinosaur territory, The Direct Route is close behind with historical museums and national parks.
With so much activity on both routes, we suggest stopping overnight so you don't miss out on anything.
Enjoy fly-fishing and rich history at Casper
About halfway into your journey on The Direct Route, you will come across "The Oil City" of Casper. This city might not be a favorite among editors due to its name being a typo (it was supposed to be Caspar!), but even they can't help love its beautiful landscapes.
Casper is a convenient location to take a break from the drive with amazing indoor and outdoor activities such as flyfishing and spellbinding museums. Casper is home to the largest oil field and is known for its western roots and quirky attractions.
Start exploring Casper with Tate Geological Museum. Part of the Casper Collage, this fantastic museum is home to an ancient T-Rex skull and Dee the mammoth who is 11,600 years old!
Then there is the National Historic Trails Interpretive Center to learn more about Casper's past through recreations of how the pioneers lived between 1841 and 1868. End the exploration by stretching your legs at Garden Creek Falls which is home to beautiful waterfalls.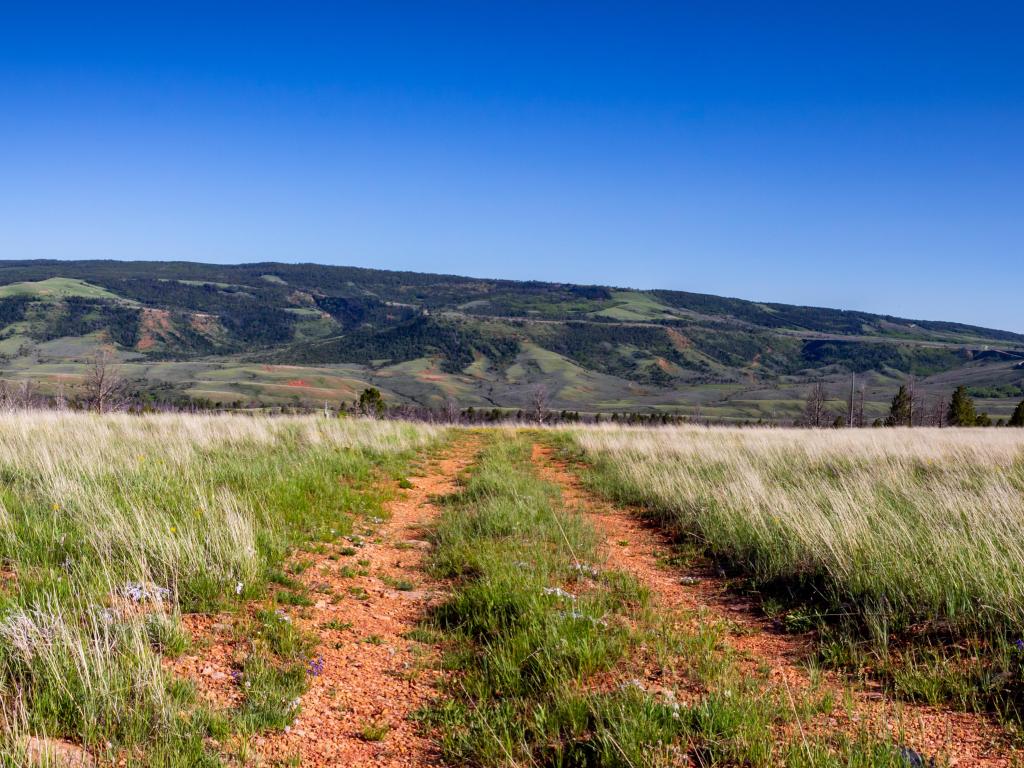 We recommend staying at Residence Inn by Marriott Casper during your break here. Experience the "home away from home" feeling in this lovely and hospitable hotel. Relax in your own space with rooms that contain a kitchen and a dining area.
With a fabulous indoor pool and a tennis court, you will never get bored around here. Enjoy some private alone-time in the hot tub, especially during the colder months. It has BBQ facilities for family-style meals. Breakfast options include American, buffet and continental cuisines.
With so many fabulous restaurant options nearby, you'll want to ditch the diet for a while. And if you fancy burning some calories the next day, North Platte Park is a manageable drive away, where you'll find yourself surrounded by beauty.
Indulge in fruit and wine at Palisade
Palisade conveniently sits a little less than halfway on The Scenic Route and is a great place to enjoy the scenery. It is famous for being part of Colorado's Wine Country and is home to many fantastic wineries. Various orchards allow you to take relaxing walks under the green canopy and pick quality fruits.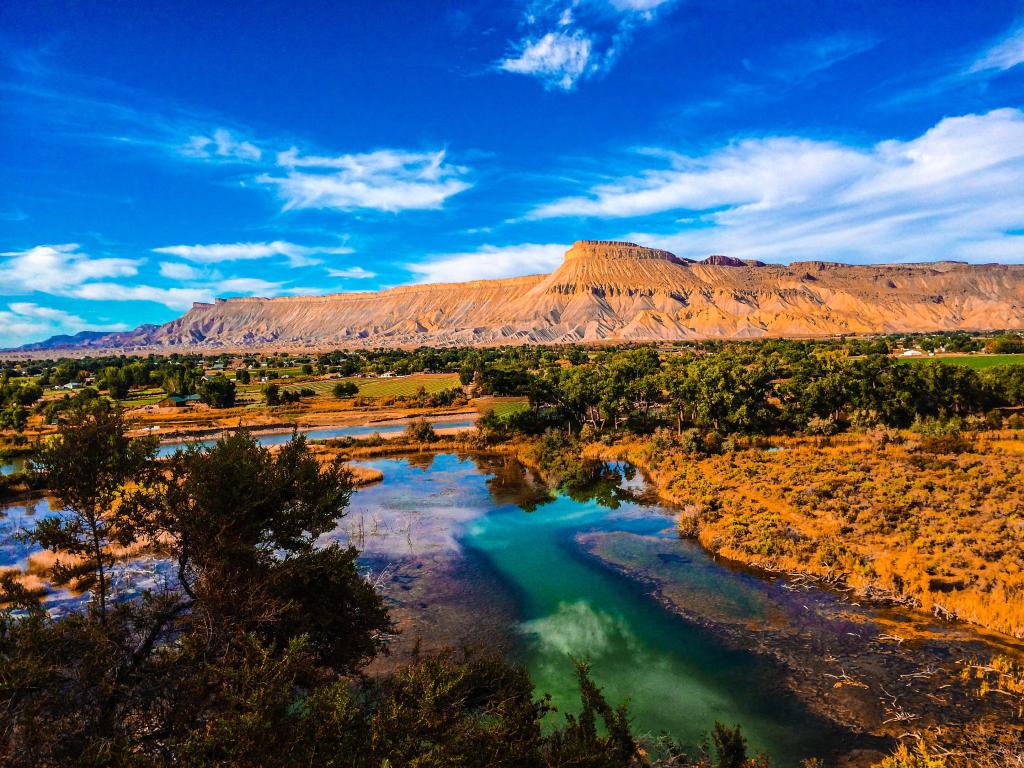 On your first day in Palisade, leave your car behind at the hotel and visit Hermosa Vineyards or Carlson Vineyards Winery and Tasting Room to sample some wines. The taste of these fresh, excellent wine samples won't be leaving you any time soon.
If you want to get away from the stress and daily worries, visit Suncrest Orchard Alpacas to lead an adorable, fluffy alpaca through the orchard and learn more about these beautiful animals.
Then there is the Sage Creations Organic Farm that is open to public between May and September. Here, you can walk around and admire the gorgeous lavender fields and pick some goodies to bring home.
Our vote for accommodation goes to Wine Country Inn. It is a beautiful property with a lovely garden and majestic mountains as a backdrop which make for breathtaking views. Boasting a seasonal outdoor pool and a fantastic on-site spa, this hotel gives one of the most relaxing experiences.
With an on-site restaurant offering delicious meals, and a bar to sip your favorite cocktail, dining won't be a problem during your stay at this hotel. You can start your day early with the full English/Irish or vegetarian breakfast options.
It boasts a stellar location with Riverbend Park nearby for a relaxed outdoors experience and Colorado Mesa University just a short drive away. Settled near the beautiful Colorado River, this hotel is perfect to take a scenic stroll along its banks.
Where to stay when you reach Jackson Hole
After the long drive from Denver to Jackson Hole, you would need to take a break and rest for a while before heading out to explore and enjoy the various indoor and outdoor activities that Jackson Hole has to offer.
Our favorite hotel in Jackson Hole is Rustic Inn Creekside. After hitting the slopes, you are in for the ultimate relaxing experience at this beautiful resort with a fantastic spa. Set on the banks of Flat Creek, this gorgeous property makes for a luxurious and comfortable stay.
The scenery around this hotel becomes a winter wonderland during snowy months. While in the warmer months, you can have a water fun-day moment with an outdoor pool and a jacuzzi.
With an easy access to the ski and snowboarding paradise of Jackson Hole as well as Grand Teton and Yellowstone National Parks, you won't have to drive for miles to get to the real deal.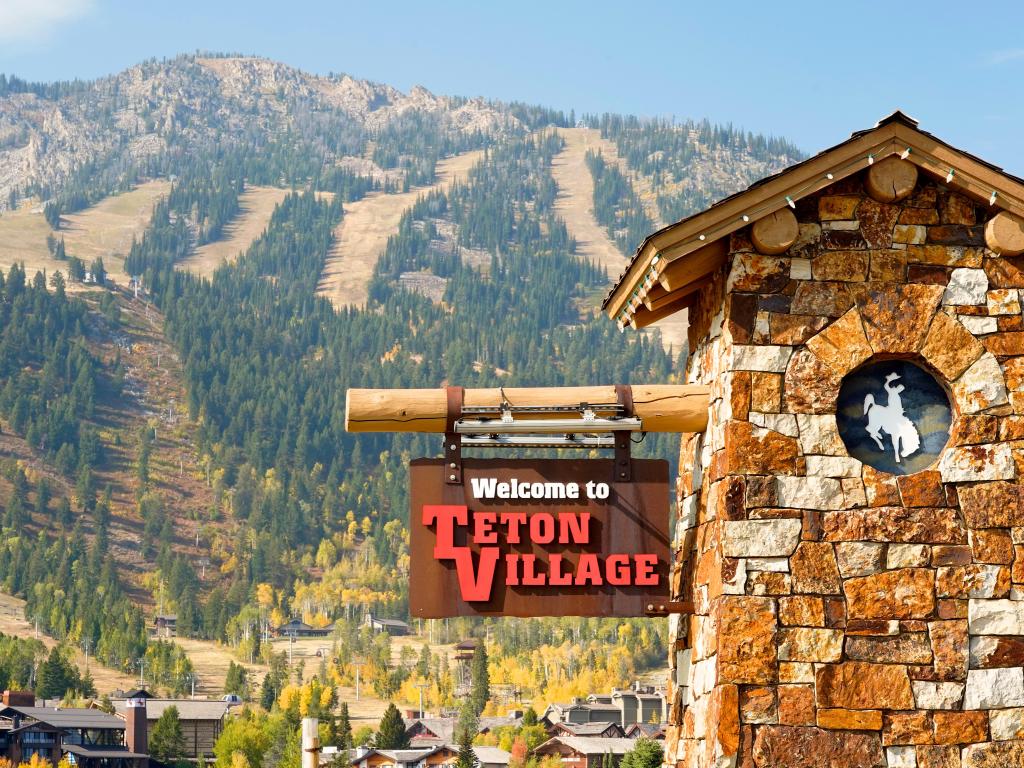 Things to see on a road trip from Denver to Jackson Hole
On this road trip from Denver to Jackson Hole, you won't run short of activities to do and views to enjoy. Here is a list of our recommended places, cities and towns to stop along the drive.
On the Direct Route
Barr Lake State Park - From fishing to admiring the park's wildlife reserve, boating, and archery, this state park is perfect for lovers of outdoor activities.
Rocky Mountain National Park - Detour to this breathtaking national park and spend an entire day here for views that you won't forget any time soon.
Fort Collins - This is your chance to visit New Belgium Brewing and the quirky Totally 80s Pizza and Museum or enjoy hiking, biking, trails and scenic vistas in Horsetooth Mountain Open Space.
Arapaho & Roosevelt National Forests - Make a stop here to stretch your legs and take a scenic hike under the green canopy of trees.
Cheyenne - This city gives you the chance to visit the Wyoming State Capital, Wyoming State Museum and Historic Governors' Mansion.
Laramie Peak Museum - This wonderful, small museum features many artifacts and exhibitions to help you learn about the history of the Laramie Peak area.
Glendo State Park - Enjoy opportunities for recreational activities year-round as well as a water area where boaters can enjoy in this state park located in Platte County.
Casper - Home to Tate Geological Museum and the beautiful Garden Creek Falls, Casper is the perfect place to take a break from the driving and make an overnight stop on this route.
Wind River Wild Horse Sanctuary - Admire the free-roaming Mustang horses in this sanctuary and learn the important role they play in the area's history.
Grand Teton National Park - Housing extraordinary wildlife, alpine peaks and crystal-clear lakes, this is one of the most gorgeous national parks in the country.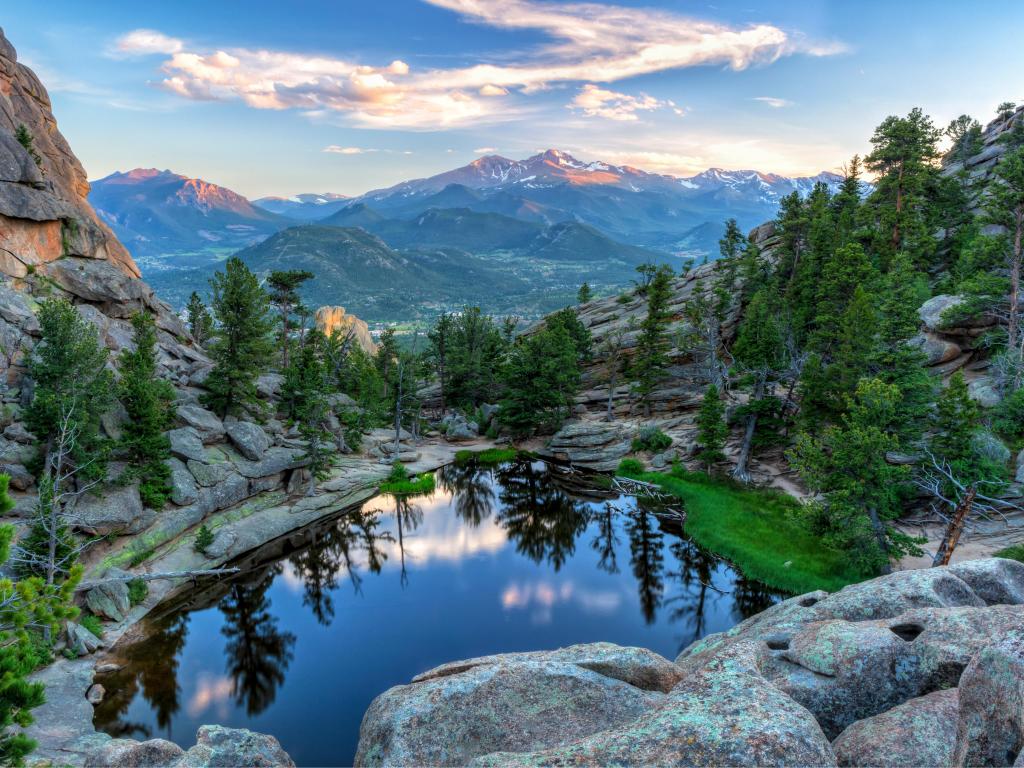 On the Scenic Route
Idaho Springs - Stop in this beautiful city to visit Argo Mill and Tunnel, Phoenix Gold Mine and St Mary's Glacier.
Breckenridge - Make a detour to the famous ski resort area of Breckenridge if you are looking to hit the slopes.
Vail - Sitting directly on the route, stop at Vail if you want to enjoy a ski break but don't want to make a detour.
Palisade – Take a break at Colorado's wine country and enjoy wine-tasting here, surrounded by charming scenery.
Dinosaur National Monument - Have a Jurassic Park moment and step on the grounds that were once ruled by dinosaurs and are still lined with fascinating remains embedded in the rock.
Vernal - Home to McConkie Ranch and Fantasy Cayon, Vernal is the perfect place to use as a base while exploring Dinosaur National Monument.
Flaming George National Recreation Area - Feed your adventurous soul here with the thrill of parasailing, waterskiing, and powerboating or less strenuous activities like swimming and fishing.
Rock Springs - This charming place is home to City of Rock Springs Museum and Pilot Butte Wild Horse Scenic Loop.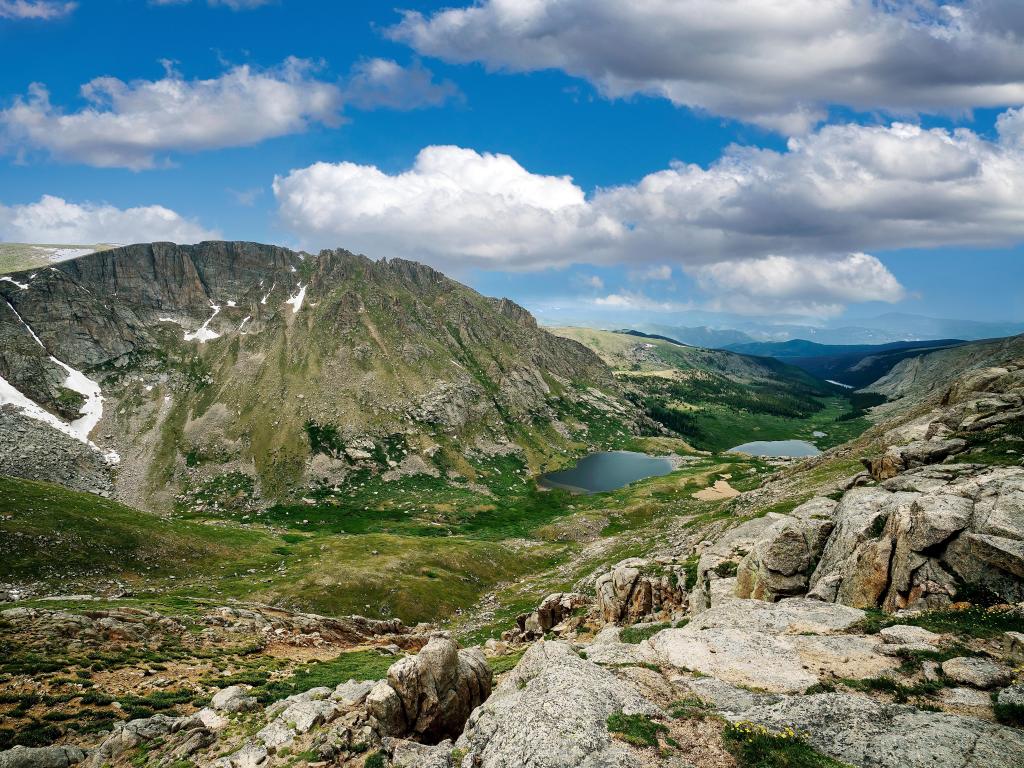 Best time to go on a road trip from Denver to Jackson Hole
With plenty of indoors as well as outdoor activities, Jackson Hole is truly a year-round destination. But the best time to visit Jackson Hole is in winter because it is a mountain resort with numerous skiing opportunities.
Summers see warm, dry days and cool, enjoyable evenings, but be prepared by bringing a top layer. It is also a great time to visit Grand Teton National Park and take scenic hikes with Jackson Hole as the base. Temperatures average around 40 degrees Fahrenheit to 80 degrees Fahrenheit.
Winter is when Jackson Hole truly shines! Visiting during the colder months gives you amazing opportunities to enjoy skiing. However, you need to be prepared for low temperatures, ranging from below zero degrees Fahrenheit to 20 degrees Fahrenheit as you will be located in a high mountain area.
Springs bring beautiful blossoms to the lush mountainous landscape surrounding Jackson Hole with mild days and cold nights. Similarly, fall sees a change of colors as the foliage turns from green to auburn and fiery reds. Temperatures are around 50 degrees Fahrenheit to 60 degrees Fahrenheit.
Although Jackson Hole is famous for its fantastic ski season, you can enjoy several festivals depending on the time of the year. In summer, you can enjoy Jackson Hole Rodeo on Wednesday and Saturday evenings. July-August sees the Grand Teton Music Festival.
If you visit in winter, you can watch Cutter Chariot Races on the Presidents' Day weekend. What better way to experience Jackson Hole's winter than to cheer cowboys rushing past in horse-drawn carriages on a track filled with snow?