Road Trip From Denver To Telluride
You might not have considered a road trip from Denver to Telluride – the mining town is a popular tourist attraction with a lot of history, but getting there from Denver by car would involve a somewhat lengthy drive along the Rocky Mountains.
With that said, if you're the adventurous type and you're up for a unique drive through some of America's most scenic landscapes , then this is definitely the trip for you.
The road trip from Denver to Telluride can be done in one day or split into several days if you want to stop along the way and explore. The drive takes about 6 hours and 30 minutes without any breaks and is a constant barrage of great landscapes wherever you look.
You won't want to miss out on anything during this trip, so read on for some tips on where to go and what to do along the way.
How far is Telluride from Denver and how long will the road trip take?
The road trip from Denver to Telluride is about 330 miles and takes roughly 6 hours and 30 minutes if you don't make a single stop on the way.
Leaving Denver can be a bit difficult due to traffic, especially on the weekend, but using the route recommended below, you'd be much less likely to waste time just trying to get on the road.
Although the drive is fairly long, you can make it to Telluride the same day while still stopping for lunch, gas, and restroom breaks – you just need to take off early. Making all these stops should bring your drive up to around 9 hours.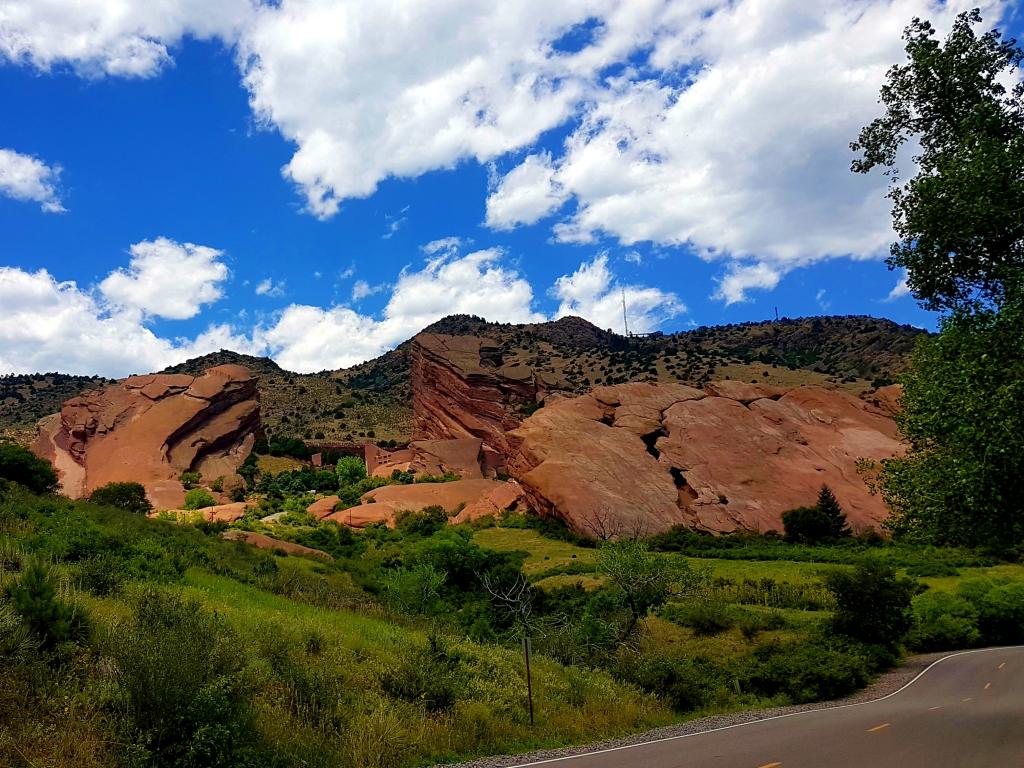 However, there's little to no point in driving all the way from Denver to Telluride if you're going to ignore all the great places along the way. To make this into a proper road trip, try to give yourself 2 days or more to check everything out. If you have the time for a long vacation, you can extend this trip and make it as long as you want, devoting a day or more to each stop.
Best road trip route from Denver to Telluride
If you're driving from Denver to Telluride, you may be tempted to take the I-70 through Grand Junction. While this route is also quite pleasant, you're more likely to get caught in heavy traffic despite there being 4 lanes on this highway. Taking it slow on a road trip to admire everything is one thing, but barely trudging along due to crowds is something else entirely!
Route
Distance
Driving Time
Regular Route


(via via I-70 W)

362 miles
6 hours 30 minutes
Scenic Route


(via US Hwy 285 S and US-50 W)

330 miles
6 hours 10 minutes
A better alternative would be taking a more southern route that puts you in the heart of Colorado's mountain ranges for much of the trip. On top of this route having its own beautiful scenery, many of the landmarks you can access via the I-70 are relatively quick detours for this route too, so you can get the best of both worlds.
Road trip route from Denver to Telluride
Take the US 6 west out of Denver, then head south down Highway 470. You'll soon pass Matthews/Winters Park, William F Hayden Green Mountain Park, and the stunning Red Rocks Park and Amphitheatre. Right after passing Mt Glennon Park, make a right into Highway 285.
Following the highway south, you'll drive past some amazing mountains and the beautiful Staunton State Park. After that, you'll be passing through a large portion of the massive Pike & San Isabel National Forests, just before making a right at Poncha Springs into Highway 50.
Stay on the 50 past Monarch Mountain and Gunnison National Forest, and drive through the Curecanti National Recreation Area. Just before reaching Montrose, you'll see the Gunnison Gorge National Conservation Area to your right.
At Montrose, make a left and transition over into Highway 550 for the final stretch of the trip. Driving through the Uncompahgre National Forest and right by more beautiful mountains, you'll soon reach the town of Telluride.
Best places to stop between Denver and Telluride
There are plenty of charming and unique places to stop between Denver and Telluride, although it's worth noting that most towns you'll be driving through are quite small, so large-scale hotels are scarce. With that said, here are a couple of the best places to stop overnight along the way:
Take a break at the Teardrop House in Buena Vista
Although it's just a little bit off-course, Buena Vista makes for a great stop if you'd like to split your trip in two roughly equal parts.
With its homely ambient vibe and incredible views of the Rocky Mountains' Sawatch Range, a stopover here is sure to be charming and atmospheric.
If you fancy a little luxury as you take a break from the road, Surf Hotel & Chateau is a great choice for your overnight stay. Poised on the banks of the river, this stylish place is everything we think a boutique hotel should be.
With its statuesque, traditional architecture and upscale restaurant, you'll feel pampered, relaxed and connected to the local history with a stay here. And if you fancy it, there's often live music on offer to top off your evening in style.
Enjoy the view from Tudor Rose Bed & Breakfast and Chalets in Salida
Just like Buena Vista, Salida is a short (10-minute) detour from our Scenic Route, rewarding visitors with oodles of rustic charm and plenty of outdoor activities.
Our accommodation of choice here is just outside of Salida itself. Located on the right side of town for the second half of your trip, Amigo Motor Lodge is perfectly positioned between Salida and Poncha Springs.
Use the chic and unique Amigo Motor Lodge as a convenient base for hopping onto Highway 50, or take a day to explore the local area.
We wholeheartedly recommend spending a few hours in the charming historic downtown area of Salida, which is filled with art galleries, boutique stores, local restaurants and wonderfully-preserved Victorian architecture.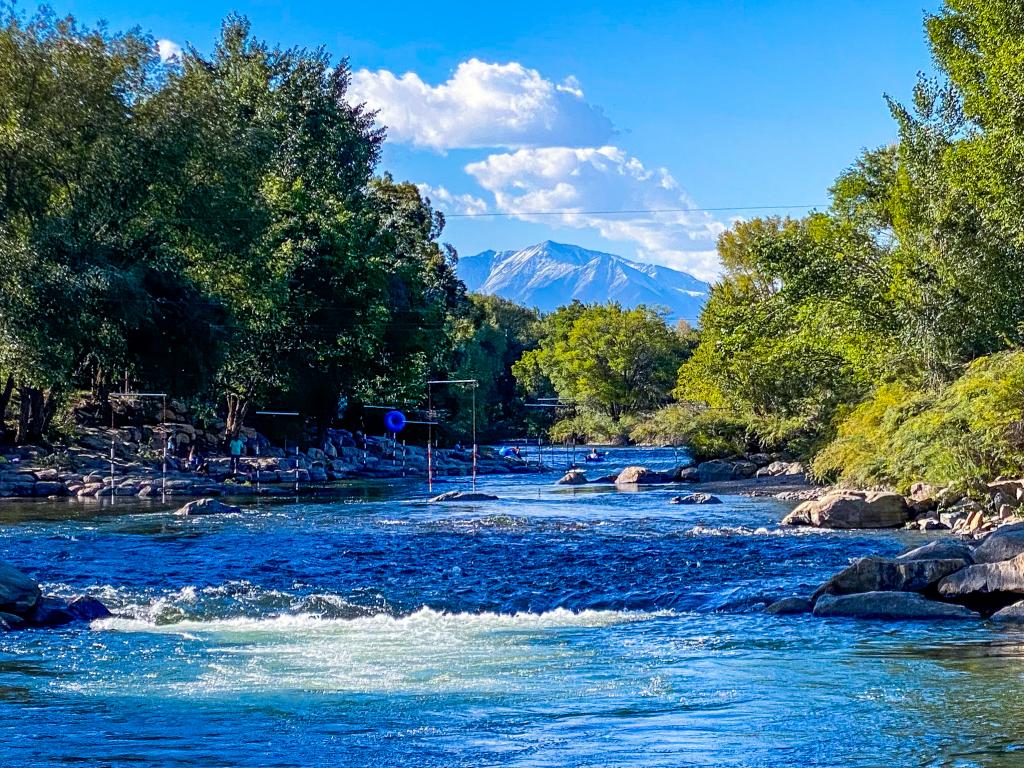 While all rooms at Amigo Motor Lodge provide a stylish place to rest, you can amp up your road trip experience with a stay in one of their glamorous converted Airstreams. And all of this with a glorious view of the mountains!
Things to see on a road trip from Denver to Telluride
Considering how much of the Rocky Mountain Range is covered by this route, it should come as no surprise that there are countless places worth checking out along the way. If you have a couple of weeks to spare, you might just be able to cover all these spots in detail:
North Dinosaur Park – a park just outside of Denver where fossil excavation has been conducted for around 150 years
Red Rocks Park and Amphitheatre – an incredibly unique rock formation that has been adapted into an event venue, to great success
Tiny Town & Railroad – a very popular local attraction with downscaled buildings and a tiny ridable train
Staunton State Park -this breathtakingly beautiful park features green meadows, forests, streams, and the towering Staunton Rocks
South Park City Museum – the museum is a reconstruction of an old mining town, and it's located in the town of Fairplay, famous for being the inspiration for the show South Park
Pike and San Isabel National Forests – home to lush trees and the highest point in all of Colorado, this beautiful forest alone warrants days of exploration
Monarch Mountain – a popular and highly-acclaimed skiing spot, this place is a must-see if you're travelling in winter
Gunnison National Forest – the best way to describe this would be as a sea of green – you don't want to miss out on this forest
Curecanti National Recreation Area – home to Blue Mesa, Morrow Point, and Crystal Reservoirs, this beautiful park is a popular camping and fishing spot for a good reason
Black Canyon of the Gunnison National Park – undoubtedly one of America's greatest natural wonders, this deep, dark canyon is one of the highlights of this route
Uncompahgre National Forest – great recreational area, and perfect for driving and sightseeing thanks to roads like the Million Dollar Highway
These are just some of the places worth visiting – each mountain, park, and forest listed here is bordered by another from at least one side. Take a few detours and you'll discover plenty more!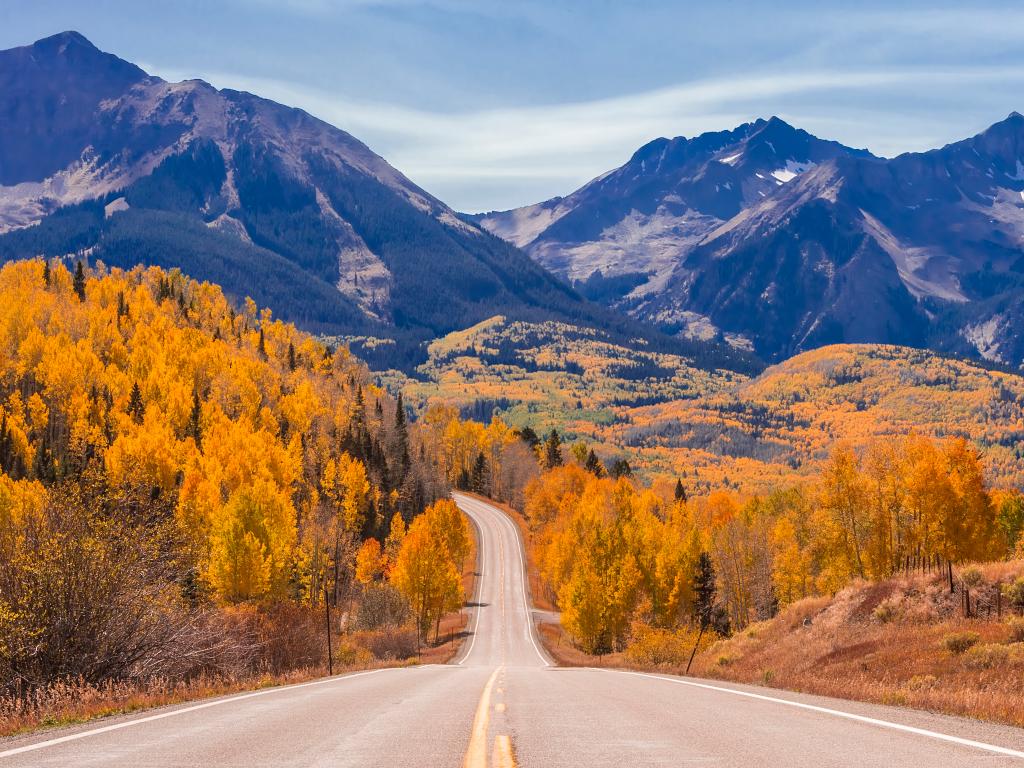 Best time to go on a road trip from Denver to Telluride
You can take a road trip from Denver to Telluride virtually any time of year, although there are couple of things you'll want to keep in mind.
Telluride is a rare example of a tourist town that's great to visit no matter the season. While it's probably best known for its great skiing and snowboarding locations, the entire area has some incredible hiking, camping, and rock climbing spots, and the town hosts plenty of events in the summer, like the Telluride Bluegrass Festival. On top of that, Telluride is never really overflowing with visitors like a lot of other tourist towns because of its remote location.
If you want to hit the slopes and see Telluride at its busiest, you could visit any time between November and early springtime, as this is the town's peak skiing period. If you'd prefer a slightly quieter stay (although, again, this isn't the type of place that's ever congested), you can book a hotel room for a low price in September or October, the catch being that many of the town's locales won't be working around this time.
One thing you'll definitely want to take into consideration is the drive – while the trip by no means extreme, driving through mountainous terrain should be done with caution when it's snowy. The Denver area can get a lot of snow in early spring, so definitely factor that into your decision and pack accordingly.