Road trip from El Paso to Santa Fe
Ready to set off on your own American Southwest adventure as you travel from the arid Chihuahuan Desert to the southern Rocky Mountains' foothills? The road trip from El Paso to Santa Fe is perfect for curious minds looking to learn more about the nation's past and thrill seekers itching to explore the great outdoors alike!
The 335-mile road trip from El Paso to Santa Fe takes around 5 hours and 20 minutes to drive, visiting White Sands National Park, Lincoln State Forest, Roswell, Cloudcroft, Santa Rosa, Albuquerque and Bosque Del Apache National Wildlife Refuge.
If you cannot wait to jump right in and learn what awaits you on this amazing drive from El Paso to Santa Fe, read on to find out about the best routes, places to stay and things to explore, as well as the ultimate time to set off on this trip under the New Mexico sun!
How far is Santa Fe from El Paso, and how long will the road trip take?
Comparison of road trip routes between El Paso and Santa Fe

| Route | Distance | Driving Time |
| --- | --- | --- |
| Albuquerque Route | 335 miles | 5 hours 20 minutes |
| Cloudcroft Route | 490 miles | 8 hours |
Taking the Cloudcroft Route from El Paso to Santa Fe covers around 490 miles and will take 8 hours of driving time to complete, taking in plenty of scenic mountain views and unique landmarks.
Alternatively, the Albuquerque Route is a shorter trip of around 335 miles, with an estimated driving time of just over 5 hours, taking you through diverse landscapes and rich cultural and historic sites.
While both trips can be done in a day at a push, there is so much to see and explore on both routes that we recommend taking 2-3 days. Each route has natural wonders, quirky towns, and cultural gems.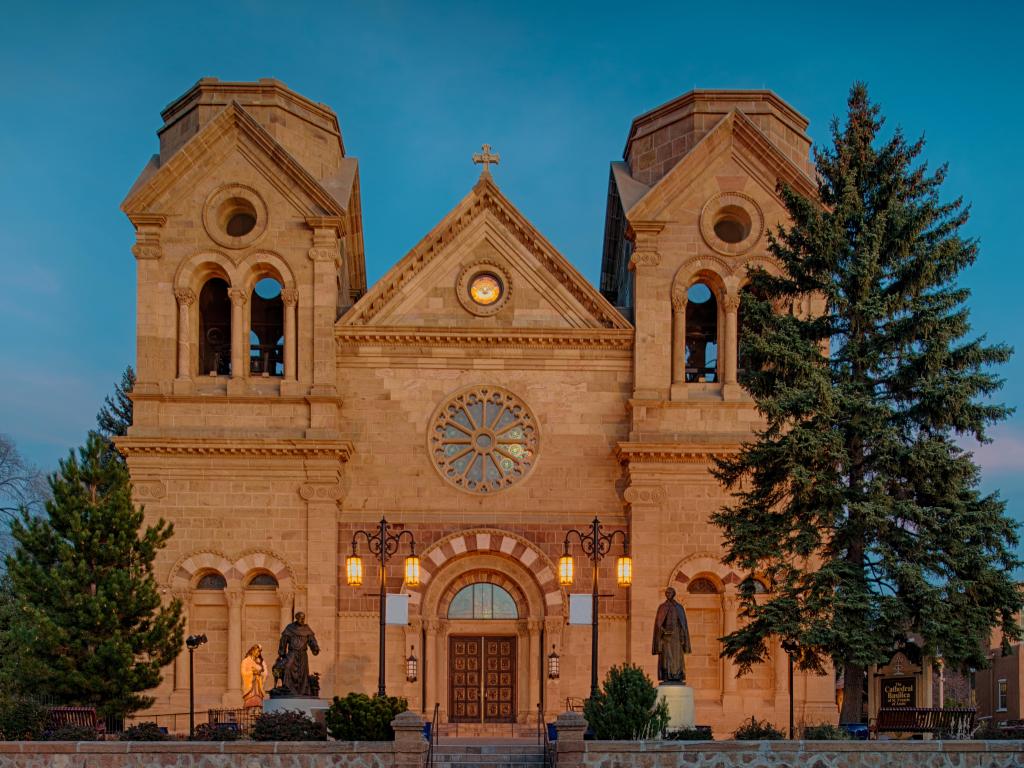 Best road trip route from El Paso to Santa Fe
You cannot go wrong when it comes to choosing one of our recommended routes for this El Paso to Santa Fe road trip, as they are both dotted with sights that will stay in your memory for a long time.
The Cloudcroft Route will take you on a journey through ever-changing landscapes, from the lush Mesilla Valley Bosque State Park to the stunning gypsum dunes of White Sands National Park.
You can explore the region's history at the New Mexico Farm and Ranch Heritage Museum, epic wilderness at Lincoln National Forest, and satisfy your curiosity at the International UFO Museum in Roswell.
This route also offers the chance to see the World's Largest Pistachio (which you wouldn't want to miss!), marvel at the celestial wonders at the Sunspot Solar Observatory, and take a refreshing dip in the Blue Hole.
The alternative Albuquerque Route offers a myriad of history, art, and nature. The journey begins similarly, with stops at Mesilla Valley Bosque State Park and the New Mexico Farm and Ranch Heritage Museum.
But as you venture further, the route takes you to Geronimo Springs Museum and for a soak at Riverbend Hot Springs, before exploring the Bosque Del Apache National Wildlife Refuge wilderness.
This route certainly then balances plenty nature with the urban charm of Albuquerque, a real highlight of this route, with Petroglyph National Monument and Turquoise Museum just two memorable places to visit in this exciting city.
How to drive from El Paso to Santa Fe
The map above shows our suggestions for the best road trip routes between El Paso and Santa Fe. Keep reading for detailed descriptions of both routes, where to stay on either, and the best things to do on the way.
The Cloudcroft Route
Start your journey from El Paso, heading east on Interstate 10 (I-10) to Las Cruces, the gateway to the stunning Mesilla Valley Bosque State Park and the New Mexico Farm and Ranch Heritage Museum.
From Las Cruces, drive east on US-70, crossing the magnificent Organ Mountains to reach White Sands National Park. Continuing on US-70, you'll soon encounter the World's Largest Pistachio in Alamogordo, a quirky roadside attraction that's worth a quick stop.
A short detour from Alamogordo takes you to Cloudcroft, located in the heart of the Lincoln National Forest. Here, visit the Sunspot Solar Observatory and the Trestle Recreation Area for some outdoor exploring. We recommend a night or two stopover here to take it all in.
Afterwards head south from Cloudcroft to Roswell, a city famed for its UFO history. Must-visit attractions include International UFO Museum and Research Center and Roswell Museum and Art Center. Bottomless Lakes State Park and Bitter Lake National Wildlife Refuge are nearby.
From Roswell, embark on US-285 north, and soon you'll reach Santa Rosa, known for its natural Blue Hole and the classic cars at Route 66 Auto Museum. An optional side trip can take you to the picturesque Santa Rosa Lake State Park.
Finally, follow I-40 from Santa Rosa to Santa Fe, completing a route filled with natural wonders, quirky attractions, and intriguing history.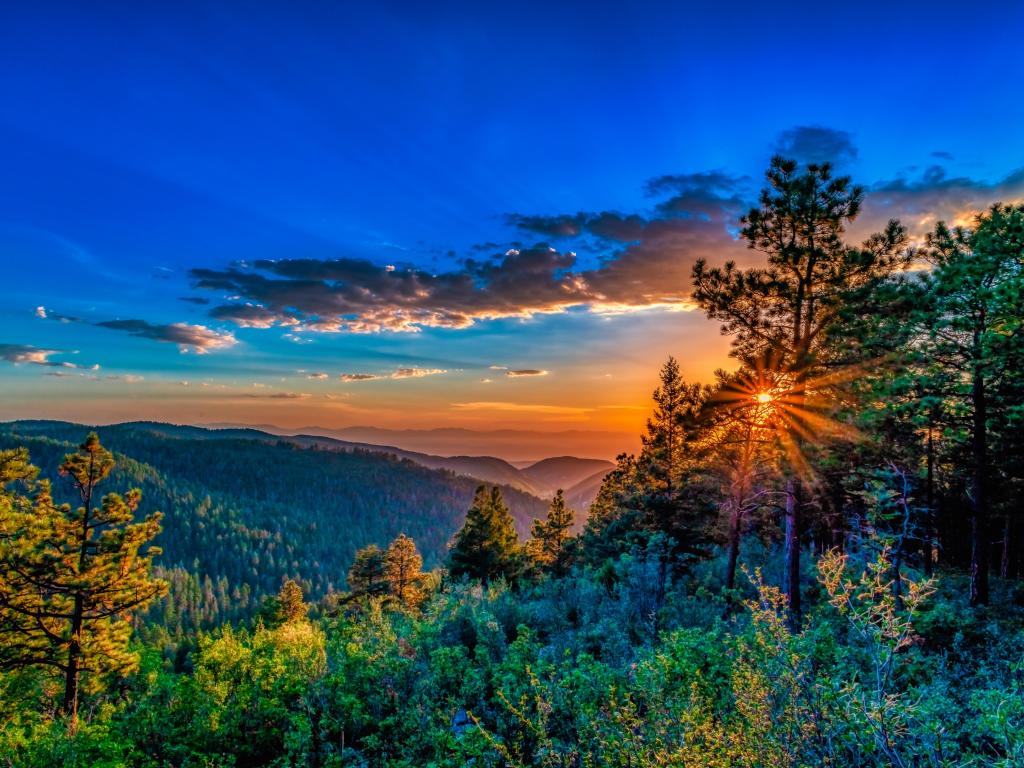 The Albuquerque Route
Begin your journey in El Paso, driving east on I-10 to Las Cruces, where you can visit the serene Mesilla Valley Bosque State Park and the educational New Mexico Farm and Ranch Heritage Museum.
From Las Cruces, take I-25 north to Truth or Consequences, a unique spa city that was named after a radio game show. Here, you can relax in the Riverbend Hot Springs, explore Geronimo Springs Museum, or enjoy Elephant Butte Lake State Park and Caballo Reservoir.
Continue your drive on I-25 north to Socorro, a city steeped in history with the San Miguel Mission and Socorro Nature Area, before stopping by the Bosque Del Apache National Wildlife Refuge Visitor Center, a paradise for birdwatchers.
Next, follow I-25 north to Los Lunas and visit Tomé Hill Park, known for its cultural and historical significance, before arriving in Albuquerque, the largest city in New Mexico.
Must-see places here include the Petroglyph National Monument, featuring more than 20,000 ancient symbols or 'petroglyphs,' and the Turquoise Museum, a gem of a museum detailing local mining. Stay a couple of days here to see it all.
The final stretch of the journey takes you from Albuquerque to Santa Fe via the Sandia Peak Tramway. As you ascend to the magnificent Sandia Mountains, you'll be rewarded with breathtaking views of the Rio Grande Valley before continuing along I-25 towards Santa Fe.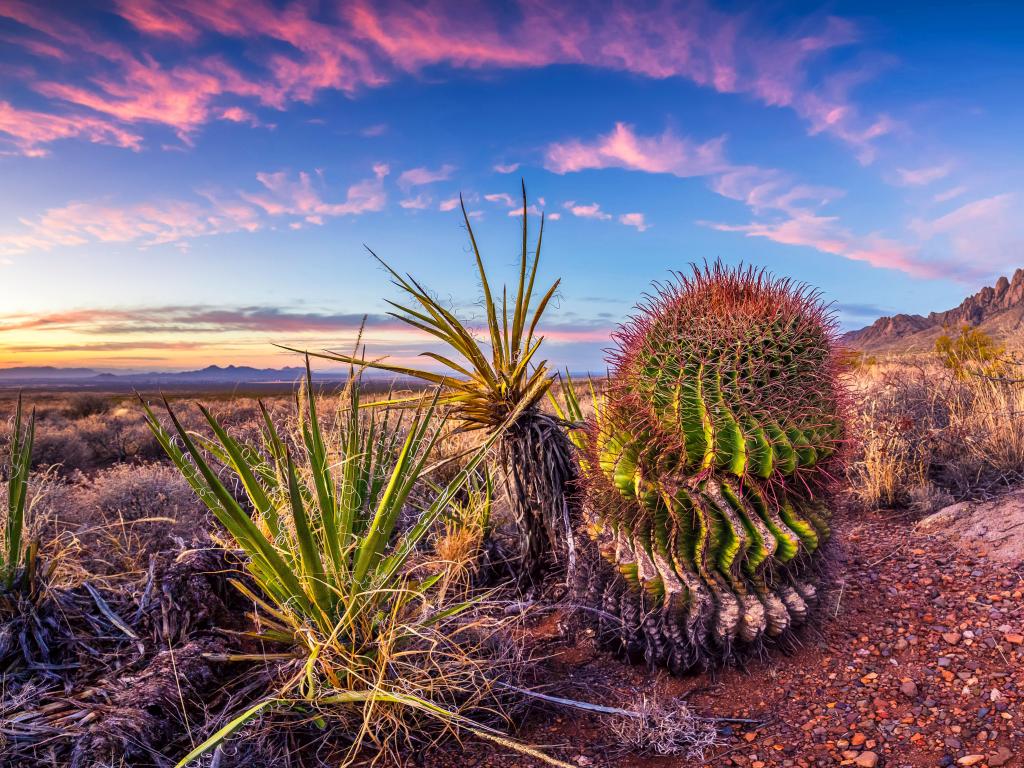 Best places to stop between El Paso and Santa Fe
While you might be tempted to complete this road trip in a day, both routes from El Paso to Santa Fe deserve an overnight stop to really discover all the amazing places you come across en route.
Take a look at where we recommend stopping at and staying to make the most of this fantastic road trip.
Check out supernatural Roswell - if you dare!
Roswell, located about halfway into your Cloudcroft Route drive at around 250 miles, is a perfect spot to pause your journey. This city, widely known for the alleged UFO incident of 1947, offers a quirky blend of history and mystery, making it an interesting stopover.
Roswell's star attraction is undoubtedly the International UFO Museum and Research Center, and explores the world of extra-terrestrial life and UFO phenomena. While exploring Roswell, don't miss the street lamps along Main Street painted to look like alien heads.
Nature enthusiasts must visit Bitter Lake National Wildlife Refuge, where you'll find a landscape teeming with wildlife. However, if art is more your thing then don't miss out on a visit to the Anderson Museum of Contemporary Art, housing an impressive collection of modern and contemporary art pieces.
A great place to rest your head for the night is Home2 Suites by Hilton Roswell, NM. This excellent hotel offers a fantastic barbecue area for guests - a perfect spot to unwind and prepare a meal after a long day on the road. Or how about a dip in the indoor swimming pool?
The hotel's prime location puts you within walking distance of great local attractions. Nearby POW/MIA Park and Memorial Park are a short walking distance from the property. These tranquil green spaces offer a peaceful respite and opportunities for picnicking, walking, and soaking up the local atmosphere.
Mountain views and hot springs in Truth or Consequences
Located just under halfway into the Albuquerque Route, around 120 miles into the journey, you'll come across Truth or Consequences, a unique pit stop.
Formerly known as Hot Springs until 1950, the town changed its name to Truth or Consequences when the host of the popular NBC Radio quiz show of the same name promised to air the show from the first town that renamed itself after it!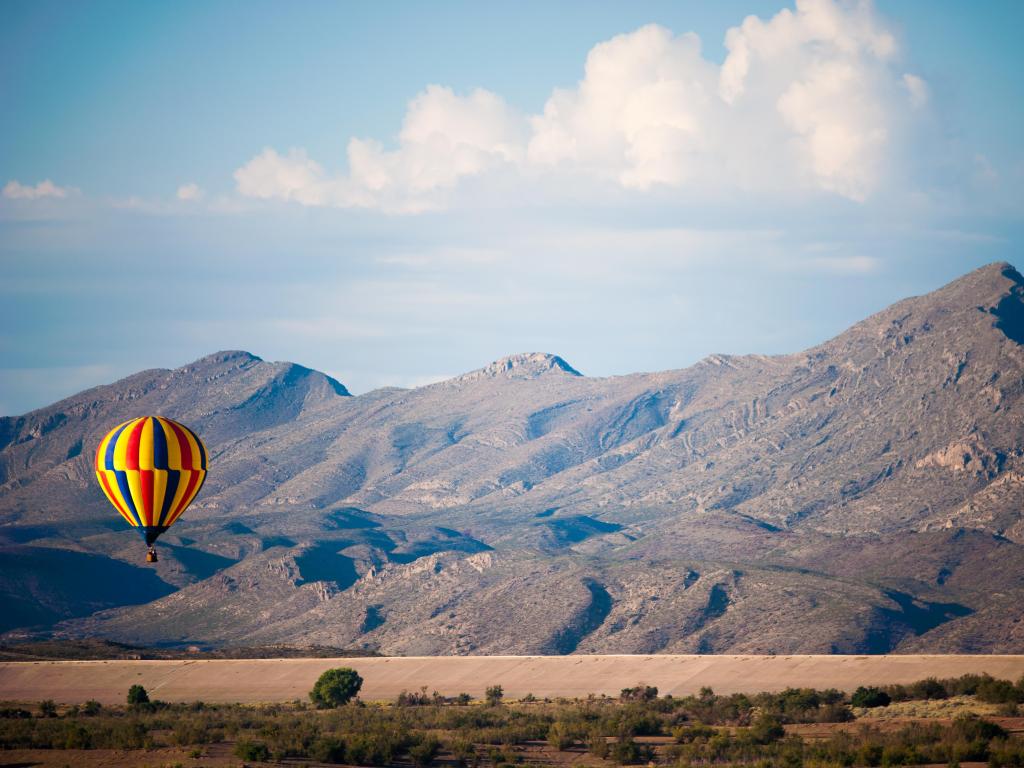 The town is still celebrated for its therapeutic geothermal hot springs. Top on your list of things to see should be the Hot Springs Bathhouse District, where you can soak in the healing waters. Culture enthusiasts can dive into local history at the Geronimo Springs Museum too.
For nature lovers, the Elephant Butte Lake State Park is also a must-visit, offering a variety of water and outdoor activities in beautiful surroundings.
We recommend the Rocket Inn for your overnight stay in Truth or Consequences. This retro motor lodge offers a quirky space-themed setting with top-notch customer service. Relax on the outdoor terrace and pretty garden and take in stunning mountain views for a memorable stay.
While in town, don't miss out on visiting the T or C Art Park, a hub for local artists. Another great spot nearby is Triangle Park, a peaceful green oasis, just a short walk away. Both locations offer a fantastic opportunity to stretch your legs and take in the local flavor of this charming town.
Where to stay when you reach Santa Fe
Founded in 1610, Santa Fe, one of the oldest state capitals in the United States, is a charming destination. Santa Fe Plaza, the heart of the city, is brimming with historic landmarks, museums, and galleries.
Art lovers can head to the Georgia O'Keeffe Museum, dedicated to the work of this modernist pioneer, while opera enthusiasts can catch a performance at the world-renowned Santa Fe Opera House. There are heaps to do, throughout the day and night.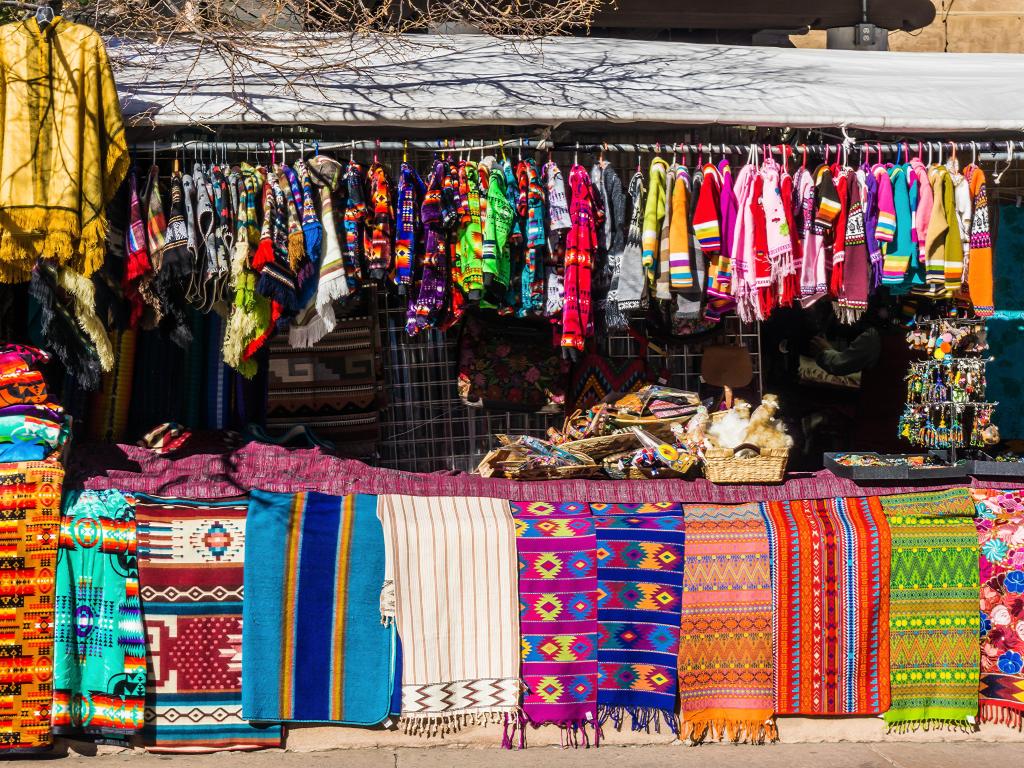 For your stay in Santa Fe we recommend La Fonda on the Plaza. This historic hotel has welcomed guests since the 1920s and has a perfect mix of old-world charm and modern amenities.
Relax and watch the sunset from the Bell Tower with a drink in hand, and then take a dip in the rooftop pool. The hotel's location is second to none, offering incredible mountain views and easy access to top attractions.
It's worth noting that Santa Fe is the highest capital city in the United States, sitting around 7,199 feet above sea level, which is over a mile high! Don't be surprised if you feel a little short of breath at first, this is a common mild effect of the high altitude. The views are more than worth it.
Things to see on a road trip from El Paso to Santa Fe
Although this is only a short road trip, there is plenty to see and do as you travel from El Paso to Santa Fe. Here are some of the highlights you'll want to stop at along the way.
Both Routes
Mesilla Valley Bosque State Park - This state park in New Mexico offers visitors a glimpse into the unique ecosystem of the Rio Grande floodplain, featuring nature trails, wildlife viewing, and birdwatching opportunities.
New Mexico Farm and Ranch Heritage Museum - An interactive museum in Las Cruces dedicated to preserving and sharing the rich history of farming, ranching, and rural life in New Mexico.
Dripping Springs Natural Area - Located near Las Cruces, this natural area offers scenic hikes and historical buildings, with springs that create an oasis in the Chihuahuan Desert.
The Cloudcroft Route
White Sands National Park - A unique national park featuring expansive gypsum dune fields, rare plants and animals, with opportunities for hiking, picnicking, and sand sledding.
World's Largest Pistachio - An iconic roadside attraction in Alamogordo featuring a 30-foot-tall pistachio sculpture and an adjacent pistachio farm with a gift shop.
Lincoln National Forest - Sprawling across 1.1 million acres, it offers outdoor activities like hiking, camping, and bird watching, and is known for the Smokey Bear historical park.
Sunspot Solar Observatory - A high-altitude astronomical observatory in New Mexico providing educational exhibits and opportunities to learn about the Sun and its influence on Earth.
Trestle Recreation Area - Located within the Lincoln National Forest, this area is known for its historic railroad trestle, mountain views, and hiking trails.
International UFO Museum and Research Center - Located in Roswell, it provides information on the 1947 UFO incident, other UFO sightings, and related phenomena.
Bottomless Lakes State Park - New Mexico's first state park, it's known for its deep blue-green lakes formed by sinkholes, and offers activities like swimming, fishing, and birdwatching.
Bitter Lake National Wildlife Refuge - A refuge near Roswell protecting a diverse population of wildlife, especially birds, and features trails and observation decks for visitors.
Roswell Museum and Art Center - It features exhibits on local history, fine arts, and includes a recreation of Robert H. Goddard's rocket workshop.
Blue Hole - An artesian well and popular dive destination in Santa Rosa, New Mexico, known for its clear blue water and constant temperature.
Route 66 Auto Museum - A museum in Santa Rosa featuring a collection of vintage cars and memorabilia associated with historic Route 66.
Santa Rosa Lake State Park - A park in northeastern New Mexico centered around a reservoir, offering opportunities for boating, fishing, hiking, and camping.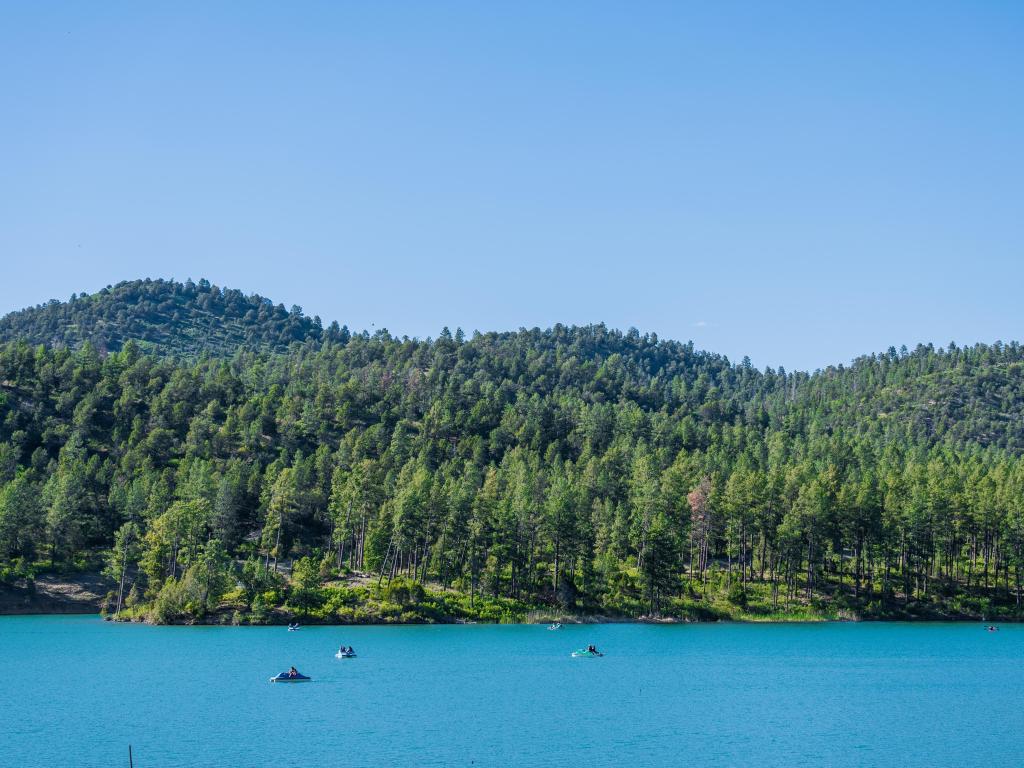 The Albuquerque Route
Caballo Reservoir - A scenic reservoir located in southern New Mexico, offering a variety of water-based recreational activities such as fishing, boating, and bird watching.
Geronimo Springs Museum - A museum in Truth or Consequences, showcasing local history, Native American artifacts, pottery, and geological specimens.
Riverbend Hot Springs - Located in Truth or Consequences, it's New Mexico's only hot springs spa on the banks of the Rio Grande, offering relaxing mineral soaks with riverside views.
Bosque Del Apache National Wildlife Refuge - A must-visit for nature lovers and birdwatchers, offering educational resources about the refuge's wildlife and its diverse ecosystem.
San Miguel de Socorro - Located in Socorro, it is one of the oldest Catholic churches in the United States, known for its traditional adobe architecture.
Socorro Nature Area - A popular site for outdoor enthusiasts, featuring hiking trails, fishing spots, and bird-watching opportunities along the Rio Grande.
Tomé Hill Park - Known for its impressive hilltop views, this park in Tomé features a series of religious and historical petroglyphs.
Manzano Mountains State Park - A quiet park in the Manzano Mountains offering camping, picnicking, bird watching, and trails winding through beautiful forests.
Petroglyph National Monument - Situated in Albuquerque, it protects one of North America's largest petroglyph sites, with thousands of ancient Native American and Hispanic rock carvings.
Sandia Peak Tramway - An aerial tramway located in Albuquerque that provides a stunning, panoramic view of the city and surrounding landscape from Sandia Peak.
Turquoise Museum - Located in Albuquerque, it houses an extensive collection of turquoise artifacts showcasing the history, geology, and artistry of this semi-precious stone.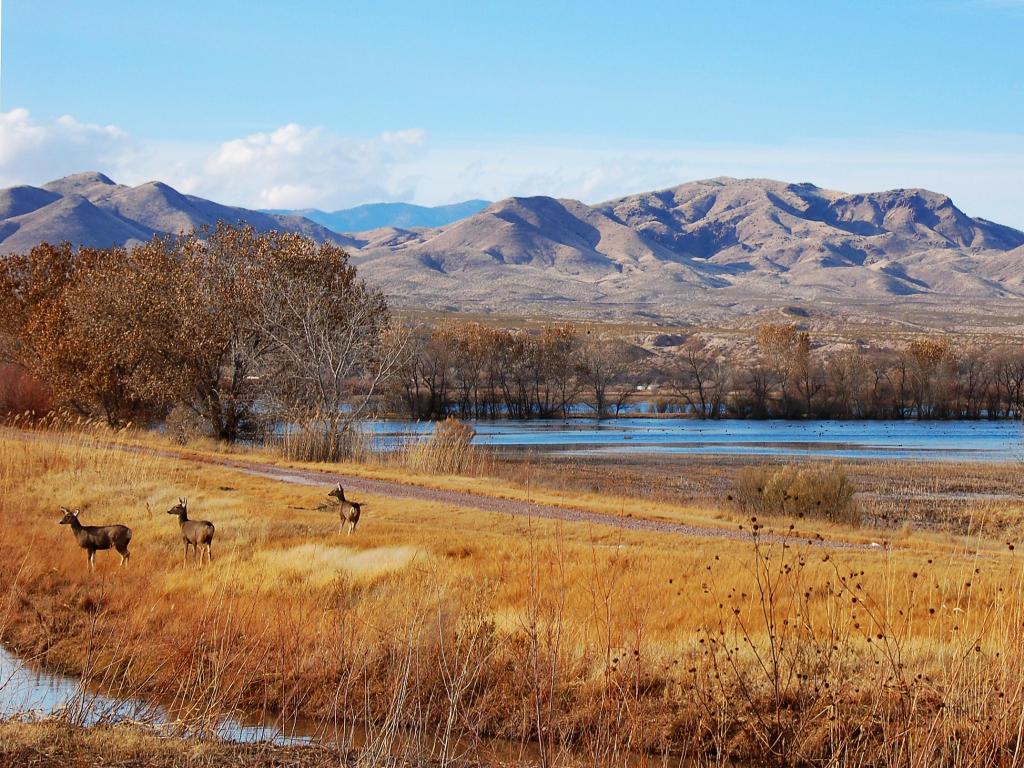 Best time to go on a road trip from El Paso to Santa Fe
Santa Fe is a city that can be enjoyed all year round, but the experience does vary with the seasons.
While Santa Fe can be a bit chilly in the winter with temperatures ranging from 21 to 47 degrees Fahrenheit, the city looks beautiful dusted with snow, and is a great time to hit the nearby ski slopes. However, as with any winter travel, you should be prepared for any weather-related delays or complications on the road.
Summer brings warm, dry weather with temperatures usually sitting between 56 to 86 degrees Fahrenheit, making it a prime time for exploring the city's outdoor attractions. However, keep in mind as the city sits a mile high, stay hydrated and take it easy at first due to altitude.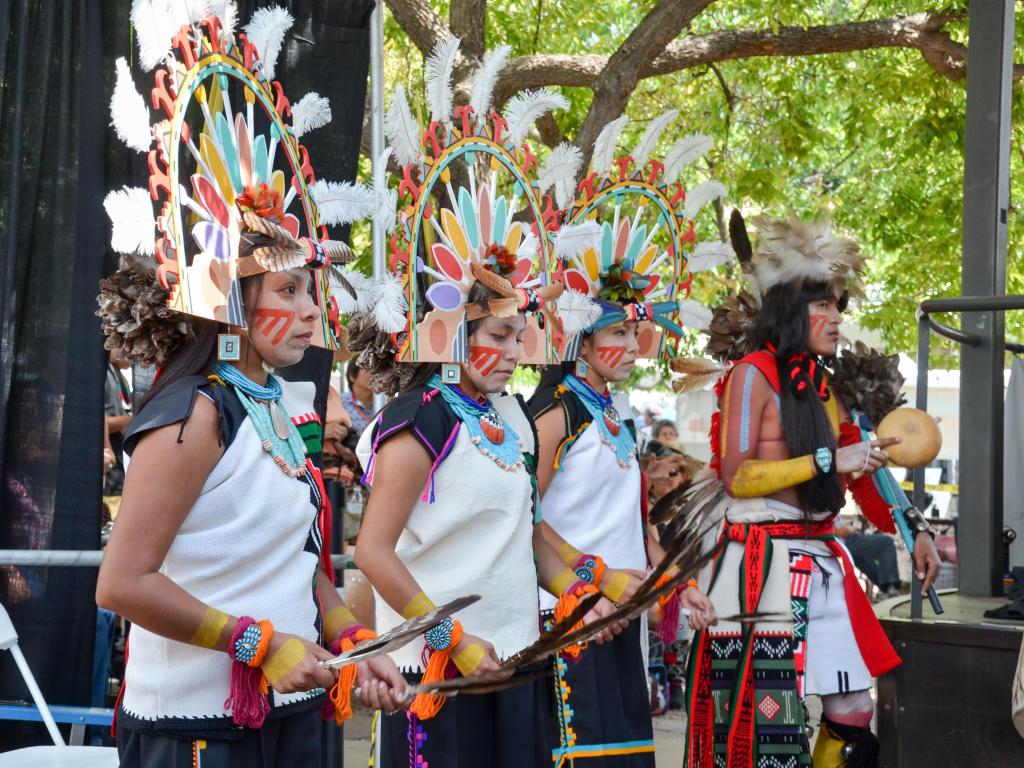 Late spring and early fall might be the best balance for this trip, offering milder weather and less tourist traffic. The average temperature ranges from 30 to 70 degrees Fahrenheit in spring, and 35 to 76 degrees Fahrenheit in fall, offering pleasant conditions for outdoor fun.
If your journey takes you along The Cloudcroft Route in July, then you can take part in the UFO Festival in Roswell, a must for alien hunters! If you are instead travelling in fall then make sure to tie it in with the fun-filled Cloudcroft Octoberfest.
If instead, you're taking The Albuquerque Route, October brings the renowned Albuquerque International Balloon Fiesta. A stunning spectacle. Travel in November and the Festival of the Cranes at the Bosque del Apache National Wildlife Refuge is a sight to behold.
Once you reach Santa Fe, you could time your arrival with the Santa Fe Indian Market in August, the world's largest and most prestigious Native American arts show. Or head a month later and catch the Fiestas de Santa Fe in September, a vibrant cultural event steeped in history.