Road trip from El Paso to Sedona
If the expansive desert landscapes of southern New Mexico and Arizona with mystical red rock formations and vibrant energy vortexes are on your must-see list, then look no further than this road trip from El Paso to Sedona, blending history, natural beauty and scenic tranquillity.
The 550-mile road trip from El Paso to Sedona takes 9 hours via Phoenix Route passing Las Cruces, Benson, Tucson, Camp Verde and Red Rock Scenic Byway, or the Forests Route to Alpine, Apache-Sitgreaves National Forest, Pinetop-Lakeside and Flagstaff.
This stunning journey takes from desert landscapes and pine forests, to city sights and attractions. Make sure to keep reading to see all the best places to stop at, explore, and stay, as you make this unforgettable trip between El Paso and Sedona.
How far is Sedona from El Paso, and how long will the road trip take?
Comparison of road trip routes between El Paso and Sedona

| Route | Distance | Driving Time |
| --- | --- | --- |
| The Phoenix Route | 550 miles | 8 hours 30 minutes |
| The Forests Route | 525 miles | 9 hours 30 minutes |
Taking the Phoenix Route from El Paso to Sedona spans 550 miles and takes around 8 hours and 30 minutes of continuous driving to complete without detours.
Opting for the alternative Forests Route covers a similar distance of 525 miles, but this scenic option takes slightly longer at 9 hours and 30 minutes before reaching El Paso.
While these routes can be tackled within a day, with the wealth of sights and experiences on both routes we suggest setting aside at least 2-3 days for the journey.
Best road trip route from El Paso to Sedona
The slightly more straightforward Phoenix Route cuts through the expansive desert landscapes of Arizona, passing iconic Texas Canyon with its peculiarly large boulders and rock formations – a sight not to be missed.
Take a breather at The Sunset Point Rest Area, perched above the desert floor, with sweeping vistas of the Arizona landscape. This route offers vast deserts, urban hubs like Phoenix, and historical landmarks.
However if you are looking for more natural tranquillity, then this route may be a little too busy in parts.
If you instead have a penchant for dense green forests and serene parklands, then the Forests Route is your ideal pick. This route meanders with lofty mountain viewpoints through Apache-Sitgreaves and Gila National Forests.
Key highlights include the Emory Pass Vista, where you can soak up the panoramic sights of the Black Range and the valleys beneath. You can also marvel at the Escudilla Mountain Overlook, set within Apache-Sitgreaves National Forest, with views of Arizona's third highest peak, Escudilla Mountain.
How to drive from El Paso to Sedona
The map above shows our suggestions for the best road trip routes between El Paso and Sedona. Keep reading for detailed descriptions of both routes, where to stay on either, and the best things to do on the way.
The Phoenix Route
Set out eastwards from El Paso along Interstate-10 (I-10) and you'll soon reach Las Cruces and the New Mexico Farm and Ranch Heritage Museum, a testament to the region's rich agricultural heritage.
As you keep traveling towards San Simon, you'll pass the beautiful Chiricahua National Monument, a series of impressive rock pinnacles towering against the skyline.
Continuing along I-10, you'll then arrive at Benson, where you should visit Kartchner Caverns State Park limestone caves before witnessing strange sights of Bowlin's The Thing, a mysterious attraction that's been the subject of roadside folklore for decades.
The road then sweeps you into Coronado National Forest, leading to a picturesque ascent up Mount Lemmon, one of the highest peaks of the Santa Catalina Mountains. From here, you will soon reach Tucson.
Phoenix, the bustling desert metropolis, comes next. Delve into the city's rich indigenous heritage at the Heard Museum, or immerse yourself in the city's vibrant arts scene with the First Friday Roosevelt Row – an art walk teeming with galleries, street performers, and local craftsmen.
From Phoenix take I-17 towards Camp Verde, passing Montezuma Castle National Monument en route. A short detour brings you to the Verde River, a lush riparian oasis, followed by the Tuzigoot National Monument.
Your drive culminates with the iconic red rock formations of Sedona. The Red Rock Scenic Byway is a must, with a stop at Oak Creek Vista Overlook offering panoramic views of the region's famed red rock formations.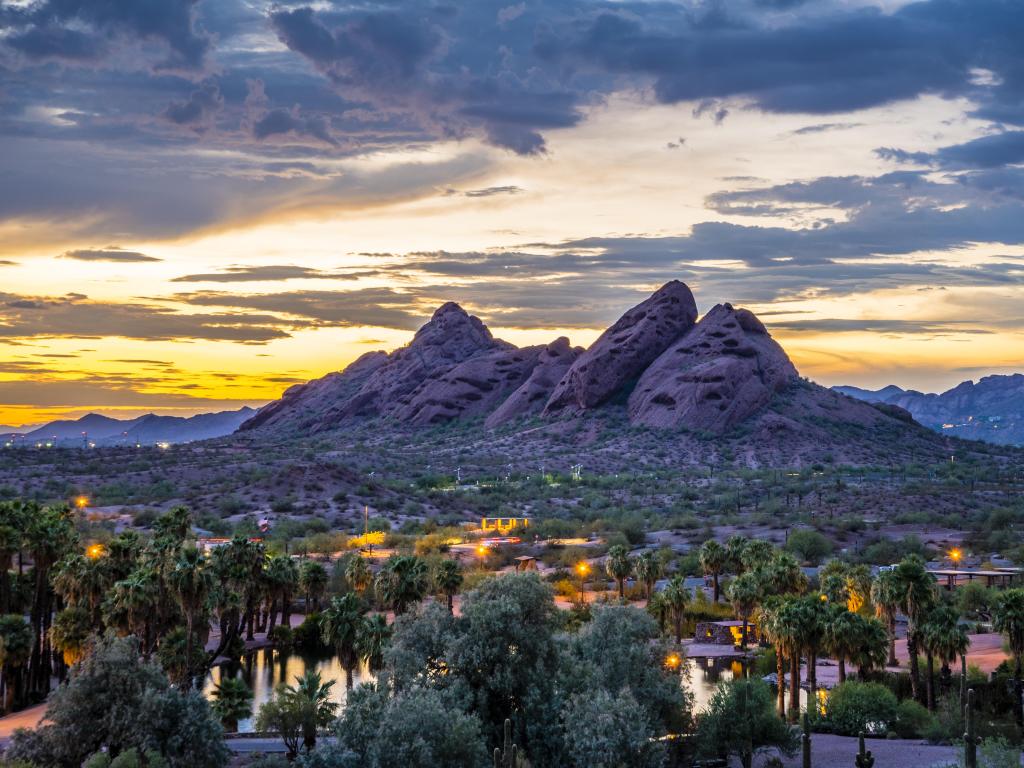 The Forests Route
Head from El Paso northeast along Interstate-10 (I-10) towards Las Cruces, visiting New Mexico Farm and Ranch Heritage Museum before moving on towards Dragonfly Trail Pictographs with mesmerizing ancient rock drawings.
Your journey continues northeastward towards Alpine along US-180, making a well-deserved stop at Gila Cliff Dwellings National Monument, nested within caverns and overlooking the Gila River. Afterwards in Silver City, the Big Ditch Park awaits, once the Main Street before being transformed by a devastating flood.
After Alpine, take US-191 passing Luna Lake, and then the sprawling vistas of Gila National Forest. Enhance your understanding of the region's history by stopping at the Alpine Historical Society Museum.
Your path now weaves through the dense expanse of the Apache-Sitgreaves National Forest. There are endless opportunities for hiking, camping, and wildlife viewing. Taking AZ-260 will lead you to an overnight stop at Pinetop-Lakeside, a charming mountain town.
Afterwards, head westward along AZ-77 towards Flagstaff. Homolovi State Park, home to several ancestral Hopi villages, and the Museum of Northern Arizona both provide you will insight of the region's natural and cultural history along the way.
A final visit to The Arboretum at Flagstaff can then be enjoyed before arriving at the enchanting terrains of Sedona.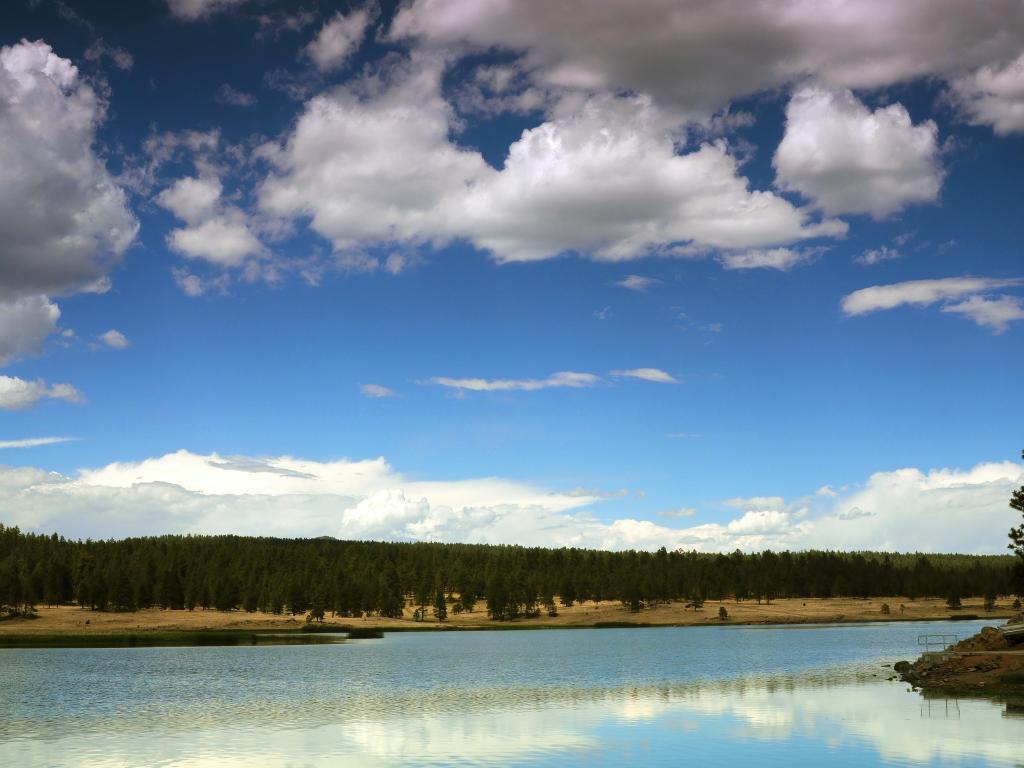 Best places to stop between El Paso and Sedona
Although this is a fairly short journey you'll be inundated with things to see and do along the way, so make sure to book a night or two stopover to take in all the sights. Here are some of the great places we suggest spending a little more time at.
There is plenty to tuck into in Tucson
Tucson is an ideal spot to pause along The Phoenix Route, found roughly halfway along the journey. This sun-drenched desert city, with its unique mix of Native American, Mexican, and Western influences, will captivate you with its vibrant heritage and striking Sonoran Desert vistas.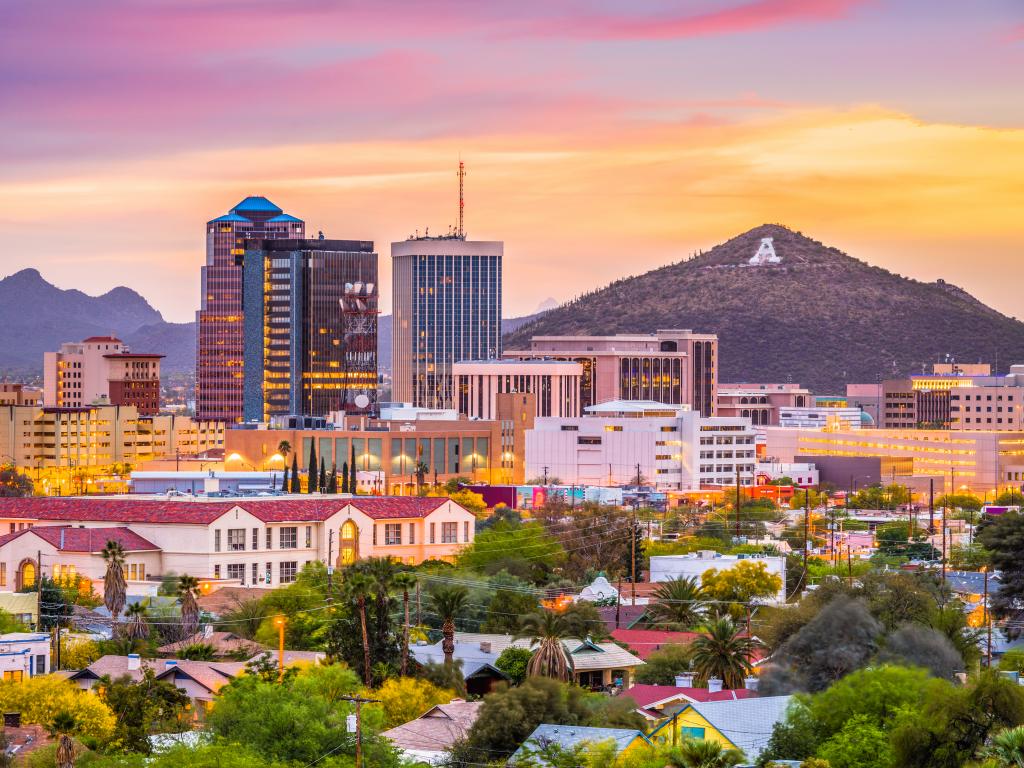 The Sabino Canyon Recreation Area, acclaimed for its spectacular desert landscapes and cool water streams, are ideal for a wander or rest beside the gentle waters.
For history and aviation buffs, the Pima Air & Space Museum is a must-visit. This sprawling museum offers a deep dive into the world of aerospace, with a collection of over 300 aircraft.
But if nature is still calling, you can head to Saguaro National Park, where the iconic saguaro cacti stand tall against this magnificent parkland.
During your Tucson visit, we highly recommend the Graduate Tucson for a place to stay. This trendy hotel is conveniently located within the city's vibrant heart, with a rooftop swimming pool to view the panoramic sights of Tucson. Stay a little longer at the lively outdoor bar area, complete with fire pits for those slightly chilly desert evenings.
If you're in the mood to explore the vicinity, the Geronimo Center and Sculpture Garden are both within walking distance. But don't stray too far during dinnertime, as the hotel itself promises a delicious culinary experience celebrating Tucson's rich gastronomic legacy.
Escape to the scenic sights of Pinetop-Lakeside
Just over halfway along the Forests Route, you will reach Pinetop-Lakeside, nestled in the heart of the magnificent White Mountains of Arizona. This scenic stop-off is a gateway to the region's pristine beauty, with a cool climate, and a favored refuge for those seeking solace from the desert's relentless heat.
At the heart of this route, the town's pristine landscapes come alive, with a first stop at the White Mountain Family Fun Park, promising endless fun for the family.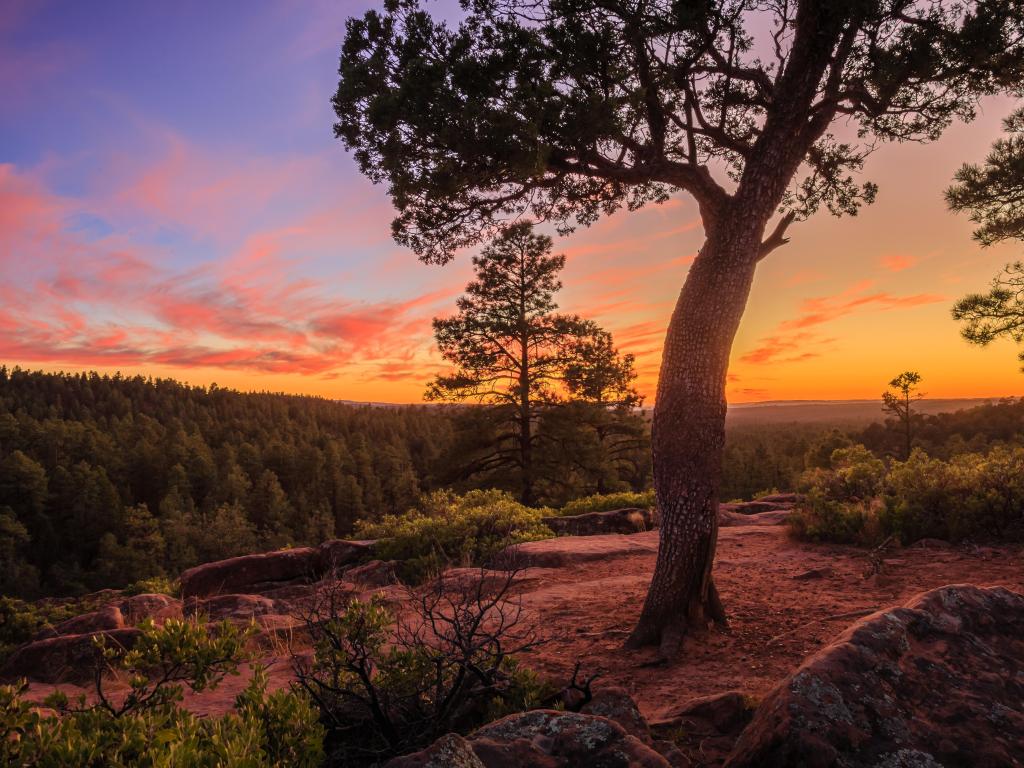 The serenity of the Show Low Lake, on the other hand, offers a calming contrast, with a visit afterwards to Woodland Lake Park a feast for the natural senses.
Pinetop-Lakeside is not just about nature, it's also a town rich in legends. The tale of William Penrod, the saloonkeeper fondly known as "Pine Top", adds a quirky charm, with stories placing him atop his saloon calling out to his boisterous patrons below.
We recommend the WorldMark Pinetop for your stay, as this lovely aparthotel features many activities, making it an ideal lodging option for families. If you fancy a game of tennis or billiards or simply soaking in the hot tub under the starry sky, then this is the place for you.
Every room offers a breathtaking view of the woodlands, with great hiking trails straight from the lodging. You'll find Sierra Springs Ranch just a short drive away, or for those seeking a rush of adrenaline, Thunder Raceway stands ready, a mere 10 miles away.
Where to stay when you reach Sedona
Sedona is best known for iconic red rock formations and swirling energy vortexes and is a magnet for artists, wellness enthusiasts, and those seeking adventure.
The Chapel of the Holy Cross, perched amidst the red rocks, offers spiritual and visual solace, while Cathedral Rock has magnificent towering spires. For those who prefer a leisurely journey, the Red Rock Scenic Byway showcases Sedona's most iconic landmarks.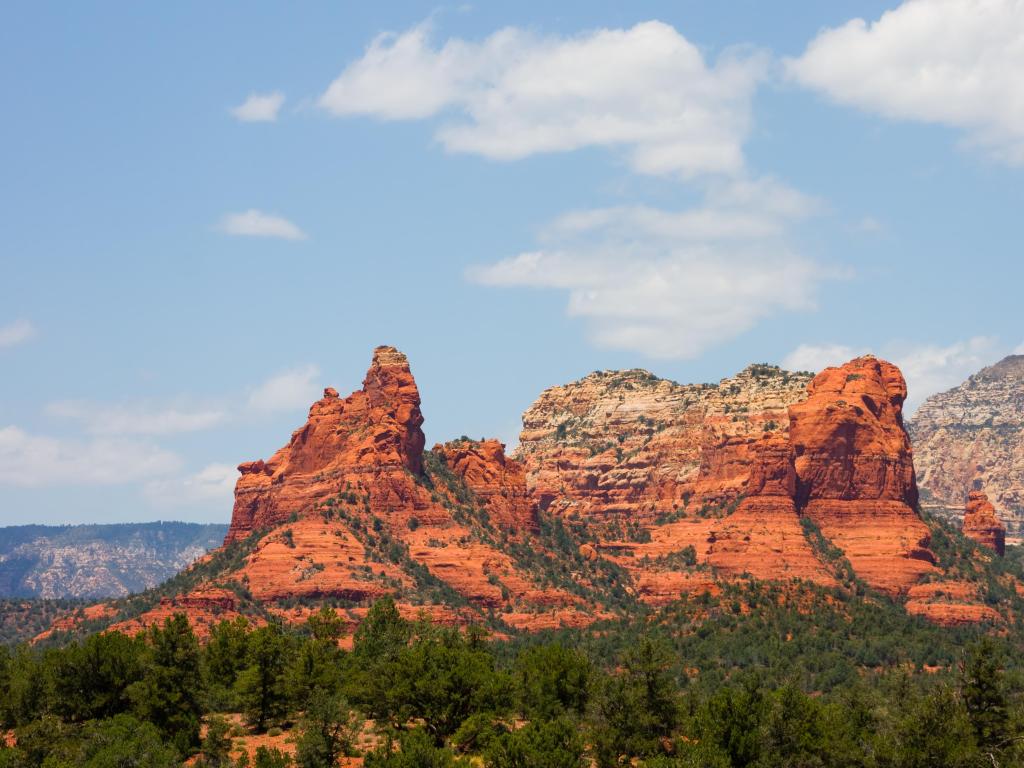 If you fancy a bite to eat, then stroll to the local McDonald's like no other. You'll be greeted not with the golden arches but with turquoise ones, which is a nod to Sedona's commitment to preserving its unique aesthetic.
For those seeking sanctuary after a busy day look no further than A Sunset Chateau. This haven combines cozy, traditional décor with the chance to indulge in a leisurely swim, practice on the tennis court, or bask by the firepit as the sun sets. Its prime location also ensures attractions like Sunset Park and Northview Park are just a short stroll away.
Things to see on a road trip from El Paso to Sedona
There's an abundance of memorable sights and experiences to discover on this amazing trip, making every mile of the journey a memorable adventure. Make sure to stop off at some of the recommended places we've highlighted below.
Phoenix Route
New Mexico Farm and Ranch Heritage Museum - Dive deep into 3,000 years of farming and ranching history, where interactive displays and live animals narrate New Mexico's agricultural chronicles.
Chiricahua National Monument - An ethereal landscape of rugged rock pinnacles, this "Wonderland of Rocks" stands as a testament to the power of erosion.
Kartchner Caverns State Park - Journey into the subterranean world of limestone caves, boasting some of the world's longest stalactite formations.
Bowlin's The Thing - A quirky roadside attraction, this museum beckons with its mysteries, vintage memorabilia, and the enigmatic "Thing."
Coronado National Forest - Spanning diverse landscapes from desert valleys to snowy peaks, this forest offers a captivating mosaic of ecosystems.
Mount Lemmon - Arizona's sky island, with its breathtaking scenic byway, transports visitors from desert floor to pine-clad peaks.
Arizona-Sonora Desert Museum - This fusion of zoo, botanical garden, and museum immerses visitors in the rich biodiversity of the Sonoran Desert.
Tucson Botanical Gardens - A lush oasis in the heart of Tucson, these gardens invite you to wander through themed plots bursting with desert flora.
Heard Museum - Celebrating indigenous art and cultures, this museum provides profound insights into Native American heritage.
First Friday Roosevelt Row - Immerse in Phoenix's vibrant arts scene, where every first Friday, galleries throw open their doors in a communal celebration of creativity.
Montezuma Castle National Monument - This ancient cliff dwelling stands as a majestic five-story testament to the Sinagua people's architectural prowess.
Verde River - A rippling lifeline in the desert, this river offers rejuvenating spots for kayaking, fishing, and bird-watching.
Tuzigoot National Monument - Explore the remnants of a Sinagua village perched atop a hill with panoramic views of the Verde Valley.
Bell Rock and Cathedral Rock - Iconic red rock formations, these geological wonders are revered both for their beauty and spiritual significance.
Oak Creek Vista Overlook - Breathe in the panoramic views of Oak Creek Canyon's stunning layers of red rock and verdant forests.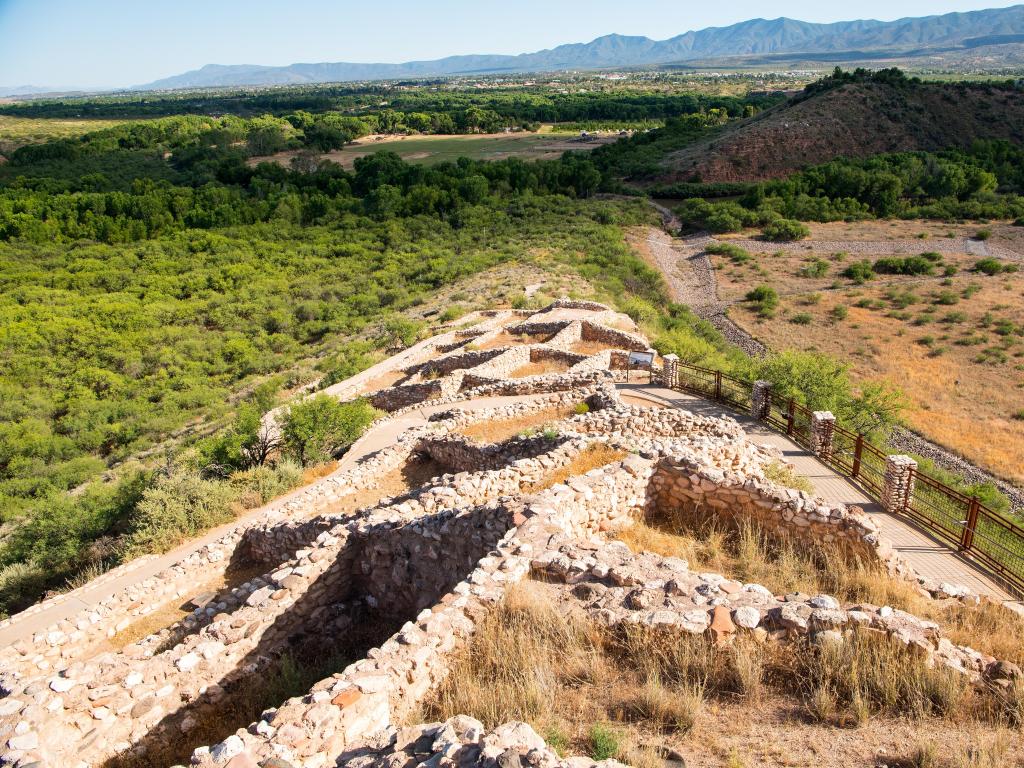 Forests Route
Dragonfly Trail Pictographs - Delve into history with these ancient rock drawings, bearing witness to the rich cultural tapestry of the region.
Gila Cliff Dwellings National Monument - Step back in time within these caves, where the Mogollon people once crafted their cliff-hugging homes.
Big Ditch Park - Once a main street, now a verdant park, it showcases Silver City's resilience and transformation after a devastating flood.
Luna Lake - Nestled amidst the alpines, this serene lake offers idyllic settings for fishing, bird-watching, and boating.
Gila National Forest - Traverse diverse terrains, from rugged cliffs to dense woods, in this expansive wilderness haven.
Alpine Historical Society Museum - Journey into Alpine's past, where exhibits unravel stories of pioneers, ranchers, and indigenous inhabitants.
Apache-Sitgreaves National Forest - A vast expanse of green, it beckons with its pristine lakes, dense forests, and myriad wildlife.
Woodland Lake Park - Revel in nature's embrace with scenic trails, fishing spots, and bird-watching opportunities at this tranquil park.
White Mountain Nature Center - Discover the rich ecology of Arizona's White Mountains through interactive exhibits and nature trails.
Pinetop Brewing Company - Quench your thirst with handcrafted brews, where each pint tells a tale of local flavors and brewing artistry.
Homolovi State Park - Walk amidst the ruins of ancient Hopi pueblos, where the whispers of the past blend with the desert winds.
Museum of Northern Arizona - A treasure trove of art, history, and science, this museum celebrates the Colorado Plateau's rich heritage.
The Arboretum at Flagstaff - Wander amidst diverse flora, where high-elevation plants from around the world find a home in Arizona.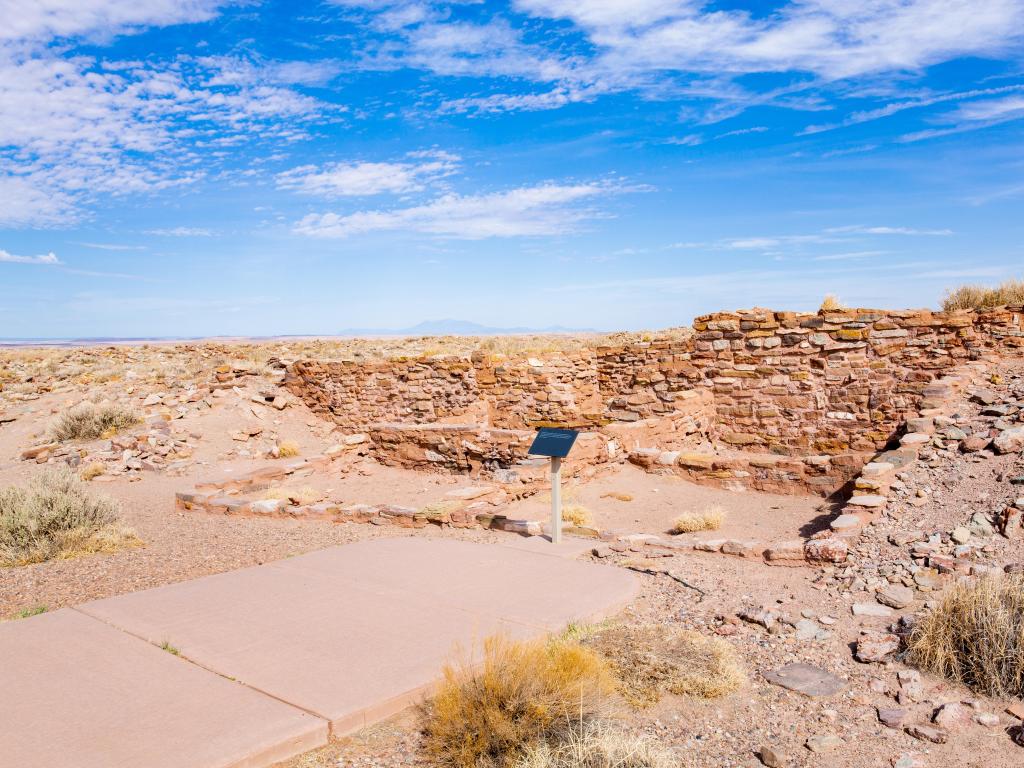 Best time to go on a road trip from El Paso to Sedona
Sedona, with its majestic red rock formations and effervescent arts community, welcomes travelers throughout the year, although depending on where you travel can offer very different experiences.
If you're considering the Phoenix Route in summer, be ready for temperatures often surpassing 100 degrees Fahrenheit. While hot, you will find air-conditioned attractions to take refuge and explore to escape the summer heat.
Visit later in the year, and as you near Sedona, the higher elevations mean winter temperatures can fall to 30-50 degrees, with January and February seeing snow and icy conditions. Check before traveling during these times to make sure the routes are unaffected.
For those favoring the Forests Route, the late spring to early summer will bring temperatures ranging between 60-80 degrees, making it a great time to set off on this adventure if you want to explore the great outdoors.
Travel later in the year between July and September and temperatures range between 70-90 degrees. As fall approaches, you can see the beautiful foliage change color in national forests surrounding the routes, especially on the Forests Route (whose name might be a giveaway!).
If you fancy making more of your journey, synchronize the timing with a local event. Along the Phoenix Route, April presents the Scottsdale Culinary Festival, while October offers the Arizona State Fair. Both are great local, cultural events.
Meanwhile, the Forests Route in June showcases both the White Mountains Balloon Festival and the Flagstaff Folk Festival. The Sedona International Film Festival in late February and Sedona Arts Festival in October are also a couple of exciting experiences on offer.