Road Trip from Fort Lauderdale to New York
This epic road trip from Fort Lauderdale to New York takes in a diverse landscape and plenty of contrasts. Along the way, you will have the opportunity to explore large cities, charming towns, historic sites, awesome scenery, and drive along Florida's Atlantic coast to enjoy the fabulous beaches.
The 1,400-mile road trip from Fort Lauderdale to New York takes around 23 hours to drive. Highlights include West Palm Beach, Jacksonville, Savannah, Myrtle Beach, Baltimore and Washington DC plus Shenandoah National Park and the Blue Ridge Parkway.
We've found the ideal routes, must-visit attractions, and best overnight stops to help you get the most from this adventure. So, join us as we hit the road on this fantastic road trip from Fort Lauderdale to New York City.
How far is New York from Fort Lauderdale, and how long will the road trip take?
Comparison of road trip routes between Fort Lauderdale and New York

| Route | Distance | Driving Time |
| --- | --- | --- |
| The Atlantic Route | 1.340 miles | 23 hours |
| The Blue Ridge Parkway Route | 1,430 miles | 23 hours |
The Atlantic Route is the slightly shorter of the two options, at 1,340 miles and featuring a non-stop driving time of around 23 hours. This route takes in several large cities and metropolitan areas, so this is likely to add to your time on the road.
Alternatively, the Blue Ridge Parkway Route is a shade longer at 1,430 miles, also with a 23-hour driving time, without stops. A significant portion of this drive is through rural areas, and this route offers the chance to enjoy some spectacular scenery.
Given the length of this trip and all the great things to see along both routes, we would suggest setting aside 10 days for this adventure. The shortest amount of time needed to complete this trip would be three days.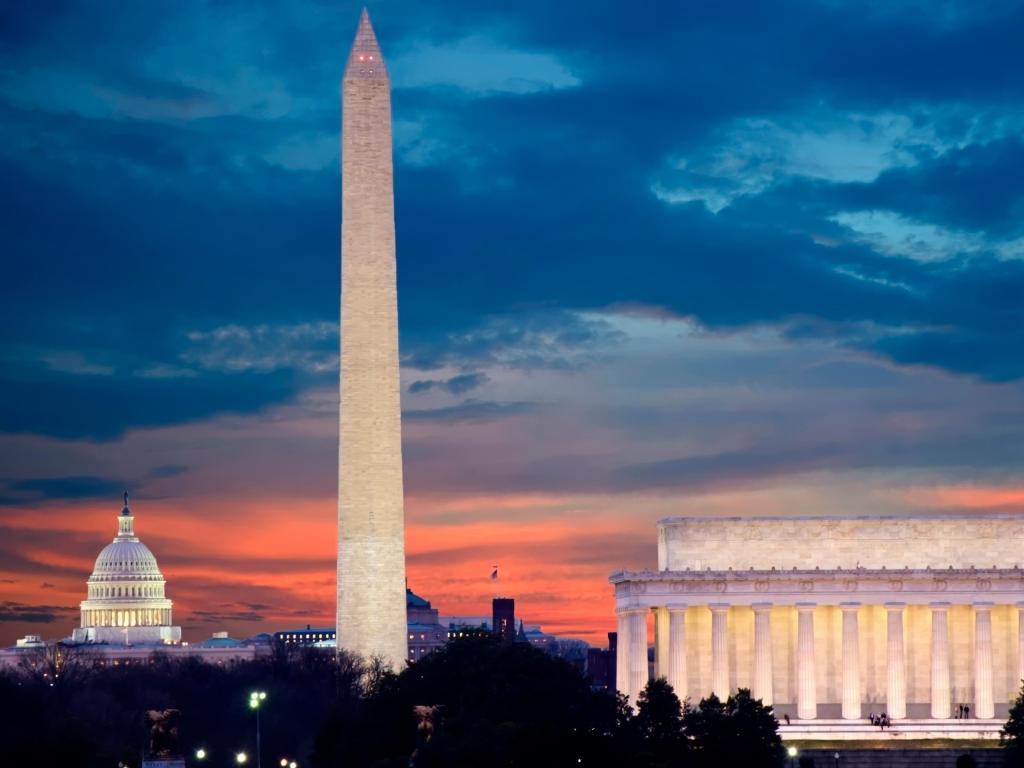 Best road trip route from Fort Lauderdale to New York
Both our routes feature some wonderful highlights. So, the choice of route for this trip will really come down to a simple preference: city or country.
The Atlantic Route offers the chance to explore lots of big cities, either directly on the route or within a short detour. On this route, you can enjoy time in Jacksonville, Washington, DC, Baltimore, Wilmington, and Philadelphia. Other highlights include Charleston, Myrtle Beach, and Richmond.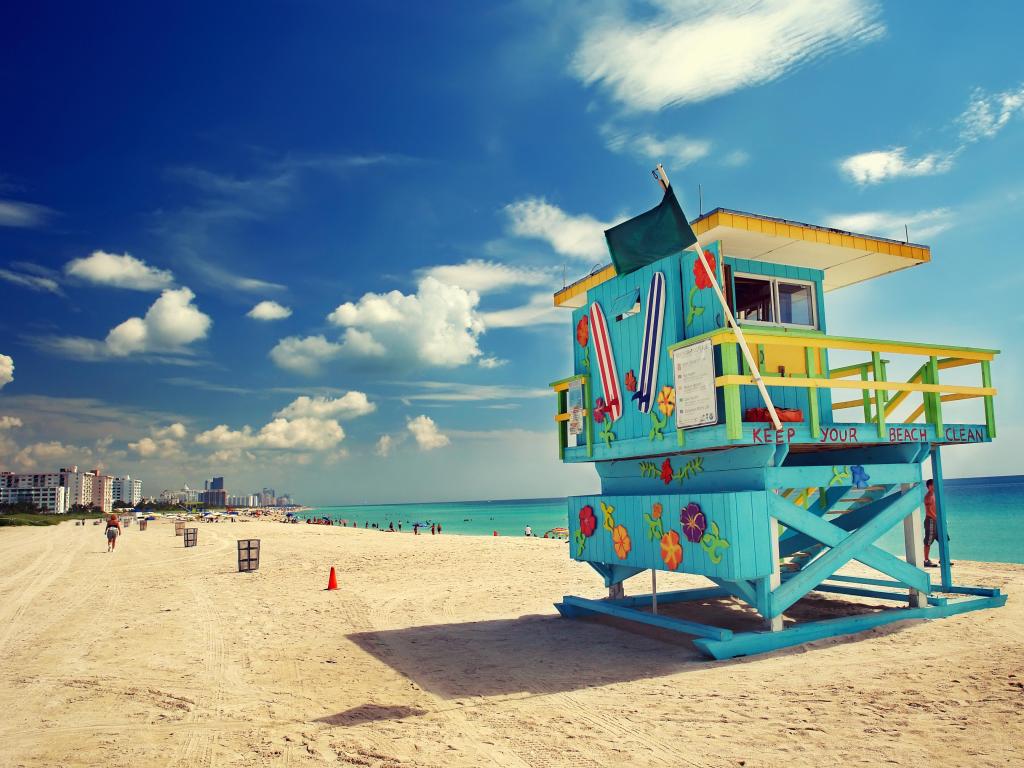 Meanwhile, the Blue Ridge Parkway Route offers the opportunity to enjoy a long drive on the scenic Blue Ridge Parkway, dubbed "America's Favorite Drive". There is also the option for a detour to Shenandoah National Park, and for visits to Jacksonville, Charlotte, and Roanoke.
Both routes feature plenty of lovely Florida beaches and the opportunity to visit Kennedy Space Center, with a possible detour to Orlando's theme parks.
How to drive from Fort Lauderdale to New York
The map above shows our suggestions for the best road trip routes between Fort Lauderdale and New York. Keep reading for detailed descriptions of both routes, where to stay on either, and the best things to do on the way.
The Atlantic Route
Leave Fort Lauderdale on Interstate-95 (I-95) North and follow the Atlantic Coast through Boca Raton and West Palm Beach. Continue on I-95 North until you see the signs for Vero Beach. Pick up scenic Highway A1A for Indian River Lagoon Preserve State Park and Kennedy Space Center.
From Kennedy Space Center, follow the signs for Orlando if you would like to visit the theme parks. If not, continue to follow the coast past Daytona Beach and St. Augustine as you make your way to Jacksonville.
Leave Jacksonville and drive north to cross the Georgia state line as you continue on to Savannah. Once you've spent time in Savannah, head to Charleston and then wind your way up the coast to Myrtle Beach.
Continue on to the city of Richmond in Virginia. From here, head north to Washington DC. After your visit, follow the signs for Baltimore. Cross the Delaware River and enter New Jersey. Pass by Philadelphia and Trenton as you continue on I-95 North.
Follow the interstate towards Jersey City. Cross the Hudson River via the Holland Tunnel, entering the state of New York, as you reach your destination stop, New York City.
The Blue Ridge Parkway Route
Our routes converge for the first portion of the road trip. So, as with the Atlantic Route, head north from Fort Lauderdale on Interstate-95 (I-95). Enjoy the drive up the Atlantic Coast and a stop at the Kennedy Space Center and maybe a detour to Orlando. Continue north to Jacksonville and Savannah.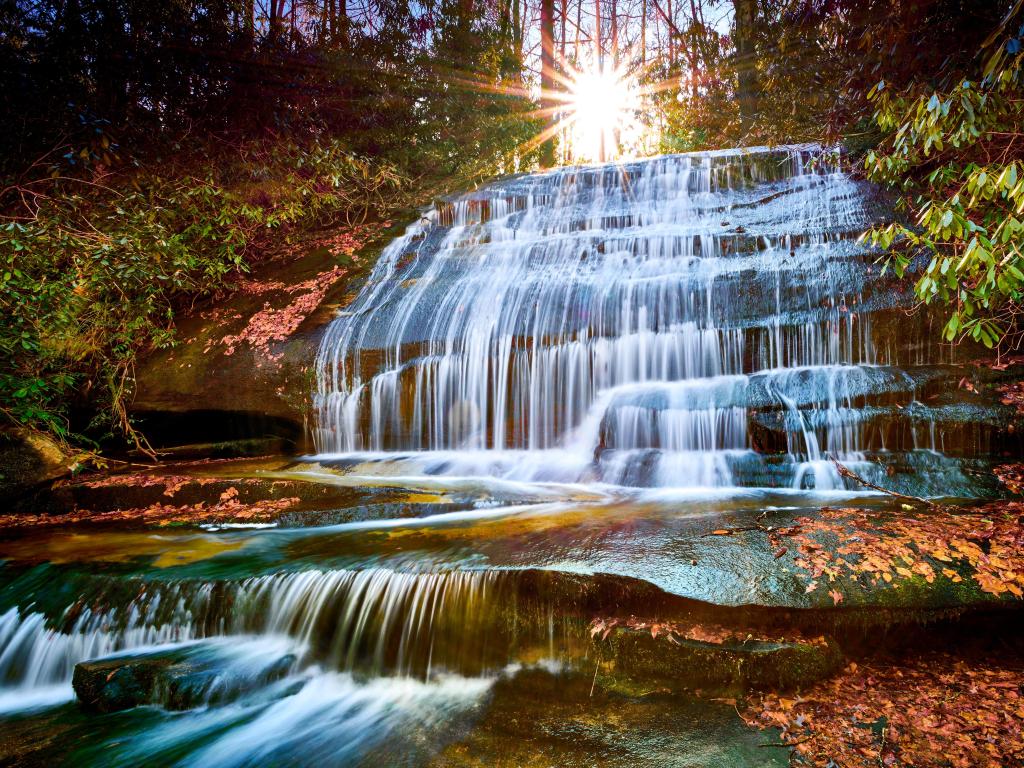 From Savannah, stay on I-95 North, avoiding Charleston and instead turning inland for Columbia, South Carolina. Continue north for Charlotte, North Carolina. From here, head north and drive towards Pisgah National Forest for Blowing Rock, the gateway to the scenic Blue Ridge Parkway.
Take a long, leisurely drive along the parkway, stopping safely to enjoy the views from the many scenic outlooks. Cross into Virginia and stay on the parkway to Fancy Gap.
Then head to Roanoke and on past George Washington and Jefferson National Forest and Monongahela National Forest. You may also wish to detour to Shenandoah National Park.
Beyond Hagerstown, cross the Pennsylvania state line. Just past Harrisburg, get on I-78 East for Fredericksburg and Allentown. Cross the Delaware River and enter New Jersey.
The routes then converge again for the final leg of the trip, as I-78 East takes you towards Jersey City and across the Hudson River. Enter New York state and arrive at the final stopping point, New York.
Best places to stop between Fort Lauderdale and New York
There are plenty of fantastic towns and cities on both our routes that are worthy of an overnight stay. Here are just two that we think offer the ideal excuse to park the car and take a lengthy break from the road. We also suggest a great hotel in New York City.
Southern charm in Charleston
On our Atlantic Route, we've selected the historic port city of Charleston in South Carolina. You'll reach the stop just under halfway through the route.
Located on the waterfront, Charleston is full of character and color, with pretty cobblestone streets, horse-drawn carriages, and pastel antebellum houses. Spend time exploring the French Quarter, Battery Promenade and the lovely 10-acre Waterfront Park.
Discover the city's Civil War history at Fort Sumter. Meanwhile, The Old Slave Mart Museum tells the history of the thousands of enslaved people who passed through Charleston.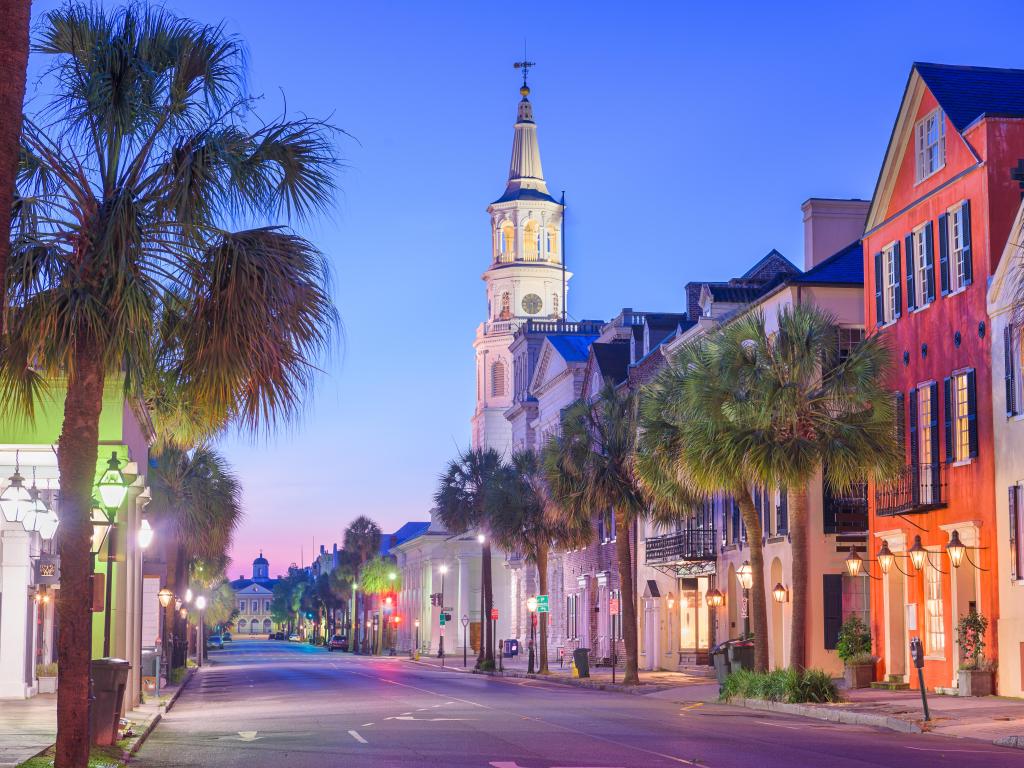 You might also like to visit Charleston City Market, a renovated historic building that hosts dozens of independent retailers by day and local artisans by night.
For a superb hotel in Charleston, we suggest the charming Andrew Pinckney Inn. Located in the heart of the Historic District, the building dates back to 1840 and has been sympathetically transformed into a lovely boutique inn.
The hotel is just a short walk from Waterfront Park, Washington Square, and the King Street shopping district.
In the morning, sit down to a complimentary breakfast served on the rooftop terrace. You can also ask at the concierge desk about arranging a horse-drawn carriage tour of the city.
A warm welcome in Blowing Rock
On the Blue Ridge Parkway Route, our choice for an overnight stop is Blowing Rock. You'll reach Blowing Rock around halfway through the route, so it makes for a convenient place to take a lengthy break from the road.
The North Carolina town takes its name from "The Blowing Rock" formation, which features superb views of peaks, forests, and the Johns River Gorge. It's also a great stopping place as it serves as the gateway to the Blue Ridge Parkway.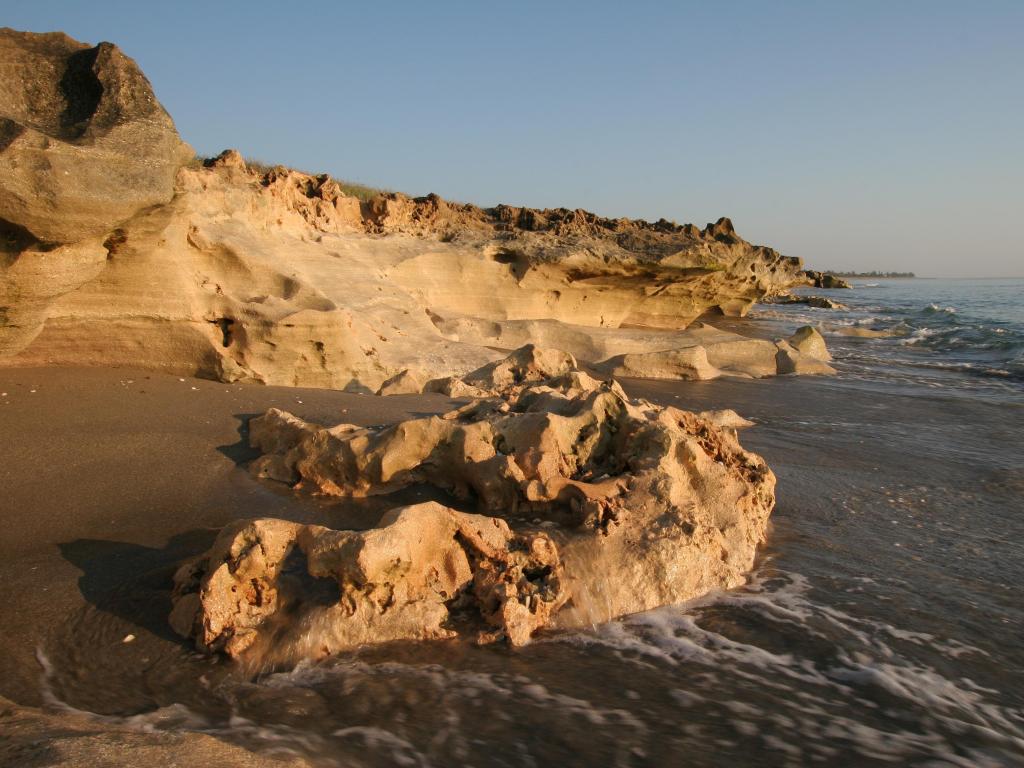 In Blowing Rock, you can discover the Blowing Rock Art & History Museum in the historic district, as well as enjoy stunning views across the Blue Ridge Mountains. It's also a great destination for hiking.
The Manor is an excellent central base for exploring Blowing Rock and for spending a restful night ahead of your Blue Ridge Parkway drive.
The welcoming, boutique hotel features beautiful décor, which combines modern style with a mountain cabin vibe. The lovely guest rooms are well-equipped and some feature balconies with a stunning view.
Make use of the free parking and stroll into town to find a choice of restaurants and bars. The hotel serves a delicious, light breakfast to set you up for the day.
Where to stay when you reach New York
The Big Apple has plenty of accommodation options. However, if you're looking for a stylish hotel in a central location, the contemporary citizenM New York Times Square is a great choice.
Head up to the rooftop bar for awesome views of the New York skyline or relax in your modern guest room with its therapeutic rain shower. The hotel also features a state-of-the-art fitness center with yoga sessions.
You can take advantage of the 24-hour food and beverage service or enjoy the artwork on display in the living room-style lobby.
When you want to explore the city, Times Square is right around the corner, while the Museum of Modern Art and the Rockefeller Center are only a few minutes' walk away.
Things to see on a road trip from Fort Lauderdale to New York
On an adventure like this, it's no surprise that there are plenty of highlights along both our road trip routes. Here are some of our favorites.
Both Routes
Kennedy Space Center - Check out the spacecraft, informative exhibits, and simulators at this world-famous space exploration center.
St. Augustine - One of the oldest settlements in the U.S., St. Augustine has beautiful beaches and sea views. You can also stroll the cobbled streets with their 400-year-old buildings.
The Golden Isles, Georgia - Take a detour to this series of barrier islands that feature long sandy beaches, quiet creeks, and stretches of peaceful forests. The islands are popular for a relaxing break or a round of golf.
Savannah - Take a walk through the many historic squares in this charming southern city, where you can enjoy the buzz of River Street, browse art galleries, or take a tour in a horse-drawn carriage.
Monticello - Take a detour off either route to discover the former home of President Jefferson, which offers informative tours.
Shenandoah National Park - Running parallel to I-81 and I-95, Skyline Drive runs along the ridge of the mountains through this beautiful national park, where you'll find hikes and views aplenty. You will need an Old Rag Day-Use Ticket if you are planning to visit the Old Rag Mountain. Please check the national park's website for details.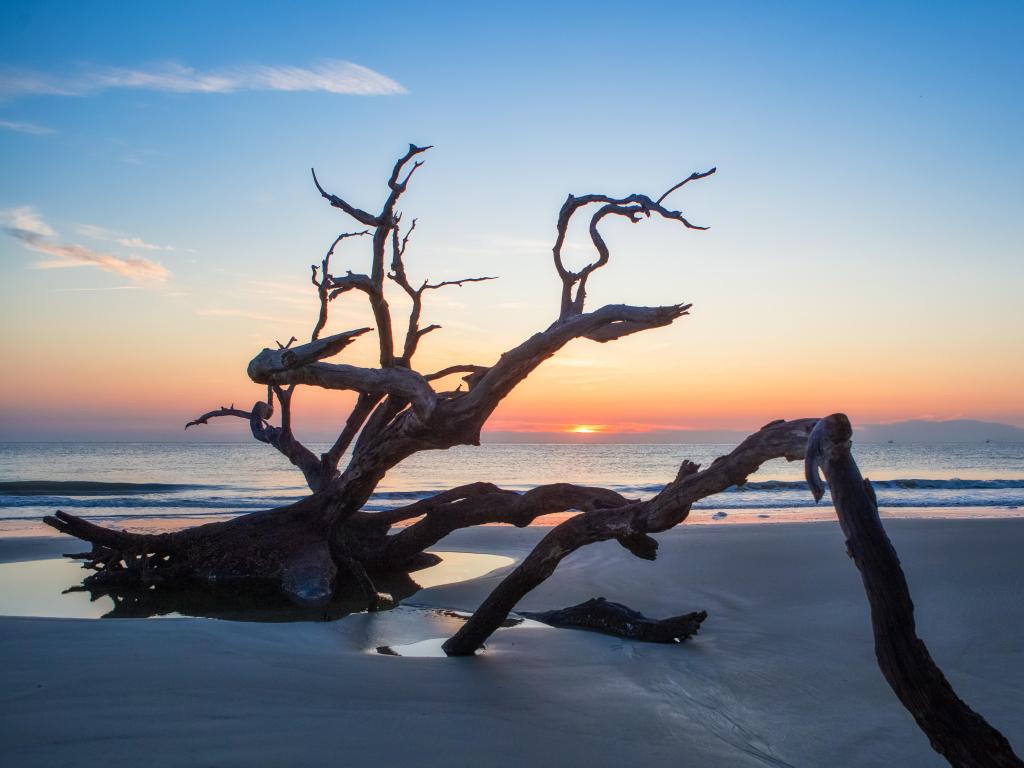 The Atlantic Route
Myrtle Beach - With a long stretch of sandy beach and an amusement park, this is a great place for a final walk by the ocean before the route takes you inland.
The Triangle - Durham, Raleigh and Chapel Hill are home to several universities and some fantastic museums, including North Carolina Museum of History, the Museum of Natural Sciences, the Museum of Life & Science and Durham Botanical Garden.
Fredericksburg - Civil war battles were fought in Fredericksburg and it now stages reenactments at the battleground parks. Nearby, head to Chatham Manor plantation or the Mary Washington House to learn more about the area's history.
Washington, DC - The nation's capital could be a destination in itself. Visit one or more of the Smithsonian Museums or take a walk around the tidal basin and National Mall to see the monuments and memorials.
Baltimore - This buzzing city has a beautiful harbor, where you'll find the National Aquarium. Then head to one of the nearby restaurants to enjoy fantastic seafood.
Philadelphia - Visit Independence Hall, where the Declaration of Independence was signed, and the Liberty Bell. Then head to the Museum of Art to enjoy the artwork, or simply run up the so-called "Rocky steps" leading up to the building, made famous by the movie.
The Blue Ridge Parkway Route
Columbia, Maryland - Take a walk through the historic district, where you can visit several notable houses. You can also enjoy Columbia Canal, South Carolina's state capital, home to Columbia Museum of Art, or head to the Saluda River for a white-water rafting adventure.
Charlotte - Motorsports fans will enjoy a visit to the NASCAR Hall of Fame and Hendrick Motorsports Complex. Alternatively, you can explore the Mint Museum and take a stroll through the historic district.
Blue Ridge Parkway - Enjoy views out across Grandfather Mountain, Lyn Cove Viaduct and other fabulous lookouts, as well as taking your pick of hiking trails as you follow part of this 469-mile scenic drive.
Roanoke - At this city in the Blue Ridge Mountains, you can visit Taubman Museum of Art, which is housed in an impressive modern building in the center of town. Check out Virginia Museum of Transportation for some fabulous vintage vehicles.
Hershey - Home to the famous chocolate, here, you can learn all about the history and legacy of one of America's best-known brands or visit Hersheypark for rides and more.
Tuscarora State Forest - Worth a stop to take in the stunning scenery. You can hike oak-covered hill-and-valley trails, some of which follow the routes of disused railway lines.
Michaux State Forest - More hiking opportunities at this lovely forest at the northern end of the Blue Ridge Mountains. Fishing and boating are also popular on the creeks which run through the forest.
Allentown - One of Pennsylvania's biggest cities, Allentown has a historic district, an art museum, and a symphony orchestra, so it's a great place to take a break from the road.
Great Swamp National Wildlife Refuge - Only 25 miles outside Manhattan, you'll find this protected wetland wilderness area, which is home to abundant wildlife.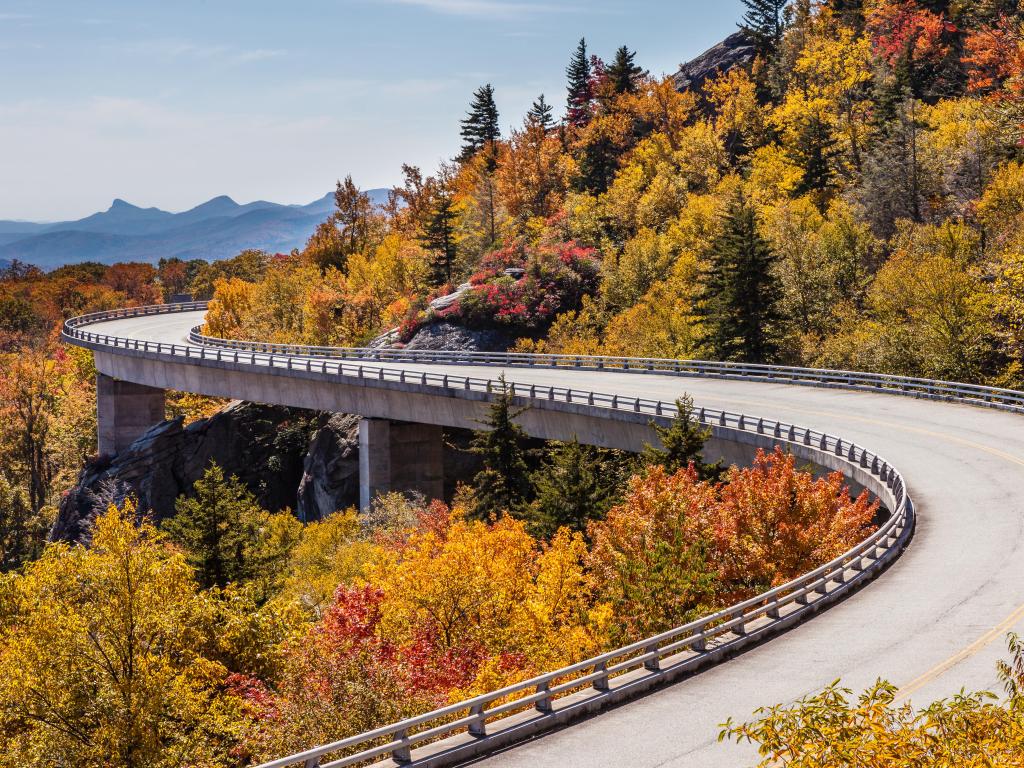 Best time to go on a road trip from Fort Lauderdale to New York
New York is popular year-round. However, each season brings distinctive weather along our routes, which might influence your travel plans.
Along the Atlantic Route, expect summer temperatures of 80 degrees Fahrenheit or more. It also gets muggy and humid, which brings thunderstorms. You should expect snow in the winter.
However, this is a great time to visit Washington DC, with fewer visitors and lower prices (unless there's a presidential inauguration happening, of course!).
Summer along the Blue Ridge Parkway on the Blue Ridge Parkway Route is warm, reaching 70 degrees Fahrenheit and higher. Further north along the route, temperatures rise to 80 degrees, with the chance of summer rain.
Winter temperatures drop as low as 20 degrees Fahrenheit, and parts of the parkway may be closed due to the weather conditions. Fall brings lots of visitors to the parkway for the beautiful foliage.
Spring and fall temperatures are generally pleasant along both routes, with spring a popular time for people to visit Florida (including students on spring break).
March sees the huge St Patrick's Day Parade, while April brings the Tribeca Film Festival, which features arts events and 100+ film screenings.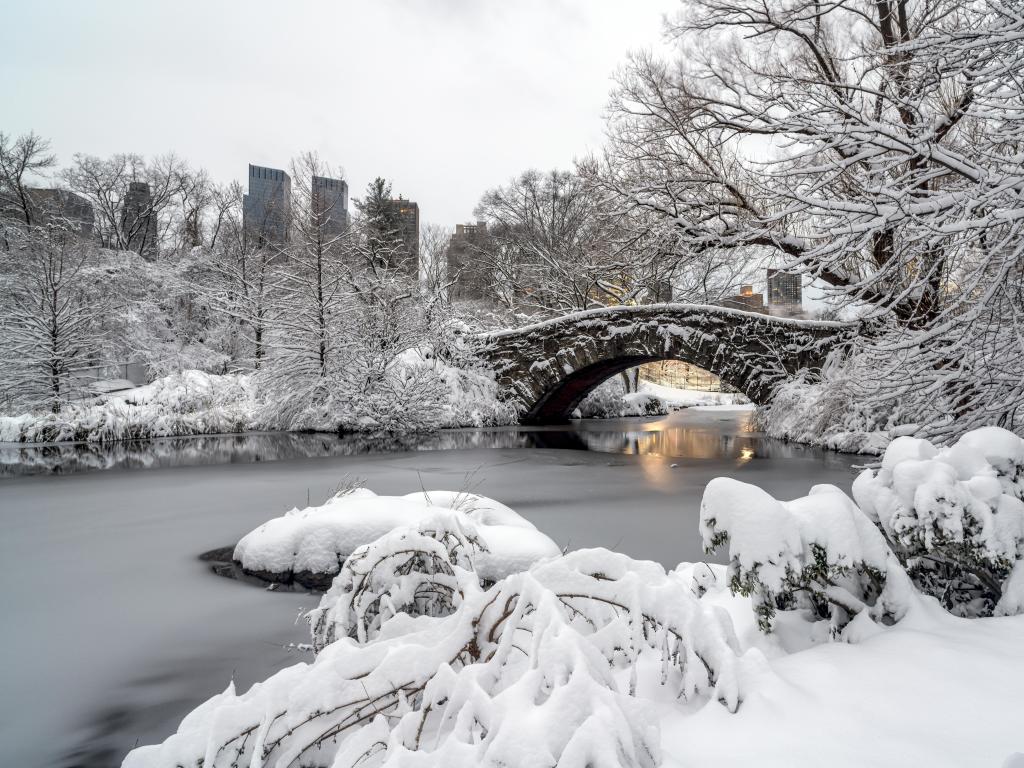 New York is beautiful in winter, with snow falling on Central Park and the shops decorated for the holiday season. Expect temperatures as low as 25 degrees Fahrenheit. Summer temperatures can reach around 80 to 85 degrees Fahrenheit, or even higher.
If you're taking the Atlantic Route, you may like to travel in September to enjoy the Charleston Jazz Festival. Meanwhile, there are lots of events in New York City throughout the year.