Road Trip from Hartford, CT to Niagara Falls
Take in the mountains, lakes, forests, and plenty of entertaining stopovers on this trip from Hartford, Connecticut to iconic Niagara Falls. Along the way, you'll find incredible hikes, fishing, amusement parks and much more on this exciting road trip.
The 470-mile road trip from Connecticut to Niagara Falls will take you 8 hours to drive. On the way, you'll pass Springfield, Catskill, Albany, Saratoga Springs, Syracuse, Buffalo, Rochester, the Hudson and Delaware Rivers, as well as Niagara Falls.
This road trip will bring you through some of the most photogenic scenery and exciting cities and towns in the Northeastern United States. Read on to learn about the best routes, where to stay, and all the top destinations to discover on the way.
How far is Niagara Falls from Hartford, CT, and how long will the road trip take?
Comparison of road trip routes between Hartford, CT and Niagara Falls

| Route | Distance | Driving Time |
| --- | --- | --- |
| The Direct Route | 470 miles | 8 hours 5 minutes |
| The Scenic Lakes Route | 510 miles | 10 hours |
There are two excellent routes to take you from Hartford to Niagara Falls. Both routes will bring you through scenic landscapes, open spaces, and fun cities and towns.
The Scenic Route will take you through the Catskill Mountains and some of the most tranquil lakes in America. You'll drive 510 miles with 10 hours of driving time. This route is a little longer and is suited for people who prefer nature.
On the Direct Route, you'll drive 470 miles for 8 hours and 5 minutes. This is the shortest route and will take you to renowned museums and cultural landmarks.
Whichever route you choose, we recommend taking two to three days to make the drive. By splitting the trip up, you'll have more time to enjoy all the wonderful sights on the way.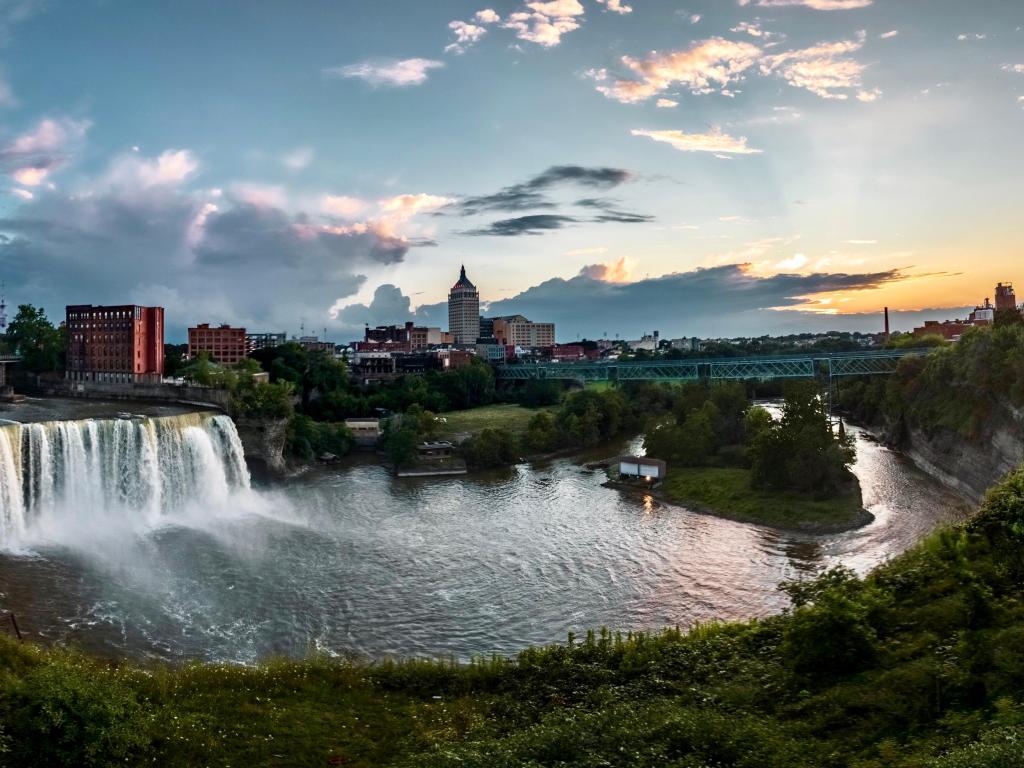 Best road trip route from Hartford, Connecticut to Niagara Falls
On the Scenic Lakes Route, you'll see stunning scenery, from the heights of the Catskill Mountains to wild landscapes of Shaker Mountain Wild Forest.
You'll have the opportunity to enjoy tons of water sports on the Great Sacandaga Lake. At Ferris Lake Wild Forest, you'll get to enjoy excellent hiking and fishing.
You can sit back and relax on the shores of Sylvan Beach, the perfect rest stop en route. Or, enjoy thrills and spills at the Seabreeze Amusement Park, where you can enjoy roller coasters surrounded by Lake Ontario.
The Direct Route is an enjoyable journey across scenic landscapes and rivers. You'll also pass quintessential American towns and cities full of cultural landmarks and fun things to do.
Visit the renowned Hudson River, and take a trip on the Hudson River Line railroad to get the best views.
Then, spend some time at Yale with a stop-off in New Haven to learn more about the history and architecture of this well-known University.
Next, you'll head to Binghamton to ride its famous classic carousel. For more history, head to the Corning Museum of Glass to learn about the history and art of glass, with impressive displays throughout.
Whichever route you choose, you'll get to experience nature, museums, fun-activities, historical places, and more. Continue on below to learn more about our top stopovers, places to stay, and top highlights along the way.
The Direct Route
Starting in Hartford, take I-84 west into New York State. Take a detour to explore the Upper Delaware Scenic and Recreational River.
Continue on the route through the hilly terrain of northern Pennsylvania. Drive back into New York State and stop at the charming town of Binghamton.
After exploring the historical carousels head back on the route. Make your way through rural New York State, past Buffalo, and into your destination of Niagara Falls.
The Scenic Lakes Route
From the city of Hartford, head north into Springfield, MA. Continue west into New York State and drive to the mountainous wonderland of Catskill.
After enjoying the quaint town of Catskill and the surrounding mountains, head north to Albany. Continue north to Saratoga Springs and head west through the forested mountains of Upstate New York.
Take a detour to see the beautiful Ferris Lake Wild Forest. Get back on the route and continue west to your destination of Niagara Falls.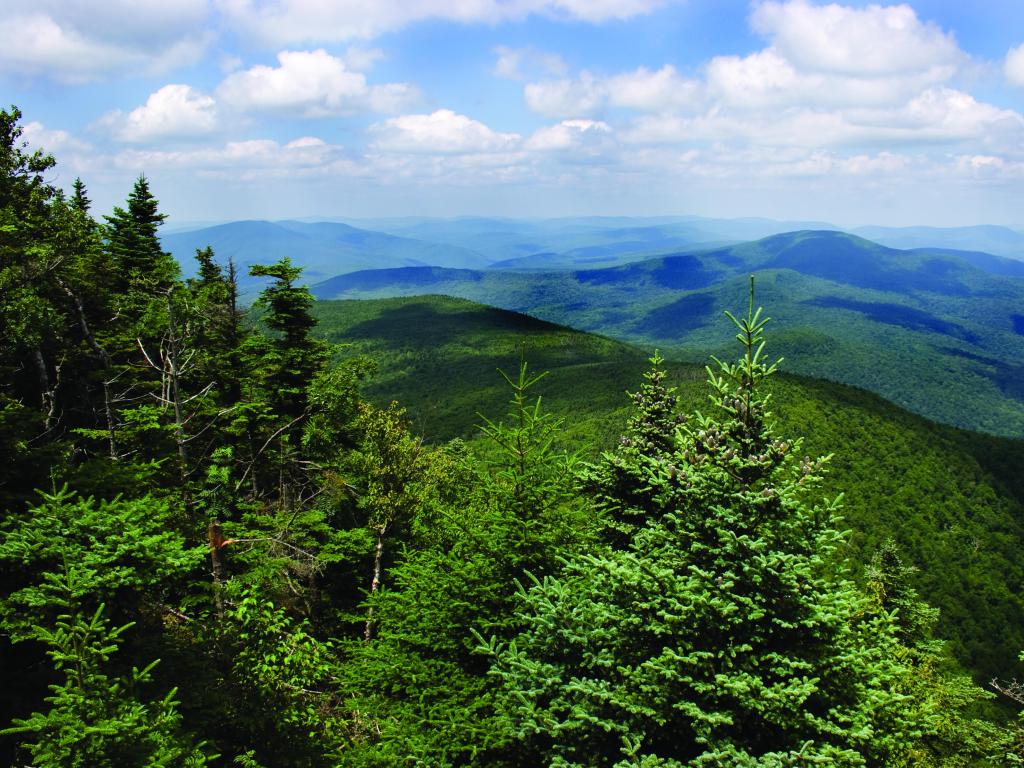 Best places to stop between Hartford, Connecticut and Niagara Falls
On both routes, you'll be traveling around 500 miles of pristine American roadways and passing an infinite number of sights and attractions. Below, we've included our favorite places to rest, comfortable hotels, and things to do on the way.
Enjoy the academic atmosphere in Syracuse
Just over halfway on the Scenic Lakes Route is Syracuse, New York. This city is the perfect stop on your journey to enjoy museums and entertainment.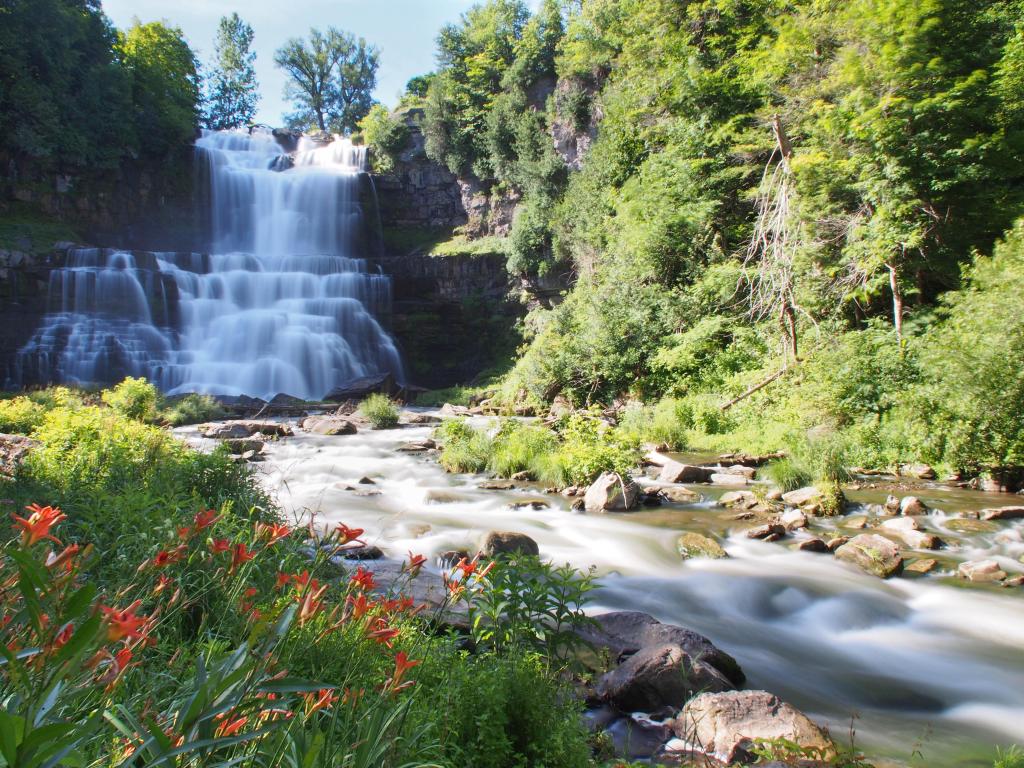 This city is famous for its university, entertainment, museums, and art scene. You can spend a day enjoying all the city has to offer and learn more about the region's exciting history.
First, take a tour of the Erie Canal Museum. Found in Downtown Syracuse, this museum is teeming with information and interactive displays about the founding and legacy of the Erie Canal.
Head over to Destiny, USA. This unique stop is a huge entertainment complex, where you can find whatever you need in terms of refreshments, shops and amusements. If you want to shop till you drop then this is the place to be.
If you love animals, head over to the Rosamond Gifford Zoo. Check out over 700 animals at this popular destination. With many trails around the zoo to observe the animals you can easily spend a day here.
Once you reach Syracuse, we recommend staying at the Marriott Syracuse Downtown. This luxury hotel is very well located downtown and close to many attractions and has a popular restaurant on site.
Nearby, there are many parks and entertainment are within walking distance, so you can take advantage of the free parking and leave the car behind. Inside, enjoy the modern décor, with stylish and open communal areas and friendly staff.
Once you've checked in, head over to the Landmark Theater, just a short walk away. The Erie Canal Museum is also within walking distance and makes a perfect afternoon visit.
Visit the Everson Museum of Art if you'd like to spend your day indoors. If you're a fan of everything that relates to science, visit the Museum of Science & Technology just down the street.
Experience charming history in Binghamton, NY
Binghampton is about halfway on the Direct Route. This is a great mid-point stop, and a chance to recharge before finishing the final leg of the journey.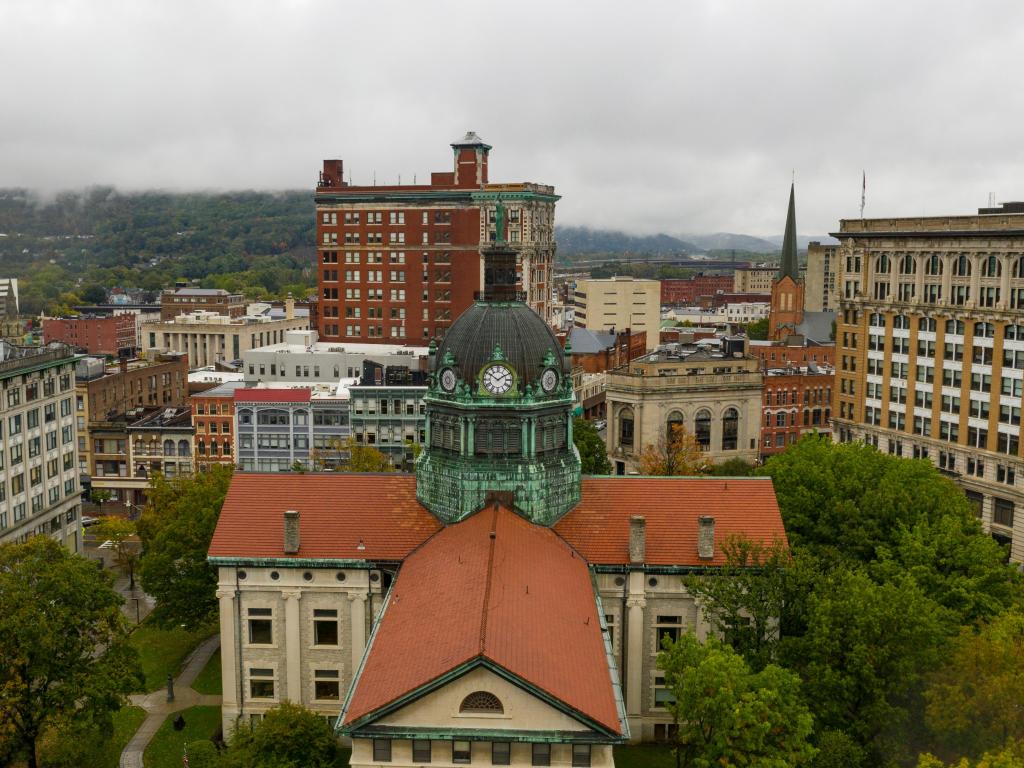 The city is known as the 'Carousel Capital of the World', as it has so many carousels and vintage carousels throughout the city. Visitors come here to take pictures of them and ride them.
There are plenty of other sights and things to do in this education-focused city. Most places of interest are located near downtown.
First, visit the Roberson Museum and Science Center. Get information on all you need to know about the local area and its history. The planetarium is particularly great, as well as its three floors of displays and exhibits.
If you love animals, head over to the Ross Park Zoo. Open since 1875, it has a strong stance on conservation and education, and has informative guides as you head around looking at hundreds of animals.
Last but not least are the famous carousels. Make sure to ride on one of many of the carousels dotted around town. Recreation Park has a particularly popular carousel, which was installed in 1925 and the 60 horses can still be ridden today.
When you arrive in Binghamton, we suggest staying at the Hampton Inn Binghamton/Johnson City. This luxurious hotel is close to many attractions, with parks within a short walk and Ross Park Zoo – a popular destination – only 15 minutes away.
Inside, enjoy a stylish decor, with shared lounges to relax in after a busy day. There's a hot delicious breakfast buffet available on site, or local places within walking distance for a bite to eat.
Take a plunge in the heated indoor pool to enjoy all year round, or enjoy the fully equipped fitness center. There's also free parking on site so you don't need to worry about the car during your stay.
Where to stay when you reach Niagara Falls
Once you reach your destination of Niagara Falls, there is no better place to stay than the Hampton Inn Niagara Falls. This hotel has a fantastic location and only moments from Niagara Falls and other top attractions.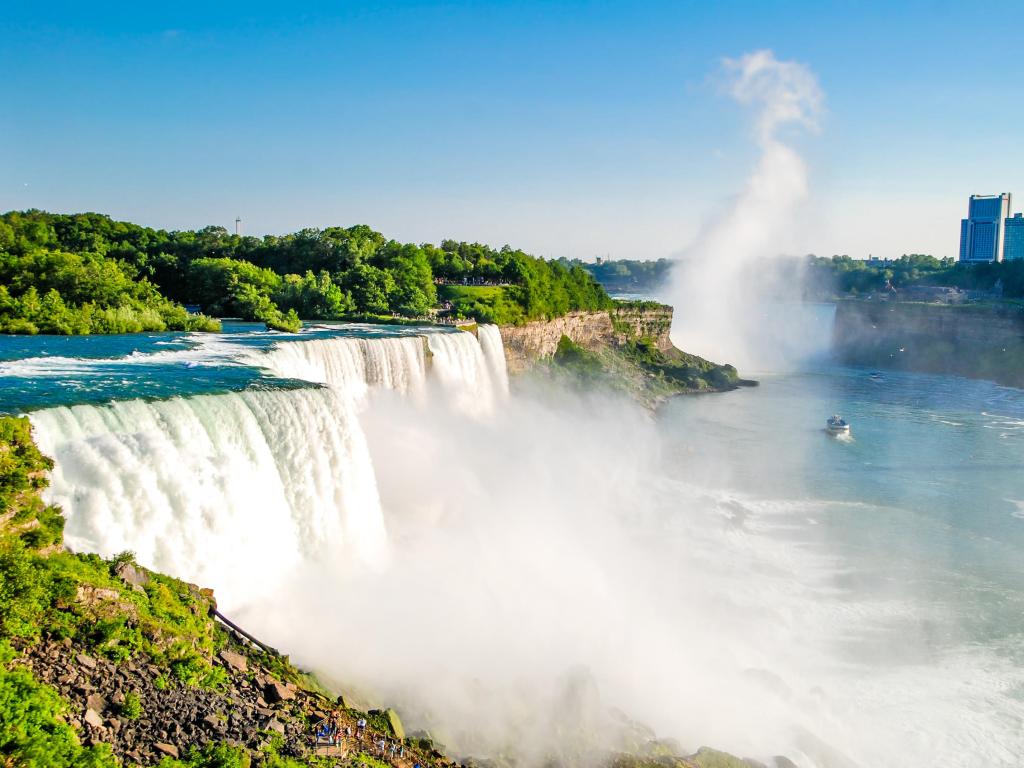 This established hotel has a great reputation for location, cleanliness, and hospitality. There's a free breakfast buffet to start you off the right before a busy day sightseeing.
There are many restaurants and shops within walking distance. Once you're back at the hotel, enjoy the indoor swimming pool at the end of the day, or sit back and relax in one of the lounges around the pool.
There's free parking so you can safely leave the car behind while you check out the local sights. Make sure to take advantage of the wonderful staff who are always keen on helping you make the most of your destination.
Things to see on a road trip from Hartford, Connecticut to Niagara Falls
With so many fun activities and epic natural scenery to enjoy, you'll be sure to have the time of your life. To help you plan your perfect drive, we've listed our top highlights on both routes.
The Direct Route
New Haven - The home of the well-known University Yale, you can now also visit! College students turn into tour guides and walk you round this iconic and respected University, where you can learn more about its history.
Hudson River - A well-known river flowing over 300 miles, this is one of the biggest natural features in the area. Jump aboard the Hudson River Line railroad to get the best views.
Upper Delaware Scenic and Recreational River - For thrill-seekers! There are plenty of river activities to do here, so rent a kayak and enjoy an afternoon trip along this interesting waterway.
Binghamton - Hop on one of many iconic carousels dotted around. Recreation Park has a particularly popular carousel, which was installed in 1925 and can still be ridden today.
National Soaring Museum - Elmira is worth a stop-off for the opportunity to visit this museum. Aviation fans will particularly like the displays and interactive tours at this aircraft museum.
Corning Museum of Glass - With more than 50,000 glass items in this museum it is a very impressive and memorable museum to visit. Head here to learn more about the history of glass, and see some artifacts that are over 3,500 years old.
Goundry Hill State Forest - There are many great hikes across the grounds of the Goundry Hill State Forest, such as the Finger Lakes Trail which is popular. Tired feet? Then there are horseback tours you can also take across the beautiful landscape.
Mount Morris Dam - Take a free tour at the Mount Morris Dam to learn more about this structure. There are also spots on the way to picnic, so ideal for a lunchtime stop-off.
Knox Farm State Park - Located in East Aurora (best known as the birthplace of Fisher-Price toys), this is perfect for a stop-off and a stroll around the beautiful country estate.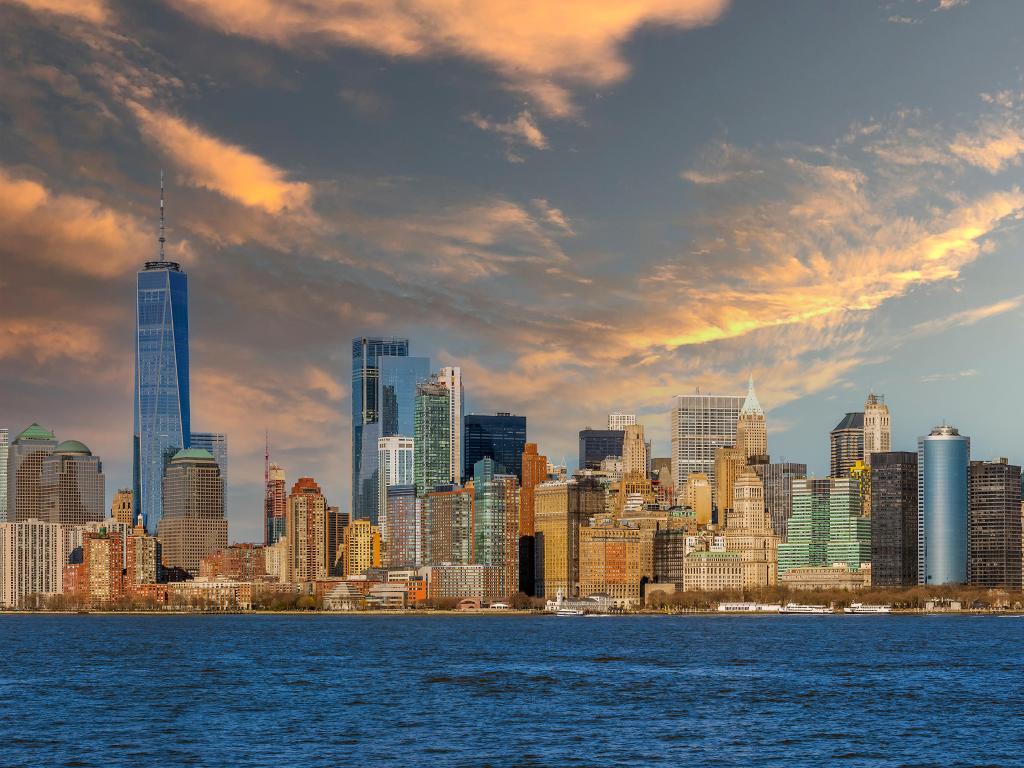 The Scenic Lakes Route
Springfield Fantastic Caverns - A rare sight, these beautiful caves are visited via a red Jeep! Sit back and take in the unique sites of this underground attraction.
Catskill Mountains - With so many trails across the mountains you are bound to see lots of wildlife. Head off on the Giant Hedge which has some of the best views over the mountain range.
Albany - If you have time in Albany then The Egg is the place to visit. This performing arts venue hosts plays and concerts so catch an evening performance during your visit.
Saratoga Spa State Park - Located in Saratoga Springs, this park is perfect for a leg stretch and a picnic. Set over 2,379 acres, there is plenty to entertain including golf, swimming and hiking. Fun for all.
Great Sacandaga Lake - Ideal for water sports lovers, this lake has plenty of action going on. How about taking a paddleboard along some of the 29-mile stretch of this lake, where you are sure to get some amazing views.
Shaker Mountain Wild Forest - Explore the beautiful wild landscapes of the Shaker Mountain Wild Forest. The Kane Mountain North Trail Loop is a popular route to take here, with good terrain and some impressive views.
Ferris Lake Wild Forest - Over 100 miles of walks are available to do here, so great for an afternoon hiking across stunning scenery. If you'd rather sit back and relax there are also plenty of fishing spots, where bass and other fish are widely caught.
Sylvan Beach - This beach front is ideal to stop-off at for some rest and relaxation. Head out in one of the many boat tours, before going back to shore to enjoy refreshments in one of the many establishments around the shoreline.
Syracuse - Rosamond Gifford Zoo in Syracuse is popular with all wildlife fans. There are over 700 animals here along with an aviary and trails to see the wildlife up close.
Seabreeze Amusement Park - Fancy some thrills and spills? Then head to this Rochester theme park for an afternoon of excitement. Overlooking Lake Ontario, it's a lovely spot for some classic rides with a great view.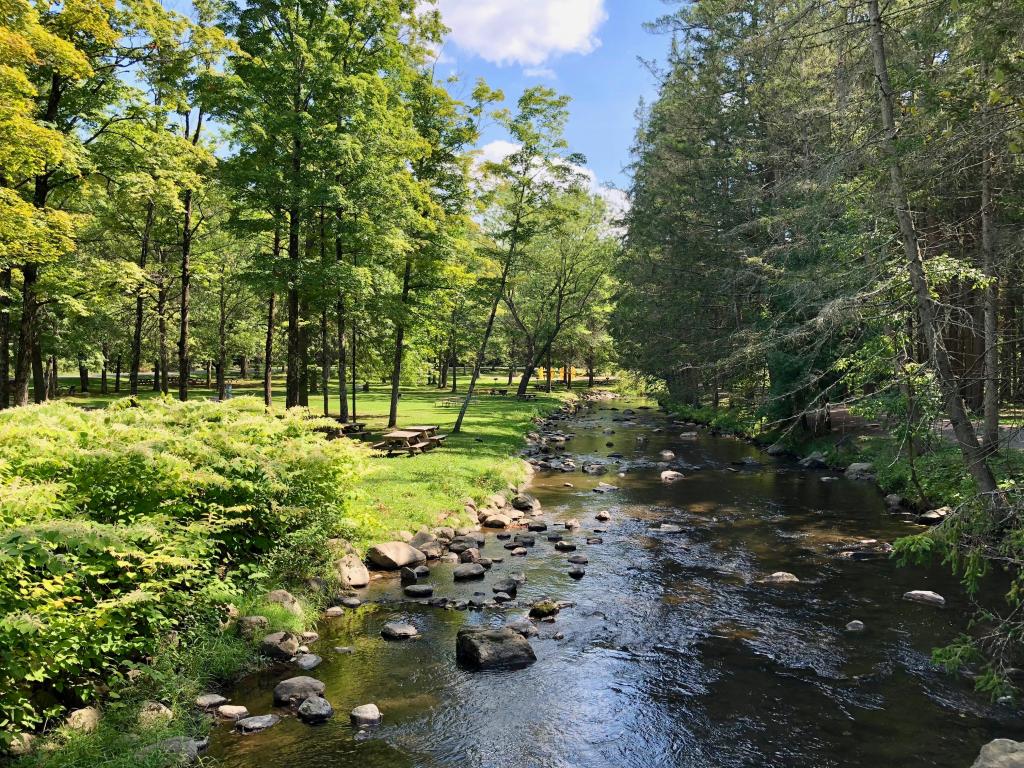 Both routes
Buffalo - The second largest city in the US, there is plenty here to see and do. Head to Canalside, walk along the boardwalk and admire the sunset over the waterfront. This area is teeming with bars and restaurants and an ideal stop off for some entertainment.
Niawanda Park - Set in Tonawanda, this beautiful park is alongside the Niagara River. Take a bike ride along the water's edge for great views across the river.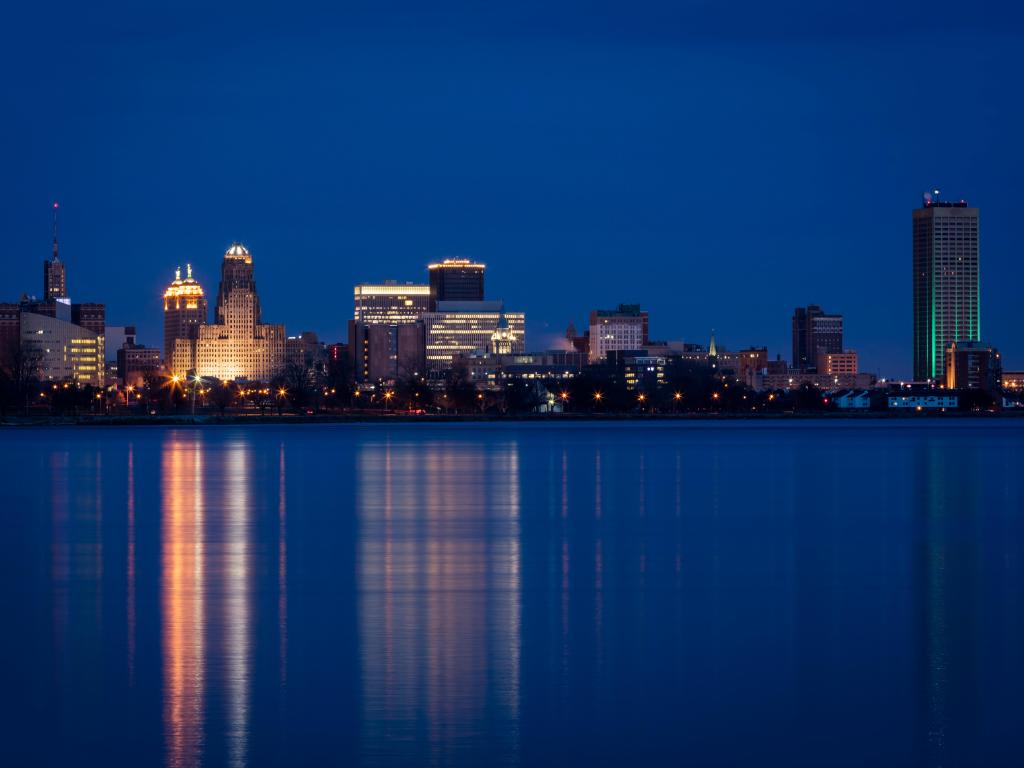 Best time to go on a road trip from Hartford, Connecticut to Niagara Falls
Niagara Falls is open all year round. The most popular months to visit are June to August across the summer season, where the weather is around 80 degrees Fahrenheit. However this is also the most popular tourist season and can be pricier as a result. If you are visiting during this time then book well in advance to try and get the best deals.
Heading to Niagara Falls just after the summer rush, around September, would see things a little quieter but still with mild temperatures. It can be busy from May onwards, but heading to Niagara Falls on either side of the peak summer months will see things a little quieter. Temperatures will often be 60-70 degrees Fahrenheit at this time.
Winter is also popular as an alternative way to see Niagara Falls in action and the icy scenery. The 'frozen falls' are jaw-dropping, and with the snow-topped trees and landscapes, it does make for a particularly pretty time to visit.
However the temperature will be cold and on average around 34 degrees Fahrenheit. However, as a result during this time it is not as busy with tourists, so you can find a good deal on trips and accommodation.
There are plenty of events held at Niagara Falls throughout the year. For example, at various Niagara Falls Aquarium events across the calendar, you can learn more about specific aquatic animals living locally.
Across wintertime, Jingle Falls is also a huge event for the holidays, where there is lots of festive fun and displays. Alongside this, the Winter Festival of Lights has light displays and fireworks over the waterfalls every Friday and Saturday night in December and into January.