Road Trip from Iowa to Las Vegas
If you're looking for the perfect road trip to spice up your travel life, look no further than this road trip from Iowa to Las Vegas. This fabulous journey will take you through the stunning landscapes of the middle and northern United States before arriving in iconic Sin City.
The 1,600-mile road trip from Iowa to Las Vegas will take about 24 hours to drive. Amazing highlights include Denver, Kansas City, Salt Lake City, Sioux Falls, Colorado Rockies, Mount Rushmore as well as Zion, Arches and Canyonlands National Parks.
Keep reading to discover all that awaits you, including luxury hotels, beautiful forests, and stunning museums, on this road trip from Iowa to glistening Las Vegas.
How far is Las Vegas from Iowa, and how long will the road trip take?
Comparison of road trip routes between Iowa and Las Vegas

| Route | Distance | Driving Time |
| --- | --- | --- |
| The Denver Route | 1,600 miles | 24 hours |
| The Mount Rushmore Route | 1,700 miles | 26 hours |
The Denver Route, which crosses just over 1,600 miles through the US, should take you just under 24 hours of driving time. This doesn't include pit-stops or overnight stops, so you'll definitely need to stop in a couple cities along the way to rest up.
The Mount Rushmore Route, which takes you across 1,700 miles in the United States, will take you a little more time, about 26 hours in total. Again, this estimate doesn't include stopping points, so make sure to plan for those in advance and expect to stop for at least a couple nights of rest along the way.
At a minimum, we recommend taking about a week to complete this trip and get the most out of your journey.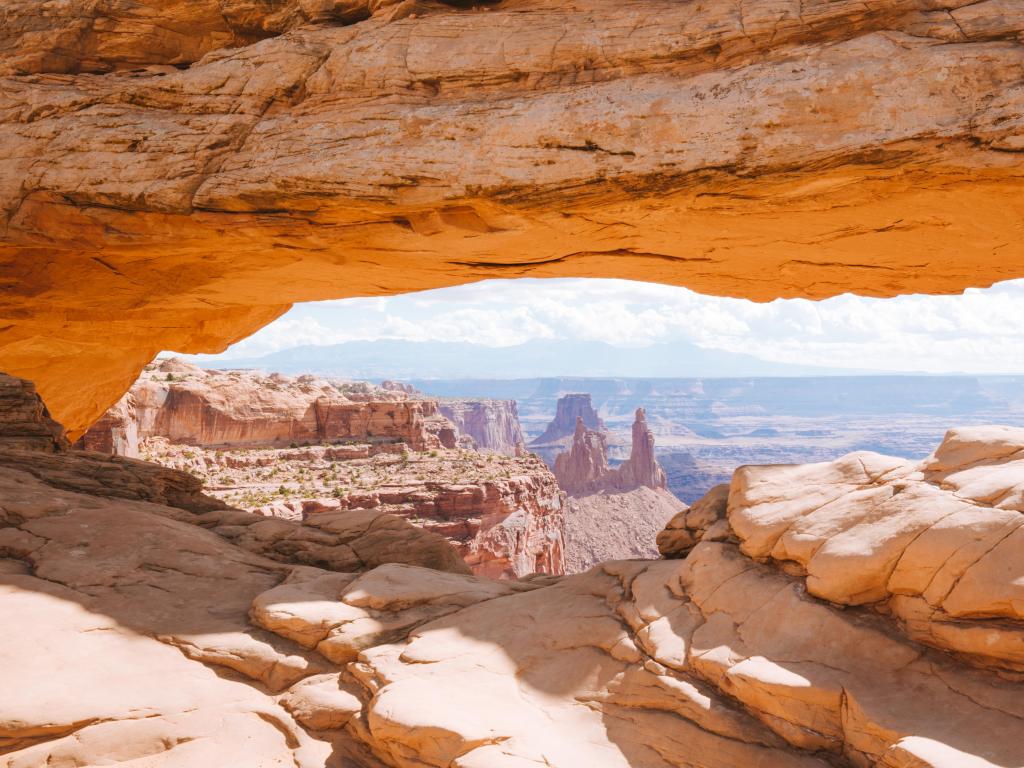 Best road trip route from Iowa to Las Vegas
Choosing your route from Des Moines, Iowa to Las Vegas is really a matter of personal preference. Both routes have something unique to offer, including a variety of must-see cities and fabulous parks. If you're having trouble picking, we suggest taking one route on the way to Las Vegas and the other on the way back to Des Moines.
The Denver Route is slightly shorter and more direct than the Mount Rushmore Route and includes three fabulous city stops along the way: Kansas City, Denver and Moab. You could also optionally stop to visit the iconic Hoover Dam.
This route is the ultimate exploratory trip of the middle US, taking you through a range of landscapes including the fields of Kansas, the mountains of Colorado and the arid deserts of Utah and Nevada. Along the way, you'll also pass by Canyonland National Park and the Dixie National Forest.
Slightly longer and therefore more leisurely, the Mount Rushmore Route will take you on a Northern detour of the US, passing through several states including Iowa, Nebraska, and South Dakota before eventually arriving in Las Vegas.
You'll also get to visit some cities on this route, namely: Omaha and Salt Lake City. And who can forget a visit to the iconic Mount Rushmore, one of the most recognizable tourist destinations in the United States? We also recommend stopping at the Hoover Dam along this route, if you've got time.
And don't worry about missing out on beautiful forests—this route offers easy access to Dixie National Forest and the stunning Ashley National Forest, so you'll get both the city vibe and the nature vibe.
The Denver Route
You'll start by leaving Des Moines via Interstate 35 (I-35) S and following this interstate all the way down to Kansas City, where you can stay for a night or merge onto I-70 E. Follow that route all the way to Denver, where we definitely recommend stopping for a day or two to really take in Colorado's natural beauty.
From there, get back on I-70 E and follow it through and across the Rockies, passing by the White River National Forest and continuing until you reach Moab, which is at a slight detour from the interstate.
Once you've taken in this city, get back on I-70 E and continue past the Manti-La Sal National Forest until you get to the I-15 S, which you can follow down past Dixie National Forest and take a detour to Zion National Park.
You'll continue on this interstate, heading southbound, all the way down to the beautiful and light-filled city of Las Vegas.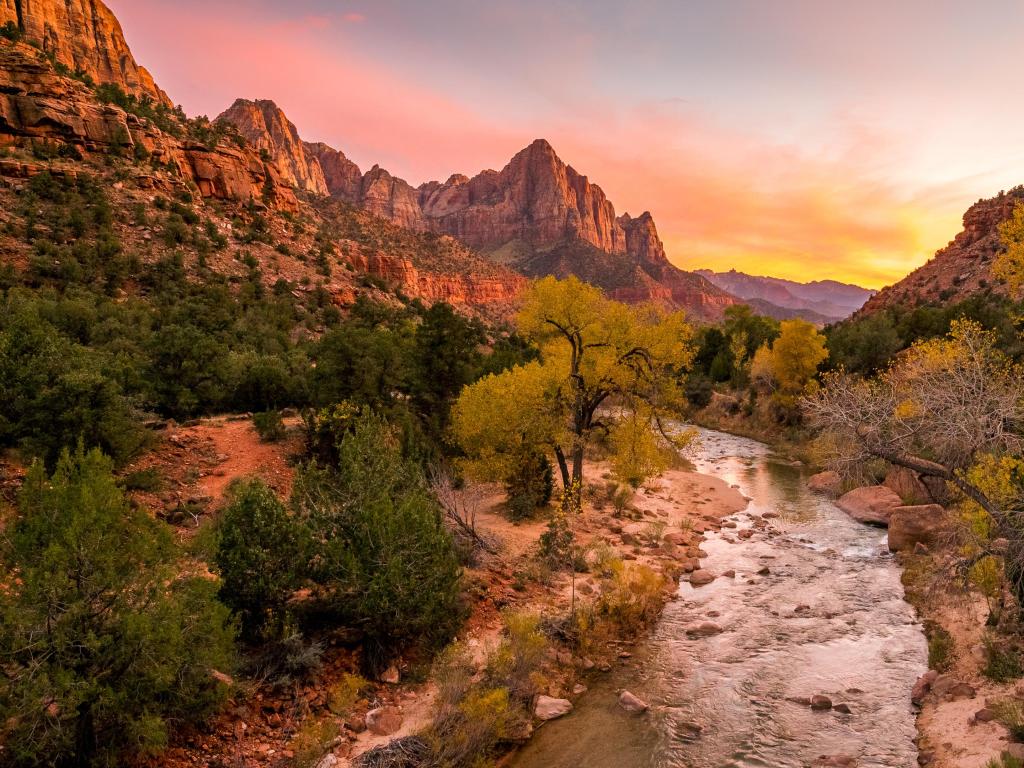 The Mount Rushmore Route
You'll start by hopping onto I-80 E from Des Moines to Omaha, where you'll get onto the I-29 N and follow this road past Sioux City to beautiful Sioux Falls, home to some gorgeous waterfalls.
From there, take I-90 E, which you'll essentially follow all the way through the beautiful state of South Dakota until you've reached Rapid City and nearby Mount Rushmore, a highlight of this route.
From Mount Rushmore, you'll take highway 16 (as well as a few smaller roads) onto I-25 S, which you can follow until you've reached I-80 E, the interstate that will take you all the way to beautiful Salt Lake City. This city is a must-see, so make sure to stop and explore, making sure to visit Great Salt Lake while you're there.
When you've had your fill of this city, get onto I-15 S and follow it down through Utah past Dixie National Forest (another definite stopping point) and continuing down until you've reached fabulous Las Vegas!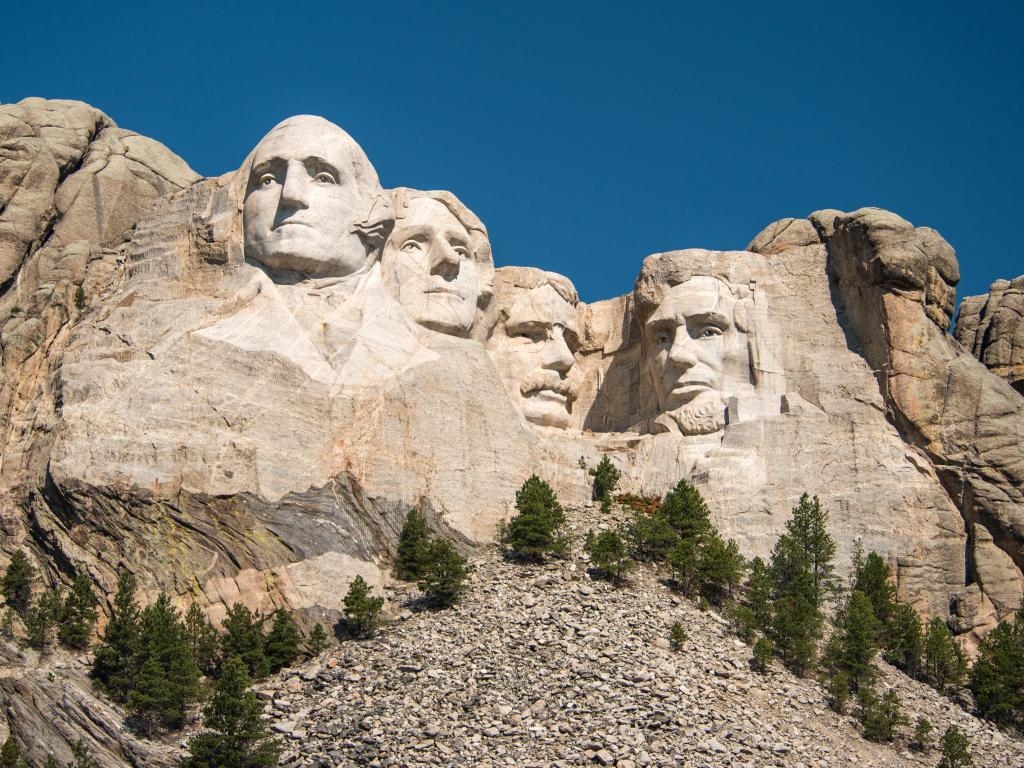 Best places to stop between Iowa and Las Vegas
With a road trip of this length, you'll definitely need to stop somewhere along the way to rest up and relax. Keep scrolling to discover our stopping spots along both routes from Iowa to Las Vegas.
An urban stop in Denver
Located just about halfway along the Denver Route, Denver is a must-see and makes for the ideal spot for an overnight stay. This city is known for countless cultural attractions, as well as for being a center for outdoor sports due to the proximity of the Colorado Rockies.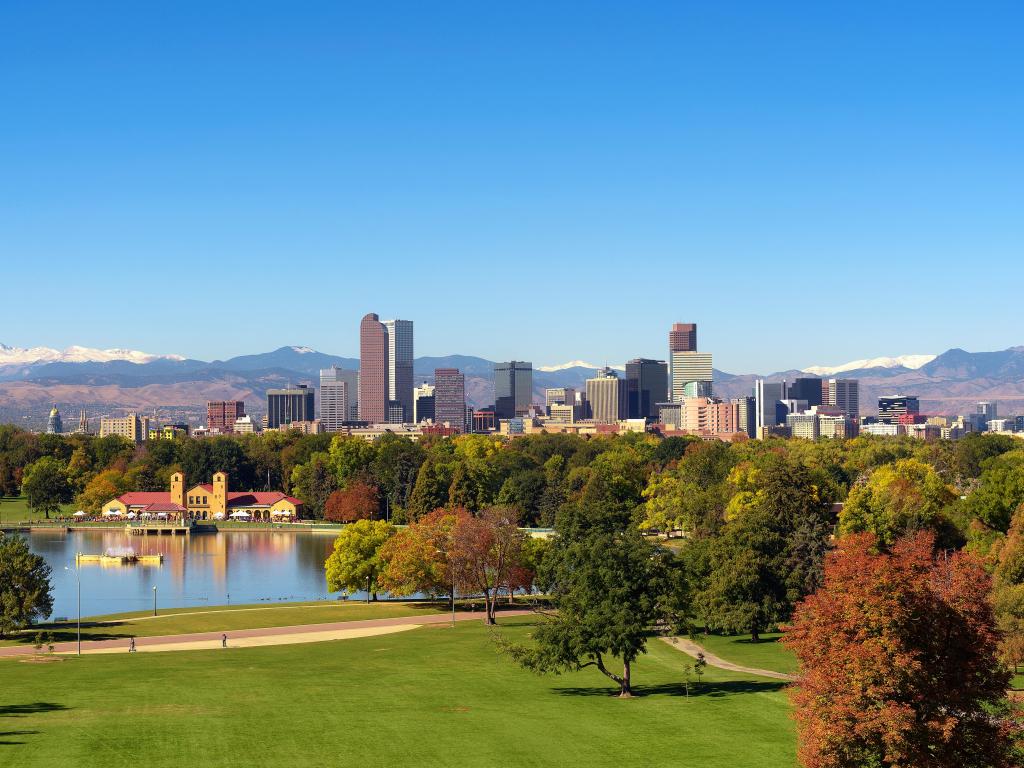 Apart from the many mountains, rivers and plains that surround the stunning city of Denver, you'll also find some truly wonderful indoor attractions. If you're a fan of art, check out the Denver Art Museum, an immense collection of global and local art displayed in a stunning building.
You could also check out the Lakeside Amusement Park, a family-owned amusement park dating back over 100 years. Or explore the Denver Botanic Gardens, home to some beautiful native plants and flowers.
When it comes to finding a place to stay while in Denver, we recommend the Four Seasons Hotel Denver. Located right in the center of this city's busy core, the Four Seasons offers elegantly decorated rooms that offer stunning mountain and city views.
You'll have several on-site dining options if you choose to stay here, including the EDGE Bar which serves tapas and cocktails. You can also lounge by the rooftop pool, get a workout in at their fabulous fitness center, or visit the hotel's full-service spa and wellness center.
Our favourite aspect of this hotel is its location, close to everything worth seeing while visiting Denver including the contemporary art museum, the Ellie Caulkins Opera House and the Colorado State Capitol.
Marvel at the unique architecture of Salt Lake City
Along the Mount Rushmore Route, you'll be passing by Salt Lake City, located just 6 hours away from Las Vegas. We highly recommend stopping in this beautiful metropolis, which is the perfect stop after a day of driving through arid deserts and remote landscapes.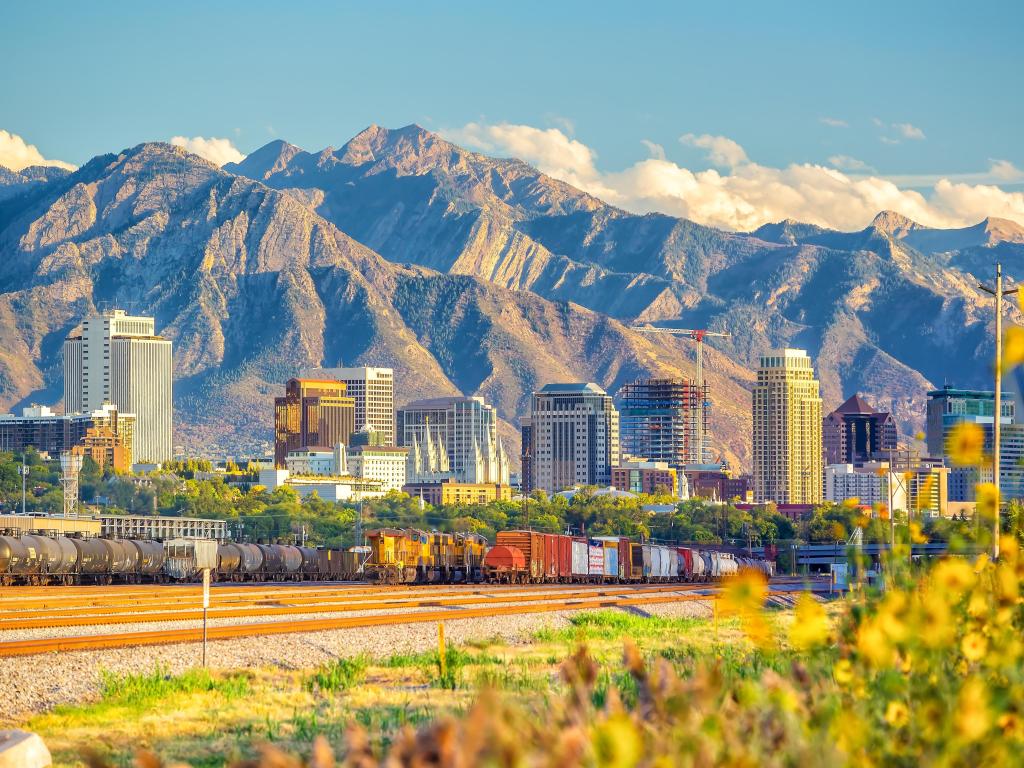 You might know Salt Lake City from having been the host of the 2002 Winter Olympics, thanks to the popular ski slopes located nearby. There's really an endless amount to see in this city, from unique attractions to historic buildings, and so much more.
We recommend starting with the Great Salt Lake, a multicolored lake that's home to the Spiral Jetty, an earthwork sculpture by the American sculptor Robert Smithson.
And for architecture enthusiasts, we recommend checking out Temple Square, one of the most beautiful spots in Salt Lake City that highlights the city's role and history of the Mormon religion.
When it comes to finding a hotel, look no further than the Grand America Hotel. Located right in Salt Lake City's center, Grand America Hotel is minutes from most of the city's attractions including Salt Lake City Hall, the Museum of Church and Washington Square Park.
Grand America offers dozens of amenities for guests to enjoy and relax, including an indoor pool, an outdoor pool, gym facilities and a full-service, five-star spa.
You'll also find tons of dining options, including an award-winning Sunday Brunch at the Laurel Brasserie and Bar and delicious French pastries served up at Bonne Vie, the on-site bakery and café. There's truly no better place to stay during your visit.
Where to stay when you reach Las Vegas
You'll have an endless number of options for fabulous accommodations in Las Vegas, including dozens of casino hotels and luxury digs.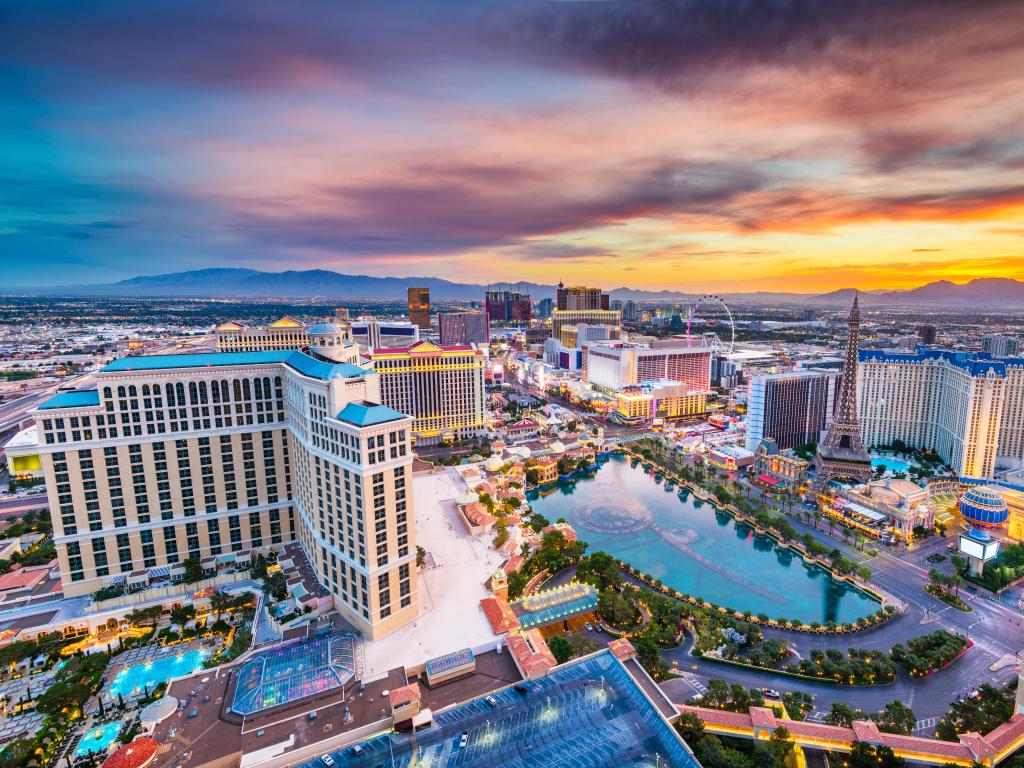 We recommend the ARIA Resort & Casino, located right on the Vegas Strip and featuring a 150,000-square-foot casino. You'll find several on-site restaurants at this fabulous hotel, as well as stunning city views from all the rooms, which boast floor-to-ceiling windows.
The hotel also offers some great amenities, like plush robes and soaking tubs, as well as a full-service spa offering massages, facial treatments and more perfect for relaxing when you finally get to your final destination.
Things to see on a road trip from Iowa to Las Vegas
There are tons on offer when it comes to attractions and things to see between Iowa and Las Vegas. Here's a list of our standouts:
The Denver Route
Kansas City - Celebrated throughout the US and internationally for its jazz scene, Kansas City also boasts some truly fabulous restaurants—a must see on this route!
Denver - Make sure to check out stunning Denver, surrounded by the Colorado Rockies and offering tons of opportunities all year long for outdoor sports.
Spinney Mountain State Park – Discover this geyser, which explodes 70 feet into the air once every hour! About thirty minutes off route.
Pioneer Town – Visit Cedaredge Colorado, where you'll find this historic museum that boasts five acres and twenty-four buildings dedicated to recreating life in the 19th and 20th centuries.
Arches National Park - Once you reach Moab, make sure to make a much-worthy detour to this awe-inspiring national park to marvel at the red-colored natural arches. You might need to make a reservation for a timed-entry permit while visiting Arches National Park. Please check the national park's website for up-to-date information.
Canyonlands National Park - Another amazing and short detour, Canyonlands National Park will inspire and amaze you with its dramatic canyons and its abundancy of opportunities for photo ops.
Giant Soda Cans - Right along your route you'll find this quirky roadside attraction featuring massive tanks painted to resemble favourite soda drinks.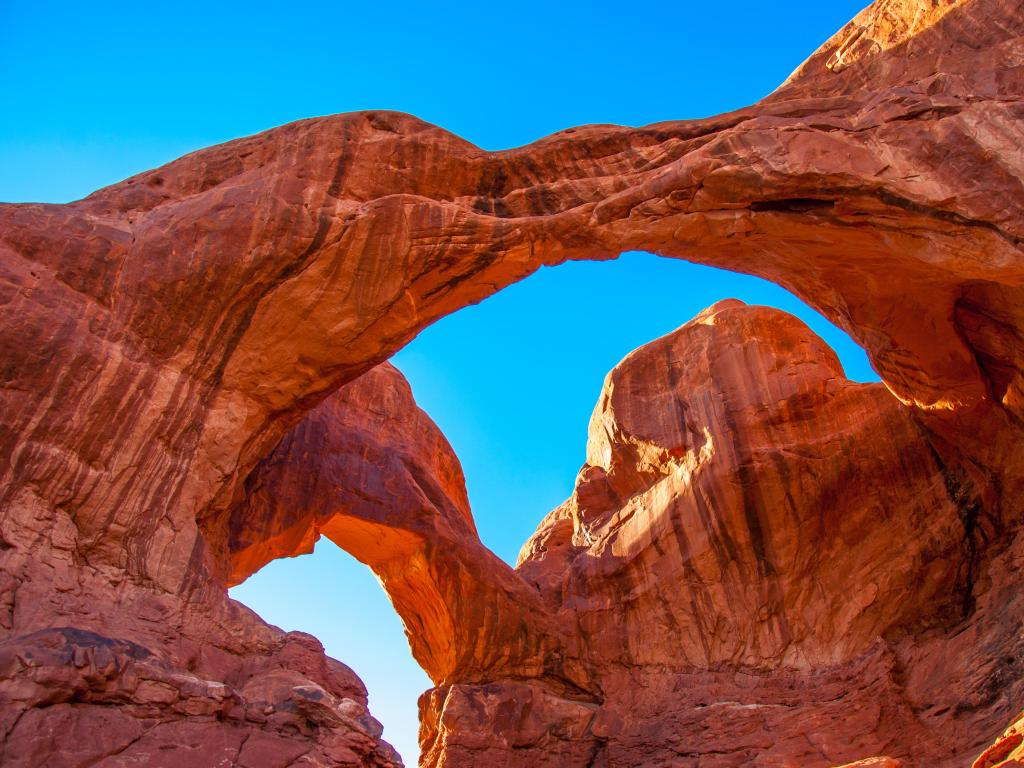 The Mount Rushmore Route
Omaha - Known for its zoo and as the birthplace of the Reuben, Omaha has tons to offer and is a must-see on your route!
Sioux Falls - Visit beautiful Sioux Falls, celebrated for its waterfalls but also offering tons of arts and cultural attractions, historical sites and a blossoming culinary scene.
Butterfly House & Aquarium – You'll find this unique attraction, with hundreds of live butterflies on display, just outside of Sioux Falls.
The World's Only Corn Palace – There's something truly unique about the World's Only Corn Palace, which features corn-made murals in an ornate Moorish Revival style.
Akta Lakota Museum & Cultural Center – Discover Native American Culture at the beautiful Akta Lakota Museum & Cultural Center, which is dedicated to preserving and honoring the Lakota People's culture.
Mount Rushmore - Visit this iconic and massive sculpture of Roosevelt, Washington, Jefferson, and Lincoln's faces on a cliffside, one of the most recognizable attractions in the US!
South Pass City State Historic Site – Check out this Old West mining town which offers tours and family-friendly activities.
Spiral Jetty Circle – Right outside of Salt Lake City, you'll find this unique sculpture by American artist Robert Smithson that winds into Great Salt Lake.
BYU Museum of Paleontology – If you're into dinosaurs, you'll love this museum that belongs to Brigham Young University and which offers exhibits with prehistoric rocks and fossils.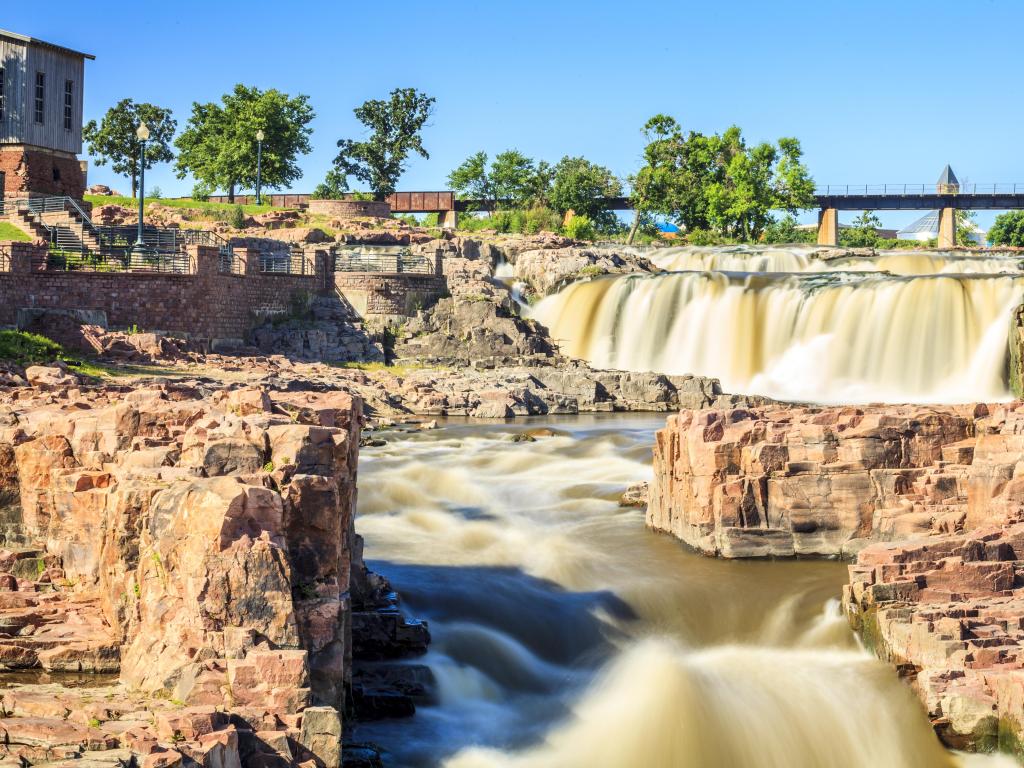 Both Routes
Parowan Gap Petroglyphs - Free to visit, these Native American Petroglyphs are thought to date back almost a thousand years.
Zion National Park - It would be worth adding an extra day to explore Zion National Park and its stunning landscape; this national park is in a lot of people's bucket lists for a reason! If you'd like to hike up to Angels Landing, you will need a permit and will need to make a reservation. Check the Zion National Park's website for more details.
Dixie National Forest - You'll definitely want to stop by Dixie National Forest, easy to get to from both routes and the perfect place to stretch your legs and admire the stunning scenery.
Temple of Sinawava – Located in Zion National Park, this natural amphitheater contains a paved trail along the Virgin River and also boasts stunning waterfalls and flower gardens.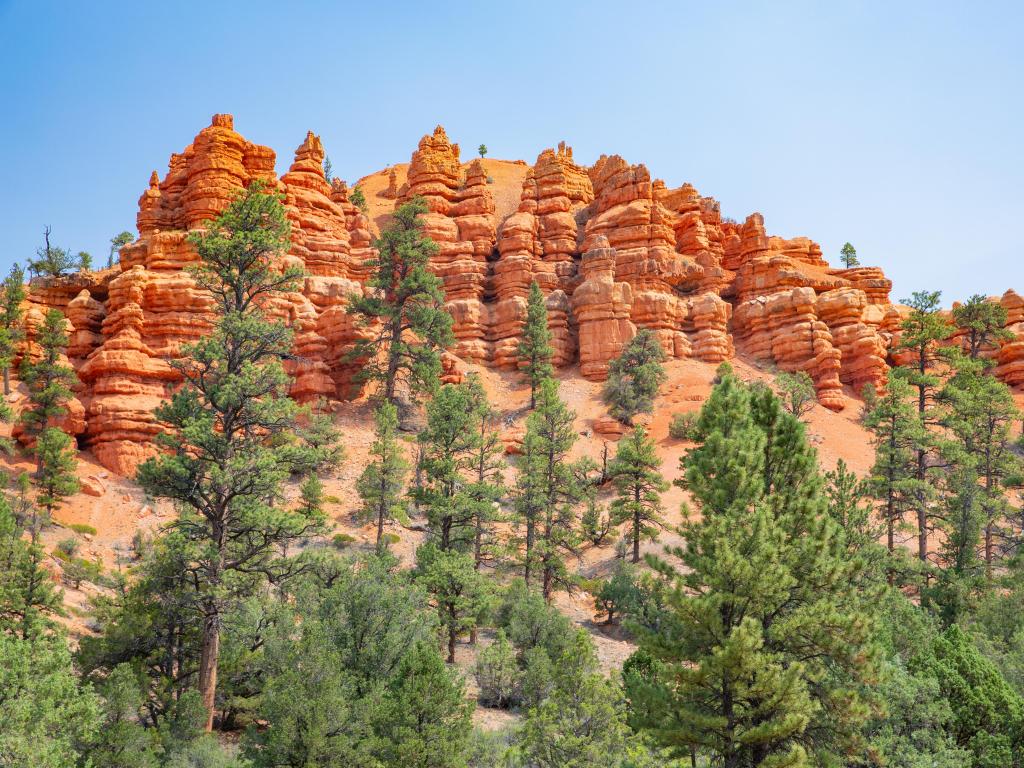 Best time to go on a road trip from Iowa to Las Vegas
When deciding when to visit Las Vegas from Iowa, it really comes down to what sort of trip you're looking for and what your tolerance for heat is. Nevada is known for its pretty hot summers, which means that visiting during the hotter months isn't recommended if you're sensitive to heat.
That being said, Las Vegas' biggest attractions are all indoors, and you'll be hard-pressed to find a spot without powerful AC to get you through those warm months.
You may be wondering how hot Vegas actually gets in the summer; the typical temperatures in Sin City range between 70 and 105 degrees Fahrenheit.
Temperatures in Las Vegas during the winter will range between the high-thirties and mid-sixties Fahrenheit. Typically, outdoor pools will be closed during this season.
That being said, you'll still find a good amount of tourism during New Year's and Christmas, when hotel prices are some of the highest of the year. We recommend visiting during this season if you're interested in discovering the surrounding deserts, which will be comfortable to explore.
Spring and fall are both great times to visit Las Vegas, with average temperatures ranging between 45 and 95 degrees Fahrenheit during both seasons. The weather during these shoulder seasons is much more bearable and you'll also find that hotels and attractions may be slightly more affordable.
You won't have any trouble finding events and festivals in Las Vegas, which will generally offer concerts by iconic performers, Cirque du Soleil performances and world-class shows all year round.
Some of our favourite events to experience in Vegas are the Las Vegas Foodies Festival in the spring, the Electric Daisy Carnival in the summer, the Las Vegas Pride Parade & Festival in the fall and the Snow Carnival in the winter.