Road Trip from Jacksonville, Florida to New Orleans
For an exciting drive between several of America's great states, the road trip from Jacksonville, Fl to New Orleans is perfect! This great drive will take you through history-rich cities, as well as wildlife parks, forests and even a few awesome beaches before arriving at The Big Easy.
The 570-mile road trip from Jacksonville, Fl to New Orleans takes just over 9 hours to drive. Key stops include Savannah, Tallahassee, Atlanta, Hattiesburg and Mobile, as well as Talladega National Forest, Biloxi Beach and De Soto National Forest.
To help you make the most of your drive, we've set out the best routes and places to stop overnight, as well as our favorite things to see along the way and the best time of year to make the trip from Jacksonville, Florida to New Orleans. So read on and get ready for your great ride!
How far is New Orleans from Jacksonville and how long will the road trip take?
Comparison of road trip routes between Jacksonville, FL and New Orleans

| Route | Distance | Driving Time |
| --- | --- | --- |
| The Direct Route | 570 miles | 9 hours 15 minutes |
| color hex=#522A7A]The Coastal Route[/color] | 880 miles | 13 hours |
There are two great routes that will take you from Jacksonville, Florida to New Orleans. The most direct of the two spans a very manageable distance of 570 miles and would take around 9 hours and 15 minutes to drive without stopping along the way.
A longer option, taking you further north to Atlanta and Birmingham, will instead take just over 13 hours to drive at a distance of 880 miles. This again doesn't account for any stops en route.
While you could complete the Direct Route in a single day, both options would benefit from taking a more leisurely drive. This will allow you to explore the local attractions along the way. We'd recommend spending between four and seven days to complete this great road trip.
Best road trip route from Jacksonville to New Orleans
If you are hoping to plan your road trip from Jacksonville, Florida to New Orleans in a long weekend, then our Direct Route is an ideal option. This quicker route takes you through quiet stretches of road with beautiful green scenery.
It's also fantastic if you're interested in local history as you'll pass the cultural-rich cities of Olustee, Tallahassee and Mobile, to mention just a few. But it's not just bustling cities, you'll also get to visit Big Branch Marsh National Wildlife Refuge as well as the beautiful beach at Biloxi.
If escaping the city for a scenic drive along the coast is appealing, then you should consider our Coastal Route. Taking you further north along the Florida coast to the cities of Atlanta and Birmingham, this option combines southern charm with iconic cities.
Although this route is slightly longer, it passes through plenty of great attractions including Piedmont National Wildlife Refuge and De Soto National Forest, making the extra miles worth it.
If you really can't decide between the two, you always have the option of following one to New Orleans and then the other on the final leg back to Jacksonville. Given they're not huge distances, it would still make for a manageable and exciting trip.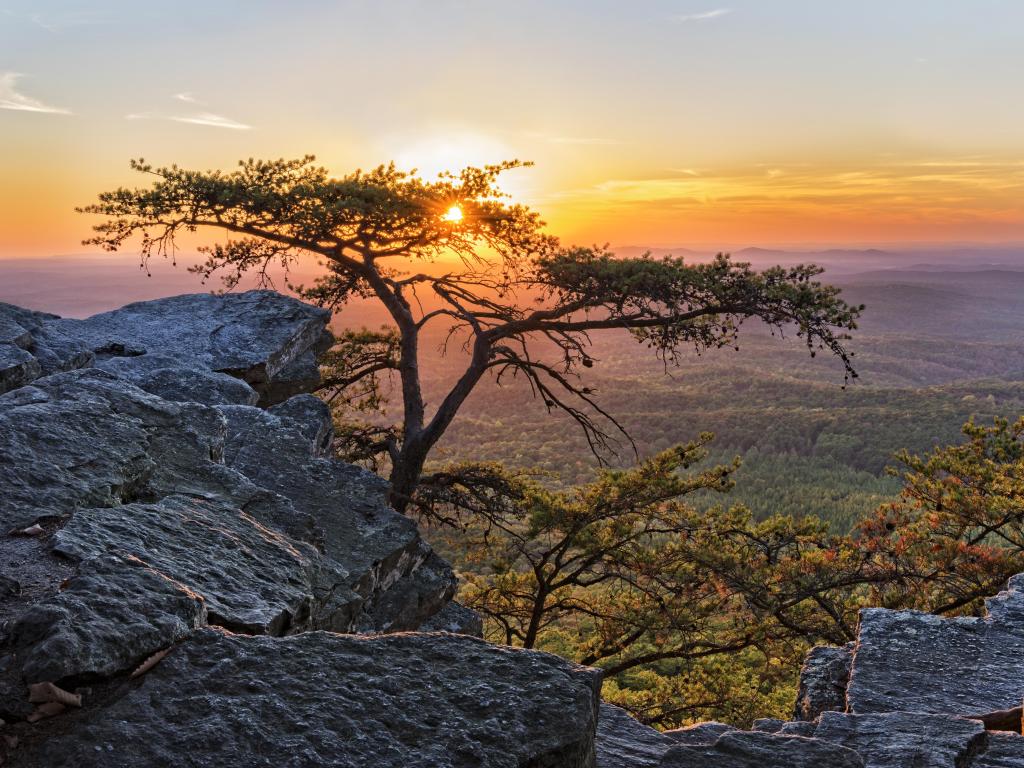 How to drive from Jacksonville to New Orleans
The map above shows our suggestions for the best road trip routes between Jacksonville, Florida and New Orleans. Keep reading for detailed descriptions of both routes, where to stay on either, and the best things to do on the way.
The Direct Route
Begin your trip by leaving Jacksonville, Florida on FL-228 west through Baldwin and Macclenny to Exit 324 and joining Interstate 10 (I-10) to your first major city of Olustee which offers beautiful parks to explore, including the nearby Osceola Wildlife Management Area.
Continue heading west on I-10 through Lake City and Twin Rivers State Forest. Follow the interstate to Tallahassee, a good option for an overnight stop if you're spreading the drive out over several days. From here you've got Lake Talquin and several wildlife areas to explore.
Rejoin I-10 and drive just under Silver Lake Wildlife Management Area and through the beautiful Choctawhatchee River Water Management Area to Exit 85. Take this for a short drive to DeFuniak Springs, a small city with an almost perfectly round spring-fed lake.
Continue on I-10 and make a stop at Blackwater River State Forest before driving through Ferry Pass and Mobile Bay to the city of Mobile. This city is a great overnight option thanks to its famous Mardi Gras and pretty surroundings.
Follow the interstate and cross over into Mississippi, stopping along the way at Biloxi and exploring its coast and pretty city. Rejoin I-10 to Slidell, the last city you'll visit before reaching your destination.
Cross Lake Pontchartrain on the Twin Span Bridge, which is officially known as the Frank Davis "Naturally N'Awlins" Memorial Bridge, following I-10 all the way to wonderful New Orleans.
The Coastal Route
For the Coastal Route, take Interstate 95 (I-95) north from Jacksonville, Florida, passing Timucuan Ecological and Historical Preserve and follow the coast into the state of Georgia.
Follow alongside the coast, leaving the interstate along the way if you'd like to explore some of the beautiful beaches, before taking Exit 99A to visit Savannah, a city right on the edge of Georgia. After exploring, you'll need to follow Interstate 16 (I-16) heading west.
Continue on I-16 until you reach Macon, merge onto Interstate 75 (I-75) North and continue following this road until you reach Atlanta, an ideal halfway point on the route and a great overnight rest option.
Leave the city on Interstate 20 (I-20) West through several towns before making a stop at Talladega National Forest to stretch your legs. Carry on west before merging with Interstate 59 (I-59) and stopping at Birmingham in the state of Alabama.
Stay on I-20 west for a scenic stretch, stopping along the way at Bienville National Forest (on a slight detour) before taking I-59 South at Meridian, taking Exit 80 to follow US-11 to Hattiesburg. This is a great base for exploring De Soto National Forest.
Rejoin I-59 South, crossing into Louisiana and taking the exit for I-10, following the above route across the bridge and to your destination of The Big Easy.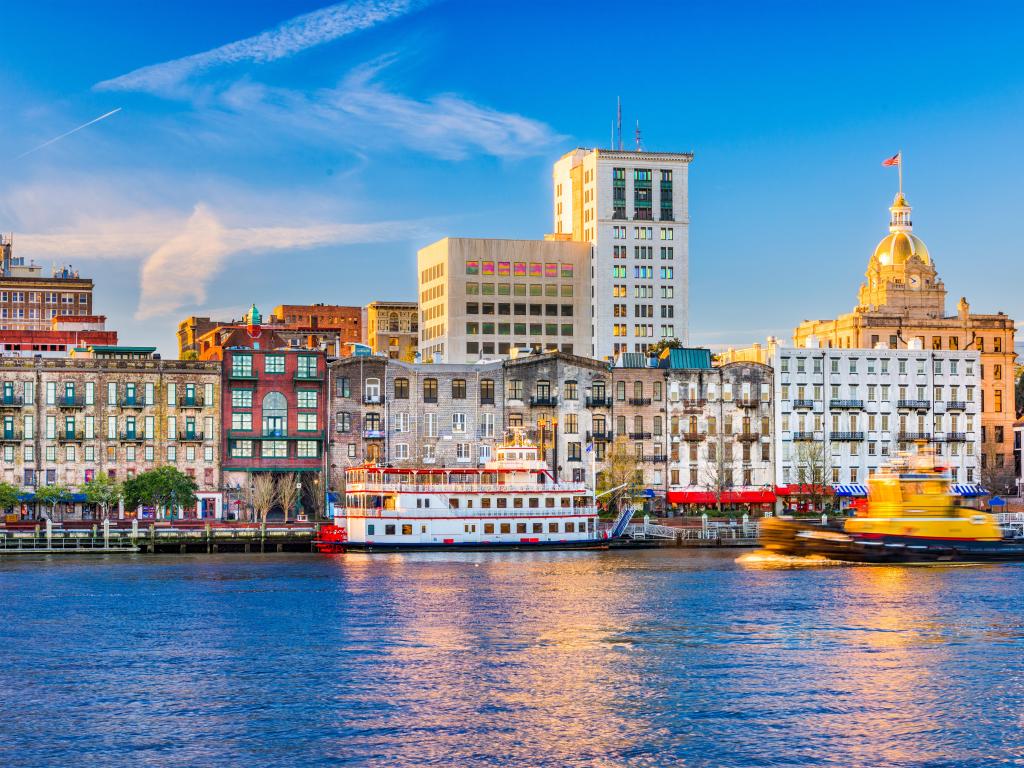 Best places to stop between Jacksonville and New Orleans
The road trip from Jacksonville, Florida to New Orleans passes so many great states, cities and beautiful forests along the way. To really make the most of the great attractions, we'd recommend including a couple of overnight stops which will make the drive more manageable.
There are some great city options to rest up along the way, but here are just a few of our favorites you'll want to keep an eye out for:
The Gateway to the Gulf, Mobile
An ideal city for an overnight stop along our Direct Route is Mobile in the state of Alabama. Just two hours from your destination in New Orleans, this city is a great stopping point for exploring more of Alabama before making the final stretch of your road trip.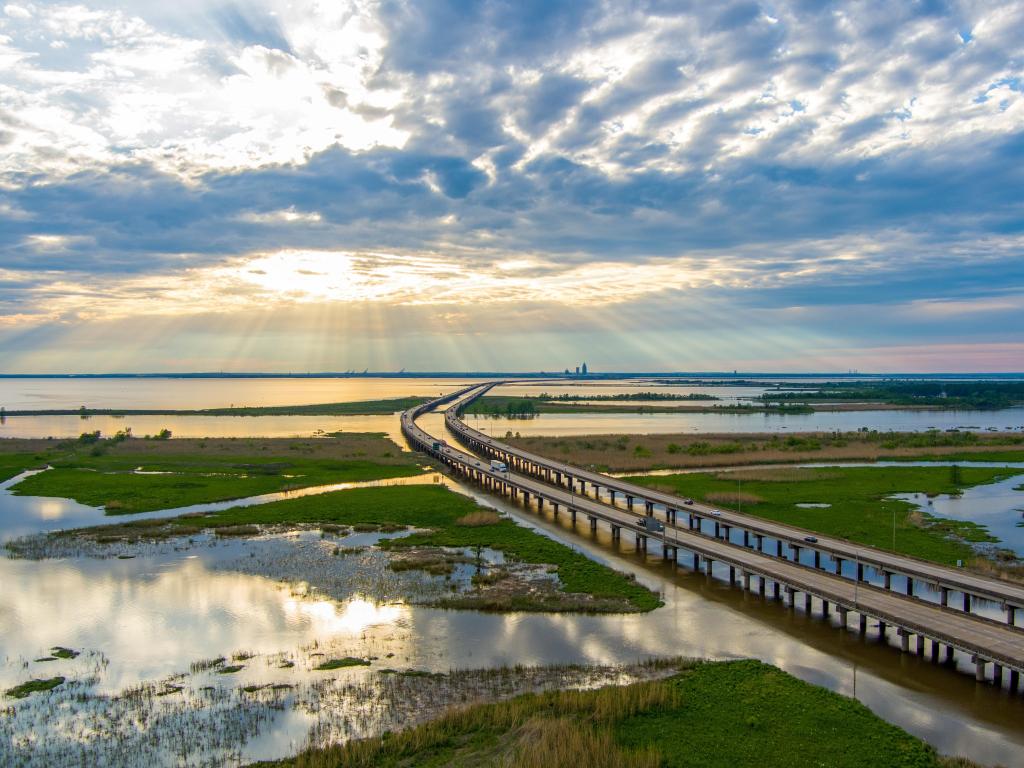 Home to one of the biggest wetland areas in the world known as "America's Amazon", Mobile is probably best known as being the birthplace of the iconic Mardi Gras.
But this great city has so much more to offer. From its History Museum to Fort Conde, there's also a fantastic Carnival Museum and Langan Park, a Mobile Museum of Art. For something more outdoorsy, you can also take a walk around the stunning Bellingrath Gardens and Home.
Despite being known as the "Gateway to the Gulf", there aren't any beaches to explore in Mobile, that said there are several just a short drive away.
If you're looking for something closer, a stop at The Admiral Hotel will give you the chance to relax in its outdoor pool. Within walking distance of some of Mobile's best attractions, this hotel has on-site parking, a great restaurant and stylish, modern decor.
This is a great base for relaxing or for sightseeing, depending on your preference, as you're only ever a short walk away from the famous USS Alabama Battleship, The Mobile Civic Center plus the Gulf Coast Exploreum Science Center and Crescent Theater.
A city for all, Atlanta
Almost halfway on the Coastal Route to New Orleans, and just a five-hour drive from Jacksonville, Atlanta is a vibrant metropolis that is located right on the route, making it a convenient and exciting stop on your trip.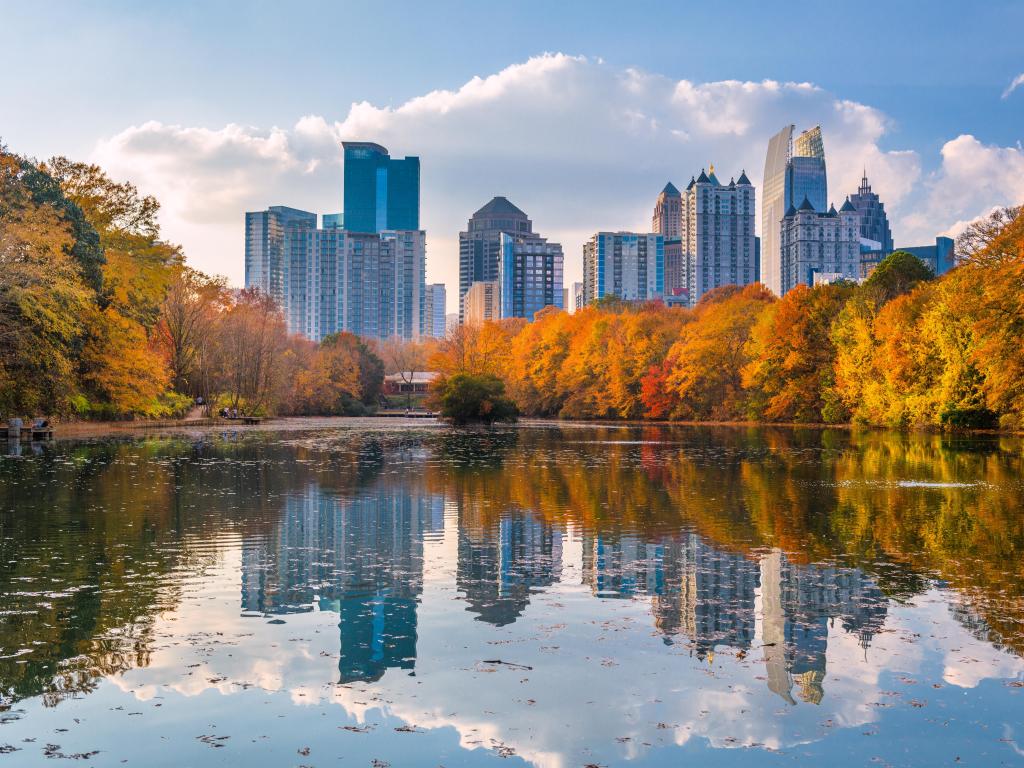 With something for everyone, including history buffs to outdoor enthusiasts, Atlanta is an engaging city packed full of great attractions. Known as "The Big Peach", it's famous for its Coca-Cola heritage, third-wave coffee movement and its sports teams.
After visiting the World of Coca-Cola, make a stop at the Martin Luther King Jr. National Historic Site where you can learn about the civil rights movement and this legendary figure who led it.
For those interested in the great outdoors, the Atlanta Botanical Garden will surely appeal. This stunning botanical garden is famous for its giant living sculptures, The Earth Goddess being the most famous. There's also the Georgia Aquarium to explore which features marine animals and plants.
For a spot of luxury, we'd highly recommend the Thompson Buckhead. This fabulous 5-star hotel has stunning rooms, a seasonal outdoor swimming pool, a sun terrace and an upscale restaurant.
It is located near the Atlanta History Center, while the Georgia Aquarium and Zoo Atlanta are a short drive away making this a perfect resort to explore the city. If that's not enough, this stylish hotel has a fabulous bar and fantastic views.
Staying at the Big Easy, New Orleans
Once you reach the Big Easy, you'll be spoilt for things to see and do. Located on the Mississippi River, the city earned its nickname thanks to its round-the-clock nightlife, vibrant music scene and spicy cuisine, reflecting its cultural melting pot.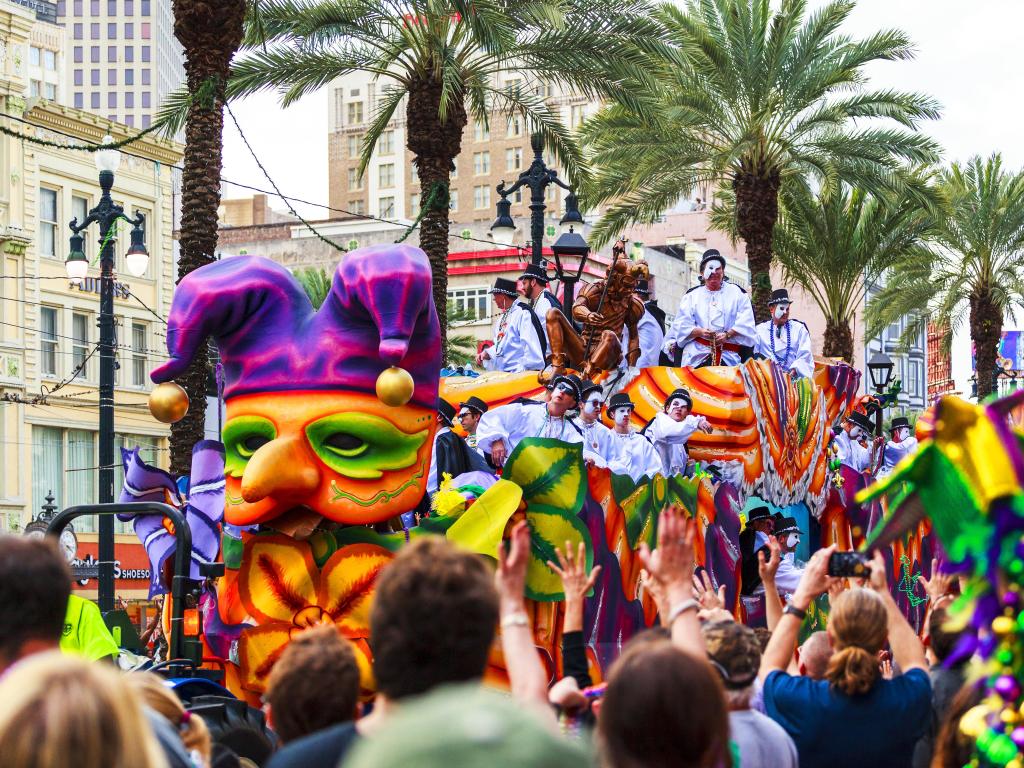 World-renowned for its distinctive music, Creole cuisine and annual celebrations and festivals, including the famous Mardi Gras, New Orleans is a historic city with a stunning French Quarter and amazing French and Spanish architecture at its heart.
A great base for exploring this amazing city is Hotel Monteleone. With glamorous historic European décor to match its French Quarter location, this incredible 4-star hotel has a heated rooftop swimming pool, spa facilities and an onsite restaurant all within a beautiful building.
Near Woldenberg Park, a great place for morning strolls, it's also within walking distance of Audubon Aquarium, the Mississippi River and the iconic Superdome. With fantastic amenities and being just one block away from the famous Bourbon Street, this hotel is the perfect stop.
Things to see on a road trip from Jacksonville to New Orleans
There's so much to see on the road trip from Jacksonville, Florida to New Orleans that you could easily spend several weeks visiting them all. If you're pressed for time, here are a few of our favorite things to do that you won't want to miss:
The Direct Route
Olustee - Olustee Battlefield Historic State Park and Olustee Beach are among many interesting points of exploration within this quaint parkland area.
Walton County Heritage Museum - Housed in a historic rail station, the museum holds local pieces of nostalgia in the small town of DeFuniak Springs.
Florida Historic Capitol Museum - This former government building is a repository of Florida's historic photographs, art and other artifacts about the state's legislative history.
Mission San Luis - Built by Spanish missionaries, the historic complex is home to a 17th-century structure with interactive workshops about blacksmithing and basket making.
Tallahassee Museum - This open-air site combines both natural environment with historical buildings for a unique experience to discover flora and fauna alongside local history.
Beauvoir House - Located in the Mississippi town of Biloxi, this estate was home to former Confederate President Jefferson Davis.
Mississippi Aquarium - This aquarium is home to more than 200 species of aquatic animals and plant life.
INFINITY Science Center - The science museum showcases exhibits about NASA, engineering and technology as well as home to a 3D movie theater.
Big Branch Marsh National Wildlife Refuge, Slidell - This nature preserve is a habitat for the American alligator and other native animals within varied ecosystems.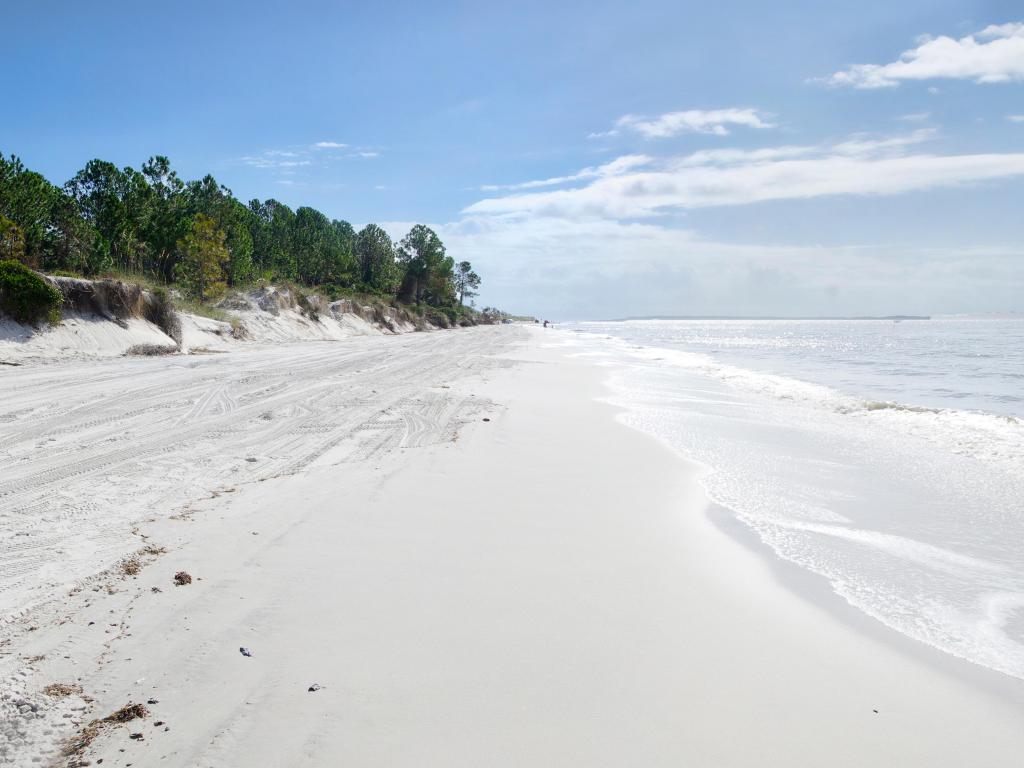 The Coastal Route
St. Simons Island Lighthouse Museum - Learn about the fascinating history of Coastal Georgia in this museum, which also houses the historic lighthouse. You will get to interact with rare artefacts and photographs as you tour the museum.
Midway Museum - This museum houses an extensive collection of 18th and 19th-century artefacts such as furnishings, paintings and historical documents.
Savannah, Georgia - Known for its well-preserved and unique architecture, Savannah is home to Forsyth Park, Wormsloe Historic Site and Historic River Street where you can take a ride on a riverboat.
Urban Air Trampoline and Adventure Park - This indoor adventure park is the perfect destination for family fun or to let your inner child out.
Piedmont National Wildlife Refuge - This 35,000-acre National Wildlife Refuge provides excellent photography, fishing, and big game hunts. It also aims to educate the visitors on the local flora, fauna and their preservation efforts.
Atlanta, Georgia - Atlanta is famous for its rich history. This fascinating city is home to The World of Coca-Cola, Zoo Atlanta, Georgia Aquarium and Atlanta Botanical Gardens.
West Georgia Museum of Tallapoosa - You can visit this roadside museum to learn about the local history. The museum also focuses on natural history and houses a 30-foot T-rex!
Talladega National Forest - This national forest provides great opportunities to connect to nature by hiking, biking, fishing and nature viewing.
Birmingham, Alabama - The founding city for Veteran's Day, Birmingham, Alabama is home to Birmingham Civil Rights Institute, Barber Vintage Motorsports Museum, and Vulcan Park and Museum.
Moundville Archeological Park - This archaeological site is located on the Black Warrior River, and you can view the clothing and jewelry of Mississippian cultures, hand sewn by local artists here.
Dunn's Falls Park - You can stop by this gorgeous park to stretch your legs, take a leisurely hike and view the beautiful waterfalls at Dunn's Falls Park.
De Soto National Forest - Before you reach the colorful city of New Orleans, take a break here to enjoy some scenic hiking trails. You can enjoy some horseback riding or camping as well.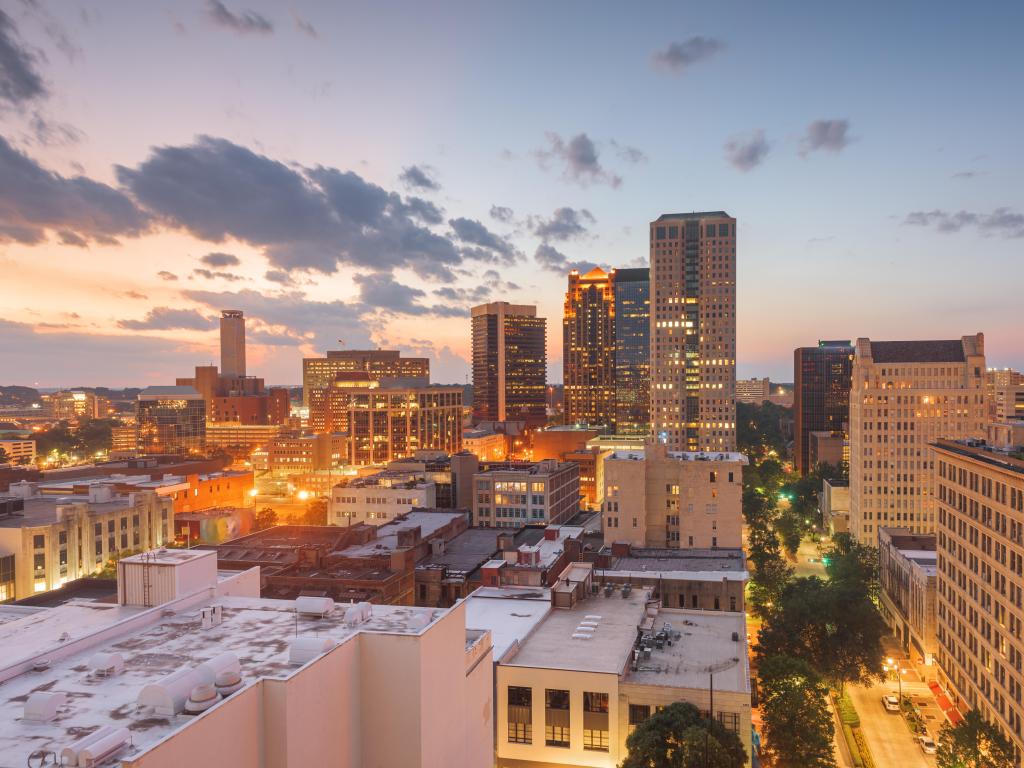 Best time to go on a road trip from Jacksonville to New Orleans
Thanks to New Orleans being consistently humid all year round, as well as the fact that there is a good combination of indoor and outdoor local attractions and events throughout the drive, this is a road trip that can be enjoyed in any season.
That said, with temperatures averaging between 90 degrees Fahrenheit, New Orleans can get really hot and humid in summer. Coupled with the fact that the chance of crowding is extremely high at this time of year, you might want to avoid June to August.
Winter in comparison sees mild weather. Although the temperature can drop to 45 degrees in January, this is one of the quieter months in New Orleans as fewer tourists visit, making it a great time if you'd like to enjoy the cities without the crowds.
The weather in spring and fall tends to be dryer than in winter, so this is a great time for sightseeing the outdoor attractions en route, including the beaches and forests.
If you're visiting between late September and mid-November, you'll also experience cheaper hotel rates as there are fewer events.
If you'd like to experience the fun of the festivals held in this part of the US, then you should definitely try and visit between February and mid-March when the biggest event, the Mardi Gras, is held.
There are also great music festivals, including Jazz Fest in April and May, the Satchmo Summerfest in August and the Crescent City Blues and BBQ Festival in October.