Road Trip from Los Angeles to Las Vegas via Yosemite
If you are planning a journey to Las Vegas from Los Angeles and looking for the best way to level up your adventure, then taking a little longer and driving through Yosemite National Park is just what you have been looking for. This drive will take you through stunning national parks and beaches, and that is before you even arrive in Sin City!
The 800-mile road trip from Los Angeles to Las Vegas via Yosemite will take 14 hours and 30 minutes to drive. You can visit Bakersfield, Fresno, Mammoth Lakes and Death Valley if heading inland or Santa Barbara and Monterey if detouring to the coast.
Get ready for the ultimate California adventure on a drive from Los Angeles to Las Vegas. Read on below to learn more about our recommended routes, the best places to stay, top highlights, and the best seasons to travel.
How far is Las Vegas from Los Angeles via Yosemite, and how long will the road trip take?
Comparison of road trip routes between Los Angeles and Las Vegas via Yosemite

| Route | Distance | Driving Time |
| --- | --- | --- |
| The Death Valley Route | 800 miles | 14 hours and 30 minutes |
| The Coastal Detour | 970 miles | 16 hours and 30 minutes |
We have curated two routes dotted with beautiful scenery that will take you from Las Angeles to Las Vegas via Yosemite. Each has its own thrills and unmissable highlights. The Death Valley Route takes around 14 hours and 30 minutes to complete and covers 800 miles.
The Coastal Detour route, on the other hand, is a slightly longer adventure, covering 970 miles with a drive time of about 16 hours and 30 minutes before arriving in Las Vegas.
While you can make this trip in a few days, there is so much to witness and experience on the way that we recommend spreading it over 4-5 days to visit all the amazing national parks and beaches on the way (depending on which route you choose).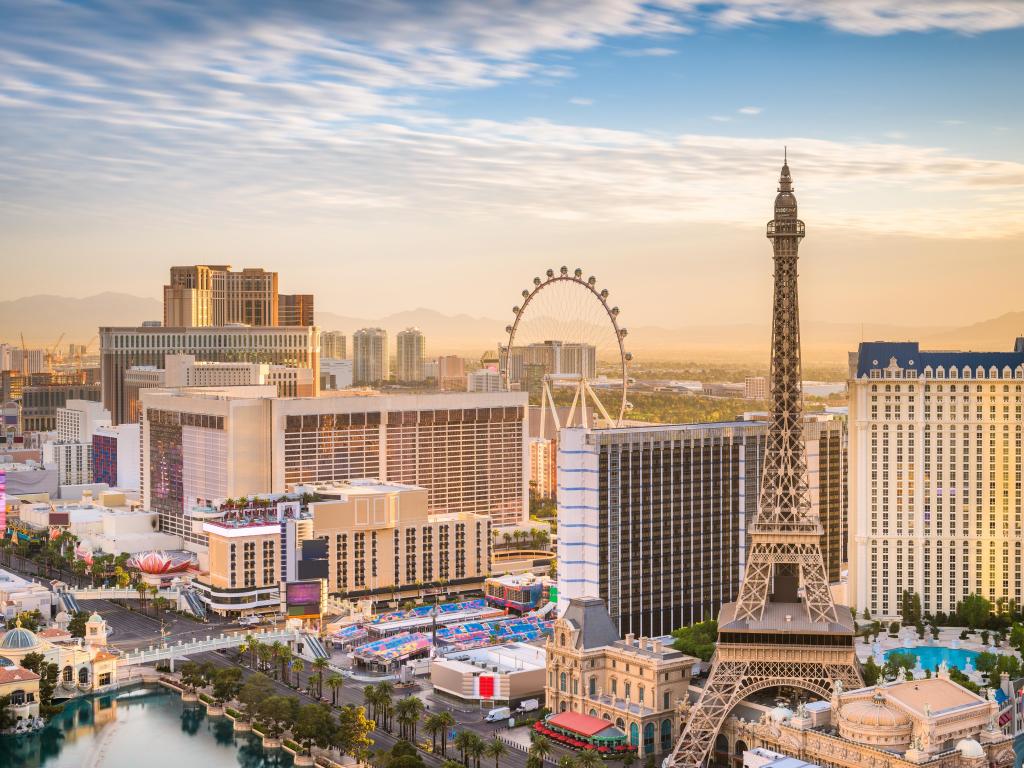 Best road trip route from Los Angeles to Las Vegas via Yosemite
While both routes are full of natural wonders and eye-catching scenery, the landscapes and experiences they offer are very different. Your choice will depend on what type of experiences and highlights you want the most.
The Death Valley Route takes you on an inland adventure from Los Angeles to Las Vegas, cutting through the heart of the Sierra Nevada Mountains. It's essential to note that this route is not accessible during winter, due to the Tioga Road closing between November and May due to snow.
Yet, when the pass is open, you're in for a treat with the captivating Yosemite National Park and the beautiful Death Valley National Park. Then you will get the opportunity to make detours to Sequoia and Kings Canyon National Parks as well as Sierra, and Inyo National Forests.
Another feather on this route is Mammoth Lakes, a delightful mountain town teeming with natural wonder, a quaint downtown, and outdoor activities, all within an alpine wilderness.
However, if you want to visit coastal towns and some of California's most famous beaches, the Coastal Detour is for you. This year-round accessible route takes you on a leisurely drive along the Pacific coastline, with picturesque coastal towns, historic landmarks, pristine beaches, and plenty of wineries to visit along the way.
After you have had your fill of sun-soaked beaches, you will head inland on this route and visit Mojave National Preserve before reaching your destination.
If you choose to travel on the Death Valley Route, you will use the South Entrance to enter Yosemite National Park and the Tioga Pass Entrance (closed in winter) to leave, whereas the Coastal Detour will take you only through the South Entrance to both enter and exit.
If you prefer to use another entrance, you can use our detailed guide to help you decide.
How to drive from Los Angeles to Las Vegas via Yosemite
The map above shows our suggestions for the best road trip routes between Los Angeles and Las Vegas via Yosemite. Keep reading for detailed descriptions of both routes, where to stay on either, and the best things to do on the way.
The Death Valley Route
From Los Angeles, head north on Interstate 5 (I-5) through Santa Clarita. From here, continue on route north through the desert landscape and into the start of the Central Valley.
Continue on north to Bakersfield, a city famous for its theater and agricultural history. From here, your next stop will be Fresno. After visiting these urban hubs, head north through the winding valleys and mountains of the Sierra Nevada Mountains.
Continue on to Yosemite National Park and use the South Entrance to enter the park. Here, you'll see one of the most famous natural landscapes in the United States. You will use the Tioga Pass Entrance to leave after your visit.
After Yosemite, continue on southeast through the towering mountains and into Mammoth Lakes. This beautiful destination is one of California's most popular destinations for outdoor enthusiasts.
After Mammoth Lakes, make your way to Big Pine and then visit Death Valley National Park and make your way into Nevada. After Death Valley, you will soon reach Las Vegas.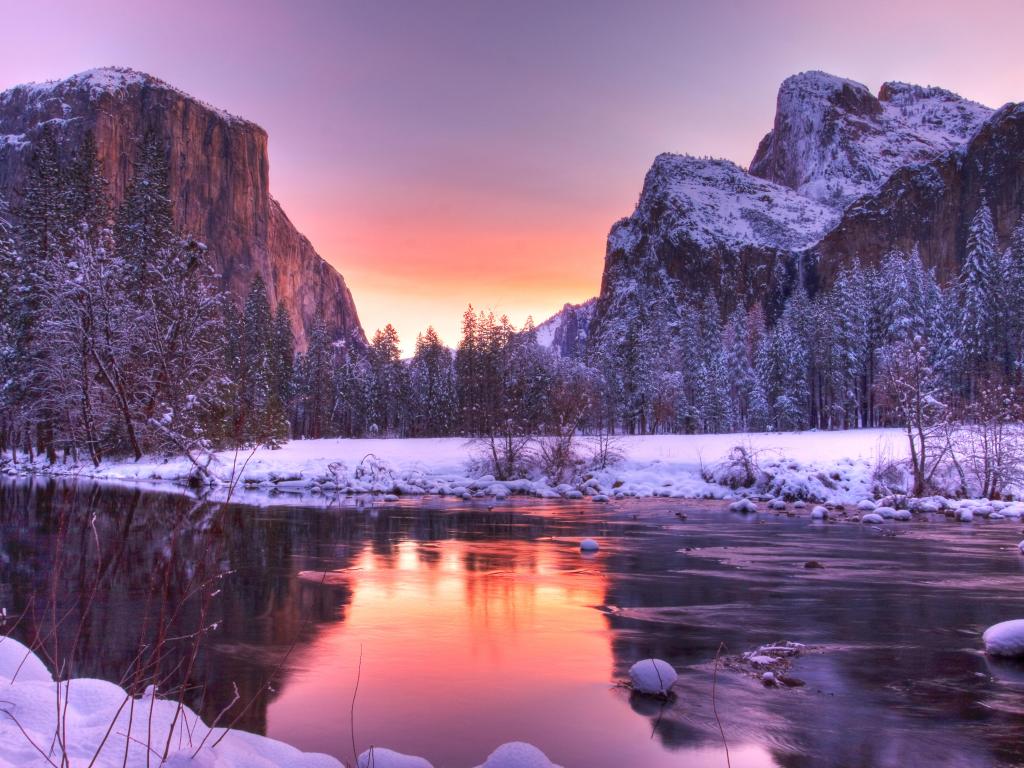 The Coastal Detour
From Los Angeles, make your way northwest on the famous Pacific Coast Highway. This route will take you through parts of this iconic highway, but you can follow the coast more closely if you have extra time. Keep in mind that the Big Sur area is susceptible to landslides and check before you travel.
Driving through Thousand Oaks, you will soon arrive in Santa Barbara. While here, make sure to visit the iconic Santa Barbara Mission or wineries such as Santa Barbara Winery and Skyenna.
Continue north on US-101 to the town of Solvang. Here, you can see the town's famous windmill. After Solvang, continue north through Santa Maria and into San Luis Obispo. This region is famous for its wine and the famous Santa Maria style of BBQ.
After getting your fill, drive north through Pismo Beach and into Morro Bay. This iconic Californian beach town is famous for its towering rock monument.
From here, continue back En route through Paso Robles, another famous wine region worth seeing. Then, drive to Monterey, one of the marine life capitals of the USA.
Then, make your way east to Yosemite and enter the park using the South Entrance. After seeing Yosemite, one of the natural wonders of America, continue south using the same entrance to exit and head to Fresno and then into Bakersfield.
After Bakersfield, continue en route through the Mojave National Preserve AND Mojave Desert. From here, you'll cross into Nevada and continue on to Las Vegas.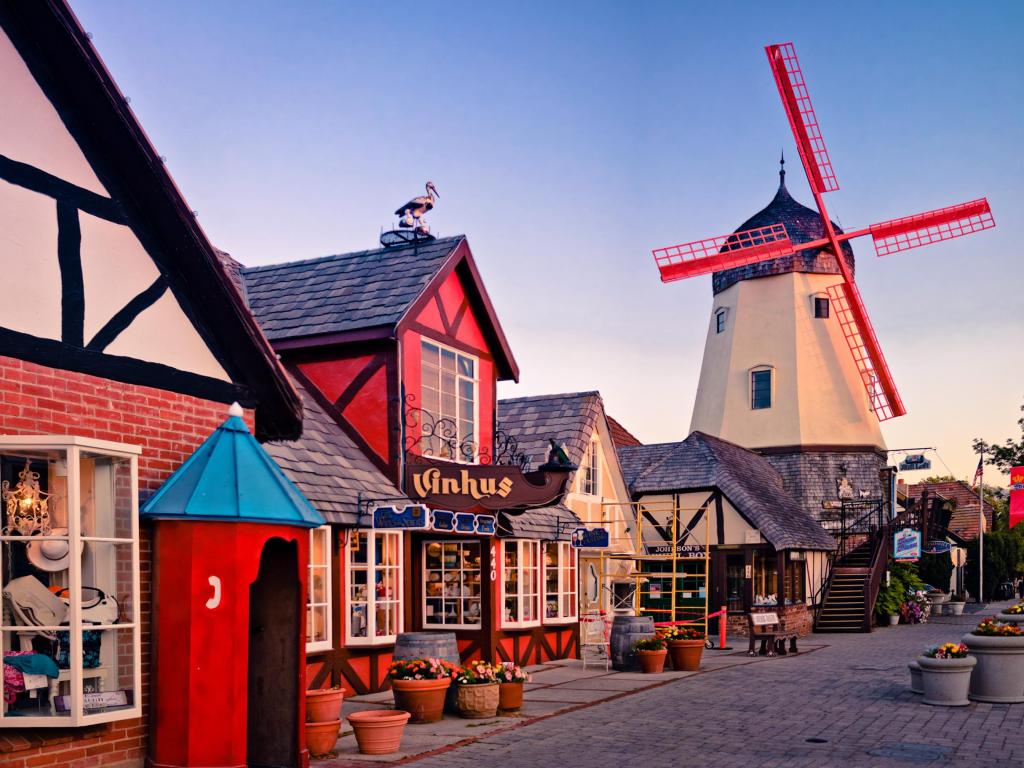 Best places to stop between Los Angeles and Las Vegas via Yosemite
With so much to see and do along the way, you're going to want to stop at one of the exciting destinations below. This way, you'll be able to get the most out of this incredible road trip and all its highlights.
Take in the mountain views in Mammoth Lakes
Mammoth Lakes is an excellent place to take a break on the Death Valley Route, situated about halfway, 7 hours 45 minutes into your drive. The breathtaking views of the Sierra Nevada Mountains will instantly make you fall in love with this Californian gem.
While visiting Yosemite, we always leave a little extra time to visit Mammoth Mountain, a world-renowned ski resort that attracts enthusiasts year-round. Whether you're gliding down its snowy slopes in the winter or hiking its scenic trails in the summer, the mountain is a one-of-a-kind destination.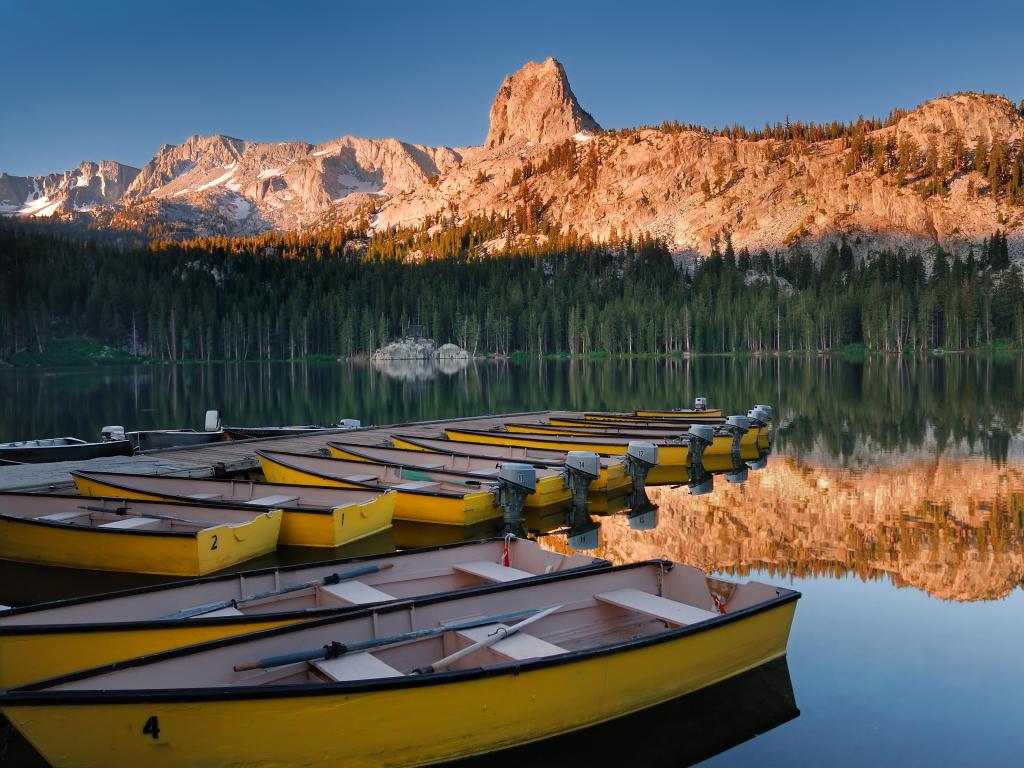 Another attraction in the area is the Devils Postpile National Monument. These towering basalt columns are a result of ancient volcanic activities and are a sight to behold and hike around.
When you have worked up an appetite, the town of Mammoth Lakes has tons of amazing restaurants, offering global cuisines and bustling shopping plazas that guarantee to satisfy all your retail cravings.
While visiting Mammoth Lakes, we recommend staying at the Westin Monache Resort, Mammoth. This exquisite resort is strategically positioned, making it just a gondola ride away from Mammoth Mountain.
The hotel boasts well-appointed suites and studios, ensuring a cozy stay. Plus, with a fabulous outdoor swimming pool, it provides the perfect means to a relaxed vacation.
Near the hotel, the Village Gondola is merely 150 yards away, perfect if you are ready to explore the mountain. The Earthquake Fault Hiking Area, around 1.5 miles from the hotel.
Learn about fascinating marine life in Monterey
Monterey is the ideal place to rest on the Coastal Detour, positioned about one-third into your drive at 5 hours and 30 minutes in. You'll immediately be enchanted by its coastal charms, natural beauty, and activities.
Central to this route are the beautiful Monterey State Beach and the world-renowned Monterey Bay Aquarium. It offers an intimate look into the marine life that thrives in the Pacific, from playful otters to ethereal jellyfish.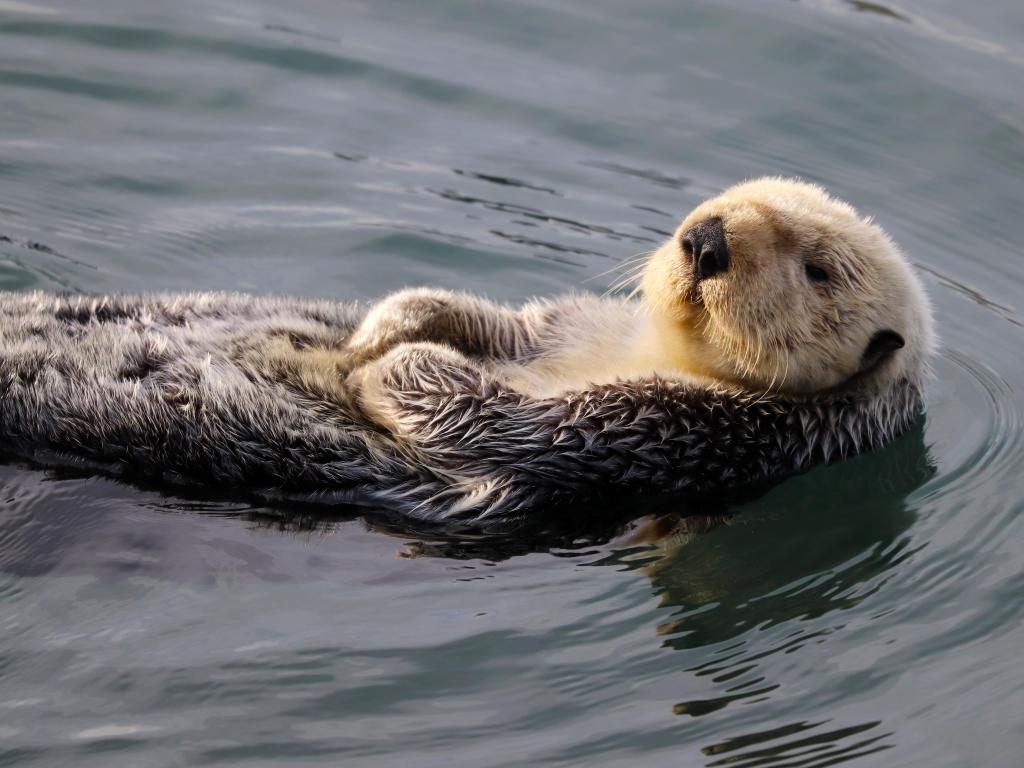 Another must-visit spot is the Old Fisherman's Wharf. Stroll down this iconic pier, indulge in some delicious seafood, or simply enjoy the views of the harbor.
But there's more to Monterey than just its oceanic allure. The town also boasts a selection of top-notch wineries and tasting rooms.
For your stay in Monterey, we recommend staying at the stunning Old Monterey Inn. Each room is a sanctuary adorned with floral and garden-themed décor, a cozy fireplace, and a wonderful breakfast.
The shared lounge area, outdoor dining spots, and beautifully maintained gardens will be perfect places to relax in after your long drive.
Nearby the hotel is the Monterey Museum of Art, which is just 500 yards away. A little further, about 800 yards away, stands the San Carlos Cathedral, another famous attraction just walking distance away.
Where to stay when you reach Las Vegas
Las Vegas, an internationally acclaimed resort city, is Nevada's cultural and commercial crown jewel. As you explore the city, don't miss the iconic Bellagio Fountain.
Another must-visit is the Las Vegas Strip, a stretch that epitomizes the city's vibrant nightlife, entertainment, and casino culture. Here, you can walk down the famous avenue and try your luck at the many casinos or spend your night living it up at the many clubs.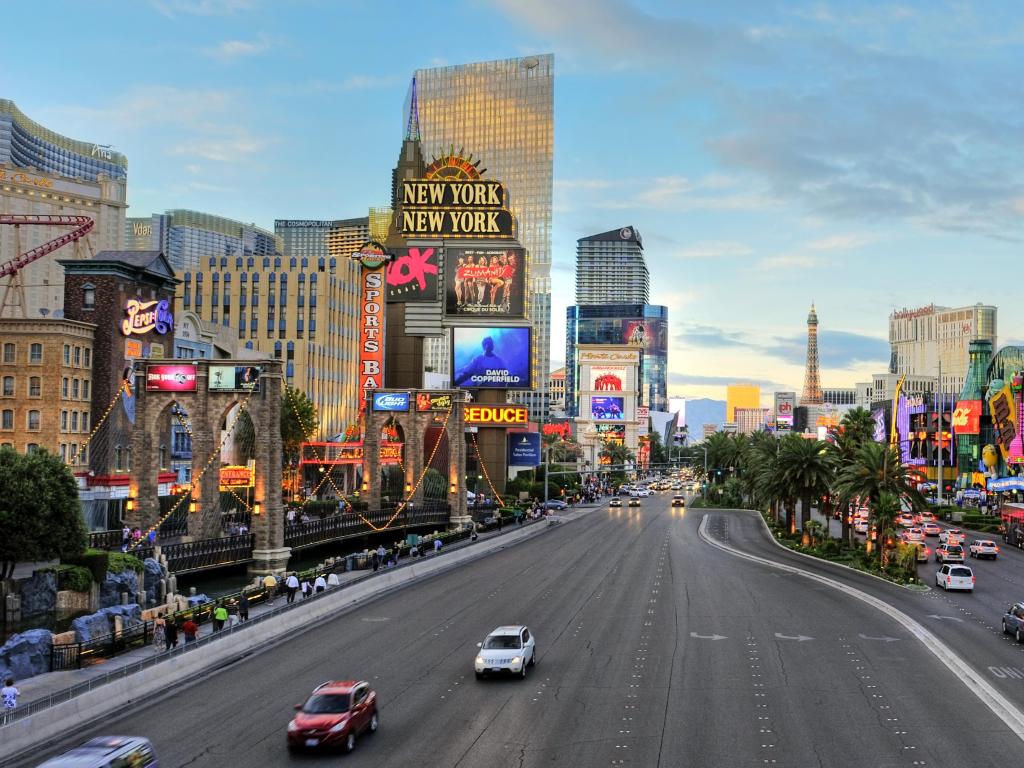 In the heart of this neon wonderland is the luxurious Wynn Las Vegas, a beautiful hotel famous for its comfort and opulence.
The Wynn takes luxury to the next level. Its full-service spa and casino feature oasis-like pools and shopping experiences from exclusive brand names. There are also amenities such as 3 swimming pools and a modern fitness center if you'd like to stay active.
After exploring the city, visit the hotel's signature restaurants, buffets, and casual cafes, all within the hotel premises. And, of course, there are the spacious and modern rooms with top-notch room service that guests can't stop raving about.
Things to see on a road trip from Los Angeles to Las Vegas via Yosemite
Few regions of the world offer this much beauty and excitement. Below, we've chosen our top destinations and experiences so you can have the road trip of a lifetime.
Death Valley Route
Six Flags Magic Mountain - A world-renowned amusement park located near Los Angeles, Six Flags Magic Mountain boasts some of the most thrilling roller coasters and attractions.
Pyramid Lake, California - Nestled in the Angeles and Los Padres National Forests, Pyramid Lake offers a scenic oasis for boating, fishing, and picnicking. Its sparkling blue waters contrast beautifully with the surrounding arid landscape.
Fort Tejon State Historic Park - A California State Park that preserves the historic Fort Tejon, visitors can step back in time to the 1850s and experience life at an Army post, with historical reenactments, museum exhibits, and guided tours.
Historic Bakersfield Fox Theater - An architectural gem in downtown Bakersfield, this theater showcases a blend of Spanish Colonial Revival and Art Deco styles.
Fresno Art Museum - Celebrating modern artworks, the Fresno Art Museum contains a diverse collection with a particular emphasis on artists from California. Its rotating exhibits and educational programs inspire creativity and dialogue.
Millerton Lake, California - A reservoir located in the Sierra Nevada foothills, Millerton Lake is a popular spot for boating, swimming, and hiking. The picturesque setting provides breathtaking views, especially during sunsets.
Sierra National Forest - Spanning over a million acres, Sierra National Forest offers dense forests, alpine meadows, and snow-capped peaks. Outdoor enthusiasts can indulge in hiking, camping, fishing, and even skiing in winter months.
Fresno Flats Historical Village and Park - Transporting you to the 19th-century, this park recreates the historic pioneer days of the San Joaquin Valley. From restored buildings to authentic artifacts, it offers a glimpse into early California life.
Tioga Lake - Located near the eastern entrance of Yosemite National Park, Tioga Lake is a serene alpine lake surrounded by meadows and peaks. It's a tranquil spot for picnicking, fishing, and soaking in the scenery.
Devils Postpile National Monument - This unique geological formation showcases columnar basalt formations, a result of volcanic activity. The symmetrical columns tower impressively, making it a fascinating sight for nature lovers.
Inyo National Forest - Encompassing parts of the eastern Sierra and White Mountains, Inyo National Forest offers diverse landscapes from dense forests to arid deserts. Popular spots include Mount Whitney, the highest peak in the contiguous U.S., and the Ancient Bristlecone Pine Forest.
Museum of Western Film History, Lone Pine - Dedicated to celebrating the rich history of Western films, this museum showcases memorabilia, posters, and props from iconic movies.
Death Valley National Park - Holding the title of the hottest, driest, and lowest national park, Death Valley is a land of extremes. From its vast sand dunes to the colorful super blooms of spring, it offers otherworldly landscapes and unique natural wonders.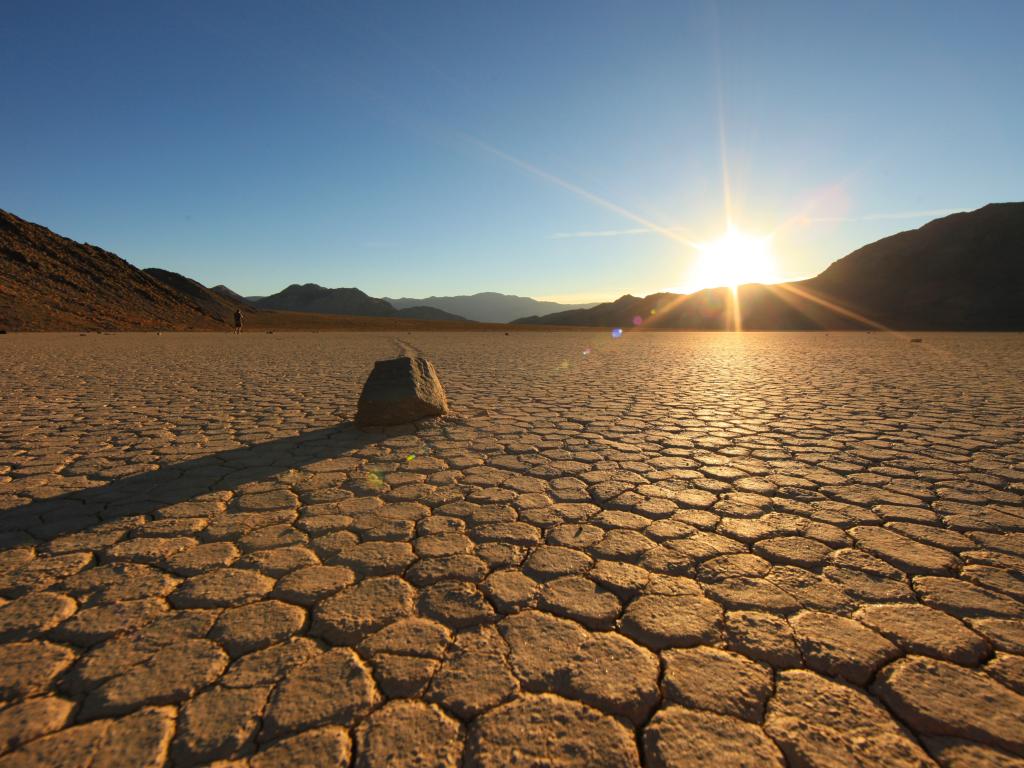 Coastal Detour
Old Mission Santa Barbara - Often referred to as the "Queen of the Missions," this historic mission boasts beautiful Spanish architecture and a wonderful rose garden.
Cachuma Lake Recreation Area - Located in Santa Barbara County, Cachuma Lake is a haven for anglers, bird watchers, and campers. The lake's serene setting, coupled with mountain backdrops, makes it a picturesque spot for outdoor activities.
Elverhøj Museum of History & Art - Located in Solvang, this museum celebrates the city's Danish heritage through art, history, and culture. Its exhibits, combined with the traditional Danish architecture, transport visitors to another world.
Pismo Beach Pier - Extending out into the Pacific Ocean, Pismo Beach Pier offers panoramic ocean views, fishing opportunities, and a chance to witness stunning sunsets. The surrounding beach is popular for surfing, beachcombing, and relaxation.
Mission San Luis Obispo de Tolosa - Founded in 1772 in San Luis Obispo, this historic mission stands as a testament to California's Spanish colonial past, featuring beautiful architecture, lush gardens, and a museum.
West Cuesta Ridge Trailhead - Serving as a gateway to the Los Padres National Forest, the West Cuesta Ridge offers hikers and mountain bikers an opportunity to experience panoramic views, diverse flora, and an array of wildlife.
Pinnacles National Park - A geological wonder, Pinnacles National Park showcases towering rock formations, talus caves, and a diverse range of wildlife, including the endangered California condor.
Monterey Bay Aquarium - This renowned aquarium offers a deep dive into marine life, featuring mesmerizing exhibits of jellyfish, sharks, otters, and more.
Fort Ord Dunes State Park - Overlooking Monterey Bay, Fort Ord Dunes State Park offers miles of coastline, with panoramic ocean views, hiking trails, and a rich military history.
San Juan Bautista State Historic Park - Preserving the historic charm of San Juan Bautista, this state park showcases several restored buildings from the 19th century, including the iconic Mission San Juan Bautista.
San Luis Reservoir - A large artificial lake and reservoir in the eastern slopes of the Diablo Range in Merced County, San Luis Reservoir is a recreational hotspot with boating, fishing, and picnicking, all while enjoying the scenic vistas.
Forestiere Underground Gardens - A subterranean complex in Fresno, these gardens were hand-carved by Baldassare Forestiere over 40 years and feature a labyrinth of tunnels, courtyards, and chambers.
Sequoia National Forest - Encompassing a vast expanse of the Sierra Nevada, the Sequoia National Forest is home to towering sequoia trees, rugged landscapes, and crystal-clear rivers. Popular for hiking, camping, and stargazing, it provides a natural sanctuary for both adventurers and wildlife.
California Living Museum - Located in Bakersfield, this zoo and botanical garden focuses on native Californian animals and plants. Its exhibits and rehabilitation programs emphasize conservation and education, making it a haven for nature enthusiasts.
Mojave National Preserve - Spanning 1.6 million acres, this preserve in the Mojave Desert offers a tapestry of sand dunes, volcanic cinder cones, and Joshua tree forests. Its vast landscapes provide a serene setting for hiking, camping, and stargazing.
Seven Magic Mountains, Nevada - A vibrant art installation near Las Vegas, Seven Magic Mountains features seven towering stacks of painted boulders set against the desert landscape. Created by artist Ugo Rondinone, it serves as a creative juxtaposition of art, nature, and culture.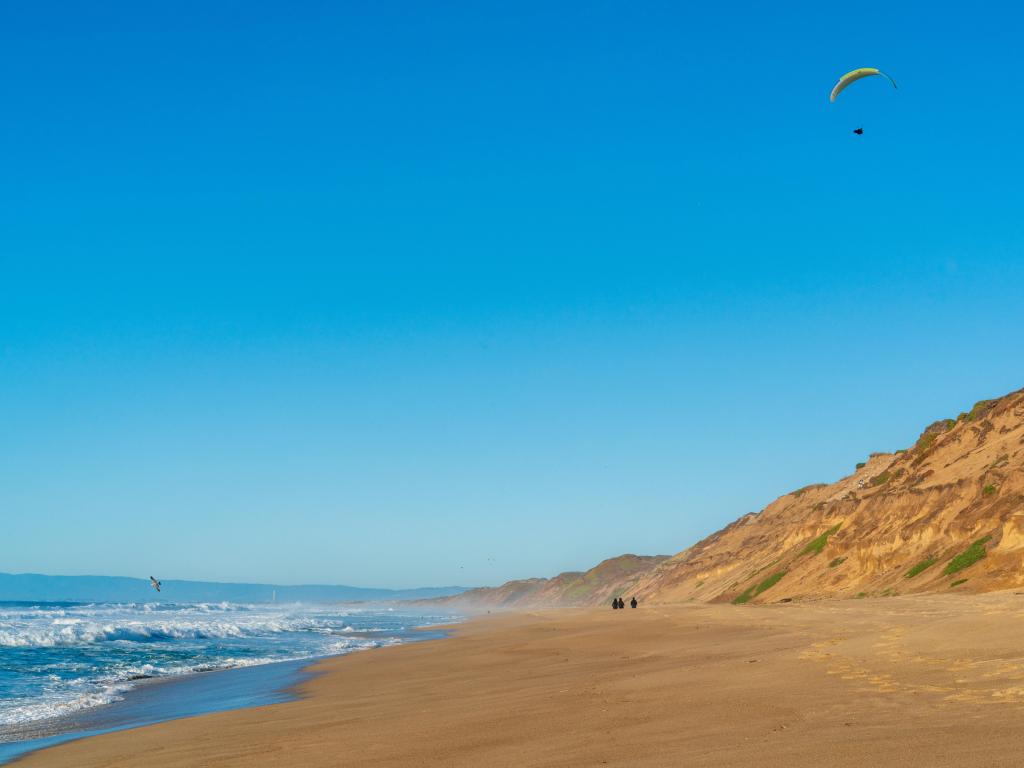 Both routes
Pioneer Yosemite History Center - Located within Yosemite National Park, this center features historic structures and exhibits about Yosemite's early days. You can explore stagecoaches, cabins, and experience living history demonstrations.
Bridalveil Falls Viewpoint - Offering a panoramic view of one of Yosemite's most iconic waterfalls, Bridalveil Falls cascades down gracefully from granite cliffs.
Yosemite National Park - A UNESCO World Heritage site, Yosemite is famed for its giant sequoias, granite cliffs, and mesmerizing waterfalls. Whether hiking, camping, or simply taking in the views, its natural beauty captivates all who visit.
Best time to go on a road trip from Los Angeles to Las Vegas via Yosemite
Las Vegas is an iconic destination ‌throughout the year and we also believe the city never sleeps, so no matter when and what time of the day you visit, you will find something to be amazed by. However, the drive itself will vary significantly depending on the season.
Fall brings milder temperatures, ranging between 70 to 90 degrees Fahrenheit, making it the ideal time to experience the California Dark Sky Festival.
Winter can be snowy, especially as you hit the mountains. Remember that Tioga Road, a mesmerizing scenic drive in the Yosemite National Park area, usually closes between November and May.
The Coastal Detour is appealing no matter the season, and the South Entrance to the Yosemite National Park area remains accessible even during the winter.
As the winter approaches, Las Vegas experiences cooler temperatures, between 45 to 65 degrees Fahrenheit with occasional frosts. However, there are fewer tourists and hotel prices may be cheaper in the winter.
Spring's mild temperatures of 70 to 90 degrees Fahrenheit are ideal for the Monterey Whale Fest, while September's Wasteland Weekend will be perfect if you're craving adventure.
If you're taking the Death Valley Route, summer temperatures can soar up to a sweltering 110 degrees Fahrenheit. However, this warmth is perfect for events such as the Mammoth Festival of Beers & Bluesapalooza in August.
Once you reach Las Vegas, summer temperatures can peak at 110 degrees Fahrenheit. Although hot, the atmosphere is electrifying, especially during events such as the Life is Beautiful Festival in September.
Whichever season you travel, the drive from Los Angeles to Las Vegas via Yosemite will make lifetime memories and endless fun.