Road Trip from Moab to Grand Canyon
The mighty Grand Canyon, one of the world's natural wonders and the most beloved destinations for nature lovers, is a must-see destination for anyone. On a road trip from Moab to Grand Canyon, you're in store for a road trip of a lifetime, full of stunning natural spaces, beautiful desert towns, and adventure around every corner.
The 430-mile road trip from Moab to Grand Canyon will take about 8 hours to drive. Highlights are Oljato-Monument Valley, Wupatki National Monument, Sunset Crater, Flagstaff, Capitol Reef National Park, Dixie National Forest and Zion National Park.
It's time to start planning this adventure-filled trip through the American West. Continue reading to learn more about the best routes, where to stay, the best stopovers, and what to see and do along the way so you can make the most out of this amazing highway adventure.
How far is the Grand Canyon from Moab, and how long will the road trip take?
Comparison of road trip routes between Moab and the Grand Canyon

| Route | Distance | Driving Time |
| --- | --- | --- |
| The Direct Route | 430 miles | 7 hours 40 minutes |
| The National Parks Route | 610 miles | 12 hours |
There are two beautiful routes to choose from to get to the Grand Canyon from Moab, Utah. Each is jam-packed with wonderful stops, viewpoints, parks, and cultural sights.
The Direct Route is the shorter route and will take you to the city of Flagstaff on the way. You'll cover 430 miles with 7 hours and 40 minutes of driving time.
The longer National Parks Route will cover 610 miles of desert roads. You'll be driving for 12 hours along this route.
Whichever route you choose, we recommend taking five to six days to reach your destination. Read on to find out more about the best routes, where to stay along the way, and what to see and do on your way to the Grand Canyon.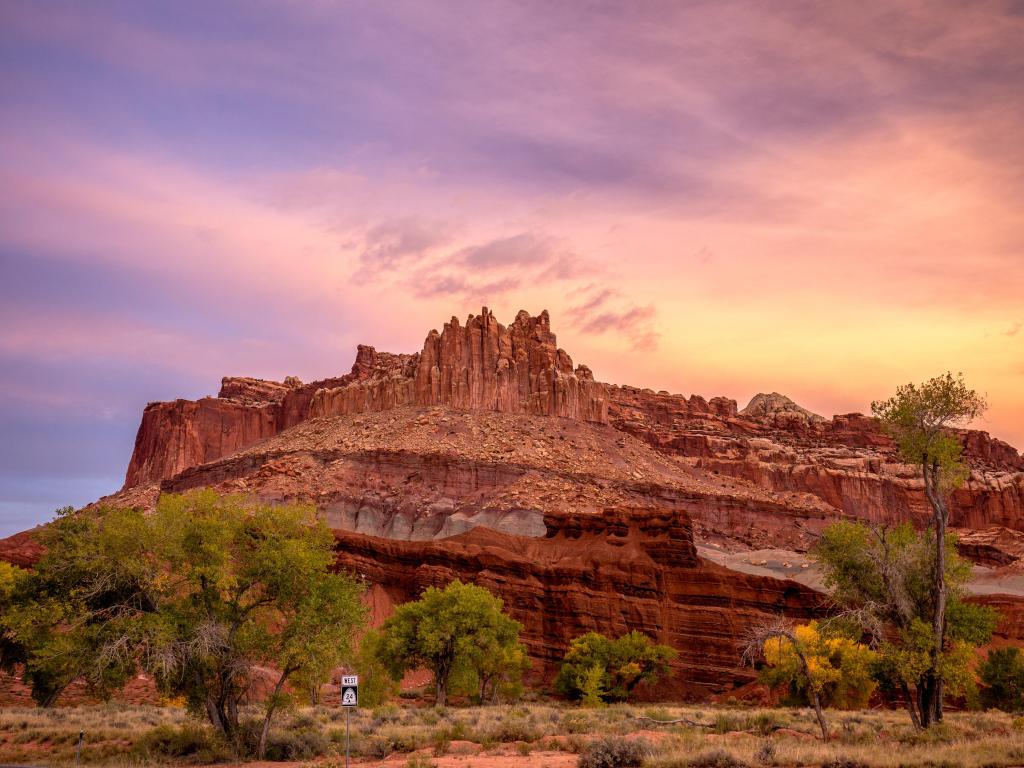 Best road trip route from Moab to Grand Canyon
Both the Direct Route and the National Parks Route will be full of fun and wonderful memories. Choosing which one you take will depend on what you want to see and how much time you have for your drive.
The Direct Route is the fastest and most direct route from Moab to the Grand Canyon. You'll stop in the city of Flagstaff and get to see the wondrous Sunset Crater Volcano National Monument.
While you're driving, you can visit the Wupatki National Monument, a collection of pueblos that date back over 900 years ago. Then, you'll pass by the Coconino National Forest, a beautiful protected space right outside of Flagstaff.
The longer National Parks Route is a scenic route that prioritizes seeing three of this area's (and the country's) most popular and picturesque parks. Stops include Capitol Reef National Park, Dixie National Forest and the inspiring landscapes of Zion National Park.
This route prioritizes exploring attractions throughout Utah and only dips into Arizona for the final stretch to the Grand Canyon. For those who want to experience the great outdoors, this is the route for you.
The Direct Route
From Moab, head south on US-191 to Bluff. Merge with the 163 and check out the petroglyphs just a short distance from the road. Continue on past Mexican Hat and into the wondrous Monument Valley. Here you can gaze in wonder at the giant red sandstone formations.
From here, drive south into Flagstaff. On the way, enjoy the Sunset Crater and other natural landmarks. Continue on from Flagstaff on US-180. Get on the 64 and drive north to the South Rim of the Grand Canyon.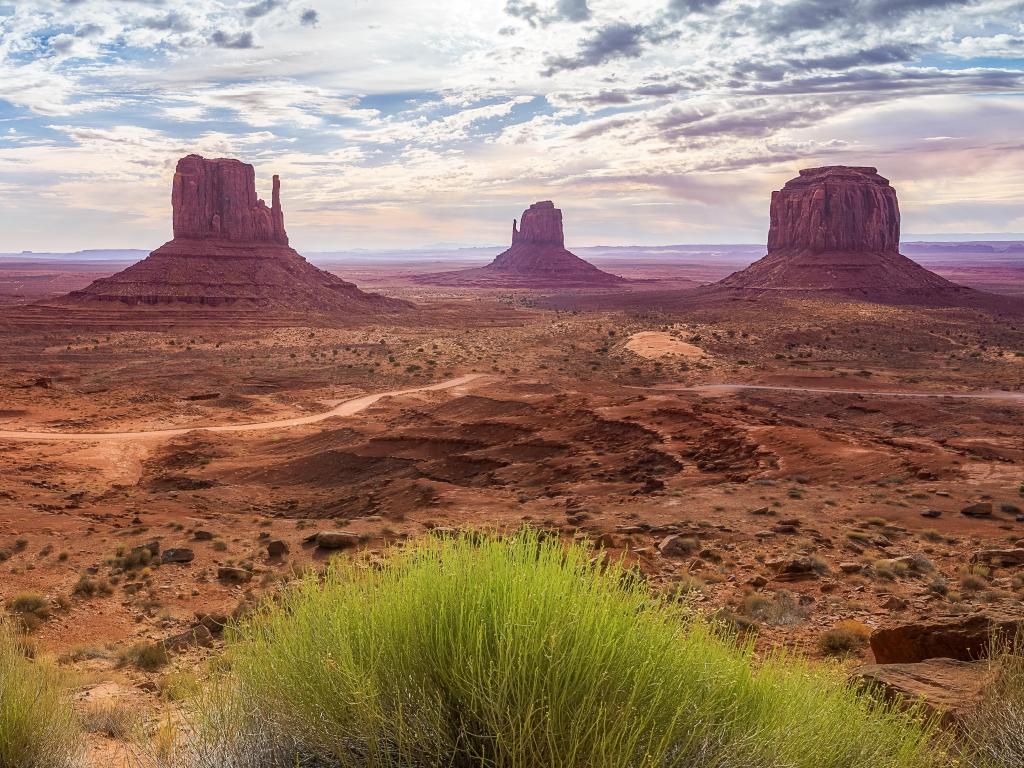 The National Parks Route
From Moab, head west to explore the Capitol Reef National Park and Dixie National Forest. After spending time in the wilderness and unparalleled natural beauty, hit the road south.
Continue on US-12 through Bryce Canyon National Park. Take in the views and endless landscapes along the way.
Drive south and veer west to see and stay in Zion National Park. This is one of the country's best National Parks and you too can experience it. From here, get on US-89 and enter Arizona. Drive south and then take US-64 into the South Rim of the Grand Canyon.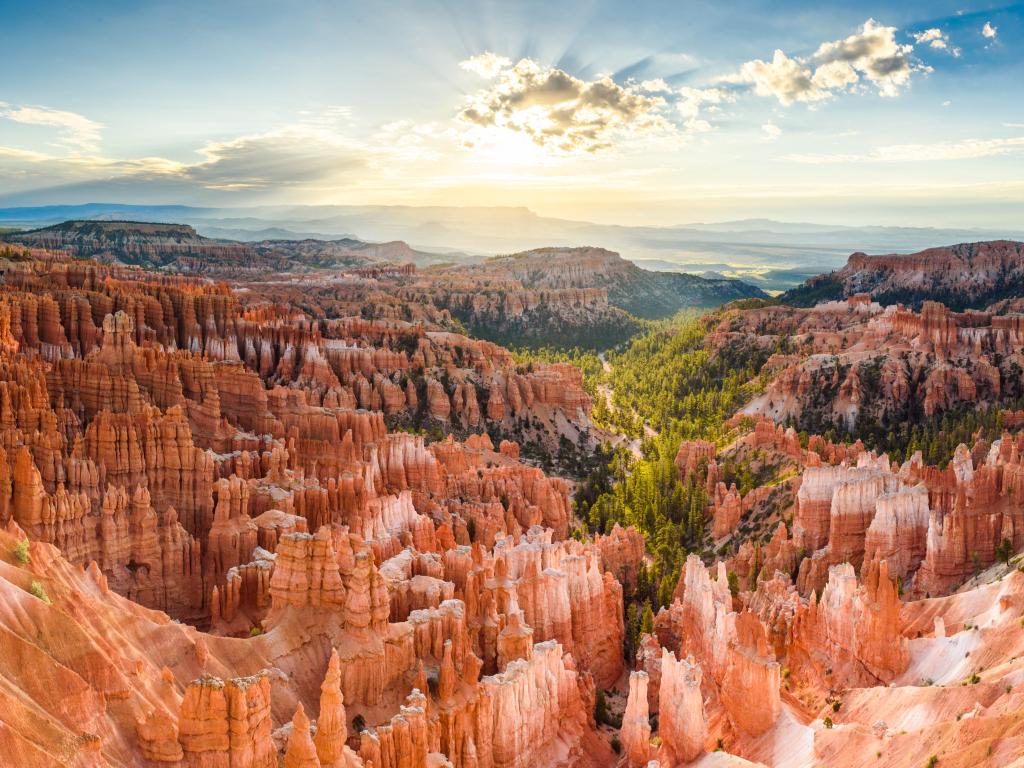 Best places to stop between Moab and Grand Canyon
With so much nature around to enjoy, you'll want to rest along the way to make the most out of this incredible journey. We've chosen the best places to stay to split your drive up and the ultimate luxurious hotels to rest in so you can have the ultimate desert highway experience.
Experience the high desert in Flagstaff, Arizona
Towards the end of the Direct Route is the city of Flagstaff, Arizona. This high desert town is the perfect stopover while traveling to the Grand Canyon.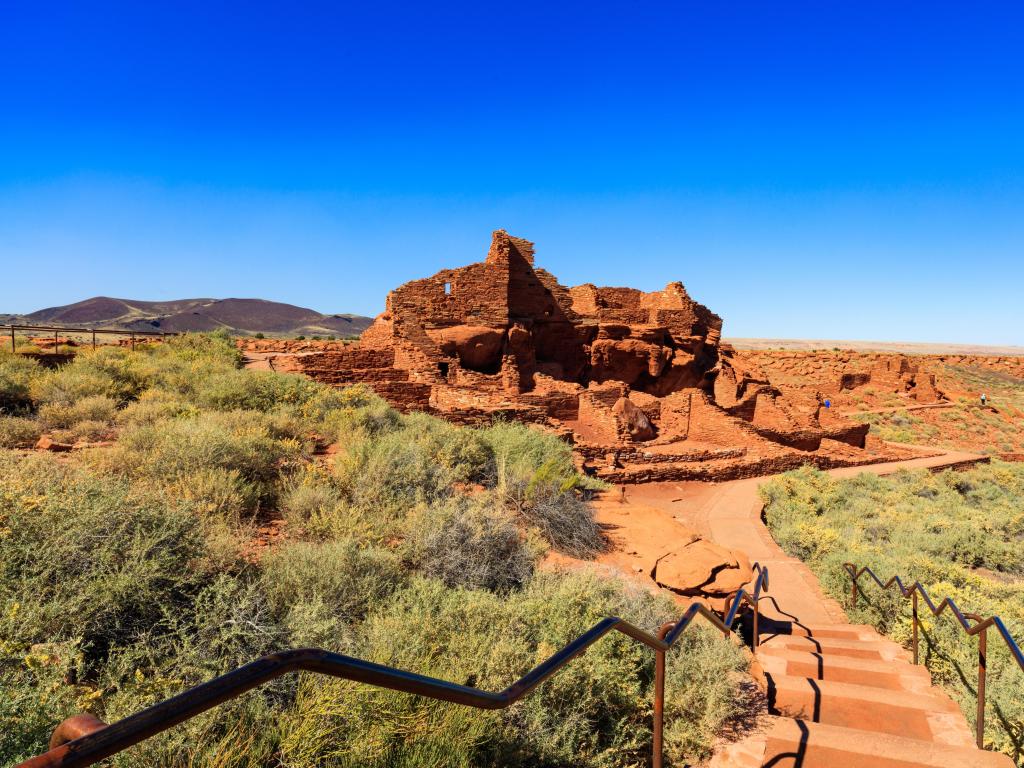 The city is full of small-town charisma and a rich history. The city is just a short drive from the Canyon itself so you can easily use Flagstaff as a home base while seeing the incredible area.
The city itself is full of historic monuments and ancient buildings. Other attractions include museums and the famous Lowell Observatory.
Once you reach Flagstaff, our top choice for lodging is the High Country Motor Lodge. This one-of-a-kind hotel is full of wonderful amenities and charm.
Check out the on-site restaurant that provides evening entertainment and a cool bar. There's also a shared lounge and garden.
Also, make sure to take advantage of the hotel's fitness center, outdoor swimming pool and hot tub, perfect for some well-deserved relaxation after a long drive. There's even free private parking, so you don't have to worry about where to put your vehicle when you arrive.
The hotel boasts an incredible location in the city, so you can walk around easily and get to many fantastic bars, restaurants, and museums. Also, the popular Riordan Mansion State Historic Park is just around the corner.
Rest in the natural wonderland of Zion National Park
About two-thirds of the way on the National Parks Route is Zion National Park and the small town of Springdale. Zion National Park is admired far and wide for its stunning terrain and forest land and for being one of the most beautiful natural spaces in the country.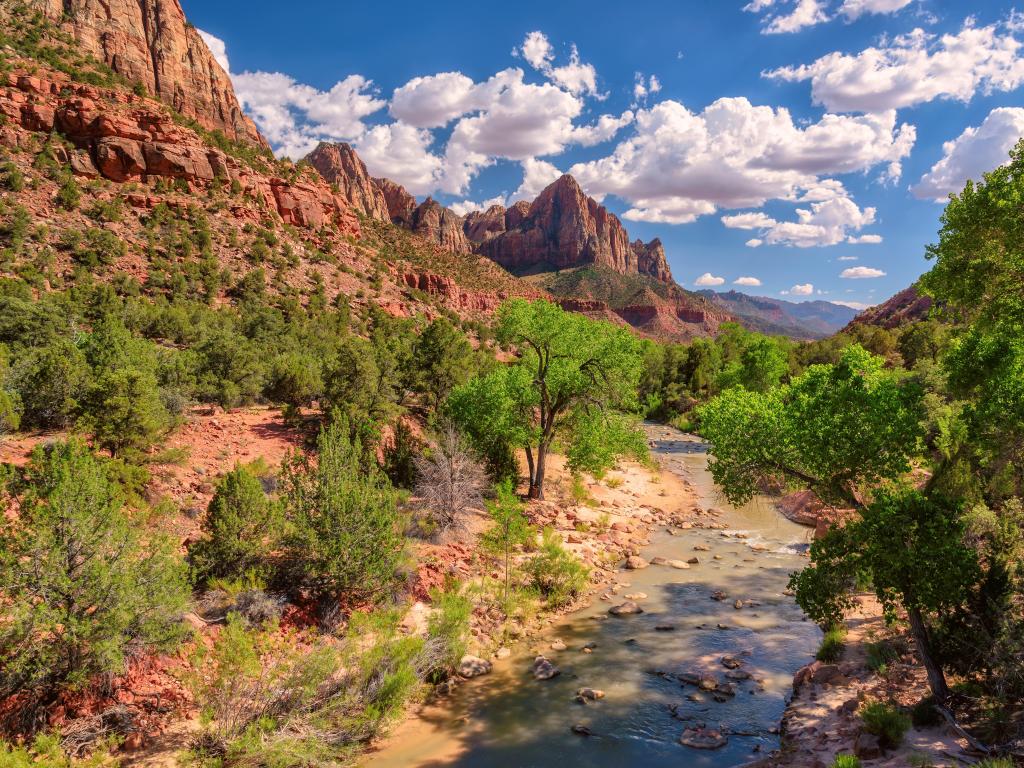 There aren't really any attractions within Springdale and Zion, other than the unlimited natural beauty. Imagine walking amongst endless red desert formations, creeks, and natural monuments so diverse, they shouldn't be real.
Once you get to this amazing destination, we recommend staying at the Cliffrose Springdale, Curio Collection by Hilton. This beautiful property has an immaculate garden, stunning rooms with views and balconies, and a large pool.
Take advantage of the fitness center after your drive or stretch out in the spacious courtyards. There's even a hot tub that's really popular after hiking the trails.
The hotel is very close to Zion National Park and the trails and natural landmarks it's famous for. Once you're done exploring you can come back to a full bar.
If you need anything, the hotel offers a concierge service that will help you explore Zion National Park and its surroundings like a local. Couples love this hotel for its romantic vibes, but no matter if you're a couple, single, or traveling with your family, you'll be sure to enjoy your stay.
Where to stay when you reach Grand Canyon
Once you get to the majestic Grand Canyon, we recommend resting at The Grand Hotel at the Grand Canyon. This luxurious hotel is located just 5 minutes by car from the Canyon and Grand Canyon Village.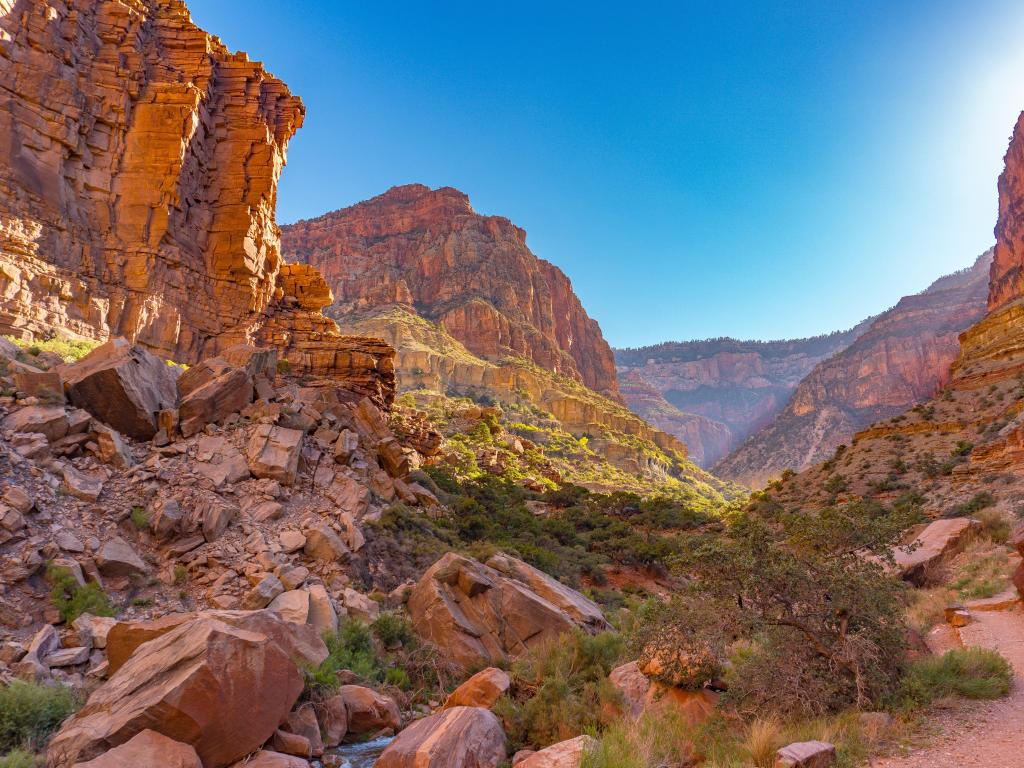 Enjoy the free parking and friendly staff who will help you make the most out of your stay and even give you tips on where to go for the best photo shots of the canyon.
Take advantage of the free parking that's ideal for leaving your car and exploring hassle-free. After you've done your exploring of the massive national wonder, head back to the hotel to swim in the swimming pool and hot tub and enjoy the many dining options.
Things to see on a road trip from Moab to Grand Canyon
This high desert excursion is one of the best road trips you can do in the American West. Below is a list of things to see and places to explore along the way to help you plan for this ultimate adventure.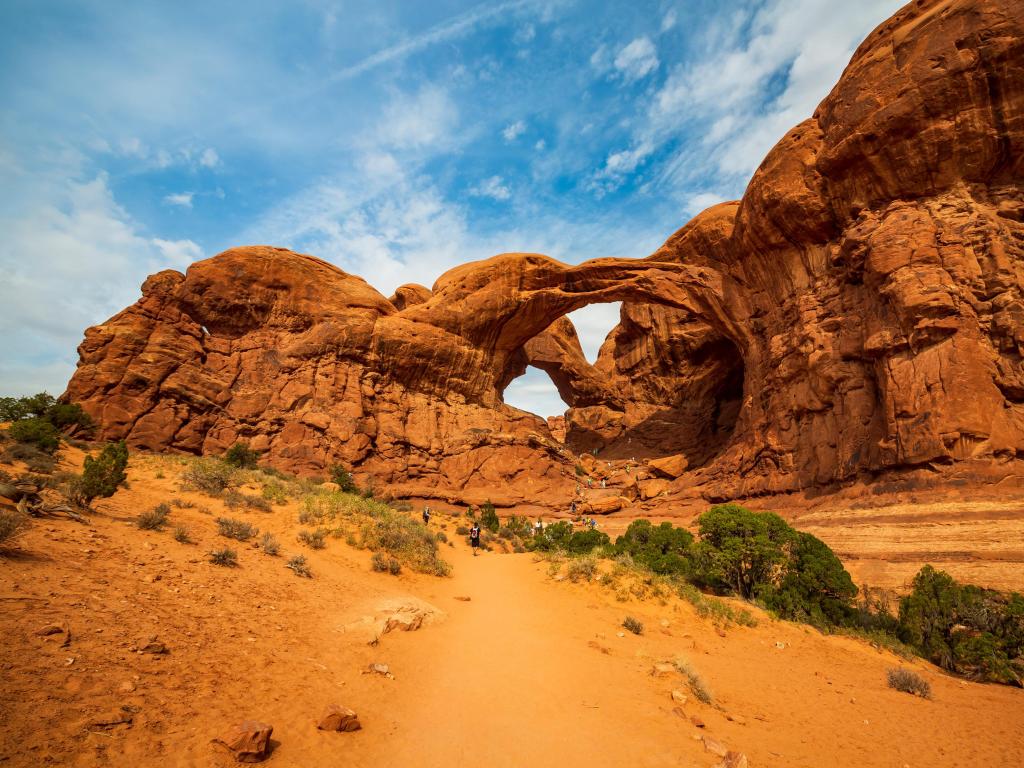 The Direct Route
Hovenweep National Monument - Walk amongst this stunning preserve that was once home to over 2500 people and was made of six prehistoric villages. Each of these landmarks was built between 1200 and 1300 A.D.
Oljato-Monument Valley - This stunning valley is an unusual but stunning landscape, full of red rock formations and massive sandstone towers.
Double Arch Canyon - Enjoy this beautiful natural sandstone monument with your camera in hand. It features two large arches that tower over the desert landscape.
Hole-In-The-Rock - Come see this beautiful 5000 square foot home that was carved into a sandstone boulder. It has a fireplace, 14 rooms, and even a gift shop so you can buy souvenirs.
Wupatki National Monument - Check out these pueblos that date back almost a thousand years, a true highlight of this route!
Sunset Crater Volcano National Monument - Discover the site of a lava eruption, now a massive crater and one of the youngest volcanoes on the Colorado Plateau.
Museum of Northern Arizona - Arizona has a rich history and at this wonderful museum you can really dive into it. You'll find tons of wonderful exhibits and artifacts that are over 10,000 years old.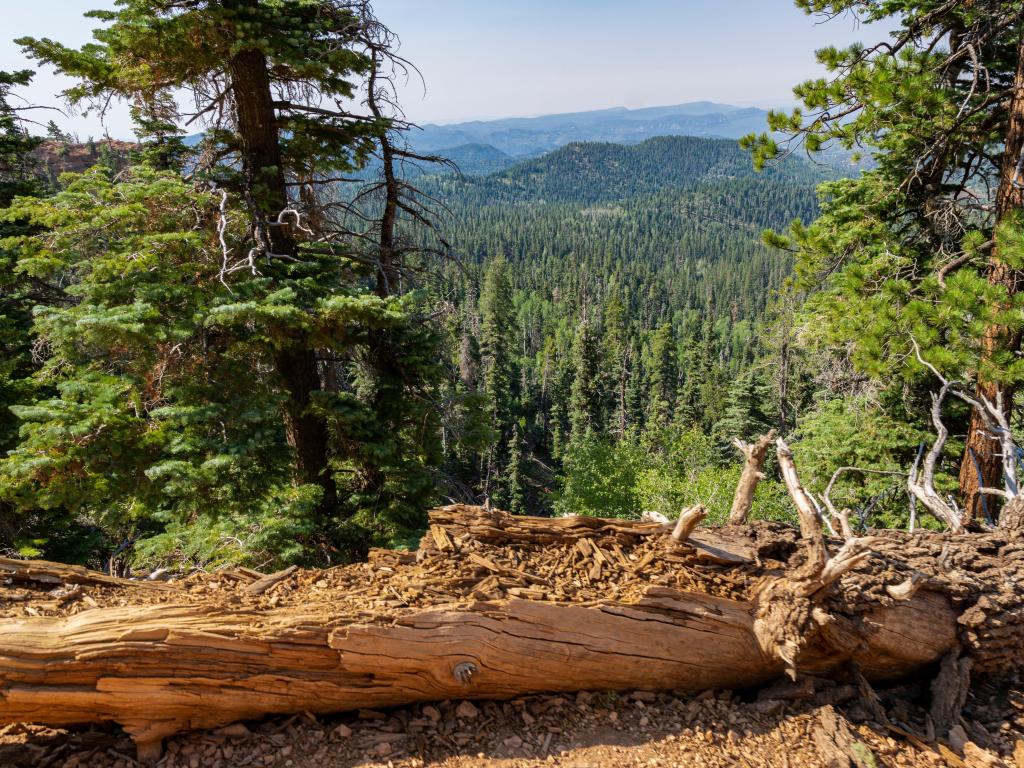 The National Parks Route
Giant Soda Cans - With an addition of 45 minutes to your route, discover this quirky road-side attraction featuring massive tanks painted to resemble favorite soda drinks.
Capitol Reef National Park - Considered a hidden treasure of Utah, this park is full of cliffs and canyons and is technically considered a geologic monocline, a.k.a. a wrinkle on the earth.
Dixie National Forest - A popular destination for high-mountain fishing, Dixie National Forest is home to tons of bodies of water and deep canyons, as well as some gorgeous rock formations.
Zion National Park - An expansive and stunning national park, we suggest taking an extra day or two to explore this natural wonder. If you'd like to hike up to Angels Landing, you will need a permit and will need to make a reservation. Check the Zion National Park's website for more details.
Parowan Gap Petroglyphs - These Native American Petroglyphs, believed to be almost a thousand years old, can be visited for free.
Temple of Sinawava - This natural amphitheater located in Zion National Park contains a paved trail along the Virgin River and is complete with waterfalls and flower gardens.
Moqui Cave - Moqui Cave has been transformed into a natural history museum featuring a remarkable collection of rocks and a gift shop.
Lone Rock Beach - This popular sandy beach sits surrounded by desert plains and is an ideal spot to catch the sunset.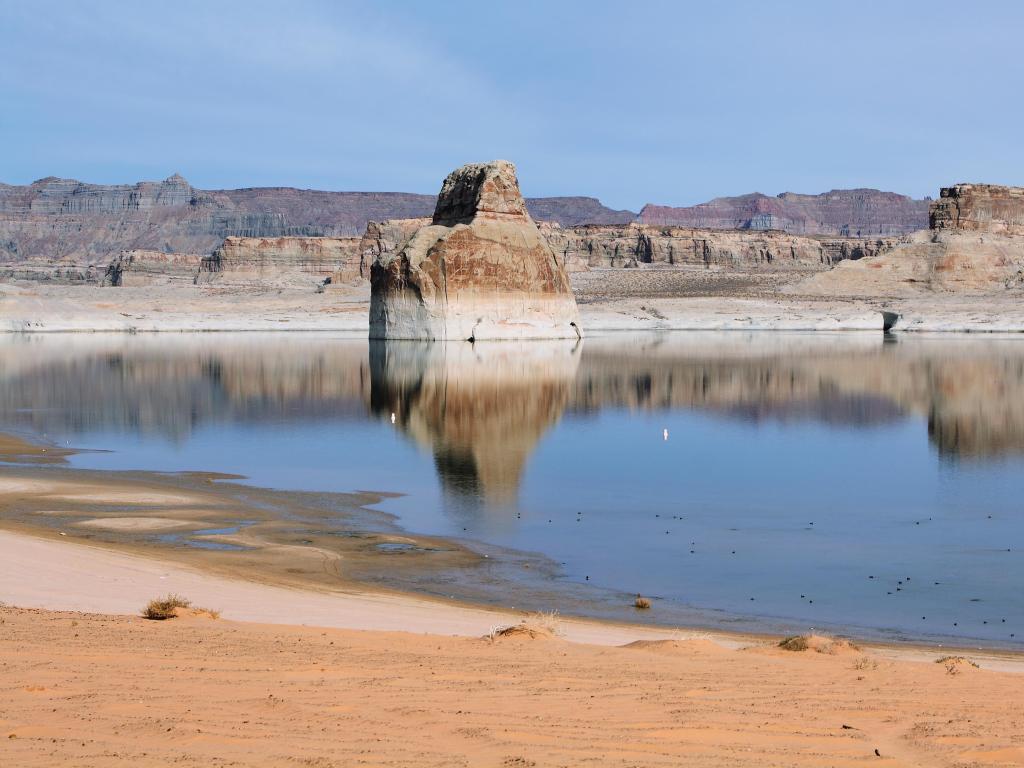 Best time to go on a road trip from Moab to Grand Canyon
The Grand Canyon is a year-round destination that's just as beautiful in any season, even during the winter. However, spring, summer, and fall are often preferred because many facilities close when the weather turns cold.
The Grand Canyon has two rims, a North and South Rim. The South Rim is open throughout the year and has plenty of lodging and restaurants. The North Rim is only open between May 15 and October 15.
Summer is the peak season and sees the warmest temperatures and biggest crowds. Book in advance during this time to avoid missing your accommodation. Temperatures in summer remain between 42 to 84 degrees Fahrenheit, with infrequent showers between July and August.
Winters are cold, with fewer tourists to share the trails with. Many restaurants and facilities close down during this season, making it a more nature-focused experience.
Temperatures can drop to as low as 17 degrees Fahrenheit and there may be snow. Make sure to bring your winter apparel to handle the frigid temperature and the dreaded wind chill that sweeps up the canyon.
Late spring and fall are excellent times to visit the park. There are fewer tourists, and the weather is fantastic, plus you'll get either spring flowers or fall colors which can be magnificently beautiful in the canyon. Be prepared for temperatures between 20 degrees and 70 degrees Fahrenheit.
The Grand Canyon sees seasonal activities year-round. In the summer, you can enjoy the Grand Canyon Star Party and the Grand Canyon Music Festival.
In November, the Native American Heritage Days festival honors the Native American tribes that have called this area home for several thousands of years. Christmas and New Years are also very special times to visit the Grand Canyon.