Road Trip from Colorado Springs to Grand Canyon
Grand Canyon National Park is a natural wonder that everyone should see at least once in their lives. To make it even more special, why not get to the iconic landmark on an amazing road trip through stunning mountains and national parks.
The 830-mile road trip from Colorado Springs to Grand Canyon takes 15 hours to drive, via Aspen, Moab and Arches and Canyonlands National Parks. Or take the shorter route through Pagosa Springs, Canyon of the Ancients and Mesa Verde National Park.
It makes for an amazing destination, whether you're looking for a family road trip or a romantic getaway, and there are plenty of impressive landmarks along the way. If you're looking for a road trip that takes you to world-famous ski resorts, stunning national parks and scenic cities rich in history, with the added bonus of an iconic end point, then keep reading to find out more about this trip.
How far is Grand Canyon from Colorado Springs, and how long will the road trip take?
Comparison of road trip routes between Colorado Springs and Grand Canyon

| Route | Distance | Driving Time |
| --- | --- | --- |
| The Moab Route | 830 miles | 15 hours |
| Pagosa Springs Route | 700 miles | 13 hours 30 minutes |
The drive from Colorado Springs to the Grand Canyon is a mid-length road trip that will take at least 13 and a half hours to drive.
In theory, you could cover this distance in a single day if you have someone to share the driving with, but that would mean motoring straight past all the amazing places that you could see along the way.
The more northerly route out of Colorado Springs travels via Aspen, Moab and Canyonlands National Park, and will take around 15 hours to drive. This is the longer one of our two suggested routes, at 830 miles.
The shorter route, via Pagosa Springs, swings south out of Colorado Springs and will get you to the Grand Canyon in around 13 hours and 30 minutes. It's 130 miles shorter than the Moab Route too.
Whichever route you choose, we'd recommend allowing at least 3 days for your road trip. This means you won't have any really long days of driving, so you'll arrive at your destination with plenty of energy left to explore it.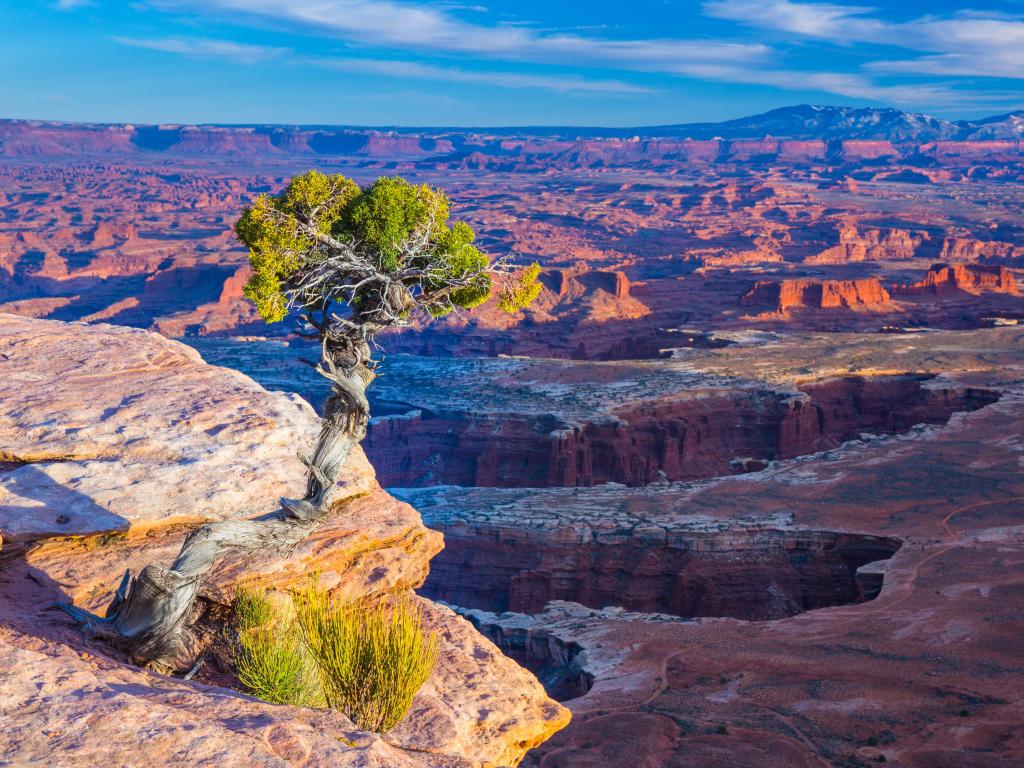 Best road trip route from Colorado Springs to Grand Canyon
The great thing about taking a road trip from Colorado Springs to Grand Canyon is that you have a couple of great routes to choose from, so the best route will depend on your preferences.
The Moab Route takes you through mile after mile of stunning landscapes, starting in the Rocky Mountains and heading through Aspen first, before driving through the dramatic desert scenery of Moab. You can visit impressive Arches National Park and Canyonlands National Park along the way too.
This route is a great choice for lovers of the great outdoors. You won't be ticking many cities off your bucket list, although you could also make a detour into Canon City or Pike and San Isabel National Forest along the way.
As you travel through the Rio Grande and San Juan National Forests, you'll be able to stop in the resort town of Pagosa Springs which our second route is named after. Here you can relax in the natural hot springs while enjoying views over the Rocky Mountains.
Further along this route, you'll reach Bluff, where you can drive on the Trail of the Ancients Scenic Byway or divert to visit Hovenweep National Monument.
The shorter of our two routes is also a fabulous choice if you enjoy hiking, climbing or simply enjoying the view. You could easily combine these two routes to make an amazing round trip out of Colorado Springs, but if you really have to decide, keep on reading for more information to help you make your choice.
The Moab Route
Take the highway west out of Colorado Springs past Manitou Springs and Woodland Park, keeping Pikes Peak on your left-hand side. From Hartsel, turn off and follow the road through Fairplay and Breckenridge, before picking up Interstate 70 (I-70) and starting to head south again.
After a short stretch on the interstate, hop onto the highway again at Copper Mountain and continue to follow the road south towards Leadville. Make sure to stop and enjoy the fabulous mountain views on this stretch of the trip.
Take a right turn off US-24 to head past Twin Lakes and then follow the road on through the mountains to Aspen. Then, continue towards Glenwood Springs, keeping White River National Forest on your right-hand sand, where you'll rejoin the Interstate to pick up the pace.
After crossing the state border into Utah, turn off the interstate and head south on US-191. You'll pass Arches National Park, Moab and Canyonlands National Park before crossing into Arizona and turning off onto US-160.
The wide-open landscapes of Arizona will be a real contrast to the first part of this route through the Rockies, as you head through Tsegi, Tuba City and Cameron, before making your final approach to the magnificent Grand Canyon along Desert View Drive.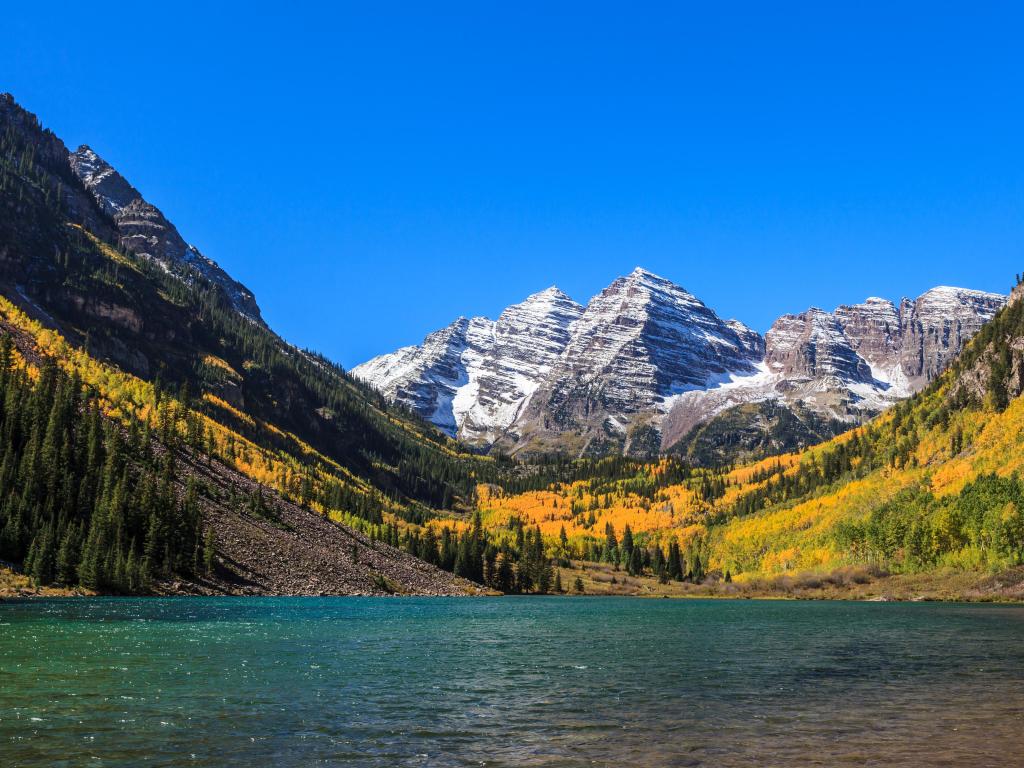 The Pagosa Springs Route
Leave Colorado Springs via Fort Carson and follow the highway to Penrose, passing Cheyenne Mountain and Beaver Creek State Wildlife Area along the way. From here, follow US-50 past Buckskin Joe and Texas Creek, then head south just after Salida.
Follow the Rio Grande past Hanna and South Fork before swinging south towards Pagosa Springs and Bayfield. Continue along the highway as far as Cortez, taking a short detour to visit Mesa Verde National Park before you get there.
Continue on the highway until you reach the small town of Pleasant View and follow the state route south across wide open farmland to visit the Canyon of the Ancients National Monument.
After crossing into Utah, follow the small country road past Hovenweep National Monument, then continue along Hovenweep Road until you find yourself back on the highway just south of White Mesa.
Follow the highway through Bluff and onto Mexican Hat, where you'll cross the San Juan River, before arriving in Arizona. One of the first places you'll pass as you make your way through the state is Monument Valley, which is definitely worth a stop.
Then, continue south across the desert before turning right to join up with US-160. Just like the Moab Route, the highway takes you through Tsegi and Tuba City before you turn off at Cameron to reach the Grand Canyon.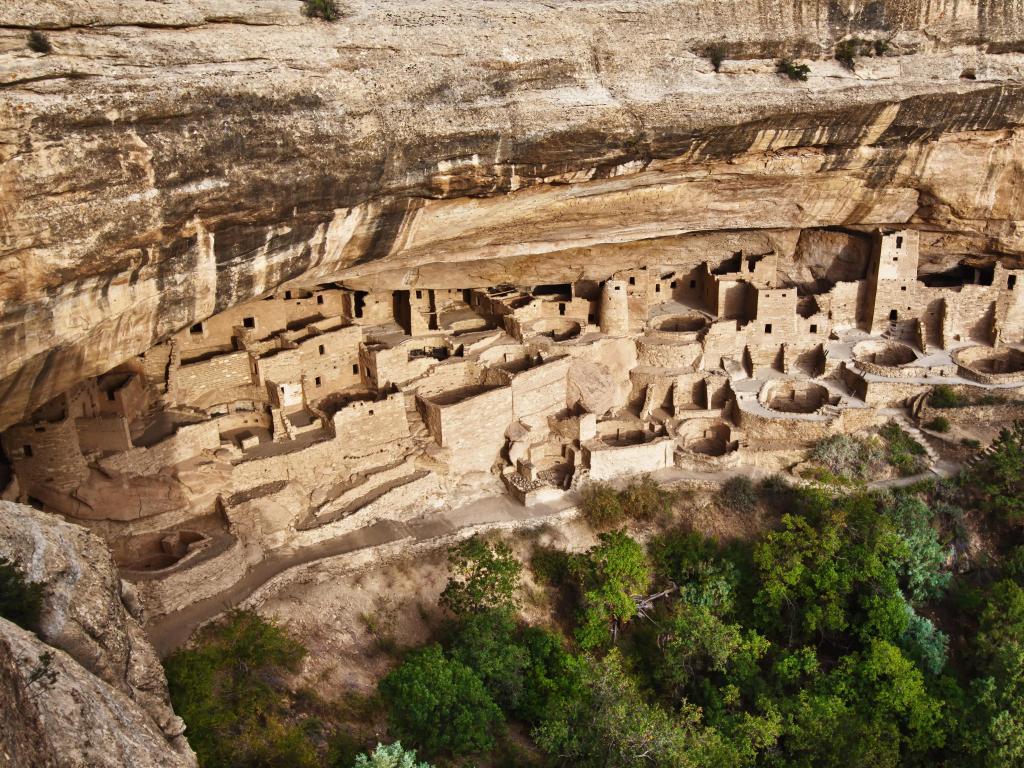 Best places to stop between Colorado Springs and Grand Canyon
Whether you travel via Moab or Pagosa Springs on your way to the Grand Canyon, you'll probably want to make at least a couple of overnight stops, and here are some of our favorite options to get you started:
Relax in the desert oasis of Moab
Halfway along the Moab Route, you'll reach the town that the route is named after. Surrounded by the breathtakingly beautiful and wild Moab Desert, it's well worth a stop - and with so much to do here, you might want to stay longer than just one night.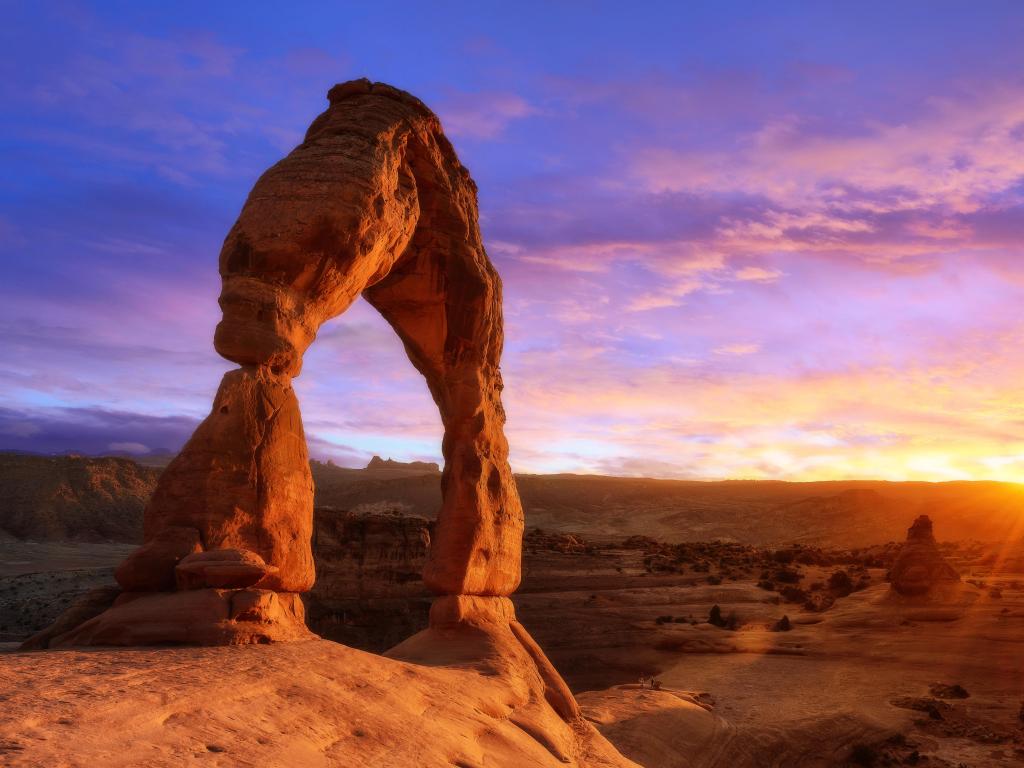 Moab is an amazing gateway to Arches National Park. Home to more than 2,000 natural stone arches and pinnacles, this national park boasts unique scenery and geological formations. Nearby, the stunning Canyonlands National Park is another deserving reason to visit the area.
If you're a keen cyclist, head out to Slickrock Trail, a popular biking trail that features amazing scenic views. For more views and a dramatic overlook of Canyonlands National Park, make Dead Horse Point State Park your destination and immerse yourself in the impressive desert landscape.
For some welcome relief amidst the desert heat, check in to the fabulous Hoodoo Moab, Curio Collection by Hilton. After a day of demanding hikes or a hot desert drive to take in the national parks, the luxurious pool complex is the perfect place to relax while you enjoy the unbeatable view from the terrace.
If you'd like to relax after a long hike and an adventurous day outdoors, you don't have to worry about venturing out as there's a bar and restaurant on-site. If you want to explore further there are plenty of choices within walking distance of this centrally located hotel.
Get to know Durango
If you take the Pagosa Springs Route, you'll find yourself in the small and charming town of Durango, which is around 5 hours away from the Grand Canyon. It's well-known for its picturesque waterfalls, hot springs, and wildlife preserves, as well as for being Pancho Villa's home state.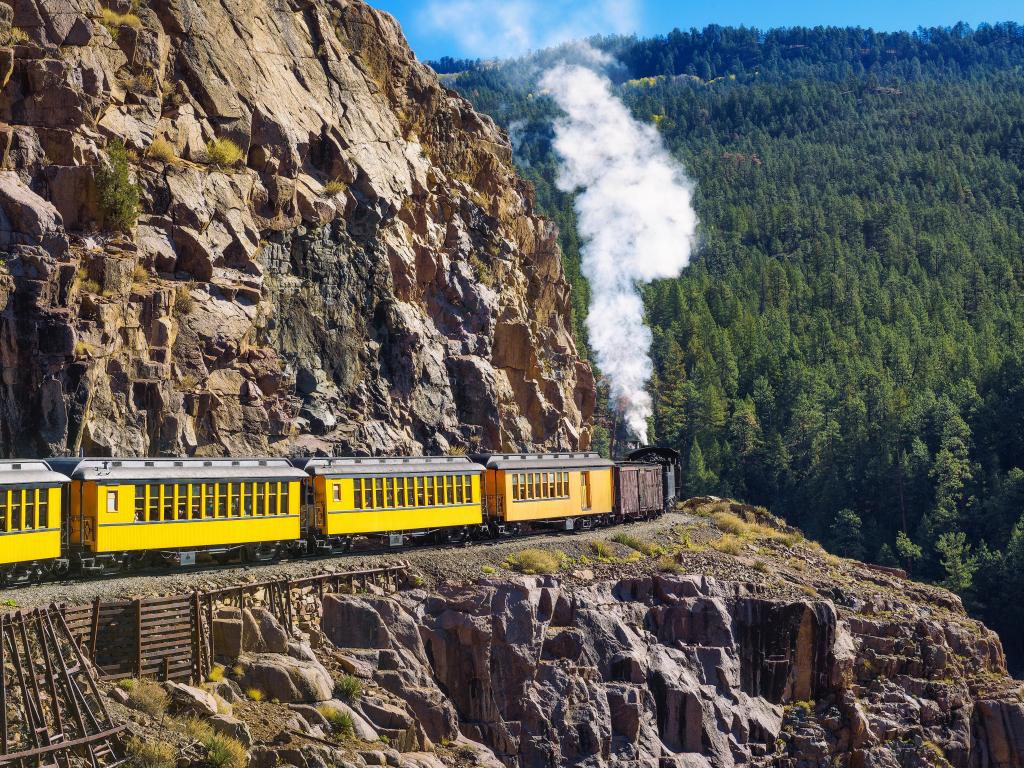 While you're here you can spend time canoeing, mountain and rock climbing, or camping. Plus, given its stunning natural location, wildlife tours are also available.
Of course, one of the big draws of this area is Mesa Verde National Park, which is just a short drive away from Durango. You can easily visit this sacred place, where the Ancestral Pueblo people carved their homes in the rocks on the cliffs.
If it's more typical outdoor activities that you're after, then Purgatory Resort, a ski resort located in the San Juan Mountains, is one of the top picks in the area.
In a historic building right in the center of town, you'll find General Palmer Hotel, which offers knock-out mountain views from its balconies, as well as being steeped in historic charm.
It's only a minute's walk from the Durango & Silverton Narrow Gauge Railroad & Museum, and you'll also find a range of cafes, restaurants and bars just around the corner, so take advantage of the free parking and explore the town on foot.
Where to stay when you reach Grand Canyon
As you reach the end of your road trip, you'll probably want to stay as close as possible to the Grand Canyon so that you can spend as much time as possible exploring this fantastic natural monument.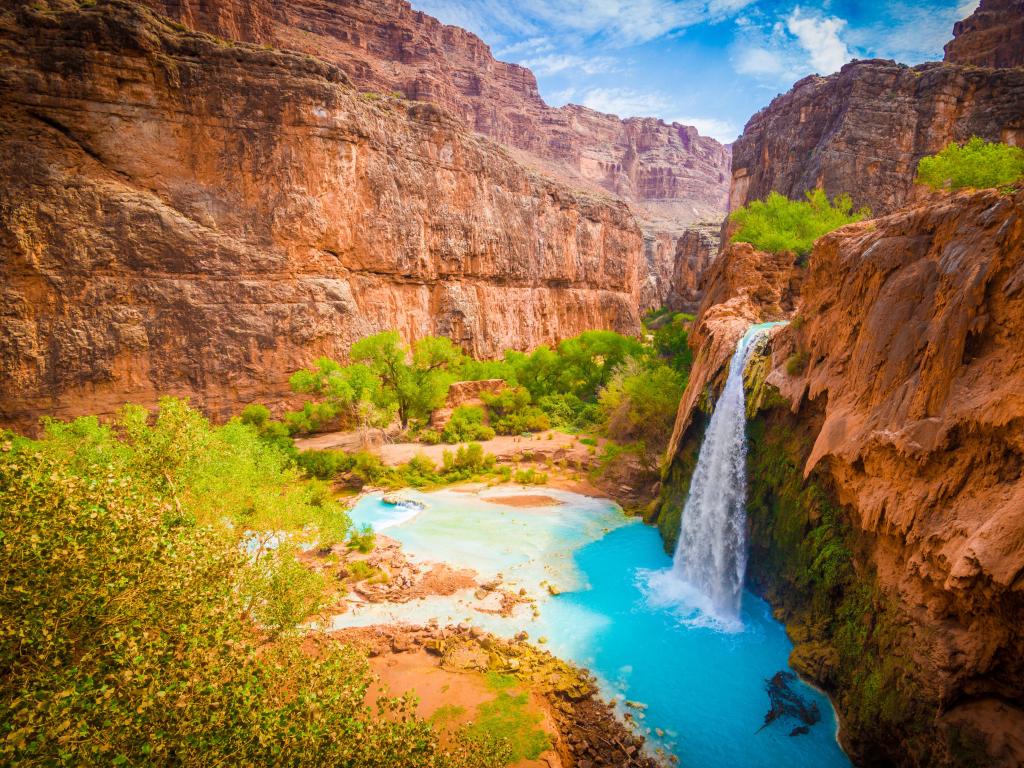 The Grand Hotel at the Grand Canyon is an easy drive from all the attractions of the Grand Canyon's South Rim, so it's the perfect place to base yourself while you're in the area. With spacious and comfortable rooms, it's a super relaxing accommodation option.
The hotel also has a sparkling indoor pool and a large on-site restaurant, so if you need to recharge your batteries after the drive, you're in just the right place.
Things to see on a road trip from Colorado Springs to Grand Canyon
If you're a fan of the great outdoors, then you'll be spoilt for choice on this road trip from Colorado Springs to Grand Canyon. From mountains to national parks, there's so much to see and do that you could easily extend your trip to at least a week.
Even if you'd rather spend time indoors, you'll find some fabulous places to stop on this route - and some amazing hot springs and spas. We've picked out some of the highlights to get you started with your planning: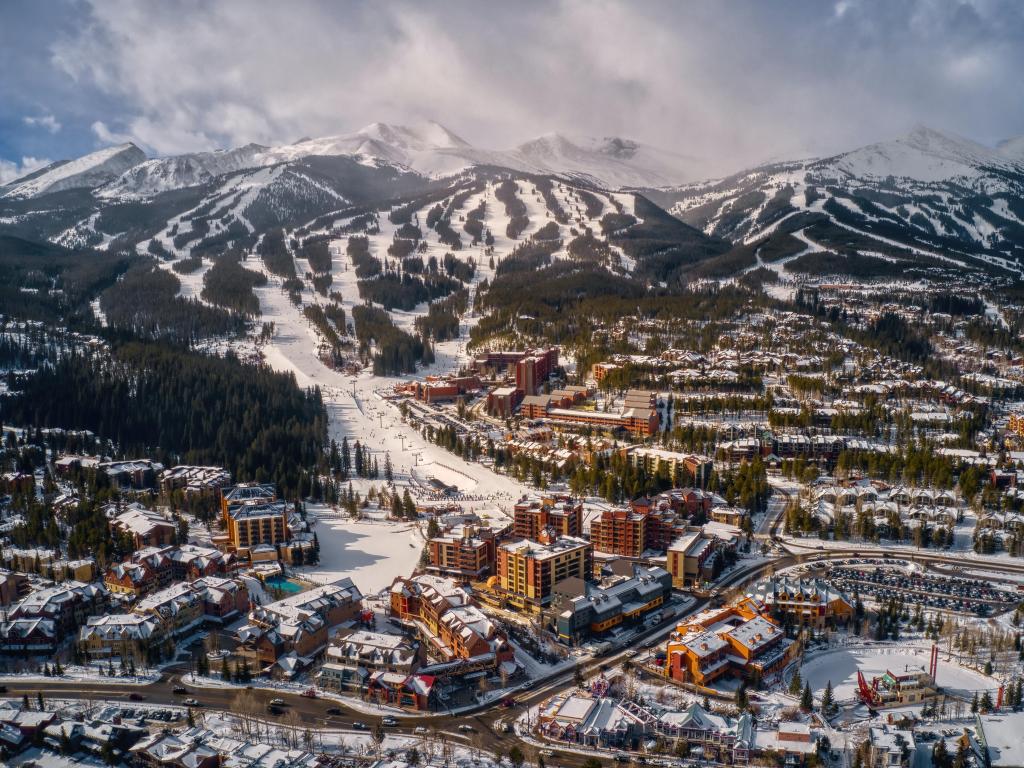 Moab Route
Breckenridge Ski Resort - Here you'll find 2,908 acres of the best ski terrain in Colorado, with 187 routes spanning five enormous peaks, four terrain parks, and two half-pipes.
Copper Mountain - This resort is ideally situated and boasts about 2,500 acres of naturally split terrain. Expert skiers can enjoy free cat skiing on Tucker Mountain, which provides a distinctive experience.
Dillon Reservoir - The Dam's construction started in 1961 and was finished in 1963. Denver Water manages the Dillon Reservoir, its primary water storage facility.
Maroon Bells - The Maroon Bells are two Elk Mountains peaks, North Maroon Peak and Maroon Peak, separated by roughly 500 meters.
Independence Pass - A high mountain pass in the center of Colorado, formerly known as Hunter Pass. The pass lies on the border of Pitkin and Lake counties, halfway between Aspen and Twin Lakes.
Aspen Art Museum - In 1979, the Aspen Art Museum (AAM) was established. Drawings, paintings, sculptures, multimedia installations, and electronic media are all featured in this museum's displays.
Moab - Known as a city with dramatic scenery, Moab is the perfect gateway to Arches National Park and Canyonland National Park-making it a great stop for outdoor enthusiasts and nature lovers alike.
Arches National Park - Over 2,000 naturally occurring stone arches, numerous towering pinnacles, enormous rock fins, and enormous balancing rocks may all be found in the park. You might need to make a reservation for a timed-entry permit while visiting Arches National Park. Please check the national park's website for up-to-date information.
Devils Garden - A few miles north of the Arches Visitor Center, at the absolute end of the park road, is where you'll find The Garden. Devils Garden offers stunning views, multi-level hiking, trekking, stargazing, and camping.
Slickrock Bike Trail - With more than 100,000 visits a year, it is the most visited mountain biking trail globally. It is only 12 miles long, yet it can be very frustrating.
Canyonlands National Park - Utah's biggest national park is sometimes known as the Island in the Sky. It offers numerous pullouts along the paved scenic route with breathtaking views.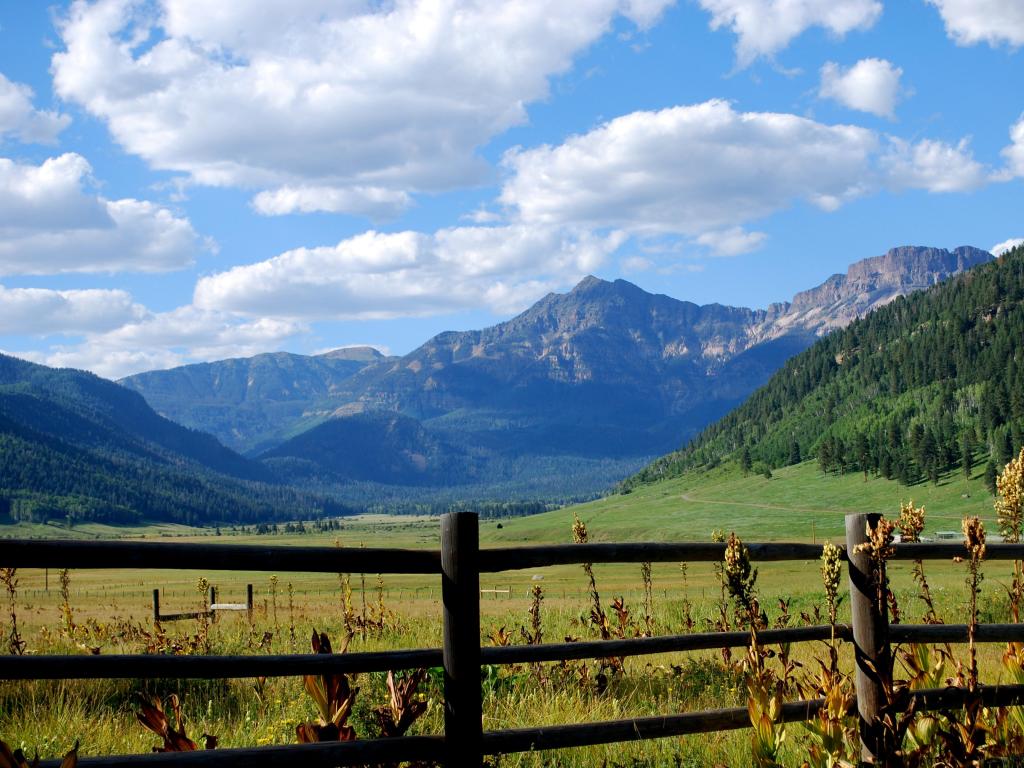 Pagosa Springs Route
Monarch Mountain - This authentic Colorado ski resort has great terrain, high elevations, lots of snowfall, and stunning surroundings.
The Maverick Potter - At this engaging gallery and workshop, the work of ceramicist Mark Rittmann is on display. Local and regional artists' photographs, linocuts, and paintings are also available.
San Juan River Walk - A beautiful, paved trail winds through the city's center and offers many opportunities to wade in the river. The trailhead parking is directly across the street from the Pagosa Springs Visitor Center.
Pagosa Springs - This hidden gem is a great hot spring town. The Pagosa Springs Center for the Arts is one of the most significant cultural landmarks in the area and is devoted to all forms of the arts.
Mesa Verde National Park - Founded in 1906, this national park aims to protect and interpret the archaeological history of the Ancestral Puebloan peoples, who lived there for more than 700 years, from 600 to 1300 CE.
Canyon of the Ancients National Monument - Southwest Colorado's Four Corners area is where the Monument is situated. A landscape-scale monument was established by government notification to safeguard cultural and natural resources.
Bluff Fort - At the initial pioneer town that Mormon missionaries established in 1880 after their mission to establish the San Juan region., visitors can sit on covered wagons and see reconstructed log cabins and Native American huts.
Oljato-Monument Valley - Part of the 16 million-acre Navajo Reservation on the boundary of Arizona and Utah, this park was founded in 1958. The Park is open all year long and is situated roughly 5,500 feet above ocean level.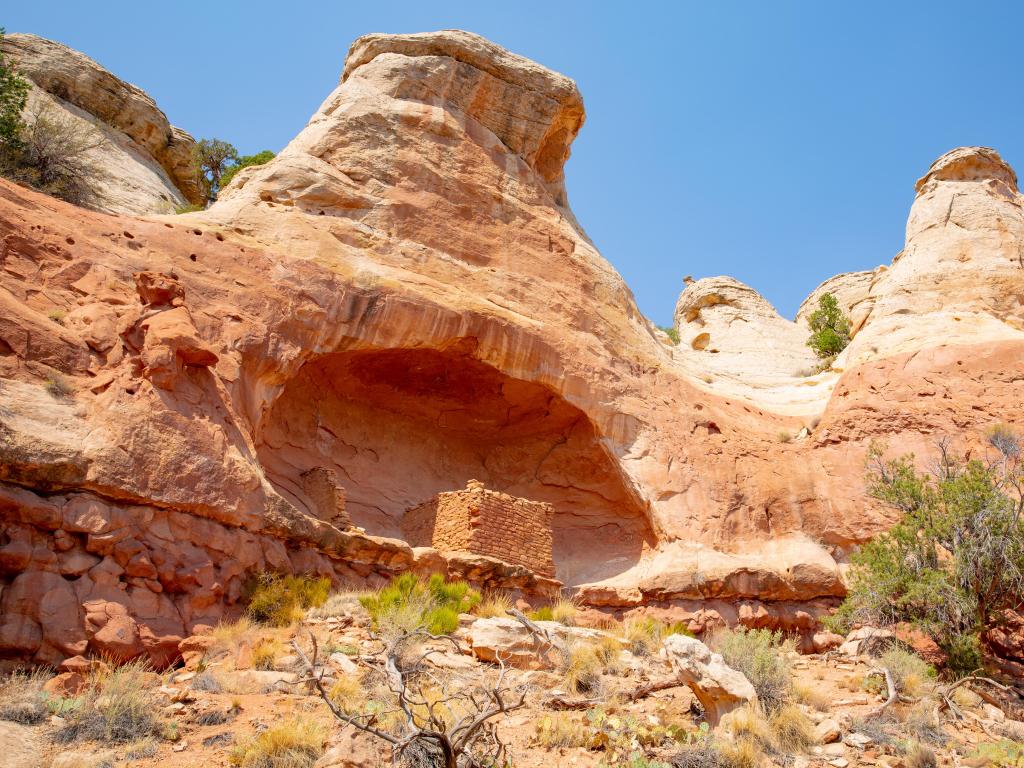 Best time to go on a road trip from Colorado Springs to Grand Canyon
There's big seasonal variation at the Grand Canyon - with the South Rim being 7,000 feet above sea level, it has snow in the winter and cool nights even in the summer. Even so, you can take this road trip all through the year, but there are a few things to consider before deciding when to go.
In summer, temperatures at the bottom of the canyon frequently exceed 100 degrees Fahrenheit, so hiking the amazing trails here can be pretty hard going. It's also peak season because many people are on summer vacation. So, if crowds aren't your thing, summer probably isn't the best time to visit the Grand Canyon.
A winter trip in the canyon can also be an incredible experience - it can be cold and snowy, but that just adds to the magic. It's certainly the least crowded time to visit the Grand Canyon, although options for accommodation and things to do will be more limited.
You can see snow at the South Rim, where temperatures range from 20 to 45 degrees Fahrenheit through the winter, then head to the more temperate Phantom Ranch, where temperatures can reach a mild 58 degrees.
While the South Rim is open all year round, you should also be aware that the North Rim is closed off during winter and early spring due to potential snowfall.
During spring and fall, the weather fluctuates significantly, but both seasons are warm, with temperatures in the mid-60s Fahrenheit and above.
Starting in May and continuing through the summer months, you'll get to see some of Arizona's most majestic creatures, and the Grand Canyon Species Day lets you learn about the unusual wildlife that lives in the region.
With wildflowers blooming in the spring and the leaves changing color in the fall, both are breathtaking times to visit. If you're here in the fall, look out for the Celebration of Art, an engaging experience where you can see art inspired by the canyon.