Road Trip from Omaha to Yellowstone National Park
Located in the heart of the American Midwest, Omaha is just an unforgettable road trip away from the world-famous Yellowstone National Park. From the stunning Rocky Mountains in Colorado to the immediately recognizable facade of Mount Rushmore, this adventure has it all.
The 1,170-mile road trip from Omaha to Yellowstone National Park will take 19 hours to drive. On the way, you can visit Lincoln, Denver, Jackson, Sioux Falls, Chamberlain, Rapid City, Mount Rushmore National Memorial and Rocky Mountain National Park.
This incredible drive from Omaha to Yellowstone National Park is packed with adventure, cultural gems, and plenty of sights. Read on below to learn more about our fantastic routes, best stops along the way, and the best seasons to travel.
How far is Yellowstone National Park from Omaha, and how long will the road trip take?
Comparison of road trip routes between Omaha and Yellowstone National Park

| Route | Distance | Driving Time |
| --- | --- | --- |
| Mount Rushmore Route | 980 miles | 15 hours and 40 minutes |
| Denver Route | 1,170 miles | 19 hours |
The Denver Route from Ohama to Yellowstone National Park spans 1,170 miles and requires roughly 19 hours of driving without making any detours.
On the other hand, the Mount Rushmore Route is slightly shorter, at 980 miles and approximately 15 hours and 40 minutes of driving without stopping.
While you could complete both routes in one or two days, we recommend making this a 4-5 day adventure. This way, you'll get to make the most out of all the incredible stops and destinations along the way.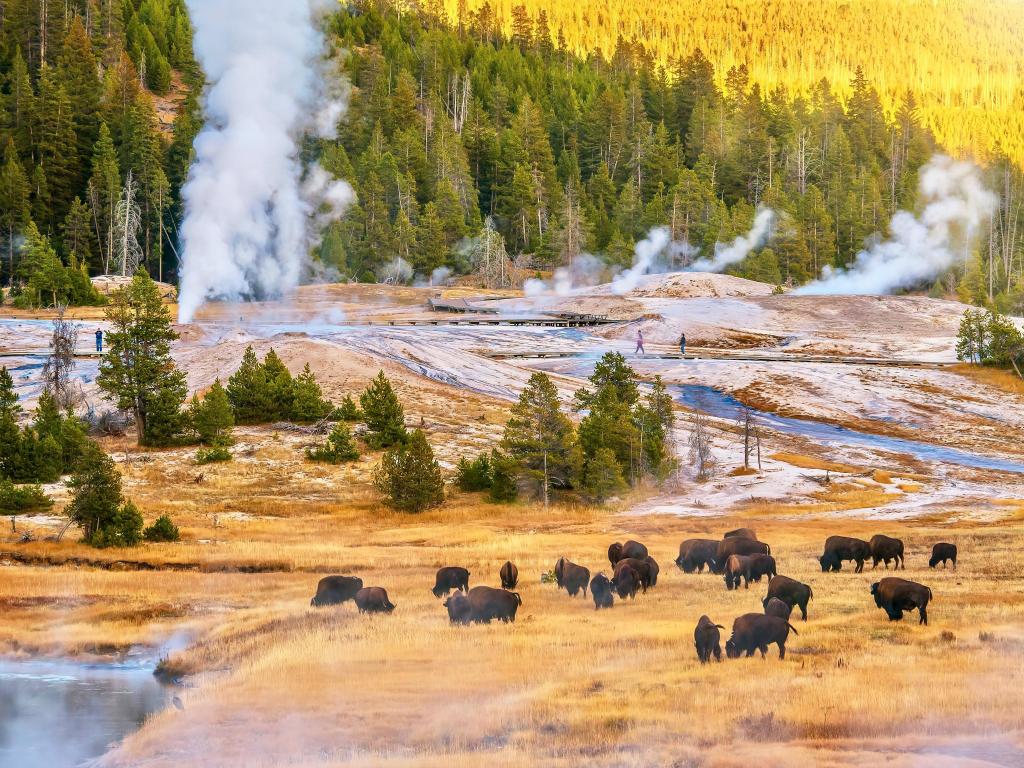 Best road trip route from Omaha to Yellowstone National Park
Both the Denver and Mount Rushmore Routes offer plenty of stunning scenery, historic landmarks and museums to visit and charming cities that make perfect pitstops. That said, each route is full of its own unique charms.
If you love mountains, the Denver Route is your go-to. As you ascend through the Rocky Mountains, prepare for an ever-changing spectacle of forests, mountains, and wildlife.
Please keep in mind that if you are planning on visiting Rocky Mountain National Park, you might need to make a reservation for a time slot in order to enter the park. You can ready up-to-date information on the national park's official website.
On this route, you can also visit Denver, where you'll have everything from fine dining to high-end shopping. Then you'll arrive at remote mountain destinations offering solitude and the chance to get away in nature, like Jackson.
Here, you can make a detour to Grand Teton National Park, and we highly recommend that you do.
If you want more iconic historical and cultural landmarks, the Mount Rushmore Route is perfect. This route also has plenty of natural wonders, such as Custer State Park, Black Hills and Bighorn National Forests as well as Badlands National Park.
This route takes you through destinations with rich Native American history and culture. Adding to the charm are picturesque Midwestern towns, beautiful national parks, and serene countryside vistas.
How to drive from Omaha to Yellowstone National Park
The map above shows our suggestions for the best road trip routes between Omaha and Yellowstone National Park. Keep reading for detailed descriptions of both routes, where to stay on either, and the best things to do on the way.
The Denver Route
Depart from Omaha on Interstate 80 (I-80) and drive into the city of Lincoln, where you can visit the Great Plains Art Museum. After Lincoln, hop on I-80 west to North Platte. Then, continue on the route to Denver.
After enjoying the big city vibes, museums, and nightlife of Denver, make your way to Rocky Mountain National Park to experience the natural wonders of the area.
From here, continue north and merge onto I-80. Drive west through the endless open spaces of Wyoming to the city of Rock Springs. Hop on the US-191 north and continue onto Jackson. Nearby, you can take a detour to the famous Grand Teton National Park.
From here, it's a short drive to your destination of Yellowstone National Park.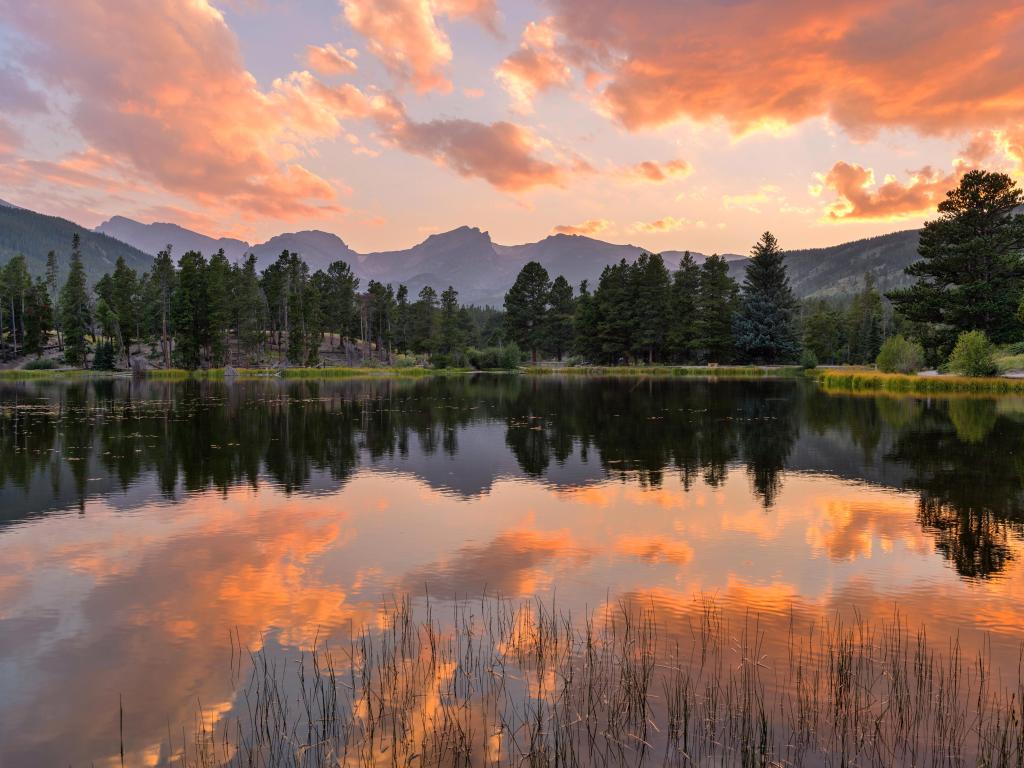 The Mount Rushmore Route
Begin your journey in Omaha and head north on I-29 to Sioux City. From here, make your way along the Missouri River and into Sioux Falls. After exploring the museums, art exhibits, and famous Great Plains Zoo in Sioux Falls, make your way west on I-90 to Chamberlain.
Drive past the Missouri River and make your way west through the beautiful landscapes of South Dakota. Visit the Wounded Knee Museum in the town of Wall.
Then, continue on to Rapid City. Nearby, you'll drive to the iconic Mt Rushmore National Memorial. From here, continue west on I-90 through northern Wyoming. Soon, you'll arrive at your destination of Yellowstone National Park.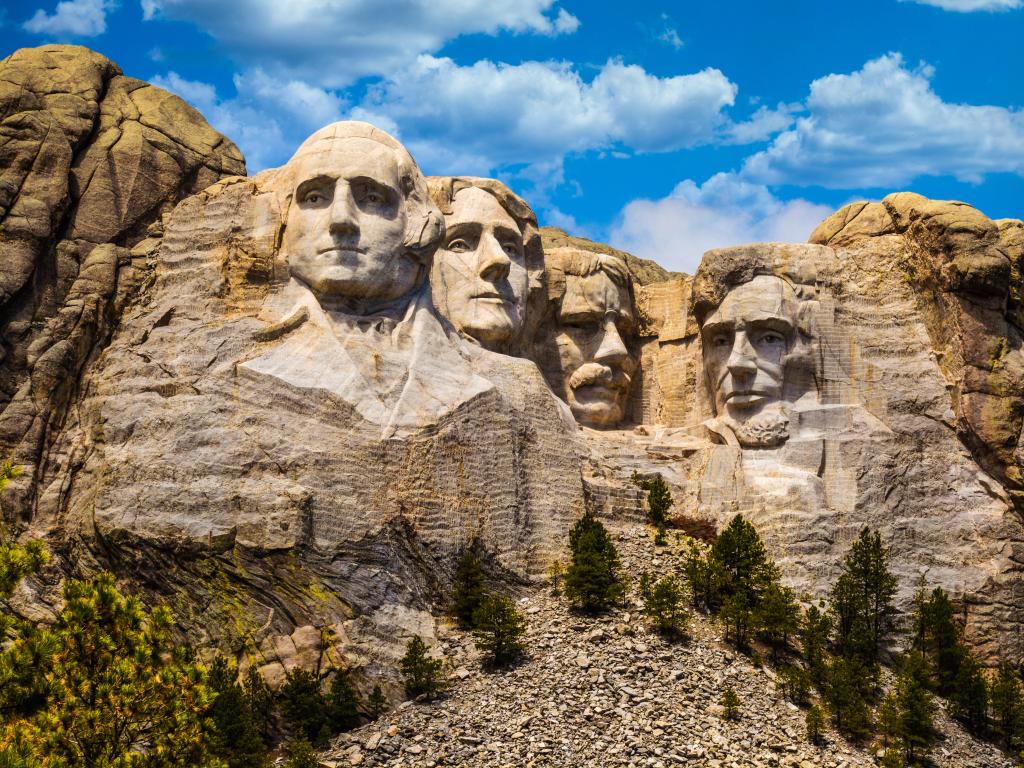 Best places to stop between Omaha and Yellowstone National Park
With so much to see and do on this amazing road trip, you'll want to rest and explore the region as much as possible. Below are our top stopovers, so you can rest up and get the most out of this incredible journey.
Take in majestic mountain sights in Denver
Denver is a destination on its own if you are following the Denver Route, about 7 hours and 40 minutes into your journey. The city is located just before you ascend into the dizzying heights of the Rocky Mountains.
Denver, the Mile High City, stands at an elevation of 5,280 feet above sea level and offers a mix of culture, art, and outdoor activities. When night falls, Denver comes alive, with endless restaurants, bars, and fun nightlife.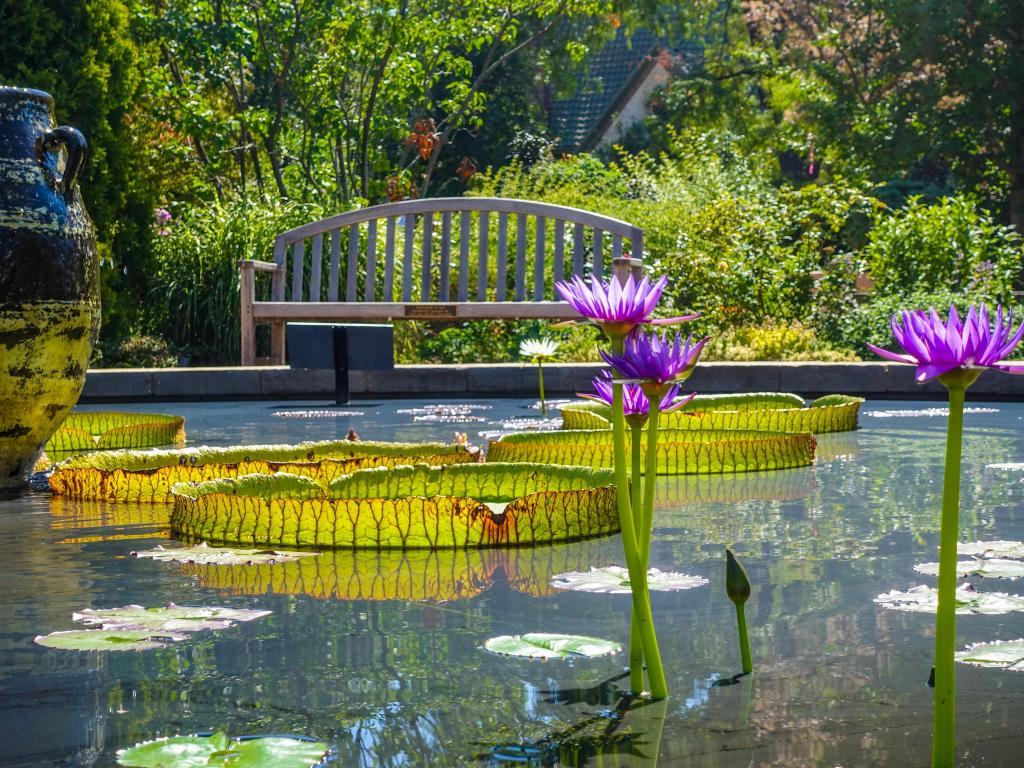 Here, you can marvel at a vast collection of art at the Denver Art Museum or take a peaceful stroll in the Denver Botanic Gardens. After seeing these incredible stops, a visit to the Denver Museum of Nature and Science is highly recommended.
For accommodation, the Patterson Inn is our top pick. Housed in a historical landmark in the center of Capitol Hill, the inn offers nine luxuriously themed suites that blend historic charm with a modern touch.
Between 4 and 6pm, the inn holds a social hour where guests can enjoy complimentary drinks and hors d'oeuvres. Please keep that this inn is 21+ only.
The Patterson Inn is conveniently near other points of interest. The Molly Brown House Museum and the Denver Art Museum are just a short 10-minute walk from the hotel, which makes it really convenient to explore the surroundings on foot.
Get up-close with familiar faces near Rapid City
Nestled just an hour shy of the halfway point of your journey along the Mount Rushmore Route is Rapid City. Covering a drive time of 7 hours and 10 minutes, Rapid City offers the perfect balance between urban conveniences and proximity to iconic landmarks like Mount Rushmore itself.
Known for its rich culture and activities, Rapid City is home to plenty of museums and landmarks. It's nicknamed "The City of Presidents," because it features 43 life-sized bronze statues of US presidents along its main streets.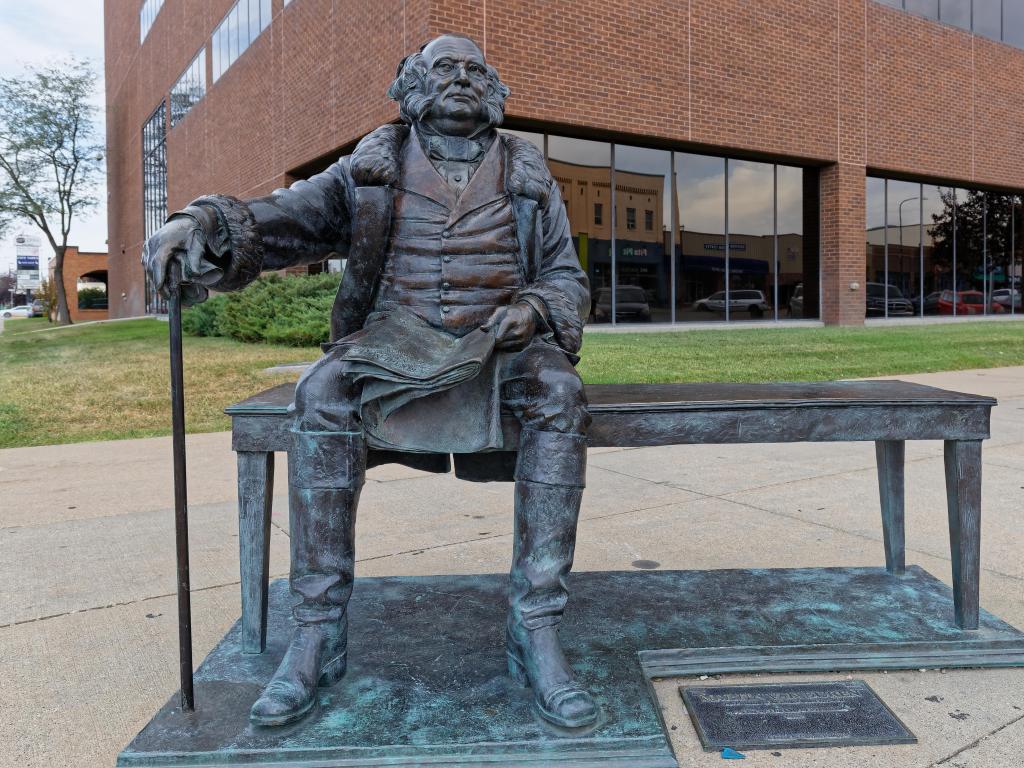 Another unique highlight is the quirky Dinosaur Park, one of the city's earliest tourist attractions. You can see its dinosaur sculptures from various points in town, giving the city a unique charm.
When it comes to accommodation, Summer Creek Inn is a slice of paradise in Rapid City. This family-run bed-and-breakfast set in beautifully manicured grounds offers a comforting, personalized experience.
The owners, deeply involved in the inn's daily operations, provide tailored suggestions for day trips and serve amazing breakfasts for their guests. If you're looking to unwind, the hot tub and spa facilities are not to be missed.
Conveniently located near other attractions, the Summer Creek Inn makes it easy to explore the surrounding area. Reptile Gardens, home to a stunning array of reptilian life, is only a 30-minute drive from the hotel. Likewise, Mount Rushmore is a mere 30-minute drive away.
Where to stay when you reach Jackson
Upon reaching Jackson, you'll find yourself at the gateway to the awe-inspiring Yellowstone National Park. You'll find restaurants, bars, and plenty of small-town charm to enjoy.
One of the must-visit places in Jackson is the National Museum of Wildlife Art, a unique institution dedicated to the art and soul of wildlife. On top of that, the surrounding countryside is full of hiking and wildlife viewing close to town.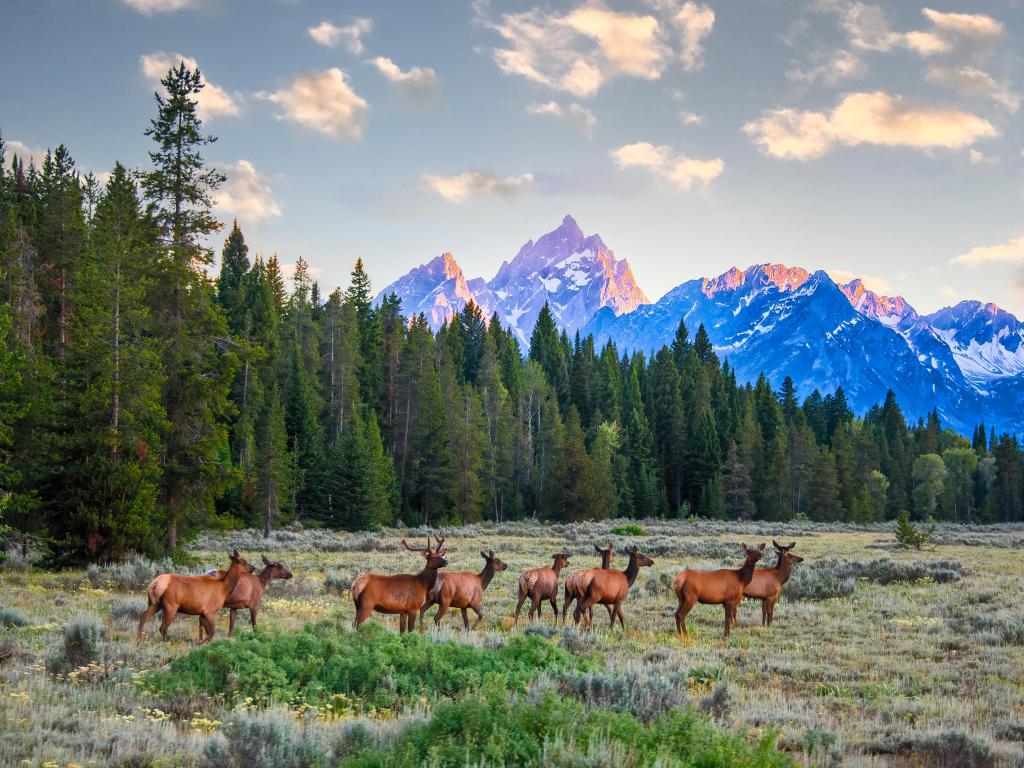 Jackson Hole is also known for its celebrity residents, who are drawn by the stunning vistas and outdoor activities set against the Teton Mountains. You may brush shoulders with one of these famous residents while relaxing downtown.
When it comes to lodging, The Cloudveil is our luxurious recommendation. With touches of wilderness and mountain life, this hotel is a sanctuary to explore the area from.
You'll enjoy balconies that offer sweeping views of both the city and the mountains. Plus, for those hitting the slopes, the hotel provides a shuttle service to the ski resort and has a ski pass sales point on-site.
If you're more of a two-wheel adventurer, free bicycle hire is available to all guests. This way, you can explore the town easily and without your car.
Things to see on a road trip from Omaha to Yellowstone National Park
This incredible drive is jam-packed with exciting things to do and see. Below are our top highlights to explore along the way to help you make the most out of this wonderful journey.
The Denver Route
Strategic Air Command and Aerospace Museum - This museum near Omaha is a treasure trove for aviation and military enthusiasts. It features a remarkable collection of aircraft, spacecraft, and even a Space Shuttle simulator.
Great Plains Art Museum - Immerse yourself in the art and culture of the Great Plains region. This Lincoln-based museum showcases sculptures, paintings, and photographs that pay homage to the area's rich history.
Museum of American Speed - A must-visit for any car aficionado. Located in Lincoln, this museum is home to a vast collection of automotive memorabilia, including antique racing cars and speed equipment.
Stuhr Museum of the Prairie Pioneer - This living history museum in Grand Island offers a fascinating look at the lives of early settlers through its authentic period structures and interactive exhibits.
The Archway, Kearney - An architectural marvel that spans across Interstate 80, this museum offers a journey through 170 years of American history, focusing on the westward expansion.
Pony Express Station Museum - Discover the legacy of the Pony Express at this charming museum, featuring exhibits that detail the challenges and adventures of this iconic mail service.
Buffalo Bill Ranch State Historical Park Museum - Explore the life and times of one of America's most colorful characters, Buffalo Bill, at his former ranch which now serves as a museum and state historical park.
Denver Art Museum - Known for its American Indian art collection, this museum offers a wide array of other global art as well, including European, Asian, and modern and contemporary collections.
Denver Zoo - A great family destination offering an up-close look at various species from around the world, all situated in habitats designed to mimic their natural environments.
Boulder - Nestled at the foothills of the Rocky Mountains, Boulder is a vibrant city known for its outdoor activities, craft breweries, and a community focused on wellness and sustainability.
Rocky Mountain National Park - A jewel of the Colorado Rockies, offering breathtaking mountain vistas, crystal-clear lakes, and a variety of wildlife in their natural habitats.
Fort Collins Museum of Discovery - This innovative museum blends science, history, and culture in an interactive way, making it an educational experience for visitors of all ages.
Rock Springs Historical Museum - Located in Wyoming, this museum tells the tale of the town's coal mining history and offers insights into the cultural melting pot that shaped the area.
Museum of the Mountain Man - Situated in Pinedale, Wyoming, this museum offers a glimpse into the rugged life of fur trappers and traders of the Rocky Mountain West in the early 19th century.
National Museum of Wildlife Art - Overlooking the National Elk Refuge in Wyoming, this museum houses an impressive collection of wildlife art, blending human creativity with natural beauty.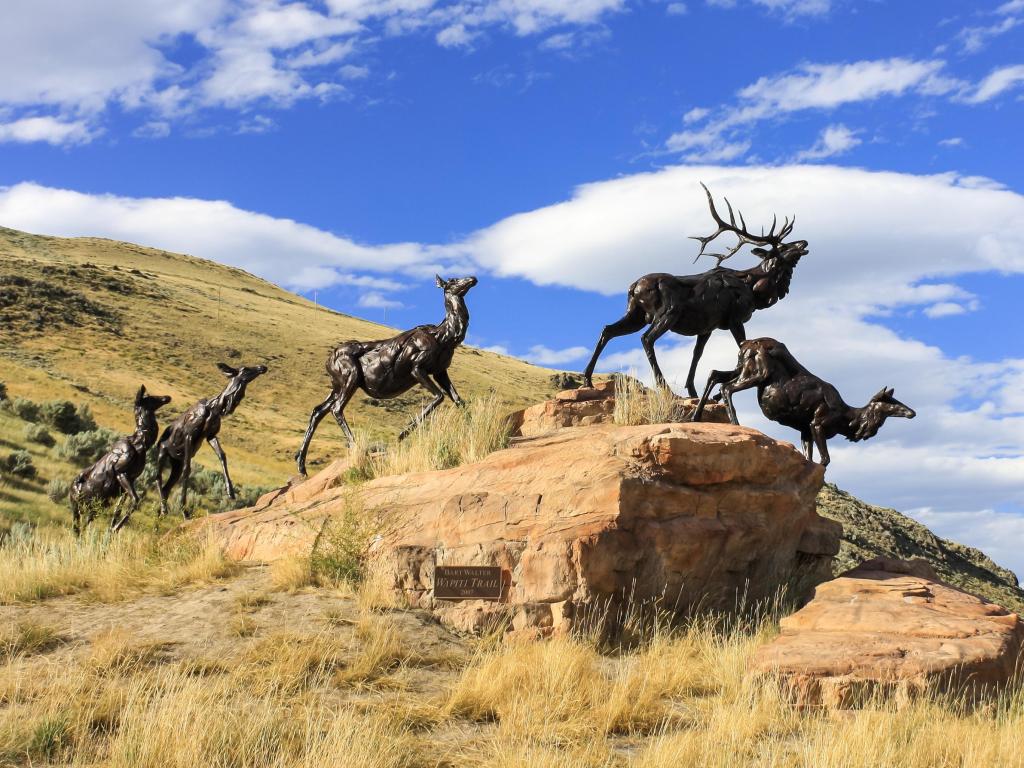 The Mount Rushmore Route
Union Pacific Railroad Museum - Located in Council Bluffs, Iowa, this museum is dedicated to sharing the rich history of the Union Pacific Railroad. It's a dream come true for railway enthusiasts, featuring everything from antique railcars to interactive exhibits.
Great Plains Zoo - Situated in Sioux Falls, South Dakota, this zoo offers a diverse array of animals and a top-notch educational experience. From snow monkeys to red pandas, it's an animal lover's paradise.
Sioux City Art Center - A cultural hub in Sioux City, Iowa, showcasing an impressive range of contemporary and traditional art. The center often hosts rotating exhibitions, making every visit unique.
Sculpture Walk & Arc of Dreams - This outdoor exhibit transforms the streets of Sioux Falls into a public art gallery featuring sculptures from artists around the world. The Arc of Dreams itself is a massive, awe-inspiring structure that arches across the Big Sioux River.
Porter Sculpture Park - An offbeat attraction featuring over 50 sculptures crafted from scrap metal, this park is the work of a single artist, Wayne Porter. The park is set against the scenic backdrop of South Dakota's rolling plains.
Dakota Discovery Museum - This museum in Mitchell, South Dakota, explores the area's Native American, immigrant, and pioneer history through art, artifacts, and interactive exhibits.
1880 Town - Step back in time at this authentic 1880s town in South Dakota, complete with historical buildings, antiques, and even a few farm animals. It's as close to time travel as you can get.
Minuteman Missile National Historic Site - This site provides a sobering look into the Cold War era, offering tours of a former missile silo and a launch control facility in South Dakota.
Badlands National Park - Known for its dramatic landscapes featuring layered rock formations, deep canyons, and towering spires. It's a hiker's and photographer's dream.
Wounded Knee Museum - This museum serves as a memorial to those lost in the Wounded Knee Massacre in 1890. Located in Wall, South Dakota, it offers a deep, respectful look into a tragic event in Native American history.
Cosmos Mystery Area - This quirky attraction plays with your perception, offering guided tours that demonstrate a range of baffling physical phenomena. A mind-bending experience that both kids and adults will enjoy.
Big Thunder Goldmine - Located near Keystone, South Dakota, this old mining site now serves as a museum where visitors can pan for gold and learn about the history of Black Hills Gold Mining.
Mount Rushmore National Memorial - This iconic monument features the faces of four U.S. presidents carved into a mountain in the Black Hills. It's a must-see symbol of American history.
Indian Museum of North America - Located at the Crazy Horse Memorial, this museum houses an extensive collection of art and artifacts representing the diverse cultures of Native American tribes.
Jackson Lake - A stunning glacial lake in Grand Teton National Park, offering a variety of water activities and framed by the magnificent Teton Range.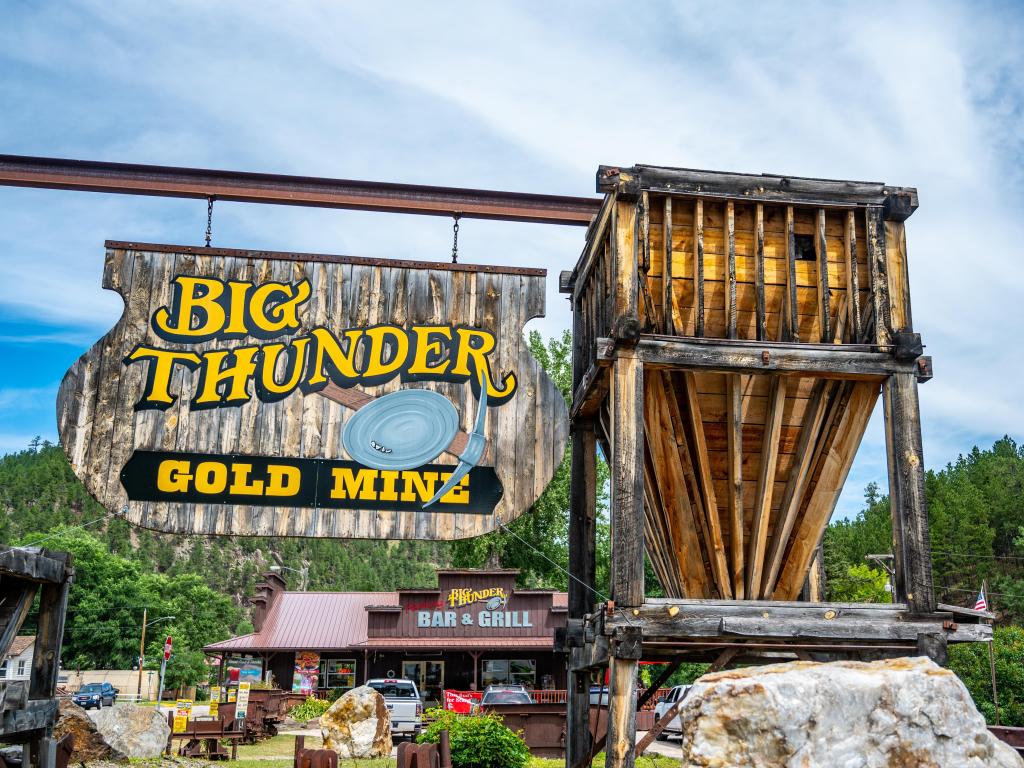 Best time to go on a road trip from Omaha to Yellowstone National Park
Yellowstone National Park is a destination that can be visited at any time of the year, but your experience will be different depending on the season.
If you travel during summer, remember that June through August are peak tourist months in Yellowstone National Park. On the Denver Route, the Rocky Mountain National Park may require a timed entry pass between May and October, so make sure to check ahead of time.
Summer temperatures at your destination can reach up to 80 degrees Fahrenheit. It's prime time to enjoy the Teton Valley Balloon Rally in July, the Sioux Empire Fair in August on the Mount Rushmore Route, or the many 4th of July celebrations throughout the routes.
Remember that summer is prime travel time. You'll likely be sharing the destinations with plenty of other travelers, so be prepared and book in advance.
Fall is also a wonderful time to travel along both routes, with mild temperatures and the chance to see some beautiful autumn colors in the mountains and cities. If you're traveling during the early fall, make sure to check out the Great American Beer Festival in Denver.
Winter might be a challenging time to travel as heavy snowstorms hit the area frequently. However, you'll also have fewer other tourists at your destinations and the views will be spectacular.
The Spring "Mud Months" from March to May could also be tricky, as many roads and attractions are closed during this period. Also, this region's unpredictable weather demands that you check conditions close to your travel time, even during spring.
However, if you travel during this time, you can see the Jackson Hole Rendezvous in April. You'll also get to see the famous wildflower blooms in the Rocky Mountains.