Road Trip from Omaha to Mount Rushmore
The road trip from Omaha to Mount Rushmore is for travelers seeking the unexpected. This Midwest adventure is rich with wildlife spotting opportunities and stunning hikes, making it the journey towards the iconic towering sculpture that is Mount Rushmore.
The 560-mile road trip from Omaha to Mount Rushmore takes about 8 hours to drive. Notable stops include Sioux City, Sioux Falls, Chamberlain, Rapid City, Mitchell, Badlands National Park, Loess Hills State Forest and Fort Pierre National Grasslands.
Alongside the opportunity to soak in the cultural history of world-famous landmarks, there are ample opportunities to get active on this amazing road trip. Keep reading to find out our top picks for places to stay, things to see and do and overnight stops.
How far is Mount Rushmore from Omaha and how long will the road trip take?
Comparison of road trip routes between Omaha and Mount Rushmore

| Route | Distance | Driving Time |
| --- | --- | --- |
| The Northern Route | 560 miles | 8 hours 20 minutes |
| The Southern Route | 640 miles | 10 hours 30 minutes |
The Northern Route from Omaha to Mount Rushmore will cover approximately 560 miles and has a drive time of 8 hours 20 minutes without accounting for many stops or detours,
The Southern Route is slightly longer and will take 10 hours and 30 minutes to drive, covering 640 miles.
To enjoy everything each route has to offer, we suggest giving at least 2 days to the shorter route and if you're keen to see as much as possible along the Southern Route, 3 to 4 days will give you ample time to do so.
Best road trip route from Omaha to Mount Rushmore
Both of our suggested routes offer unique experiences alongside some of the most well-known gems Nebraska and South Dakota have to offer, so the best one will depend on your personal preference.
On the Northern Route, you can expect to see incredible natural scenery, magnificent waterfalls, elusive wildlife, and charming towns and cities. You'll pass through Sioux City, Sioux Falls, Chamberlain, Badlands National Park and Rapid City, to name a few.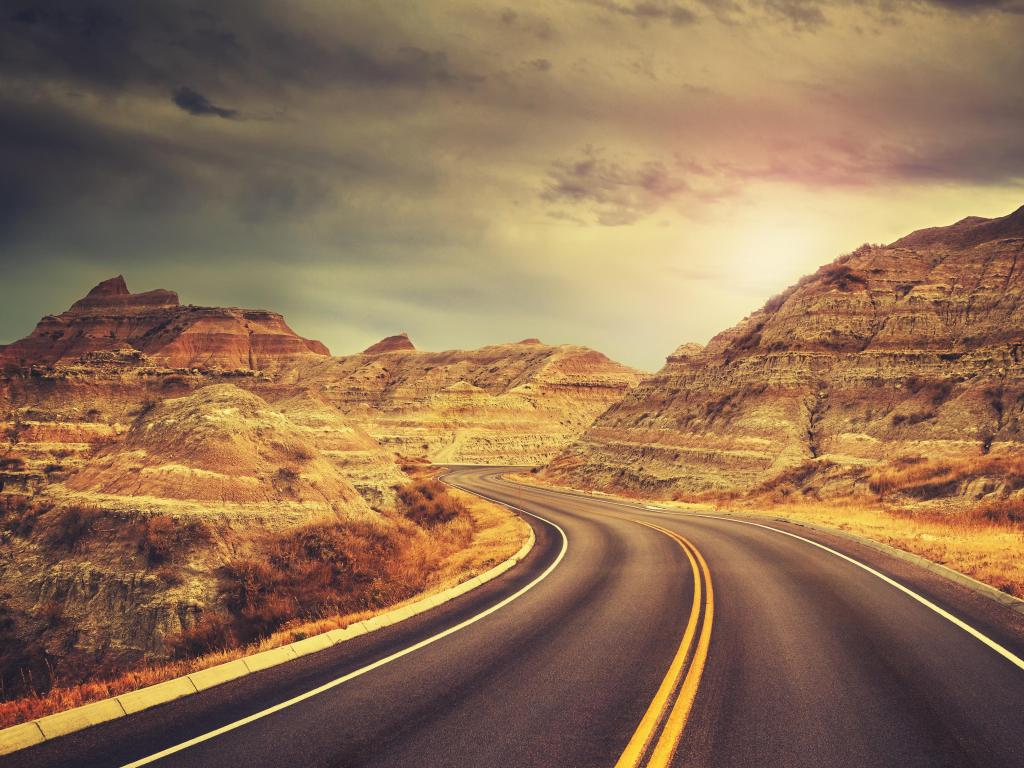 This route is more direct and misses out on the Nebraska experiences of our Southern route. That said, it is a great way to see some key sights while making your way to your final destination.
Experience the real Nebraska on the Southern Route and get to know the cowboy culture. This route will take you through small towns and cities. Go wildlife spotting, with chances to see Cranes and Bison, and hike through pine forests to see impressive geological features and cascading waterfalls.
The Northern Route
The Northern Route starts off by heading North out of Omaha, following Interstate 29 (I-29). It's an easy start as the route continues North through Sioux City. Continuing north and head to Sioux Falls, South Dakota's largest city which takes its name from the famous waterfalls flowing through Falls Park.
Heading west out of Sioux Falls, follow the interstate towards Chamberlain. A charming city on the banks of the Missouri River, you will find The South Dakota Hall of Fame here, which has over 700 inductees!
Keep following the interstate to Rapid City. This part of the journey goes through Badlands National Park, the perfect place to stretch your legs during a long drive. Rapid City is known as the "City of Presidents" thanks to the life-size bronze statues which can be found downtown.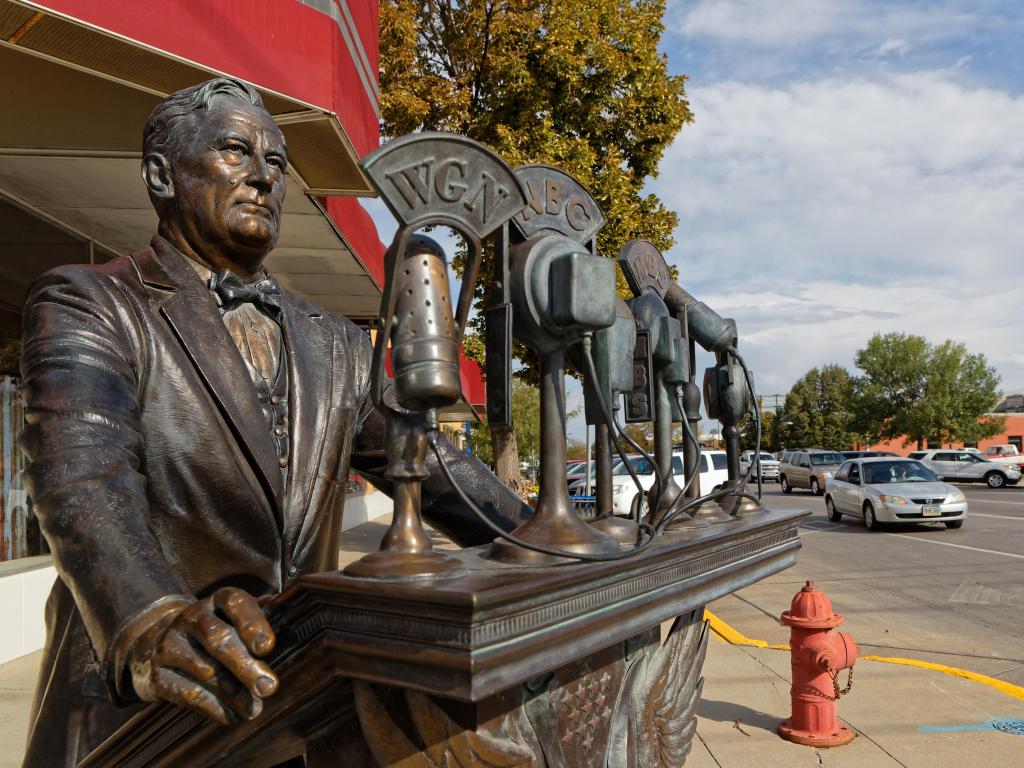 Just a short drive from Rapid City, you'll arrive at Mount Rushmore, by heading south on US 16 W towards Kansas City. A spectacular end to the road trip, the infamous National Memorial is a must-see with its towering majesty.
The Southern Route
Head southwest out of Omaha, following I-80 and you'll arrive in Lincoln, the capital of Nebraska, named after none other than Abraham Lincoln himself.
Your next stop is Kearney, which is the Sandhill Crane Capital of the world and welcomes about half a million cranes every Spring.
Head towards Brady, a charming village, proud of its small-town vibes and welcoming locals. From here, you will head to North Platte, where you'll find Buffalo Bill's mansion, along with his stamps of approval on many attractions and activities.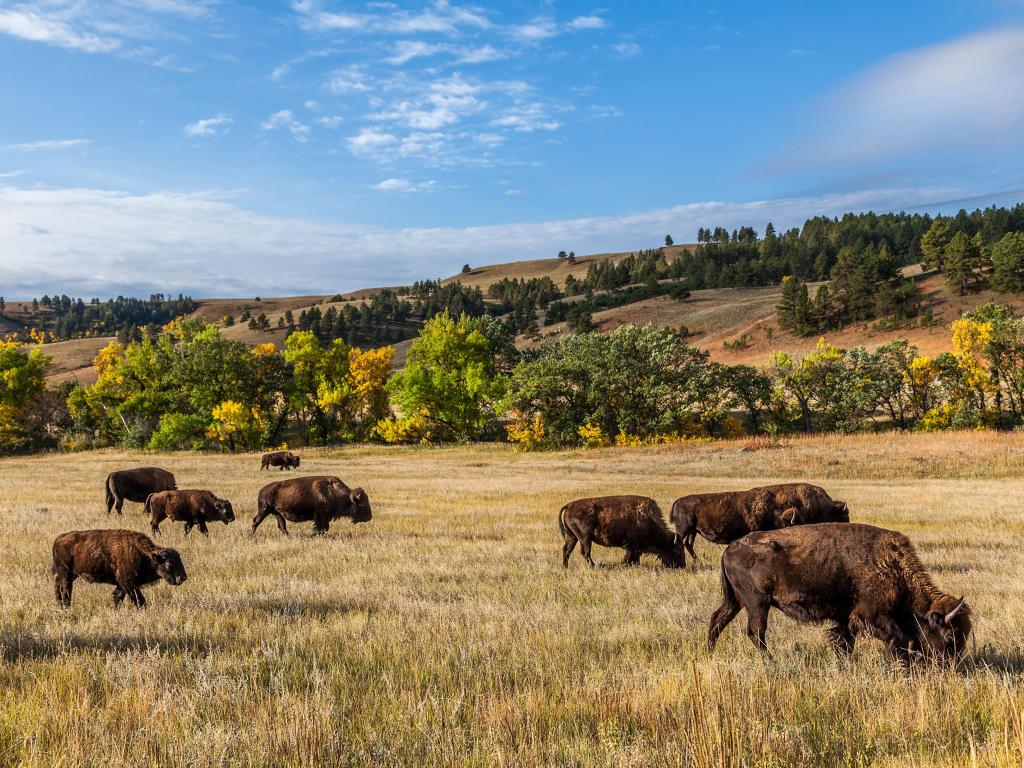 The state highways will then take you to Crawford and then you'll head towards your last stop, Mount Rushmore. You'll pass by the Wind Cave National Park, which boasts one of the world's largest caves.
The route will then take you through Custer State Park, an epic expanse with plenty of recreational opportunities. From here on, Mount Rushmore is only a short drive away.
Best places to stop between Omaha and Mount Rushmore
There are many places on each route that have something spectacular to offer, where you can stop overnight. To make your planning easy, here are some of our top choices for overnight stops.
Drink in the beautiful natural scenery in Sioux Falls
Just 2 hours into the trip, Sioux Falls is conveniently located along the Northern Route and its beautiful natural scenery makes this city a must-see. It is known for its namesake waterfalls - nestled stunningly in a park where visitors can watch the Sioux River cascade down rocks.
As well as its wonderful waterfalls, Sioux Falls also offers many other attractions such as the Sertoma Butterfly House & Marine Cove, where you can admire butterflies from all around the world, or the Old Courthouse Museum, the perfect place to check out for history buffs.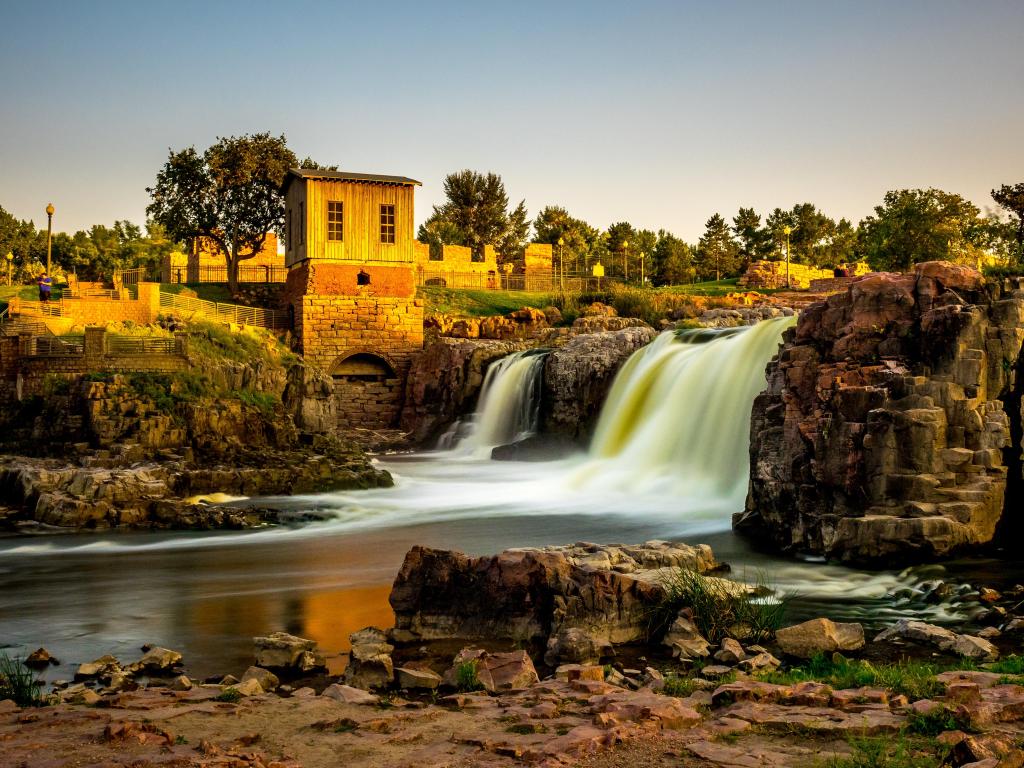 During your stay in Sioux Falls, you will want to base yourself in a central location to explore all the attractions. Country Inn & Suites by Radisson is conveniently located in the heart of the city, with Falls Park a short walk away, and boasts sensational riverside views.
After exploring the park and marveling at the waterfalls, you can head back to the hotel to get a much-deserved rest and take in Sioux River views with a stylish cocktail in hand from the hotel bar or on the outdoor terrace.
If you would rather unwind on a staycation in Sioux Falls, tired travelers can relax in the fantastic spa and wellness center, including a hot tub and jacuzzi facilities. Take a refreshing dip in the heated swimming pool and
Marvel at the elusive cranes in Kearney
Conveniently located three hours into the trip on the Southern Route, Kearney is known for a historic fort on the outskirts of the city, and is famous for the huge quantity of cranes that gather in Nebraska's Platte River Valley every spring.
If birdwatching is not your thing, then you can head to the Fort Kearney State Historical Park and learn about the history of this historic fort, used as both a military outpost and to protect early travelers.
If you are a car enthusiast, Classic Car Collection is a must-see while staying here, with 200 vintage and classic cars restored to mint condition in this impressive collection.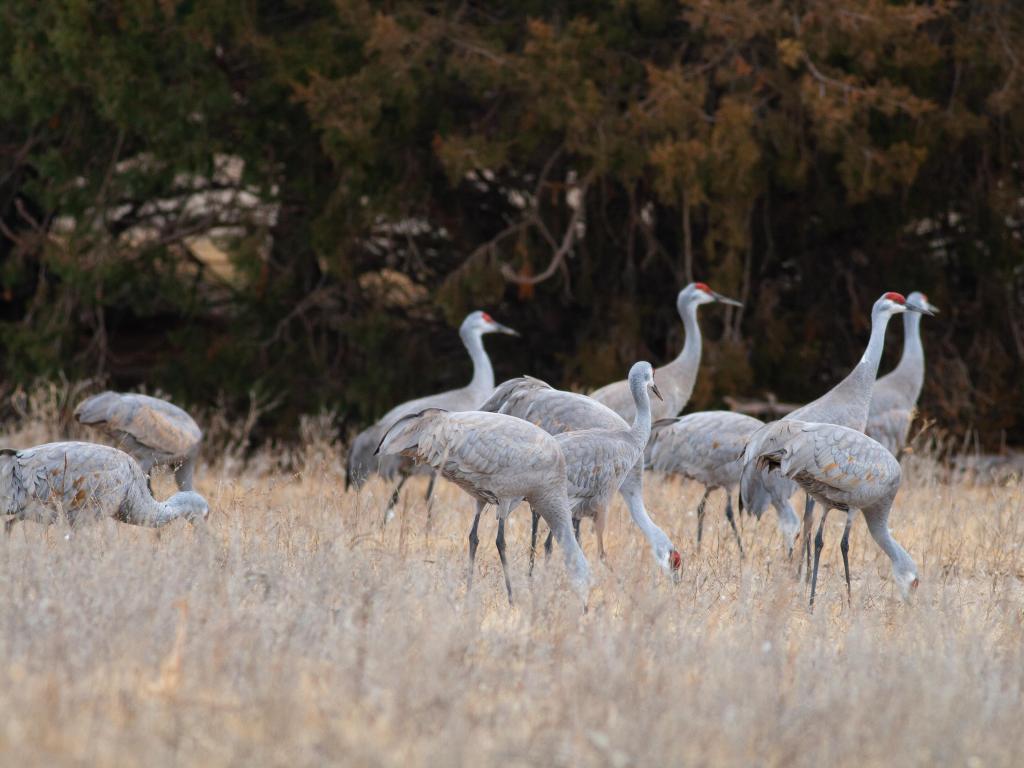 After all that sightseeing, a stay at La Quinta by Wyndham Kearney is just what you might need. You can take a refreshing dip in the stylish and relaxing swimming pool to prepare for more exploration or the rest of your road trip.
Situated just outside of the town center, this hotel is a short drive from MONA, which houses an impressive collection of Nebraska art, and the Great Platte River Road Archway Monument as well as the historic fort are a short distance away.
Where to stay when you reach Mount Rushmore
A road trip would not be complete without a luxurious overnight stay with access to a hot tub, which is the best way to relax your muscles after a few days of driving. Staybridge Suites Rapid City offers just that amidst modern and relaxed surroundings.
Whilst this hotel is located in Rapid City, it offers guests access to luxury and style while being only a short drive from Mount Rushmore. The property is also within close vicinity of the Journey Museum, Dinosaur Park, Rush Mountain Adventure Park and Sioux Village.
Things to see on a road trip from Omaha to Mount Rushmore
We can say wholeheartedly that this route has something for everyone. Innumerable state forests, national parks and nature reserves provide a meditative respite from the interstates and hustle and bustle of downtown.
If the hustle and bustle is your thing, the route offers cultural quarters, museums and boutique dining. Fancy something a bit different? How about a Corn Palace, a Pony Express Station or Buffalo Bills mansion? We've categorized these by route to make them even easier to explore.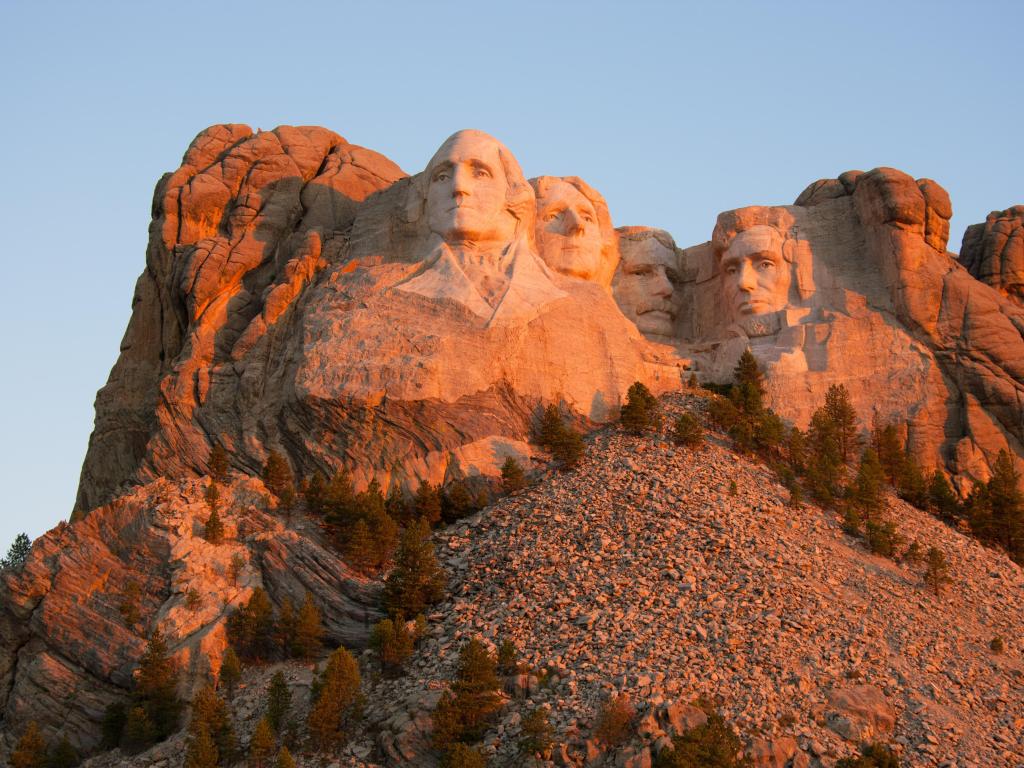 The Northern Route
Loess Hills State Forest - This protected forest sits in the heart of the Loess Hills, a unique geological ridge. This area is famed for its unusual terrain and beautiful natural scenery.
Sioux City - A top destination for lovers of history and culture, top sights include the Sioux City Art Center and Sioux City Public Museum which includes an interactive fossil dig site.
Sioux Falls - Stop here for impressive waterfalls and beautiful inner city parks. Sioux Falls also offers interesting history and animal centers for nature lovers.
Porter Sculpture Park - Located just off the highway, this intriguing park displays over 50 unique sculptures spread across 10 acres.
Mitchell - Visit the World's Only Corn Palace, with murals made from corn and other grains to form a totally one of a kind attraction. This imposing building hosts concerts, sport events, and exhibits, and is a hugely popular tourist destination.
Chamberlain - Spend time in this city's charming downtown, filled with boutique shops and restaurants. See historic sculptures as you wander around this quaint city.
Fort Pierre National Grasslands - Explore the rolling hills and stretch your legs in the beautiful prairies. Keep your eyes out for antelope, mule deer, prairie dogs, and a myriad of waterfowl.
Badlands National Park - Hike through out of this world rock formations in this park bordering Nebraska National Forest. Check out Big Badlands Overlook for spectacular views and hike Cliff Shelf Nature Trailhead for a really unique hiking experience.
Rapid City - Known as The City of Presidents, this is the gateway to Mount Rushmore. This is a beautifully quaint and charming city with a walkable downtown filled with bars, cafes, and shops.
The Southern Route
Lincoln - Spend time in the capital city of Nebraska, known for the serene Sunken Gardens complete with sculptures and lily ponds. The Sheldon Museum of Art is notable for its collection of American art, and is well worth a visit.
Pawnee State Recreation Area - 740 acres of this area is water, so this is a fantastic stop for travelers looking to get out on the water. Activities include boating, and incredible fishing, as well as hiking and hunting.
Plautz Crane Viewing Site - Located just off the interstate, this area provides a space for spectacular views of Cranes, Herons, Pelicans, and the many other birds that visit this area.
Fort Kearney State Historical Park - Built to protect travelers on the Oregon-California trail, this abandoned fort was a historic outpost of the US army. Visitors can explore the historic fort, and learn about the role it played, as well as taking advantage of the beautiful walking trails.
Lake Johnson - Spend an afternoon by the lake, enjoying the public swim beach which is complete with amenities and grills for barbecues. Marvel at the incredible clear turquoise water, created by the underground spring that feeds the beautiful lake.
Pony Express Station Museum - Synonymous with the Old West, this museum is set in an original Pony Express station. This former cabin and station is set within the beautiful Ehmen city park so visitors can also enjoy the peaceful grounds of the cabin.
North Platte - Explore the town that brings the cowboy tradition to life. This is where legendary William 'Buffalo Bill' Cody lived. You can visit his famous ranch and mansion.
Crescent Lake National Wildlife Refuge - This refuge protects large sand dunes, some of the largest in the US and a dozen lakes fed by underground aquifers. Located far from urban life in all directions, this is a great opportunity to get out in the Nebraska wilderness.
Crawford - Hike through moon-like landscapes in the Toadstool Geological Park, or choose scenic walks along the Pine Ridge, there's a huge range of adventure options in this Nebraska gem.
Wind Cave National Park - Welcome to South Dakota! This national park is famous for the vast cave network filled with honeycomb-shaped calcite formations. The park's pine forests and prairie are home to incredible wildlife such as bison, elk, and antelope.
Custer State Park - This park is filled with scenic drives, wildlife, hiking, and fishing. Mirror-like lakes will take your breath away, and keep your eyes peeled for the famous bison herds.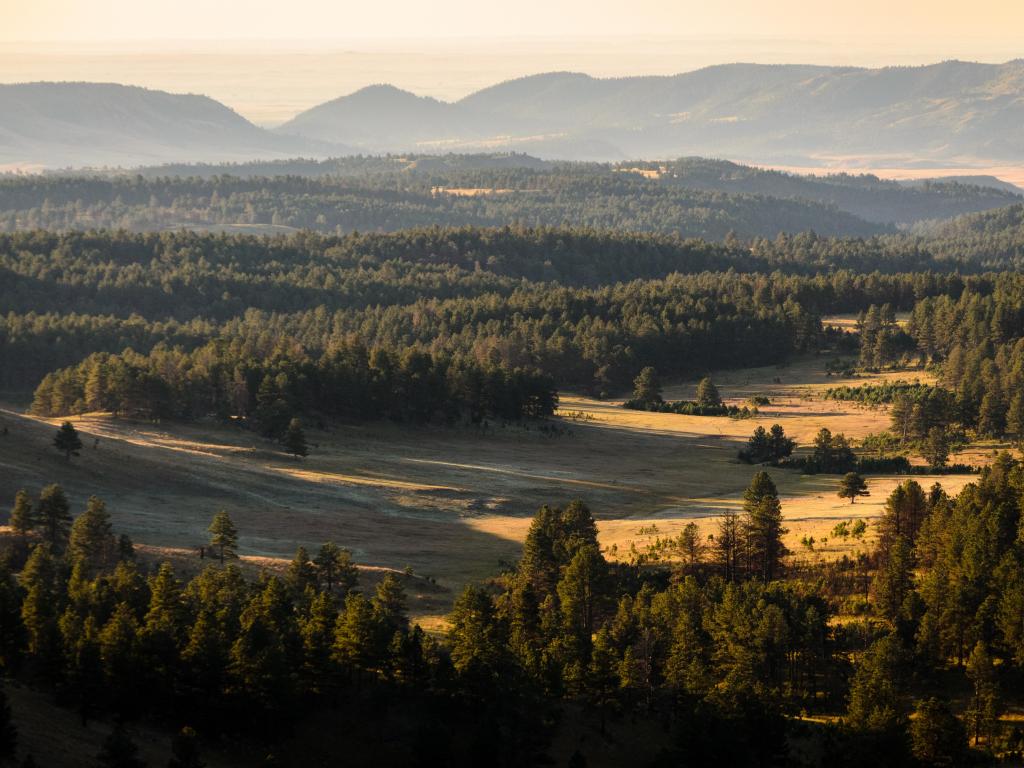 Things to see that are accessible on Northern and Southern Routes
Black Elk Peak - The highest peak in South Dakota, with an elevation gain of 1470 feet and offering incredibly scenic views of the surrounding pine forests.
Black Hills National Forest - This huge national park spans a huge area, from Roughlock Falls cascading into the wild-life rich Spearfish canyon, to views of Mount Rushmore this park offers incredible hiking and biking trails.
Best time to go on a road trip from Omaha to Mount Rushmore
Mount Rushmore is open all year round and each season offers a unique Mount Rushmore experience. Fall is the best time to visit Mount Rushmore, with mild temperatures, low rainfall, and the stunning colors of the season that will elevate your experience here.
Weather in the winter can range from white-out blizzards to sunny days of 45 degrees Fahrenheit. The roads to Mount Rushmore are well maintained so it is accessible all year round, however, nearby attractions and hikes in nearby Black Hills National Forest may be inaccessible at this time of year.
Spring temperatures average between 55 and 60 degrees Fahrenheit, and see the snow starting to thaw. Bright sunny days give beautiful light to Mount Rushmore and fewer crowds make for a great visitor experience.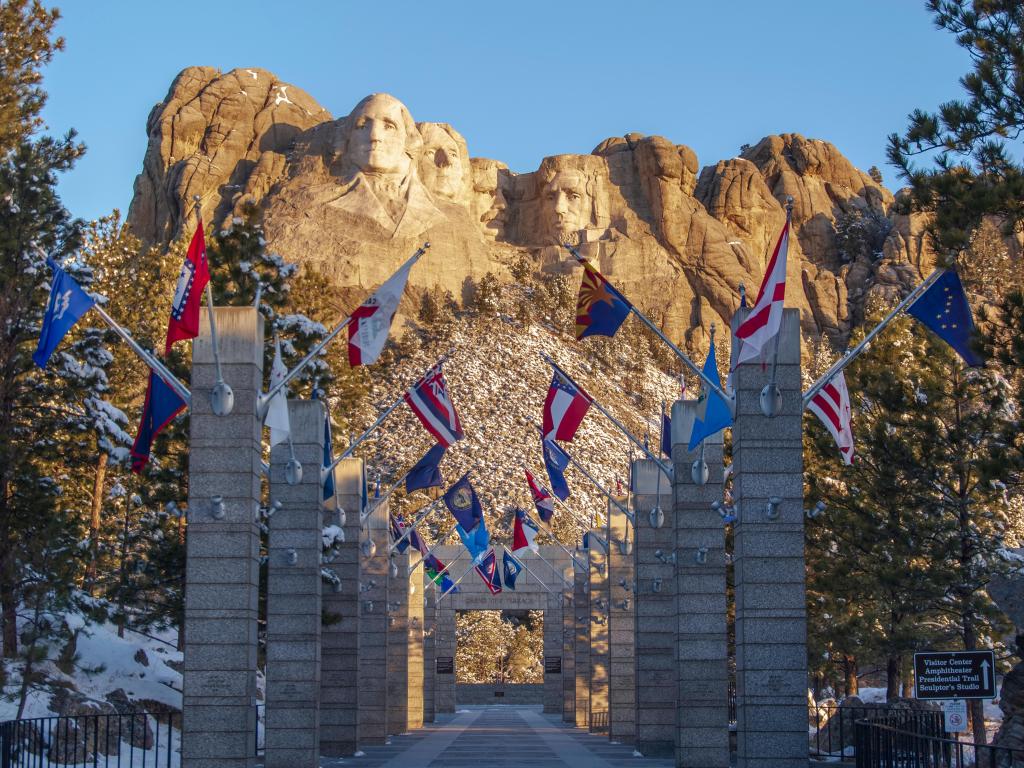 June is the peak of the severe weather season with almost daily thunderstorms, but July and August bring hot temperatures of between 59-79 degrees and bright sunny days. Summer is the most popular time of year to visit so expect big crowds!
From May to early August, the sculpture is illuminated, and a ceremony takes place in the evening to celebrate this fantastic attraction.