Road Trip from Ottawa to Boston
From the southern tip of Canada to the coast city of Boston, this incredible trip takes you on the beautiful Trans-Canada highway visiting some exciting Canadian cities, stunning forests, pristine lakes, and historic US cities on the way.
The 700 km road trip from Ottawa to Boston takes almost 7 hours to drive, visiting Montreal, Burlington and Concord on a city-forward route, or via Saranac Lake, Lake Placid, Albany, and Lake George taking a slightly longer nature-forward route.
Packed with breathtaking beauty from two countries, tons of cultural attractions, a drive through the Adirondack region, and iconic cities, there is much to discover on this journey. Keep scrolling to find our top recommendations for the best things to do, time to visit, places to see, hotels to stay, and routes to take.
How far is Boston from Ottawa, and how long will the road trip take?
Comparison of road trip routes between Ottawa and Boston

| Route | Distance | Driving Time |
| --- | --- | --- |
| The Montreal Route | 700 km | 7 hours |
| The Albany Route | 720 km | 8 hours |
A direct drive to Boston from Ottawa, Canada, via The Montreal Route takes 7 hours to cover 700 km, not considering any stopovers.
You can take The Albany Route for a slightly longer ride, covering 720 km over 8 hours of driving, without any food or gas breaks.
Although you can cover this distance in a day, we highly recommend you take 4-5 days to enjoy the beautiful cities, charming towns, and diverse food, cultural, and historical attractions without exhaustion.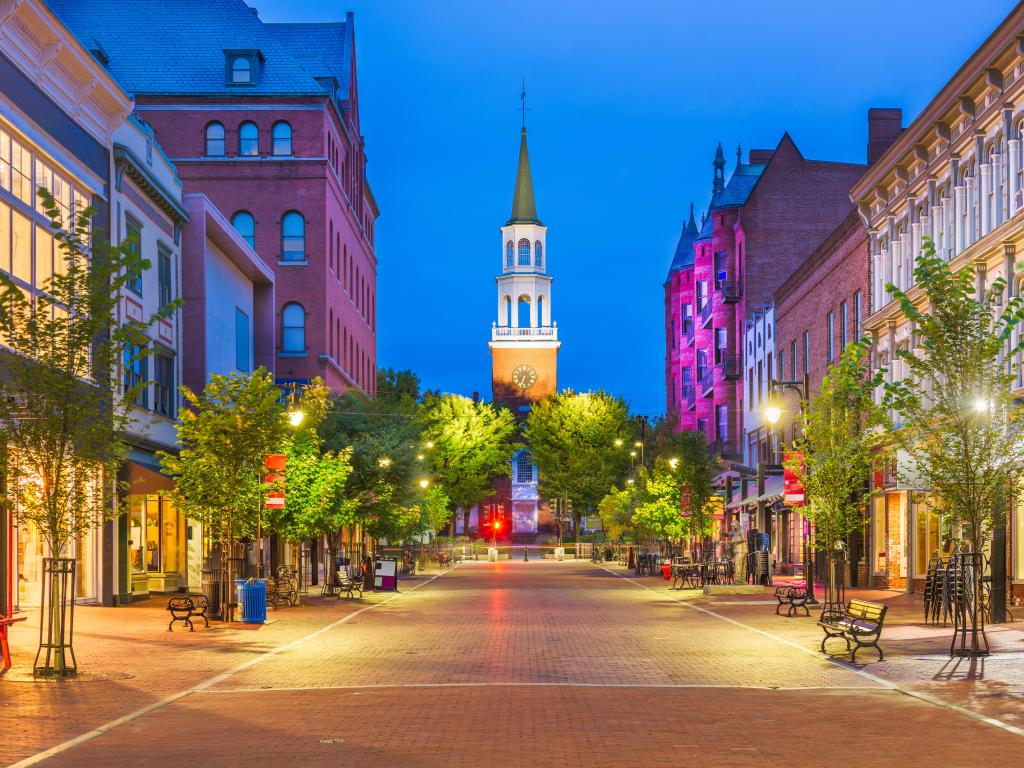 Best road trip route from Ottawa to Boston
We have detailed two different yet excellent road trip routes to reach Boston. Whichever route you pick, you end up in Boston, home of Fenway Park, Harvard, the Boston Tea Party, and many other vacation-making attractions.
On the Montreal Route, you'll discover Montreal, Canada's premiere French-language city boasting many cultural attractions and delicious eats. This city-forward route also snakes along the Ottawa River, giving you glimpses of the awe-inspiring nature.
Notable stops include a halt at Lake Champlain and the charming city of Burlington in Vermont. The gorgeous forests of Vermont and New Hampshire will make this journey worthwhile.
For a drive through breathtaking landscapes, choose the Albany route. Discover the stunning Adirondack region and the surrounding mountains.
Our favorite natural highlights include Saranac Lake, Lake George, and Lake Placid. The route also takes you through the exciting city of Albany before continuing through Massachusetts, with the option of stopping in Springfield and Worcester.
The Montreal Route
Head east, taking ON-417/ the Trans-Canada Highway out of Ottawa, and experience the charming countryside. Continue east and cross the Ottawa River to enter the province of Quebec.
As you drive further along the highway, you'll go past the Lake of Two Mountains and the St. Lawrence River to enter the island of Montreal. After experiencing the cityscapes of Montreal, take Autoroute 10 E out of the city.
Cross the St. Lawrence River again and head south, taking Autoroute 35 S to Vermont. As the road merges into QC-133 S, follow it to cross the Pike River and drive along the beautiful Baie Missisquoi.
Soon you'll enter the US border via the state of Vermont on I-89 S. Continue driving south along the New York – Vermont border through lush forests and the Green Mountains before heading east to cross to New Hampshire.
Travel through the charming small towns of New London and Concord, and then merge into I-93. You'll see the urban landscapes of the Boston skyline come as you drive further south.
The Albany Route
Take the Trans-Canada Highway briefly to get out of Ottawa. Once you arrive at an intersection, take a right on ON-138 to head south. Cross the St Lawrence River on the International Bridge Road to enter the United States.
Hop on to NY-95 to head south, driving through the beautiful Adirondack Mountains. At St Regis Falls, join NY-458 and pass through the gorgeous upstate New York.
Travel south on NY-86 to pass the picturesque water bodies of Saranac Lake and Lake Placid. Exit Lake Placid on NY-73 and drive through the meandering forest roads. Merge into I-87 and head south, passing several wilderness areas to Albany.
After exploring the only major city on this route, take I-90 out of the town and follow it all the way to Boston, bypassing Springfield and Worcester en route.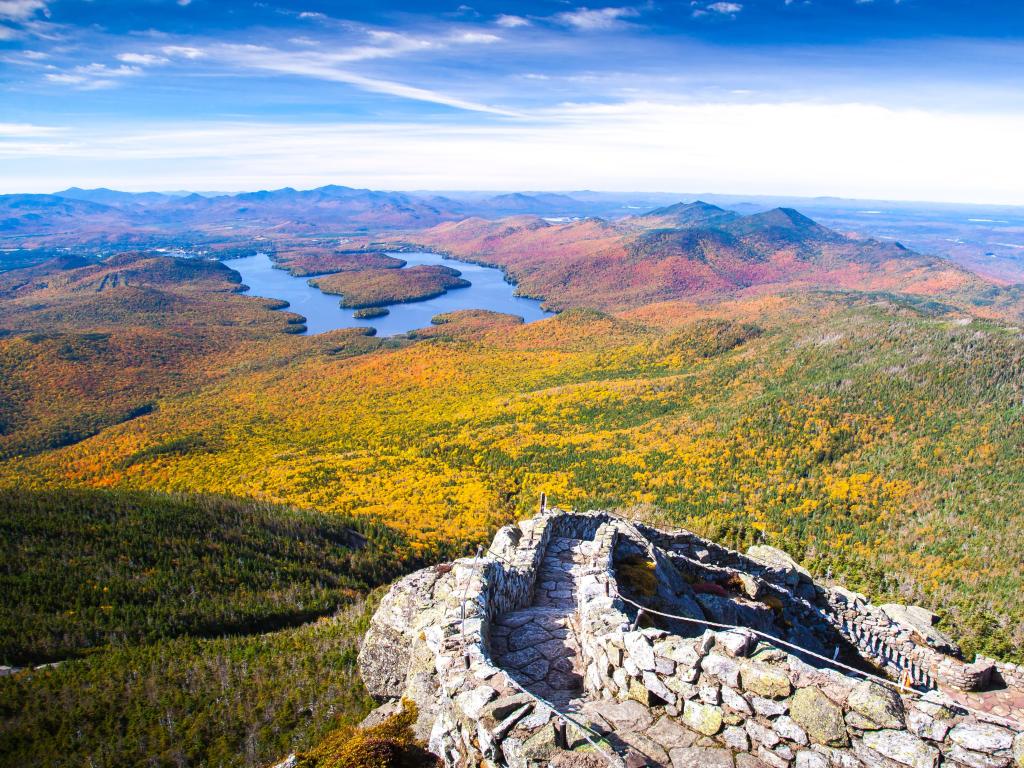 Best places to stop between Ottawa and Boston
Although it is possible to cover this distance non-stop, you'll want to stop and admire the bountiful nature in parts of Canada and the gorgeous mountain forests of Vermont and northern New York. Here are some of our favorite stopover points on both routes.
Spend an eclectic evening in the cosmopolitan Montreal
After covering a third of the distance on The Montreal Route, you'll arrive at the multicultural city of Montreal. The largest city on this route offers many attractions you can visit all year round.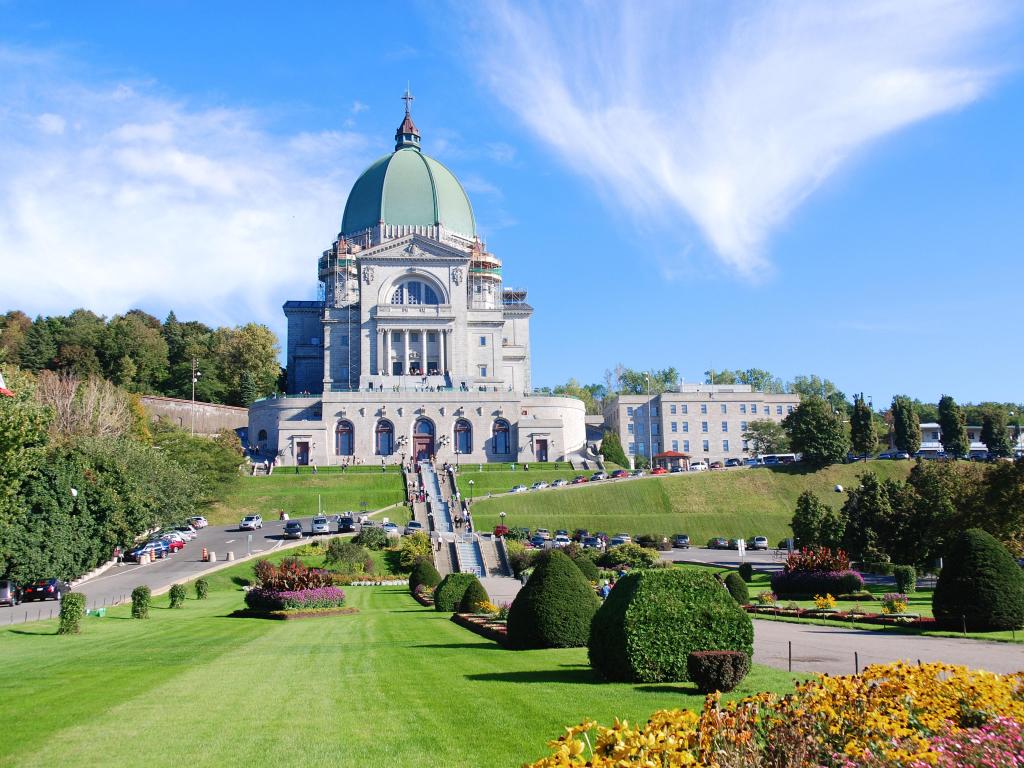 The French influence in the city, its culture, and its architecture is evident. You will also notice it in the Gothic Church of Notre Dame Basilica, one of the historic churches with colorful stained-glass windows and intricate wood carvings.
Head to Mont-Royal Park at the top of the city's central hill to admire the city's stunning skyline. You can take up many recreational activities like hiking, biking, and picnicking there. Montreal Botanical Garden, with over 22000 plant species, is a must-visit attraction if you love strolling gardens.
Centrally located and at walking distance from Montreal's most important and must-see attractions like the Quartier des Spectacles and the Montreal Museum of Fine Arts, The Mount Stephen is nestled in the city's colorful downtown district.
The hotel has been renovated recently with modern amenities like an indoor pool, spa, and fitness center. You can also enjoy unparalleled views of Mount Royal from this hotel.
To explore the city at ease, you can use the city's subway system, and when you're ready to move to the next destination, you can easily access the highway too.
A peaceful respite in Lake George
After covering half the distance on The Albany Route, you'll end up in the historic lake town of Lake George. Aptly called "the queen of the American lakes," the city has over 300 islands and more than 100 miles of shoreline.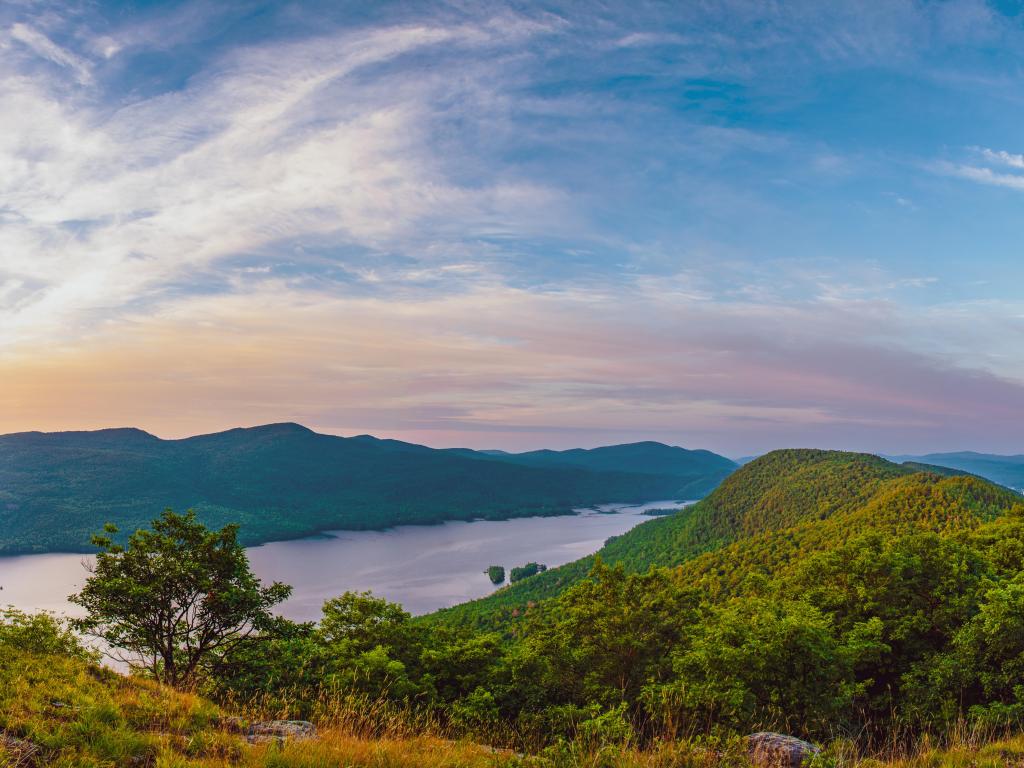 Nestled in New York's lovely Adirondack region, there are enough attractions to keep you on your toes. A trip to Fort William Hens is a must for history lovers. You can visit this 18th Century British Fort where many Anglo-French wars were fought.
Should you visit in winter, the Gore Mountain Ski Center will cover you for your winter sports adventure. And for the rest of the year, you can enjoy the fantastic amusement park at the Six Flags Great Escape and Hurricane Harbor or stroll the Million Dollar Beach casually.
Centrally located within the convenient reach of the lake's shoreline and town's attractions, Courtyard by Marriott Lake George is one of our go-to hotels when traveling to Lake George. What we love about this place is their complimentary car parking that allows us to explore this beautiful town on foot.
Not only is the décor impressive, but each room is also designed with a stylish aesthetic. The hotel rooms are affordable, and you can enjoy a breathtaking view of the Adirondack Mountains from the comfort of your room.
When staying here, you can keep up with your workout schedule at their fitness center and unwind in their indoor pool. When it's time to hit the road, you can reach Highway 9 in minutes.
Where to stay when you reach Boston
As you explore all the historical, educational, and architectural attractions of this vibrant city of Massachusetts, you'll want a comfortable and convenient place to stay. One of the hotels we keep visiting is the centrally located The Seaport Hotel Boston.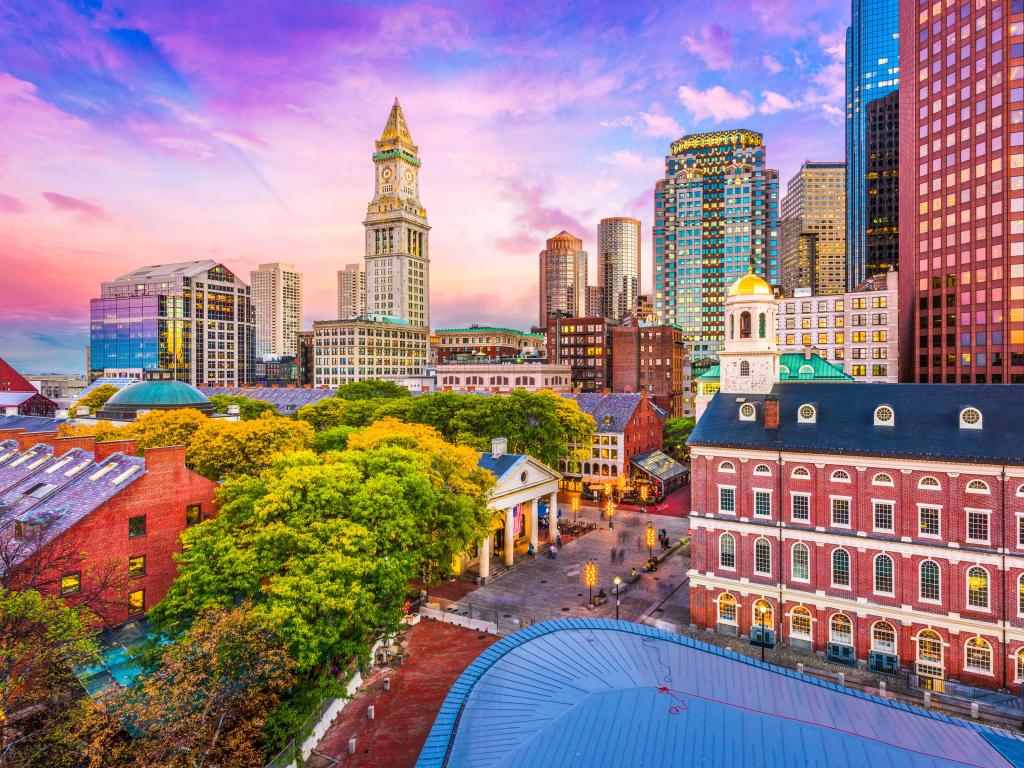 Because of its excellent location, you can visit some of the city's main attractions, such as the Institute of Contemporary Art and the New England Aquarium. You'll have the beautiful South Boston waterfront view from your room.
The hotel has an excellent health club equipped with cardio machines and offers group exercise lessons. For a relaxing swim, take a dip in their indoor pool. You can choose from an on-site café or Tamo Restaurant and Bar when hungry.
Things to see on a road trip from Ottawa to Boston
Both routes have such enthralling scenery and many different attractions that you'll be overwhelmed with choices.
To help you plan better, we have put together a list of our favorite things to do and places to visit on the way to Boston.
The Montreal Route
Big Apple – Located just off the highway in Colborne, Ontario, this iconic roadside attraction is hard to miss with its giant apple-shaped structure. Stop in for some fresh apple pie and other tasty treats.
Thousand Islands – Take a scenic boat tour of the beautiful Thousand Islands region, just off the Gananoque, Ontario highway. Explore the many islands and learn about the area's rich history and natural beauty.
Saint Joseph's Oratory – This impressive basilica in Montreal is one of Canada's largest churches and a popular tourist attraction. Climb to the top of the church for stunning views of the city.
Montreal Botanical Garden – A perfect destination for nature lovers and photographers, this expansive garden features over 22,000 plant species worldwide, a large greenhouse complex, and several themed gardens.
White Mountains – This beautiful mountain range in New Hampshire offers a variety of outdoor activities, including hiking, skiing, and scenic drives. Be sure to stop at the iconic Mount Washington Hotel for a meal or to stay the night.
Billings Farm and Museum – About an hour from Lake George, you'll find the Billings Farm and Museum. This working farm offers attractions suitable for adults and children alike. Some popular things to do include wagon rides, a gift shop, and barns full of farmyard animals.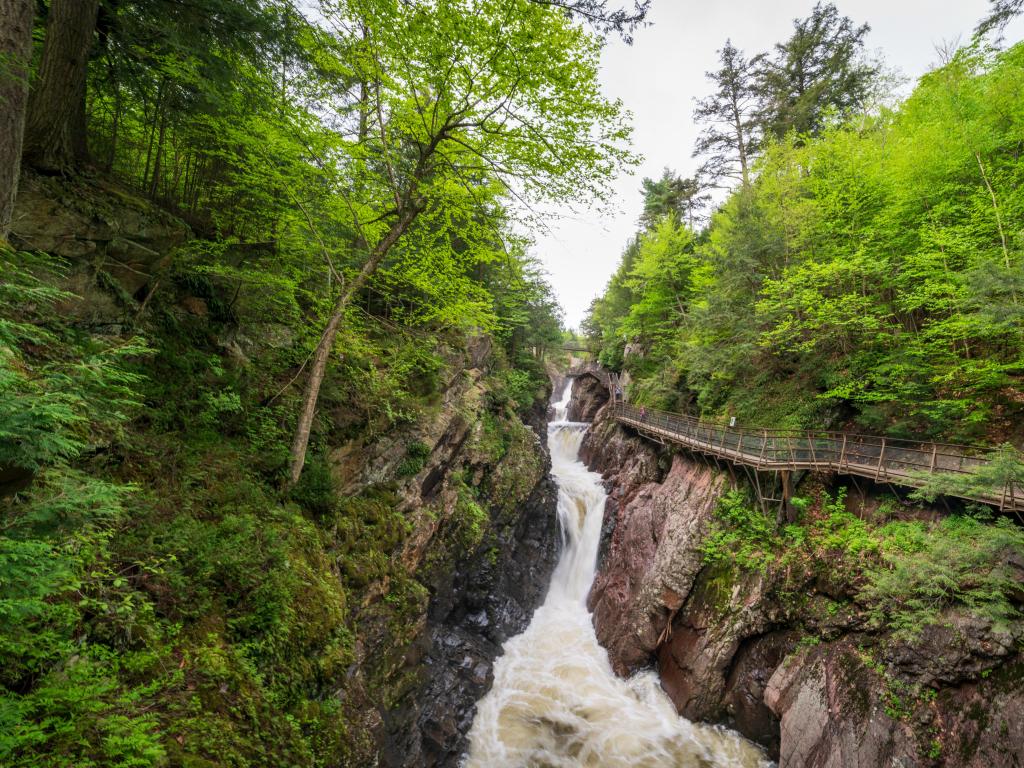 The Albany Route
Whiteface Mountain Veterans Memorial Highway – Enjoy a scenic drive up the fifth-highest peak in New York and soak in breathtaking views of the surrounding Adirondack Park.
High Falls Gorge – This picturesque natural attraction features stunning waterfalls, serene nature trails, and an informative visitor center.
Olympic Jumping Complex – Home to the 90 and 120-meter ski jumps used during the 1980 Winter Olympics, this complex now offers year-round tours and events.
Lake Placid Olympic Museum – Showcasing the history and memorabilia of the 1932 and 1980 Winter Olympics held in Lake Placid, this museum is a must-see for winter sports fanatics.
Adirondack Wildlife Refuge – Discover this sanctuary for injured or orphaned animals, where visitors can learn about the rehabilitation efforts and see up-close encounters with wolves, eagles, and more.
The Wild Center – This interactive museum and nature center focuses on the Adirondack region's ecology and features outdoor nature trails and a treetop walk.
The Wild Center's Wild Walk – Enjoy interactive exhibits and views of the Adirondack wilderness from this unique treetop walkway.
Ausable Chasm – This natural wonder featuring a deep, narrow, 2-mile-long gorge and cascading waterfalls is a must-visit site.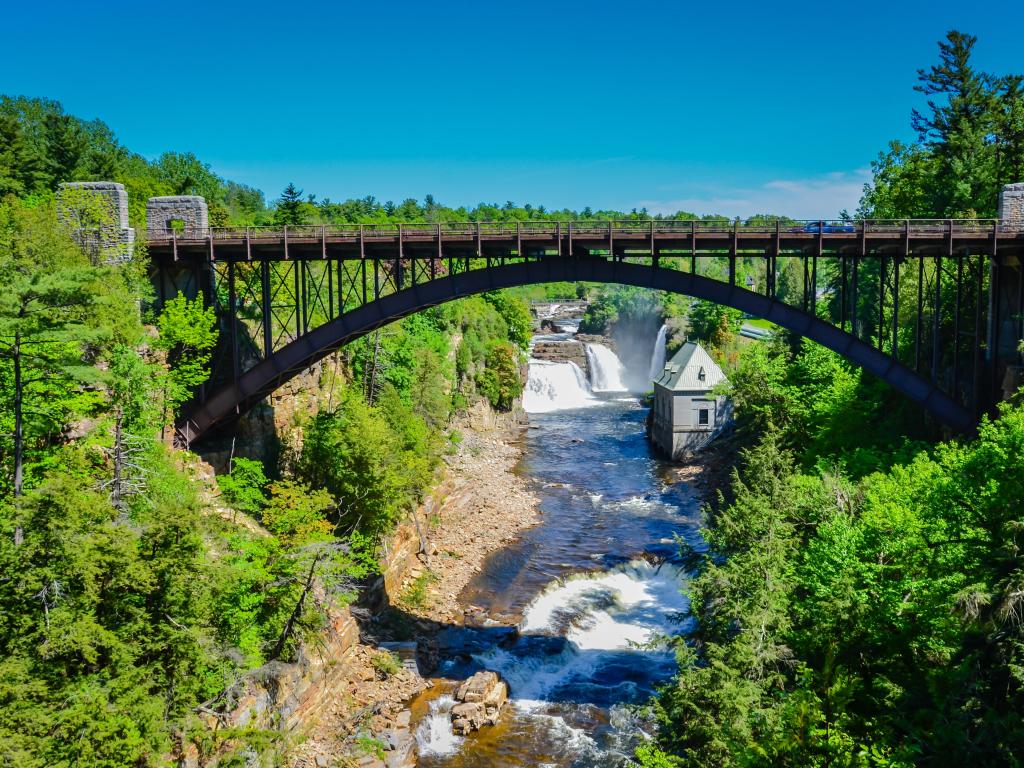 Best time to go on a road trip from Ottawa to Boston
There are enough things to do in Boston throughout the year. Boston is most walkable from summer through mid-fall, when you can explore the stunning outdoors. Spring sees many rainy days, and the winters are cold and wet, which presents an excellent opportunity to enjoy indoor attractions.
The temperature during summer ranges from 65 to 82 degrees Fahrenheit; the climate is best described as warm and humid. You can expect rain and dramatic thunderstorms too. Easily one of the busiest seasons, you'll find people crowding the cruises and strolling Public Gardens.
Being a northern city, Boston sees long and snowy winters. The average temperature is 45 degrees Fahrenheit, but it can occasionally drop as low as 15 degrees Fahrenheit too. Boston Common Frog Pond during winter presents a wonderful opportunity to take up ice skating. And because of the cold weather, you'll find fewer tourists and cheaper accommodations.
Spring is almost non-existent in Boston, with winter hijacking most spring months of March, April, and May. Late spring is better, and the temperature averages between 55 and 65 degrees Fahrenheit.
If you want to experience the beautiful fall in Boston, try to catch it in early September when the temperature is around 77 degrees.
Boston hosts many festivals and events all year long. During spring, you can catch Artweek and St. Patrick's Day. If you visit during summer, try participating in the Boston Pride Festival and Harborfest.
Should you visit in the fall season, you'll love the CiderFest and the Ghost Tours. You can revel in the Christmas spirit at Boston's famed Christmas Market and indulge in food and drinks at the Sowa Winter Festival.