Road Trip from Ottawa to Maine
This wonderful road trip takes you from Canada's exciting capital, Ottawa, on an epic journey through impressive sights and cities, and scenic stop-offs, before arriving in Maine at American coastal hot spots Portland or Bar Harbor.
The 630 km journey from Ottawa to Maine takes just over 7 hours, where you can enjoy visits to Casselman, Montreal, Saint-Jean-sur-Richelieu, Nash Stream Forest, Umbagog National Wildlife Refuge, Québec City, Trois-Rivières and Acadia National Park.
Whichever route you choose to take, and with a choice of pretty coastal towns to arrive in too, you can be sure that the journey is packed with historical, cultural and picturesque landmarks. Keep reading to see the top places to visit, stay and explore along the way.
How far is Maine from Ottawa, and how long will the road trip take?
Comparison of road trip routes between Ottawa and Maine

| Route | Distance | Driving Time |
| --- | --- | --- |
| Portland Route[td-via Montreal] | 630 kilometers | 7 hours 40 minutes |
| Bar Harbor Route[td-via Québec] | 890 kilometers | 10 hours 10 minutes |
There are two great routes for this road trip from Ottawa to Maine, where you can choose to arrive in the pretty coastal towns of Portland or Bar Harbor.
The interesting and scenic Portland Route via Montreal takes just over 7 hours and 40 minutes and covers 630 kilometers.
Take the alternative Bar Harbor Route via Québec, and you will see key landmarks and popular cities, with this longer journey traveling 890 kilometers and taking 10 hours to complete directly.
Whilst you might have chosen to complete these road trips in a day given their short distance, we suggest spending 2-3 days traveling along the route to really make the most of the sights along the way.
Best road trip route from Ottawa to Maine
This journey may be short, but it is incredibly sweet, starting at the impressive Canadian capital Ottawa, before arriving in the coastal American state of Maine, passing first-class city sights and beautiful scenery along the way.
The Portland Route via Montreal takes an interesting and scenic route, traveling through some of the prettiest sights and cities in Canada before hopping across into America and arriving in the coastal town of Portland.
Take the slightly longer Bar Harbor Route via Québec, and you'll enjoy an exciting road trip passing key landmarks and popular cities, balancing history and nature.
Portland Route (via Montreal)
Starting at Ottawa take Highway-417 east, enjoy the pretty High Falls Conservation Area in Casselman, before stopping off for a night or two in the lively and historical city of Montreal.
From Montreal head along Highway-10, stopping off to explore forts in Saint-Jean-sur-Richelieu, before crossing the border into America, and picking up Highway-3 then Highway 26 to continue your journey.
From here you can visit the forests at Nash Stream Forest Natural Area, before wildlife spotting at Umbagog National Wildlife Refuge and Mahoosuc Public Reserved Land.
Before arriving in Portland take a break at The Sabbathday Lake Shaker Museum in New Gloucester to experience the only Shaker Community functioning in the world. A unique site and a must-see.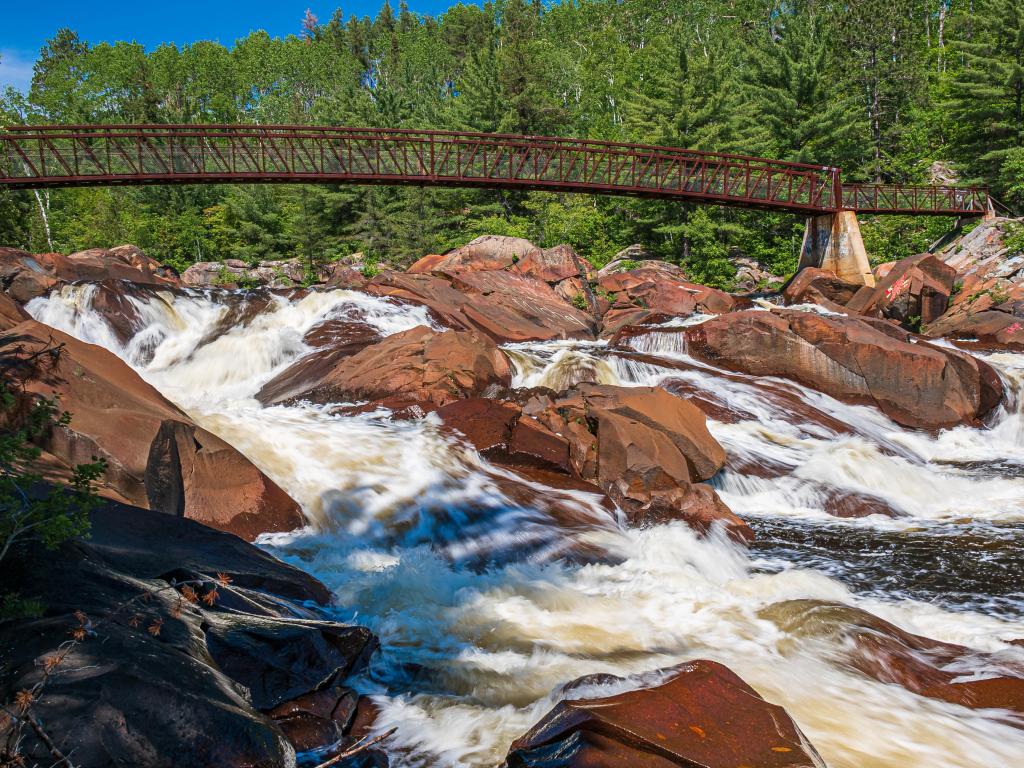 Bar Harbor Route (via Québec)
If you are heading along the Bar Harbor Route, then travel the A-50 where you can enjoy Montebello City Park before Laval.
Heading north on Highway-40 to Québec City, you can first visit historic Trois-Rivières before arriving at more interesting landmarks in Québec City such as La Citadelle de Québec and Montmorency Falls.
After a night in Québec City stop at Fairmont Le Château Frontenac in Levis, before traveling along Highway-73 and passing into America.
From here, travel along Highway-201 where you can explore Carrabassett Valley, ideal for ski fans, before continuing south to hiker's paradise Acadia National Park. Incredible trails await you before arriving in Bar Harbor.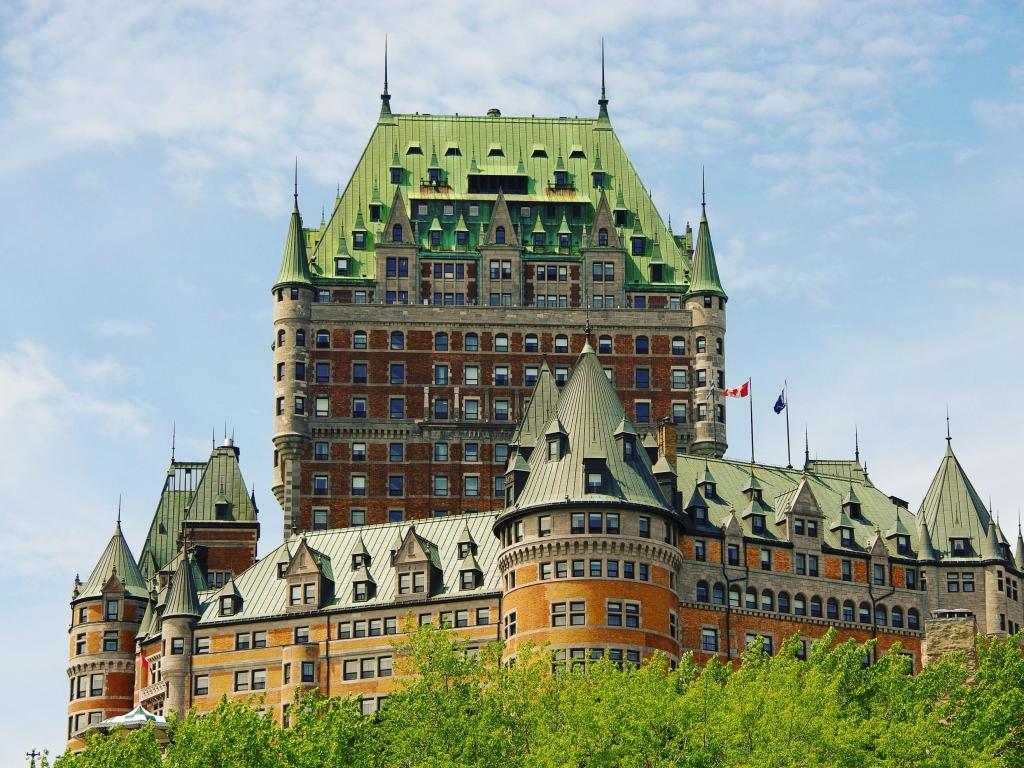 Best places to stop between Ottawa and Maine
The journey from Ottawa to Maine has a great balance of interesting city and historical landmarks, and pretty lush reserves and national parks. Continue reading to see our recommendations of where to stop along the way.
Enjoy old-town charm in Montreal
If traveling the Portland Route which passes Montreal, then what better place to stopover than in this buzzing city mid-route? The second-largest city in Canada is renowned for its history, culture, diversity and great hospitality.
Make a beeline for Old Montreal, which is a beautiful part of the city. Head up the Old Port Clock Tower, where you can get wonderful panoramic views of the city and across the Saint-Lawrence River.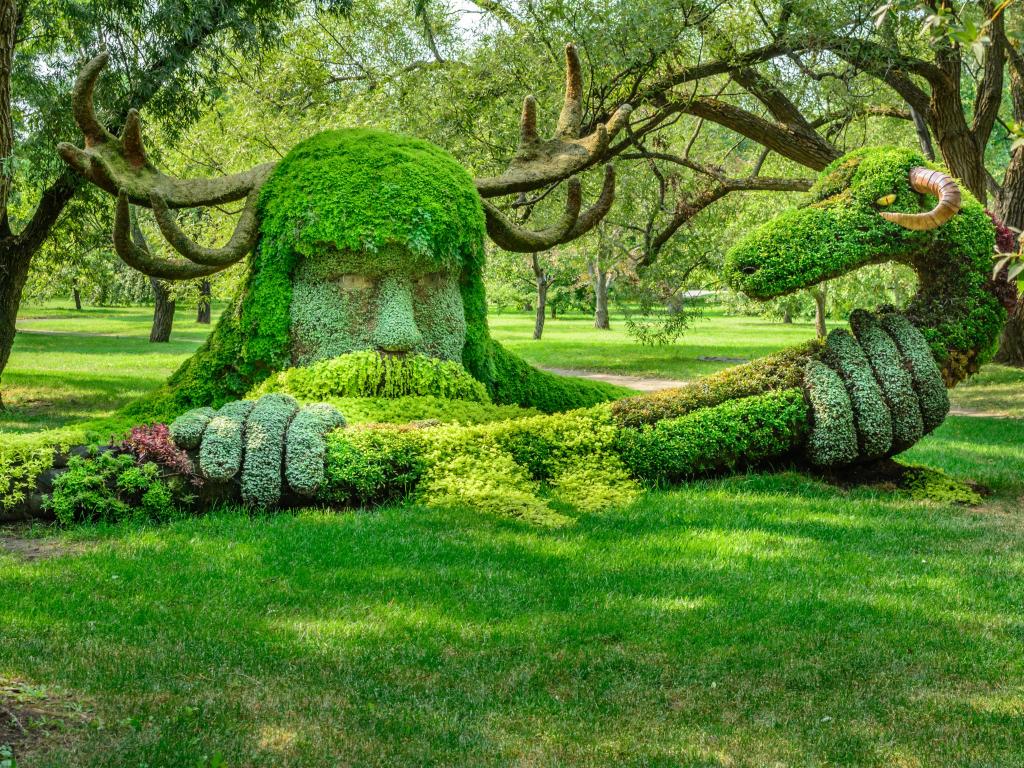 The Notre-Dame Basilica is also an interesting landmark. This neogothic church has incredible architecture, with a unique AURA Experience, which includes a visual and musical delight to enjoy in the depths of the Basilica's nave.
Above ground, the Montreal Botanical Garden, spread over 75 hectares, and housing 22,000 plants, is must-see. Enjoy the incredible displays of orchids and cacti which are very impressive.
After all that exploring then Mile End is bound to satisfy your hunger with restaurants and bars aplenty. A great spot to enjoy entertainment, taking in a show at the Rialto Theatre before dinner along Park Avenue.
For a luxurious stay in the heart of downtown Montreal, then the Hôtel Birks Montréal ticks all the boxes, where you can enjoy a room with a view, with many luxury bedrooms enjoying private terraces overlooking the city.
Need some rest and relaxation after a busy day? At Spa Valmont take an indulgent facial and massage. Afterwards make sure to enjoy a delicious dinner in the Restaurant Henri Brasserie Française.
Within walking distance to many of the top attractions such as Phillips Square, Montreal Museum of Fine Arts and Montreal Science Centre, you can use the convenient valet parking on site and stroll to the exciting sights close by.
A mix of historic and scenic sights in Québec City
Around halfway along the Bar Harbor Route, you'll pass Québec City, which is one of the most visited places in Canada, packed with historical sites for investigating along with a contemporary balance of culture and art.
The lovely old city, Old Québec, is quaint and traditional and perfect for a wander. Enjoy some lunch in one of the pretty French-inspired restaurants.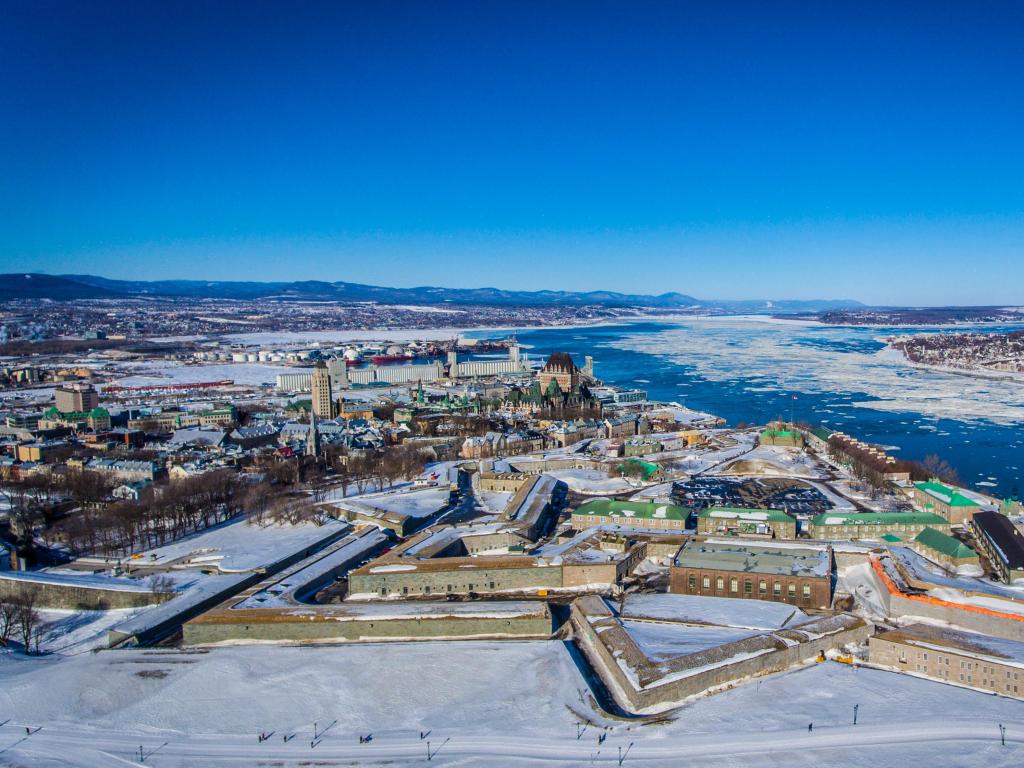 La Citadelle de Québec is an interesting star-shaped fortress, and open to tours so make sure to pre-book and enjoy the military history and exhibitions housed in this active base.
If you are looking for a hike across stunning trails, lush woodlands and impressive waterfalls then look no further than Parc de la Chute-Montmorency. Make sure to jump on the cable car to get panoramic views.
We recommend booking a room at the Impressive 5-star accommodation at Fairmont Le Chateau Frontenac, set in the center of Old Québec.
This historic hotel boasts elegant décor and is a relaxing haven to head back to after a busy day exploring. Make sure to take advantage of the on-site indoor pool, a hot tub and steam rooms, and Spa du Château – absolute bliss.
You will be spoilt for choice with three restaurants on-site, serving an enviable selection of American, French and International cuisine. Each morning you can also enjoy breakfast or brunch in the renowned Place Dufferin restaurant.
Where to stay when you reach Portland, Maine
Once you arrive in Portland, Maine, we highly recommend staying at the Portland Harbor Hotel. Located close to the pretty Portland Waterfront, there are other top attractions on the property's doorstep such as Wadsworth Longfellow House, Compass Park and Portland Observatory.
This luxurious hotel, with lovely lounges and bedrooms to relax in, has a delightful courtyard, where you can enjoy a specialty coffee from the on-site coffee house.
Make sure to visit the BlueFin North Atlantic Seafood Restaurant here to feast on renowned American and seafood specialties.
Where to stay when you reach Bar Harbor, Maine
The charming coastal town of Bar Harbor is a perfect place to stop off at the end of your journey for some rest in beautiful surroundings. We suggest spending a night or two at the Bluenose Inn to explore this area.
Based only a short 10-minute drive from the must-see Acadia National Park, it is also well placed to see other popular sights including Newlin Gardens, Beatrix Farrand Gardens and The Abbe Museum.
Enjoy breathtaking views across Frenchman Bay, and if you request a room in the Mizzentop building you can enjoy those from a private balcony too.
Make sure to head to The Looking Glass specializing in American and seafood delicacies, with a delicious seasonal menu. Then sit back and relax overlooking the gorgeous waters from the outdoor terrace or swimming pool.
Things to see on a road trip from Ottawa to Maine
There are plenty of top sights to enjoy when traveling from Ottawa to Maine, from old city towns and landmarks, to parklands and waterways. Below you will find some of the best things to see and do along this journey.
Portland Route (via Montreal)
High Falls Conservation Area - Arrive in Casselman, and this pretty park set over 5.5. acres is ideal for a spot of fishing or day on the water.
Notre-Dame Basilica - Impressive neogothic church in Montreal, this is definitely worth a visit. Make sure to head to the AURA Experience, which is a music and light show within the Basilica's nave.
Montreal - Head up the Old Port Clock Tower, where you can get wonderful panoramic views across the river.
Saint-Jean-sur-Richelieu - Historic town dating back to 1665, there are many sights to explore such as Chambly Canal National Historic Site to marvel at the forts. The popular International Hot Air Balloon Festival each August is also renowned.
Nash Stream Forest Natural Area - This large nature park is teeming with trails to enjoy all year round, and perfect for hiking and cycling.
Umbagog National Wildlife Refuge - A great spot for wildlife spotting, with waterfowl, moose, reptiles seen regularly during impressive trail walks, or take to the water by kayak.
Mahoosuc Public Reserved Land - Many trails across lush woodlands for all walkers. The Puzzle Mountain Trail is a popular route, with a great hiking path covering 11km, and impressive views over Bear Valley.
The Sabbathday Lake Shaker Museum - Arrive in New Gloucester and you get to experience the only Shaker Community functioning in the world. This interesting site has plenty of exhibit rooms to wander round detailing Shaker history.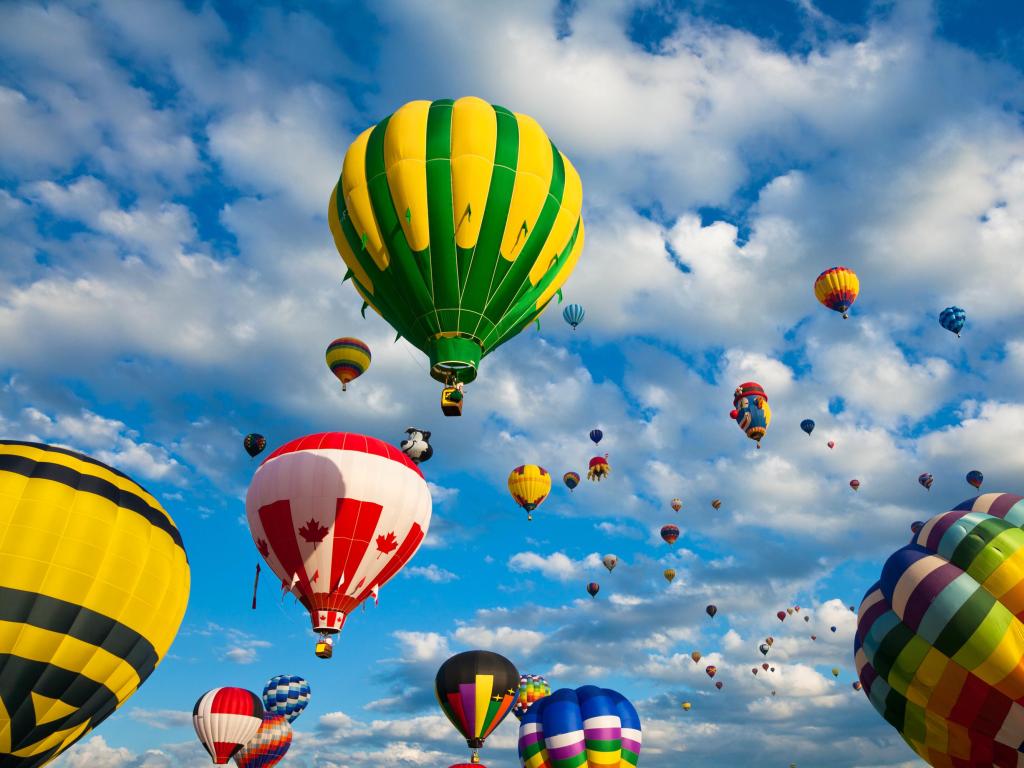 Bar Harbor Route (via Québec)
Montebello City Park - Enjoy the pretty park for a leg stretch and lunch. The outdoor pool in the summer days, or amphitheater for entertaining evenings, make this a popular stop-off.
Laval - The waterfront is particularly nice to walk along before arriving in the Saint-Vincent-de-Paul area packed with interesting sights such as the Cosmodome space museum.
Trois-Rivières - A visit here should include a tour of Our Lady of the Cape Shrine. The incredible frontage and interior are architecturally interesting. Then stroll along the St- Laurent River running alongside.
Québec City - There is plenty to see in Québec City, including La Citadelle de Québec, an unusual star-shaped fortress and perfect stop-off for military fans, packed with history and interactive exhibits.
Fairmont Le Château Frontenac - Set in Levis, this impressive hotel at Upper Town was built in 1893. You can enjoy a memorable stay here or just enjoy the renowned architecture during a stroll around the site.
Montmorency Falls - An impressive waterfall display, make your way along the bridge along the top of the falls to get incredible views.
Carrabassett Valley - Ideal for ski fans in the colder months, the resort of Sugarloaf is a popular destination for those stopping for snow fun.
Acadia National Park - A hiker's paradise, known as the 'Crown Jewel of the North Atlantic Coast'. Make sure to book early to get onto a sunrise reservation, where you can enjoy incredible hikes with an unbelievable backdrop. A number of the trails include ladders and rungs which can make them even more exhilarating! Note: if you are visiting Acadia National Park and plan to drive on the Cadillac Summit Road, keep in mind that vehicle reservations might be required. Please check the national park's website to avoid any disappointment.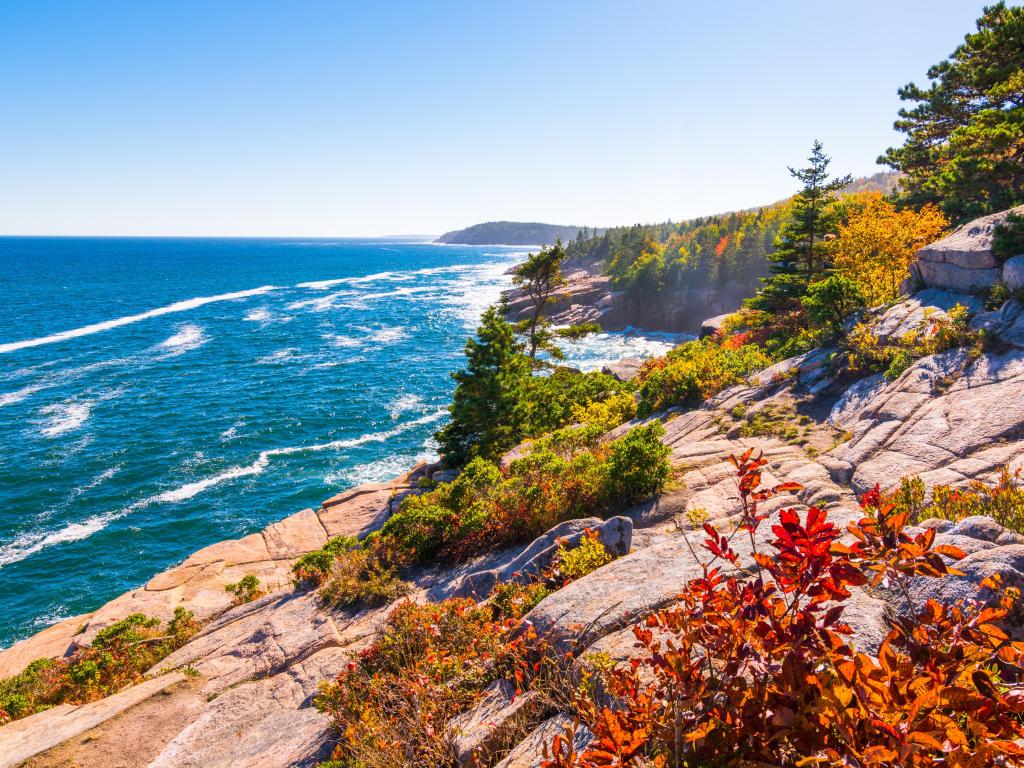 Best time to go on a road trip from Ottawa to Maine
You'll get the most from a visit to Maine when the weather is good and you can enjoy outdoor recreation and sightseeing more easily.
In the summer months, you can enjoy lots of sunshine and good temperatures ranging from 75–80 degrees Fahrenheit, so the weather is not too oppressively hot, and activities including hiking and sunbathing are enjoyable.
Winter is very cold and snowy and across Maine, many attractions are shut. The average snowfall can be between 50-70 inches, and that's along the coast, so even seasoned visitors and residents make sure to stay in.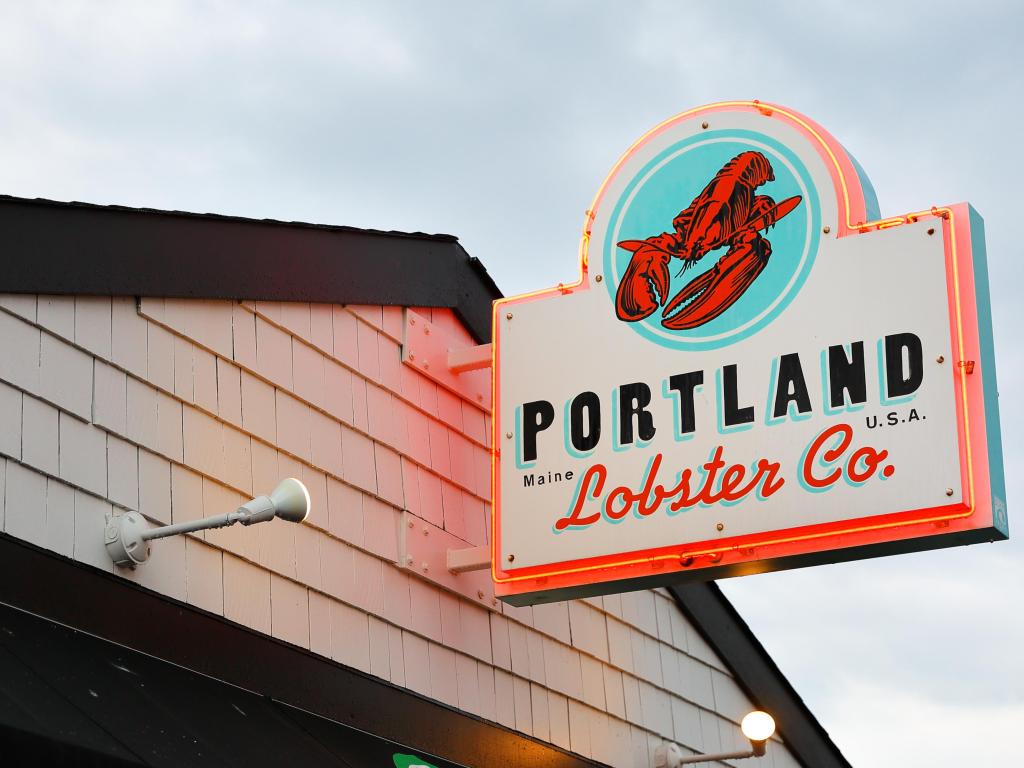 If winter is on your agenda, and it is indeed a pretty time to visit, then very warm clothing is a must to cope with temperatures of 35 degrees Fahrenheit. January is particularly cold, and the daylight hours are short.
Spring and fall are both great times to visit, with lower visitor numbers and pretty landscapes. Fall in particular is a beautiful time to go. In September the average temperature is 70 degrees Fahrenheit, with tourist numbers lower and accommodation options plentiful.
Across Maine, there are plenty of events happening each year, particularly over summer and autumn when the weather is warmer.
In Portland make sure to head to the Portland Chamber Music Festival if you arrive in August, with a range of music styles to enjoy across these live performances. Art in the Park in August is also a popular cultural must-see.
For any wine buff, the Portland Wine Week in June celebrates local producers, where you can pair food and wine. Or enjoy the Harvest on the Harbor in October showcasing local food, wine and beer. Some delicious events indeed.
In Bar Harbor, the Independence Day Parade in July is a popular event to head to, with a parade through downtown Bar Harbor to mark the celebration. July also marks the annual Music Festival, showcasing live local talent.