Road Trip from Phoenix to Austin
Looking to shake off the cobwebs? It's time to head out on a sun-filled adventure through the American desert! You'll drive through endless wilderness, national parks, and desert landscapes on your way from Phoenix to Austin via the inspiring scenery of Arizona, New Mexico and Texas.
The 1,110-mile road trip from Phoenix to Austin Texas will take 16 hours and 20 minutes to drive. On the way, you can visit Tucson, the Sonoran Desert, El Paso, Marfa, San Antonio, Albuquerque, Sandia Mountains, Roswell, Lubbock, Waco, and Dallas.
Pack your sunscreen and get in the mood for non-stop fun as you hit the road from Phoenix to Austin. Read on below to learn more about the best routes, where to stay along the way, top destinations, and the best seasons to visit.
How far is Austin, Texas from Phoenix, and how long will the road trip take?
Comparison of road trip routes between Phoenix and Austin, Texas

| Route | Distance | Driving Time |
| --- | --- | --- |
| The Southern Route | 1,110 miles | 16 hours 20 minutes |
| The Northern Route | 1,330 miles | 20 hours |
There are two wonderful and sun-filled routes that will take you from Phoenix, AZ to Austin, TX. The first route is the Southern Route, which takes approximately 16 hours and 20 minutes, covering around 1,110 miles.
The alternative Northern Route is slightly longer at 1,330 miles and takes around 20 hours of driving time before reaching Phoenix.
Even though you can complete these trips in a couple of days, there's so much to see and explore along the way that we recommend taking at least 5-6 days.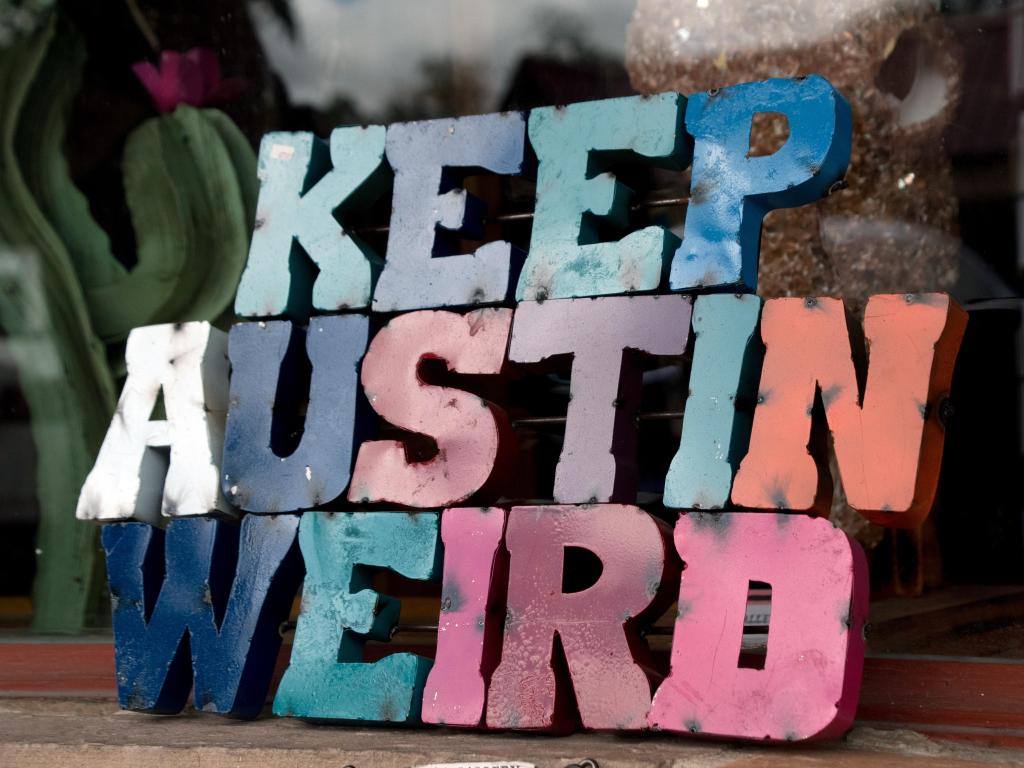 Best road trip route from Phoenix to Austin
While both routes are full of natural wonders and captivating sights, the scenery and experiences will be different. Which route you choose will depend on what you want to see and do along the way.
The shorter and more direct Southern Route brings you through the desert landscapes towards Tucson. You'll travel through the beautiful Sonoran Desert and see the famous Saguaro Cacti covering the landscape.
As you continue southeast through El Paso towards Marfa, the terrain gradually transitions from the desert to the vast plains of Texas.
You'll see spectacular sunsets, star-filled nights, and wide-open Texas skies on your drive. On your way from Marfa to San Antonio and finally, to Austin, you'll be immersed in the heart of Texas Hill Country with its rolling landscapes, vibrant wildflowers, and tranquil rivers.
If you want a more mountainous and unique route, consider taking the slightly longer Northern Route. Beginning in Phoenix and moving northeast into Albuquerque, you'll pass vibrant, multicolored desserts that feature mesas, arroyos, and the stunning backdrop of the Sandia Mountains.
Traveling eastwards through Roswell, you'll get to stop at the perfect detour for UFO enthusiasts. A little further is Lubbock, which is the agricultural heartland of Texas.
As you make your way from Lubbock to Dallas and end in Austin, the terrain changes from the flat plains of the Texas Panhandle into the rolling hills and lush forests of the Dallas region.
How to drive from Phoenix to Austin
The map above shows our suggestions for the best road trip routes between Phoenix and Austin, Texas. Keep reading for detailed descriptions of both routes, where to stay on either, and the best things to do on the way.
The Southern Route
Start your drive in Phoenix, Arizona. Head southeast on Interstate 10 (I-10) towards Tucson. As you pass the Sonoran Desert, be sure to make a stop at Saguaro National Park.
Continuing east on I-10, you'll soon cross the state line into New Mexico and find yourself in Las Cruces and see the breathtaking landscapes of White Sands National Park.
Keep heading east on the interstate towards El Paso, Texas. Here, make sure to visit the Franklin Mountains State Park and El Paso Museum of Art.
Soon, you'll reach Marfa, a fun town renowned for its famous art scene. In Marfa, you can enjoy the minimalist art installations at The Chinati Foundation and the enigmatic Prada Marfa.
Continue eastward, and soon you can take a detour south to Big Bend National Park, one of the most remote and spectacular corners of the US. From here, continue eastward to Fort Stockton.
After that, head east on I-10 once again towards the city of San Antonio and visit the iconic Alamo. Head northeast on Interstate 35 to your destination, Austin.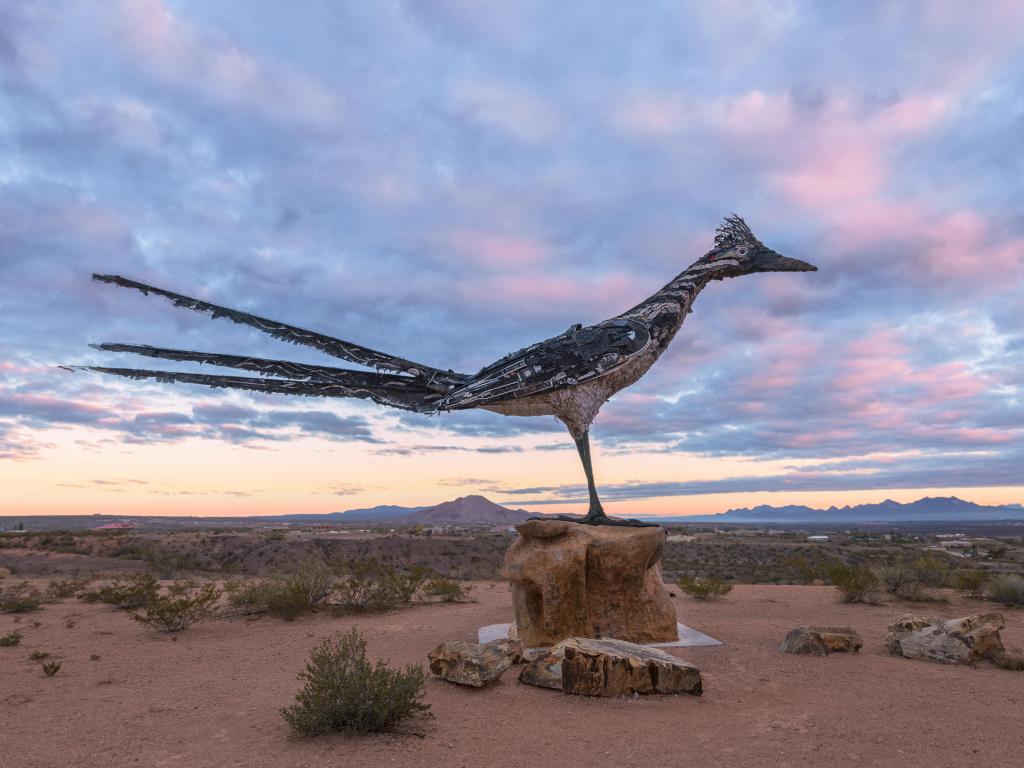 The Northern Route
Start your journey in Phoenix and head northeast on I-17. You'll cross the stunning Tonto National Forest and Sitgreaves National Forest.
Next, you'll arrive at Petrified Forest National Park, famous for its fossilized trees. After visiting, continue northeast towards Albuquerque.
Continue east on US-285 towards Roswell. Keep driving east on US-80 through the desert plains of New Mexico and into Texas, where you'll arrive in Lubbock.
Soon, you will drive through Abilene. Then, follow the interstate eastwards until you reach Fort Worth. Moving on, head east on I-30 to Dallas. Continue on your journey south towards Waco.
From here, head south on I-35 through Georgetown and into the music capital of Austin.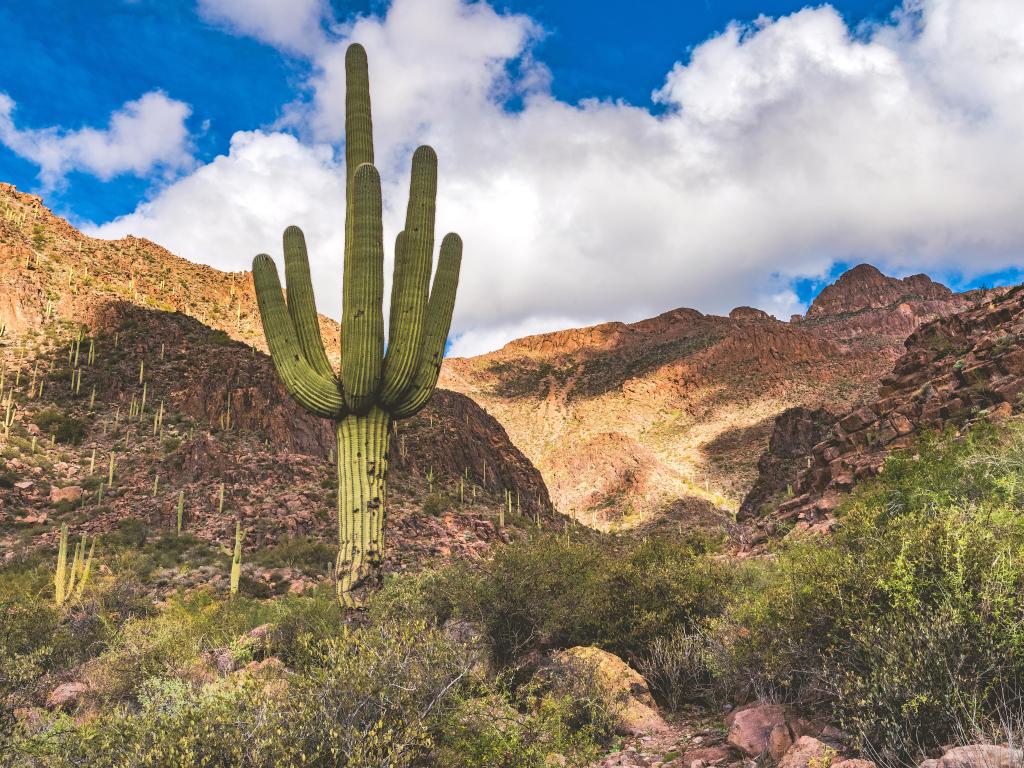 Best places to stop between Phoenix and Austin, Texas
No matter which route you choose, you'll want to rest and check out one of the amazing stops along the way. Below are our top destinations to spend the night and explore.
An artsy stay in Marfa
Marfa is the perfect oasis for your overnight stop on the Southern Route. Located roughly 9 hours and 20 minutes into your journey, it has one of the most unique art scenes in America.
Visitors love Marfa for its exciting arts scene and sun-kissed streets. It's also famous for the Marfa Lights phenomenon at the Marfa Mystery Lights Viewing Center.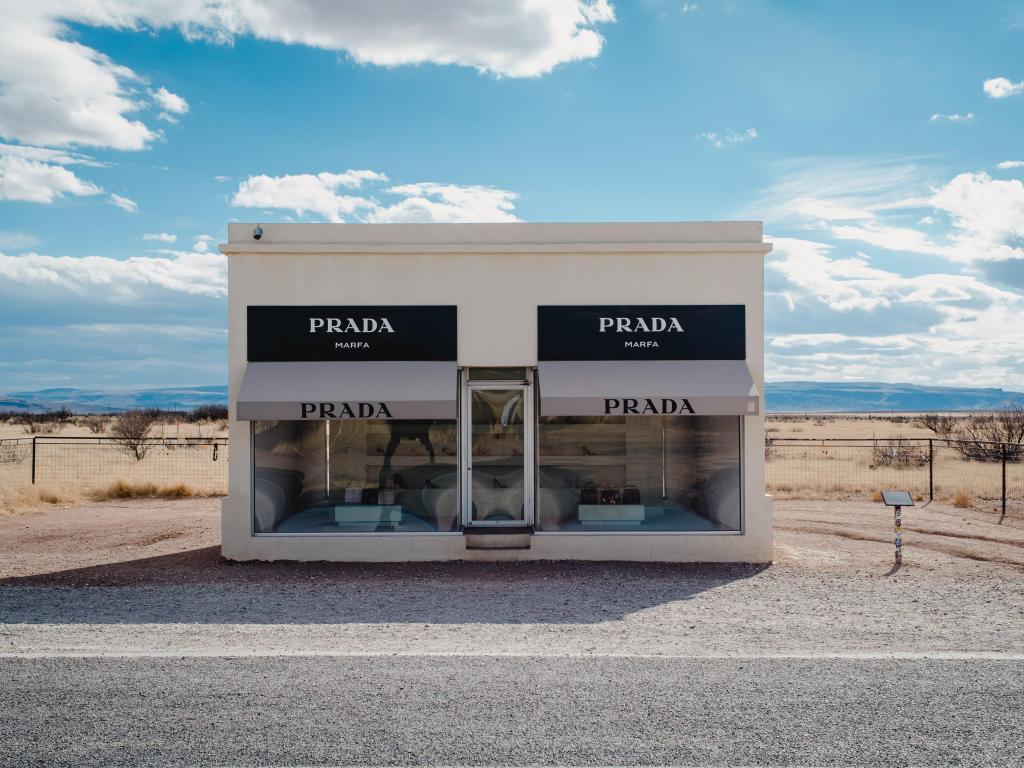 Marfa is also an excellent base for exploring Big Bend National Park, one of the largest, most remote, and least-visited national parks in the USA. Its barren desert landscapes, craggy mountains, and winding rivers will give you endless opportunities for outdoor adventures.
When you get to Marfa, we recommend staying at the cozy and highly-rated El Cosmico. This bohemian campground on the edge of town will bring a fun and quirky twist to your trip.
Just a 10-minute walk from the heart of town, El Cosmico has a variety of eccentric accommodation options, breathtaking stargazing, BBQ facilities, and fully equipped kitchens in some accommodations.
During your stay, you'll want to visit The Chinati Foundation, a contemporary art museum located just a short distance from El Cosmico. Founded by artist Donald Judd, the museum is on 340 acres and features large-scale installations by local artists.
Learn about Route 66 in Albuquerque
Albuquerque is a historic city that was once a central stop along the famous Route 66. Just like many travelers before, you too can experience its historic all-American charm just 6 hours and 20 minutes into the Northern Route.
Known for its flavorful cuisine, rugged scenery, rich history, and wild-west activities, Albuquerque will give you an eclectic mix of experiences. Also, the city is famous for being the hot air ballooning capital of the world and holds the Albuquerque International Balloon Fiesta.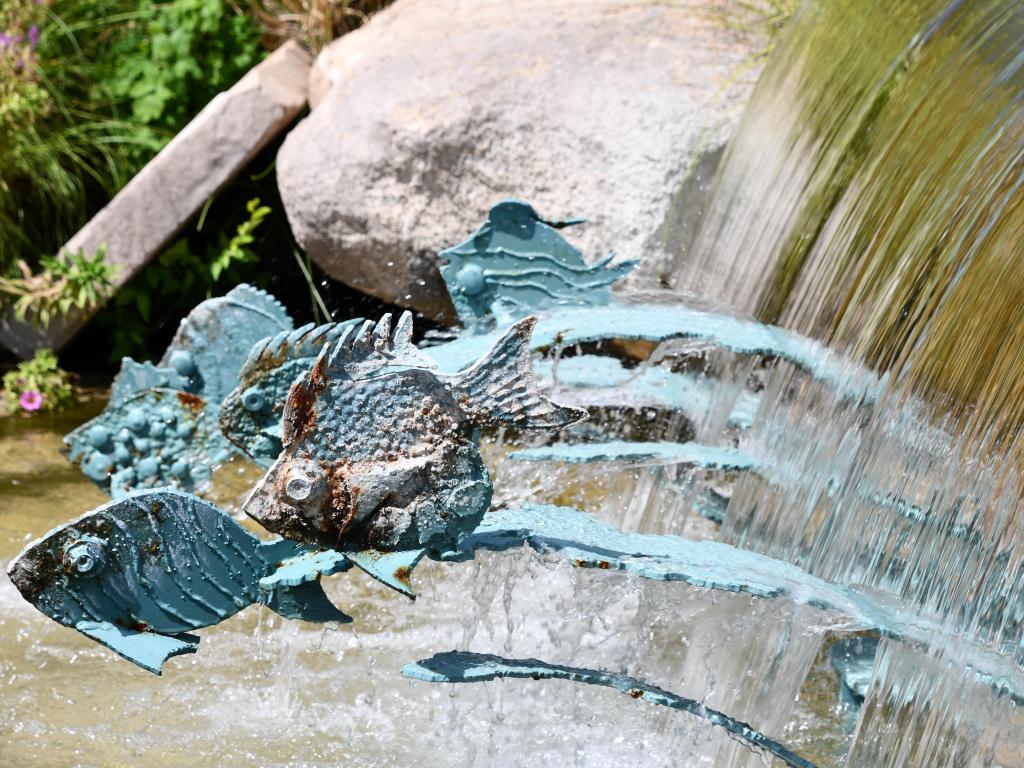 If you love the outdoors, a hike (or a quicker cable car ride) to the top of Sandia Peak is a must. From there, you can enjoy breathtaking panoramic views of the Rio Grande Valley.
When you get to Albuquerque, we recommend staying at the cozy and convenient Casas de Suenos Old Town Historic Inn, Ascend Hotel Collection. This charming bed-and-breakfast is situated just a 5-minute walk from Old Town Albuquerque.
It combines a down-to-earth vibe with all the comforts of home. You'll love the beautiful furniture, friendly staff, and free Wi-Fi. Some rooms even have a kitchen and dining room.
In the morning, you'll be treated to a hot, cooked-to-order breakfast featuring local favorites like green chile burritos alongside classic breakfast items.
Just a short walking distance from the hotel is the ABQ BioPark Aquarium, the Albuquerque Museum, and the Botanic Gardens & Zoo.
Where to stay when you reach Austin
Austin, Texas is an exciting city that beats to its own drum. Known as the 'City of the Violet Crown' because of the twilight hues that grace its skyline, Austin is rich in music, art, food, and beauty.
When you reach Austin, visit the Bob Bullock Museum. This historical museum will give you a look into the state's rich history. At night, head to the many bars, concert venues, and top-rated restaurants to get a sense of what Austin's famous nightlife is all about.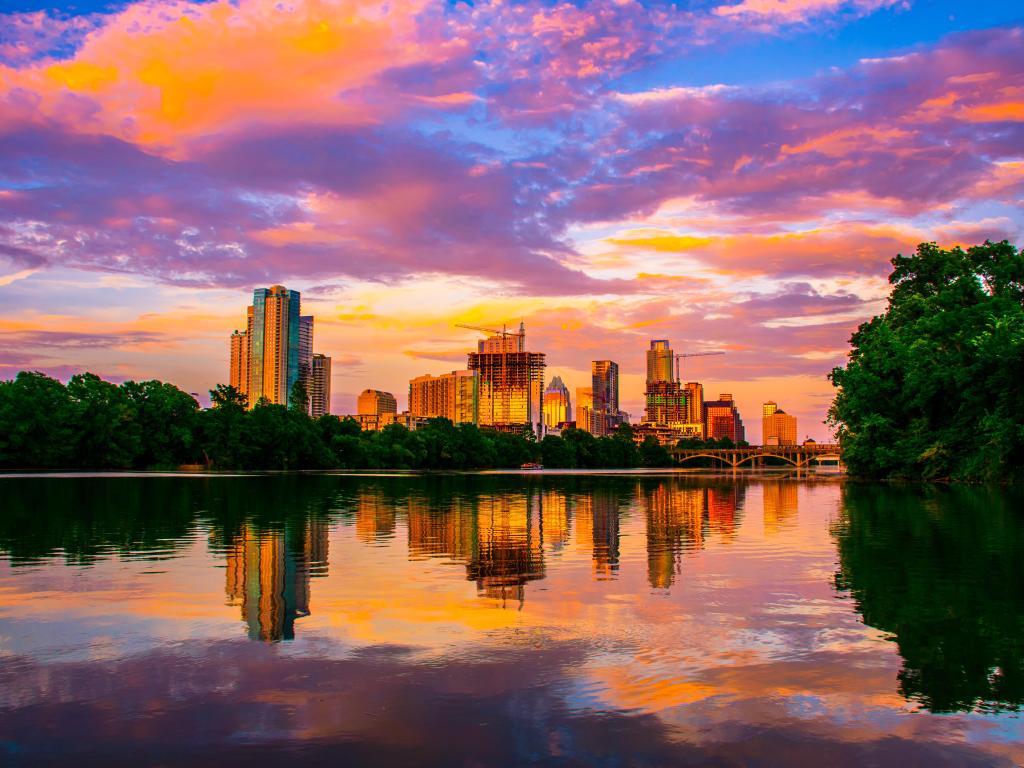 The next day, consider spending half a day kayaking on Lady Bird Lake. This serene lake nestled in the city's heart is the perfect activity for nature lovers.
When in Austin, we recommend staying the night at the luxurious and highly rated Austin Proper Hotel, a Member of Design Hotels. This hotel stands out for its sophistication, luxury, and prime location within a 5-minute walk to Shoal Beach on the Colorado River.
Each room features Aesop-branded amenities, free Wi-Fi, pool, spa, and comfortable furniture. The Austin Proper Hotel is also a leader in sustainable hospitality, making it an excellent choice for the conscious traveler.
Another extra perk are the free bikes for guests to use. You'll be able to ride to the city's most famous sights, including its unparalleled live music venues and parks.
Things to see on a road trip from Phoenix to Austin
With so many sights, landmarks, and enchanting landscapes to visit, you'll have plenty to see and do along the way. To help you plan this road trip of a lifetime, we've included our favorite stops along the way from Phoenix to Austin.
Southern Route
Saguaro National Park - This stunning park in Arizona features awe-inspiring sunsets, giant saguaro cacti, and plenty of desert wildlife.
Pima Air & Space Museum - Home to over 350 historical aircrafts, this museum in Tucson gives you an insight into aviation history and a chance to see some of the world's most famous planes.
Deming Luna Mimbres Museum - Housed in a historic armory, this museum offers a deep dive into the local history, culture, and art of Deming and the Mimbres Valley in New Mexico.
Recycled Roadrunner Sculpture - This quirky roadside attraction in Las Cruces is an enormous sculpture of a roadrunner made entirely from recycled materials.
White Sands National Park - This surreal park boasts the world's largest gypsum dune field, where you can sled, hike, or simply enjoy the white landscapes.
Franklin Mountains State Park - As the largest urban park in the nation, this El Paso gem offers outdoor activities like hiking, rock climbing, and bird watching with panoramic city views.
El Paso Museum of Art - This museum hosts an impressive collection of European, Mexican, and American art.
The Chinati Foundation - Located in Marfa, Texas, this contemporary art museum is known for its large-scale installations and working in harmony with the surrounding landscape.
Prada Marfa - An art installation on a lonely stretch of highway near Marfa, Texas, this faux Prada storefront has become an iconic roadside attraction.
Big Bend National Park - A worthy detour, this park in West Texas offers a diverse landscape of desert, mountains, and river canyons, providing endless outdoor adventure and wildlife spotting opportunities.
Caverns of Sonora - Known for its stunning array of calcite crystal formations, you can take a guided tour through this beautiful and intricate cave system.
Stonehenge II at the Hill Country Arts Foundation - An art installation in Ingram, Texas, this replica of the original Stonehenge structure in England is worth a visit.
Cibolo Nature Center - This nature center in Boerne, Texas, features hiking trails that traverse through diverse ecosystems, from riparian forest to marshland, and is a haven for local wildlife.
The Alamo - A symbol of Texas independence, this historic mission in San Antonio offers visitors a glimpse into one of the most famous battles in American history.
New Braunfels Railroad Museum - This museum in New Braunfels, Texas, is perfect for rail enthusiasts with its collection of vintage train cars, exhibits, and model train displays.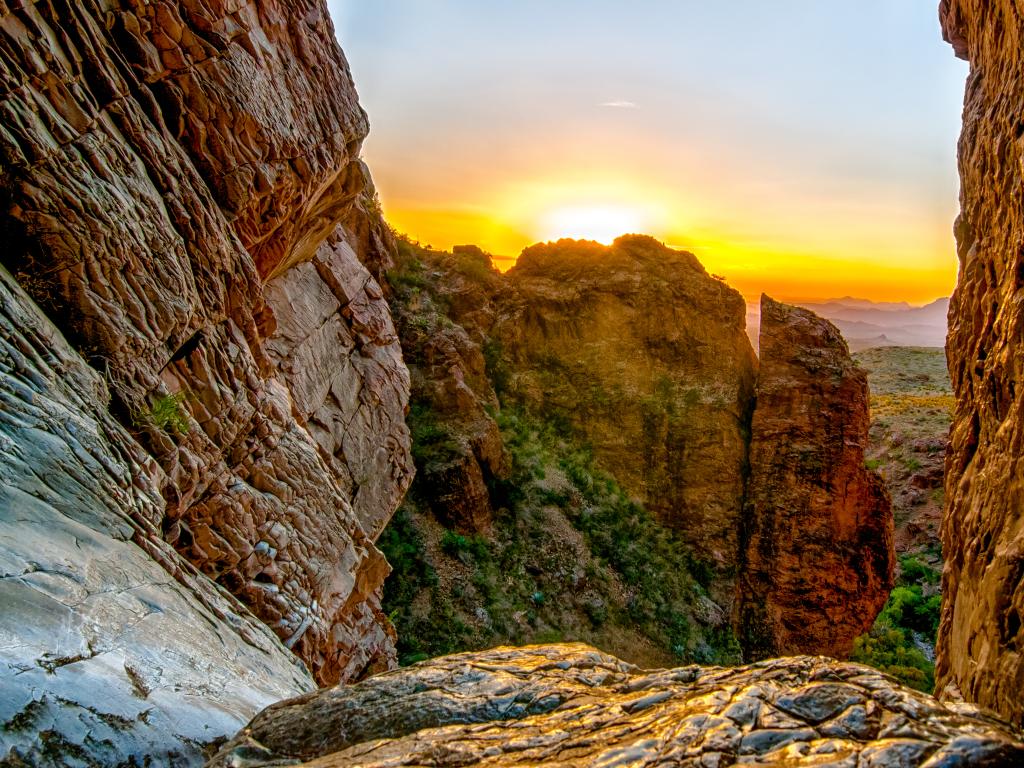 Northern Route
Tonto National Forest - This national forest in Arizona has stunning vistas, recreational activities, and diverse wildlife, from black bears to bighorn sheep.
Sitgreaves National Forest - Found in northeastern Arizona, this lush oasis offers excellent hiking, camping, and fishing amid diverse landscapes, from alpine meadows to desert plains.
Petrified Forest National Park - This unique park, in northeastern Arizona, is known for its ancient petrified trees and colorful badlands, giving you a snapshot of a prehistoric era.
Route 66 Neon Drive-Thru Sign - A nostalgic tribute to the "Mother Road," this iconic neon arch in Tucumcari, New Mexico, is a great photo op for any Route 66 traveler.
Sky City Cultural Center and Haak'u Museum - Located in Acoma Pueblo, New Mexico, you'll get an insight into the rich history and culture of the Acoma people.
Petroglyph National Monument - This monument on the western edge of Albuquerque, New Mexico, is home to over 20,000 ancient images etched into volcanic rocks by Native American and Spanish settlers.
ABQ BioPark - This Albuquerque-based park features a zoo, aquarium, botanic garden, and fishing lake, offering a day of fun for all ages.
International UFO Museum and Research Center - Located in Roswell, New Mexico, this museum delves into the details of the infamous 1947 Roswell Incident and the history of UFO encounters.
West Texas Walk of Fame - Located in Lubbock, this walkway honors musicians and artists, like Buddy Holly, who have made significant contributions to the cultural life of West Texas.
Abilene Zoo - With a range of exotic and regional animals, interactive exhibits, and children's activities, this zoo offers a fun and educational experience in Abilene, Texas.
Fort Worth Botanic Garden - As the oldest botanic garden in Texas, this lush oasis in Fort Worth features over 20 thematic gardens showcasing thousands of plant species.
Six Flags Over Texas - Located in Arlington, this iconic amusement park offers thrilling rides, entertaining shows, and family-friendly attractions, promising a day filled with adrenaline-pumping fun.
The Sixth Floor Museum at Dealey Plaza - This Dallas museum chronicles the assassination and legacy of President John F. Kennedy through multimedia exhibits.
World's Largest Caterpillar - This quirky roadside attraction in Italy, Texas, is a 170-foot concrete caterpillar that doubles as a playground for children.
Dr Pepper Museum, Waco - Located in the original 1906 bottling plant, this museum celebrates the history and impact of the nation's oldest major soft drink, Dr Pepper.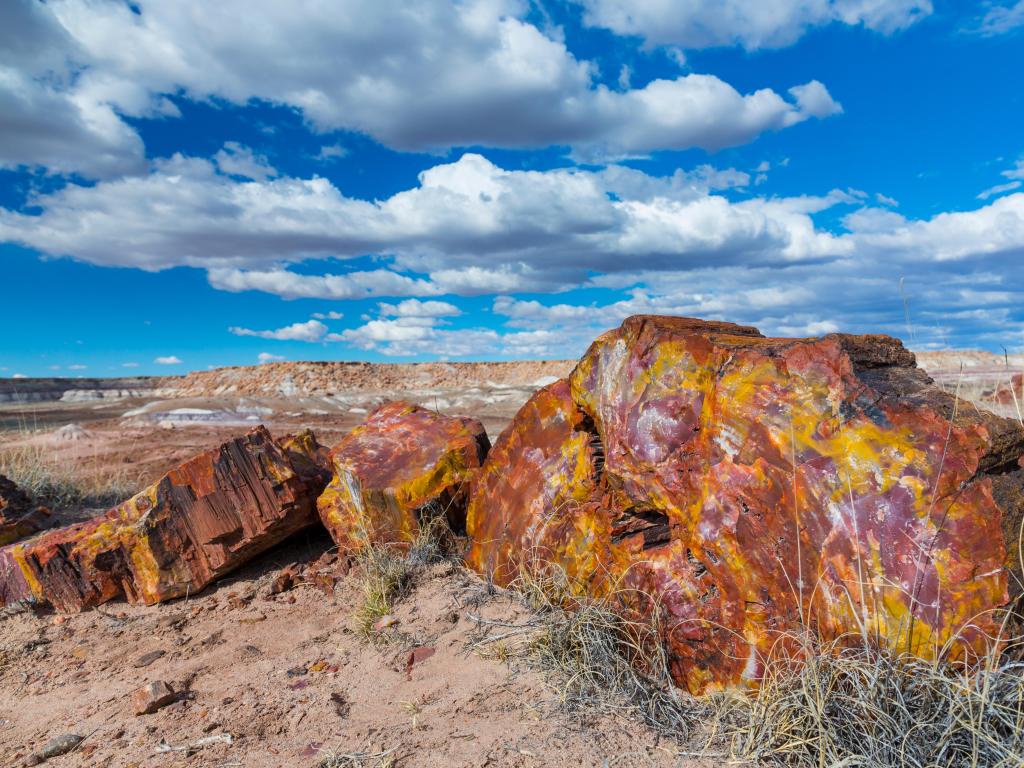 Best time to go on a road trip from Phoenix to Austin
Austin, Texas, the live music capital of the world, is the perfect year-round destination. However, driving conditions will vary depending on the season.
Even in the coldest months, Austin offers pleasant daytime temperatures between 50-65 degrees Fahrenheit, although ‌icy conditions, while less common, can happen.
Along the Northern Route, New Mexico and northern Texas can experience snow and ice in winter, which could make driving conditions tough.
Austin's summer is hot and sunny, often reaching temperatures between 85-100 degrees Fahrenheit. Keep in mind that the monsoon season, typically between July and September, could impact both routes, with potential flash floods and dust storms affecting visibility and driving conditions.
If you come during the summer, be aware of the extreme heat in the desert regions of Arizona and Texas.
For milder weather and blooming wildflowers, take this road trip in spring. While Austin stays warm, there can be severe thunderstorms in the area. If timed right, you could also catch the Fiesta San Antonio in April on the Southern Route.
Autumn's warm and dry weather is perfect for outdoor activities in Austin. You can time your fall visit with the Austin Food + Wine Festival in November. If you're taking the Northern Route, visit the West Texas Fair & Rodeo in Abilene in September.
No matter when you visit, the road trip to Austin will be filled with endless history, culture, food, and music. Whether taking the Southern Route or the Northern Route through Albuquerque, each trip will show you the magic of the Southwest.