Road Trip from Phoenix to Palm Springs
Fancy a desert escape into the wilderness where you'll enjoy hiking trails, incredible national parks and stunning vistas at some of most awe-inspiring parts of Arizona and California? If so, then our epic road trip from Phoenix to Palm Springs will surely blow you away.
The 450-mile road trip from Phoenix to Palm Springs takes just under 8 hours to drive. Key stops include Las Vegas, Tonopah, Flagstaff and Kingman, plus Grand Canyon, Joshua Tree National Park, Hoover Dam, Death Valley and Mojave National Preserve.
Regardless of which direction you take to Hollywood's favorite Palm Springs, your drive will be packed with some of the most iconic and incredible landmarks and monuments. So, keep reading to discover what awaits you on this action-packed and scenic road trip.
How far is Palm Springs from Phoenix, and how long will the road trip take?
Comparison of road trip routes between Phoenix and Palm Springs

| Route | Distance | Driving Time |
| --- | --- | --- |
| The Salton Sea Route | 450 miles | 7 hours 50 minutes |
| The Vegas Route | 1,090 miles | 18 hours 45 minutes |
There is a quick and a longer route to Palm Springs from Phoenix, both of which offer a variety of interesting views, cities and parks. The most direct of our two options takes you via Salton Sea. Covering a distance of 450 miles, this route will take 7 hours and 50 minutes to drive.
A much longer route, taking you through Sin City itself as well as Flagstaff, spans a distance of 1,090 miles and will take 18 hours and 45 minutes to drive without stopping.
While you could in theory complete the quicker option in a single day, The Vegas Route should be planned over two to three days. We'd always recommend stopping at least once during a road trip so that you have longer at the attractions along the way.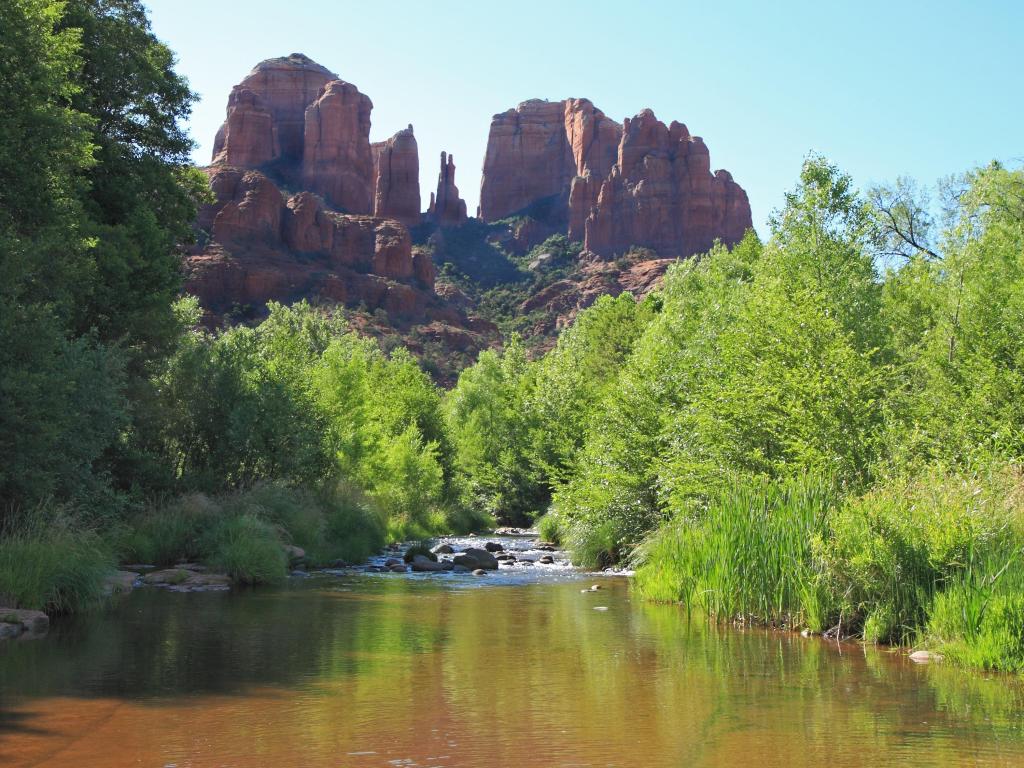 Best road trip route from Phoenix to Palm Springs
Whether you've got a long weekend or a week to plan your drive from Phoenix to Palm Springs, we've got a road trip route that's perfect for you. For those with less time at your disposal, our short but action-packed option via the Salton Sea is no less interesting and enjoyable.
If you take a leisurely drive, there are plenty of exciting stops on this route including Kofa National Parks where you can catch some local wildlife or relax at Bombay Beach which offers incredible photo opportunities of its beautiful views.
However, if you want to make your journey from Phoenix to Palm Springs epic, then our longer option should be considered. It's jam-packed with major natural landmarks like the Grand Canyon and Death Valley. Plus, not forgetting you can plan an overnight stop in Sin City itself.
The Vegas Route is longer, but the added driving time means more attractions along the way like visiting Hoover Dam or taking a walk amongst Mojave National Preserve.
If you'd like to experience both routes, then why not follow one to Palm Springs and return on the alternative on your final leg back to Phoenix? You could still complete the whole drive in a week and get to tick off some fantastic places off your bucket list at the same time.
The Salton Sea Route
Begin by leaving Phoenix and heading west towards Tonopah, after spending some time exploring the great outdoors at Estrella Mountain Regional Park.
Follow Interstate 10 (I-10) to Blythe and continue west through Mesa Verde to the incredible Joshua Tree National Park where you'll discover the trees that the park is named after.
Next head to Salton Sea where you'll follow its shore to Bombay Beach where you can stop to catch a fantastic photo opportunity, before arriving at Westmorland.
Leave the large lake towards Borrego Springs, stopping at Anza-Borrego Desert State Park along the way. After exploring the mud caves which make this area unique, you'll follow signs for Palm Springs.
Along the way make sure to stop as Salton City and explore Santa Rosa and San Jacinto Mountains National Monument if you're up for a hike with impossibly scenic views at the end.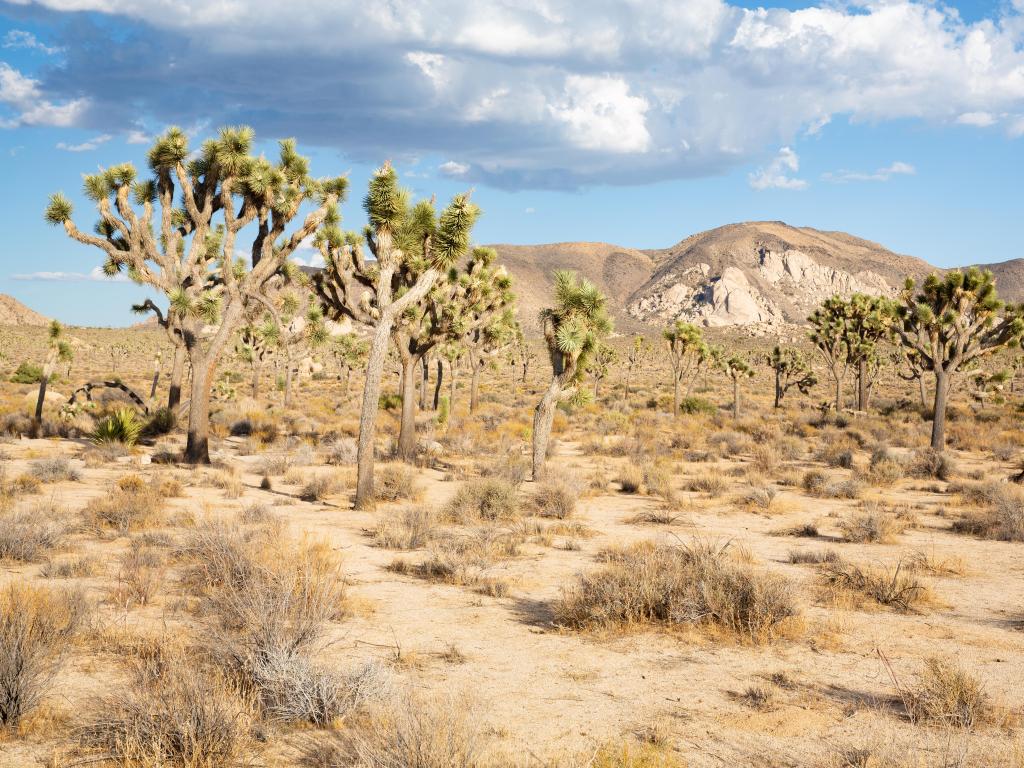 The Vegas Route
Our longer route takes you east from Phoenix to Mesa, before heading north on AZ-87 alongside Tonto National Forest and to Camp Verde, stopping by Tonto Natural Bridge State Park along the way for a scenic hike.
A short drive north and you'll reach Montezuma Castle National Monument. Drive north through Slide Rock State Park, where you can visit Coconino National Forest, before joining I-40 and heading west.
Here you can stop at Flagstaff and explore several fantastic areas including Walnut Canyon National Monument or take a short detour north through Kaibab National Forest and to the Grand Canyon.
Otherwise, follow the interstate west to Hualapai Peak where you can head north and visit the Grand Canyon Skywalk east entrance, where you can walk the famous walk over the canyon.
Take US-93 North to Hoover Dam before exploring Lake Mead itself. Back on the interstate, pass Sloan Canyon National Conservation Area on your way to Las Vegas, passing Henderson on the way.
From Vegas, you can spend time in Red Rock Canyon National Conservation Area, before heading back into the desert landscape to Death Valley Junction.
Head west to the famous Death Valley National Park for unique landscape views, or south to Baker where you can rejoin the interstate and visit Mojave National Preserve for great hiking trails and wildlife spotting.
Continue south through Cleghorn Lakes Wilderness Area, following signs for Palm Springs, and final stops along the way to San Bernardino Nation Forest or Joshua Tree National Park.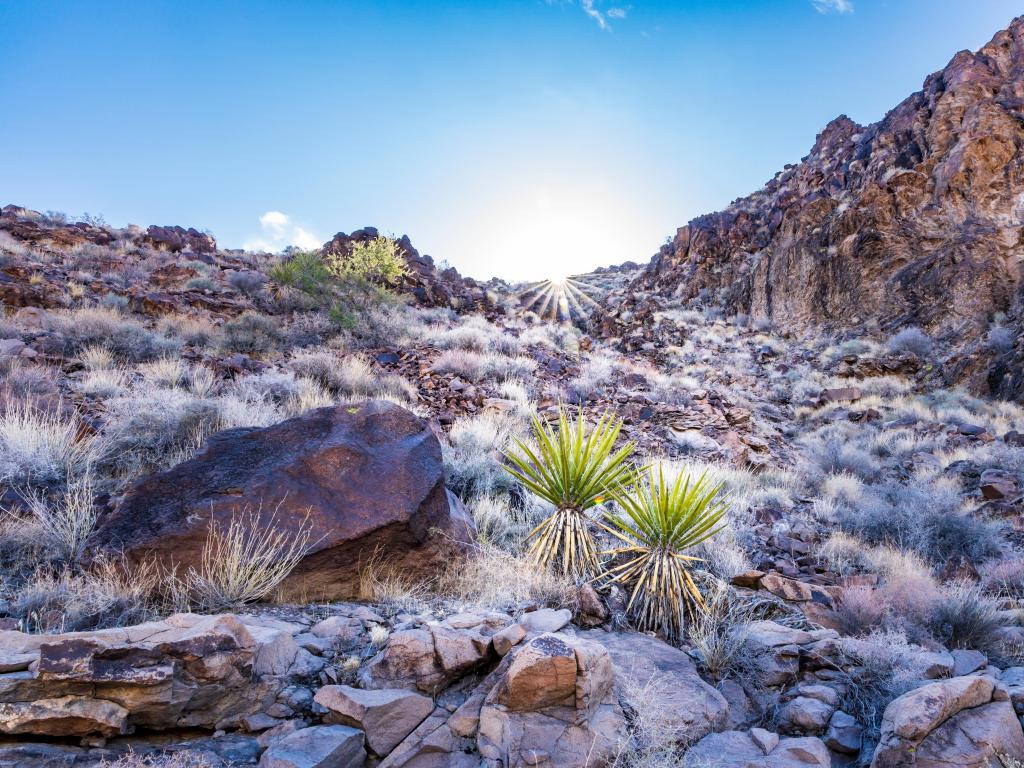 Best places to stop between Phoenix and Palm Springs
While you could drive our Salton Sea Route in a single day, you'd be missing out on exploring the many beautiful places along the way. An overnight stop en route is a great way to soak up the atmosphere or explore more of the landscapes around you.
Luckily there are some great hotels on both routes to Palm Springs. Here are some of our top picks.
A serene stop in Borrego Springs
Three-quarters of the way from Phoenix on our Salton Sea Route, and just an hour and a half to Palm Springs, the town of Borrego Springs is a great place to stop and get some rest before arriving at your final destination.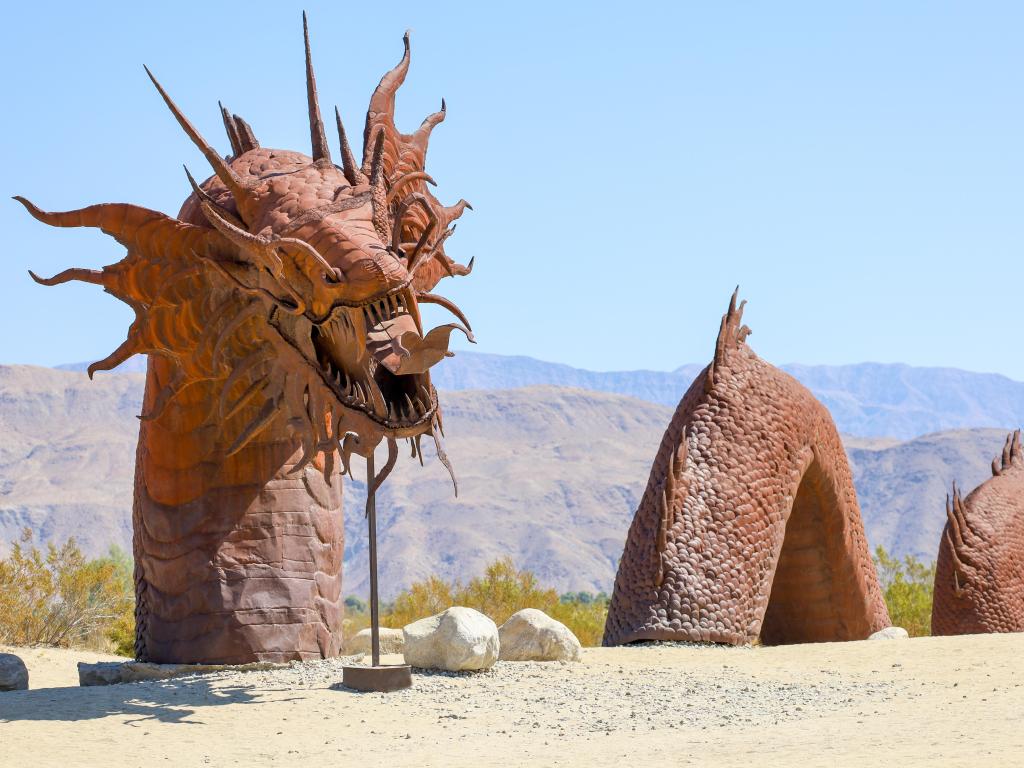 Famous for the Anza-Borrego Desert State Park where you can explore the natural wonder of mud caves, Borrego Springs is an ideal stop especially if you love the great outdoors. Here you can enjoy trails, nature parks, and scenic drives.
For something a bit more family-friendly, nearby Galleta Meadows is a great tourist hotspot. Head out into the desert and you'll come across large metal sculptures including a Chinese Dragon. They're a fun way to spend the afternoon and offer a great photo opportunity.
For a luxurious stay, the La Casa del Zorro is a perfect option. Here you can relax with a massage at the resort's onsite Serenity Spa or enjoy a swim in the outdoor pool. The rooms themselves are homely and comfortable - plus there's even free parking available.
As a final bonus, the hotel offers tours of the local state parks, and at just five miles away from the Anza Borrego Desert State Park, you're never far away from the beautiful desert. Though if you don't want to leave, the hotel has great onsite amenities including restaurants and bars.
The height of luxury in Las Vegas
Given that our route is named after it, a stopover in Las Vegas is almost obligatory. Sin City lies exactly halfway to Palm Springs, as well as the fact that it is a top destination in its own right, it really does tick all the boxes.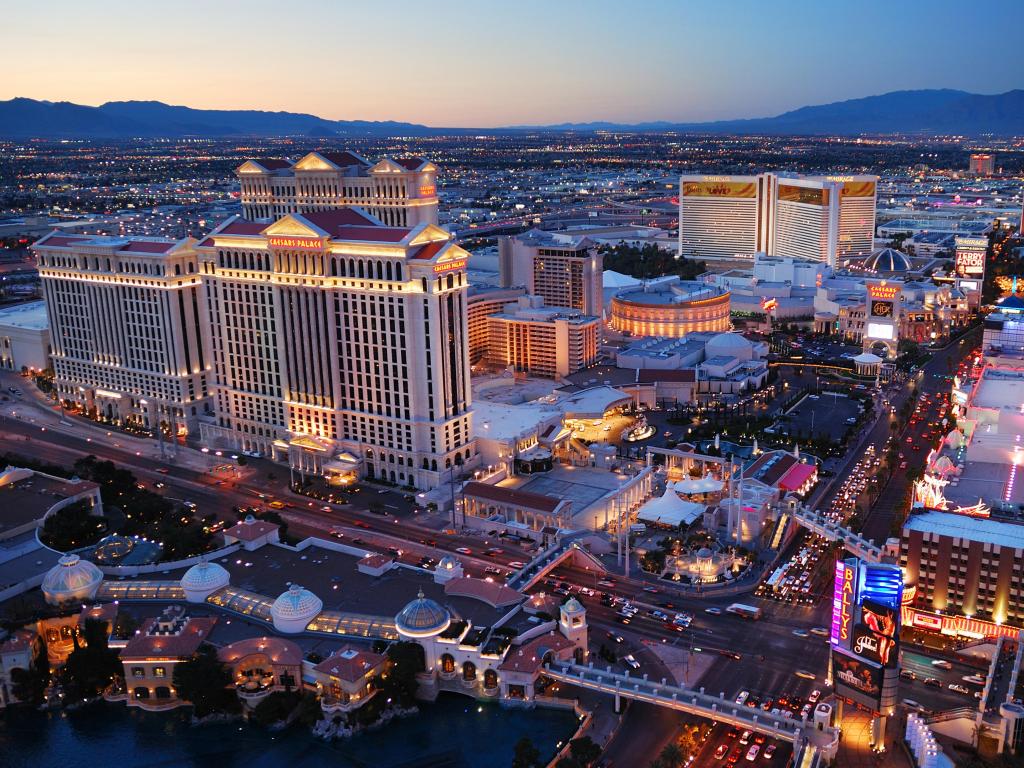 World-renowned for its entertainment, visitors to Vegas come for the bright lights, great nightlife and of course its iconic strip, which features casinos and fun to be had whatever time of day or day of the week.
How about dancing like an aqua ballet to themed music at the Fountains of the Bellagio, an iconic Vegas landmark or catch a show at the Cirque du Soleil where you can watch acrobats perform?
With so much to see and do, you'll be in need of a great hotel to rest for the night. The Waldorf Astoria is an exceptional option in Vegas. If you're looking for 5-star luxury then you won't be disappointed.
This contemporary and stylish hotel offers stunning rooms which overlook the strip, and luxury spa treatments to relax any tight muscles after your long drive. There's also a fabulous outdoor pool, which offers idyllic serenity and all the while you're within walking distance of the Bellagio Fountains and Eiffel Tower!
Mountain views at Palm Springs
Once you reach the stunning Palm Springs, how about a hotel in the heart of the city? Alcazar Palm Springs is a luxury 4-star hotel which encompasses everything you could want from a stay in Hollywood's favorite resort - there are even stunning mountain views!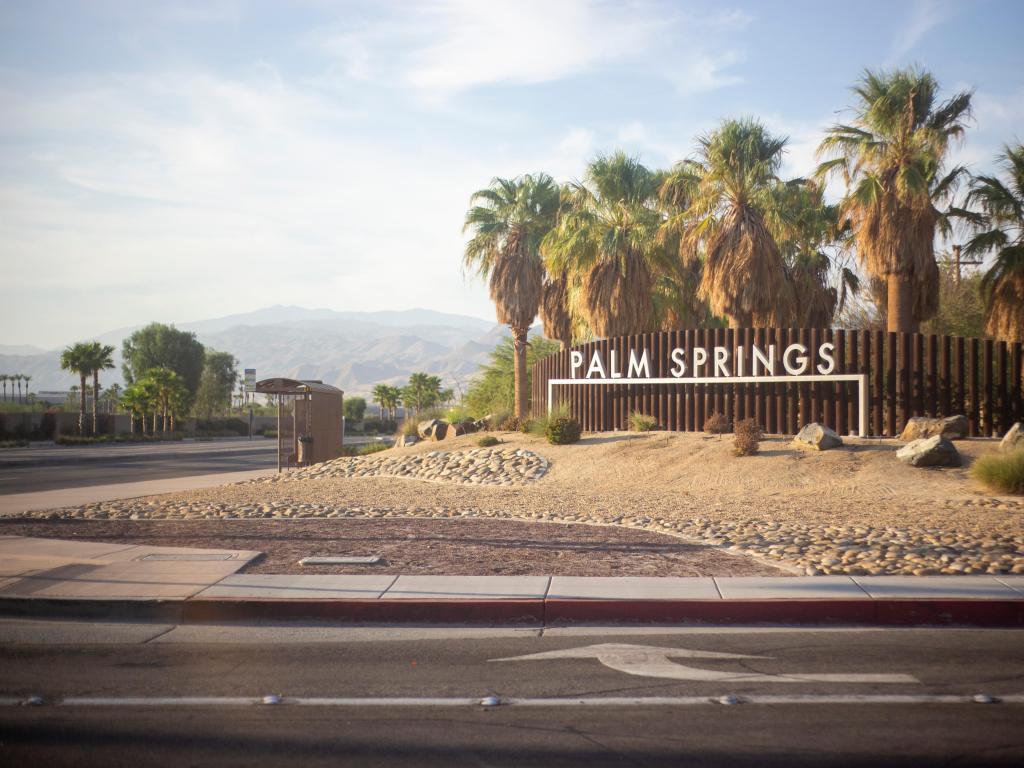 Soak up the scenic mountain views, take a walk to the local parks and museums, or relax at the hotel's outdoor pool, hot tub and a pool patio where you can relax and unwind. There's even free parking and bikes you can hire which make city exploring quick and fun!
Located in central Palm Springs, you're less than a minutes' walk to Palm Canyon Theater, plus Spa Resort Casino and Palm Springs Art Museum are all within walking distance. But if you'd rather not leave, the hotel has two restaurants, cocktails and weekly live entertainment.
Things to see on a road trip from Phoenix to Palm Springs
There's so much to see on this epic drive from Phoenix to Palm Springs, including stunning landmarks, world-famous national parks and fun cities. To help you plan your stops along the way, we've set out some of the best bits you'll pass on both routes below. Enjoy!
Both Routes
Joshua Tree National Park - The Joshua Tree National Park is an iconic landmark famed for its desert landscape, rock formations, and mystical trees. Hike at sunset for outstanding colors.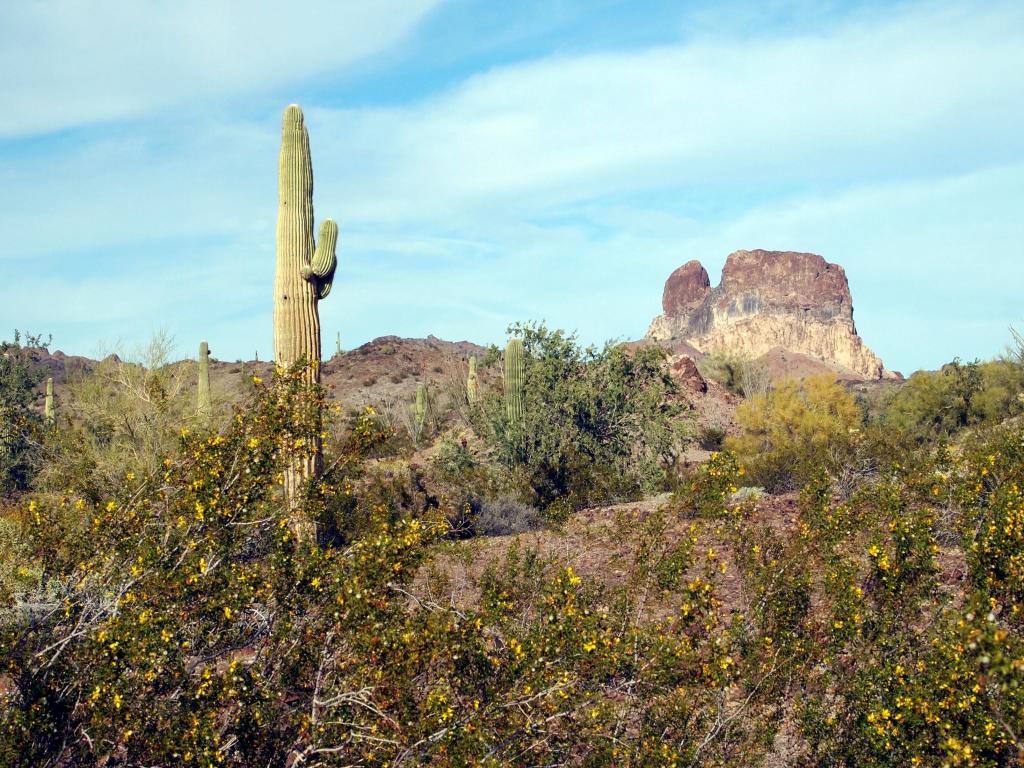 Salton Sea Route
Estrella Mountain Regional Park, Goodyear - Discover 19,840 acres of mountains and desert at the pristine Estrella Mountain Regional Park. Take a hike or use Corral West Adventures for a horseback ride.
Skyline Park, Buckeye - Hike or mountain bike through the desert mountains at Skyline Regional Park. The trails are well-maintained with clear directions.
Tonopah - Discover the historic Tonopah Historic Mining Park once known as the 'Queen of the Silver Camps'. Take a detour to see the Lunar Crater.
Kofa National Parks, Yuma - With a detour off the I-10 you can go to the Kofa National Wildlife Refuge. Go at either dusk or dawn to increase the chances of seeing wildlife.
Blythe - Get up close and personal with the Blythe Intaglios. The mysterious figures etched into the ground are said to be anywhere between 450 and 2,000 years old.
Bombay Beach - Bombay Beach is a quirky stop with immense photo opportunities. Visit the drive-in and take a photo on the Salton Swing.
Niland - Add an oddity to your journey by exploring the East Jesus art installation. This self-sufficient society turns garbage into artistic sculptures. It's free to visit between dawn and dusk.
Anza-Borrego State Park - This desert park is close to Borrego Springs and features over 550,000 acres of land to explore. While here, make sure you take a visit to the nearby Mud Caves too.
Coachella Valley Preserve - Discover an oasis in the desert at the Coachella Valley Preserve. Fed by the water from the San Andreas fault, it's a unique visit.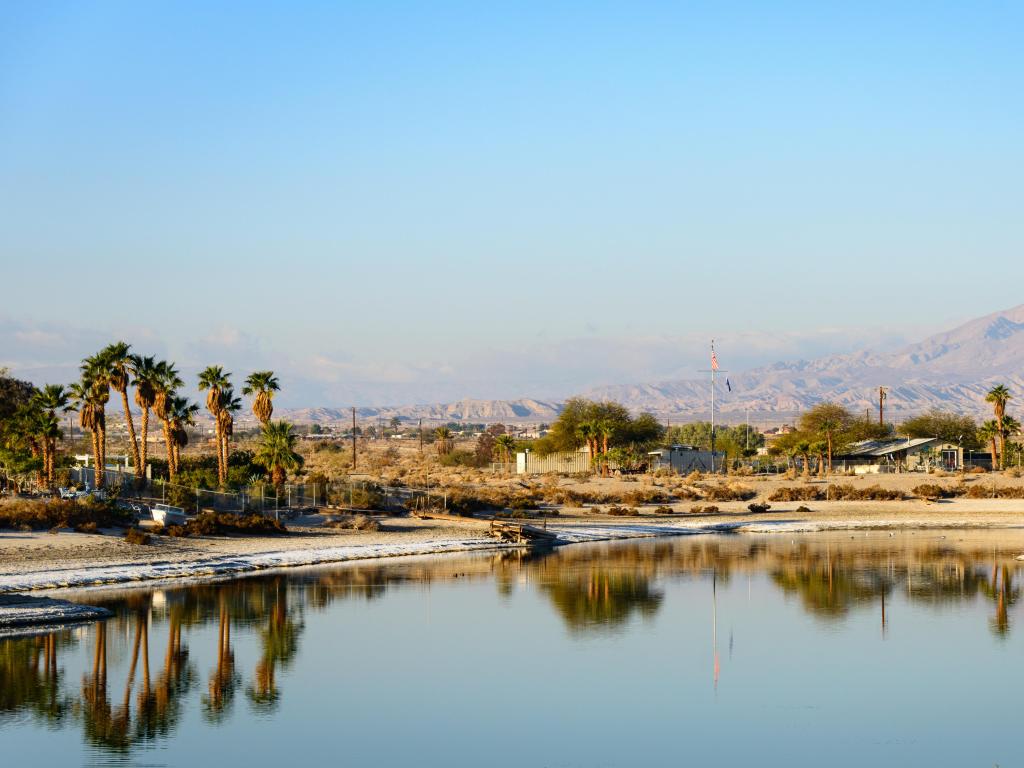 Las Vegas Route
Tonto Natural Bridge State Park, Pine - The Tonto Natural Bridge State Park is a geological wonder discovered in the 1800s. The rocks form a natural bridge and are reachable through a scenic hike.
Montezuma Castle National Monument, Camp Verde - The Montezuma Castle National Monument needs to be seen to be believed. Here you'll view dwellings etched into the rock faces dating as far back as anywhere between 1100 and 1425.
Coconino National Forest - The Coconino National Forest has both green conifers and red rocks. We recommend Slide Rock. It's en route and you can include some adventure by sliding down a natural water slide.
Flagstaff - Cruise along the now decommissioned Route 66 in Flagstaff. It's a rare original stretch to drive. Line dance at the Museum Club and take a snap alongside the classic signs.
Grand Canyon National Park - You can enter the Grand National Park at the East Entrance. Here you can walk the famous Skywalk over the canyon.
Hoover Dam - Marvel at the engineering wonder that is the Hoover Dam. At 726 feet high, you can walk across the dam and should you dare, take a peek over the edge.
Las Vegas - Famous for its strip, casinos, nightlife and epic resorts, Las Vegas is a unique city surrounded by desert terrain. After visiting the strip, be sure to take a walk down Freemont Street or visit the Fountains of the Bellagio.
Death Valley National Park - Take Badwater Rd to go deep through Death Valley National Park. There are stop-off points like the Devil's Golf Course to look over an ancient lake bed.
Mojave National Preserve - Drive deep into the wilderness of the Mojave National Preserve. There are different hikes depending on the difficulty. The Lava Bed Trail is 1.6km so is one of the easier.
Barstow - Just before Barstow, visit the Calico Ghost Town. The restored mining town looks like a film set for a Western where you'll capture timeless pictures.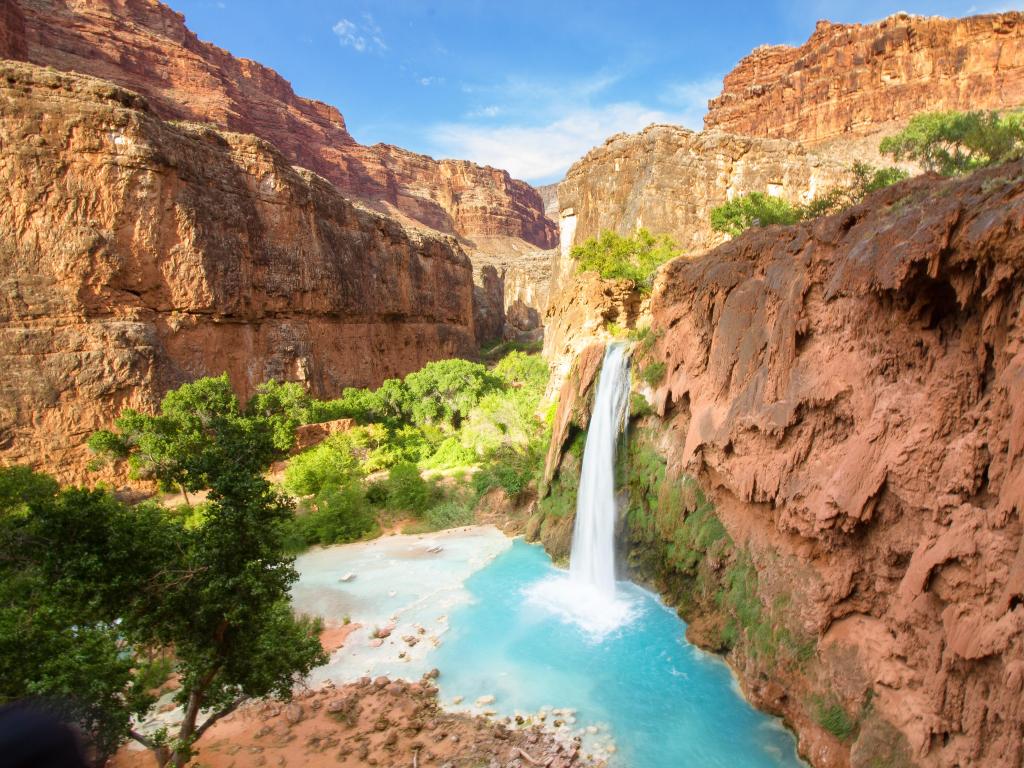 Best time to go on a road trip from Phoenix to Palm Springs
Palm Springs is popular all year round. In no small part, because you get nice weather throughout the year, even in fall and winter, you can soak up the sunshine. This attracts annual festivals and events throughout the year making it a really fun destination any season.
In summer, the temperature is sweltering. June, July, August and September all average between 87 and 93 degrees Fahrenheit. Because summer is so hot, people avoid daytime summer hikes. That said, if you're an early riser you can enjoy the outdoors before the intense heat.
Palm Springs is equally popular in winter, in fact, it's even often considered the peak tourism season. January, February, November and December's temperatures range between 56 and 65 degrees, making it a comfortable temperature to explore the outdoors.
It's in May when the heat really turns and average temperatures hit 80 degrees. March and April average at 66 and 79 degrees, making the weather reliable throughout spring. However, Spring Break can cause an increase in visitors.
Meanwhile, fall is another great option for embarking on this fantastic trip. In October you'll experience warm weather and temperatures of around 76 degrees - making it sunny and hot, yet not sweltering. You'll also get quieter crowds and stunning fall foliage.
You'll find some of the best major music festivals in Greater Palm Springs - Coachella and Stagecoach. These are on the same site and occupy the area from mid to late April. There's Film Festival Week from early to mid-January, which is also worth noting.