Road Trip from Phoenix to Santa Fe
This amazing road trip from Phoenix to Santa Fe is a scenic, relaxing, and memorable drive with plenty of nature to see along the way. On this adventure, you will drive past some of the iconic national forests and parks of the US, as well as some fascinating cities brimming with cultural attractions.
The 530-mile road trip from Phoenix to Santa Fe will take about 8 hours to drive. The notable stops are Albuquerque, Winslow, Pinetop-Lakeside, Sedona City, Coconino National Forest, Sunset Crater, Petrified Forest and Grand Canyon National Parks.
If you want to find out more about this scenic road trip, keep reading. Below you can find the best routes you can follow, our top recommendations for where to stop and what to see as well as the best time to visit Santa Fe.
How far is Santa Fe from Phoenix, and how long will the road trip take?
Comparison of road trip routes between Phoenix and Santa Fe

| Route | Distance | Driving Time |
| --- | --- | --- |
| The Direct Route | 530 miles | 8 hours |
| The Forest Route | 550 miles | 9 hours 50 minutes |
We have two possible routes that you can choose to take from Phoenix to Santa Fe. The first is the Direct Route which is 530 miles long and will take you 7 hours and 50 minutes to complete.
A slightly longer route is the Forest Route. This route will take you 9 hours and 50 minutes to complete, spanning a distance of 550 miles. Taking you through more scenic national parks, this route is perfect for those who love nature and scenery.
Although you could complete this road trip in one day, we recommend taking 2 days to complete it. The extra time will allow you to see all the sights along the way, especially the many beautiful natural sights and interesting museums.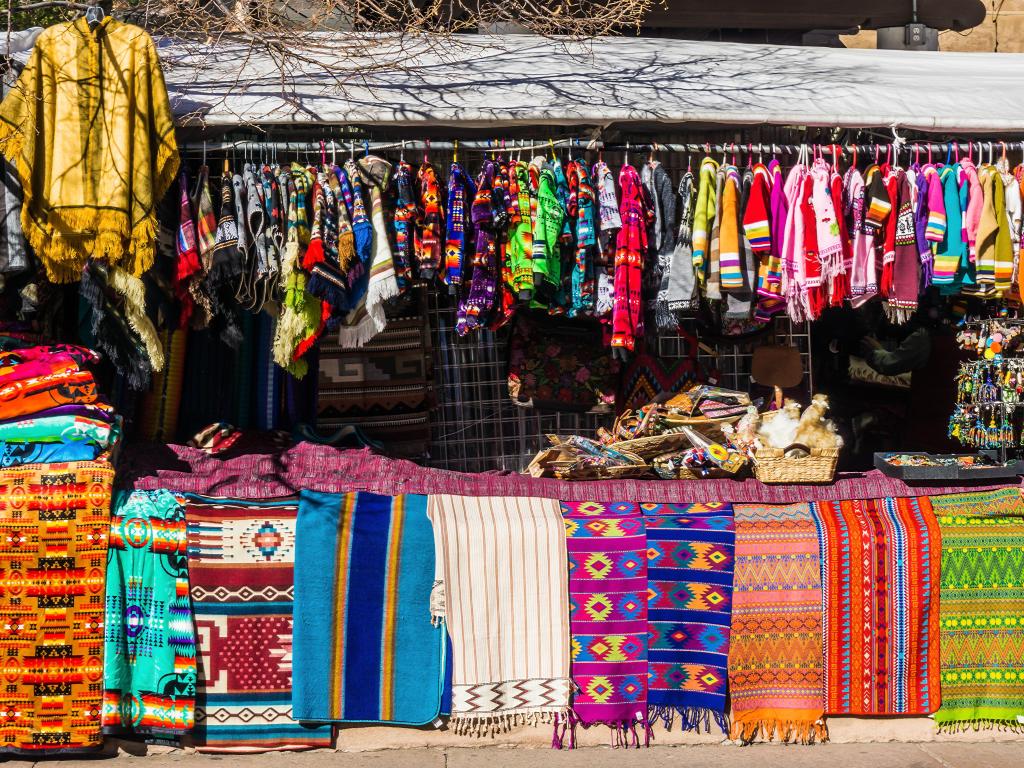 Best road trip route from Phoenix to Santa Fe
Our recommended routes have plenty of wonderful attractions for you to visit and which route you choose depends on what your road trip priorities are and what you'd like to see on the way.
The Direct Route is the quickest way to drive from Phoenix to Santa Fe. Along the way, you will pass through Coconino National Forest and the Petrified Forest National Park, historical sites and interesting museums. You can also make a detour to the Grand Canyon on this route.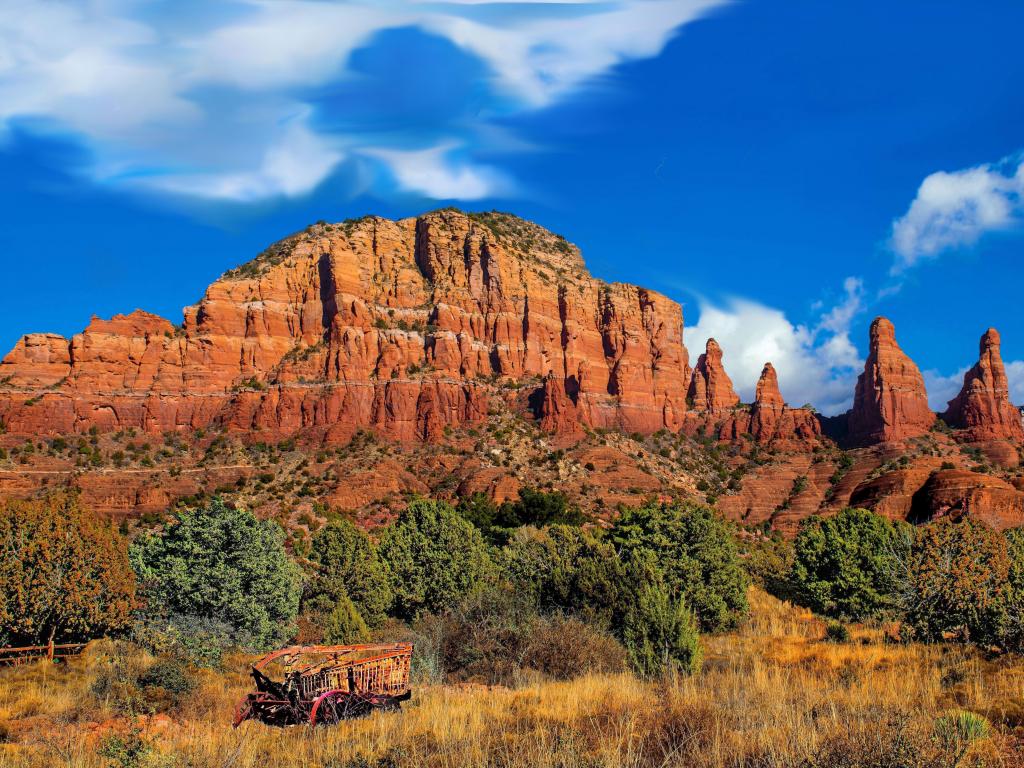 The Forest Route is slightly longer and will take you along a more scenic route through national parks. This really is a better drive for those who like to take it slow and explore the surrounding nature.
You will get to admire the beautiful scenery of the White Mountains and Apache-Sitgreaves National Forest on this route before reaching Albuquerque where the routes converge.
The Direct Route
To start, leave Phoenix on Interstate 17 (I-17). Continue past Coconino National Forest before merging onto I-40 E. This national forest is one of the most diverse in the country, containing mountains, canyons, small lakes and streams.
Once on the interstate, continue past Petrified Forest National Park. This forest contains a segment of Historic Route 66 as well as magically colored stones.
After this stop, stay on I-40 until you reach the fun city of Albuquerque. Make sure to spend some time in this vibrant city that sits on Route GG and then join I-25 towards Santa Fe. On the way, you will pass Sandia Crest, a beautiful mountain ridge in New Mexico.
The Forest Route
To start the Forest Route, leave Phoenix on I-10. You can merge onto AZ-87 and then the AZ-260 until you reach the White Mountains. This beautiful mountain range is home to rugged and challenging terrain.
From the White Mountains, rejoin AZ-260 and travel to Apache-Sitgreaves National Forest. This forest is perfect for fishing fanatics, containing over 450 miles of streams and 2000 surface areas of cold-water lakes.
Travel on the US-60 towards Cibola National Forest. This national forest is known for its recreational opportunities and natural beauty, which makes it the perfect place to take a break to stretch your legs.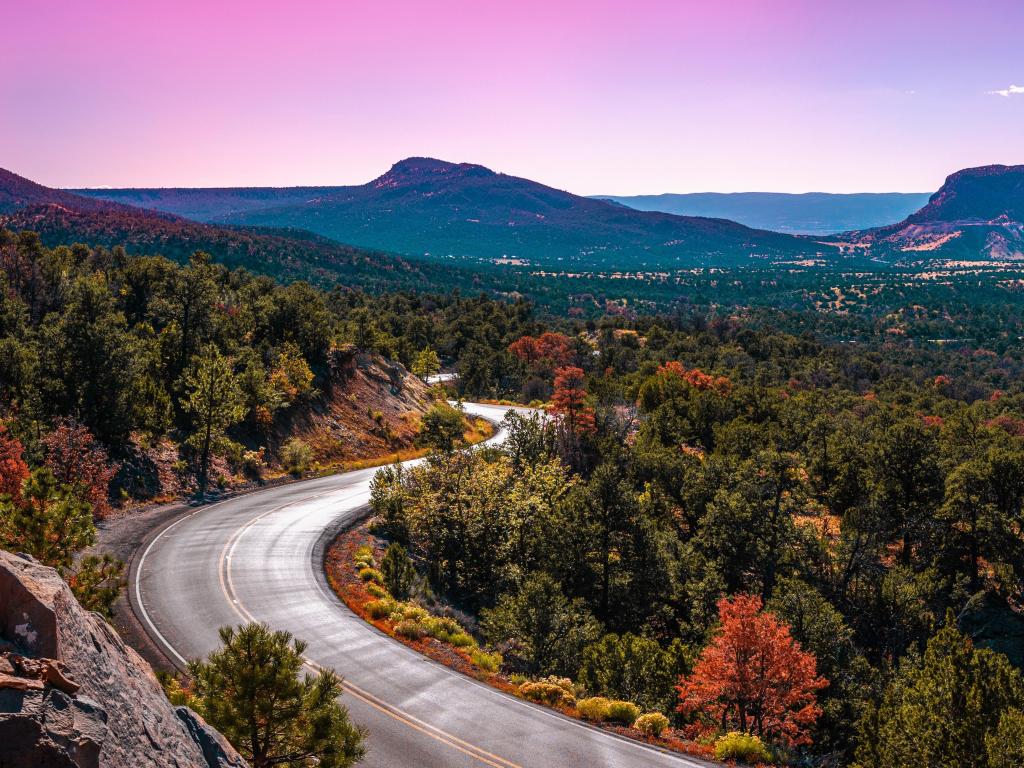 Back on the road, follow the US-60 and I-25 to Socorro County. Here you can visit Sevilleta National Wildlife Refuge, a protected area of New Mexico where visitors can see many types of wildlife.
After this, continue on the I-25 to Santa Fe. You will also pass through Albuquerque on this section of the drive before reaching your destination.
Best places to stop between Phoenix and Santa Fe
To make the most of this glorious road trip, make sure you stop in one of the beautiful towns or cities along the way. To make your planning easier, we have chosen a couple of overnight stops which will make the most of your journey.
Enjoy the great outdoors in Winslow
A short detour off the Direct Route, Winslow is about 3 hours from Phoenix, just before the halfway mark. This city is a great place to have an overnight stop due to its vicinity to the unique Petrified Forest National Park. It is also a good base to explore Coconino National Forest and make a possible detour to the Grand Canyon.
Winslow is a charming city that once was a very important stop on Route 66 for travelers. It was a railroad hub, which made it the most important city in Arizona.
Petrified Forest National Park has unique trails with one of the world's most colorful concentrations of petrified wood. While here, check out the blue, pink, purple and grey hills of Blue Mesa, which is an easy trail with beautiful views of the Chinle Formation.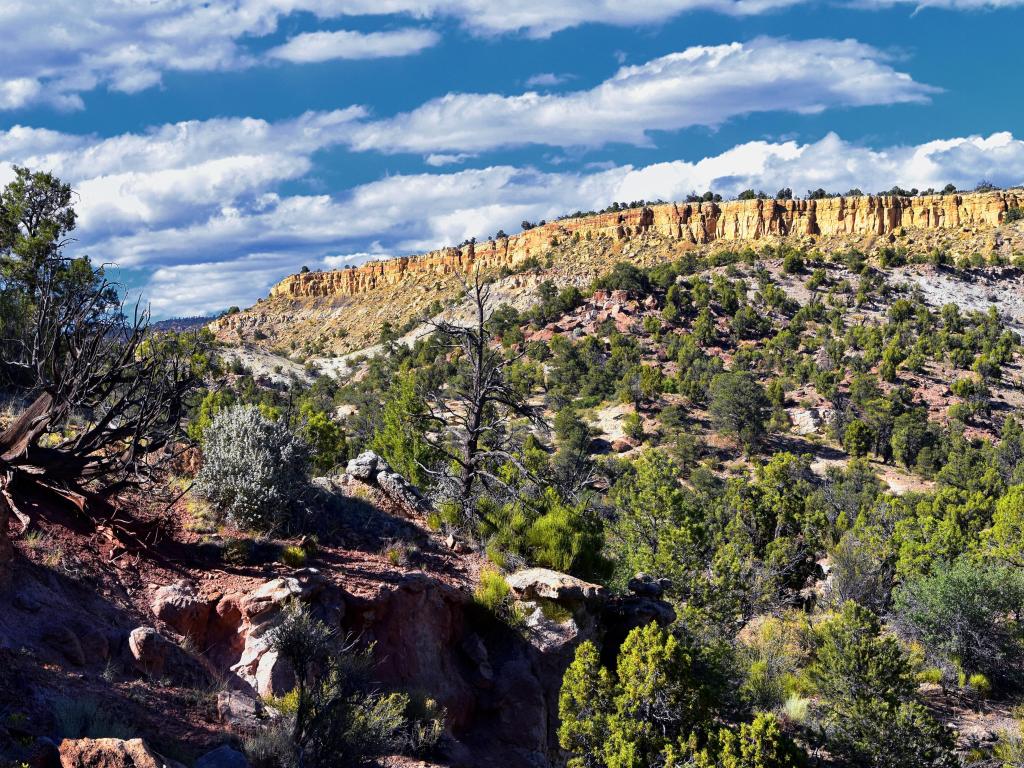 You can also visit Coconino National Forest from Winslow. One of the most diverse forests in the US, Coconino National Forest is home to Sedona's red rocks, Ponderosa pine forests and alpine tundras.
Our top choice for lodging in Winslow is the beautiful La Posada Hotel and Gardens. This stunning hotel features a garden where you can stretch your legs after a long drive. It also features a bar and a restaurant, as well as a fantastic terrace with views.
Located just outside of Winslow, this hotel is a short drive from Bushman Acres, Leupp Corner and Moqui. The area is also popular for cycling and hiking.
Admire the scenery in Pinetop-Lakeside
Found on the Forest Route, Pinetop-Lakeside is found around halfway on the route. Located in the center of the White Mountains of Arizona, this stop is perfect for nature lovers. The town of Pinetop-Lakeside offers a natural playground of natural riches and stunning scenery.
Pinetop-Lakeside is known for the world's largest stand of Ponderosa Pines, fishing and hunting. While visiting, check out Woodland Lake Park. This Lakeside recreation hub in a pine forest offers fishing, walking trails and a playground for children.
The White Mountain Nature Center has hiking and biking trails, and educational programs making it a perfect place to learn about the local wildlife.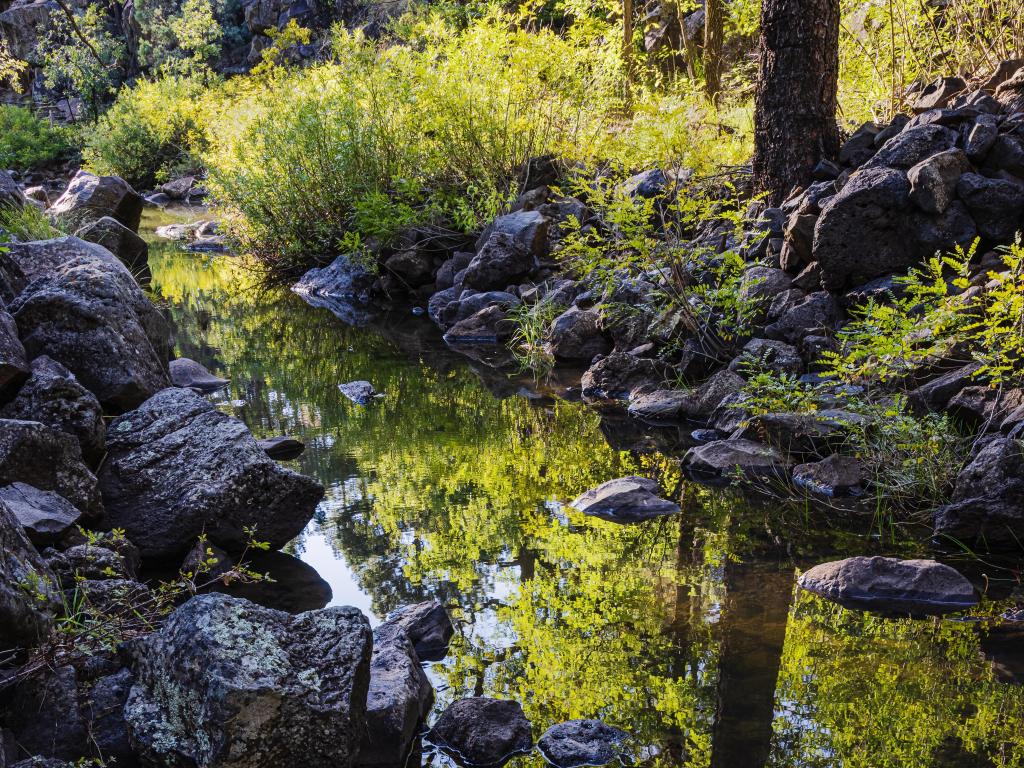 While staying in Pinetop-Lakeside, check into TimberLodge Inn. The inn is in the heart of the White Mountains of Arizona and all rooms offer rustic décor, some with kitchenettes. There is free parking on-site. Also, furry friends are welcome here!
The hotel is easily accessible from the main road and centered perfectly around many local attractions. Woodland Lake Park is also only a short walk away.
Where to stay when you reach Santa Fe
Once you reach the impressive city of Santa Fe, we recommend staying at Hotel Santa Fe. This Native American-owned hotel offers on-site spa services, a pool, and a hot tub so you are in for the ultimate relaxation during your stay.
The hotel features historical educational storytelling, live music and a gift shop filled with hand-made crafts. You will also get to sample some delicious Native American-inspired dishes at the gourmet restaurant onsite.
The Plaza is a short drive from the property, offering markets and events with a traditional Spanish ambience. You can also visit Historic Santa Fe, which is located close to the hotel.
Things to see on a road trip from Phoenix to Santa Fe
While completing the road trip from Phoenix to Santa Fe, there are plenty of sights to see. No matter which route you choose to take, you can visit national forests and unique museums.
The Direct Route
Montezuma Well – This unique attraction features trails and picnic areas at a site described as sacred by many local tribes. This is a great place to stop and take a break.
Sedona City – Situated within the Coconino National Forest, Sedona City features an array of red sandstone formations and is well worth a visit.
Coconino National Forest - This is one of the most unique national forests in the country with its diverse landscapes that range from stunning red rock formations to alpine tundra and pine forests.
Grand Canyon National Park - This world-famous natural wonder is only a short detour off the main route. You can explore the South Rim or make a longer detour to the North Rim.
Sunset Crater Volcano - A thousand years ago when the ground was torn open, lava erupted and created these unique geologic formations. Flowing lava created a landscape here that you won't come across anywhere else.
Homolovi State Park - Learn about native people in this peaceful, expansive area located in the High Desert. There are over 300 Ancestral Puebloan archaeological sites here.
Petrified Forest National Park - Hikes and trails that are great for all ages, this national park offers a desert area with an archaeological site. You will also get to marvel at unique clusters of petrified wood, so make sure to bring your camera!
Red Rock State Park - A 286-acre preserve with an environmental educational center surrounded by unique red rock scenery. There are winding trails you can hike on here to admire the landscape.
Route 66 Neon Drive-Thru sign - Best visited at dusk, the neon sign is a fun way to celebrate Route 66. It is also a popular place to take photographs.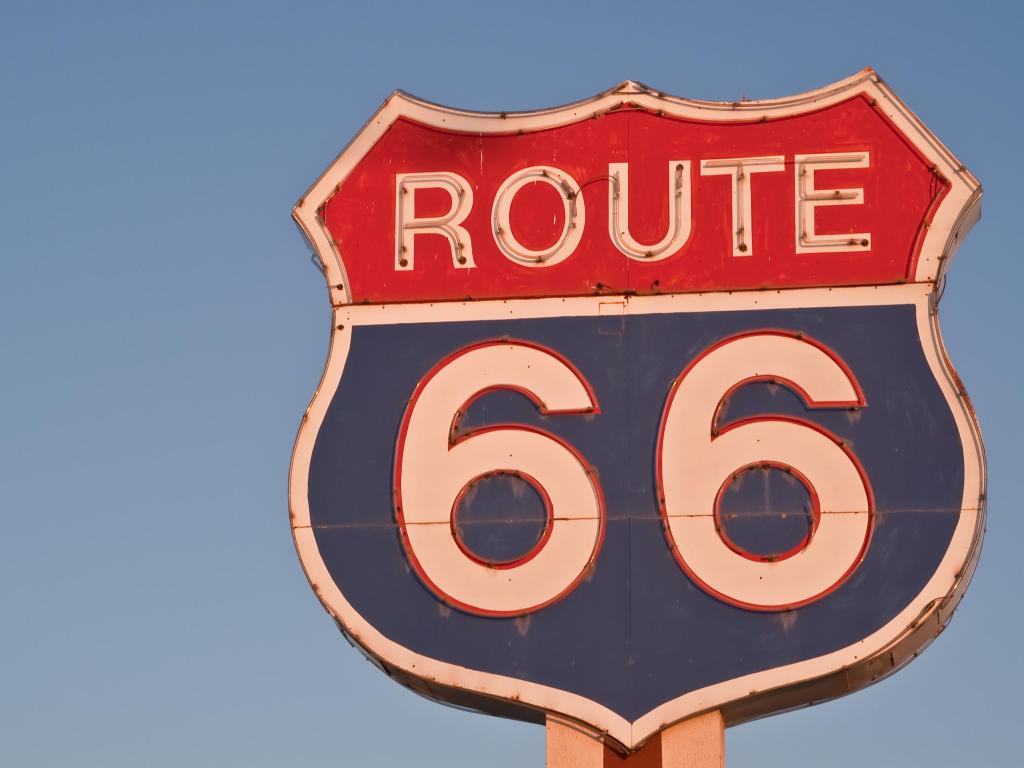 The Forest Route
Tonto National Forest - The national forest is a home for protected nature. The expansive forest is also the largest in Arizona.
Cibola National Forest – With 1.9 million acres of hiking and grasslands, the forest is a federally managed outdoor recreational area. Why not pack a picnic and take a break here on the way?
Tonto Natural Bridge State Park - As its name implies, this state park features a gorgeous (and photogenic!) natural bridge and hiking trails for a great day outdoors.
White Mountains of Arizona - An expansive mountain range near the border of New Mexico. Make sure to pack your hiking boots if you are visiting as this is the perfect opportunity to stretch your legs while enjoying the beautiful scenery.
Woodland Lake Park - Located in Pinetop-Lakeside, this park features Woodland Reservoir and beautiful views. There are walking trails, picnic areas and a boat ramp here.
Rim Lakes Vista Overlook - You can reach this overlook by following a short, paved path to find panoramic views of the Mogollon Rim. It is good to note that this hike is moderately challenging.
Apache-Sitgreaves National Forest - You can admire the Mogollon Rim and the White Mountains during your visit to this stunning national forest.
Sevilleta National Wildlife Refuge - Home to hundreds of species of birds, mammals, and other wildlife, this wildlife refuge is one of the largest in the USA.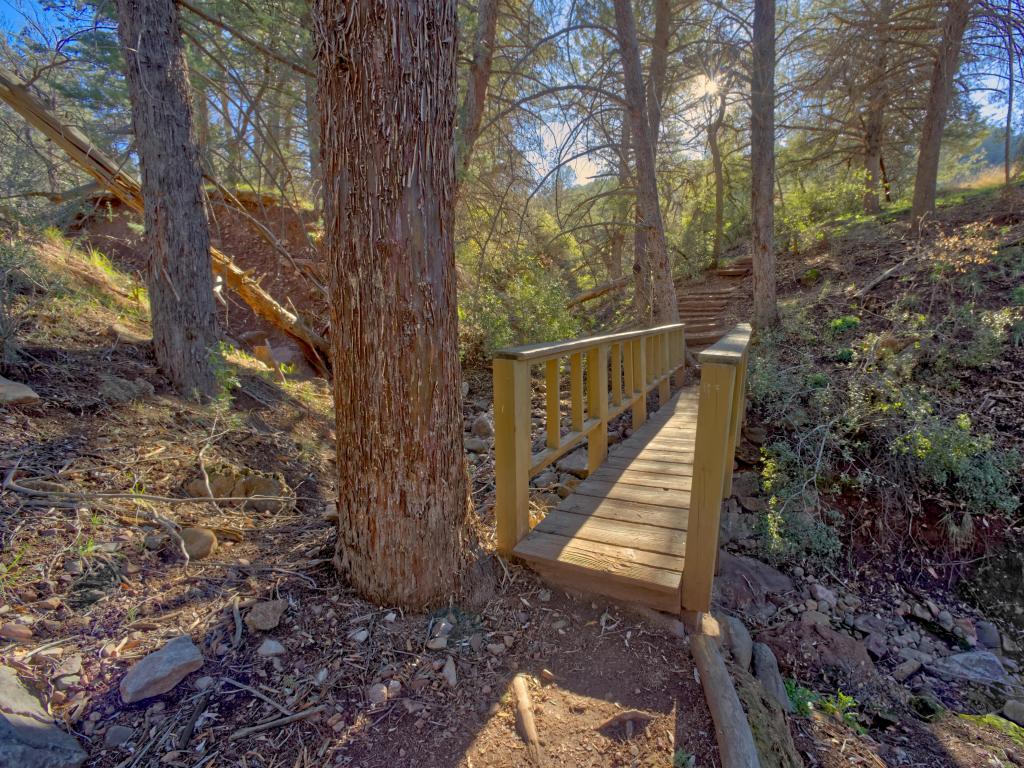 Both routes
Albuquerque - Known as an important stop on Route 66 and its colorful hot-air balloon festival, Albuquerque is home to Sandia Peak Tramway and is located near the fascinating Petroglyph National Monument.
Best time to go on a road trip from Phoenix to Santa Fe
While you can technically visit Santa Fe from Phoenix any time of the year, early spring and early fall are the best times to do this road trip. The weather is temperate with temperatures averaging 65-70 degrees Fahrenheit. It is cool in the mountains and warm in the desert.
In the summer, Arizona and New Mexico can become hot. Be sure to pack lots of water to keep hydrated. In Santa Fe, it can reach temperatures of 85 degrees Fahrenheit, allowing you to enjoy the great outdoors and recreational activities in the many natural wonders that surround the city.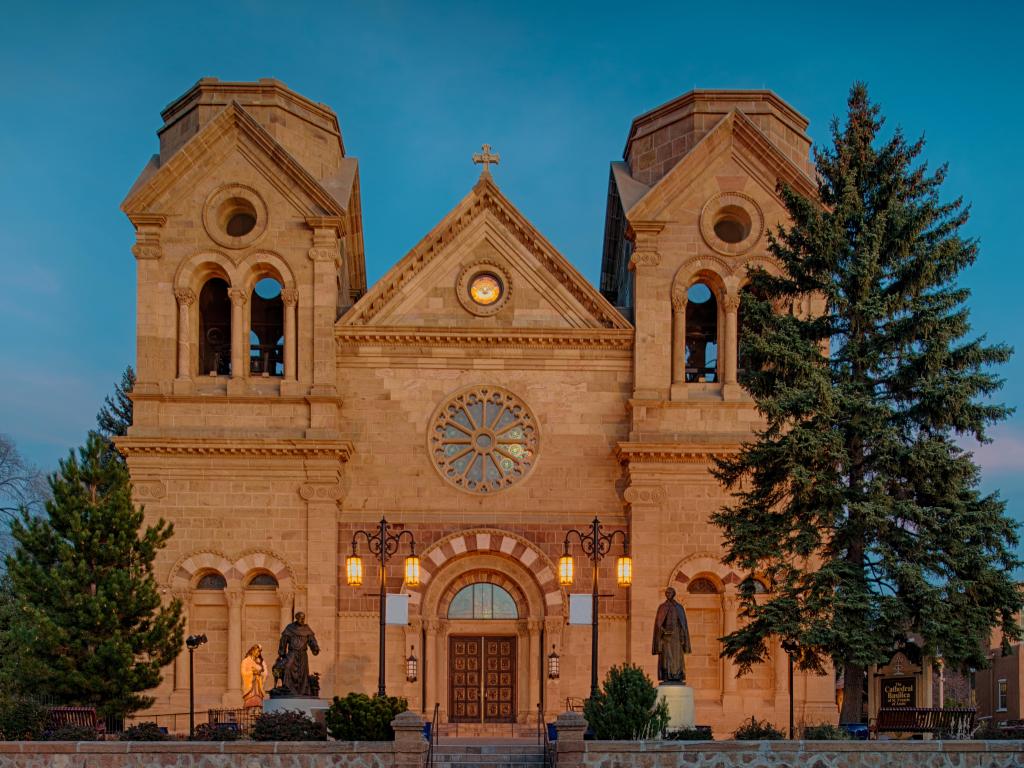 In the winter, many of the outdoor activities can still be enjoyed due to the manageable chilly temperatures (averaging 45 degrees). However, the roads may be closed due to icy conditions, and it could be more dangerous to do this road trip between November and February.
New Mexico is usually an all-year destination but the peak season for Santa Fe is around the summer months. Prices tend to rise around these months. The International Folk Arts Market also takes place in July in Santa Fe.
On the way, you will pass through Albuquerque on both routes, which hosts the world's largest hot-air balloon festival in October.