Road Trip from Portland, Maine to Burlington, Vermont
Step back in time with our quintessential New England experience on this short but super road trip from Portland, ME to Burlington, VT, replete with charming winding country roads, stunning coastal views, covered bridges and glimpses into small town America at its best.
The 250-mile road trip from Portland, ME to Burlington, VT takes about 6 hours to drive. Key stops include Ogunquit, Jackson, Portsmouth, Stowe and Woodstock, as well as Mount Washington, White Mountain National Forest and Camel's Hump State Park.
To help you make the most of it, we've set out the best routes and places to stop overnight, as well as our favorite things to do along the way and the best time of year to make the trip from Portland, Maine to Burlington, Vermont.
How far is Burlington from Portland, and how long will the road trip take?
Comparison of road trip routes between Portland, ME and Burlington, VT

| Route | Distance | Driving Time |
| --- | --- | --- |
| The Coastal Route | 300 miles | 6 hours 10 minutes |
| The Inland Route | 250 miles | 6 hours 20 minutes |
The quickest of our two recommended route options from Portland, ME to Burlington, VT spans a distance of 250 miles and will take 6 hours and 20 minutes to drive without stopping.
A longer route, which hugs the coast along Maine before heading inland, takes you a little further at 300 miles. That said, it's actually a quicker drive (since you'll be following the interstate most of the way), taking instead 6 hours and 10 minutes to complete.
You could easily complete this drive in a single day, however, given the brilliant towns and cities you'll pass, not to mention the great outdoors attractions and parks, a much better idea would be to spend between two and four days driving between the states, or a long weekend.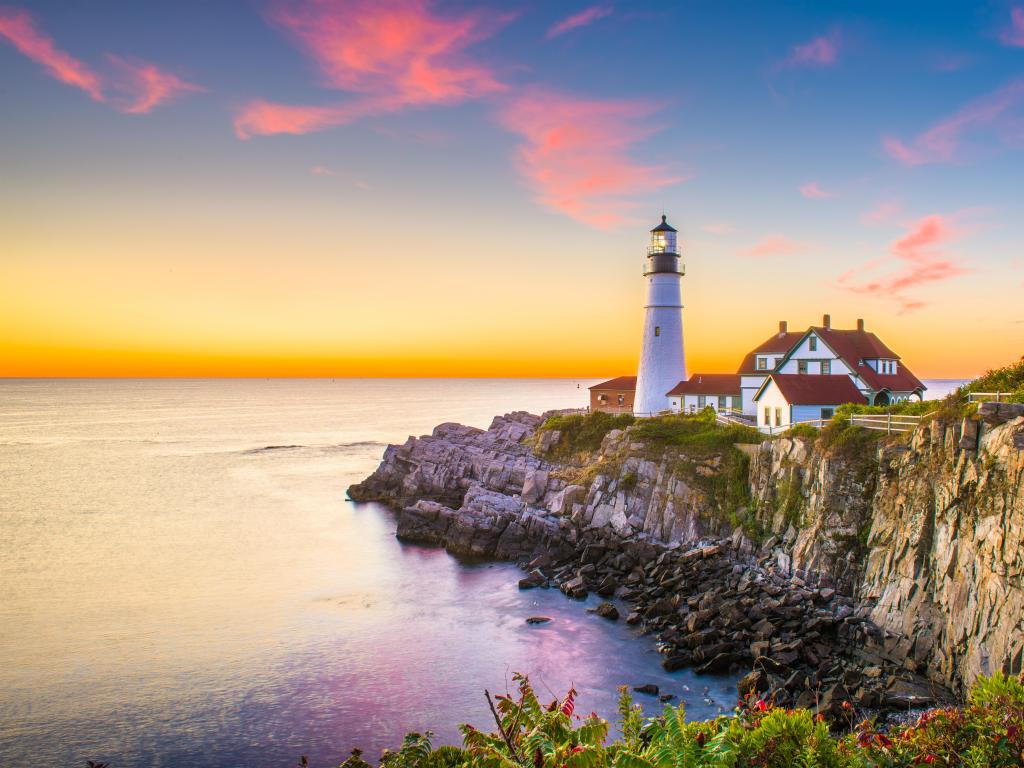 Best road trip route from Portland to Burlington
There are two really great routes you can follow from Portland to Burlington, depending on your preference for views and attractions. While you could drive between the two cities without stopping in around 4 hours, you'd be missing all the region has to offer.
Our Coastal Route, as you'd expect, begins initially by following the sea as you cross from Maine into New Hampshire. With its picturesque rocky coast, lighthouses and delicious lobster offerings, you may not want to leave!
After leaving Portsmouth, you'll head inland to visit four of New Hampshire and Vermont's most stunning towns, including Vermont's capital of Montpelier and the ski resort town of Stowe, which offers year-round outdoor fun.
Meanwhile, if you have a little more time at your disposal, you could opt for our Inland Route. This option gives you the quintessential New England experience of driving through lush forests and stopping at a myriad of small, off-the-beaten-path towns along the way.
It also includes a visit to Mount Washington, the highest peak in the northeastern US and a popular hiking destination. Enjoy the natural beauty of White Mountain National Forest and drive through postcard-ready covered bridges before winding your way through to Vermont.
This route misses out on Maine and New Hampshire's amazing coastline, but if you're all light-housed-out after visiting Portland and ready to get off the beaten path, this is a solid route for you.
Of course, if you fancy the attractions on both routes, you could always follow one to Burlington and the other on the final leg home. Given these are both fairly short drives, they're manageable in a week or less.
The Coastal Route
Begin by leaving Portland on Interstate 295 (I-295) heading south through Scarborough and following the coast, taking Exit 32 to US-1 and stopping at Kennebunkport, a great place to enjoy sandy beaches.
Continue on US-1 to Ogunquit, before following the coast to York. From here rejoin Interstate 95 (I-95) and follow it to Portsmouth in New Hampshire, another great point to stop and explore.
Follow I-95 south to Exit 2, where you'll switch to State Route 101 west, following it through Raymond and to Exit 8 for Manchester. Stop here to explore of the city, before joining Interstate 93 (I-93) and heading north, passing by Bear Brook State Park along the way.
Take the exit to join Interstate 89 (I-89) North, and drive a short distance, passing between Mount Kearsarge State Forest Park and Wadleigh State Park. You can also make a stop at Lake Sunapee.
Continue heading north, passing Grantham and Enfield Wildlife Management Area. Cross the river and into Vermont, where you'll need to take Exit 1 onto US-4 east. Follow this to Woodstock, a great overnight stopping point on this route.
Leave Woodstock and follow VT-12 north, before taking VT-107 at Bethal and then back on I-89 north. Follow this road a stretch before taking Exit 8 to visit Montpelier, a great outdoor activity city.
Rejoin I-89 and follow it before taking Exit 10 for VT-100 which will take you a short detour to Stowe, a great base for exploring several forests including Mount Mansfield State Forest.
Retrace your steps back to I-89 North, alongside Camel's Hump State Park and all the way to Exit 14W, which takes you the rest of the way to your destination in Burlington.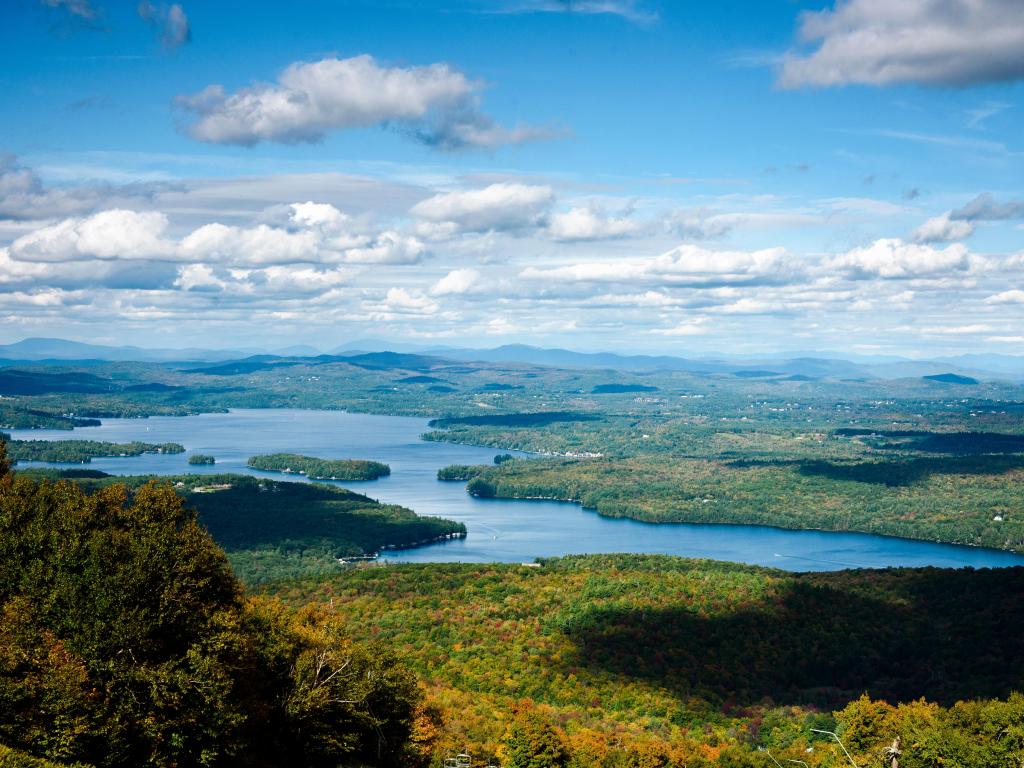 The Inland Route
The Inland Route begins by leaving Portland and taking Exit 5B to ME-22 west. Follow this road to Standish, where you'll turn right onto ME-113. Pass several more towns to Fryeburg, where you'll switch to US-302 and cross into New Hampshire.
Follow this road west to Jackson, a great skiing resort that's nestled in the White Mountains. This is a great place to stop overnight if you like skiing, hiking or just like mountain views.
Continue through this scenic part of your drive on NH-16 north, stopping at Washington Auto Road to make a detour to visit Mount Washington. Retrace your steps and continue on NH-16 to Gorham, where you'll switch to US-2 west.
Follow this road to Jefferson where you can enjoy nearby wildlife reserves, before passing through Santa's Village (where you can spend an afternoon at the amusement park) before continuing to Lancaster.
Still on US-2, you'll pass into Vermont, driving through several towns as well as between Victory State Forest and Groton State Forest. Continue to Montpelier, where you'll pick up the same road as the route above, taking I-89, making a detour to Stowe and then driving onwards to Burlington.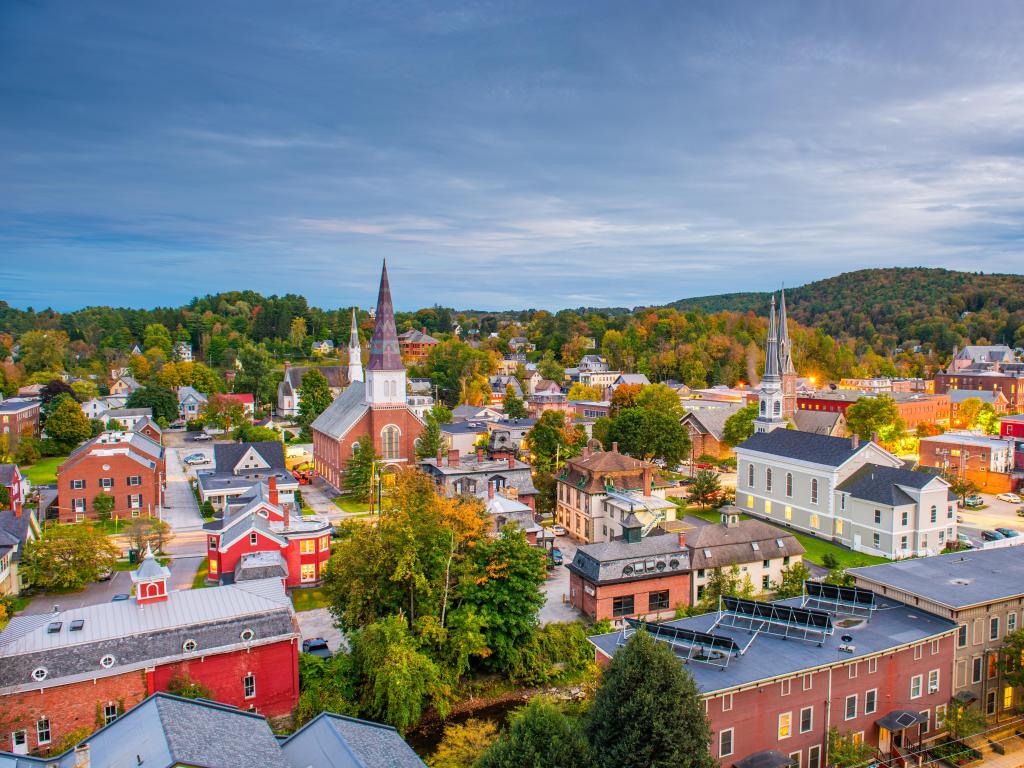 Best places to stop between Portland and Burlington
Although the road trip from Portland to Burlington can be completed in a single day if you don't make many stops along the way, a much better idea is to spread it out over several days so you can really explore the fantastic states you'll pass.
There are some great overnight options on this trip, here are just a few of our favorites:
A stop at the New England village of Woodstock
Even though the Coastal Route is a short drive, you'll get so much more from this trip with an overnight stop or two. A great point on this option is Woodstock in Vermont. About two-thirds of the way from Portland and under 2 hours from Burlington, this New England town offers so much.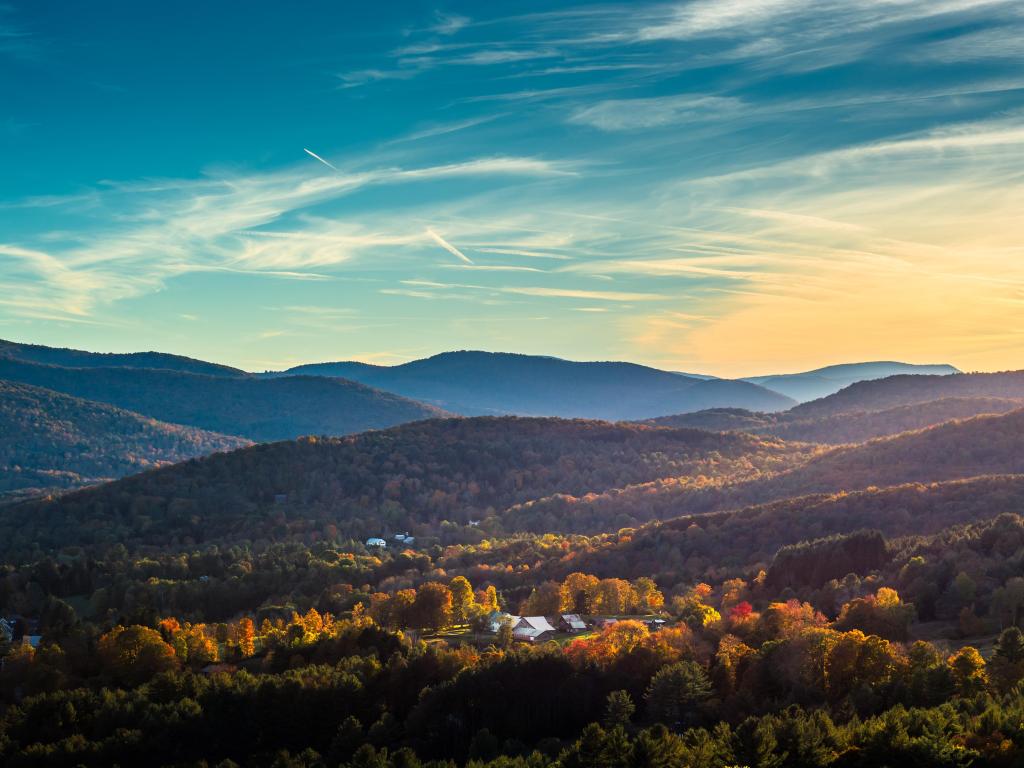 Nicknamed "the quintessential New England village," Woodstock radiates American charm. It offers opportunities for downtown meandering and excellent dining options, as well as hiking, mountain bike trails, gardens, and farms galore.
Spend some time at The Green, Woodstock's has a central square which is surrounded by Georgian, Federal, and Greek Revival-style homes, before exploring taking a walk around Marsh-Billings-Rockefeller National Historical Park, with an 1800s Queen Anne-style mansion.
One of the best places to stop in this pretty town is the Woodstock Inn & Resort. Its spacious rooms (which also include suites for those that want to really stretch out) have all the comforts of home, complete with a refrigerator and coffee maker.
After a long drive, you can enjoy a quiet moment in the hotel's library or relax after a day of adventuring in one of its two swimming pools and a full-service spa. Plus, its location near the Green makes it an ideal home base for shopping and dining.
And if you don't want to venture out, the property has an excellent onsite restaurant, The Red Rooster, and a bar. It's also only a five-minute drive to both the March-Billings-Rockefeller Historic Park and the Billings Farm & Museum.
A skiing paradise in Jackson
For those that have decided to follow the Inland Route, with its beautiful small towns, an ideal stopping point set around halfway to your destination is Jackson in New Hampshire. This resort is simply beautiful with amazing natural scenery, making it an ideal resting point.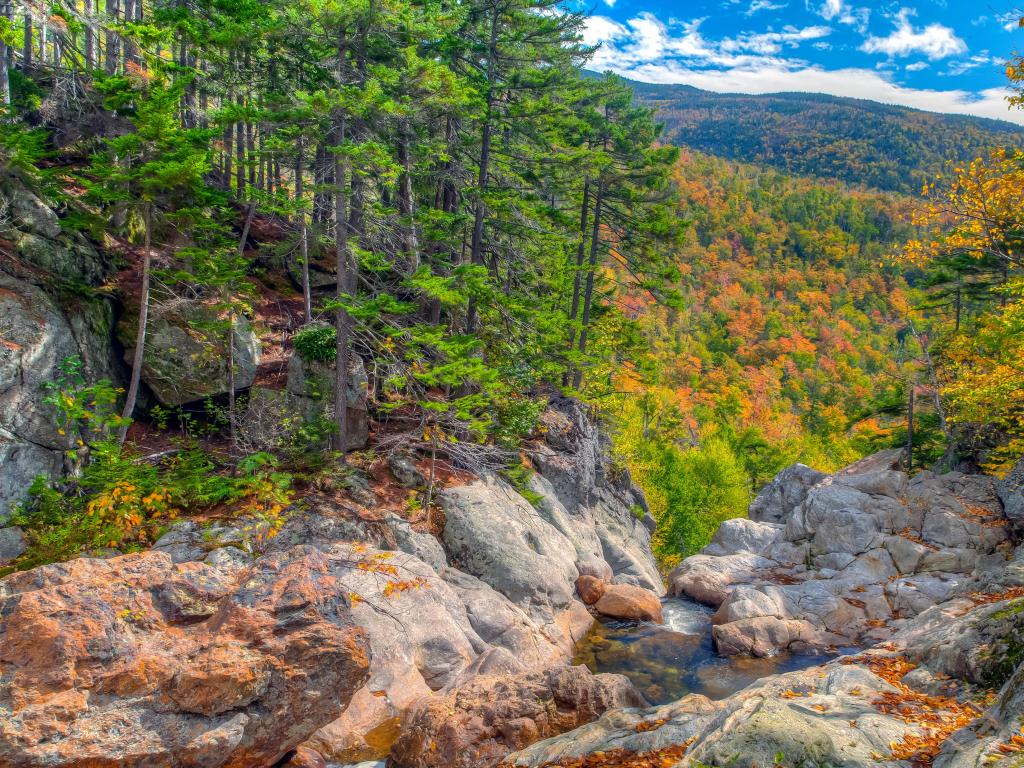 Nestled in the White Mountains, Jackson is a resort area with skiing, hiking, excellent dining options and a great small-town feel. Just some of the nearby attractions include Glen Ellis and Jackson Falls, a great place to stretch your legs with some light hiking before rewarding yourself with incredible waterfall views.
For the winter sports enthusiasts, there's excellent skiing and snowboarding at Wildcat Mountain, though it's still a great destination in the warmer months as well. Though if you are in Jackson in the winter, you must stop by for a sleigh ride and hot chocolate at Nestlenook Estate.
After a day of exploring, you can wrap yourself in comfort at The Inn at Thorn Hill. Here you'll find an onsite restaurant, sauna, bar, lounge, garden, and stunning terrace.
If you visit in the winter, you'll love the ski-to-door access and ski school with ski rentals available on-site. This hotel also offers one-stop shopping for amenities and dining, making it an ideal stopping point to enjoy the surrounding area and rest up for the rest of your adventure.
Where to stay when you reach Burlington
After your epic drive from Portland in Maine to the fabulous Burlington in Vermont, you'll want a great base to really explore more of your chosen destination. Of all the fantastic hotels, one of our favorites has to be the Hotel Vermont Burlington.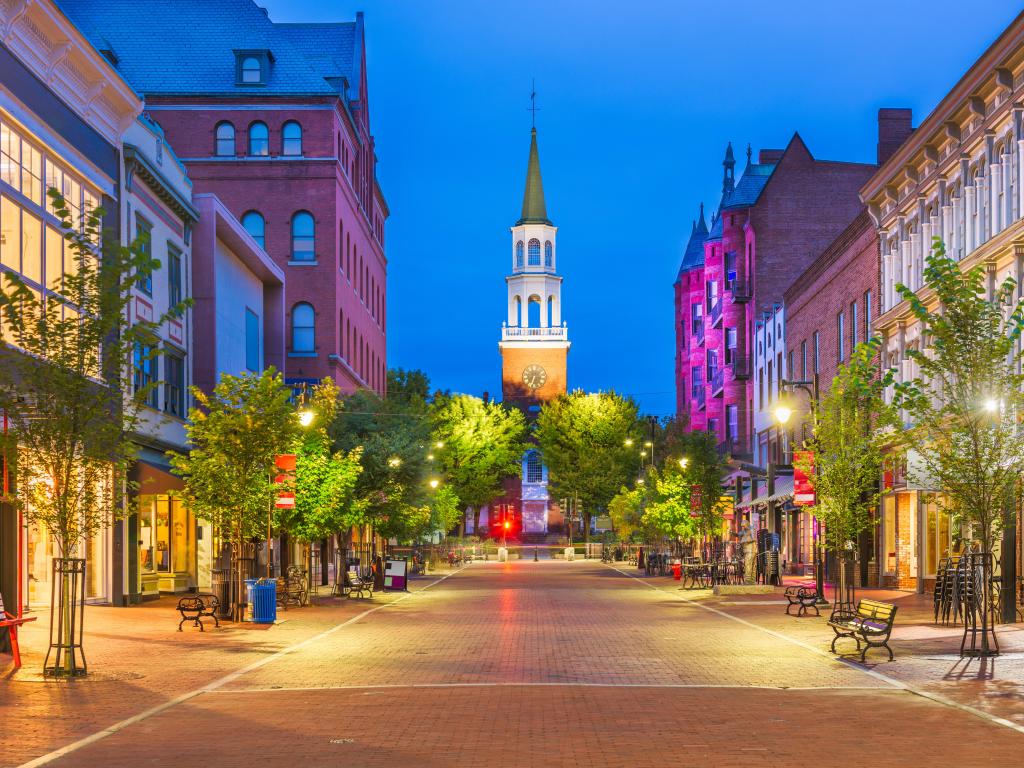 Situated in the heart of Burlington, this hotel offers an onsite restaurant and bar with a wide selection of craft beers, onsite parking, yoga classes and free bicycles. Plus you can arrange for massage services as well, which is a great way to unwind after a long drive.
Conveniently located just a short walk to Lake Champlain, you can explore Burlington to your heart's content after a well-rested stop, including its Royal Botanical Gardens, Waterfront Trail and popular pedestrianized Church Street Marketplace.
There's so much more to explore in this small vibrant city, which has plenty to offer, given the fact that its both a college town and an important commercial city. No matter what time of year you visit, it's a fun place to explore.
Things to see on a road trip from Portland to Burlington
You'll be spoilt for things to do on this road trip from Portland, ME to Burlington, VT. To help you plan and decide which attractions you'd like to visit along the way, we've set out some of the best places you'll pass that you may want to consider:
Both Routes
Montpelier, Vermont - Check out Hubbard and North Branch parks for land sports and the Winooski River for water sports and the Morse Farm Maple Sugarworks and Bragg Farm Sugar House. Plus the Vermont State House and the Vermont Historical Society Museum.
Stowe, Vermont - This mountain resort town is known for its skiing, dense forest and mountain views. Go for a tasting at Alchemist Brewery and Stowe Cider, explore Gold Brook Covered Bridge, Stowe Recreation Path and Smugglers Notch State Park or hike to Moss Glen Falls.
Mt Mansfield State Forest - Named after the highest peak in Vermont, this state forest covers 44,444 acres and crosses over into seven towns. It's one of the best places to hike and offers stunning views.
Camel's Hump State Park - A great peak in Vermont, this state park is easily recognisable by its double-humped profile. There are fantastic views but the trails are often popular and busy.
Lake Champlain - This freshwater lake in North American borders with Canada, as well as facing Burlington. It's a beautiful spot to enjoy a sunset and contains over 90 species of fish.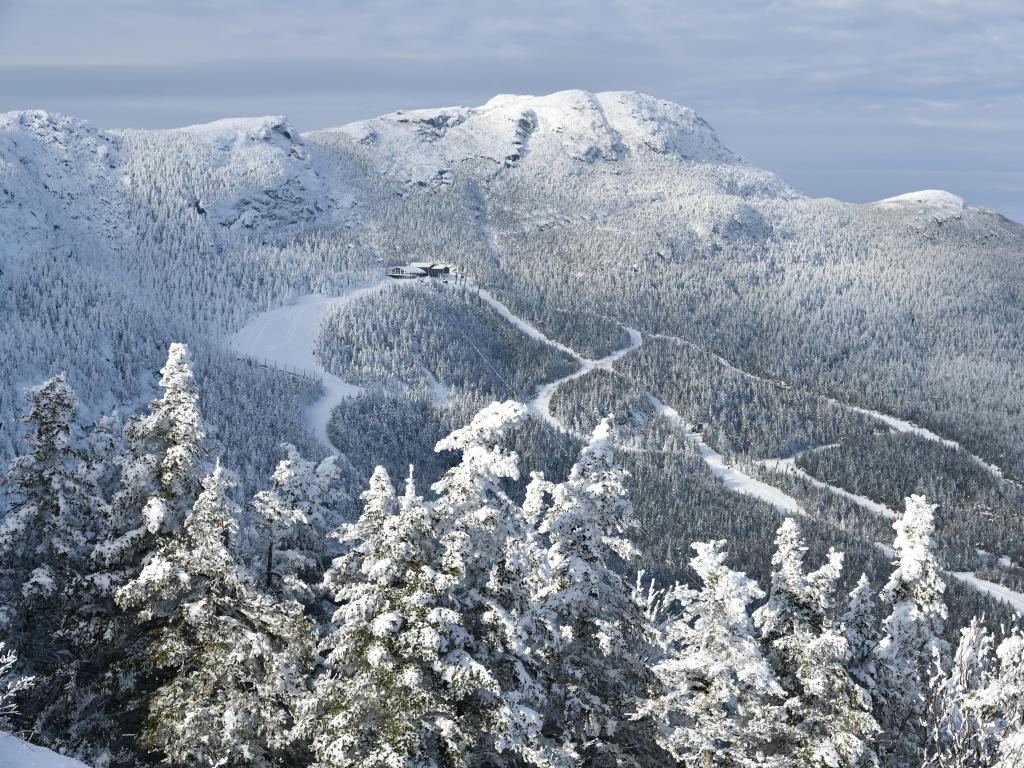 The Coastal Route
Kennebunkport, Maine - Home to sandy beaches, the famed Seashore Trolley Museum, a lighthouse from 1833 and quaint lobster villages, Kennebunkport is a lesser known but still great town to visit.
Ogunquit, Maine - This town offers beautiful sandy beaches, grassy dunes and a cliff walk called "Marginal Way" that offers coastal views and a lighthouse.
York, Maine - A summer resort town with three golf clubs and four sandy beaches. Don't miss the retro amusement arcade and saltwater taffy.
Portsmouth, New Hampshire - A port city (as its name suggests!) on the Piscataqua River with a quaint Market Square that happens to also house the former research submarine USS Albacore.
Manchester, New Hampshire - Located on the Merrimack River, Manchester is home to the Frank Lloyd Wright-designed Zimmerman house, the Millyard Museum, which shows how the city and it's textile industry formed and the Currier Museum of Art.
Lake Sunapee, New Hampshire - Located in Western New Hampshire, this is the fifth largest lake and is 8.1 miles long. Lake Sunapee is best known for skiing and snowboarding, though the park also offers opportunities for camping, hiking and swimming.
Woodstock, Vermont - Woodstock is a gorgeous New England town, something out of a movie set really, and offers opportunities for downtown meandering; excellent dining options; hiking, mountain bike trails, gardens, and farms galore.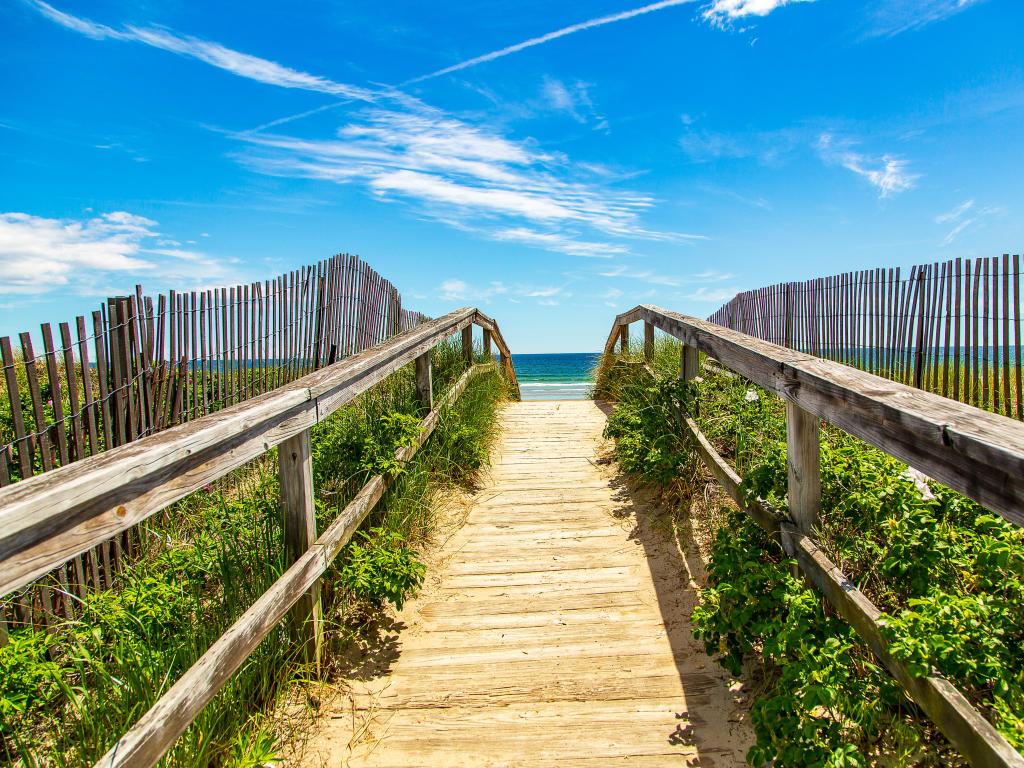 The Inland Route
Jackson, New Hampshire - Nestled in the White Mountains, Jackson is a resort area with skiing, hiking, excellent dining options and a great small-town feel. Here you can ski Wildcat Mountain, take a sleigh ride or hit its famed amusement park, Storyland.
Mount Washington, Sargent's Purchase, New Hampshire - Hike to the top of the Northeastern United States' highest peak. You can also drive or take a trolley, but if you're up for it, the Tuckerman trail and a pair of good boots will get you to the views at the top.
Jefferson, New Hampshire - Explore wildlife reserves, waterfalls, ridges and ravines. Check out Muddy Paw Sled Dog Kennel for a sleigh ride through the woods.
Santa's Village, Jefferson, New Hampshire - Unleash pure joy at this Christmas-themed amusement park that boasts rides, shows, cookies, elves reindeer and – of course – Santa! You can even feed the reindeer. And there's even a water park for those non-arctic months.
Mechanic Street Covered Bridge - Quaint, red-roofed covered bridge, perfect for a photo op. A truck crashed into it in July 2022, so it won't be open for a bit while it's under repair so plan accordingly.
Lancaster, New Hampshire - This small rural town gives you a glimpse into everyday life in New England. For a peek back in time, check out the Lancaster Historical Society, which features a flea market every other Sunday. Check out the annual county fair every September.
White Mountain National Forest - Explore mountainous forests to incredible alpine peaks at this stunning national forest. You'll get to enjoy breathtaking scenery, clear mountain lakes and discover the local wildlife.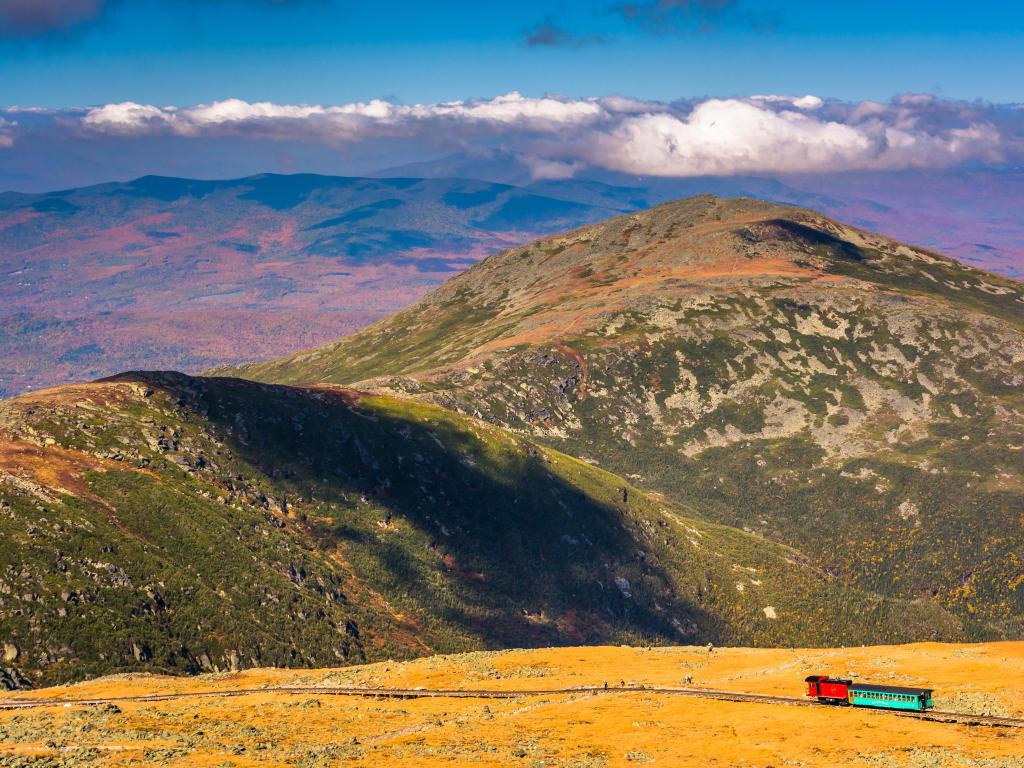 Best time to go on a road trip from Portland to Burlington
For most road trippers, spring, summer and fall are the ideal time for this road trip, but if you are an avid skier (and don't mind braving potential snow and ice on the road), winter could be the perfect time for you to visit renowned ski locations like Stowe Mountain Resort.
Summer is a popular time to visit New England, but this route is not likely to be overly packed. Expect temperatures around 81 degrees Fahrenheit in the height of the season, promising warm, pleasant weather that's ideal, particularly for the beaches on the Coastal Route.
In contrast, winters are cold with lows of 2 degrees, making the roads icy and this season a bit more challenging for the average road tripper. However, if you are looking to ski, it's an ideal time for you. Just be sure to bring winter car essentials like a shovel, ice scraper, and snow brush.
Visiting ski towns like Stowe will be more expensive in the winter, but then again you get to ski the slopes and catch the ice carving action at the Stowe Winter Carnival (annually in mid-January).
Fall is an incredibly beautiful time to visit New England and you would be rewarded with amazing views of autumn leaves in an array of gold, orange, yellow, and red colors.
August through October is also apple season, so if you time your trip right you can pick some yourself and sample some tasty homemade apple cider and apple butter. Meanwhile, spring brings new blooms, making the quintessential New England towns on your route really pop.
For a fun end to your trip, why not plan your visit to Burlington with one of its many annual events? The most notable are the Burlington Food and Wine Festival (late June), Vermont Brewers Festival (late July) and Burlington Discover Jazz Festival (early June) to mention just a few.