Road Trip from Portland to Las Vegas
Are you ready for an adventure that will take you on a drive from Portland to the neon-lit Las Vegas, the Entertainment Capital of the World? This road trip will take you through California and Utah's stunning mountain and desert landscapes to Sin City, which defines the phrase 'larger than life'.
The 1,340-mile road trip from Portland to Las Vegas will take about 22 hours to drive via Utah through Salt Lake City, Dixie National Forest and Zion National Park or via California through Lake Tahoe, Death Valley and Yosemite National Park.
Read on to learn all about this amazing road trip from the scenic routes that will have your camera clicking nonstop and pit-stops that will make you consider extending your stay to must-see attractions and, of course, the ideal seasons for this road trip.
How far is Las Vegas from Portland, and how long will the road trip take?
Comparison of road trip routes between Portland and Las Vegas

| Route | Distance | Driving Time |
| --- | --- | --- |
| California Route | 1,145 miles | 20 hours 10 minutes |
| Utah Route | 1,340 miles | 21 hours 40 minutes |
The Utah Route from Portland to Las Vegas spans approximately 20 hours and 40 minutes, covering 1,340 miles without accounting for any detours you might want to make.
Choose the alternative California Route, and your journey will be filled with scenic vistas of forests, crystal-clear lakes, mountains, and deserts. This route covers a slightly shorter distance of about 1,145 miles, requiring a journey time of around 20 hours and 10 minutes.
We recommend allocating a minimum of 4-5 days for either route to enjoy the attractions and stunning views fully and the experiences each route has to offer.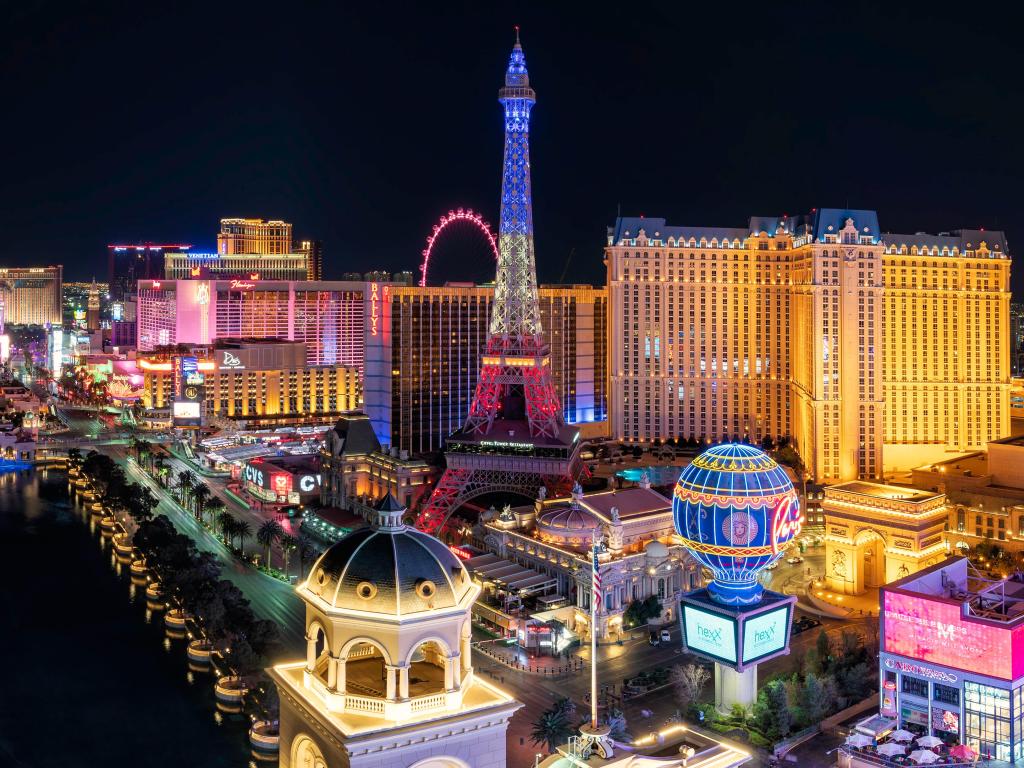 Best road trip route from Portland to Las Vegas
The decision on which route to take from Portland to Las Vegas depends entirely on your personal preferences, be it a journey brimming with unique rock formations and emerald-green forests or a trek through some of the most spectacular landscapes and adventure-filled stops that the West Coast has to offer.
From the towering Multnomah Falls in Oregon to the mysterious Shoshone Lava Tubes in Idaho, the Utah Route is dotted with geological marvels.
Add to this the historical tapestry of Temple Square in Salt Lake City and the astounding red rock landscapes of Utah's National Parks, and this journey provides a rich immersion in the diverse cultures and landscapes of the American West.
Opt for the California Route, and you're signing up for an extraordinary journey through a showcase of the California's stunning natural beauty.
This route will take you from the lush, cascading landscapes of Cascades Raptor Center in Eugene to the serene vistas of Lake Siskiyou and onwards to the mesmerizing wilderness of Yosemite National Park.
How to drive from Portland to Las Vegas
The map above shows our suggestions for the best road trip routes between Portland and Las Vegas. Keep reading for detailed descriptions of both routes, where to stay on either, and the best things to do on the way.
The Utah Route
Leave Portland on Interstate-84 (I-84), heading east towards Boise, Idaho. After your visit, continue southeast to reach Salt Lake City, Utah. While there, you can admire the architecture of the iconic Salt Lake Temple.
Once you've seen all Salt Lake City has to offer, head south on I-15, then immerse yourself in the natural beauty of the Dixie National Forest. Explore its numerous trails, wildlife, and spectacular geological formations.
Next on your journey is Bryce Canyon National Park, not too far from Dixie National Forest on UT-22. Known for its crimson-colored hoodoos, or spire-shaped rock formations, the park is a hiker's paradise. The sunrise at Bryce Point is a must-see.
After soaking in the red-rock wonderland, continue southwest to reach the majestic Zion National Park. Enjoy hiking through red cliffs, visit the Emerald Pools with their waterfalls and lush vegetation, or challenge yourself with a trek up to Angels Landing for a truly breathtaking view.
After your fill of Utah's natural beauty, get back onto I-15 heading south for your final destination: Las Vegas, Nevada.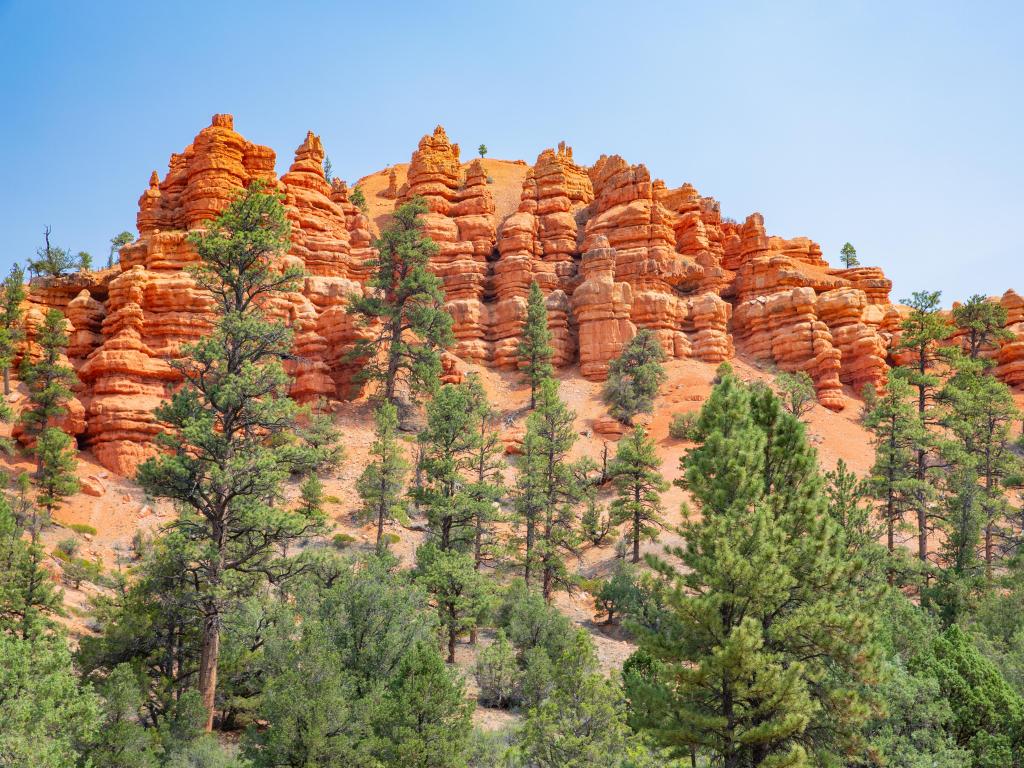 The California Route
Set off from Portland, driving south on the I-5 through Salem and Eugene toward Redding. Enjoy the lush and beautiful landscapes as you follow the winding route through Oregon and California's scenic countryside.
Arriving in Redding, take a detour to explore the whimsical architecture of the Sundial Bridge before diving into the natural splendor of the Lassen Volcanic National Park, where you'll find fascinating hydrothermal sites and various hiking trails in the shadows of the still-active Lassen Volcano.
Continue your journey southeast to Lake Tahoe, a pristine jewel straddling the border of California and Nevada. Here, you'll experience breathtaking views, serene blue waters, sandy beaches, and mountainous landscapes that change with the seasons.
Further south on US-395 leads you to Mammoth Lakes. This spot offers an array of outdoor activities like hiking, fishing, and mountain biking in summer, or skiing and snowboarding during the winter months.
From here, head southeast towards Death Valley National Park, the hottest, driest, and lowest national park. Despite its ominous name, this natural wonder offers vast sand dunes, below-sea-level salt flats, mysterious singing rocks, and colorful rock formations.
Finally, take US-95 towards Las Vegas, where you can conclude your road trip with the city's signature glitz and glamour.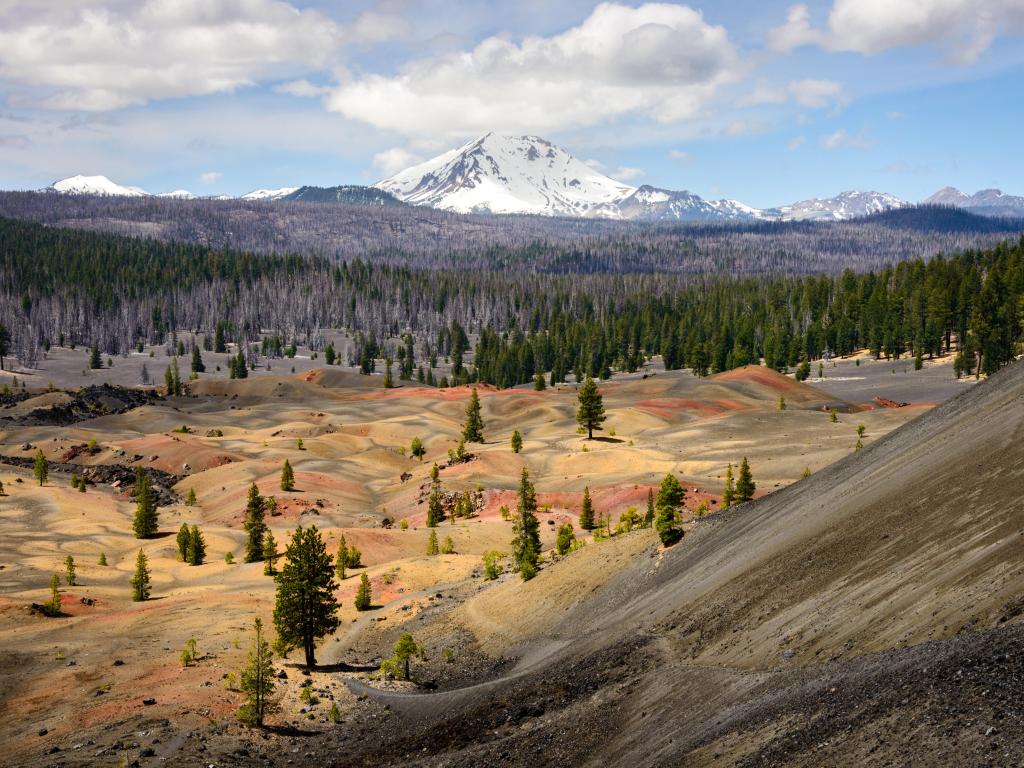 Best places to stop between Portland and Las Vegas
The open road is calling, and on this epic drive from Portland to Las Vegas, the journey is just as spectacular as the destination. The winding route is studded with awe-inspiring sights and unforgettable places to stay overnight that will enrich your travel experience.
Marvel at the architecture of Salt Lake City
Salt Lake City, tucked away in the heart of Utah, is a jewel waiting to be discovered along the Utah Route on your road trip from Portland to Las Vegas, located 11 hours and 30 minutes into the journey.
Take a stroll through the spiritual heart of the city, Temple Square. More than just the hub for The Church of Jesus Christ of Latter-day Saints, it's a fascinating hive of architectural marvel, from the striking Salt Lake Temple to the unique acoustics of the Salt Lake Tabernacle.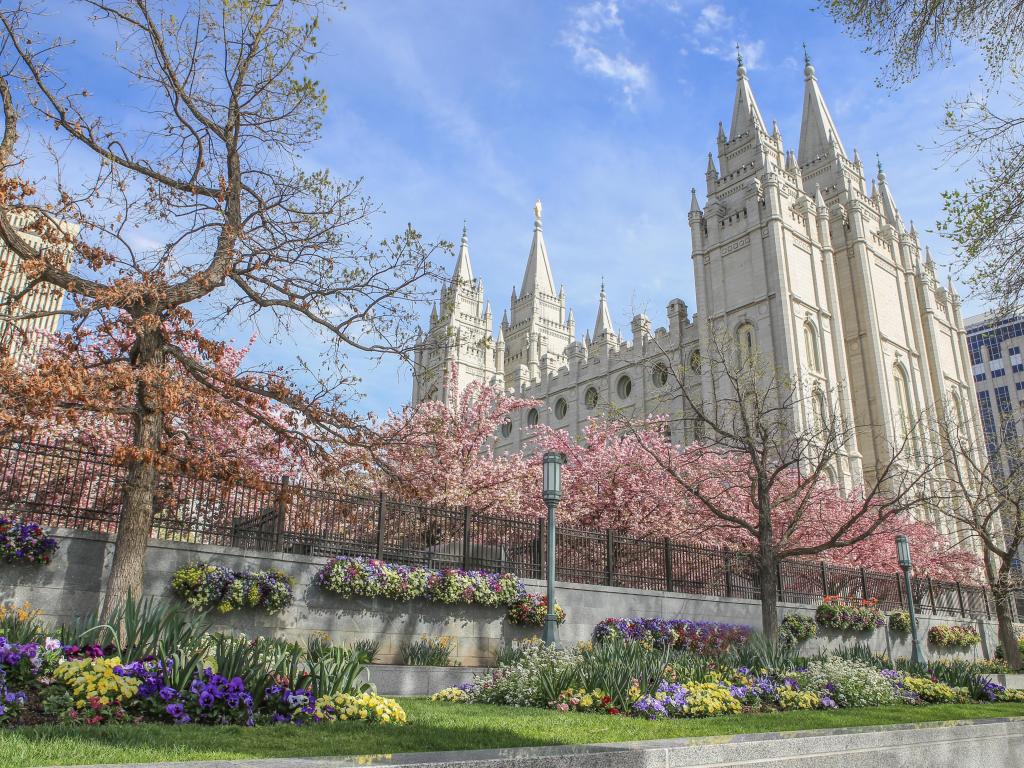 For those who crave a taste of the great outdoors, Salt Lake City doesn't disappoint. With a backdrop straight out of a nature documentary, trails such as the Bonneville Shoreline Trail carve through the landscape, offering panoramic views that encapsulate the city's unique blend of urban and wild.
For any art enthusiast, a visit to the Utah Museum of Fine Arts is like taking a whirlwind tour around the world and back in time. Housing an eclectic collection spanning thousands of years, the museum's corridors lead you from one cultural realm to another.
While visiting Salt Lake City, you will have plenty of options as to where to stay, but none come quite close to the luxurious Grand America Hotel. Located in downtown Salt Lake City, you will be within walking distance of Temple Square and a short drive from the Texas State Capitol.
The chic hotel features a fabulous indoor swimming pool and a restaurant that serves American cuisine, so you can reenergize and relax in style after you explore the city. Don't forget to treat yourself to a pampering massage at the full-service spa during your stay.
Take a dip in the crystal-clear waters of Lake Tahoe
Picture a gem nestled between rugged peaks, its sapphire surface glinting under the golden California sun. Welcome to Lake Tahoe, a magical oasis along the California Route, the perfect pit-stop on your road trip from Portland to Las Vegas, located 11 hours into the drive.
Lake Tahoe is known worldwide for its crystalline waters and pristine beaches. Dip your toes in the cool lake, soak up the sun on its sandy shores, or venture out on a paddleboard for a taste of adventure.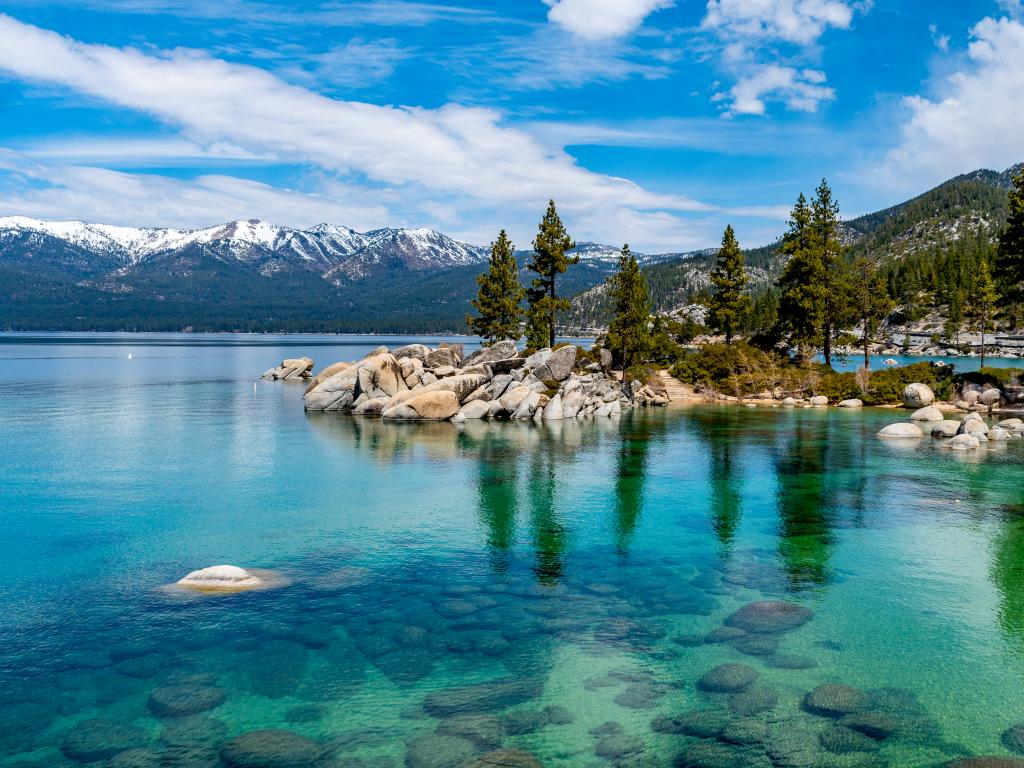 When it comes to natural splendor, Lake Tahoe is a relentless overachiever. Explore Emerald Bay State Park, a haven of natural beauty with its glacier-carved granite cliffs and azure bay. Don't forget to catch a glimpse of the historic Vikingsholm, a mansion that echoes Scandinavian architecture.
Winter unveils a whole new side of Lake Tahoe as its landscape transforms into a snow-laden wonderland. Its peaks become the stomping grounds for skiers and snowboarders, making it a year-round paradise.
If you are looking for a stylish hotel set on the shores of the lake, look no further than the Desolation Hotel. With a curious name, you can expect extraordinary things from this gorgeous boutique hotel, which is located right in the heart of the action with Lakeside Beach a stone's throw from the property.
You will find an outdoor swimming pool, just in case you find the lake a bit too cool for your preference. You will also find an upscale restaurant on the property. If you wish to venture further, Tahoe Queen and El Dorado Beach are both a short drive away.
Where to stay when you reach Las Vegas
Las Vegas is a city that needs little introduction; known globally as 'The Entertainment Capital of the World,' Las Vegas is one of the most unique cities in the US with its glittering casinos, neon-lit streets and endless entertainment options.
Immerse yourself in world-class entertainment with music concerts, stand-up comedy, and theatrical performances featuring international celebrities, acrobats, and magicians.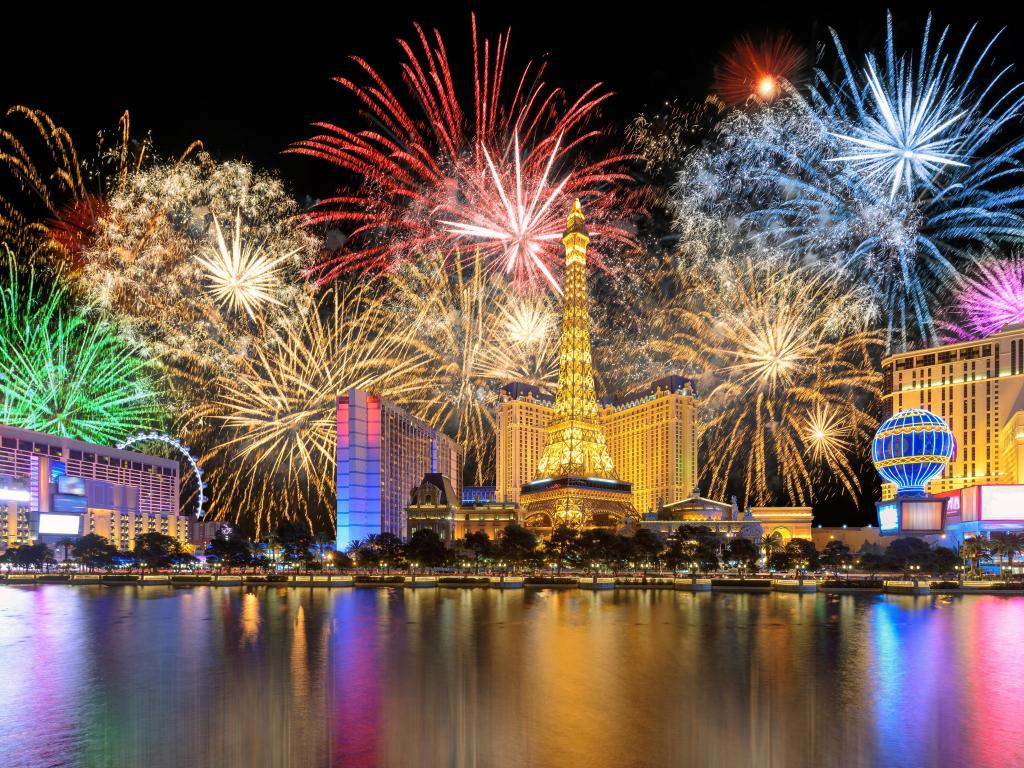 From the iconic dancing fountains of Bellagio to the storied mob history at The Mob Museum, Vegas offers a unique, multifaceted experience that exists nowhere else on Earth.
Las Vegas is also famous for its glamorous accommodation options, and our favorite place to stay in Sin City is Wynn Las Vegas. This luxurious resort hotel features a full casino, oasis-style pools, a full-service spa, and an impressive array of signature restaurants.
Things to see on a road trip from Portland to Las Vegas
Whether you are an aficionado of expansive landscapes, a seeker of cultural enlightenment, or a thrill-chaser craving for exhilarating adventures, this drive from Portland to Las Vegas has something to see and do for everyone.
Utah Route
Multnomah Falls, Oregon - An iconic 620-foot-tall waterfall located in the Columbia River Gorge, it's renowned for its stunning beauty and is one of the most visited natural recreation sites in the Pacific Northwest.
Maryhill Museum of Art, Goldendale - An eclectic museum located in Goldendale, Washington, it houses a diverse collection ranging from Rodin sculptures to Native American artifacts and Queen of Romania's personal items.
Idaho Botanical Garden, Boise - An expansive 15-acre series of gardens that provide a beautiful display of plant life throughout the seasons. It's also a popular venue for concerts and light shows.
Shoshone Falls, Twin Falls - Known as the "Niagara of the West," Shoshone Falls is a breathtaking waterfall on the Snake River in southern Idaho. The falls are higher than Niagara Falls and offer a picturesque view.
Ogden's George S. Eccles Dinosaur Park, Ogden - A dinosaur park that combines educational exhibits with fun. It features more than 100 dinosaur replicas, a museum with interactive exhibits, and a fascinating collection of prehistoric fossils.
Temple Square, Salt Lake City - A 10-acre complex in the center of Salt Lake City, owned by the Church of Jesus Christ of Latter-day Saints. It features beautiful architecture, gardens, and the famous Salt Lake Temple.
Utah State Capitol, Salt Lake City - A neoclassical building that houses the chambers of the Utah State Legislature, the governor's office, and the Supreme Court of Utah. Visitors are impressed by the grand architecture, historical exhibits, and panoramic views of Salt Lake City.
Museum of Natural Curiosity, Lehi - This interactive children's museum in Lehi, Utah, offers 400+ exhibits exploring science, history, and the arts, providing an entertaining and educational experience for all ages.
Provo Pioneer Village, Provo - A historic village that recreates 19th-century Utah life with original buildings and artifacts. Visitors can experience what life was like for the early settlers of Provo.
Meadow Hot Springs, Utah - A set of natural hot springs located in a field south of Fillmore. The crystal-clear mineral waters offer a tranquil and rejuvenating soaking experience.
Parowan Gap Petroglyphs, Utah - A natural passageway filled with hundreds of petroglyphs (rock art) carved by prehistoric cultures. The site serves as a significant remnant of ancient Native American history and culture.
Dixie National Forest, Utah - This vast national forest is home to diverse flora, fauna, and spectacular geological formations. The Navajo Lake and the scenic drives through the forest are visitor favorites.
Bryce Canyon National Park, Utah - Known for its stunning red rock hoodoos, this national park offers many hiking trails. The views from Sunrise Point and Sunset Point are breathtaking.
Zion National Park, Utah - The park is known for its towering red cliffs and scenic vistas. Whether hiking the Narrows or visiting the Emerald Pools, it offers a variety of stunning landscapes.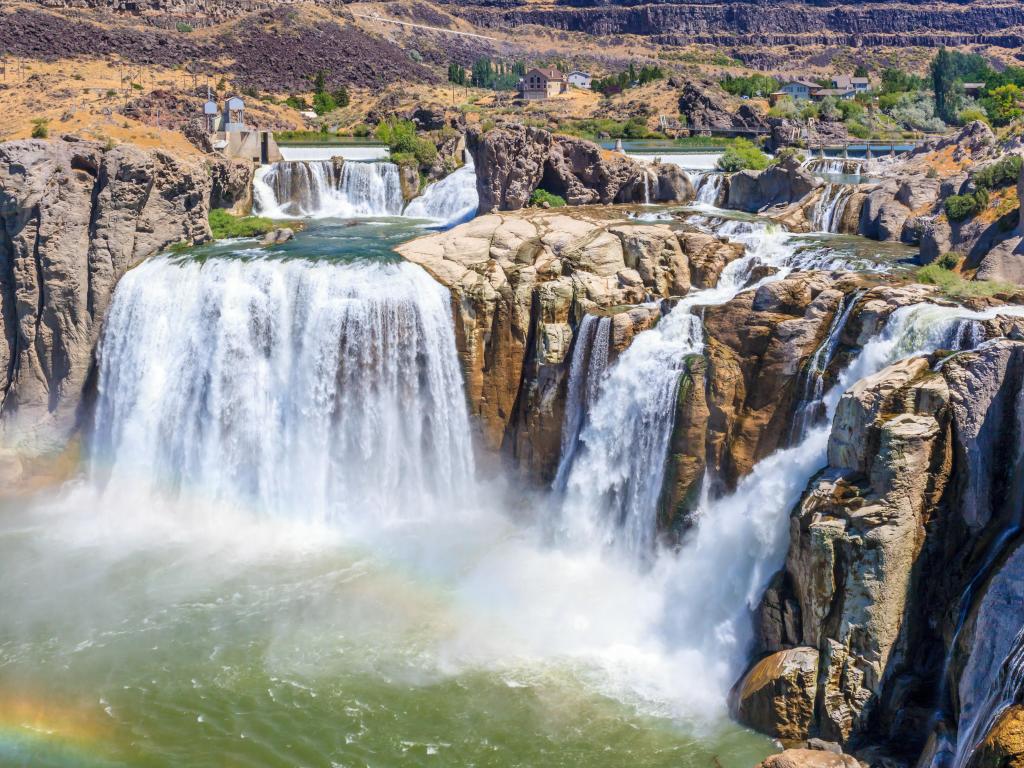 California Route
Cascades Raptor Center, Eugene - A wildlife hospital and nature center specializing in birds of prey. Visitors can admire various species of raptors in naturalistic enclosures and learn about the center's rehabilitation work.
Lake Siskiyou, Mount Shasta - A stunning reservoir located at the foot of Mount Shasta offering a plethora of recreational activities, such as fishing, boating, and camping. Its serene waters and beautiful surrounding landscape make it a perfect stop for nature lovers.
Lassen Volcanic National Park, California - An enchanting park filled with geothermal wonders, mountainous landscapes, clear mountain lakes, and meadows of wildflowers. Offers various outdoor activities from hiking and camping to snowshoeing in the winter.
National Automobile Museum, Reno - A world-class collection of over 200 vintage, classic, and special interest automobiles. The museum takes you on a journey through time, presenting the history of automobiles from the late 19th century to the early 21st century.
Lake Tahoe - The largest alpine Lake in North America, famous for its cobalt-blue water and surrounding snowcapped peaks. A recreational paradise for boating, hiking, skiing, and more.
Emerald Bay State Park, California - Home to the historic Scandinavian-style mansion, Vikingsholm, and the scenic Fannette Island. The park provides panoramic views of the bay and offers water sports and hiking opportunities.
Donner Memorial State Park, Truckee - This park offers a museum that tells the story of the ill-fated Donner Party, along with scenic hiking trails and camping sites. It's also a great spot for winter sports.
Yosemite National Park, California - Famous for its giant sequoias, towering cliffs, and cascading waterfalls, this national park offers a diverse landscape that draws outdoor enthusiasts worldwide for hiking, climbing, and wildlife viewing.
Mammoth Lakes, California - A small town surrounded by a dramatic wilderness, popular for outdoor activities including fishing, mountain biking, and skiing. The surrounding mountains offer numerous trails and stunning panoramic views.
Mono Lake Tufa State Natural Reserve, California - A striking, ancient saline lake known for its tufa towers - calcium-carbonate spires and knobs formed by interaction of freshwater springs and alkaline lake water. Visitors can enjoy walking, bird watching, and learning about the area's unique ecosystem.
Death Valley National Park, California - Known as the hottest place in the US, it showcases unique geologic features, wildlife, and vast desert landscapes. A visit here allows for exploration of its sand dunes, salt flats, mountains, and valleys.
Zabriskie Point, Death Valley - Famous viewpoint in Death Valley offering a stunning panorama of the vibrantly colored badlands. A perfect spot for photography, especially at sunrise and sunset. If you'd like to learn more about the best photo spots in Death Valley, here is our comprehensive guide.
Ghost Town of Rhyolite, Beatty - Once a booming mining town, Rhyolite now stands as a reminder of the area's history during the gold rush. Visitors can explore the town's eerie, abandoned structures, including a school, a jail, and a bank.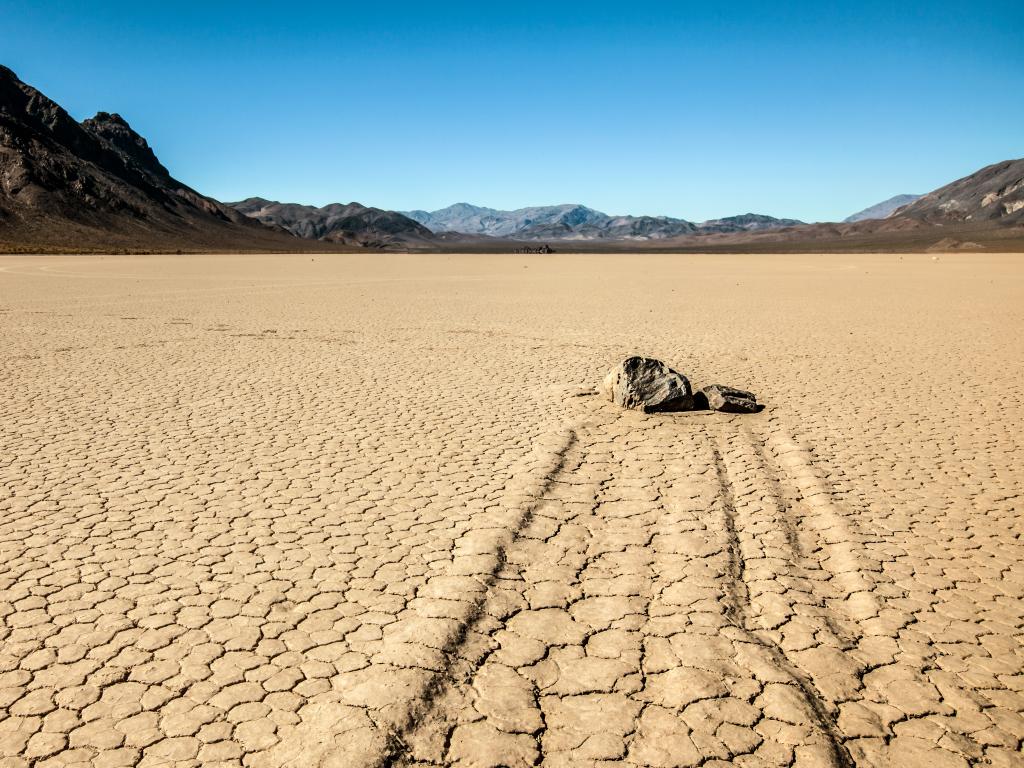 Best time to go on a road trip from Portland to Las Vegas
This road trip from Portland to Las Vegas can be undertaken year-round, but the best time really depends on your preference for weather and scenic beauty.
If you are a fan of cooler temperatures and enjoy the crisp air and fall colors, consider starting your trip in late September or early October. This will allow you to admire the beautiful foliage, especially in and around Dixie National Forest and Zion National Park on the Utah Route.
For those who prefer warmer weather, spring, specifically late March through June, can be ideal. During this time, Las Vegas averages temperatures in the high 70s to 100 degrees. Spring also allows you to experience the bloom of wildflowers, especially in places like Yosemite National Park.
If you are traveling in spring, EDC is a massive electronic dance music festival that takes place in Las Vegas annually, usually in May. It's one of the largest music festivals in the world, drawing hundreds of thousands of attendees.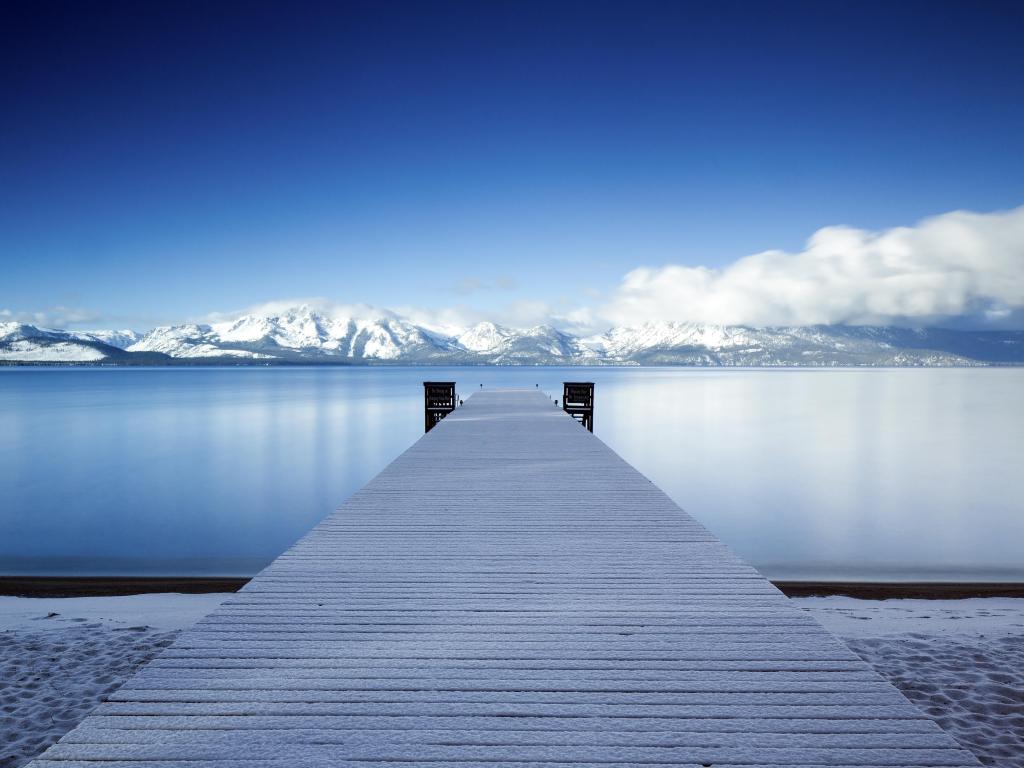 Winter road trips, from December to February, offer their own charm with snowy landscapes in higher elevation areas, but also bring colder temperatures. Las Vegas averages high temperatures in the 50s and 60 degrees during these months.
Despite the cooler weather, Las Vegas remains quite popular during the holiday season, especially around New Year's Eve when the city hosts a number of glamorous celebrations. However, aside from these peak periods, winter can be a more affordable time to visit Las Vegas, with many hotels offering lower rates.
This is also the period with the highest chance of encountering road closures due to snow in mountainous areas, so be prepared for potential detours.
The summer months from June to August bring intense heat, especially in Las Vegas where temperatures often exceed 100 degrees. While this is a great time for water activities in Lake Siskiyou and Lake Tahoe on the California Route, it may be uncomfortably hot for hikes in places like Death Valley or even Las Vegas.