Road Trip from Portland to Los Angeles
Some of the most spectacular scenery in America separates the cities of Portland and Los Angeles. From the chiseled mountains of the Sierra Nevada to the rugged coastline of Oregon, this road trip will be the adventure of a lifetime.
The 1,370-mile road trip from Portland to Los Angeles will take you 14 hours 30 minutes to drive. Between the two routes, key stops include Crater Lake, Lake Tahoe, and Yosemite National Park, as well as the cities of San Francisco and Santa Cruz.
Planning a route trip of this scale is difficult, so be sure to read until the end to learn the best routes inside and out.
How far is Los Angeles from Portland and how long will the road trip take?
Route comparison

| Route | Distance | Driving Time |
| --- | --- | --- |
| Coastal Route | 1,370 miles | 24 hours |
| Inland Route | 1000 miles | 18 hours |
There are two route options for your road trip from Portland to Los Angeles - the coastal route and the mountain route.
The coastal route is 1,370 miles and will take you at least three days to drive. This route will take you down the iconic Pacific Coast Highway along the bays and the beaches of Oregon and California.
You will see the dramatic coast of Oregon, walk amongst the giant Redwood in California, drive over the Golden Gate Bridge and enjoy the laid-back city of Santa Cruz.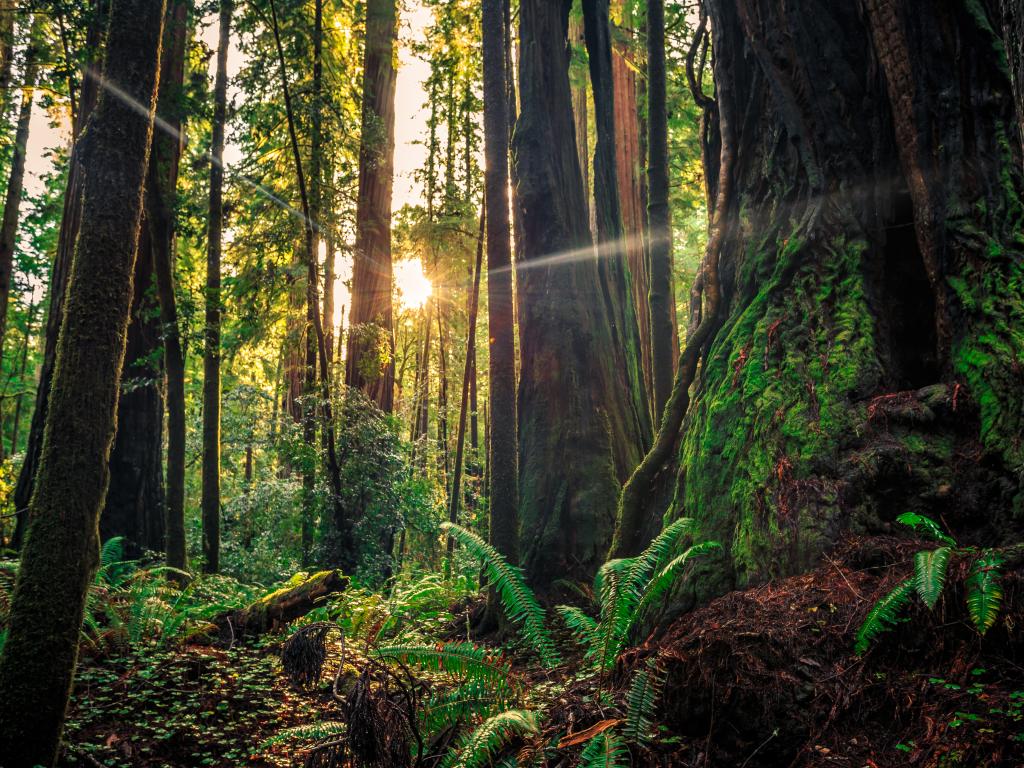 The mountain route is shorter, at 1,000 miles, and will take a minimum of two days of driving. The mountain route will take you through the heart of the Sierra Nevada and encompasses some of America's best national parks.
You will also get to see where the mountains meet the arid desert. This route is perfect for more outdoorsy people, as the national parks it takes you through are havens for hiking and sporting activities.
While these routes can be driven in a few days, you should consider giving yourself giving yourself anywhere between one and three weeks.
Best road trip route from Portland to Los Angeles
Each route offers different attractions, so you can decide what type of scenery you want to see on your road trip from Portland to Los Angeles. The best course of action would be to follow one route to Los Angeles and the other to return to Portland.
That said, if you need to get to Los Angeles as fast as possible, the mountain route is the most direct. Below is a detailed description of each route.
How to drive from Portland to Los Angeles
The map above shows our suggestions for the best road trip routes between Portland and Los Angeles. Keep reading for detailed descriptions of both routes, where to stay on either, and the best things to do on the way.
The Coastal Route
Head south out of Portland on Interstate 5 until you reach the city of Albany. Pass through Albany before taking Highway 20 to the coast. At Newport, leave Highway 20 and head south on Highway 101.
You will follow Highway 101 along the length of the Oregon coast and into California. You will pass through Coos Bay and Samuel Boardman Scenic State Corridor before crossing into California.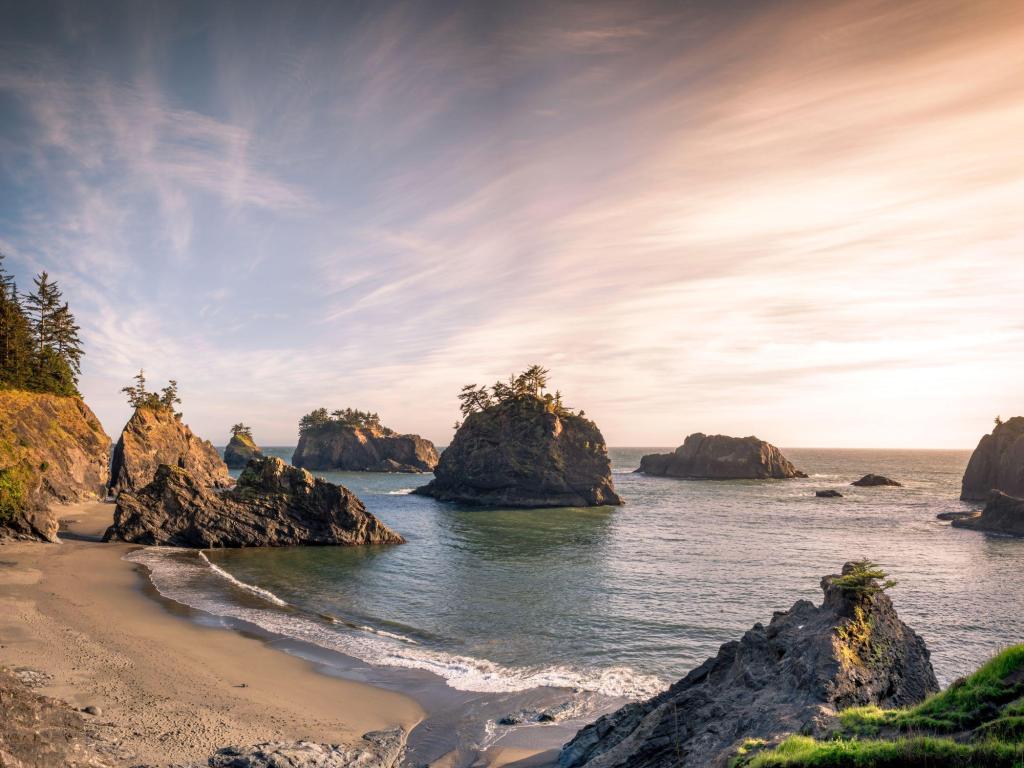 Follow Highway 101 through California passing Jedediah Smith Redwoods State Park, Prairie Creek Redwoods State Park, and Eureka.
Highway 101 will turn into the Pacific Coast Highway shortly after Eureka. This stretch of road is world-famous and boasts some of the best scenery in the United States. Follow the PCH through the coastal towns of California into San Francisco.
The Pacific Coast Highway will lead you over the Golden Gate Bridge and out of San Francisco towards Monterey Bay. All that remains is for you to follow the PCH through Big Sur State Park, past Santa Barbara, and into Los Angeles.
The Inland Route
Follow Interstate 5 south out of Portland to the city of Eugene. Here you will turn onto Route 58, taking you to Highway 97. Highway 97 will lead you straight past Crater Lake National Park, which I highly recommend seeing.
Take Highway 97 south towards Klamath Falls. Change onto Route 39 at Klamath Falls and follow it into California, where it turns into Route 139. Remain on Route 139 as it passes through Canby and Eagle Lake.
Merge with Highway 395 at the town of Susanville. Highway 395 will take you south past Honey Lake and Nevada to Lake Tahoe.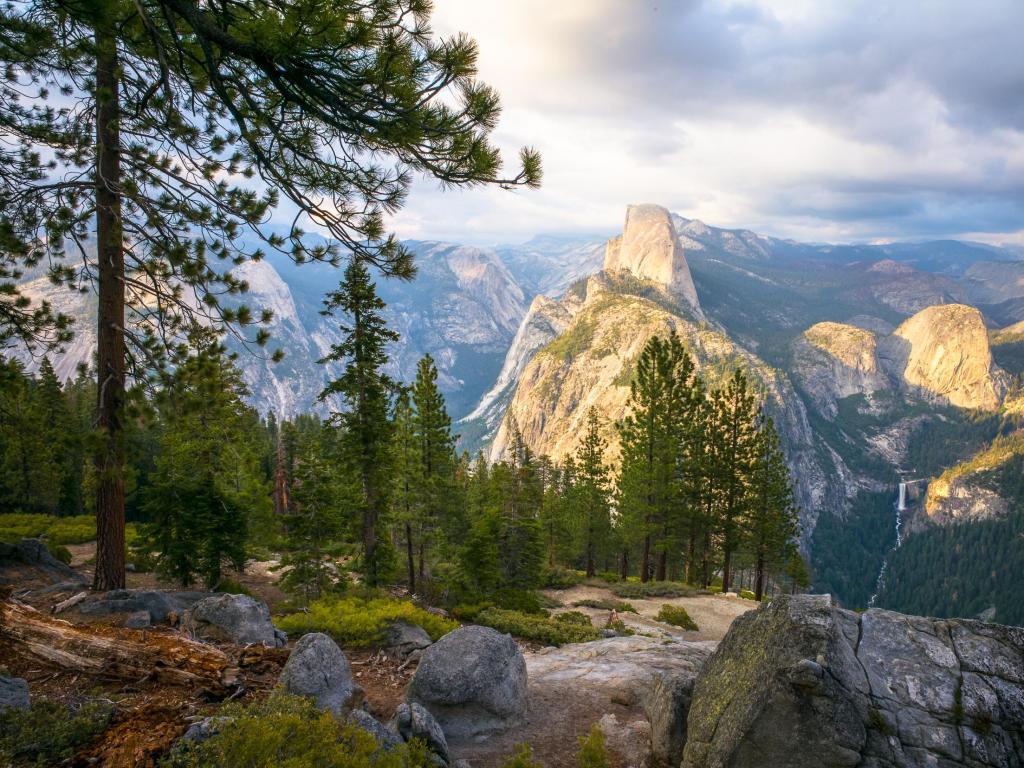 After visiting Lake Tahoe, set your sites on Yosemite National Park. Leave Highway 295 at Lee Vining and turn onto Tioga Road. This will take you into Yosemite. Retrace your steps back to Highway 395 to continue heading south.
Remain on Highway 395 as it leads you past towering peaks. You will pass between Sequoia National Park and Death Valley National Park. Leave Highway 395 at Inyokern and merge with Route 14, which will lead you across the arid desert straight into Los Angeles.
Best places to stop between Portland and Los Angeles
To make the most of the experience, consider splitting up the road trip from Portland to Los Angeles as your schedule allows. Recommended below are some great places to rest your head along the way:
Soak up the beach vibes at Santa Cruz
The location of the beautiful Dream Inn at Santa Cruz is what makes it so special - it is situated as close to Santa Cruz Main Beach and Santa Cruz Beach Boardwalk as you can get. This, combined with the resort's cheerful interior décor, makes the Dream Inn one of the route's ultimate stopovers.
The location of the Dream Inn is truly special - from the hotel's deck, you can look out at the beach and ocean to watch the sunset or the surfers riding the waves. On top of that, the hotel has an outdoor pool and hot tub and outside seating.
All the rooms are spacious and vibrant with tasteful but fun décor, and some even boast phenomenal views of Monterey Bay. The Inn is designed with fun colors and a plethora of other design choices that really make it stand out among the crowd.
The hotel has a restaurant that offers what they creatively call 'surfside dining'. The menu utilizes fresh seafood and local ingredients to create inspired dishes. All this (and so much more) can be yours for an incredibly generous price, so be sure to book a room well in advance.
Please check our comprehensive guide out to learn more about the stunning beach of Santa Cruz:
READ MORE - Our Guide to Santa Cruz Main Beach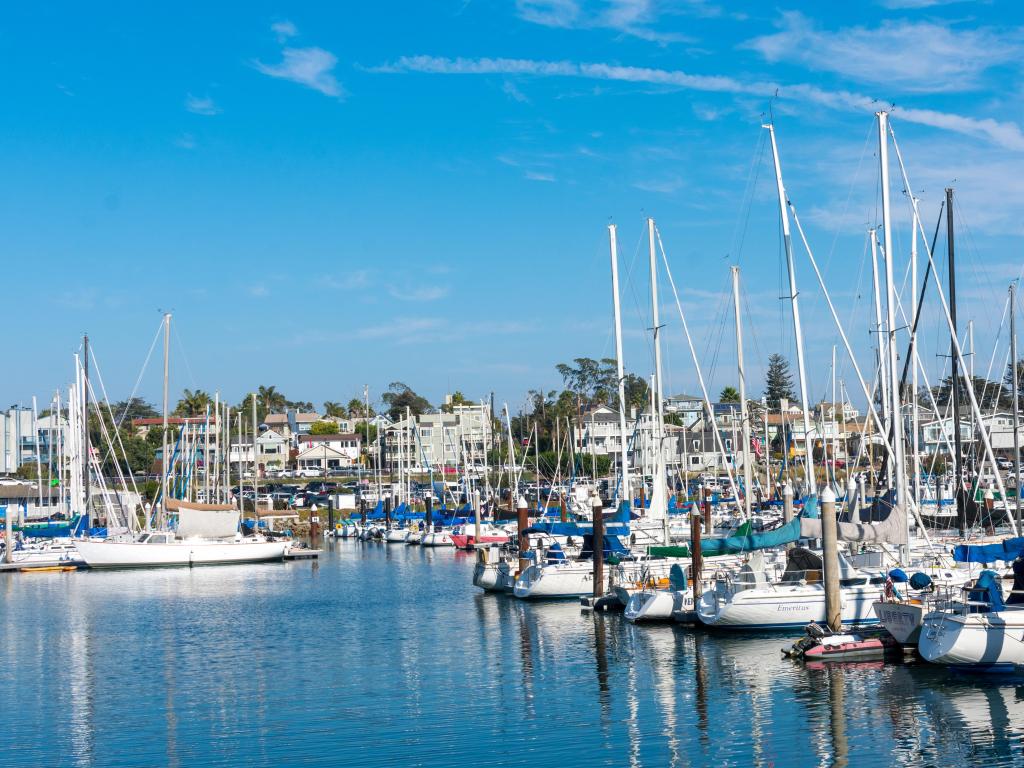 Relax in Luxury at Lake Tahoe
Desolation Hotel offers luxury right on the shores of Lake Tahoe - you probably won't find a resort with such incredible suites and an ideal location anywhere in the region.
Just a short walk from the popular Lakeside Beach, the hotel offers free bikes to its guests, so you can get around South Lake Tahoe at your own pace, without having to worry about parking your car.
We suggest putting aside some time to spend at this beautiful property, though. There is a fabulous outdoor swimming pool is swimming in the lake is not your cup of tea. There is a sauna and a hot tub to relax in afterwards.
It isn't all about water activities at Desolation Hotel, though. You will find the ski lift a stone's throw from the property. So, if you are looking to hit the slopes, this is the place to stay!
No matter which season you visit, make sure to treat yourself to a delicious meal at the on-site restaurant during your visit to beautiful Lake Tahoe.
Things to see on a road trip from Portland to Los Angeles
There is so much to see and do on a road trip from Portland to Los Angeles that it would be impossible to list it all. With that said, there are certain things you won't want to miss out on on the way.
You should give yourself at least a week if you want to make the most of this epic drive. This will allow you to slow down and spend some time sightseeing.
Coastal Route
Devil's Punch Bowl - A unique landform along the coast that creates a churning cauldron of water, the area is also popular with surfers.
Cape Perpetua - Drive along some of Oregon's most dramatic coastal scenery.
Cape Blanco - Another scenic viewpoint of the Oregon coast, located mere minutes off of Highway 101.
Jedediah Smith Redwoods State Park - Named after the famous explorer, this state park is home to towering old growth redwoods.
Redwood National State Park - This national park is home to some of the tallest trees in the world. If you only visit one Redwood Park, make it this one.
Point Arena Lighthouse - This lighthouse sits on a dramatic area of a cliff and is a great spot for a quick stop and some pictures.
Sonoma Coast State Park - The Pacific Coast Highway goes straight through this park which offers great scenery of this rugged portion of the coastline.
Golden Gate Bridge - You will have the pleasure of driving over this famous landmark, but make sure you stop to view it from its most attractive angles.
Santa Cruz - Stroll along the boardwalk and watch the surfers in the bay.
Monarch Butterfly Grove - This natural wonder is located in Pismo Beach. Every year, thousands of Monarch butterflies arrive between October and February, filling the towering Eucalyptus trees.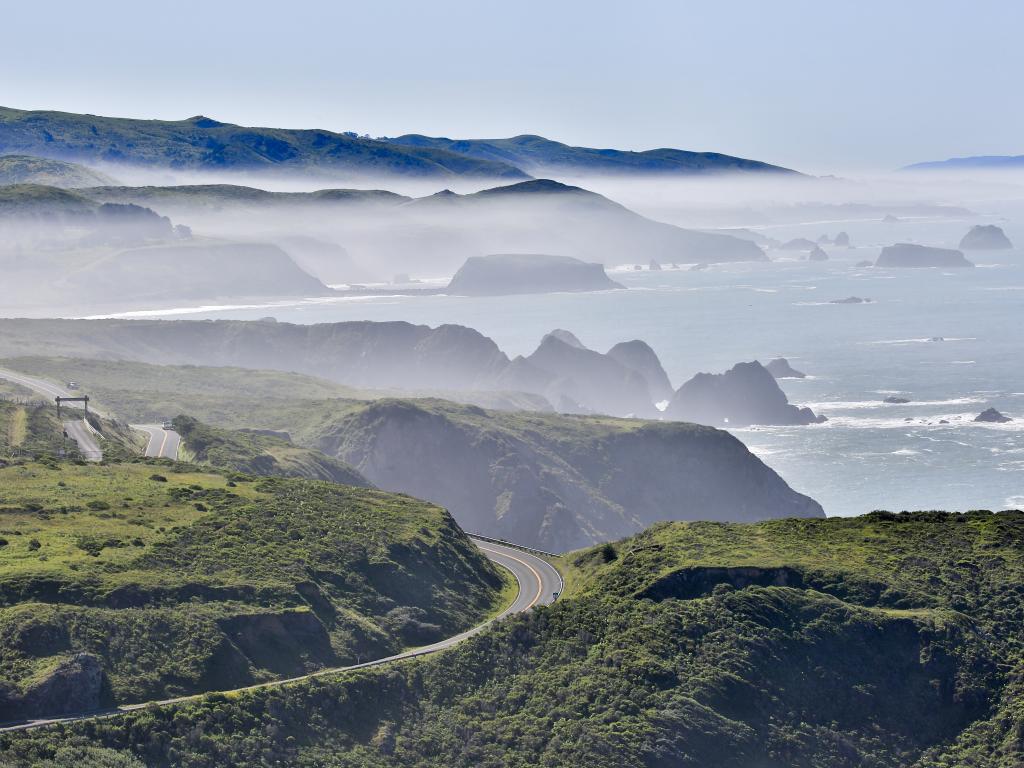 Inland Route
Eugene - Visit downtown Eugene where you can take a tour of the State Capitol Building or enjoy some art at the Jordan Schnitzer Museum of Art.
Crater Lake - A must-see before you leave Oregon, this beautiful lake is one of the best National Parks in the United States.
Hike Watchman Peak - This is a short hike in Crater Lake that will give you sensational views of the lake and the caldera rim.
Nevada State Museum - Visit this museum in downtown Carson City, where you will learn about the history of this interesting state.
Lake Tahoe - Give yourself at least one full day to explore this stunning lake. Go hiking or take part in some water sports.
Yosemite National Park - Arguably one of the most famous national parks in the world, visit Yosemite Valley home to Half Dome, El Capitan, and Yosemite Falls.
Twin Lakes Vista - A short detour into Mammoth Lakes will take you to the beautiful Twin Lakes vista with numerous opportunities for year-round recreation.
Convict Lake - Hike the Convict Lake loop, this hike is short and suited for beginners, but it has incredible views.
Griffith Observatory - One of the most recognizable landmarks in Los Angeles, it has jaw-dropping views of the sprawling city below.
Best time to go on a road trip from Portland to Los Angeles
You can go on a road trip from Portland to Los Angeles at any time of year, although certain seasons will be better. Either route is suitable year-round, although the inland route through the Sierra Nevada could be difficult in winter for inexperienced drivers.
Highway 395 is open all year, but it can experience heavy winter conditions at times. If you plan on driving this route in winter be prepared by bringing tire chains. The detour into Yosemite, on Tioga Road, is shut from November to May.
The coastal route is suitable for all drivers year-round. It is unlikely you will experience snow, but in the winter, the weather can be very wet with heavy fog and mist.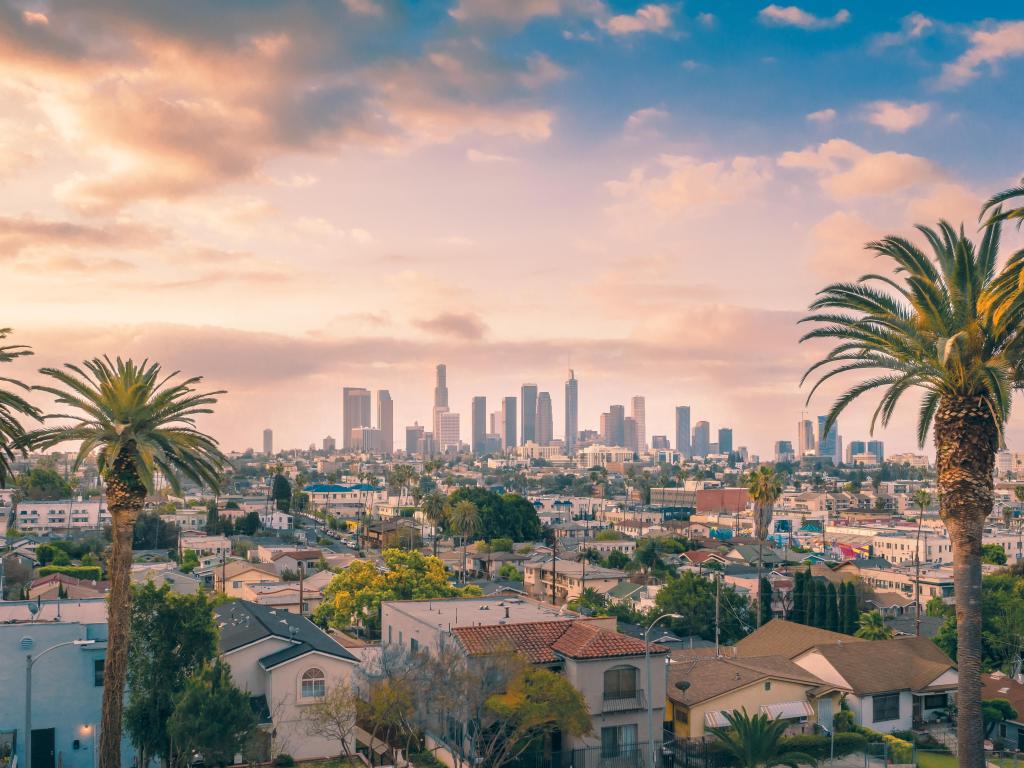 Los Angeles is a very popular city to visit in the summer because of that trademark California sunshine. On the other hand, rainfall is more common in January and February, but the milder weather this time of year can make it more comfortable for exploring the city.
Better deals will be available in Los Angeles during the winter months, as it is less popular. Some of the mountain towns and cities, like Mammoth, will remain busy in winter due to the popularity of snow sports, so prices will remain much the same.