Road Trip From San Diego To Death Valley National Park
Chiseled mountains and otherworldly deserts await you on this short but adventurous road trip from San Diego to Death Valley National Park. There is also the opportunity to sample some of California's best wines, as well as explore some of its most fabulous cities.
The road trip from San Diego to Death Valley National Park takes 5 hours to drive, covering 280 miles. Notable attractions include Temecula Wine Country, San Clemente, Los Angeles, Newport and Huntington Beaches, and the San Bernardino Mountains.
If the prospect of an adventure to the desert sounds exciting, read on for more information about where to stay, what the best route is, and what you can see along the way.
How far is Death Valley National Park from San Diego
Route comparison

| Route | Distance | Driving Time |
| --- | --- | --- |
| Direct Route | 280 miles | 5 hours 13 minutes |
| Los Angeles Route | 337 miles | 5 hours 58 minutes |
A road trip from San Diego to Death Valley National Park covers 280 miles and takes at least a day to drive without breaks or overnight stops.
While you could definitely rush it, you should think about making at least one overnight stop, if not more - this way, you get to enjoy all the sights the routes have to offer.
On that note, the routes are a mixture of arid, rolling mountains and stark desert, providing scenery that everyone can enjoy. The driving takes place mostly on interstates and highways, making it quick and easy.
You may encounter a fair bit of traffic on this trip - one route goes through San Bernardino, and the alternative route goes through Los Angeles. You will almost definitely encounter traffic if you venture into the city, so try to plan your stops accordingly.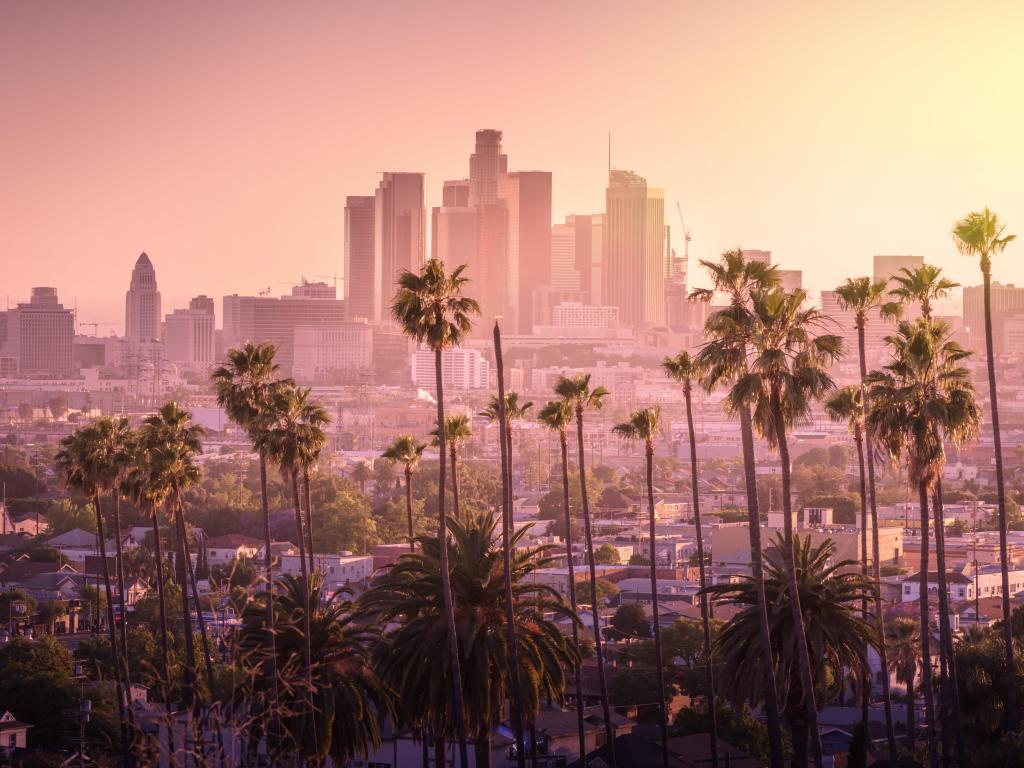 Avoiding rush hour will be the best way to minimize the chances of congestion, although this area is notoriously bad for it. If you want to avoid traffic, skip Los Angeles, and take the San Bernardino route.
Best road trip route from San Diego to Death Valley National Park
There are two routes for a road trip from San Diego to Death Valley National Park, each one having some exciting attractions. The main difference is that one avoids Los Angeles while the other heads into it.
San Bernardino Route
Interstate 15 will take you out of San Diego, heading for Escondido and Temecula. Pass Temecula and merge onto Interstate 215 towards Riverside.
Remain on Interstate 215 as it takes you through San Bernardino and along the edge of San Bernardino National Forest.
You will join Interstate 15 again for a brief moment before exiting to merge with Highway 395 near Sunset Ridge. Remain on the highway and pass Ransburg and Peasrsonville - at Olancha, join Route 190, and stay with it as it leads you into the National Park.
The Downtown Los Angeles Route
Head along the coast, following Interstate 5, out of San Diego. The interstate will take you along the Pacific Ocean past San Clemente before you exit onto Route 73.
Follow Route 73 past Crystal Cove State Park to where it meets Interstate 405. Follow Interstate 405, with an optional detour to Huntington Beach and Long Beach if you desire, through the Urban Jungle.
Eventually, the 405 will take you out of the city, past Bel Air and the Getty Museum. It will then lead you through San Fernando, shortly after which you will exit onto Route 14.
Stay on this route all the way to Redrock Randsburg Road, which will take you to Highway 395. From here, continue north to Olancha, which is where you will pick up Route 190 and follow it into Death Valley National Park.
Best places to stop between San Diego and Death Valley
While it may not be far, we would advise stopping at least once on your road trip from San Diego to Death Valley. Splitting the journey into two halves gives you a chance to go slow and enjoy some sightseeing.
To help you plan your stops, here are some recommended places to stay along the way:
Stay on a vineyard in Temecula
The Carter Estate Winery and Resort is a great place to stop if you like wine, fine dining, and relaxation with an incredible view of the surrounding desert landscape.
This estate has a number of Mediterranean bungalows that are all accessed by private entrances. The bungalows have great views of the immediate area, offering a great place to unwind and relax.
You'll also have access to an outdoor pool with ample seating for you to enjoy the great California weather. If the temperature isn't to your liking, you can always hit the gym to work up a sweat.
The estate caters to wine lovers with their tasting room, where you can have a sit-down session tasting their award-winning wines.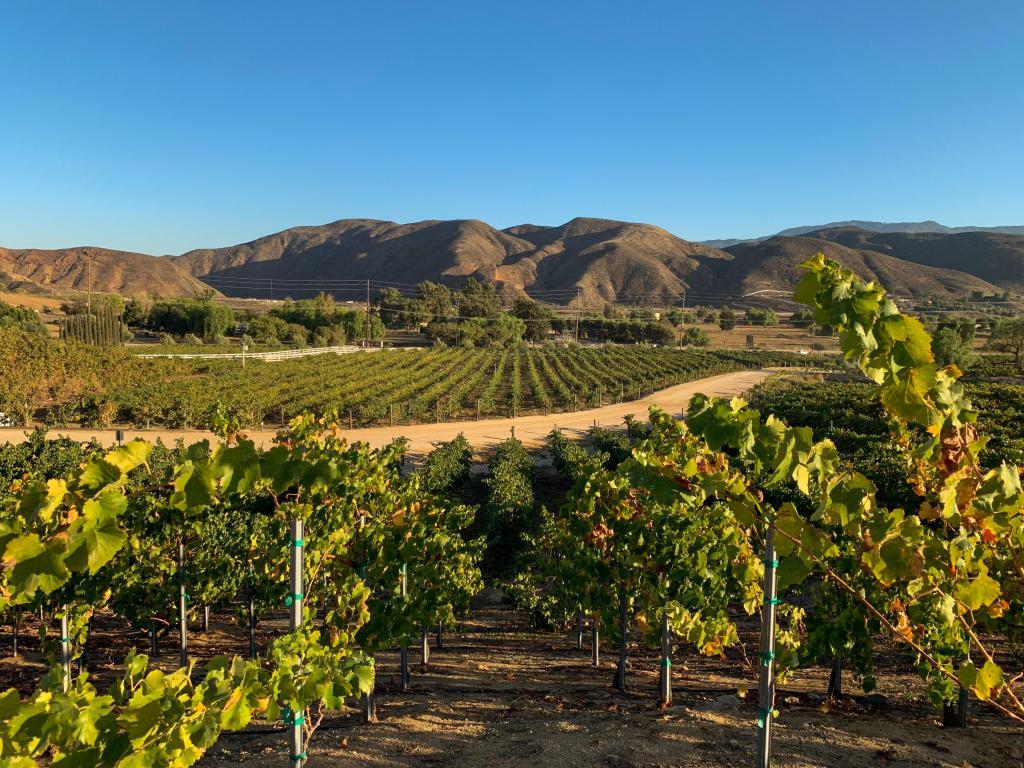 After enjoying your drink, you can have dinner at the Vineyard Grill restaurant, which is on-site. It serves breakfast, lunch, and dinner, not to mention a wide variety of Carter Estate wines.
Stay at the family-friendly Welk Resort
Located between Escondido and Temecula, The Welk Resort is a great overnight stop with one of California's most impressive swimming pools. With so much to do in the area, you'll definitely want to spend a couple of days here.
The Welk Resort has a host of activities for guests to enjoy - there are two 18-hole golf courses, a 300-seat theater, swimming pools, whirlpools, tennis courts, and a great gym.
On top of that, there are a number of attractions nearby, including the San Diego Zoo and plenty of local beaches where you can get that classic Californian tan.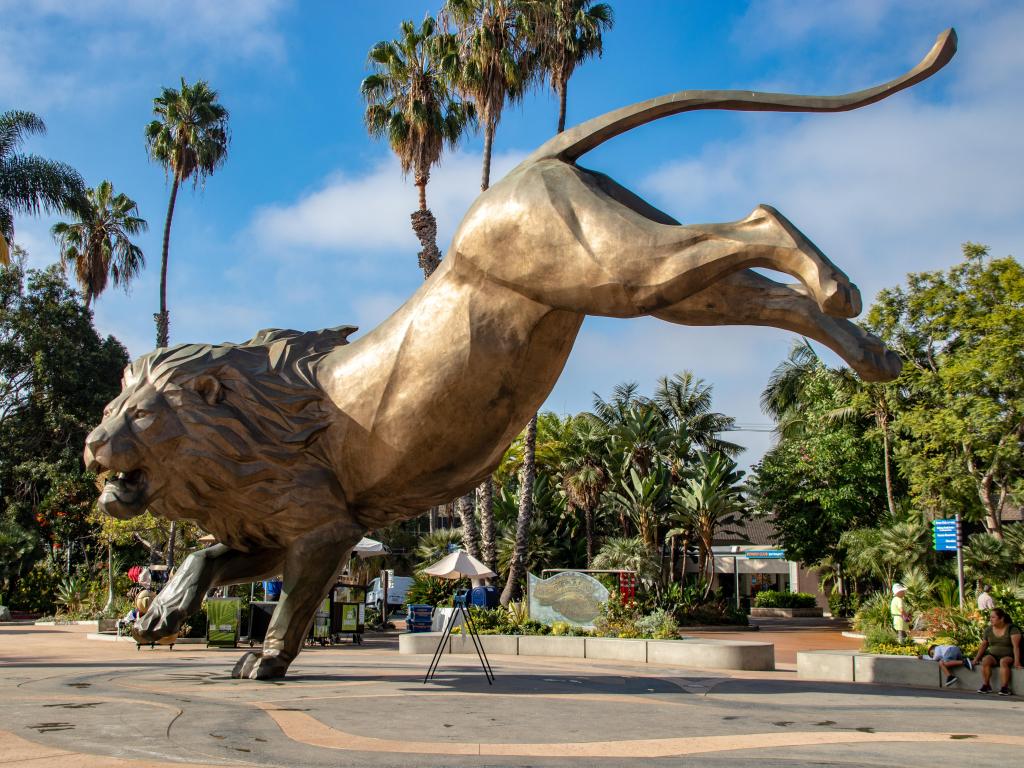 There are a variety of modern and spacious rooms and family suites available, each more eye-catching than the last. All rooms come fully equipped, and some of the larger ones even have top-of-the-line kitchens for preparing your favorite meals in style.
The on-site Canyon Grill is the main restaurant in the resort, with other lighter dining options available poolside. There is also an on-site market for your grocery needs, meaning you don't have to venture far from the property if you don't feel like it.
As if the Welk Resort didn't have enough going for it, it is set with a spectacular backdrop of forested mountains. With its competitive price and a long list of amenities, The Welk Resort is genuinely hard to beat.
Things to see on a road trip from San Diego to Death Valley National Park
With two routes to choose from, there is plenty to see on a road trip from San Diego to Death Valley National Park. To help you plan your stops, here are some of the top attractions along the way.
Welk Theatre - You may already be planning to stay here, but if not, watching a play at the Welk theatre is worth a stop in itself.
Temecula Wineries - Temecula is home to a number of exceptional wineries you won't want to miss out on.
Temecula Old Town - If you can't make it to a winery or vineyard, Temecula Old Town has a great bar scene where you can try the local wine.
Original McDonalds - The first McDonald's restaurant opened in San Bernardino, and it is now a museum chronicling the chain's growth.
San Bernardino Mountains - A beautiful range in close proximity to Los Angeles.
Los Angeles - The City of Angels has one of the richest histories and arguably the most interesting nightlife in California.
San Clemente State Beach - If you opt for the downtown Los Angeles route why not plan an afternoon walk along the beach.
Newport and Huntington Beach - If San Clemente doesn't take your fancy try exploring either of these two coastal cities.
The Getty - Well known for its impressive collection and wonderful views, this sits right along the downtown Los Angeles route.
Getty View Park - Only just up the road from the museum, there is a great view back towards the city on the horizon.
Badwater Basin - This is the lowest place in North America, nearly 300 feet below sea level.
Dante's View - A spectacular view of the surreal landscape that is Death Valley National Park.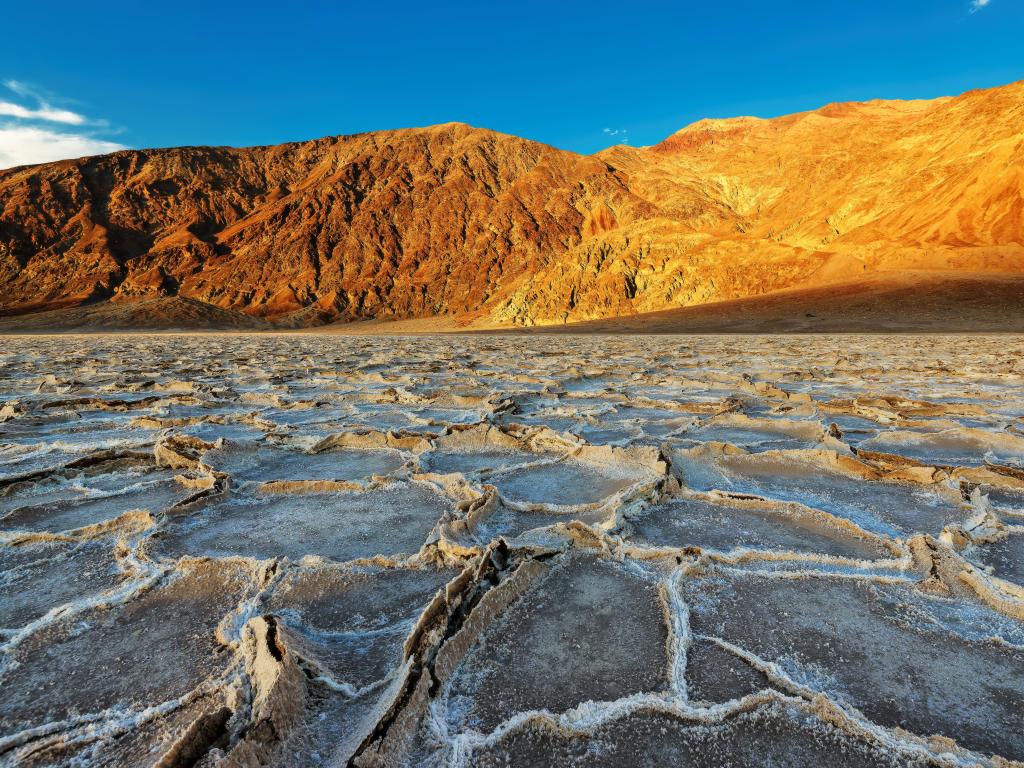 Best time to go on a road trip from San Diego to Death Valley National Park
Summer will be the busiest time to go on a road trip from San Diego to Death Valley National Park. It will also be the hottest. Death Valley is one of the hottest places on earth, so you may want to consider a trip there in another month.
Winter can be a great time to travel - Los Angeles is quieter, meaning you could score a good deal on a hotel. There is a chance for more rain in the city, but temperatures remain pleasant and mild.
One of the main advantages of visiting this time of year is that you get to avoid the desert heat. On the flip side, the nights can get unbearably cold, so be sure to pack your warmest clothes if you decide to visit this time of year.
If you do plan on going on the road trip in summer, try to utilize the coolest hours of the day for sightseeing. Early morning and late afternoon are great times to explore because the sun is not as high in the sky.
During the middle part of the day, try to lay low and relax as the worst of the heat passes. Finding somewhere with a pool can be a great way to cool off.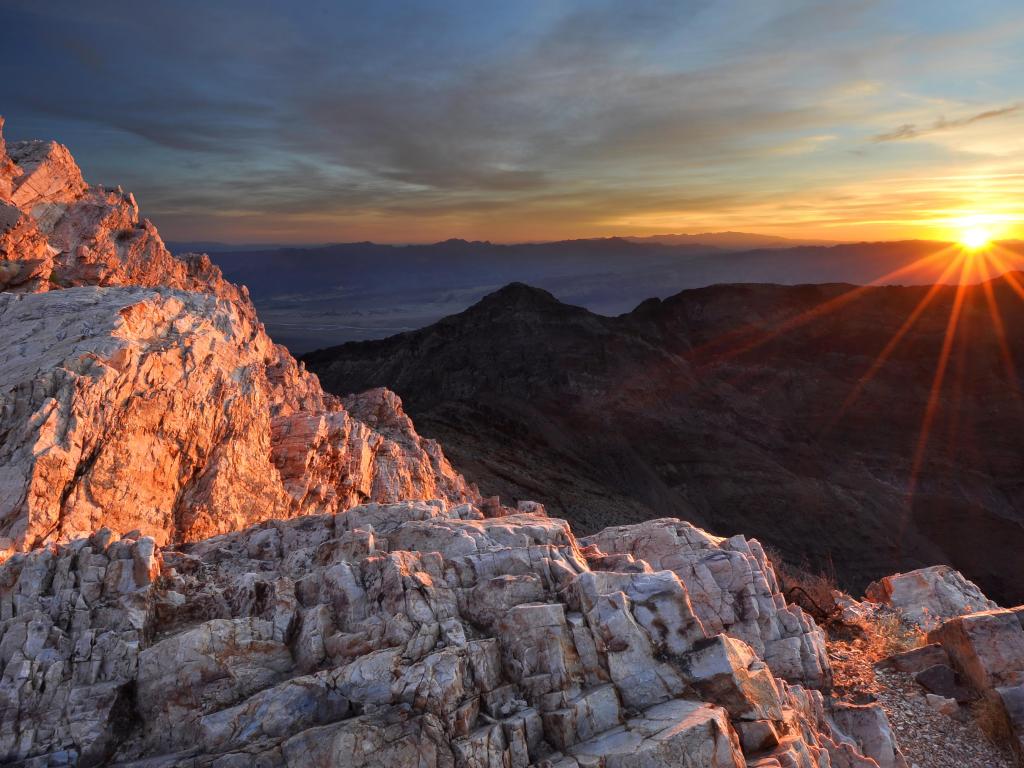 If winter doesn't appeal, consider spring, or fall. As with winter, you will avoid the worst of the heat in Death Valley. On top of that, major attractions will still be quieter, which can be nice if you're looking to visit when there are fewer people.
None of the roads on this route will be impacted by the changing seasons, so feel free to plan your road trip at any time of year. Just remember to be careful in the scorching heat of Death Valley and to bring plenty of water.