Road Trip from San Diego to Portland
If an epic adventure through cities, over mountain ranges or along hundreds of miles of stunning coastline sounds like fun, consider a road trip from San Diego to Portland.
The 1,400 mile road trip from San Diego to Portland takes 25 hours to drive via Los Angeles, Sacramento, Reno, Lake Tahoe, and Sequoia and Yosemite National Parks. Or drive the iconic Big Sur to Monterey, Redwoods National Park and the Oregon Coast.
Spanning California, Oregon, and - depending on your route - a slice of Nevada, you will get to enjoy some incredible natural beauty on this journey.
Keep reading for more information on where to stop on the way, what to see and do, and the best time of year to make this amazing trip.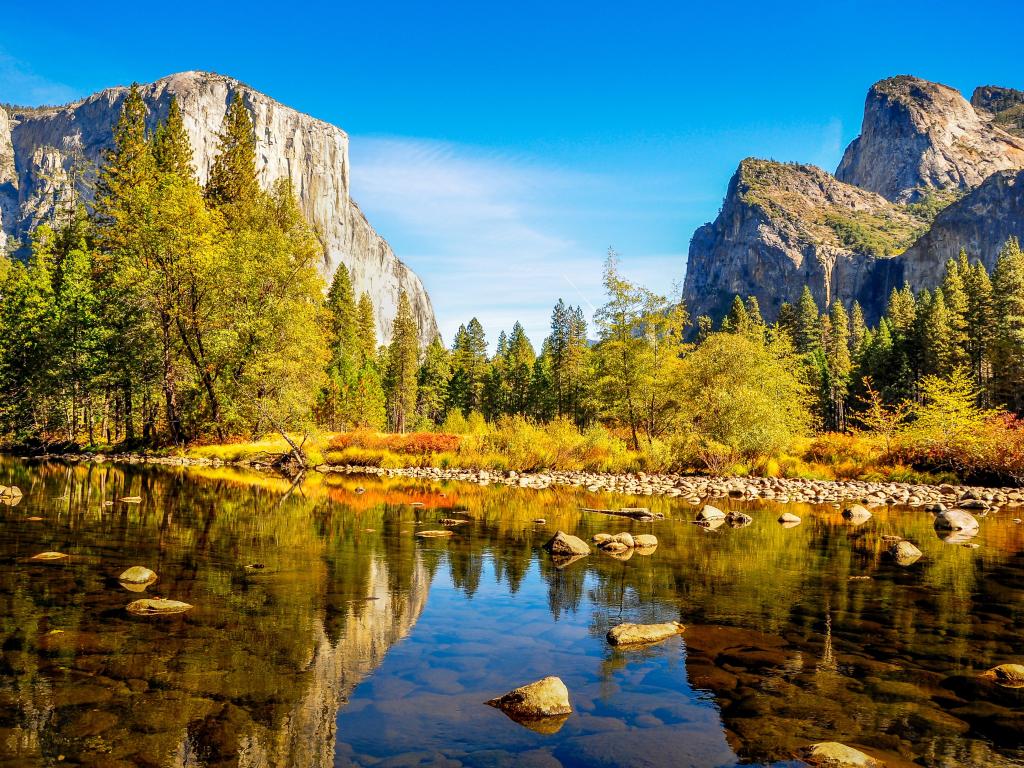 How far is Portland from San Diego and how long will the road trip take?
In theory you could follow just one road, Interstate 5, all the way from San Diego to Portland, which covers the 1,080 mile journey in around 16 hours. But we'd recommend extending your journey to take in more of the fantastic sights this route has to offer.
The road trip from San Diego to Portland will take you around three days of non-stop driving to complete, but instead of rushing, try to dedicate a couple of weeks to this incredible journey.
We've set out two of our favourite routes from San Diego right the way to Portland

| Route | Distance | Driving Time |
| --- | --- | --- |
| National Parks Route | 1,420 miles | 25 hours |
| Coastal Route | 1,330 miles | 27 hours |
The National Parks Route heads takes around 25 hours of driving and covers 1,420 miles. If you take this route you will probably want a full day in each of the national parks to give you time to take in their beauty, with Yosemite National Park being one of the obvious highlights.
The Coastal Route is slightly shorter at 1,330 miles, but takes a little longer at 27 hours.
Despite the long drive, the benefit of having so many towns and major cities en route is that you'll always have a chance to fill up your gas tank, letting you go all out with the detours and see as much as you possibly can in this spectacular part of the world.
Best road trip route from San Diego to Portland
Whether you take the National Parks Route or the Coastal Route is entirely down to personal preference. Both routes would make for the trip of a lifetime. Or if you have the time, the routes are so different that they can be combined to make an epic round trip in and out of San Diego.
The National Parks Route from San Diego to Portland will take you on an incredible journey through one of the most spectacular mountain ranges on earth.
Starting out along the beautiful coastline of Southern California, it then leads you to high alpine lakes in the rugged Sierra Nevada and Cascade Mountains. This route does contain a few detours, but they are all worth it to see some of America's greatest national parks.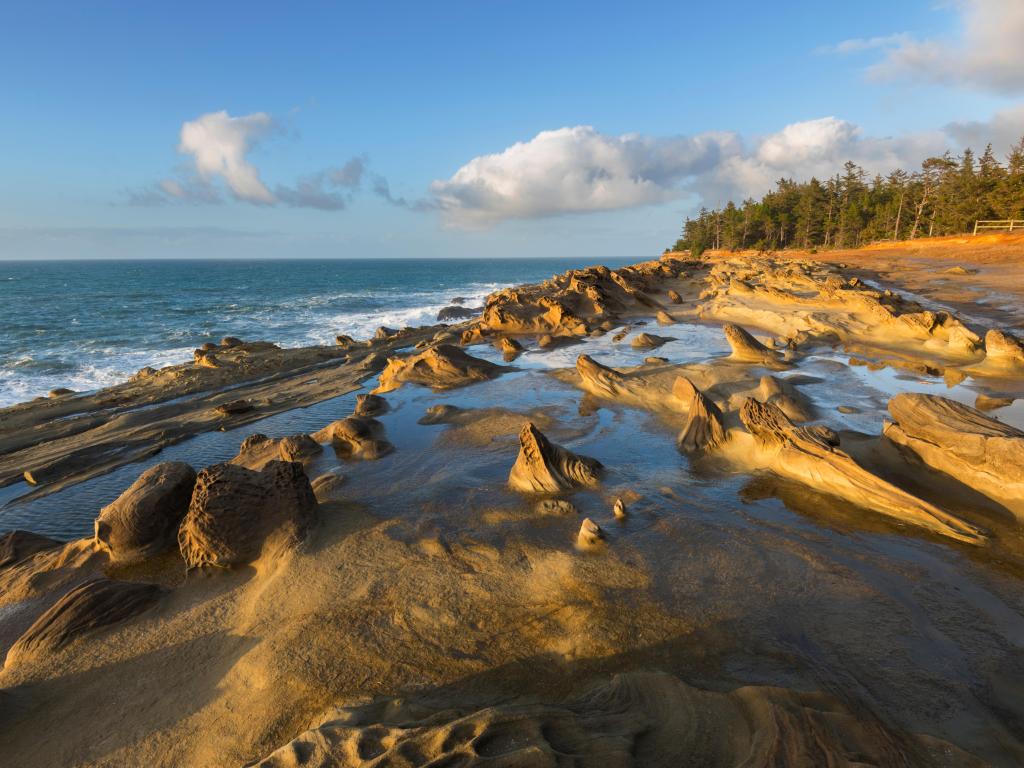 In contrast, the Coastal Route offers mile after mile of stunning ocean views, including the magnificent drive through Big Sur.
Heading north the route passes through dozens of vibrant waterside towns as well as some of California's iconic Redwood forests, before tipping into the more rugged and wild Oregon coast.
The National Parks Route
Get on Interstate 5 which takes you north out of San Diego and along the coast towards Los Angeles. Remain on the I-5 as it leads you through the city, passing Anaheim, Griffith Park, and Burbank.
Once out of the city, stay on the I-5 until just after Wheeler Ridge, where you will exit the interstate and join Highway 99 towards Bakersfield. At Bakersfield, leave Highway 99 for Highway 65. This takes you on your first detour to Sequoia and Kings Canyon National Park to strike out through the magnificent Redwoods.
From Highway 65, turn onto Highway 198, also known as Sierra Drive, which will lead you into the park, where you'll see the world's largest sequoia tree grove.
Retrace your steps down Highway 198 to Visalia to join back up with Highway 99, which you'll follow through Fresno - your gateway to Yosemite National Park.
From Fresno, take Highway 41 up to the Park. We'd recommend spending at least a day at Yosemite, or longer if you really want to immerse yourself in this stunning wild landscape.
If the road through the park is open you can follow it through to Merced. If not, retrace your route before turning onto Highway 49 then Highway 140, which will bring you back onto Highway 99.
Continue north to Stockton and then Sacramento. The city's vibrant performing arts scene and high rise buildings will be a real contrast to the natural wonders you've been enjoying so far.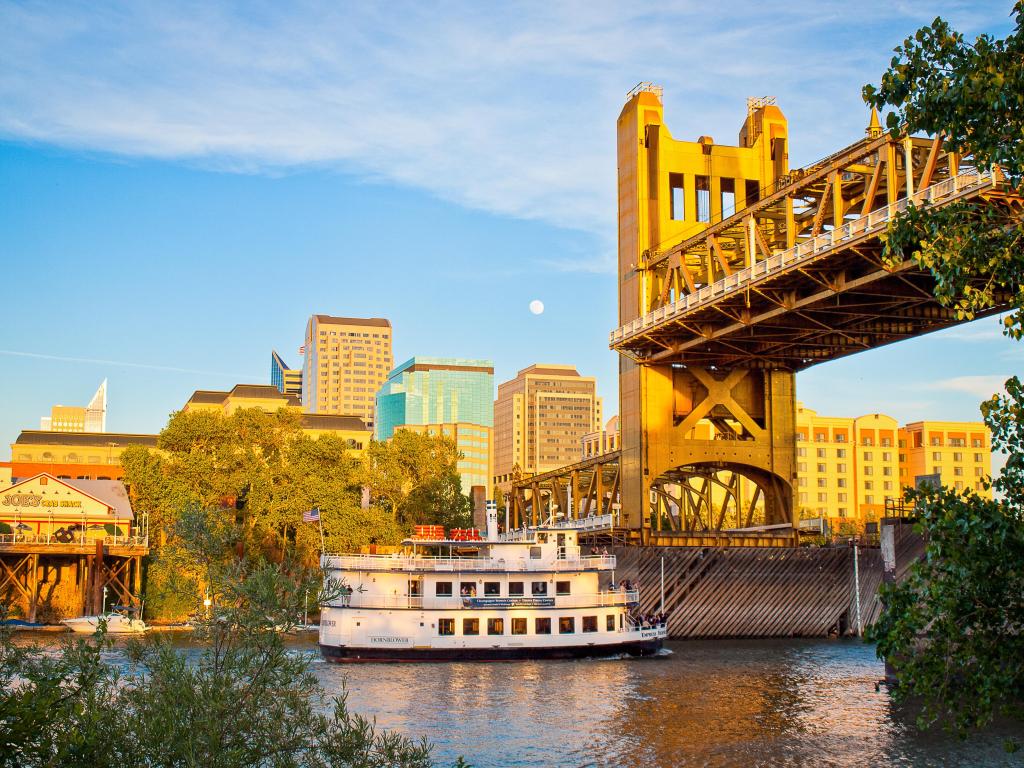 Leaving Sacramento, join Highway 50 and follow it east towards South Lake Tahoe. You can enjoy the lake whatever season you travel, since the area is known for both its water sports and its skiing.
Moving on, follow Highway 50 to Interstate 580 in Carson City. Remain on the interstate until Reno, where you will change onto Highway 395.
Highway 395 will wind its way past Honey Lake to Susanville, where you will change onto Route 36, then Route 139. This will lead you past Stones Landing, Adin, and Canby before finally reaching the border with Oregon.
Cross the border into Oregon, where Route 139 becomes Route 39, taking you to Route 140 then Klamath Falls, another great place for boating or hiking.
Change onto Highway 97 after Klamath Falls until you reach Route 138, leading to Crater Lake National Park. Cyclists will love the 33-mile trail the runs right around the lake.
Return to Highway 97 to continue your journey before joining Route 58 to Eugene. There you'll find yourself back on the I-5 at last, to take you the remainder of the way to Portland.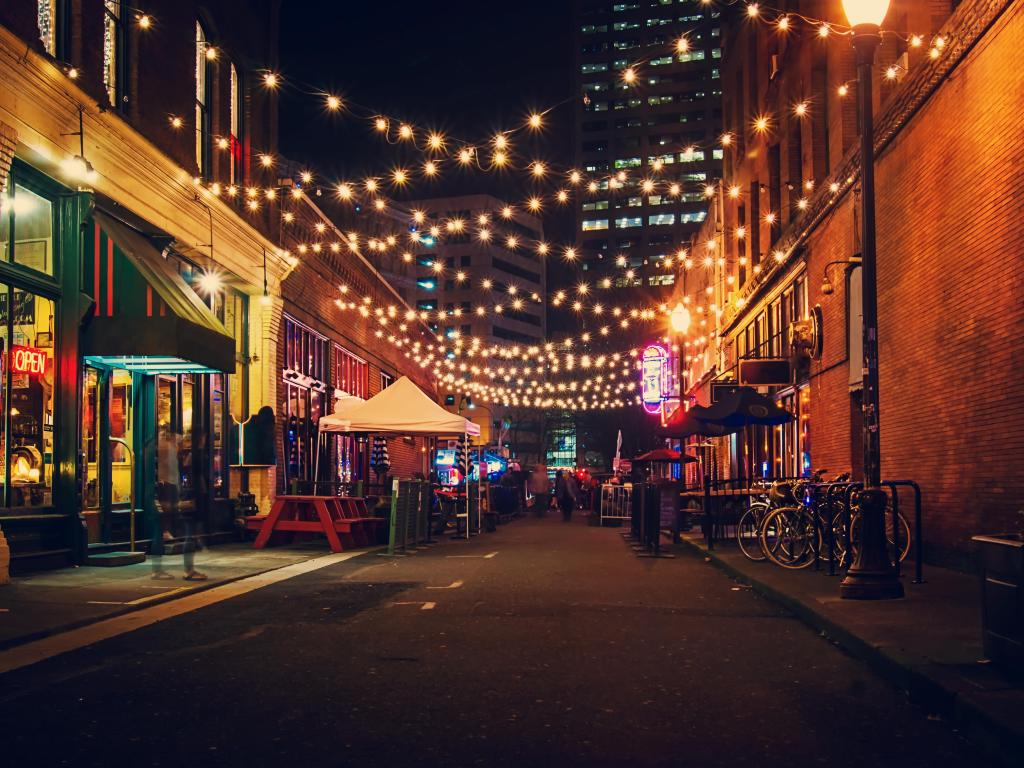 The Coastal Route
As with the National Parks Route, take Interstate 5 out of San Diego, but when you reach the outskirts of Los Angeles merge onto Route 73, following it across the city until you reach Sherman Oaks. From there, take Route 1/Route 101 which will see you hugging the coast for pretty much the next few hundred miles.
You'll pass a series of State Beaches either side of Santa Barbara - Emma Wood, Rincon, El Capitan and Refugio - so you'll have your pick of places to stop and feel the sand beneath your feet.
From Gaviota, Routes 1 and 101 head mostly inland for a few miles, taking you as far as San Luis Obispo where they split. To follow the road through the legendary Big Sur, take Route 1 here.
Stay on Route 1 through Morro Bay, Monterey and Santa Cruz before arriving in San Francisco. You will rejoin Route 101 briefly to cross the Golden Gate Bridge and exit the city, but continue on Route 1 at Manzanita, which takes you to majestic Muir Beach and along the appropriately named Shoreline Highway.
If you need to stretch your legs, there are several trails at Stinson Beach that let you hike up in to the mountains, or carry on a little further to explore Point Reyes National Seashore.
After many more miles of beautiful coastline, switch back to Route 101 at Leggett, which takes you most of the rest of the way to Portland.
You'll have several chances to stop and marvel at the huge Redwood trees that only grow in this part of the world. First you'll pass Humboldt Redwoods State Park and Humboldt Bay National Wildlife Refuge, followed by Redwoods National and State Parks, then Prairie Creek Redwoods State Park.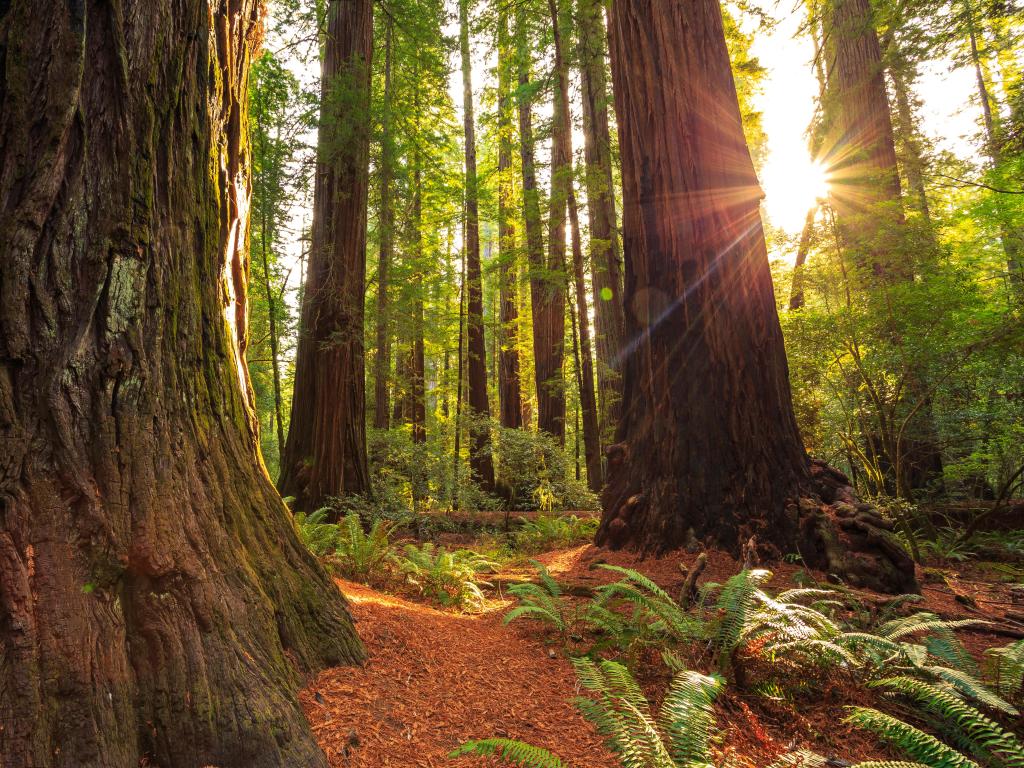 Or hold off a few more miles and take a short detour along Route 199 to reach Jedediah Smith Redwoods State Park.
After Pelican State Beach you'll pass into Oregon, where the mighty coastal landscapes continue to impress. Samuel H Boardman State Scenic Corridor and Pistol River Scenic Viewpoint are particular highlights.
Stop at Point Orford to walk up to Port Orford Heads State Park or carry on through Coos Bay and Waldport until you turn inland on Route 20 at Newport. This will take you to Interstate 5 at Albany, which you'll follow north into Portland for the final stretch of this journey.
Best places to stop on a road trip from San Diego to Portland
Your road trip from San Diego to Portland should be split into at least a few days. Take your time with the trip and plan lots of overnight stops so you don't have to rush. To help you figure out where to stay, we've recommended some places below.
Enjoy the hustle and bustle of downtown Los Angeles
If Los Angeles is on your bucket list (and it probably should be), this makes for the perfect first stop whichever route you're taking to Portland. Whether you're here for the theme parks, the Getty Centre, the beaches or a Hollywood tour, there truly is something for every traveler in this city.
With so much to do in the city and so many memories to make, you might as well enjoy the best of the best while you're here - and with its modern interior décor and sleek, stylish rooms, The Ace Hotel arguably has the most beautiful accommodation the city has to offer.
The hotel is located in a historic building that oozes charm, and only a short distance from major attractions including Hollywood and the Fashion District. You can even enjoy free bike hire, providing you with an alternative means of transportation to explore the city.
There is a rooftop bar with panoramic views and a swimming pool, giving guests a tranquil place to enjoy the buzz of the city and enjoy a drink. It also has an on-site restaurant - their award-winning chefs are sure to blow your mind!
Get back to nature at the Hotel Azure in Lake Tahoe
Sometimes the city can get a bit much. If you're taking the National Parks Route and want to escape to a den of peace, then Hotel Azure, with the lake on its doorstep and its fabulous outdoor swimming pool, is calling your name.
The hotel embraces a rustic charm that fits Lake Tahoe well - situated in the forest, the resort feels like a bit of an oasis. It's the perfect place to embrace the many recreational options the area is famous for.
The interior is fresh and modern, and most of the rooms either have a private balcony or patio with views of the lake - there's nothing quite like starting off your day with an amazing window view of one of California's crowning jewels!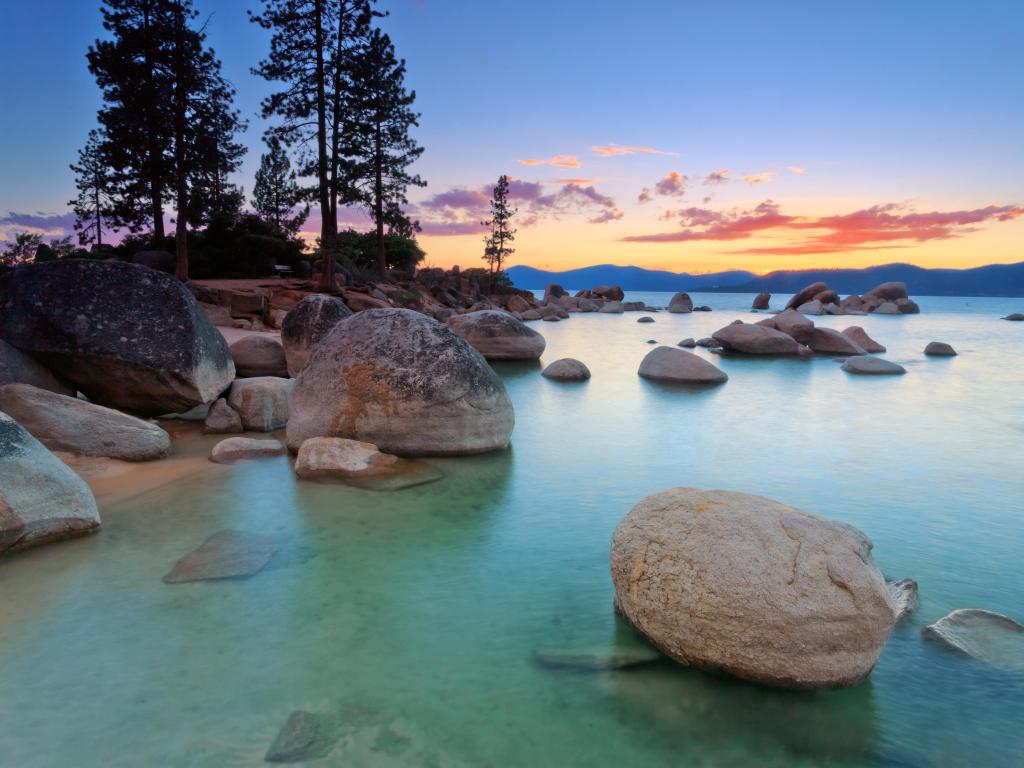 A fitness center and on-site restaurant round off the list of amenities, ensuring you have everything you could want. The restaurant Bear Beach Café serves a great breakfast that will have you ready for a day of fun.
Free bike hire is also available, so you can get to pedaling and explore the local area to your heart's content. In winter, there is ski storage available, and you can purchase ski passes from the concierge.
Watch the sun go down over the Pacific
If you're following the Coastal Route to Portland you're going to have to spend at least a couple of nights watching the sun set over the Pacific, and where better for an early stop than Monterey.
You can take a whale watching trip, visit the fabulous aquarium, or reflect on Monterey's seafaring heritage around Fisherman's Wharf and Cannery Row. There's even a trolley to take you between the town's many attractions.
Once you're ready to turn in for the night, Wave Street Inn is a fabulous choice that's well located near the waterfront and Cannery Row. Some of its spacious rooms have ocean views, and with parking available it's the perfect stop for a road trip.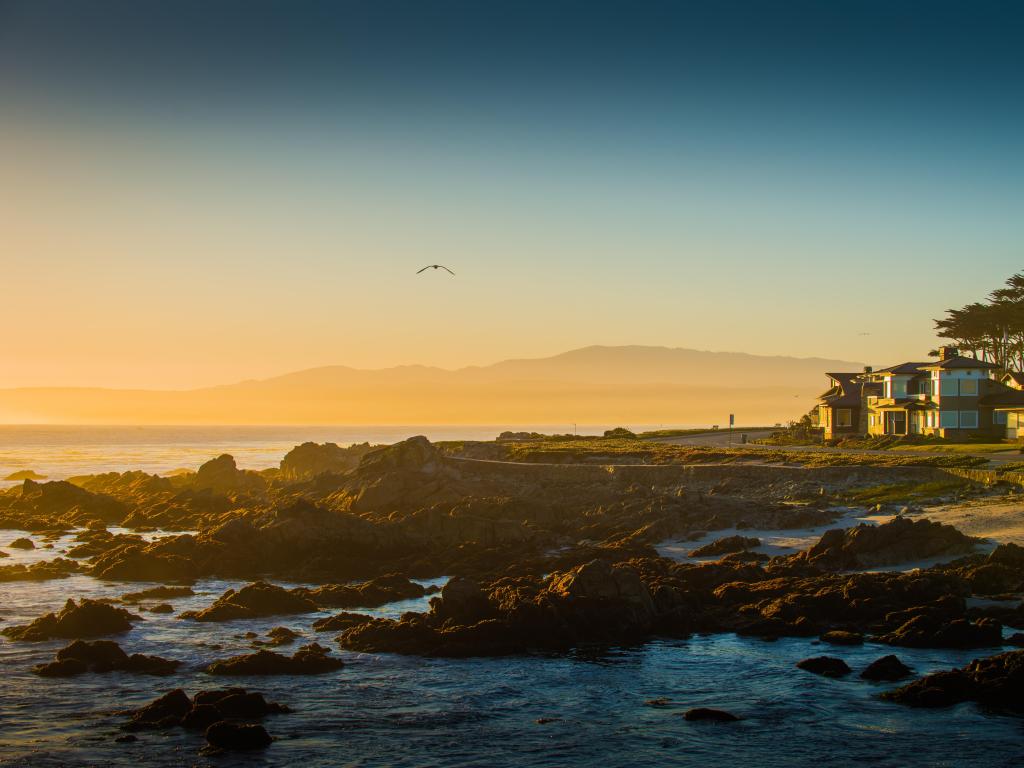 Explore the rugged Oregon Coast
Further north along the Coastal Route, The Beachfront Inn in Brookings lets you relax by the ocean and explore nearby Samuel H Boardman Scenic Corridor.
Many of the incredibly spacious rooms have stunning views out to sea, and you also have the option of relaxing by the heated outdoor pool. Take a walk into nearby Brookings to enjoy delicious seafood before falling asleep to the sound of the waves breaking on the shore.
With several miles of coastal park to explore, including secluded coves, spectacular rocks, craggy cliffs and forest trails, you'll want to take a day or two enjoying the hidden treasures of this stretch of the fabulous Oregon coast.
Things to see on a road trip from San Diego to Portland
As you can imagine, a road trip from San Diego to Portland is packed with things to see. Encompassing some of the best National Parks in the country, you will get to experience a plethora of breathtaking natural beauty.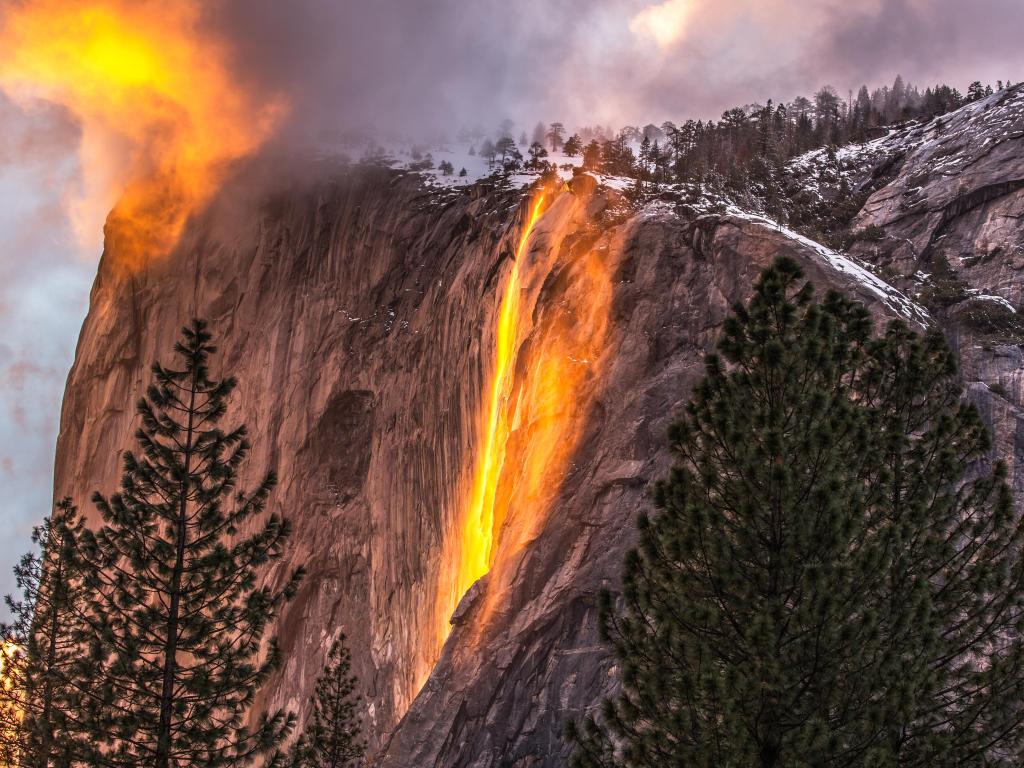 National Parks Route:
San Clemente State Beach - While it's close to San Diego, this beautiful beach is a great place for a walk or a picnic.
Los Angeles - Go on a shopping spree or have a meal at one of many fantastic restaurants in this bustling city.
Angeles National Forest - This scenic forest is the perfect natural escape for when you're done exploring San Francisco.
Castaic Lake - A man-made reservoir with a number of water sport activities available.
Sequoia and Kings Canyon National Parks - Home to towering peaks, deep canyons, and beautiful forests.
Yosemite National Park - Another staggeringly beautiful national park that is always worth the detour to get to.
Sacramento - Sacramento is home to over 40 farmer's markets, meaning it has a great food scene.
Lake Tahoe - Lake Tahoe has several world-class spas and some of the best nature vistas in all of California.
Reno - The biggest little city in the world, enjoy the nightlife of this vibrant city.
Crater Lake Boat Tour - Gain special insight into the formation of this lake by taking a guided boat tour inside the caldera.
Eugene - Home to the Jordan Schnitzer Museum of Natural and Cultural History. Boasting an impressive collection of global and local art.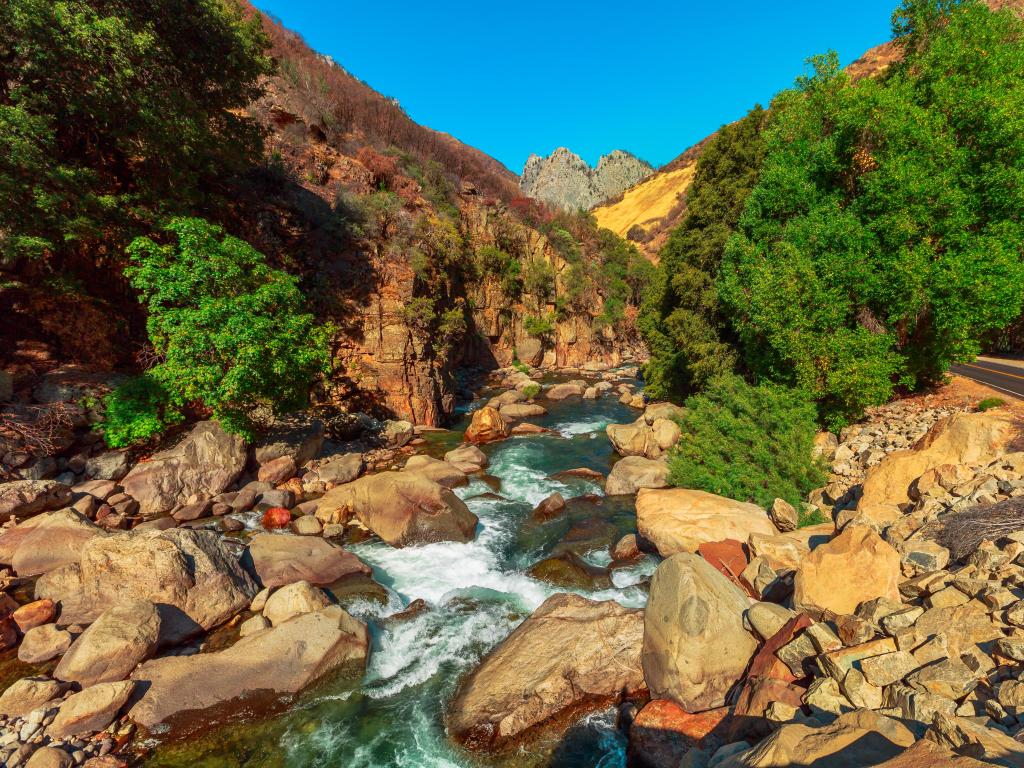 Coastal Route:
Big Sur - This iconic drive offers stunning views over the sparkling blue Pacific - a real road trip high point.
Monterey Bay Aquarium - Get to know more about the sea life of the Pacific at this world-renowned aquarium situated right by the ocean.
Santa Cruz - Make like a local and learn to surf in this beautiful town on the bay.
Redwoods National and State Park - Walk among the giant sequoia trees taking marked hikes through the spectacular forests and glens of the parks.
Samuel H Boardman Scenic Corridor - A 12-mile long stretch of coast where hidden beaches nestle between rugged cliffs and fabulous scenic vistas.
Coos Bay - Visit the Historical and Maritime Museum to understand the seafaring heritage that underpins this town.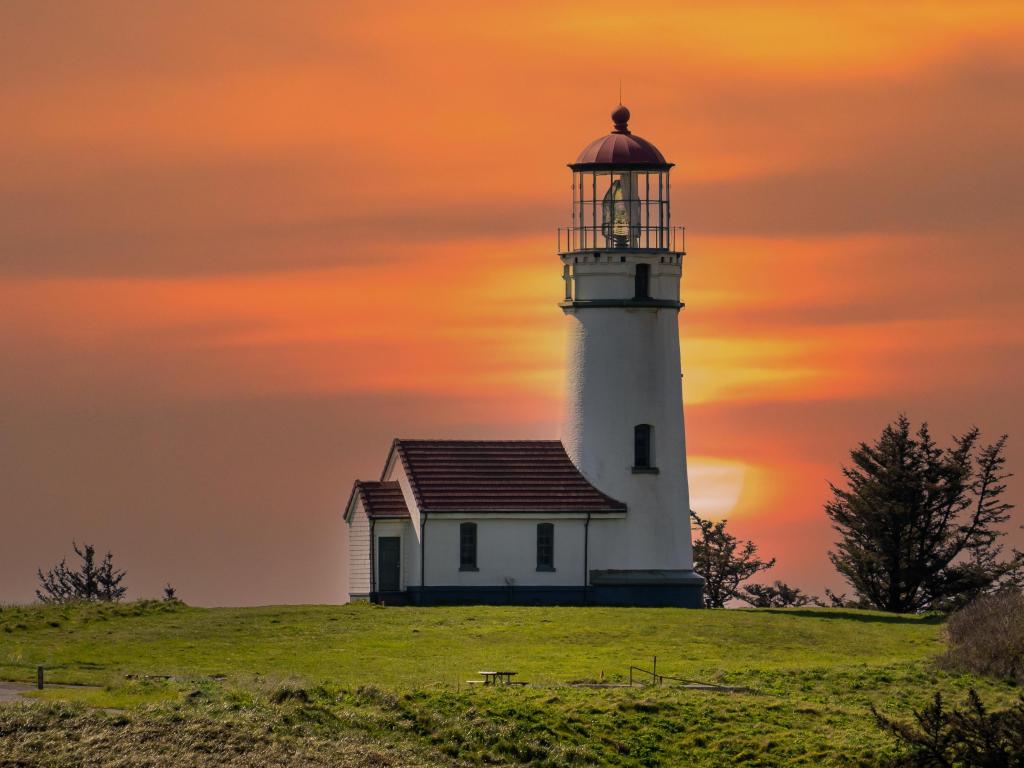 Best time to go on a road trip from San Diego to Portland
A road trip from San Diego to Portland is probably best suited to summer, spring or fall. This is largely because the weather in the Sierra Nevada and Cascade mountains can get very cold in winter. Many of the national parks along the route close in winter, limiting the amount you would be able to see.
While Highway 395 does stay open all year, it can experience some heavy winter conditions, so if you do make the trip in winter make sure you're experienced and prepared.
Summer will be the busiest time of year, as this is when tourists flock to the national parks. However, the weather is also the best, so if you like getting active, consider a summer trip. Be prepared for hotel prices to be at their maximum during the summer months, though.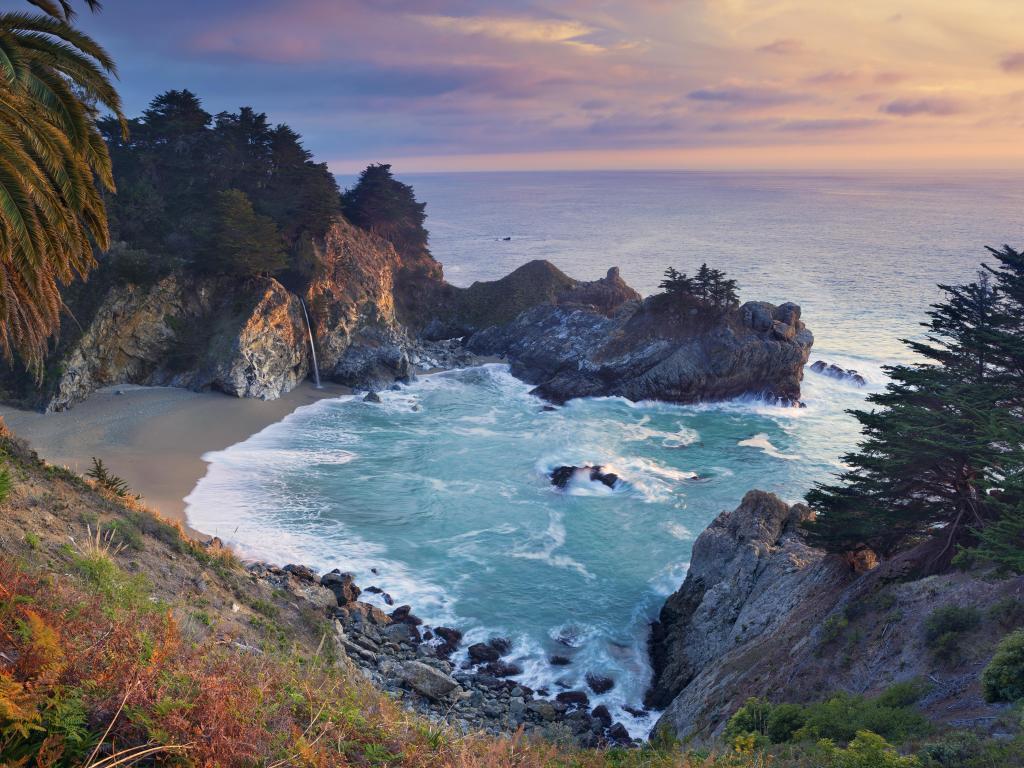 Timing the Coastal Route can be a careful balancing act, especially if you want to avoid the summer crowds and high temperatures of southern California but still hit warm, relatively dry weather in Oregon. We'd recommend June as the sweet spot to try and score both.
Fall is a particularly beautiful time to travel along the National Parks Route as deciduous trees can light the landscape ablaze with an array of dazzling colors. Off-peak travel also gives you a chance of getting a discounted price on a hotel.