Road Trip from San Diego to Sedona
Are you looking for a laid-back adventure from the vibrant coastal scenery of Southern California to the stunning desert landscapes of Arizona? Then this road trip from San Diego to Sedona is custom-made for you, with a perfect blend of adventure and relaxation.
The 510-mile road trip from San Diego to Sedona takes almost 10 hours to complete. Highlights include Mount San Jacinto State Park, Palm Springs, Bajada Nature Trailhead, Prescott National Forest, LEGOLAND California, Robolights, and Lost Horse Mine.
If your inner explorer is ready to shake the cobwebs off, and pique your interest, then continue reading for the routes, places to stay overnight, hotel recommendations, things to see on the routes, and the best places to embark on this journey.
How far is Sedona from San Diego, and how long will the road trip take?
Comparison of road trip routes between San Diego and Sedona

| Route | Distance | Driving Time |
| --- | --- | --- |
| The Phoenix Route | 550 miles | 9 hours 10 minutes |
| The Joshua Tree Route | 510 miles | 9 hours 30 minutes |
Even though the Phoenix Route covers more distance, it takes less time to complete this road trip from San Diego to Sedona. With 550 miles, it takes 9 hours and 10 minutes to complete the drive.
The Joshua Tree Route covers 510 miles and takes 9 hours and 30 minutes to complete this road trip from San Diego to Sedona. This route would be more suitable for nature lovers who enjoy visiting forests and parks.
Although this road trip is on the shorter side, it covers a lot of attractions and provides many opportunities to click a frame-worthy picture. So, we would recommend taking at least 3 to 4 days for this road trip.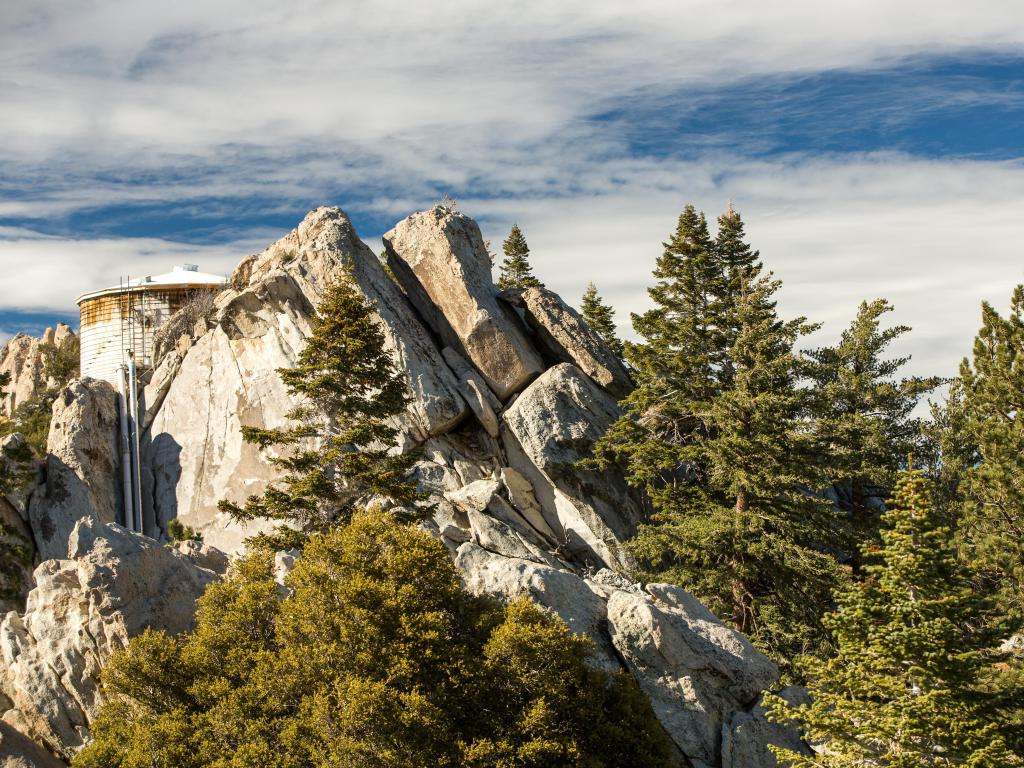 Best road trip route from San Diego to Sedona
While both routes take almost the same time and offer plenty of natural attractions, the scenery is strikingly contrasting. So, your choice of route will depend on the vibe you are after.
The short and direct Phoenix Route will take you from San Diego to Sedona in the middle of the Arizona Desert. You will discover the Gila River Indian Reservation and the populous city, Phoenix along the way. You will also have the option to visit Tijuana or another city in Mexico.
This is because the route takes you right along the border. You will have the option to visit Kofa Wildlife Refuge or simply enjoy the stunning desert landscape. It takes you on the gorgeously scenic Red Rock Scenic Byway, but you will miss out on the luxurious resort experience in Palm Springs.
If you are more of a forest and park lover, take the longer Joshua Tree Route which allows you to discover the Mount San Jacinto State Park, Joshua Tree, the Bajada National Trailhead, and the Prescott National Forest. You can also stop by beautiful Palm Springs, with the option to add Los Angeles.
It also lets you make a slight detour to drive on the Red Rock Scenic Byway as well, but it does not stop at Phoenix if you are looking for an urban getaway.
How to drive from San Diego to Sedona
The map above shows our suggestions for the best road trip routes between San Diego and Sedona. Keep reading for detailed descriptions of both routes, where to stay on either, and the best things to do on the way.
The Phoenix Route
If you want to drive through desert landscapes, continue on CA-94 E from San Diego. Then follow Interstate 8 (I-8) E Yuma and then toward the Gila River Indian Reservation.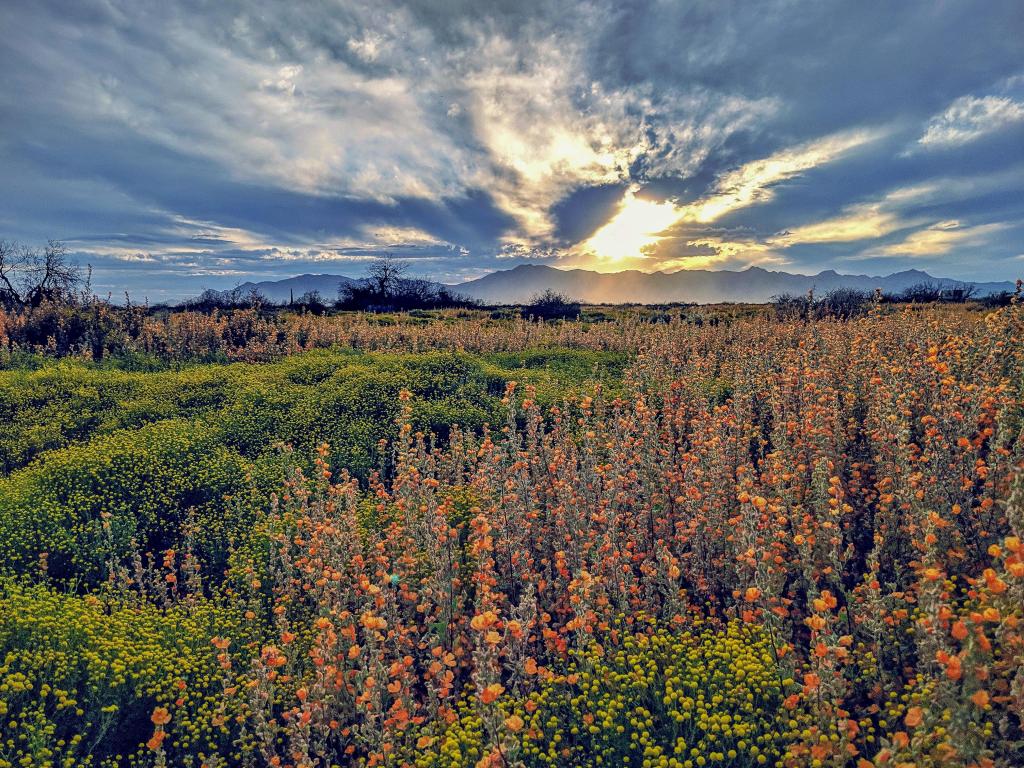 From here, head north into Pheonix. Stay overnight in this vibrant city to relax and stock up before setting off on the last leg of your journey, which will take you further north.
Drive through Payson, Camp Verde, and Lake Montezuma before arriving at your destination in Sedona via the scenic Red Rock Scenic Byway.
The Joshua Tree Route
Head north out of San Diego towards Mount San Jacinto State Park. Your next stop will be the fabulous Palm Springs and Joshua Tree National Park. Afterwards, head east on I-10.
Driving across the Colorado River, you will enter Arizona. You can make a detour to Kofa National Wildlife Refuge soon. If not, keep driving northeast towards Prescott and you will soon reach your destination in beautiful Sedona.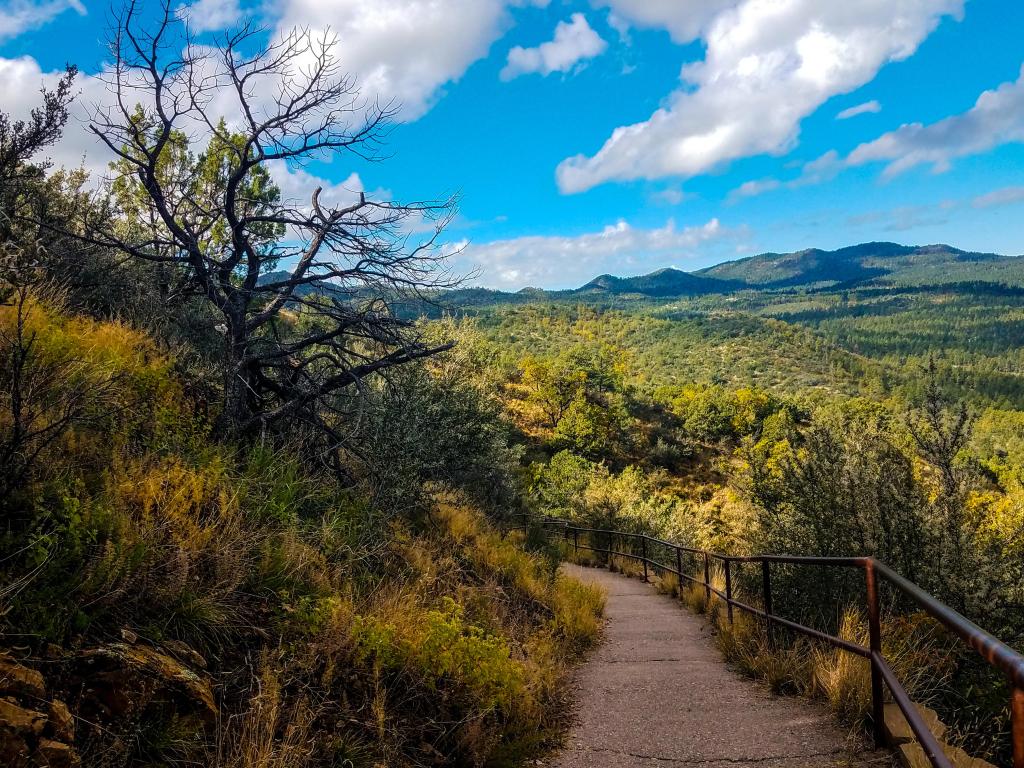 Best places to stop between San Diego and Sedona
Exploring breathtaking nature, world-class museums, and thrilling theme parks, you would need an overnight stay on this road trip from San Diego to Sedona. Read on for our recommendations for cities and hotels.
Taste the rich cultural heritage in Phoenix
You will come across Phoenix about halfway on the Phoenix Route of this road trip from San Diego to Sedona. This city is the capital of Arizona and offers a plethora of attractions on the way to El Paso. It strikes a perfect balance between indoor and outdoor activities.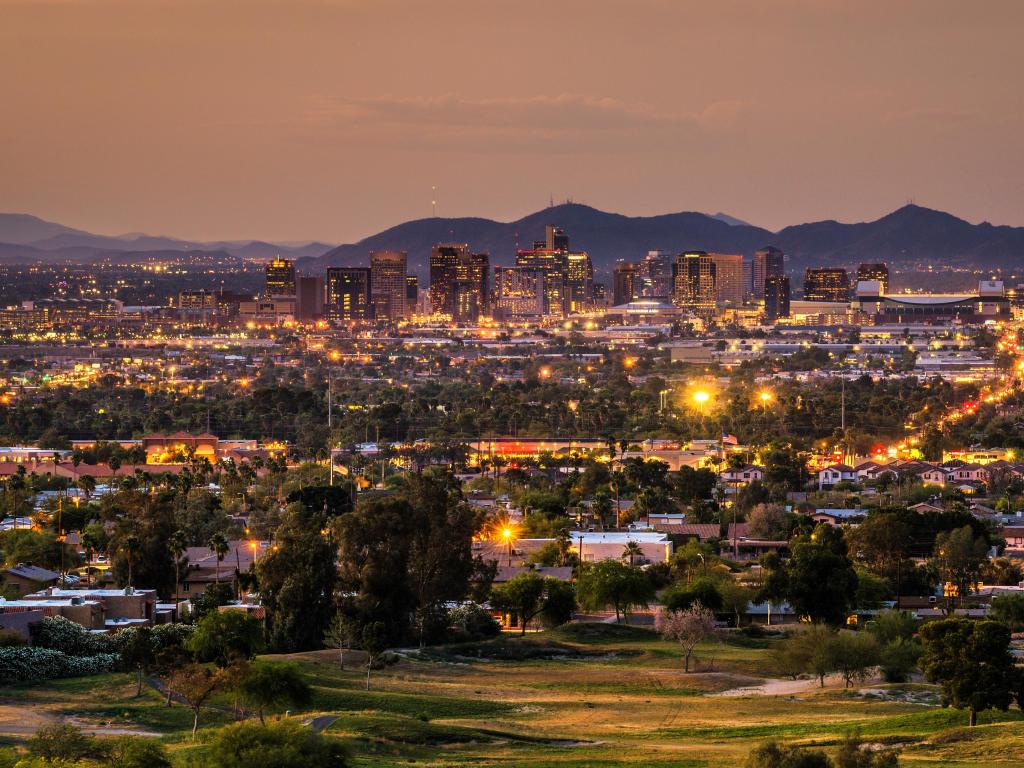 It boasts abundant sunshine and picturesque desert scenery. It is steeped in the cultural legacy of various Native American tribes and is also the location of Arizona State University. Whether you are an outdoor enthusiast or an architecture admirer, you won't run out of options.
Explore 140 acres of Desert Botanical Garden, showcasing an abundant variety and splendor of desert flora. The Heard Museum is a celebration of the rich cultural heritage of Native American tribes in the Southwest. Then visit Papago Park with 1500 acres of stunning desert landscapes and hiking trails.
Our vote for the lodging option in Phoenix goes to Renaissance Phoenix Downtown. You can enjoy panoramic views of the city skyline from the rooftop pool and bar area. It also has a fitness center, complimentary WiFi, and on-site dining.
It boasts a prime location in the heart of downtown Phoenix, offering a range of popular attractions within walking distance. You can also take advantage of the hotel's proximity to public transportation, with nearby light rail and bus stops facilitating convenient exploration of the other areas of the city.
Explore the vibrant culture of Palm Springs
On the Joshua Tree Route of this road trip from San Diego to Sedona, about one-third of the way to Sedona, exists Palm Springs. Located at the threshold of California and Arizona deserts, it is an ideal place to satiate your shopping and dining desires before a long journey through the barren landscapes.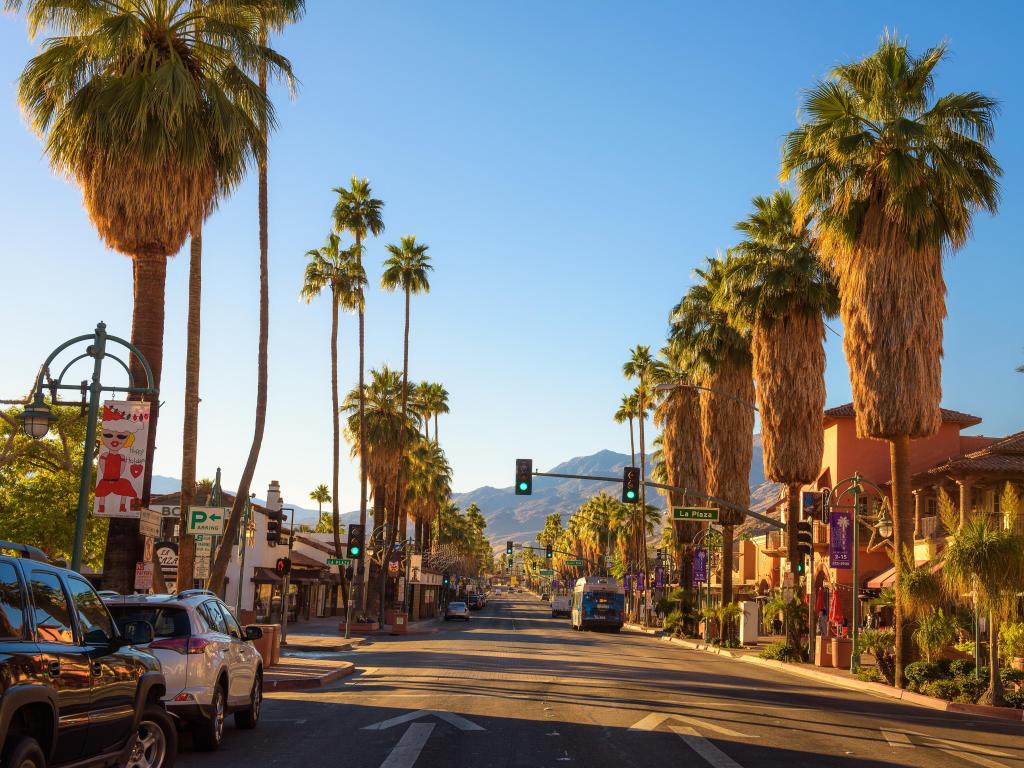 It has gained a reputation for its abundant golf courses, spas, hotels, and natural hot springs. This city is also recognized for its diverse cultural attractions, encompassing several museums, and serving as the venue for the renowned Coachella Festival located nearby.
Explore the Palm Springs' desert ecosystem in The Living Desert Zoo and Gardens, covering over 1000 acres. Visit the premier Palm Springs Art Museum for regional art, natural science, and the performing arts. Take an intimate view of WWII combat aircraft and aviation art at Palm Springs Air Museum.
We recommend staying at L'Horizon Resort & Spa during your visit to Palm Springs. This iconic hotel presents stylishly adorned rooms and suites, exclusively catering to adults aged 21 and above. It boasts a full-service spa, hot tub, and outdoor pool surrounded by breathtaking desert landscapes.
There's also an on-site restaurant, including pool-side dining. Located just outside Oswit and Tahquitz Canyons, you will be close to Moorten Botanical Garden, Baristo Park, and Palm Springs Desert Museum. You can even take the free bicycles to explore these places.
Where to stay when you reach Sedona
Once in Sedona, our top choice is staying at Sedona Pines Resort. It has spacious and comfortable villas with private balconies or patios, fully equipped kitchens, and fireplaces. It also has an outdoor swimming pool and hot tub, perfect for relaxation and soaking in the Arizona Sun.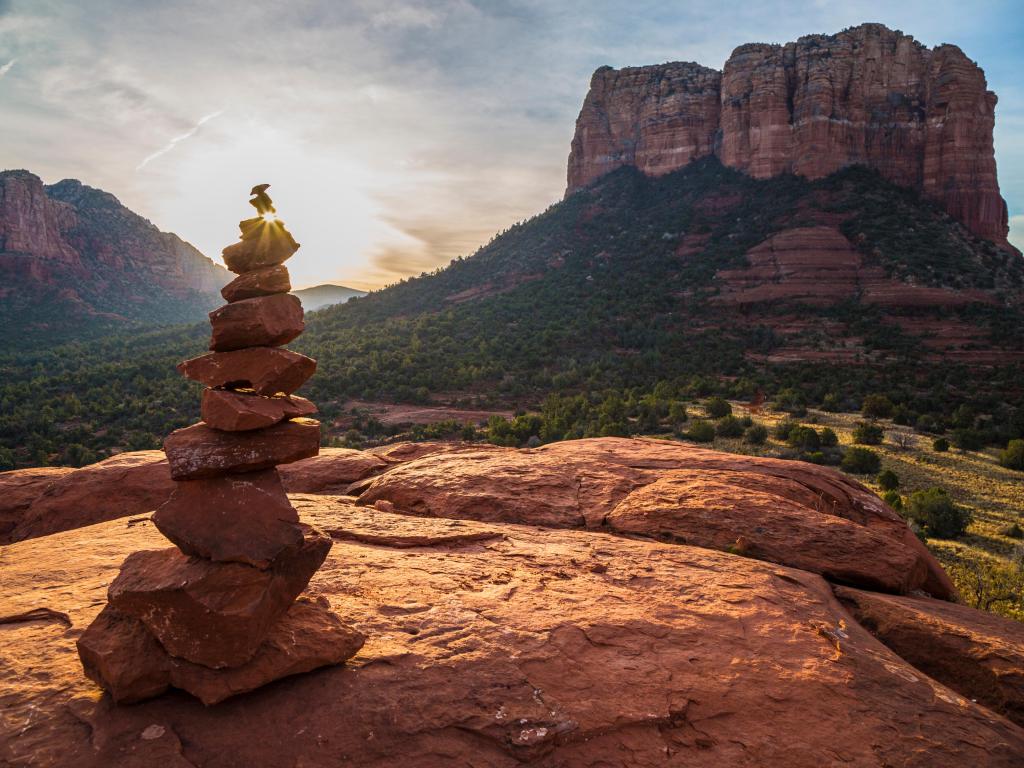 For those who want to stay active during their stay, this hotel has an on-site fitness center and tennis courts. It also boasts a stellar location with close proximity to hiking and mountain biking trails, including the popular Bell Rock and Cathedral Rock trails.
It also provides easy access to Sedona's vibrant art scene, shopping, and dining options, as well as popular tourist attractions like the Chapel of the Holy Cross and Tlaquepaque Arts and Crafts Village.
Things to see on a road trip from San Diego to Sedona
Even though this road trip from San Diego to Sedona is on the shorter side, you will still find yourself stopping at a lot of places. From historic museums to theme parks, there is something to do for everyone.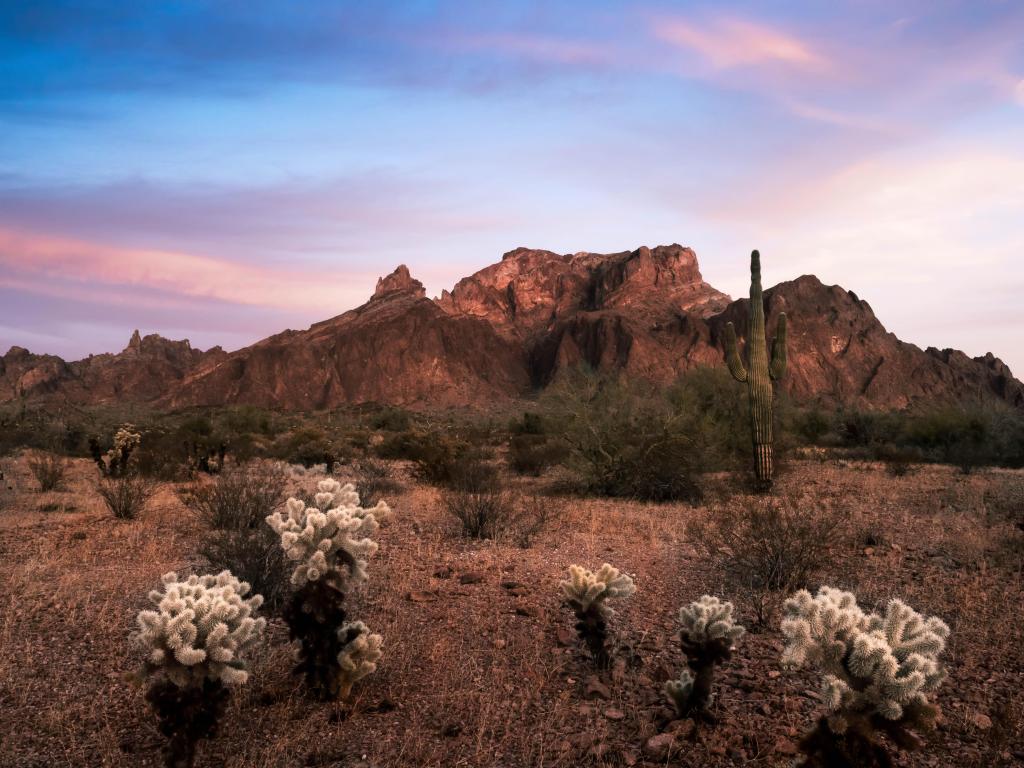 The Phoenix Route
Crystal Pier – This wooden jetty, which has been renovated and reconstructed since its original construction in 1939, is an ideal location to enjoy a romantic stroll or witness a stunning sunset.
Imperial Valley Desert Museum – This museum, recently opened in the Yuha Desert, showcases a variety of historical and indigenous artifacts discovered in the Imperial Valley.
Z Fun Factory – This amusement park provides entertainment suitable for all ages and features mini golf, go-karts, arcades, and a water park during the summer season.
Kofa National Wildlife Refuge – This extensive nature reserve is filled with towering saguaro cacti and fascinating Gila monsters, making it a perfect destination for a scenic hike.
Estrella Star Tower – This astronomy-themed tower is situated on the outskirts of Phoenix and offers a spectacular view of the Arizona night sky from its 50-foot height.
Phoenix Art Museum – With an impressive collection of over 18,000 art pieces from across the globe, this museum spanning 285,000 square feet is the largest in the southwestern region of the United States.
Butterfly Wonderland – This interactive indoor rainforest habitat, located near Phoenix, is home to thousands of butterflies, and also features a gift shop and café.
Skyline Regional Park – Explore this park's 8700 acres of mountains, hiking trails, and campsites by foot or car.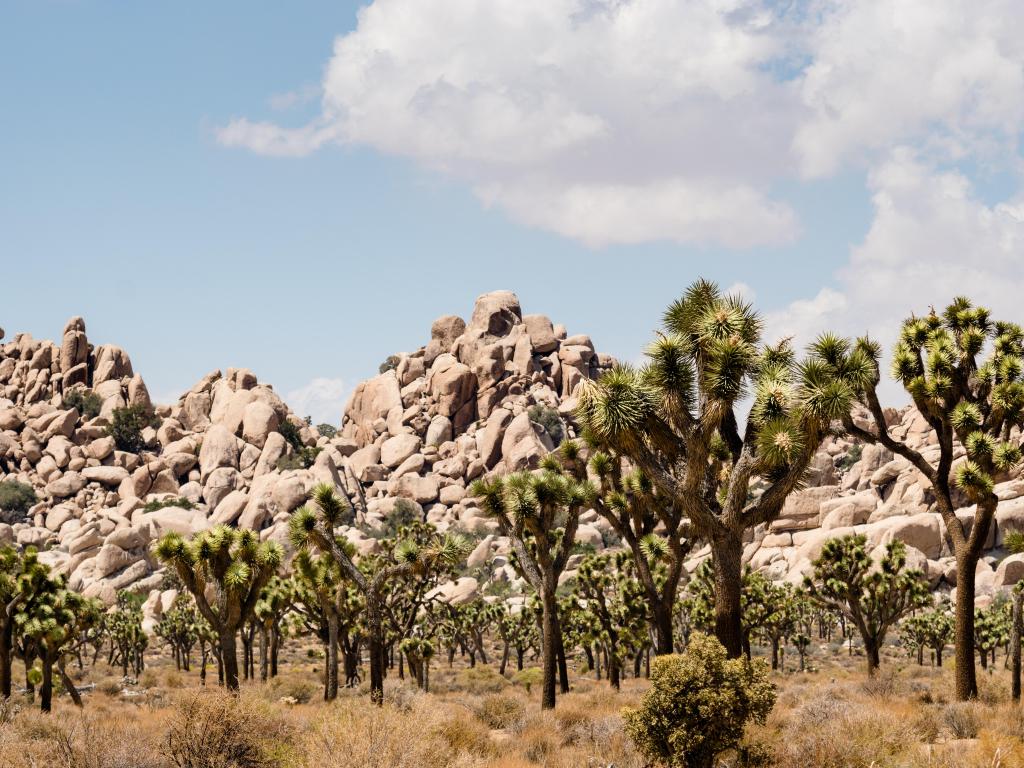 The Joshua Tree Route
Leo Carrillo Ranch Historic Park – Explore the tranquil grounds of this secluded ranch that houses numerous peacocks, a theater, and a gift shop with free admission and optional guided tours.
LEGOLAND California – This California resort, located only 30 minutes away from San Diego, has over 60 rides, a water park, and numerous dining options, all built from LEGOs!
Cabazon Dinosaurs – Purchase tickets at the entrance and explore this famous roadside attraction that features giant dinosaur sculptures and has been featured on TV.
Palm Springs Windmill Tours – Explore the marvels of renewable energy on an educational tour of this contemporary wind turbine farm.
Robolights – This garden is located on the outskirts of Los Angeles and features distinctive sculptures and light shows throughout the year, providing a whimsical experience.
Lost Horse Mine – Located within a short distance from each other, these two historic mining structures are the last remaining remnants of the California Gold Rush that took place in the 19th century.
Joshua Tree National Park – This national park in Southeastern California features a vast desert landscape known for its unique Joshua trees, stunning rock formations, and diverse wildlife.
Rice Desert Signpost – This peculiar signpost, situated in the middle of the Rice Desert and approximately 30 minutes off the main road, presents an ideal opportunity for a memorable photo op.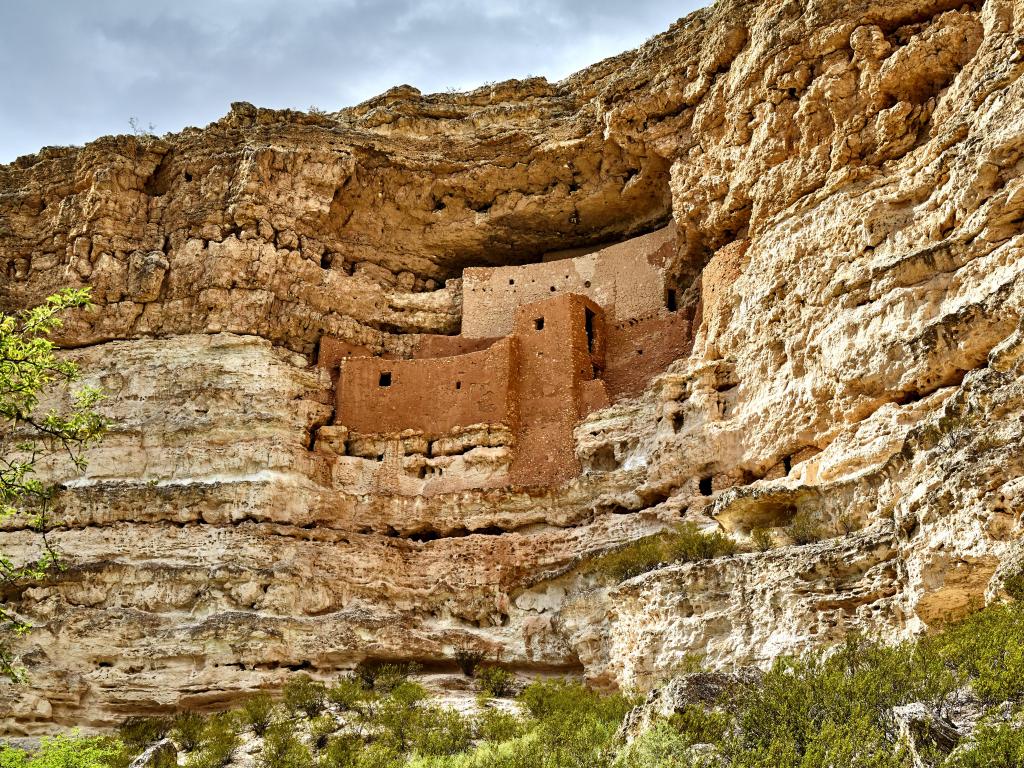 Both Routes
Montezuma Castle National Monument – Situated in Arizona's desert terrain, this is a dwelling site that was inhabited by the Sinagua people in the past. It is directly carved into the limestone cliffs.
Museum of Northern Arizona – Discover Arizona's past at the Museum of Northern Arizona, where you can explore many exhibits featuring artifacts dating back to 15,000 B.C.
Best time to go on a road trip from San Diego to Sedona
Sedona is a place you can visit most times of the year, though it all depends on your sensitivity to heat. If you don't like hot temps, avoid visiting in the summer. That being said, you'll always find something to do in this paradise, regardless of the weather.
Summers in Sedona can get quite hot with temperatures ranging from 75 degrees Fahrenheit to 100 degrees Fahrenheit. So, plan on spending time indoors or finding ways to stay cool. Tourism rates are steady throughout the summer, meaning that hotel rates can be slightly higher.
While outdoor activities may be limited, winter is still a popular time to visit Sedona due to the mild temperatures to enjoy seasonal events and activities. It is a great way to enjoy the stunning red rock scenery with temperatures ranging from high-20 degrees Fahrenheit to mid-50 degrees Fahrenheit.
Spring and fall temperatures range from 45 degrees Fahrenheit to 85 degrees Fahrenheit. These are both great times to visit Sedona as the weather is mild and comfortable and there are many outdoor activities to enjoy. Hotels may also be more affordable during this time.
While you won't find any happenings in summer due to the scorching heat, other times bring in plenty of events. Spring has the Sedona Film Festival and Sedona Bluegrass Festival. Fall brings in Sedona Winefest and Sedona Jazz on the Rocks. While winter gives Sedona Mountain Christmas.