Road Trip From San Diego To Seattle
This Pacific Coast drive of legendary proportions from San Diego to Seattle will take you past every major coastal attraction in California and Oregon leading up to Emerald City.
The road trip from San Diego to Seattle takes around 30 hours and covers 1500 miles. Be sure to explore Los Angeles, San Jose, and Monterey, stop by Big Sur and Los Padres National Forest, and top it all off with the amazing Mt Rainier National Park.
But how to start? Read on until the end to see what you can look forward to during your road trip, where to stop, and what adventures await you on the way.
How far is Seattle from San Diego and how long will the road trip take?
The road trip from Seattle to San Diego is less of a drive and more of a pilgrimage, clocking in at about 30 hours and spanning some 1500-odd miles. Although there are shortcuts, the be-all-end-all route will have you driving State Route 1 and Highway 101, hardly ever straying from the coast.
This is a contender for the most scenic itinerary in the states, so you should consider devoting at least a couple of weeks to the drive. Just be careful around Big Sur as well as most of Highway 101 - the former is on the narrow side while the latter is riddled with twists and turns.
Another incentive to slow down and enjoy the ride is that there's practically no way to avoid traffic. You'll be passing through or near many major tourist attractions, so make the most of the congestion and make frequent stops to explore.
If you want to shave 10 hours off your trip, you can always take Interstate 5, which runs parallel to the main route. While this route is a bit closer to some great inland attractions, it's hard to recommend it over cruising across the entire West Coast.
Best road trip route from San Diego to Seattle
As far as scenery goes, the best road trip route from San Diego to Seattle is by far the coastal route. The places you can expect to see are unlike anything else in North America, and a relatively quick eastward drive is all that separates you from lots of inland landmarks too.
Road trip route from San Diego to Seattle
Make your way out of San Diego via Interstate 5, passing San Onofre State Beach and Capistrano Beach. Detour to Crystal Cove State Park if you'd like, then cruise through LA and take State Route 1 through Malibu. From Santa Barbara, get onto State Route 154 to drive past Cachuma Lake, then get onto Highway 101.
Pass through Santa Maria and take State Route 1 again at San Luis Obispo. Continue along the coast until you've reached Big Sur - be sure to stop by Julia Pfeiffer Burns and Andrew Molera State Parks.
Further north are Monterey and Carmel-by-the-Sea, closely followed by Marina and Seacliff State Beaches. Drive through Wilder Ranch and Año Nuevo State Parks, then check out the renowned Big Basin Redwoods State Park before making an optional detour to San Jose.
After visiting San Francisco, cross the Golden Gate Bridge and continue following State Route 1 past Point Reyes National Seashore. Drive through Sonoma Coast State Park, and continue going north until you get onto Highway 101, just before Humboldt Redwoods State Park.
Before leaving California, you'll definitely want to make time to visit Redwood National and State Parks, as well as Jedediah Smith Redwoods State Park.
Once you're in Oregon, continue to follow Highway 101 past Rogue River-Siskiyou National Forest and Siuslaw National Forest. Past Clatsop State Forest, take the Astoria-Megler Bridge to get into Washington.
Just north of Artic, head eastward via State Route 107, then follow State Route 8 and Highway 101 to Olympia. From there, take Interstate 5 through Tacoma and to Seattle.
Best places to stop between San Diego and Seattle
With all the driving you'll be doing, it should come as no surprise that there are countless places to stop on your road trip from San Diego to Seattle. You're practically guaranteed to find accommodation near whatever stopping point you have in mind, but if you can help it, consider booking a room at one of the following:
Spend an unforgettable night in Big Sur
About 8 hours of driving from San Diego will take you to one of the trip's highlights, Big Sur. This place offers lots of activities and must-see landmarks for its wandering travelers, like state parks, hiking trails, and of course, awe-inspiring beaches. For the best ocean view on this side of the Pacific, book a room in Ventana Big Sur.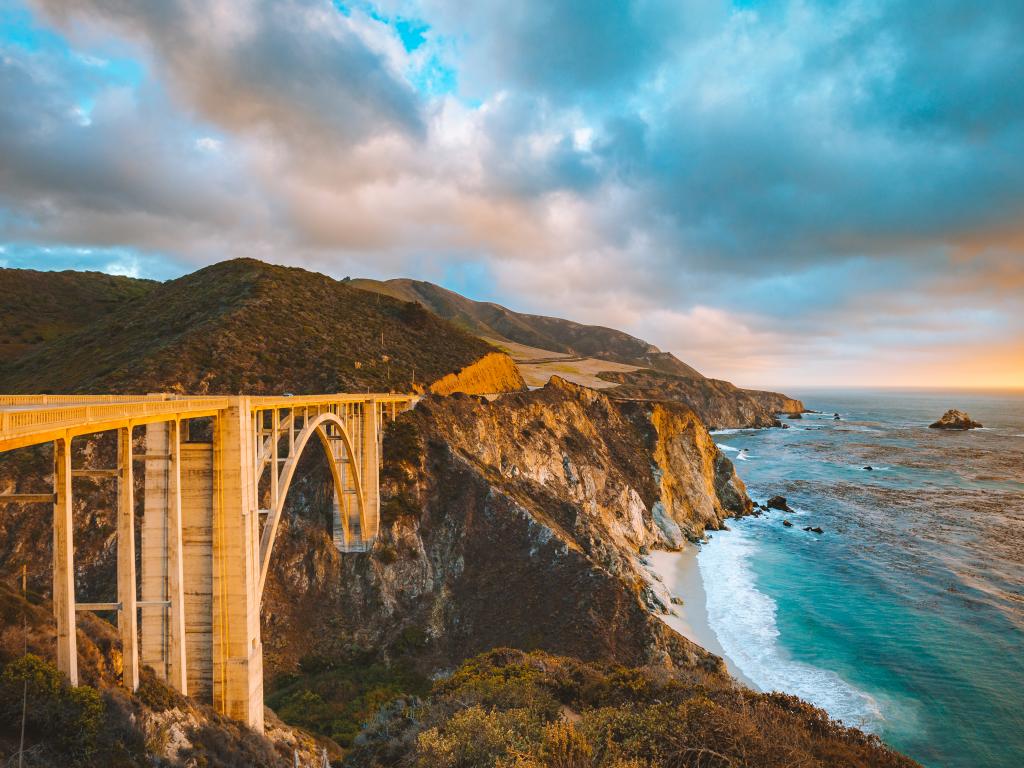 It wouldn't be a stretch to say that this hotel is every bit as majestic as Big Sur itself, what with the incredible Sur House restaurant and Ventana Inn and Spa bathhouse, which features authentic Japanese-style baths. For some added style points, you can relax in a hot tub on the deck or huddle around the indoor fireplace.
Speaking of, the rooms themselves almost seem to blend into the beautiful environment, courtesy of the stylish, wood-heavy designs. For a staggering view of the ocean, grab a pair of binoculars from your room and relax by the window, on the balcony, or on the beautiful patio. Needless to say, that walk-in shower is also a winner!
It should be noted that this is likely the most expensive place to stay in the Big Sur area, but if it's within your budget, it's a once-in-a-lifetime type of stay that'll leave you with some lasting memories.
Stroll along the beaches of Mendocino
In keeping with the massive scope of the trip, you can expect to find a lot of luxurious accommodation around every corner, and the beautiful Mendocino is no exception.
Mendocino is renowned for its stunning natural landscapes, and it's probably best known for its incredible redwood forests and botanical gardens. When exploring this place, be sure to book a room at the Agate Cove Inn.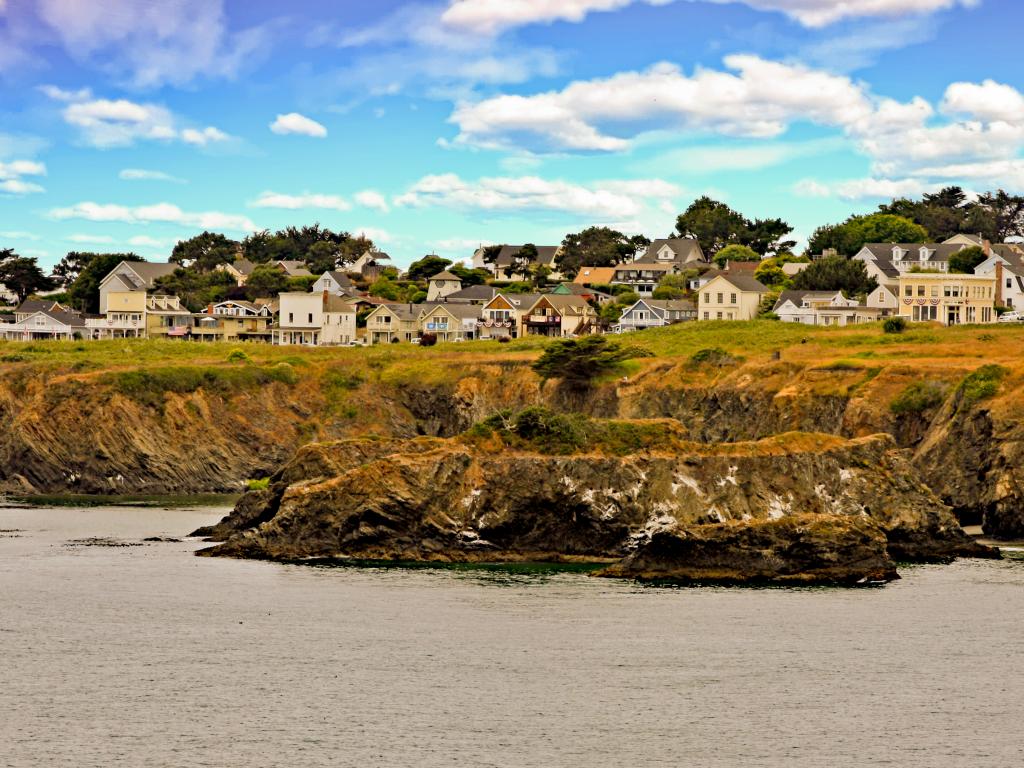 A far cry from your average hotel experience, Agate Cove Inn gives you an unprecedented view of the ocean and an exterior that'll keep you coming back for years to come. Everything you could hope to see in the area, from the Highlight Gallery to the Temple of Kwan Tai, is practically right around the corner.
The rooms, while simple, sport a heavenly aesthetic that'll have you drifting off into sleep within minutes. Besides the cloudy beds and gorgeous fireplace, the highlight of your stay will be waking up to a spectacular window view.
All things considered, this place is quite affordable for how great it is, and that's especially important when you consider that it's conveniently located near the very middle of the route.
Things to see on a road trip from San Diego to Seattle
It would be next to impossible to list all the things there are to see on a road trip from San Diego to Seattle. With that said, these are some of the landmarks you can't afford to miss out on:
Torrey Pines State Reserve - A stunning collection of oceanside hiking trails and amazing clifftop views.
Old Mission in Santa Barbara - Dubbed as "Queen of Missions," this historic church in Santa Barbara is a fascinating landmark with 17th-century artworks, artifacts, and architecture.
Solvang, California - Boasting more than 120 vineyards, Solvang is a haven for wine aficionados and travelers who want to learn about the art of winemaking and sip delectable wines and craft beers.
Long Beach - Named for being the longest continuous beach in the US, this is a perfect stop for any and all sea foodies. We recommend visiting Peninsula Beach while here.
Big Sur - Known for its shores and the Bixby Creek Bridge, this place is a mandatory inclusion for any West Coast photoshoot.
Carmel-by-the-Sea - An iconic beach city that features quaint architecture and the Scenic Bluff Path.
Napa and Sonoma Wine Country -These places are considered some of the world's most diverse wine regions.
Point Reyes Station - Recommended for adventure seekers who love hiking and kayaking; habitat for a variety of bird species.
Bodega Bay - A quirky place along the Pacific Coast known for its peculiar art galleries and oceanside stores.
Mendocino - A small village on the Pacific Coast, known for its famous tourist spots like the Glass Beach, Confusion Hill, and Chandelier Drive-Thru.
Humboldt Redwoods State Park -This park houses the largest old-growth coastal redwood forest in the world.
Redwoods National and State Parks - Recognized as a UNESCO World Heritage Site for its oldest trees, this is a popular stop for hikers, fishers, and nature lovers.
Tillamook County - Home to the Tillamook Cheese Factory, where visitors can learn how this delicacy is made and savor its creaminess in its stores and cafe.
Cannon Beach - A popular beach destination featured in movies like The Goonies, Twilight, and Point Break.
Ruby Beach - Named for its red sand and located along the Olympic Peninsula; visitors in this area are required to wear flipflops for protection from the "sand crystals".
Tillamook State Forest - A gorgeous fishing and hiking spot near the Oregon-Washington border.
Olympic National Park - A few hours from Seattle, this park offers a view of different natural wonders like glacier-capped mountains, beaches, rain forests, and various animal species.
Mt Rainier National Park - A snow-capped wonder with arguably the greatest views in all of Washington.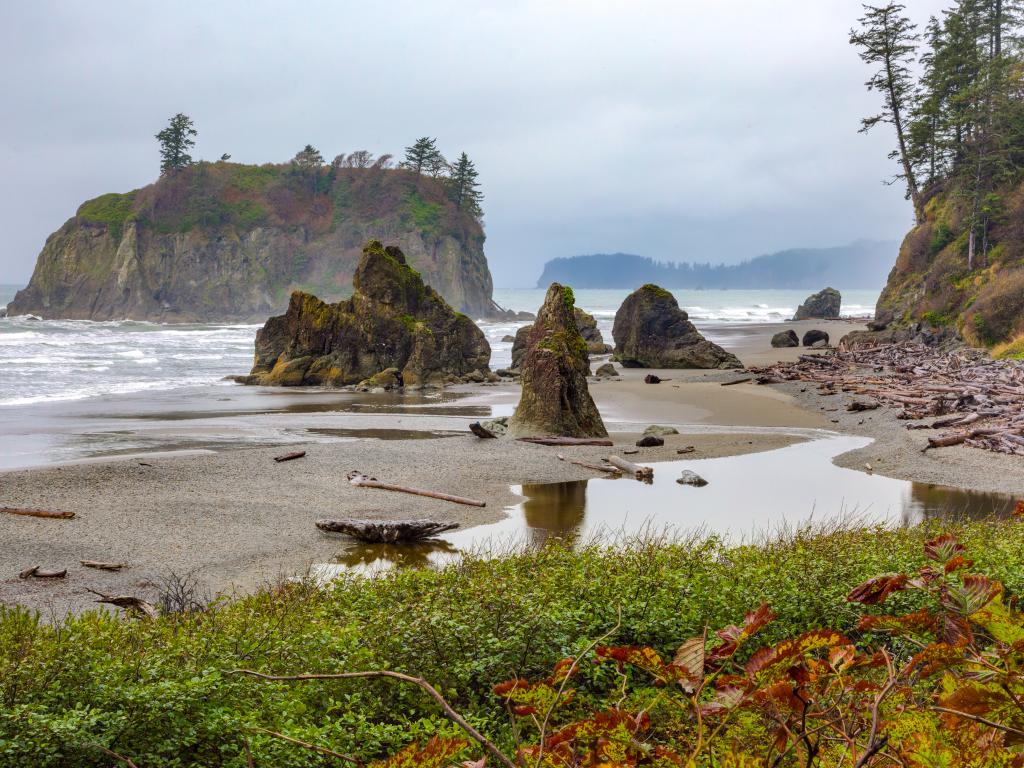 This list only includes some of the must-visit places on your road trip from San Diego to Seattle, but there is a lot more to discover when on your journey. And if you take the I-5 on your way back to California, the Death Valley National Park and Mojave National Park are places to check out too!
Best time to go on a road trip from San Diego to Seattle
Given the sheer number of things there are to see and do, you could do the road trip from San Diego to Seattle any time of year and still have something to do. With that said, the best thing to do would be to plan around the route's highlights on top of the destination.
A summer trip might seem like a no-brainer, given all the beaches and natural landmarks, but be careful of the Pacific Fog - on hot summer mornings, you can expect the Big Sur area to get shrouded in mist, making it harder to drive and sightsee.
On the other hand, there's little to no point in doing this drive in the winter as many of the parks and forests will be inaccessible. Mt Rainier is a great place to do some skiing, but Seattle's temperatures can drop to the mid-30s, making exploration difficult.
Spring can be a solid option on a good year, but it's one of the more unpredictable seasons as far as weather conditions go. Random bursts of wind and rain can put a damper on your time in Seattle, and the rest of the drive doesn't fare much better.
The best time to do the trip is in the fall. The crowds at most of the ocean stops start to thin out before October, and Seattle's prices decline quite rapidly. Add to that the fact that the city's fall temperature is generally in the mid-60s, and you have a time window that's hard to beat.