Road trip from Seattle to Calgary
If you are looking for the perfect road trip to Canada from the shores of the Pacific Ocean, then look no further than this stunning adventure from Seattle to Calgary. With the breathtaking views of majestic mountains and mirror-like lakes, you won't be forgetting this epic drive any time soon!
The 685-mile road trip from Seattle to Calgary will take 12 hours and 20 minutes to drive. On the way, you can visit Bellingham, Kamloops, Spokane, Sandpoint City, Kaniksu National Forest, as well as Mt Revelstoke, Glacier, Yoho, and Banff National Parks.
This incredible adventure will bring you through some of North America's most rugged and stunning parts. Read below to learn more about our recommended routes, top highlights, places to stay, and the best seasons to make this memorable journey.
How far is Calgary from Seattle, and how long will the road trip take?
Comparison of road trip routes between Seattle and Calgary

| Route | Distance | Driving Time |
| --- | --- | --- |
| The Banff Route | 685 miles | 12 hours 20 minutes |
| The Spokane Route | 755 miles | 13 hours 20 minutes |
The Banff Route spans over 685 miles and requires around 12 hours and 20 minutes of driving time, without accounting for detours or stops.
The alternative Spokane Route, while slightly longer at 755 miles with a total drive time of about 13 hours and 20 minutes, offers enchanting vistas and attractions.
We recommend taking 5-6 days to fully appreciate all the natural wonders and exciting highlights that you will encounter on the way. There are also options for magnificent detours that will add even more wonders to your journey.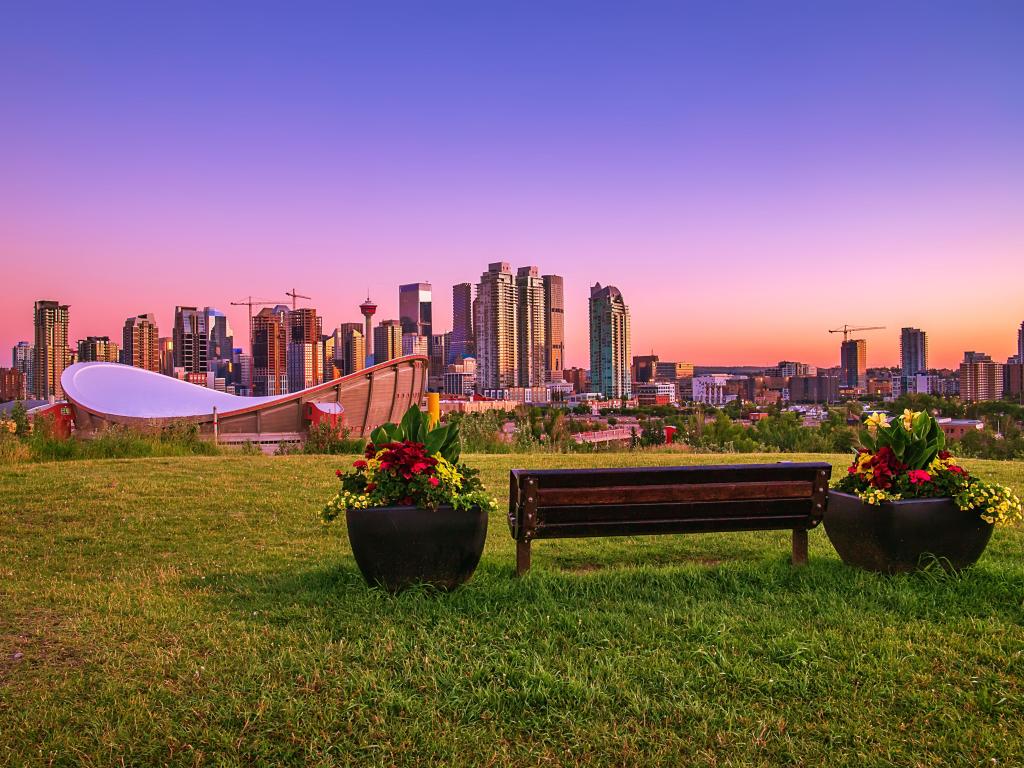 Best road trip route from Seattle to Calgary
Both the Banff and Spokane Routes feature unique attractions and breathtaking sceneries, providing distinctly different experiences.
If you want a journey that constantly rewards you with unparalleled natural landscapes and stunning national parks with fewer urban destinations, the Banff Route would be a great option for your road trip.
This route, with its relatively shorter distance, takes you through the picturesque landscapes of southwestern Canada, offering a rich array of mountains, lakes, and forests that will have your camera working overtime.
Apart from venturing through the stunning expanses of Glacier National Park, Yoho National Park, and Banff National Park, you have the option to detour to the Deception Pass Bridge and the winding Chuckanut Drive Scenic Byway that flanks lush forests and rocky shorelines.
On the other hand, the Spokane Route is dotted with historical destinations mixed with vibrant city life and natural beauty, promising a well-rounded road trip experience.
As you drive, you'll find yourself immersed in the deep histories of the Native Americans of the US and Canada. The route takes you to the beautiful Snoqualmie Falls and the sweeping views of the Idaho Panhandle National Forests, along with the intriguing Okotoks Erratic.
On the route, take time to admire the Bavarian atmosphere of Leavenworth, absorb the energetic pulse of downtown Spokane, relax at the beach in Sandpoint, or steep yourself in the rich culture of Bonners Ferry.
Despite its many attractions, this route is slightly longer and may require more time to enjoy the array of experiences on offer fully.
How to drive from Seattle to Calgary
The map above shows our suggestions for the best road trip routes between Seattle and Calgary. Keep reading for detailed descriptions of both routes, where to stay on either, and the best things to do on the way.
The Banff Route
Starting in Seattle, head north on Interstate 5 (I-5). Drive along the shoreline of the Puget Sound through Burlington and Bellingham towards the border of Canada.
From here, cross the border and enter the city of Abbotsford. Continue en route northeast to the town of Hope on the Fraser River.
Drive through the mountains and wilderness to the beautiful city of Kamloops. After enjoying the surrounding outdoors sports and natural highlights, head east to the lakeside paradise of Salmon Arm.
Continue through the towering Canadian Rockies to the city of Revelstoke. After your visit, back on the Trans-Canadian Highway and head to Glacier National Park of Canada.
After taking in the natural beauty, you will continue driving east through the skiing wonderland of Golden and then to scenic Lake Louise. From here, you can visit Banff National Park, a natural highlight of this route. During your visit, you can use Banff as a perfect getaway.
Once you've gotten your fill of Banff's highlights, head on route to Canmore. From here, drive through Kananaskis and then you're only a short drive away from your destination of Calgary.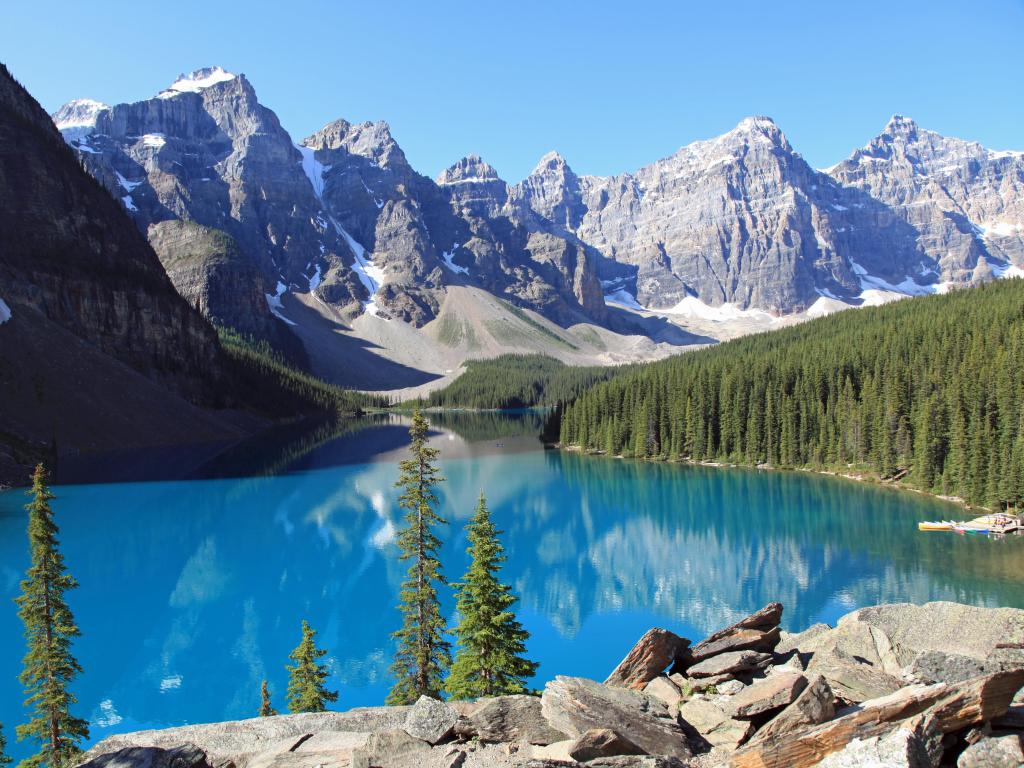 The Spokane Route
Beginning in the beautiful city of Seattle, head east through the mountains to Leavenworth on US-2. From here, travel through the agricultural heartland of Washington to the city of Spokane.
After enjoying this wonderful inland city, head northeast into the Idaho Panhandle National Forest to Sandpoint on the glistening shores of Lake Pend Oreille.
From here, head north to the beautiful town of Bonners Ferry. Continue north past the Canadian border and into the town of Cranbrook.
Continue on the highway along the Elk River, past charming mining towns and endless mountain vistas. Then, head north to the town of High River. After visiting High River, make your way north to your destination of Calgary.
Best places to stop between Seattle and Calgary
This remarkable journey is full of adventure around every corner. To help you plan the most epic road trip imaginable, we recommend staying at one of our recommended destinations below.
Become one with nature in Revelstoke
Revelstoke is the perfect place to take a break on the Banff Route, located about 7 hours and 30 minutes into the drive. The mesmerizing backdrop of the Selkirk Mountains and the proximity to the Glacier National Park of Canada will make you fall in love with this British Columbia treasure.
This city is a paradise for an outdoor enthusiast, and if you are one, we highly recommend making your way to Mount Revelstoke National Park. Here, awe-inspiring vistas and encounters with captivating wildlife await you.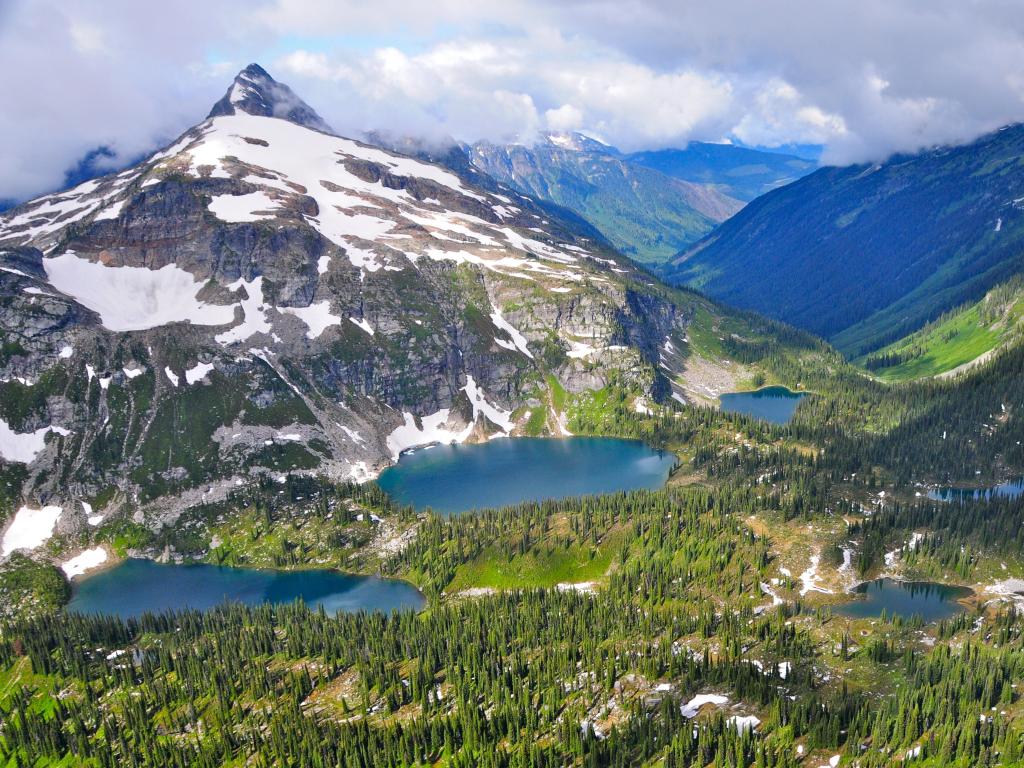 A visit to the region isn't complete without experiencing The Enchanted Forest, a theme park in the inland temperate rainforest. This is especially a great place to visit if you are traveling with little ones. There are trails through the old-growth rainforest are full of fairytale figures.
If you'd like to learn more about your new favorite city, then a highlight to explore is the Revelstoke Museum & Archives, known for its exhibits on the local history and culture.
While visiting Revelstoke, we suggest staying at the beautiful Eleven Revelstoke Lodge. This stylish, modern, yet cozy hotel stands in the heart of Revelstoke, ready to pamper you with thoughtful details such as complimentary drinks at the bar and snacks and daily après that promise to elevate your stay.
The lodge also boasts a beautiful rooftop terrace, a rooftop hot tub, a well-equipped wellness center, and a great restaurant serving delicious dishes, the perfect way to fuel up after your exploration or time at the slopes.
For nearby experiences, Revelstoke Railway Museum is just 500 yards away, providing a delightful glimpse into the region's railway history. Moreover, the historic town center surrounds the hotel, offering vibrant experiences just a few hundred yards away.
A lakeside retreat in Coeur d'Alene
Coeur d'Alene is the perfect place to take a break on the Spokane Route, situated about 6 hours into your drive. Nestled amidst stunning landscape and the majestic views of the emerald-green wonderland of Coeur d'Alene National Forest, this is the perfect place to stop and take a fresh breath.
During your stay, don't miss the Tubbs Hill Beach and trail, which features awe-inspiring views.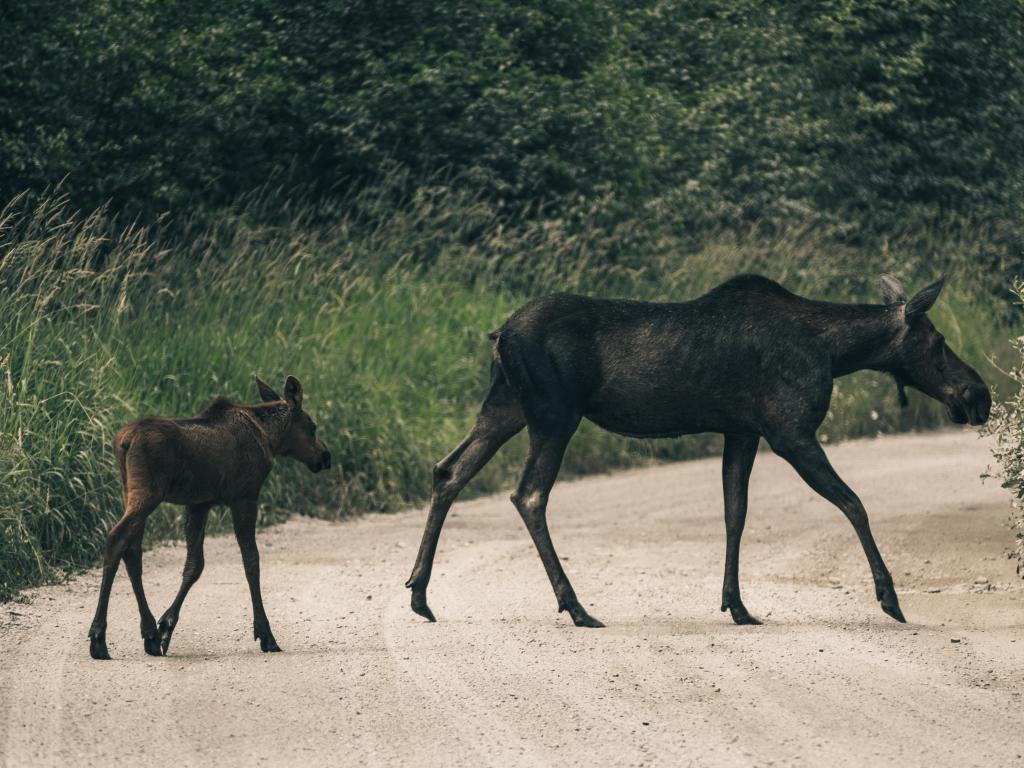 If you love golf, check out the Floating Green golf course, set against the magnificent backdrop of Lake Coeur d'Alene, offering a golfing experience accompanied by breathtaking views that are truly second to none.
As the day turns into night, we recommend finding comfort and luxury at The Roosevelt Inn. Situated in a historic building in downtown Coeur d'Alene, this charming hotel offers rooms adorned with stunning, luxurious furnishings that blend seamlessly with modern comforts.
The Inn has beautiful gardens and outdoor spaces for guests to unwind, enveloped in the gentle embrace of nature, and every morning, the delicious breakfast on offer will provide a perfect start to your day.
Within easy reach of the hotel lies the Museum of North Idaho, just 200 yards away. Also within walking distance is the Art Spirit Gallery, a haven for art lovers where creativity blooms in every corner, promising to immerse you in the vibrant local art scene.
Where to stay when you reach Calgary
Calgary, famed as the gateway to the Rocky Mountains, is the perfect blend of spectacular prairie landscapes and buzzing urban cityscapes.
Start your adventure with a step back in time at Heritage Park, where history comes alive, showcasing the rich tapestry of Calgary's past through live demonstrations and interactive exhibits.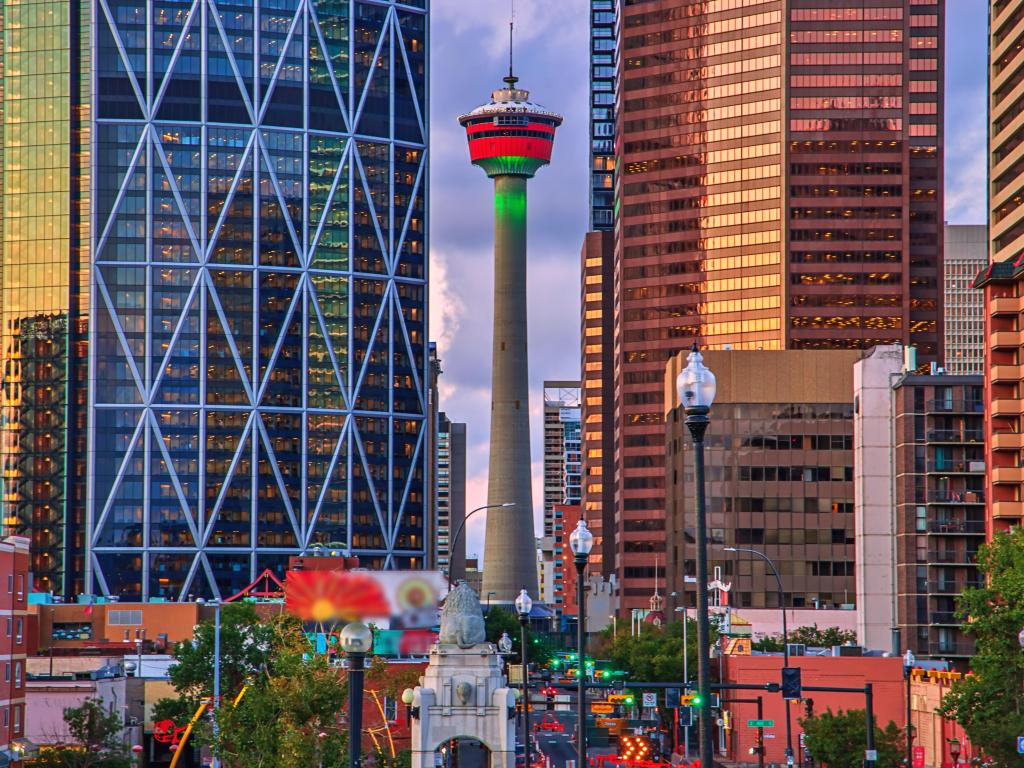 Don't miss the panoramic views from Calgary Tower, an iconic structure offering a 360-degree view of the city.
As the day winds down, the Hotel Le Germain Calgary awaits to envelope you in luxury and comfort. Nestled in downtown Calgary, this modern, stylish boutique hotel positions you close to the heartbeat of the city, with easy access to its attractions.
With a commitment to freshness and quality, the hotel's restaurant features dishes crafted from local ingredients, while the lounge bar stands ready to serve you crafted cocktails to toast your adventures.
For a deeper level of relaxation, treat yourself to one (or several!) of the blissful offerings of the spa and wellness center, with a sauna to iron out any tiredness you might feel after driving.
Things to see on a road trip from Seattle and Calgary
There are almost endless highlights along both beautiful routes. To help you plan your ultimate road trip, we've listed our top highlights below so you can decide what you want to see the most.
Banff Route
Deception Pass Bridge - This iconic bridge located in Washington offers breathtaking views of the surrounding seascape and islands, making it a beloved spot for photographers and nature enthusiasts.
Chuckanut Drive Scenic Byway - This picturesque route in Washington is known for its dramatic cliffside views of the Pacific Ocean, as well as its proximity to hiking trails and state parks.
Whatcom Museum, Bellingham - Situated in Bellingham, Washington, this museum offers a diverse array of exhibitions ranging from regional history to art, housed in a distinctive, iconic architectural structure.
Bridal Veil Falls Provincial Park - This Canadian park offers visitors the chance to see the spectacular Bridal Veil Falls, which plunges 60 meters over a smooth rock face.
Skagit Valley Provincial Park - This Canadian park is renowned for its stunning natural vistas, including lush forests and rugged mountain terrain, offering a haven for camping and hiking enthusiasts.
Kamloops Museum and Archives - Situated in British Columbia, this museum offers insights into the regional history, showcasing the rich cultural heritage and the natural history of the area.
Salmon Arm Wharf - This is Canada's longest wooden inland curvilinear wharf, offering spectacular lakeside views and opportunities for bird watching.
Sicamous Lookout - Located in British Columbia, this lookout offers panoramic views of the surrounding mountains and the Eagle Valley, a perfect spot for photography.
Mt Revelstoke National Park - This national park in British Columbia boasts of mesmerizing meadows blooming with wildflowers, along with opportunities for hiking and sightseeing.
Glacier National Park (Canada) - Nestled in British Columbia, this park is home to pristine glaciers and deep snows, offering a playground for alpine adventurers with hiking trails and mountaineering opportunities.
Golden Skybridge - The Golden Skybridge in British Columbia is Canada's highest suspension bridge, offering exhilarating views of waterfalls, river canyons, and the surrounding forest landscape.
Yoho National Park - Situated in the Canadian Rocky Mountains, this national park is famous for its towering waterfalls, crystal-clear lakes, and impressive hiking trails.
Lake Louise Ski Resort & Summer Gondola - This year-round resort in Alberta offers world-class skiing in the winter and scenic gondola rides to viewing platforms with stunning vistas in the summer.
Banff National Park - Located in Alberta, this national park is a UNESCO World Heritage Site, known for its stunning mountain scenery, crystal clear lakes, and diverse wildlife.
Kootenay National Park - This park in British Columbia features diverse landscapes from glaciers to dry grasslands, offering a plethora of outdoor activities including hiking, camping, and wildlife viewing.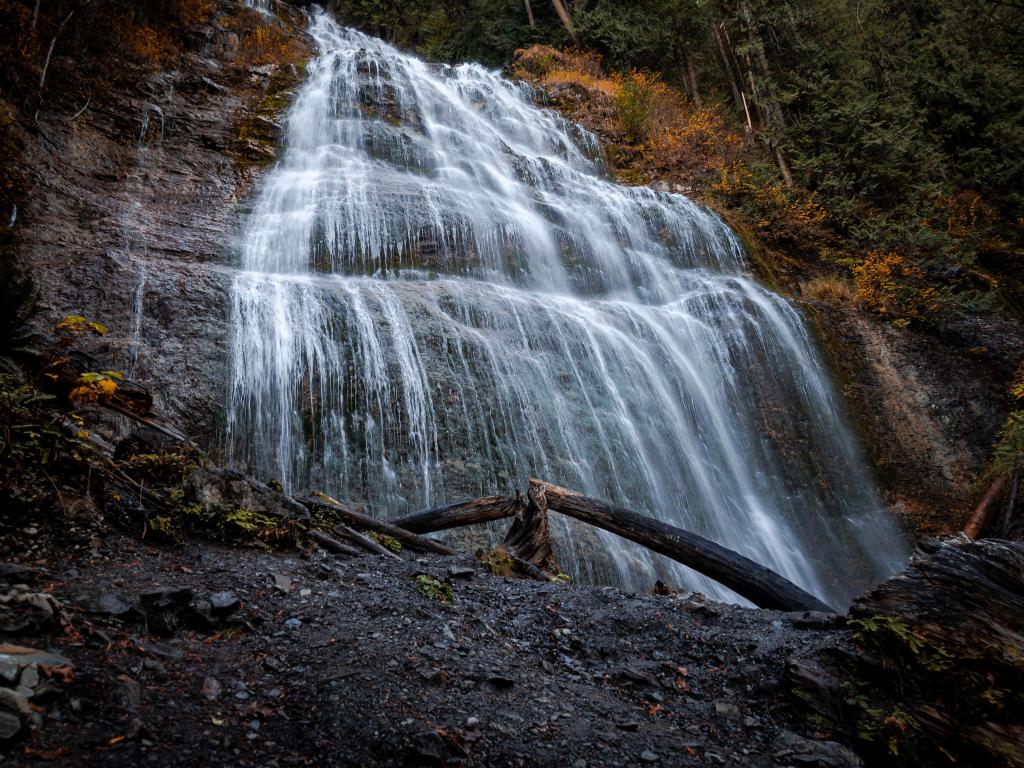 Spokane Route
Snoqualmie Falls - This waterfall in Washington is a popular attraction for its stunning 268-foot waterfall and the adjacent park with hiking trails and picnic areas.
Teanaway Community Forest - Situated in Washington, this community forest offers a network of trails for hiking, mountain biking, and equestrian activities, amidst a backdrop of scenic views.
Leavenworth Nutcracker Museum - You'll enjoy this unique museum houses an impressive collection of nutcrackers, some dating back centuries, providing an intriguing look into the history of this tool cum artifact.
Cashmere Museum and Pioneer Village - This museum in Washington State takes you on a journey through the region's history, featuring a pioneer village and comprehensive Native American exhibits.
Lasting Legacy Wildlife Museum - Situated in Washington, this museum is dedicated to showcasing North American wildlife through well-crafted dioramas that depict various animals in their natural habitats.
Downtown Spokane - The vibrant heart of Spokane, Washington, is home to a variety of shops, restaurants, and cultural attractions, including museums and art galleries, set against the backdrop of beautiful architectural gems.
Idaho Panhandle National Forests - Spanning across a vast area in Idaho, this national forest area offers a rich environment for a plethora of outdoor activities, from hiking to fishing amidst dense forests and pristine lakes.
Sandpoint City Beach Park - Located in Idaho, this popular park offers sandy beaches alongside pristine waters, providing a perfect locale for family outings with facilities for swimming, volleyball, and picnics.
Kaniksu National Forest - Situated in Idaho, this national forest offers diverse recreational opportunities amidst a rich natural setting with dense forests, rivers, and trails for hiking and biking.
Boundary County Museum - This museum located in Idaho showcases the rich history and heritage of Boundary County through a variety of exhibits featuring artifacts and historical documents.
Elizabeth Lake - A serene spot in British Columbia known for its tranquil beauty, offering opportunities for bird watching and a peaceful retreat surrounded by natural beauty.
Fort Steele Heritage Town - Situated in British Columbia, this heritage town offers a glimpse into the 1890s with historical re-enactments, heritage buildings, and exhibits showcasing the bygone era.
Lundbreck Falls - A picturesque waterfall in Alberta, known for its beauty and the surrounding recreation area offering camping and picnicking spots with great views.
Museum of the Highwood - Located in Alberta, this museum offers insights into the region's cultural and natural history through a variety of exhibits and displays.
Okotoks Erratic - This geological wonder in Alberta is a massive rock transported by glacial ice thousands of years ago, offering a fascinating glimpse into Earth's natural history.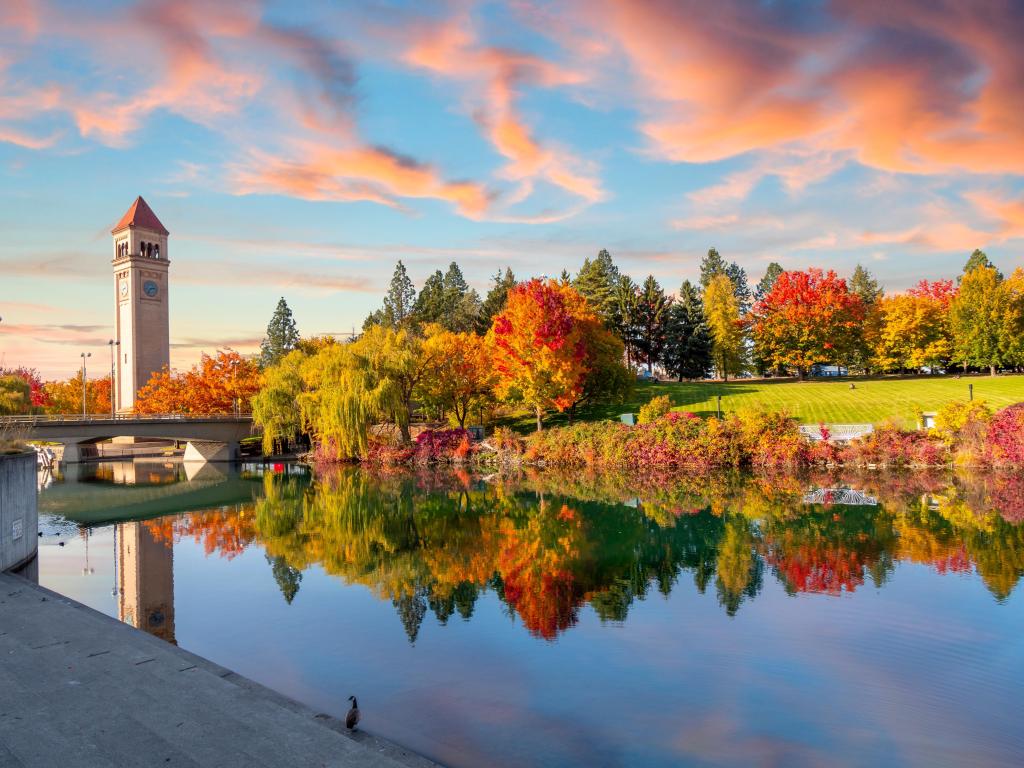 Best time to go on a road trip from Seattle and Calgary
Calgary is a gateway to the majestic Canadian Rocky Mountains, offering a rich tapestry of experiences that weave modern city life with breathtaking natural landscapes.
Embarking on this adventurous road trip during the winter season, especially if you opt for the Banff Route, requires a lot of planning, including snow tires and chains.
The higher pass roads between Salmon Arm and Calgary can be quite challenging during heavy snowstorms. However, this season is also when you can enjoy the magical Ice Magic Festival in January, a celebration of ice-sculpting artistry set against the mesmerizing mountain scenery.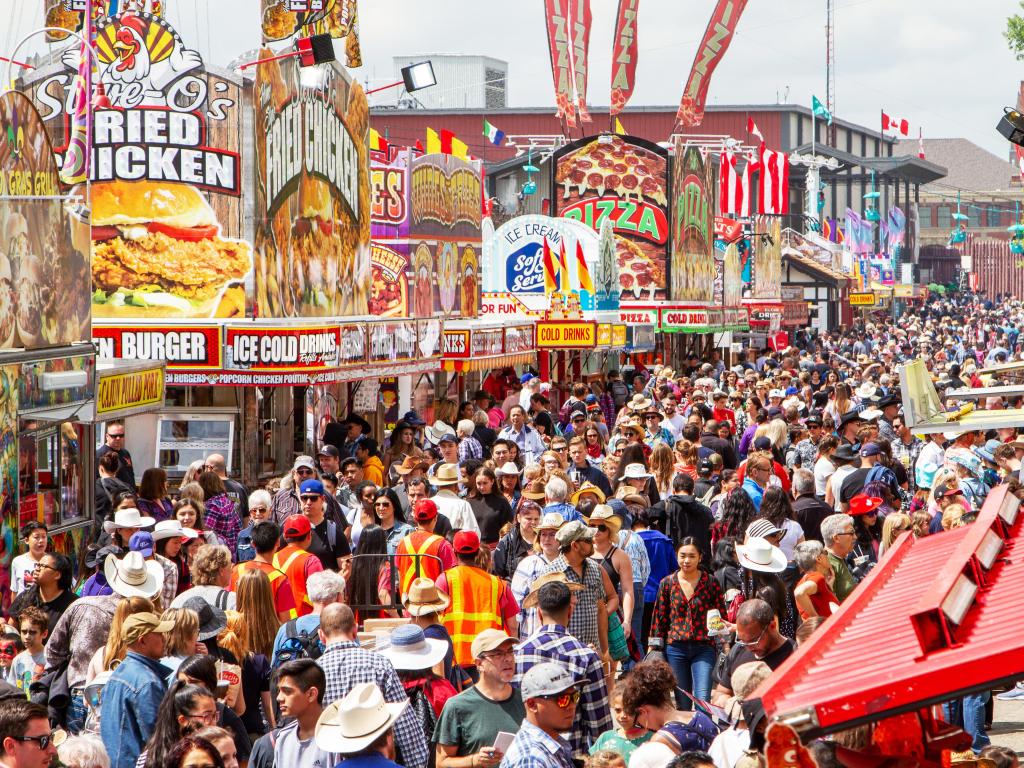 The winter months in Calgary have temperatures hovering around 23 to 37 degrees Fahrenheit, inviting you to embrace the cold while exploring the wonders of Glacier, Yoho, and Banff National Parks, albeit with some limitations to visitor facilities and park access.
Summer is a beautiful time to visit with blooms, color, and warmth, with temperatures comfortably ranging between 60 and 75 degrees Fahrenheit.
Summer is also the perfect time to enjoy the Calgary Folk Music Festival in July, converging with the much-anticipated Calgary Stampede. Keep in mind that the city will be extremely busy during these times, and hotel prices will be higher.
If you steer your wheels through the Spokane Route, the festivities continue with the Kootenai River Days Street Fair in July, offering a cultural immersion in the local community's festive spirit.
Spring and fall are ideal seasons for this road trip, with milder temperatures ranging from 44 to 68 degrees Fahrenheit in spring and 28 to 57 degrees Fahrenheit in fall, with fall colors and early flower blooms in spring.
The Spokane Lilac Festival in May and the Salmon Arm Roots & Blues Festival are excellent events during the shoulder seasons.