Road Trip From Seattle to California
The largest state on the west coast, California starts out resembling parts of Washington State in the north, but as you drive south you'll discover its fun-in-the sun, almost tropical, side near San Diego. Filled with famously lively cities like San Francisco as well as stunningly beautiful parks like Yosemite, there's good reason why people continue California dreaming.
The 2,780-mile road trip from Seattle to California will take 54 hours to drive. Highlights on this incredible trip around California include Portland, San Francisco, Lake Tahoe, Los Angeles, San Diego, plus Sequoia and Yosemite National Parks.
Your imagination is the only limit on what you can make out of a trip like this. Read on below to get some extra inspiration, our top tips for the route, and discover some of the best places to stay along the way.
How far is California from Seattle, and how long will the road trip take?
This invigorating 2,780-mile road trip from Seattle to California will take 54 hours to drive, if you complete the entirety of our suggested loop of the state. Imbibe the freshest contemporary art in LA, go snowboarding in the Sierras, and even enjoy a night under the desert stars.
Your journey begins immersed in the rich, dense forests of the Pacific Northwest. You'll drive through most of Washington and across Oregon to get to the Californian border.
This portion of the route, which mostly follows Interstate 5 South, will take just under 9 hours and covers 470 miles if you drive straight there. Along the way you'll pass major West Coast cities, like Portland, OR, and quaint towns surrounded by forests like Olympia, WA and Eugene, OR.
If you have the time, a short detour north of the Californian border will take you to the mesmerizing Oregon Caves National Monument and will add about an hour to the trip.
Distances and driving time from Seattle to popular destinations in California

| Destination City/Landmark | Distance | Driving Time |
| --- | --- | --- |
| Jedediah Smith Redwoods State Park | 500 miles | 8 hours 20 minutes |
| Sonoma Coast | 830 miles | 15 hours 30 minutes |
| San Francisco | 920 miles | 18 hours |
| Big Sur | 1,060 miles | 21 hours |
| Los Angeles | 1,380 miles | 27 hours 40 minutes |
| San Diego | 1,500 miles | 29 hours 40 minutes |
| Joshua Tree National Park | 1,670 miles | 32 hours 30 minutes |
| Sequoia National Forest | 1,960 miles | 37 hours 20 minutes |
| Yosemite National Park | 2,110 miles | 30 hours 50 minutes |
| South Lake Tahoe | 2,340 miles | 45 hours 30 minutes |
| Mt. Shasta | 2,610 miles | 50 hours 20 minutes |
Shortly after you cross the Californian border, the route sweeps west to meet the Pacific Ocean in Crescent City. Just outside of town, wander amongst the gentle giants of Jedediah Smith Redwoods State Park. We recommend breaking up this part of the journey over at least two days.
The massive Californian loop of the route continues down the coast and back up through the Sierras which covers 2,315 miles. It would take 45 hours to drive this route continuously, but we recommend taking 8 days to 2 weeks to absorb the staggering amount of Californian beauty and fun on this trip.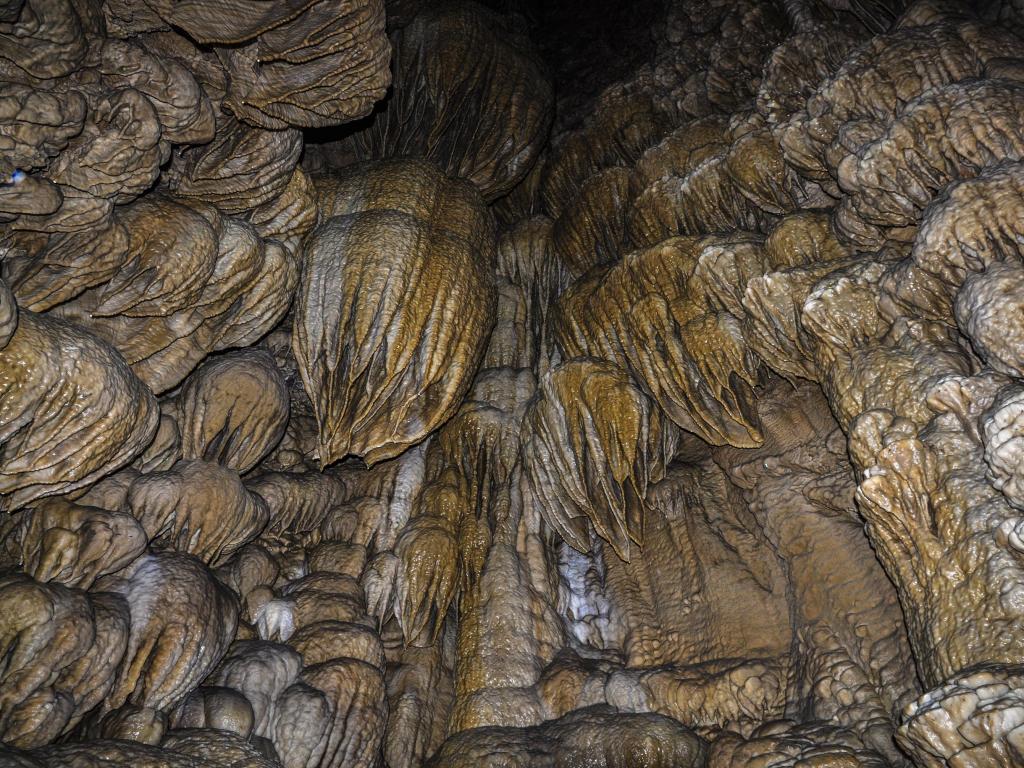 Best trip route from Seattle to California
The most noticeable feature of this trip as a whole is the dramatic shift from the grey skies of temperate rainforests up north to the bright and arid climate of Southern California.
While most of the trips focus exclusively on the coast or inland destinations within California, this loop includes both of the Golden State's splendorous faces.
Road trip route from Seattle to California
Grab yourself a Venti - or coffee of any denomination you prefer - and hop on Interstate 5 (I-5) South from Seattle to begin this colossal road trip.
Even though you'll be on a major freeway for the majority of this route from Seattle to California, the refreshing forests, hills, and quirky towns along the way keep the route interesting.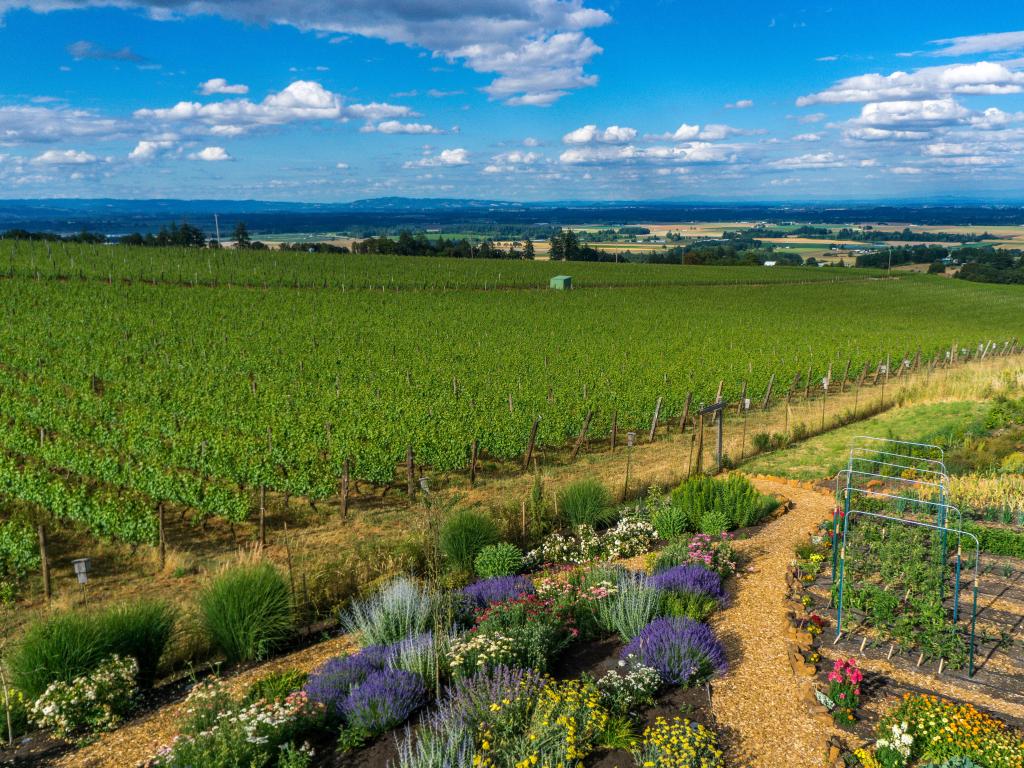 Even before you get to California you can get your wine tasting on in Oregon. The oldest and most densely cultivated region is in the Willamette Valley. Wineries like Argyle and The Four Graces are less than an hour's drive away from Portland.
There are too many national, state, and regional parks to name along this trip. Especially if you love to hike or plan on bringing your cycles along on a rack, this is an irresistible trip. From the Olympic National Forest to the Oregon Caves National Monument, you'll need to add a few days for pure exploration on this part of the trip.
After passing Oregon's capital, Salem, and the one of a kind Eugene, where you could opt to spend a night, you'll finally hop off I-5 near Grants Pass, OR. You'll follow US Route 199 across the California border to Crescent City and Jedediah Smith Redwoods State Park.
Road trip route around California
This northern part of the Californian coast is a great place to spend a few days hiking though redwood groves, taking in the dramatic rocky cliffs at places like Trinidad, and enjoying the refreshing charms of towns like Arcata and Eureka, just south of Crescent City.
A major perk of this trip is the amount of time you'll spend on the famous Pacific Coast Highway, passing dramatic, rocky cliffs and dense forests.
Sonoma Coast State Park is about 220 miles south of Eureka and has a wonderful system of trails both inland and along the coast where you can get the full sense of the misty and untamed vibe of Northern California.
Drive south along the Sonoma Coast, crossing the iconic Golden Gate Bridge to the city that steals many hearts, San Francisco. Further south you'll enter the dreamy territory of central California and the inimical curves of Big Sur, where mountains meet the ocean.
On your way to Santa Barbara, you'll see a multitude of idyllic beach towns, like Pismo Beach and Cambria, where the weather is still warm enough to balance out the cool waters of the Pacific.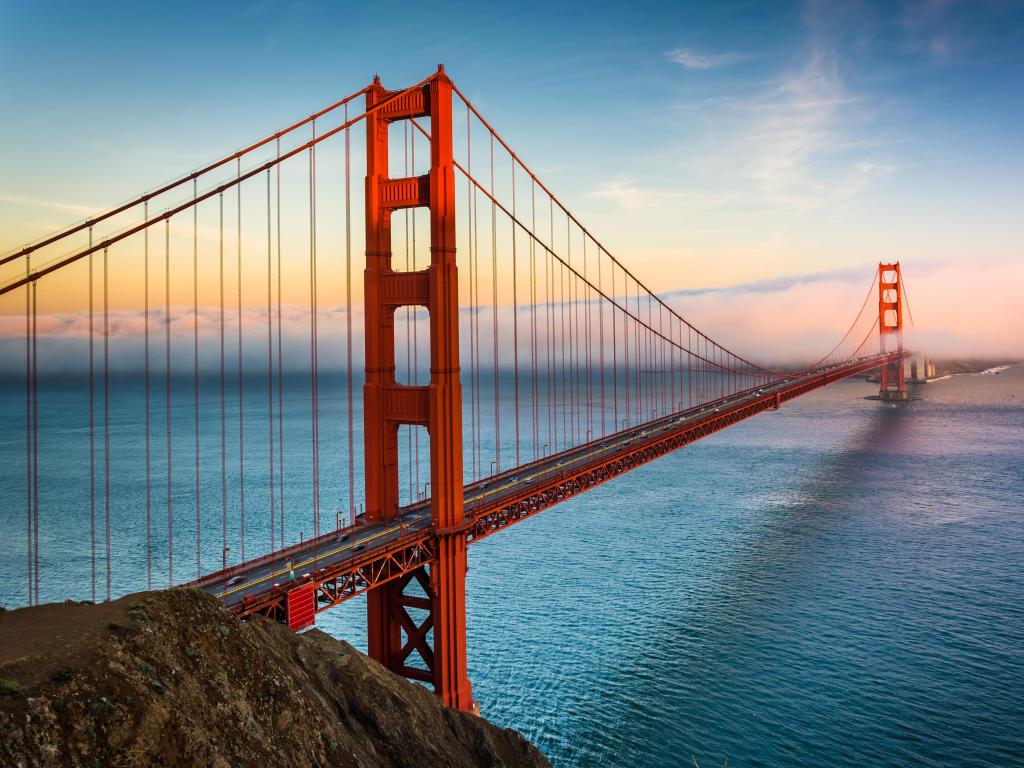 Consider spending a night in the picturesque coastal town of Santa Barbara, or head straight for where all the action is in Los Angeles. For a more chill, yet equally sun-soaked vibe, continue south on the Pacific Coast Highway to San Diego, where you can take up surfing or even make a day trip into Mexico.
As the route curves back north, you'll pass through the desert beauty tucked in California's southeast. Try a rejuvenating spa treatment in Palm Springs or bring plenty of water on an excursion into Joshua Tree National Park.
Now the route takes you through a succession of stunning mountainous areas along the eastern spine of the state known as the Sierra Nevada. You can stop at one or all of Sequoia National Park, Yosemite, Lake Tahoe, Lassen Volcanic National Park, or Mount Shasta.
We've reserved the most wild and remote bit of this route for the last, as you'll wind along the scenic Klamath River Highway through Happy Camp, CA, where you can take the rural Grayback Road back up to Oregon.
Best places to stop between Seattle and California
Every road warrior needs to rest their weary head. Why not stay somewhere with a little flair? We've found some cities and hotels with character to match that will make this trip the best one yet.
Enjoy a scenic stay in Eugene
Eugene is a cute mid-sized town in Oregon which has an eclectic spirit, drawing people from all walks of life into a thriving community. It is also conveniently near the mid-way point on the drive from Seattle to California.
An outdoor enthusiast destination full of hiking and biking trails along the Willamette River, Eugene is also a university town, which infuses it with youthful and creative energy.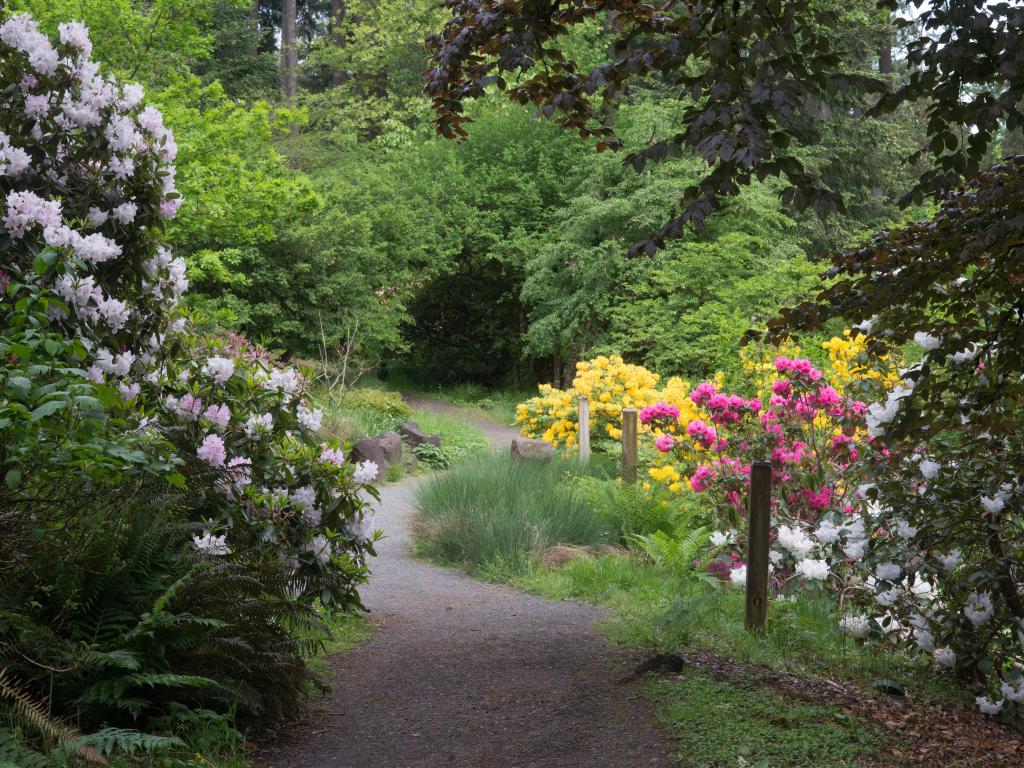 After many hours of driving, few things are more welcome than a refreshing walk through Hendricks Park, Skinner Butte Park, or the Owen Rose Garden. There is an equally laid back and walkable downtown area that has a wide range of high-quality dining options. A must-see in Eugene on the weekend is their extensive Saturday Market.
Eugene is also home to some specialty attractions like the Studio West Glassblowing Studio and Gallery, where you can even make your own blown glass ornament or dish in one of their weekly classes. Just be sure to book an appointment in advance.
Centrally located, The Graduate Eugene has a unique and thoughtful décor centered on the theme of college sports and the local mascot, the duck. Their cozy rooms have a homely feeling that will quickly put you at ease.
While parking has to be paid separately, we think this is worthwhile to be staying nestled in Eugene's adorable downtown where you won't need your car as often.
Soak up the perfection of Santa Barbara
This is one of the best places to experience southern California's climate and culture and it is close to the halfway point in terms of the entire route's mileage.
Santa Barbara marches to the beat of a much more relaxed drum than its behemoth neighbor to the south, Los Angeles, and is so lovely that it is sometimes called "the American Riviera."
Of course, the gorgeous golden beach is one of the first stops you should make once you get here. Then you can also explore one of California's oldest piers at Sterns Wharf.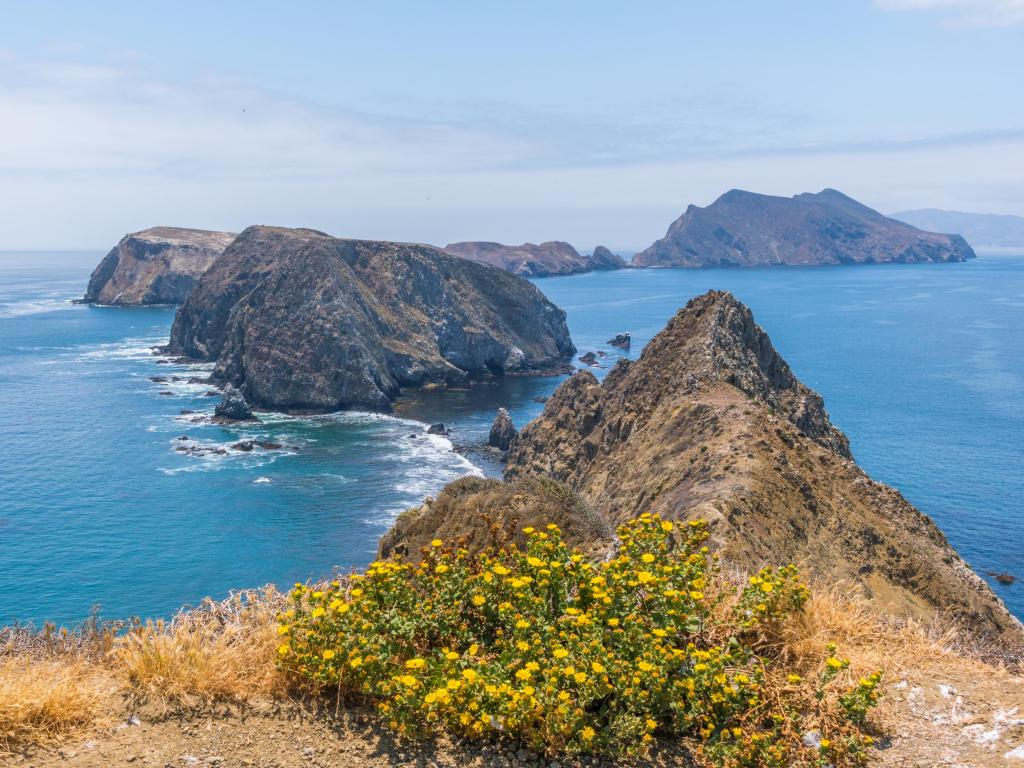 Inland, admire the native plants at the 78-acre Santa Barbara Botanical Gardens and take a beautiful hike through the foothills of the Santa Ynez Mountains to Inspiration Point.
The striking exterior is the first sign that you're in for a luxurious and unforgettable stay at the Santa Barbara Inn. Located between the East Beach neighborhood and Santa Barbara Zoo, Santa Barbara's major attractions like Stearns Wharf and Chase Palm Park are also within Walking Distance.
Absolutely nothing beats a reflective conversation, perhaps over a bottle of local wine, in the comfort of a private balcony overlooking the Pacific Ocean. Even though Santa Barbara has great dining options, you might just opt to spend the night in and order something from their exquisite in-house restaurant.
Spend an unforgettable night near Lake Tahoe
As you begin the final quarter of the Californian loop, you'll find yourself in South Lake Tahoe. The greater Lake Tahoe area is one of the undisputed top natural attractions in all of California, and the south has the added liveliness of a nightlife and casino scene.
The deep azure lake can be admired from any of the surrounding beaches, elevated points on hikes like Mt. Tallac Trail, or even from the easily accessible Heavenly Resort Gondola.
Enjoy a truly unique lakeside experience at Pope Beach, where alpine forests and fine sand are set against a backdrop of cascading mountains. In case you make this trip during the winter, slopes for all skill levels at Palisades and Heavenly resorts are perfect for shredding some fresh powder.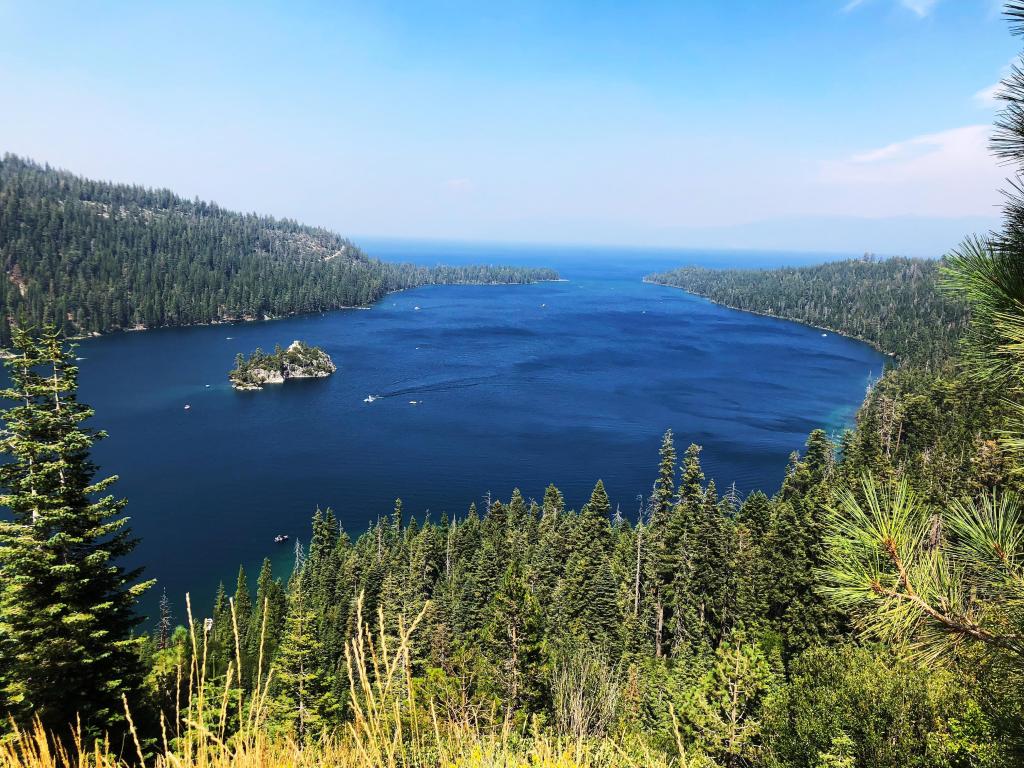 A short drive from South Lake Tahoe, you can also hike around the gorgeous Emerald Bay and take a tour of the Vikingsholm Castle.
As you pull up to the massive portico supported by wood logs at the Black Bear Lodge, you'll have no doubt that you've arrived in Tahoe. In addition to comfortable rooms with balconies overlooking the surrounding forest, this hotel also has some crucial amenities on a long road trip like on-site washer dryers you can use.
Less than a mile from Heavenly Mountain Resort and the lakeshore, this hotel is set back from some of the busier areas of South Lake Tahoe so you can enjoy the region's famously rustic vibes in peace.
Things to see on a road trip from Seattle to California
Before forest bathing was a craze, the people of the Pacific Northwest knew that an hour in the forest is basically free therapy. There's something cathedral-like about the graceful calm of the redwoods which can be found in all three states on this trip.
Even though we could go on and on about California's natural assets and the beauty of Pacific Northwest, there are tons of exciting, lively, and diverse cities for urban exploration on this route as well.
Things to see on the way to from Seattle to California
Olympia - Nestled in the south of the Puget Sound, Olympia is a gorgeously landscaped, approachable city, and Washington's capital. The Capitol building features tours and is situated in a scenic part of town. A little to the north you can catch a glimpse of migratory birds in the brackish delta waters of Nisqually National Wildlife Refuge.
Mima Mounds Natural Area Preserve - Until recently these millions of mounds covering a prairie-like environment were a complete mystery. The recent scientific consensus is that hundreds of generations of busy, and fiercely territorial, gophers are responsible for forming this eerie and fun landscape. This stop is a must during a spring trip as the area is covered in wildflowers.
Portland - This city of roses serves as a fragrant welcome to Oregon. In addition to the Rose Test Gardens, there are also authentic Japanese and Chinese gardens to meander in this drizzly city. The Portland Art Museum has an extensive collection of Native American artifacts and gives insight into how people related to this stunning environment.
Salem - Yet another garden city in the Pacific Northwest, Salem is also the capital of Oregon. Home to Museums like the Hallie Ford Museum of Art, the Deepwood Museum, and the Willamette Heritage Center, here you can also visit gorgeous turn of the century homes like the Bush House Museum.
Eugene - This quirky university town has a surprising amount in store for the curious visitor. Downtown there's a wide selection of dining options and boutique stores in the Fifth Street Public Market. On the university campus you can peruse the collections at the Museum of Natural and Cultural History and the Jordan Schnitzer Museum of Art.
Rogue River-Siskiyou National Forest - This massive preserve stretches over 1.8 million acres straddling the Oregon-California border. With burbling streams, moss covered trees, and volcanic peaks are just a few of the natural wonders just waiting to share their magic.
Oregon Caves National Monument - Also within the Siskiyou Mountain range but a bit east of Cave Junction, this winding cave system in southern Oregon is worth the extra driving time. Called The "Marble Halls of Oregon", there are many chambers boasting radically different, yet eye catching, formations.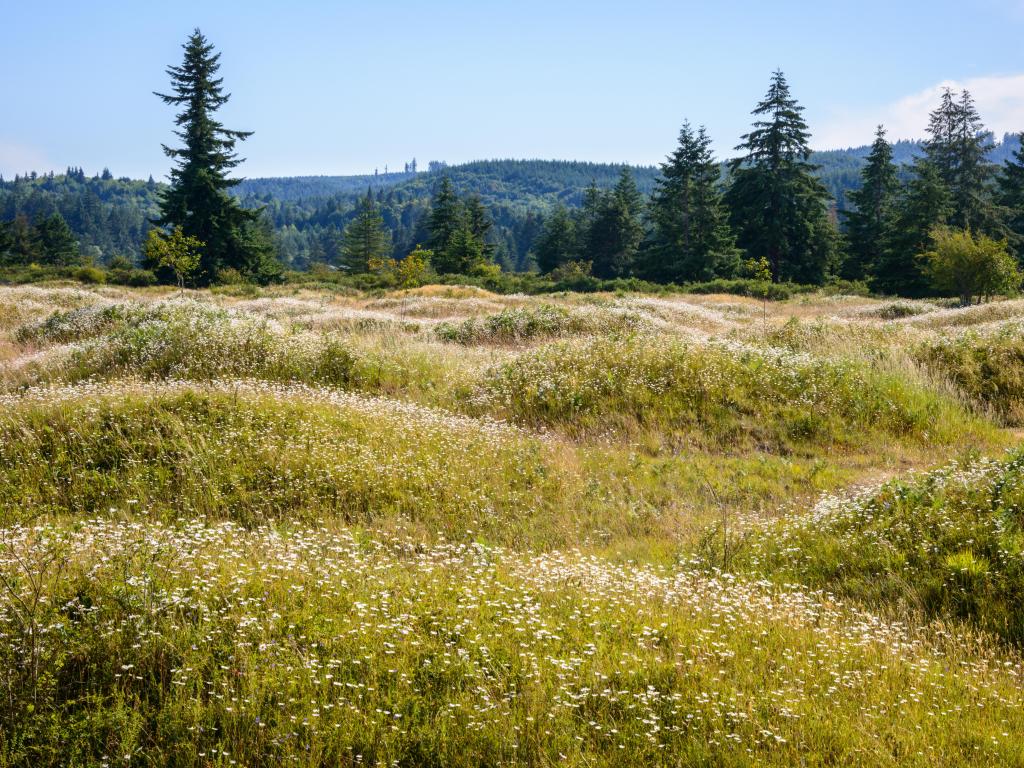 Things to see around California
Eureka - Just south of Crescent City, Eureka is a port city that was built up due to the 19th century lumber industry. The wealth once generated here is still visible in the quaint downtown and colorful Victorian homes in Old Town Eureka, a registered U.S. historic district. Nearby you can also visit the funky college town of Arcata.
Sonoma Coast - Even though this route doesn't go through the heart of California's most established wine producing region, in places like Bodega Bay along the Sonoma Coast you can still develop your palate at one of the tasting rooms. Some even have an ocean view!
San Francisco – This city has been the home of free spirited musicians and future focused tech luminaries for decades. It is full of exciting, multicultural neighborhoods like the Mission District, China Town, Japantown, and little Italy. One of our favorite places to explore by foot is Golden Gate Park.
Big Sur - The mystique of Big Sur has lured artists, adventurers, spiritualists, and road trippers for generations. The cascade of coastal mountains into the ocean is just begging you to pull over and explore. In addition to the almost tropical McWay Cove, we recommend checking out Pfeiffer Beach and the San Carpoforo Creek Trail.
Los Angeles - Here you can shop like the stars on Rodeo Drive, see your favorite celebrity's handprints along the Hollywood Walk of Fame, and discover how the magic is made at Universal Studios. Los Angeles is also home to impressive art museums like The Getty and The Broad as well as an extensive Natural History Museum.
San Diego - Sunny San Diego has set all phasers to "chill". Miles of sunny beaches, like Mission Beach and Pacific Beach, are perfect for swimming and surfing. Alongside them there are plenty of dedicated bike paths for you to cruise as the sun sets.
Joshua Tree National Park - With its kaleidoscopic desert colors and uniquely adapted trees, this National Park is truly one-of-a-kind. The Cholla Cactus Garden and Hidden Valley Nature Trail are two accessible highlights of the park, but if you brought some camping gear, this would be a great place to spend a few nights under the stars.
Sequoia National Park - Situated on 400,000 acres in the Southern Sierras, this park boasts 24 groves of the largest trees on earth. In the aptly named Giant Forest, you can find five of the ten largest trees on earth by volume, including the endearingly named General Sherman.
Yosemite - Iconic on a level with the Grand Canyon and Yellowstone, in Yosemite National Park you are surrounded by the glory of nature in the form of sheer granite cliffs like El Capitan and Half Dome, as well as picturesque meadows and plunging waterfalls.
Lassen Volcanic National Park - In some ways, this is like a Californian Yellowstone, situated in the northeast corner of the state. Along with areas of geothermal activity, which you can see on the 3-mile Bumpass Hell Trail, there's also the large, central Manzanita Lake, and innumerable mountain trails.
Mt. Shasta - Rising majestically from the forests north of Redding, Mt. Shasta is right off the highway and a great place to hike, mountain bike, or even get out on a lake. Nearby there are several charming NorCal towns like Dunsmuir and Mt. Shasta, which both make for great lunch stops.
Klamath River Highway - Also known as Highway 96, this remote and rarely traveled road winds alongside the wild Klamath River. This is a scenic road way off the beaten path and full of the rewards of mountain wilderness.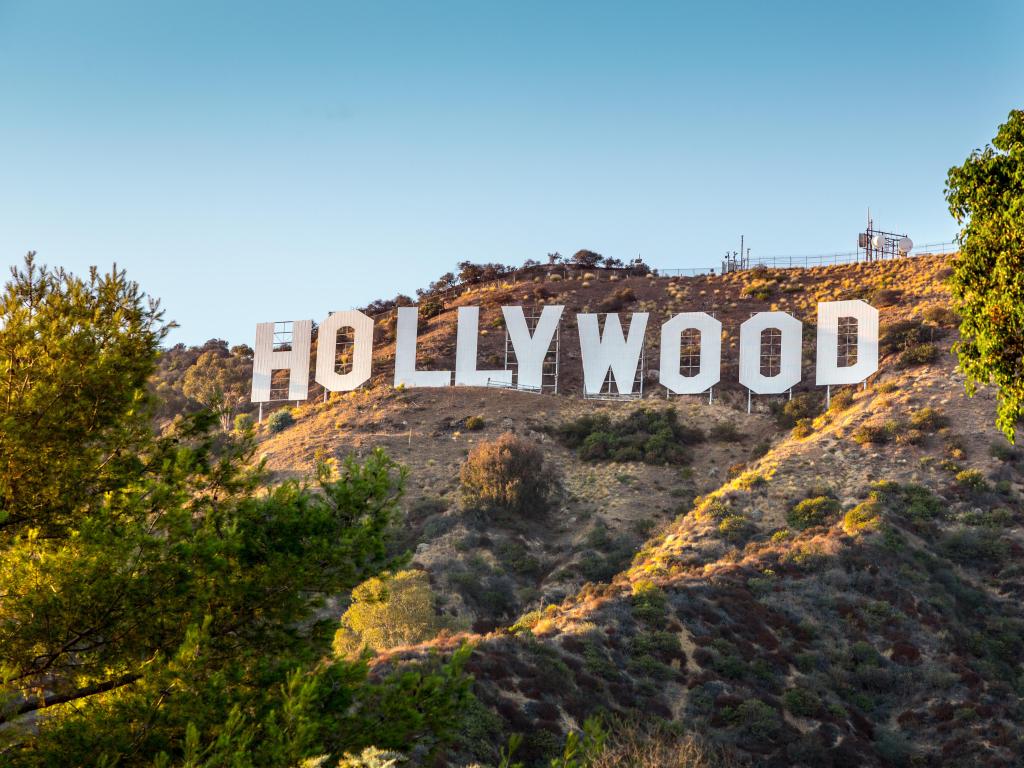 Best time to go on a road trip from Seattle to California
One of the best things about this trip is that you can take it any time that suits you during the year. Except for the occasional dusting of snow around Grants Pass, OR and some rural roads in the Sierras, all the roads are open year round.
The inland destinations can get very hot during the summer months, but places like Yosemite and Lake Tahoe also have ample forests and shade. This also makes them popular during the summer.
Yosemite gets so crowded that you need to enter a lottery system just to be able to drive into the park. That said, surrounding parks like Kings Canyon and Sequoia National Park offer similar perks and are ideal locales for summer outdoor adventure.
The weather all across California varies widely in the winter. If you like skiing or snowboarding, this would be the best season to visit and hit the slopes near Tahoe and other places in the Sierras. Some roads are closed, but none on the route we've outlined, just be sure to have snow tires or chains.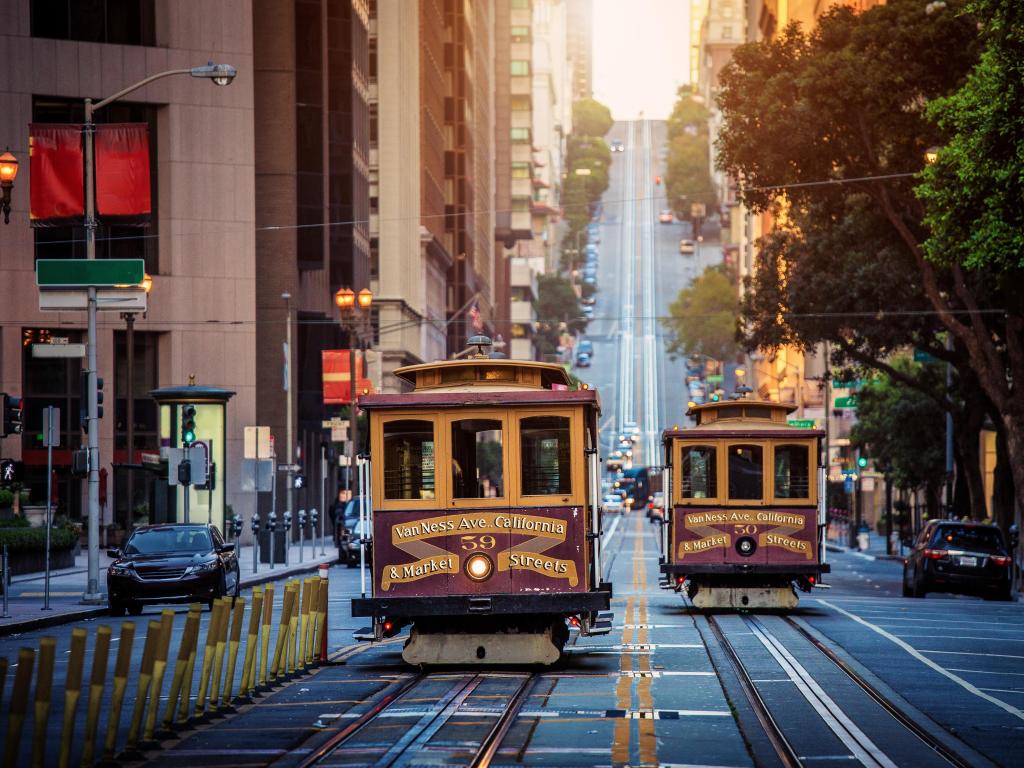 Some winter days around LA reach the 70s and 80s degrees Fahrenheit, so you can also break out your swimsuit and enjoy the beach, all on the same trip.
Both spring and fall bring temperate weather averaging between 55-75 degrees Fahrenheit along the coast. In the early spring, you can still ski and snowboard in the Sierras, in case you wanted to include snow sports on your trip. Overall, both are great seasons for a flush of color and fewer crowds at some of the most popular destinations like Yosemite, San Diego, and San Francisco.
One of the biggest music festivals in the US, Coachella, usually happens around April in the desert near Palm Springs. What would be more epic than catching a mega performance in the middle of your dream Californian road trip!