Road trip from Seattle to Spokane
It's time to pack up and drive through the stunning mountain landscapes, vineyards, and lakes of Washington State. You'll get to admire emerald-green forests, majestic mountains, and charming towns and cities on this stunningly scenic road trip from Seattle to Spokane.
The 340-mile road trip from Seattle to Spokane will take just over 6 hours to drive. You'll pass highlights like Leavenworth, Chelan, Grand Coulee Dam, Mount Rainier National Park, Yakima, Hanford Reach National Monument and Snoqualmie Falls.
Make sure to bring your hiking boots and cameras, you'll be venturing into the great outdoors. Continue on below to find out the best routes, places to stop along the way, top highlights, and best times to go on this amazing adventure.
How far is Spokane from Seattle, and how long will the road trip take?
Comparison of road trip routes between Seattle and Spokane

| Route | Distance | Driving Time |
| --- | --- | --- |
| The Chelan Route | 340 miles | 6 hours 10 minutes |
| The Mt Rainier Route | 390 miles | 7 hours |
There are two excellent routes that will take you to Spokane from Seattle. The scenic Mt Rainier Route takes around 7 hours and 30 minutes and covers 390 miles with no detours.
The alternative Chelan Route will bring you through 340 miles of wilderness and countryside and take roughly 6 hours and 10 minutes before arriving in Spokane.
While you could complete both trips in a day if you wanted to, there're so many amazing things to see and explore that we recommend taking at least 2-3 days.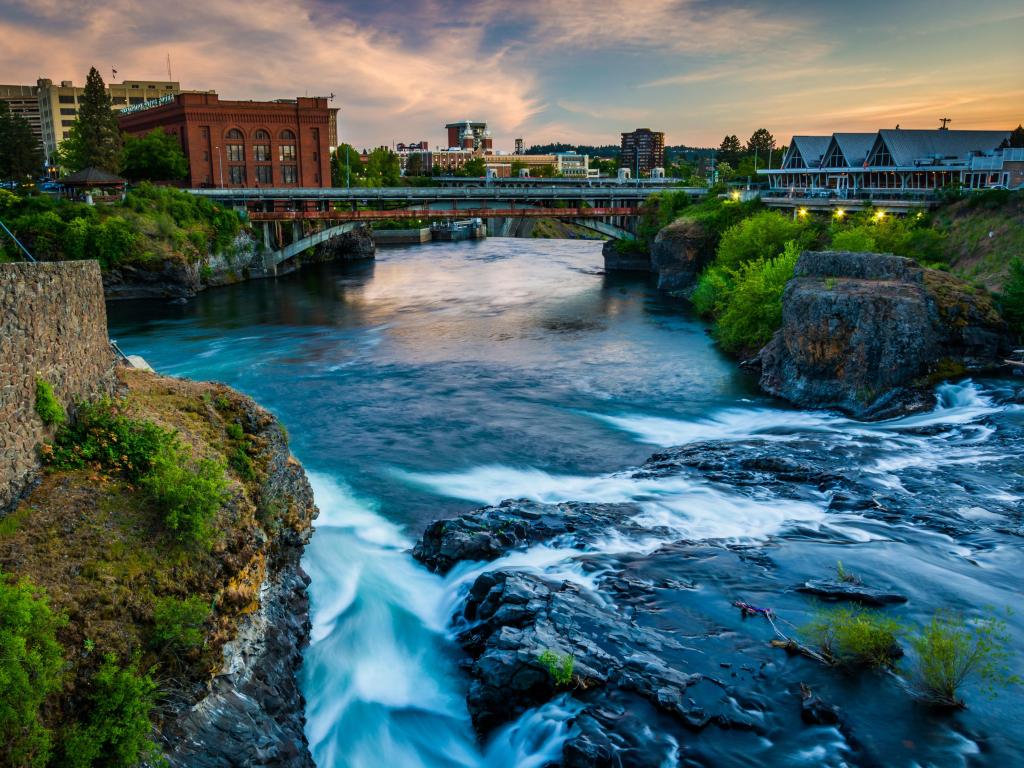 Best road trip route from Seattle to Spokane
While both routes are full of natural attractions, they each have unique scenery, sights, and things to explore. Your choice depends on if you prefer alpine landscapes, open countryside, and diverse ecosystems (Mt Rainier Route), or mountains, serene lakes, vineyards, and human-made marvels (Chelan Route).
The slightly shorter and more direct Chelan Route will bring you from Seattle to Spokane, passing through the heart of Washington's Cascade Range. You'll see the charming Bavarian-styled village of Leavenworth, the beautiful lake views and vineyards of Chelan, and the monumental Grand Coulee Dam.
If you want to travel through towering mountains and diverse ecosystems, take the slightly longer Mt Rainier Route. This route offers the majestic sights of Mount Rainier National Park—something you'll miss on the Chelan Route, the agricultural expanse of Yakima, and the distinct shrub-steppe ecosystem of the Hanford Reach National Monument.
Keep in mind, unlike the Chelan Route, you won't see the Bavarian-styled village of Leavenworth or the scenic lake views of Chelan on the Mt Rainier Route.
If you have more time on your hands, we recommend taking a look at our ultimate itinerary on the legendary Cascade Loop to experience the best of what Washington state has to offer.
How to drive from Seattle to Spokane
The map above shows our suggestions for the best road trip routes between Seattle and Spokane. Keep reading for detailed descriptions of both routes, where to stay on either, and the best things to do on the way.
The Mt Rainier Route
Start your journey in Seattle, and head southeast on Interstate 5 (I-5) to Tacoma. While in Tacoma, you can see the famous Museum of Glass.
Continue your journey to Longmire and visit the Longmire Museum before entering Mount Rainier National Park. Continue on the winding Paradise Valley Road and Stevens Canyon Road and witness the awe-inspiring Narada Falls and Myrtle Falls.
From Mt Rainier, keep heading east towards Yakima. As you make your way through this agricultural heartland, consider stopping at the Oak Creek Wildlife Area, the Yakima Valley Museum, or the Yakima Area Arboretum.
Continue east on I-82 and US-395 towards the Hanford Reach National Monument, where you can appreciate the unique shrub-steppe ecosystem. Along the way, consider a detour to the Columbia National Wildlife Refuge.
Finally, head northeast to Spokane, passing the Lasting Legacy Wildlife Museum and the Fishtrap Recreation Area, where you can stretch your legs and get a final dose of nature before reaching Spokane.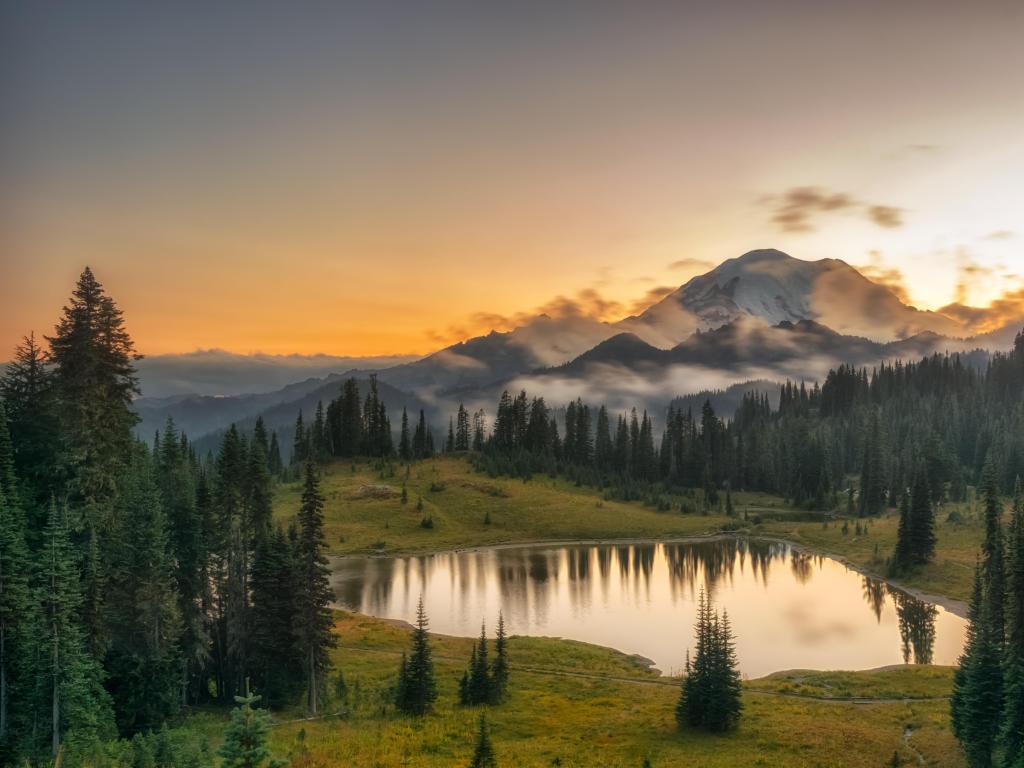 The Chelan Route
Head east towards Snoqualmie Falls, a famous waterfall on the Snoqualmie River. Continue along the I-90, past the picturesque Iron Horse State Park and the inviting Weeks Falls Trail.
As you ascend to Snoqualmie Pass, you'll witness the stunning mountain vistas that define this area. Take a quick detour to The Roslyn Museum in the historical coal-mining town of Roslyn.
Continue on to Leavenworth, a Bavarian-styled village nestled in the Cascade Range. After your visit, continue eastwards towards Chelan, known for its serene lake views and vineyards.
Leaving Chelan, drive north to Grand Coulee, home to the impressive Grand Coulee Dam. Make a detour to the Cashmere Museum and Pioneer Village if you have time. Finally, continue on to reach beautiful Spokane.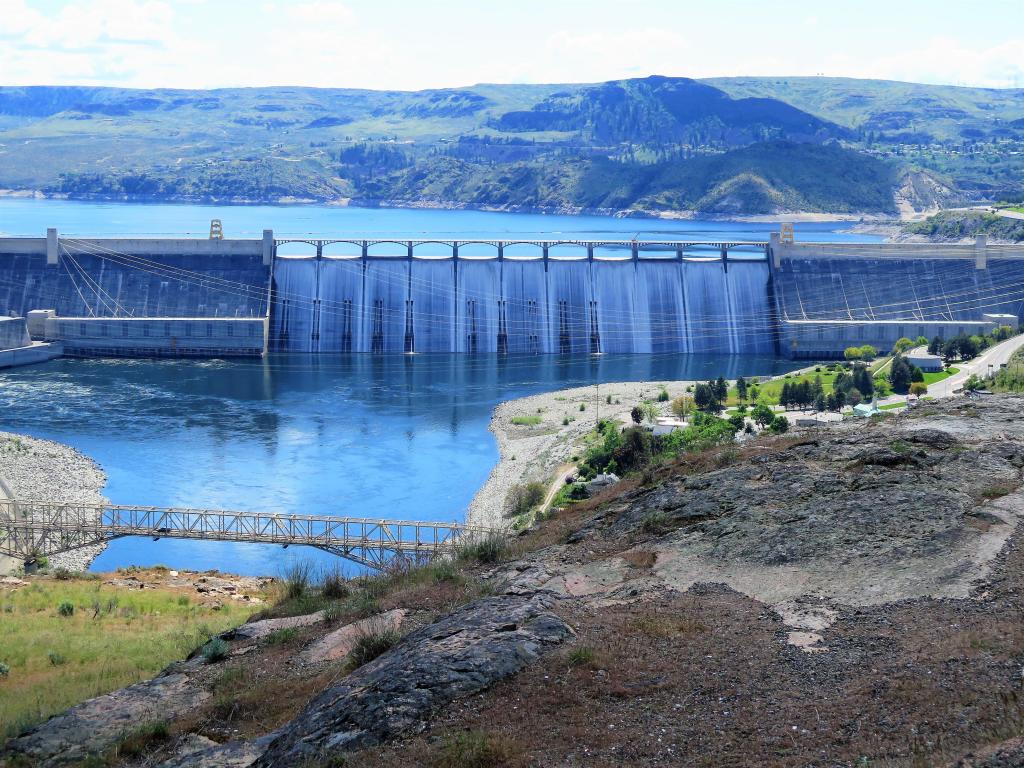 Best places to stop between Seattle and Spokane
Although it's a short drive to Spokane from Seattle, you'll want to stop for the night in one of these breathtaking locations. This way, you'll be well rested and ready to explore this world renowned region.
A scenic drive to Yakima
Yakima is the perfect stopover on the Mt Rainier Route, situated approximately 4 hours and 20 minutes into the drive. This small city, known for its vast farmland, vineyards, and apple orchards, will be a relaxing pause after exploring the majestic Mt Rainier National Park.
Because of its fertile farmland, Yakima is often referred to as the "Beginning of Life, Big Belly, and Bountiful" city according to Native American legends. Besides its agricultural beauty, the city is also famous for its vibrant culture, festivals, and annual fairs.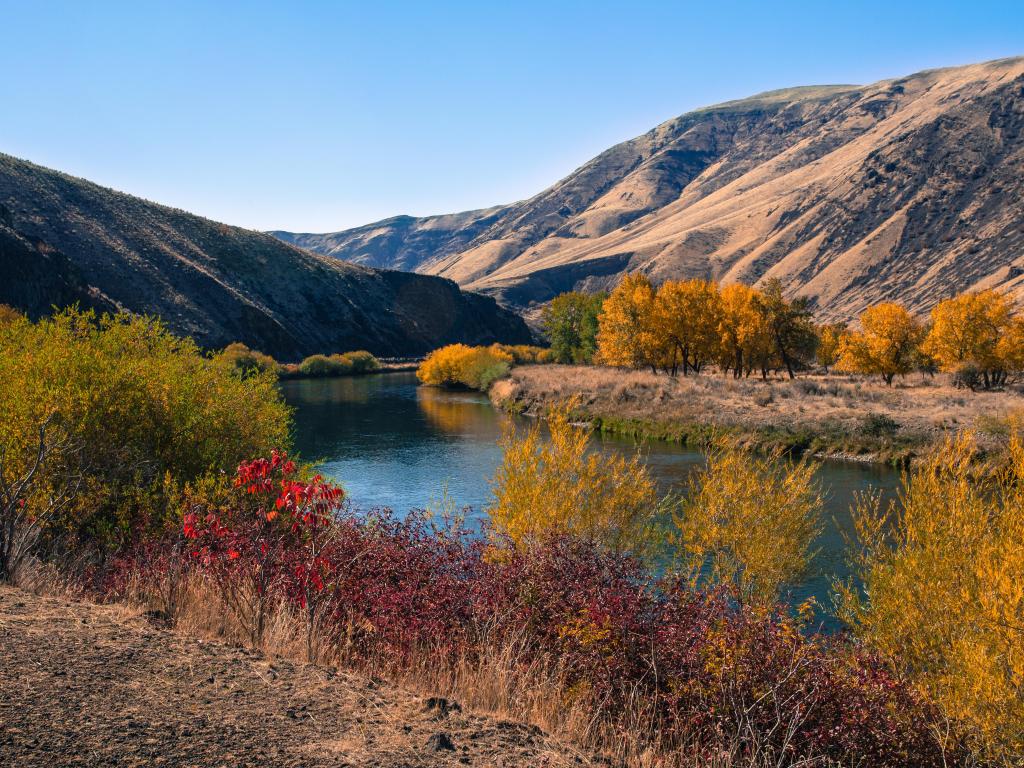 The Yakima Valley Museum is a must-visit for an in-depth look into the area's rich history and culture. If you're a nature fan, hiking the Cowiche Canyon Trail takes you through Yakima's natural beauty.
While in Yakima, we recommend staying at the beautiful and luxurious Ledgestone Hotel. This modern hotel has fully equipped kitchen suites, contemporary dining areas, free Wi-Fi, fitness center, and a luxury bed package featuring deluxe linens and a cozy synthetic down blanket.
The Ledgestone Hotel is located near the Yakima Valley SunDome, a mere 5-minute drive away. This entertainment venue hosts numerous events and shows throughout the year. Nearby, the Yakima Valley Museum is a 10-minute drive from the hotel.
Take in the Bavarian charm of Leavenworth
On the striking Chelan Route, the quaint town of Leavenworth is the perfect stopover point, just a 2-hour and 10-minute drive from Seattle. This Bavarian-style village, nestled in the mountains, features beautiful architecture and German beer and food served in alpine-style restaurants and bars.
Leavenworth is the gateway to nearby ski areas and wineries. A walk through the scenic Waterfront Park and a visit to the charming Leavenworth Reindeer Farm are the perfect ways to spend the day.
Leavenworth's quirkiness goes beyond its Bavarian charm; it's also home to the only ski jump on the West Coast.
During your stay, we recommend staying at the highly-rated Bavarian Lodge. This Bavarian-inspired hotel offers rooms with stunning mountain or village views.
The lodge has an enticing year-round outdoor pool, free Wi-Fi, and a daily breakfast of delicious cinnamon rolls, egg casseroles, and savory potatoes. After a day of exploring, you can cozy up by the fireplace or explore the surrounding gardens.
The Located Bavarian Lodge is just a 5-minute walk from the Leavenworth Nutcracker Museum. It's also a short 10-minute walk from the hotel to the peaceful Waterfront Park. Here, you can unwind by the Wenatchee River, stroll along the tranquil pathways, or even spot local wildlife.
Where to stay when you reach Spokane
Spokane is the urban gem of the Pacific Northwest. The city has a unique blend of urban chic and boundless outdoor adventures.
Just a stone's throw away from the city's bustling downtown, Manito Park is the perfect place to enjoy Spokane's natural beauty. This immaculate park has a rose garden, a conservatory, and picturesque trails that crisscross its expansive terrain.
The Nishinomiya Tsutakawa Japanese Garden is located within Manito Park, offers a peaceful retreat with its Zen-like ambiance.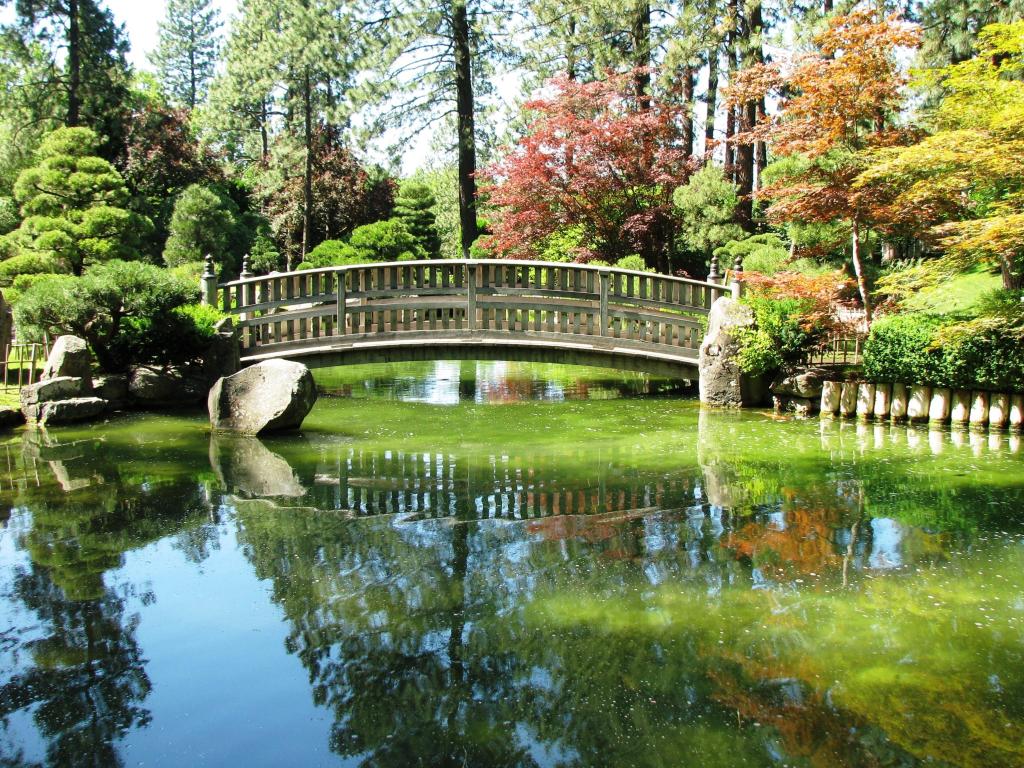 Spokane is the birthplace of Bing Crosby, the renowned singer and actor. Fans can visit his childhood home, which is now a museum dedicated to his life and career.
At the end of your adventurous day, we recommend spending the night at the wonderful Oxford Suites Spokane Downtown. This modern hotel is in the heart of downtown Spokane and offers a perfect blend of comfort and convenience. Its indoor pool is the perfect spot to relax, and the rooms feature balconies with breathtaking views of the city's skyline.
With a 24-hour reception, the Oxford Suites will give you the flexibility to arrive and depart at your convenience. You're also just a few minutes' walk away from the city's main sights and attractions, making it the perfect home base for your stay.
Things to see on a road trip from Seattle to Spokane
This epic road trip is full of memorable sights and experiences around every corner. Below, we've listed our favorite stops to help you plan this road trip of a lifetime through the Pacific Northwest.
Mt Rainier Route
Museum of Glass, Tacoma - Situated in Tacoma, Washington, this museum is dedicated to all things glass, showcasing contemporary and historical pieces in innovative exhibits, with a fully functioning hot shop for live glass blowing demonstrations.
Longmire Museum - Located in the heart of Mt. Rainier National Park, the museum features an array of exhibits on the park's natural and cultural history, flora, and fauna.
Mt Rainier National Park - Mt. Rainier National Park, features the majestic Mount Rainier, glacial landscapes, subalpine meadows, and old-growth forests, attracting outdoor enthusiasts with its diverse hiking trails and breathtaking scenery.
Narada Falls - One of Mt. Rainier National Park's most dramatic waterfalls, Narada Falls, cascades down a cliff in a stunning two-tier drop, giving you one of the most breathtaking scenes in Washington.
Henry M. Jackson Visitor Center - Located at Paradise in Mt. Rainier National Park, this visitor center provides educational exhibits about the park's geology and natural history, along with offering amenities and guidance for visitors.
Myrtle Falls - This is a picturesque waterfall located along a short, accessible trail in Mt. Rainier National Park has a stunning view of Mt. Rainier in the background.
Oak Creek Wildlife Area - Near Naches, Washington, the Oak Creek Wildlife Area is a popular destination for wildlife viewing, where you can spot herds of elk, bighorn sheep, and other wildlife, especially during feeding times in winter.
Yakima Valley Museum - Located in Yakima, Washington, this museum provides insight into the region's history, culture, and industry through a variety of exhibits, including a vintage soda fountain and an enormous collection of horse-drawn vehicles.
Yakima Area Arboretum - A beautiful 46-acre living museum in Yakima, the Arboretum features over 1,000 species of native and adapted non-native trees, shrubs, and wildflowers.
Renegade Raceway - A high-speed racing venue located in Yakima, the Renegade Raceway features exciting drag races.
Hanford Reach National Monument - This national monument preserves a large, diverse landscape along the Columbia River in Washington, which includes the last free-flowing, non-tidal stretch of the river and shrub-steppe habitat.
Columbia National Wildlife Refuge - The refuge encompasses wetlands, cliffs, canyons, and sand dunes in Eastern Washington, providing habitat for waterfowl and migratory birds. It also has plenty of recreational opportunities, such as hiking, fishing, and wildlife viewing.
Lasting Legacy Wildlife Museum - Located in Moses Lake, Washington, the museum showcases an extensive collection of taxidermy wildlife from around the world, aiming to educate visitors about nature and conservation.
Fishtrap Recreation Area - This recreation area in Eastern Washington has activities such as hiking, fishing, boating, and bird watching, with its unique basalt formations and lakes attracting geologists and nature enthusiasts alike.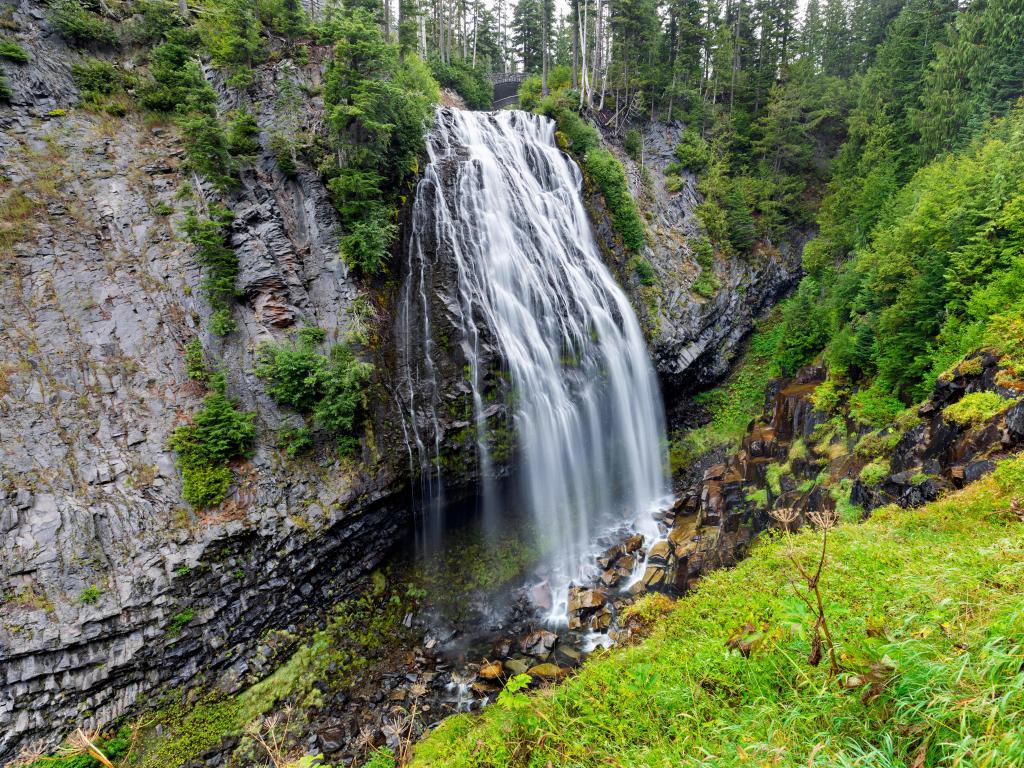 Chelan Route
Snoqualmie Falls - A popular attraction near Seattle, Snoqualmie Falls is a 268-foot waterfall that offers breathtaking views, walking trails, an observation deck, and the historic Salish Lodge.
Iron Horse State Park - This long, narrow state park, located in Washington State, follows an old railroad route, providing 110 miles of scenic trail for hiking, biking, and horseback riding with numerous trestle bridges and a 2.3 mile-long tunnel.
Weeks Falls Trail - A beautiful, moderately trafficked trail located near Snoqualmie Pass, Washington, which leads to the stunning Weeks Falls and offers great opportunities for hiking, walking, and nature viewing.
Snoqualmie Pass - Located in the heart of the Washington Cascades, Snoqualmie Pass is a popular spot for outdoor recreational activities, including hiking, skiing, and snowboarding, with its stunning alpine scenery.
The Roslyn Museum - Situated in Roslyn, Washington, this museum preserves the history of the town with exhibits showcasing its coal mining heritage, immigrant culture, and filming locations for the television series "Northern Exposure."
Leavenworth Nutcracker Museum - This unique museum in Leavenworth, Washington, houses a collection of over 7,000 nutcrackers, some dating back centuries, from all over the world.
Leavenworth Reindeer Farm - This farm in Leavenworth provides guided tours of the reindeer habitats that are fun and educational for all ages.
Peshastin Pinnacles State Park - Located near Cashmere, Washington, this state park has sandstone slabs and spires popular with rock climbers. Its trails offer panoramic views of the surrounding orchards and mountains.
Cashmere Museum and Pioneer Village - This museum in Cashmere, Washington, showcases the region's history, including a significant collection of Native American artifacts, and a Pioneer Village that recreates life in the late 1800s.
Ohme Gardens - A nine-acre alpine garden in Wenatchee, Washington, featuring enchanting stone pathways, serene pools, and breathtaking views of the Columbia River and the Cascade Mountains.
Slidewaters Waterpark - In Lake Chelan, Washington, this family-friendly waterpark has waterslides, a lazy river, an Aqua Zoo play area, and a hot tub for a fun-filled day out.
Lake Chelan - A narrow, 50-mile-long lake in north-central Washington, known for its crystal-clear waters, surrounding vineyards, and plentiful outdoor activities such as boating, fishing, hiking, and wine tasting.
Beebe Springs Natural Area - A wildlife habitat near Chelan, Washington, offering trails, viewpoints, and picnic areas where visitors can observe the diverse bird species, salmon spawning, and stunning views of the Columbia River.
Grand Coulee Dam - One of the largest concrete structures in the world, the Grand Coulee Dam in Washington State provides hydroelectric power and irrigation, and features a visitor center and nightly laser light show.
Inland Northwest Rail Museum - Located in Reardan, Washington, this museum offers visitors an insight into the region's railroading history, showcasing an extensive collection of historic train cars, artifacts, and exhibits.
Best time to go on a road trip from Seattle to Spokane
Spokane is the perfect road trip destination any time ‌of the year. However, certain factors can change your experience significantly depending on when you decide to travel.
If you're considering a winter road trip, remember that the area gets heavy snowfall that regularly occurs from November through February. This is especially true in Mount Rainier National Park if you're taking the Mt Rainier Route.
Snow can lead to road closures with icy roads and reduced visibility. Also, Stevens Canyon Road is closed during these months. You may also need winter tires or chains to get to many of the sights along the way.
While Mt Rainier National Park stays open all year, only two entrances to the park remain accessible in winter: the Nisqually Entrance, in the southwest corner of the park, and the Carbon River Entrance, in the northwest corner of the park.
Spokane itself ‌has cold but manageable winter weather with high temperatures around 30-40 degrees Fahrenheit.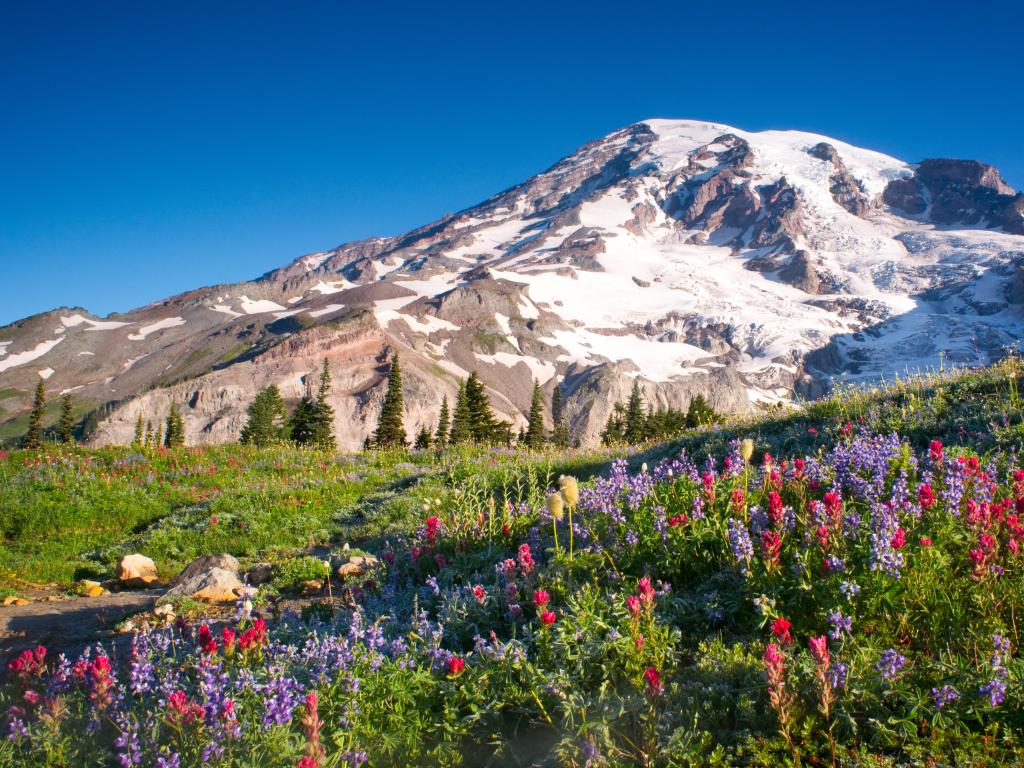 Planning around local events in spring and fall can also add flavor to your road trip. If you embark on your journey in May, you could experience the Mount Rainier Wildflower Festival on the Mt Rainier Route or the Spokane Lilac Festival once you get to Spokane.
For beer enthusiasts, the Yakima Valley Fresh Hop Ale Festival in October or the Leavenworth Oktoberfest from September to October on the Chelan Route are perfect events to enjoy on your drive.
Summer, on the other hand, is beautiful and clear. Temperatures can reach between 75 and 90 degrees Fahrenheit in Spokane, making the season perfect for exploring the great outdoors.
Summer sees the best driving conditions along both routes, with empty roads and great visibility. You'll also have plenty of fairs and festivals to enjoy like the Gathering of the Falls Pow Wow in August.