Road Trip from Spokane to Glacier National Park
If you are looking for the ultimate nature trip, then the spectacular drive from Spokane to Glacier National Park is the one for you. Prepare to be surrounded by beautiful mountain ranges with countless options for outdoor activities, while enjoying a chilled and relaxing vibe.
The 300-mile road trip from Spokane to Glacier National Park takes over 5 hours to drive. Key stops include Flathead Lake, Kootenai National Wildlife Refuge and Kaniksu National Forest plus Lolo National Forest, Missoula, Kalispell and Coeur d'Alene.
Despite being a relatively short trip, the drive to Glacier National Park is incredibly scenic and packed full of great sights including mountains, lakes and national forests. So keep reading to learn the best routes, times to visit and places to stop along the way for the ultimate trip.
How far is Glacier National Park from Spokane, and how long will the road trip take?
Comparison of road trip routes between Spokane and Glacier National Park

| Route | Distance | Driving Time |
| --- | --- | --- |
| The Northern Route | 300 miles | 5 hours 30 minutes |
| The Southern Route | 320 miles | 5 hours 40 minutes |
You can drive either north or south from Spokane to reach the stunning landscape of Glacier National Park. Although similar distances, the Northern Route is slightly shorter at just 300 miles. This route will take 5 hours and 30 minutes to drive without any stops along the way.
Our alternative Southern Route is 20 miles longer at 320 miles and which will add approximately 10 minutes to your drive time (again assuming you don't stop along the way, which we wouldn't recommend).
Although this is a trip you definitely could complete in a single day, it's so packed full of great attractions, towns and cities that a much better idea would be to split the journey over two to three days and enjoy a more leisurely and scenic drive.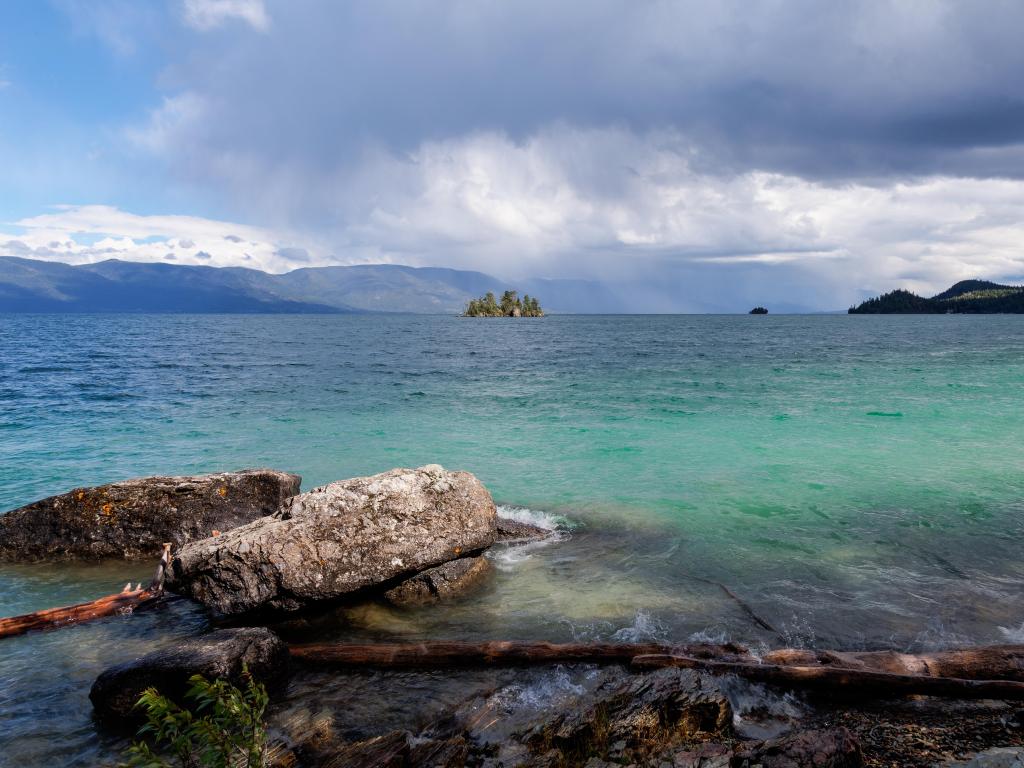 Best road trip route from Spokane to Glacier National Park
At similar distances and time frames, you'll need to choose the best route depending on your preference for sights and stops along the way from Spokane.
Our Northern Route doesn't add much additional time to the most direct route and yet is packed full of important historical sights. You'll get to see beautiful mountain nature, lakes and scenic viewpoints such as Sandpoint on Lake Pend Oreille, Kaniksu and Kootenai National Forests.
This option is great if you're looking for opportunities for hiking, camping, fishing, and water sports as you will be driving past the Whitefish Ski Resort and have the option to make a detour to Flathead Lake. Though if you aren't an outdoor fan, this might not be the best route for you.
In contrast, our Southern Route is perfect for history lovers and nature lovers. Again despite not adding much additional time to the most direct route, this option will take you past several national forests along the way such as Lolo and Flathead National Forests.
History buffs will enjoy passing through many small, but unique towns and villages full of history and museums, including the wonderful Missoula and Kalispell. These are ideal if you love museums and exploring the past, but less so if you're looking for a trip to enjoy wildlife.
While visiting, keep in mind that Glacier National Park implements a vehicle reservation system from May 26th to September 10th, from 6am to 3pm (at the time of writing). Before visiting, please check online whether you might need a reservation.
The Northern Route
Leave Spokane and follow signs for Sandpoint, stopping along the way to see Lake Pend Oreille and Mt Spokane State Park. If you have longer to explore, you could always visit Idaho Panhandle National Forests where you can enjoy several outdoor activities.
Continue north to Bonners Ferry, alongside Kaniksu National Forest where you'll get great views of the mountains and the lush rainforest.
Head east across into Montana and enjoy incredible mountainous views as you follow the river alongside Kootenai National Forest towards Eureka which is packed full of history.
Follow the highway south to Whitefish where you can detour to Lost Trail National Wildlife Refuge or head south to Flathead Lake for water sports. Otherwise follow signs for Glacier National Park.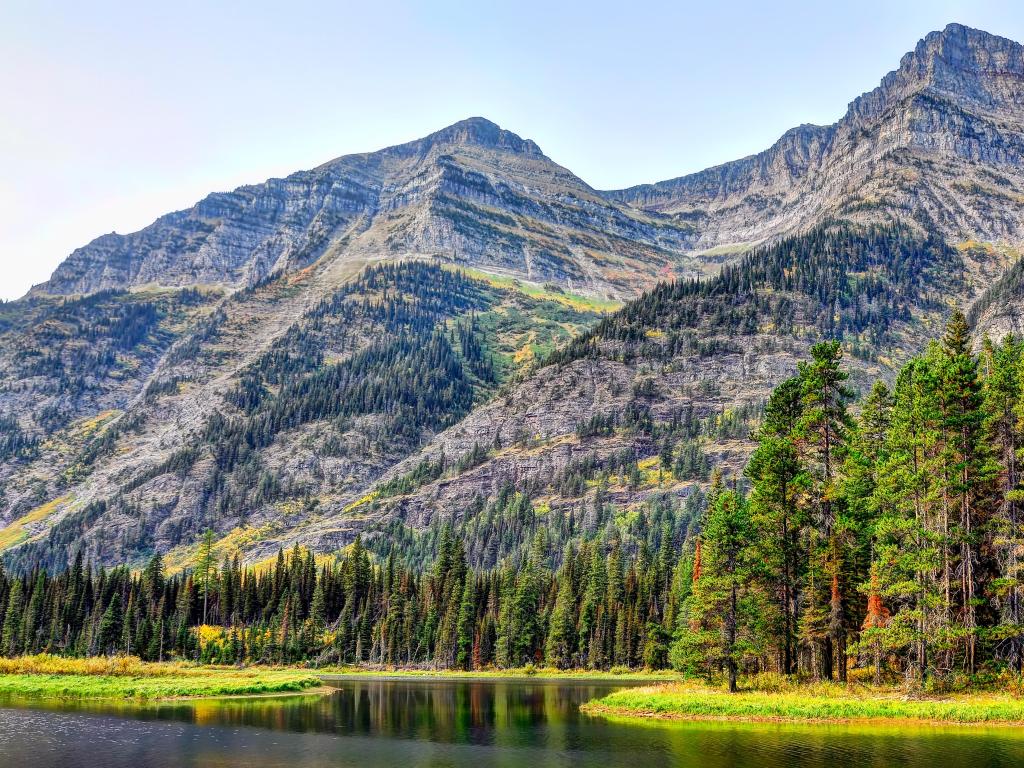 The Southern Route
Head east from Spokane to Coeur d'Alene where you can stop and explore its national forest, a place with breathtaking scenery and great hiking trails.
You can also head north into Idaho Panhandle National Forests or continue east through the mountainous terrain to Wye. Explore Lolo National Forest where you'll discover beautiful lakes before heading north on US-93 or spend some time in Missoula.
Afterwards drive towards the shore of Flathead Lake where you can enjoy several water sports activities including paddleboarding, before following the edge of the lake north.
Explore Flathead National Forest before continuing north through Columbia Falls and reaching West Glacier where you can reach your final destination.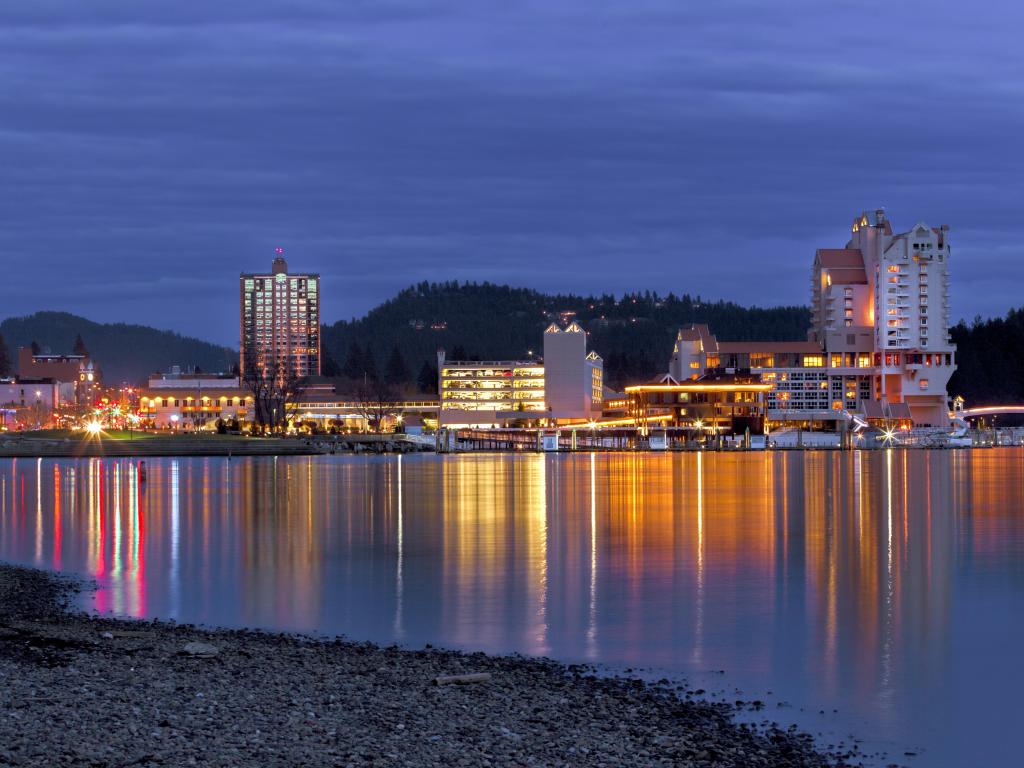 Best places to stop between Spokane and Glacier National Park
Despite being able to drive the road trip in 5 hours, we strongly recommend stopping at least one night along the way. Not only will your drive time be more comfortable and chilled, but the rest will give you the perfect opportunity to spend an afternoon hiking or relaxing by a lake.
Of all the fascinating and beautiful places you'll pass, here are a couple of our favorites from both routes.
An outdoor retreat in Bonners Ferry
If you're following our Northern Route, then Bonners Ferry is an ideal resting place. Just 100 miles from Spokane, it offers amazing outdoor activities, including a visit to nearby Kootenai National Wildlife Refuge as well as stunning mountain views, tasty food and great hospitality.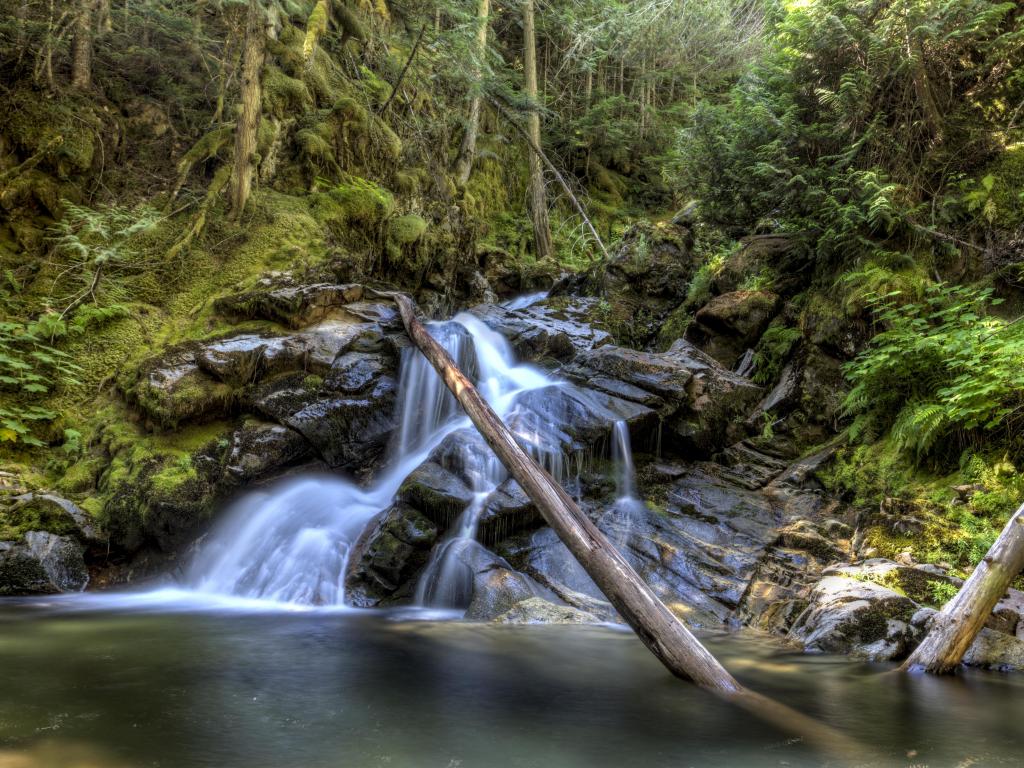 A major draw for Bonners Ferry is the nearby Kootenai National Wildlife Refuge - here you can observe interesting wildlife and migratory birds.
There's also the Boundary County Museum where you can get to know more about Idaho's history, and for the perfect way to end your day of exploring, how about enjoying a glass of wine or pint of beer at Heart Rock Wines - a hidden gem of Bonners Ferry.
For a comfortable and convenient hotel, the Northside School Bed & Breakfast makes an ideal place to rest for the night. Built in a historic building, it offers very cozy and unique-looking guest rooms plus an outdoor pool and jacuzzi which are perfect ways to relax after a busy day.
Guests can enjoy a full breakfast the following day, plus private onsite parking. Ideal for outdoor enthusiasts, you'll be just 5 miles away from the lake and hiking trails and even close to Kootenai National Wildlife Refuge.
A city break at Missoula
Alternatively if you've chosen our Southern Route then Missoula is a perfect midway point to Glacier National Park. Conveniently along the route (just off Wye), this Montana city has lots of interesting things to offer.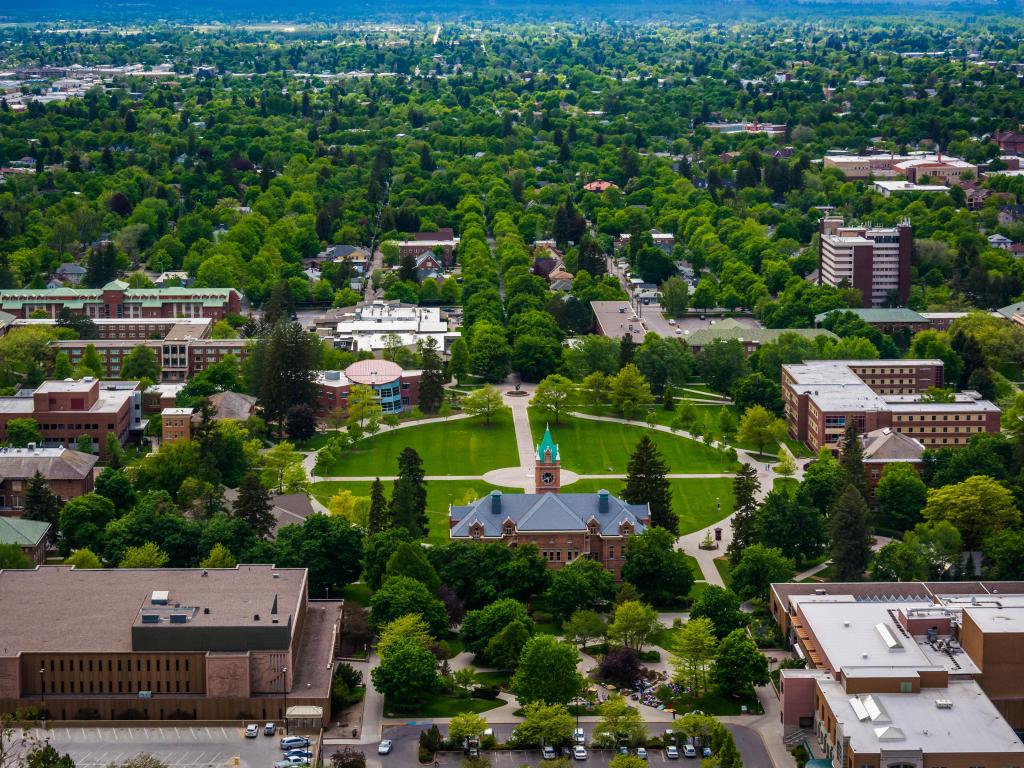 As well as breathtaking nature and wilderness, Missoula is known for its cultural scene, art community, historic architecture and limitless outdoor activities.
Culture fans will love visiting the Wilma Theater too, which is one of the most important cultural venues for concerts, theatre plays and film festivals.
For a comfortable and relaxing stay, a stop at DoubleTree by Hilton Missoula Edgewater is a great option. With an outdoor pool and jacuzzi, select rooms boasting beautiful river views, patios or balconies and a fantastic restaurant that serves Northwest cuisine, you might not want to leave!
If you can tear yourself away, you'll find yourself right on the shores of Clark Fork River, for easy access to scenic walks and within close proximity to Clark Fork Natural Area and Toole Park. As an added bonus, there's free parking onsite and Missoula Art Museum nearby.
Explore the slopes at Whitefish
With over 700 miles of trails, valleys, meadows, mountains and breathtaking lakes to explore at Glacier National Park, you'll definitely want to find a great hotel to base yourself on while you explore this incredibly scenic part of Montana.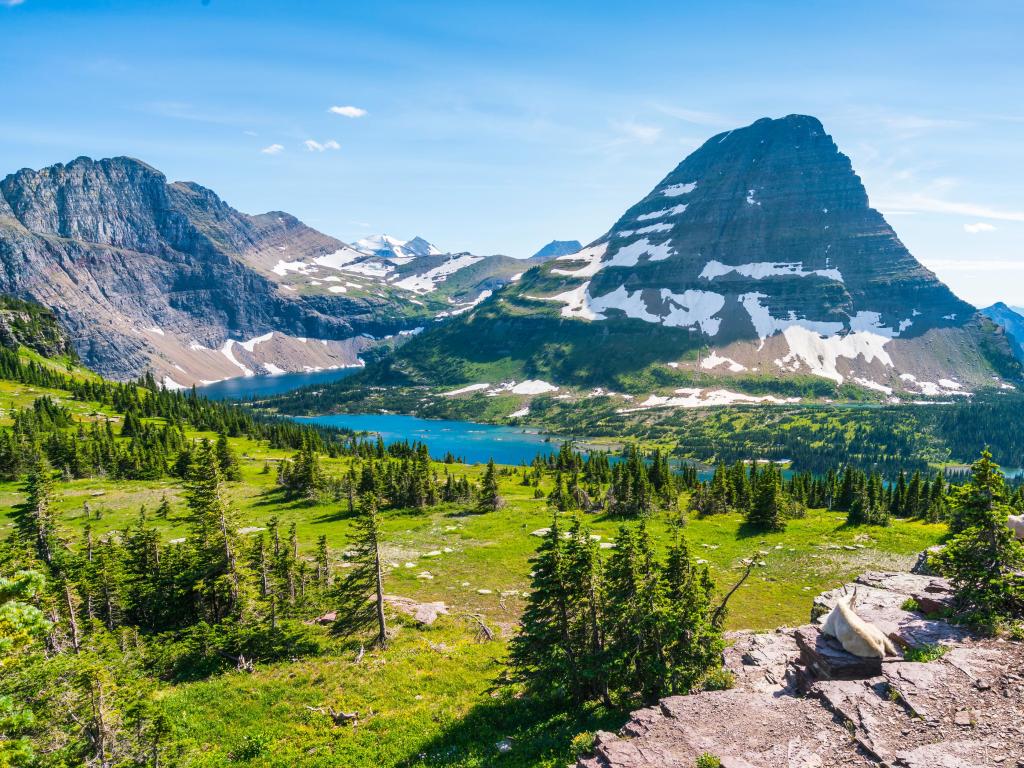 While you can't stay in the park itself, Whitefish is just 30 minutes away and offers fantastic amenities. The Firebrand Hotel is a great choice for this part of Montana with modern lodge-style décor and the ultimate relaxation, a top-notch spa to enjoy.
Located in the Whitefish Ski Resort area, which is just a short driving distance from Glacier National Park, it offers a sun terrace and ski pass sales point, a stylish restaurant and a bar where you can enjoy your favorite cocktail after hitting the slopes or exploring the park.
Things to see on a road trip from Spokane to Glacier National Park
Get ready for an action-packed adventure on your trip between Spokane to Glacier National Park. From fascinating towns and pretty lakes, to national parks and mountains to climb, there's a lot to see on this short but scenic trip. Here are some of the highlights you'll pass en route.
Both Routes
Flathead Lake - One of the largest natural lakes in the Western USA with very crisp and clean water, at Flathead, you can enjoy swimming or venture into the woods and explore Flathead National Forest, great for hiking and picnics.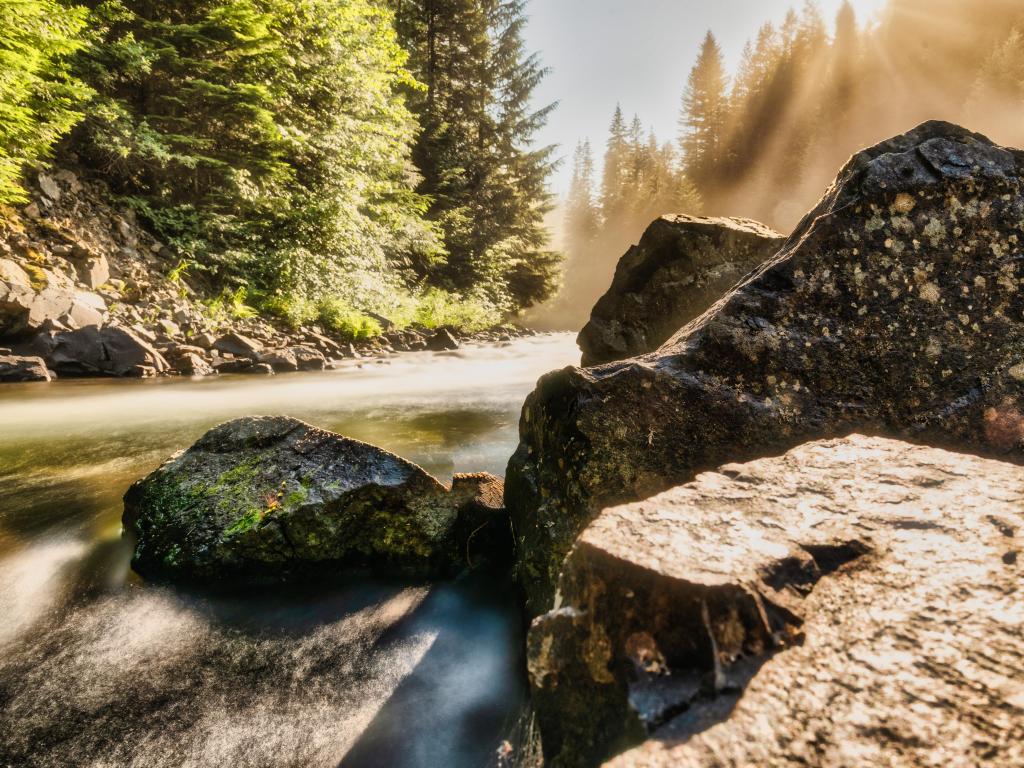 The Northern Route
Sandpoint - Known as a town that provides the perfect outdoors and recreational opportunities. It is also the perfect gateway to Idaho Panhandle National Forests.
Gold Hill Trail - This is a moderate 3.7-mile loop, just south of Sandpoint. This is a moderately challenging route, so you might need some experience and gear beforehand.
City Beach at Lake Pend Oreille - Offering magnificent views of Lake Pend Oreille, here you can play volleyball, and tennis, rent paddleboards, go kayaking or take a cruise for birdwatching and wildlife viewing.
Kaniksu National Forest - This stunning forest is great for outdoor enthusiasts. Here you can hike, camp, bike, and enjoy grand views of the mountains and the lush rainforest.
Copper Creek Falls - The tallest falls in Idaho, you can enjoy an easy hike (which is only 1.4 miles out-and-back) around Copper Creek Falls, making it ideal for all abilities.
Kootenai National Wildlife Refuge - This national refuge is a habitat for various wildlife species such as moose, elk, bears, swans etc, as well as a great place to explore if you enjoy the great outdoors.
Eureka's Historical Village - Visitors can explore the local historic buildings and structures of Eureka's village, which were built in the late 1880s and early 1900s.
The Kootenai River - Fishing in the Kootenai River is a very unique experience for those interested. It's famous for trout fishing, though you don't have to be a fishing enthusiast to enjoy the waterside views here.
Flathead Lake - One of the largest natural lakes in the Western USA, you can enjoy both water and winter activities here. Go paddling, boating and fishing or alternatively, head to the snow-capped mountains.
The Southern Route
Coeur d'Alene National Forest - Enjoy breathtaking scenery in this stunning forest. Coeur d'Alene National Forest offers lots of hiking trails, camping sites and forest road driving.
The Center of the Universe, Wallace - The town of Wallace has been proclaimed to be the center of the Universe. It is actually a manhole in the middle of an intersection, but a quirky and fun attraction.
Sierra Silver Mine Tour, Wallace - This is an interesting, underground experience organized by a nonprofit organization. Visitors will learn a lot about the history of hard rock mining.
The EurekaSally Gallery of Art & Chocolate, Wallace - This interesting stop is both a gallery with art pieces from local artists and a chocolate shop - amazing!
Lolo National Forest - Visitors at this national forest will enjoy amazing scenery and lakes which are great for fishing, swimming, canoeing and mountain hikes.
The Holt Heritage Museum, Wye - Stop in Wye to explore this museum which takes you on a journey all about cowboys and the native Indian inhabitants of the area.
Missoula - Enjoy great city amenities as well as breathtaking nature and wilderness views at Missoula. Enjoy a walk along the Clark Fork River or visit Rattlesnake National Recreation Area.
Museum of Mountain Flying - This small but very interesting museum shows the history of aviation and is found in Missoula.
Kalispell - It's the largest city in North-West Montana, offering tons of options for outdoor adventures, museums and restaurants.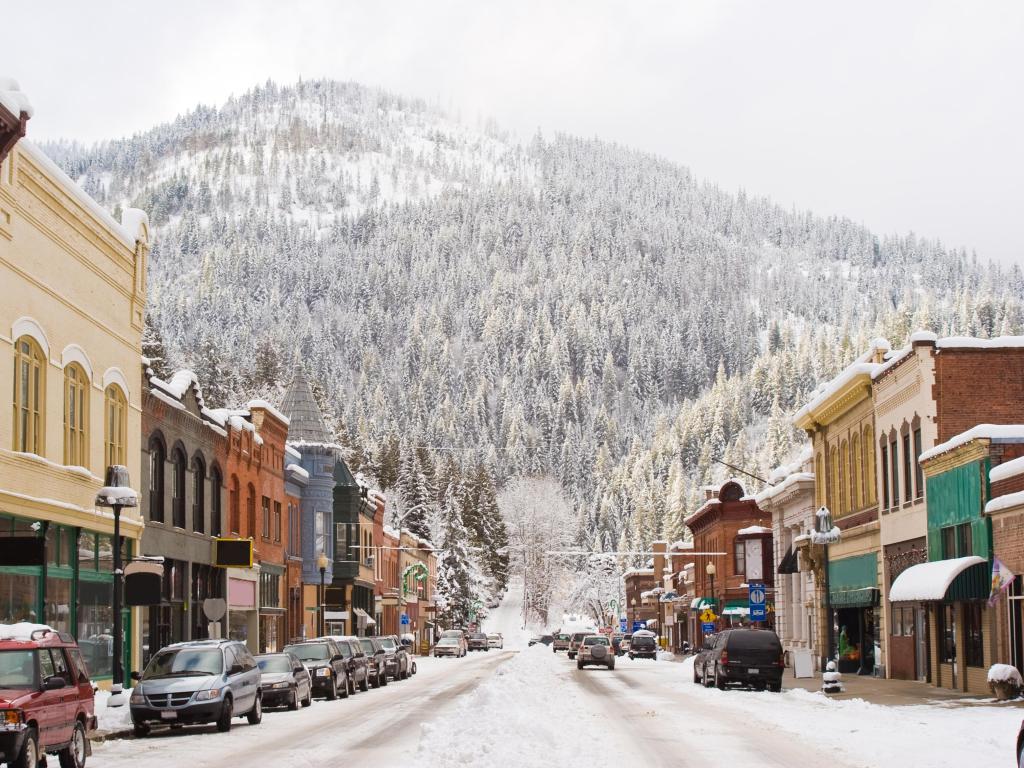 Best time to go on a road trip from Spokane to Glacier National Park
The best time to visit the Glacier National Park is from June to September, but there is something to do in every season of the year as there are both water and winter sports activities to be enjoyed en route, so the time to visit will depend on your preferences.
Summer is the peak season for visiting, thanks to the weather and the fact that the Going-to-the-Sun Road is entirely open. The daytime temperatures can reach 90 degrees Fahrenheit (or 80 degrees at higher altitudes). However, this is also the most crowded time in terms of tourists and the most expensive season.
Winter is the season for affordable prices, but the downside is that not all activities will be available, such as some hiking trails. That said, it is great for cross-country skiing or snowshoeing and catching the Northern Lights. Expect temperatures below 39 degrees in the colder months.
The fall is a quieter season, meaning you'll be more likely to spot local wildlife. You might still be able to witness the Northern Lights in this season if you are lucky. Spring is particularly picturesque and pleasant with highs of 55 degrees (or 47 degrees in fall, so remember layers).
If you do decide to brave the crowds in summer, then you'll get the opportunity to catch the "Native America Speaks program". This event is where native tribal members talk about their rich history and culture and held in the months of June through to September.